What do Zhang Yiming, Nick Robertson and Whitney Wolfe Herd have in common?
I mean, they're all filthy, stinking rich. Like buying-an-island-in-the-Caribbean-Sea rich.
But more importantly, in the context of this blog, they didn't start TikTok, ASOS or Bumble without a bit of inspiration.
Wolfe Herd, for example, took her experiences as VP of Marketing at Tinder to create a female-focused dating app. One that ended up disrupting the whole dating industry.
When it comes to making your own app, this could also be your goal. Or it could be to create a completely new market category. Either way, this comprehensive list of innovative app ideas will get your brain whirring. And who knows:
What you come up with could land you on the Forbes Rich List…
You can peruse different mobile app categories by scrolling through. But first, here's some data about the most popular mobile application categories right now to help inform your decision. 👇
Most popular app categories 2022 🥇
According to Statista, these are the most popular Google Play app categories right now: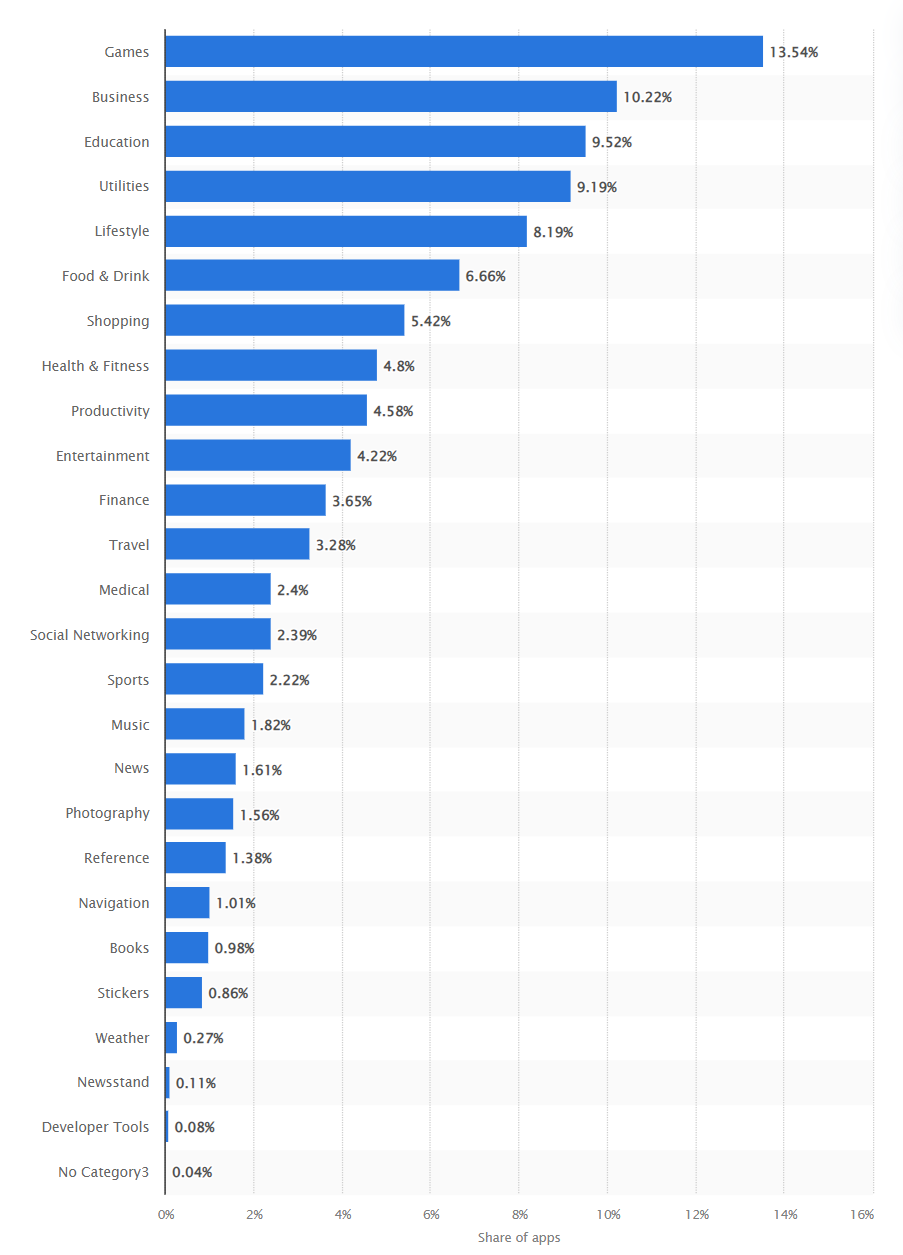 And the most popular Apple App Store categories as of the 2nd quarter in 2022 were 👇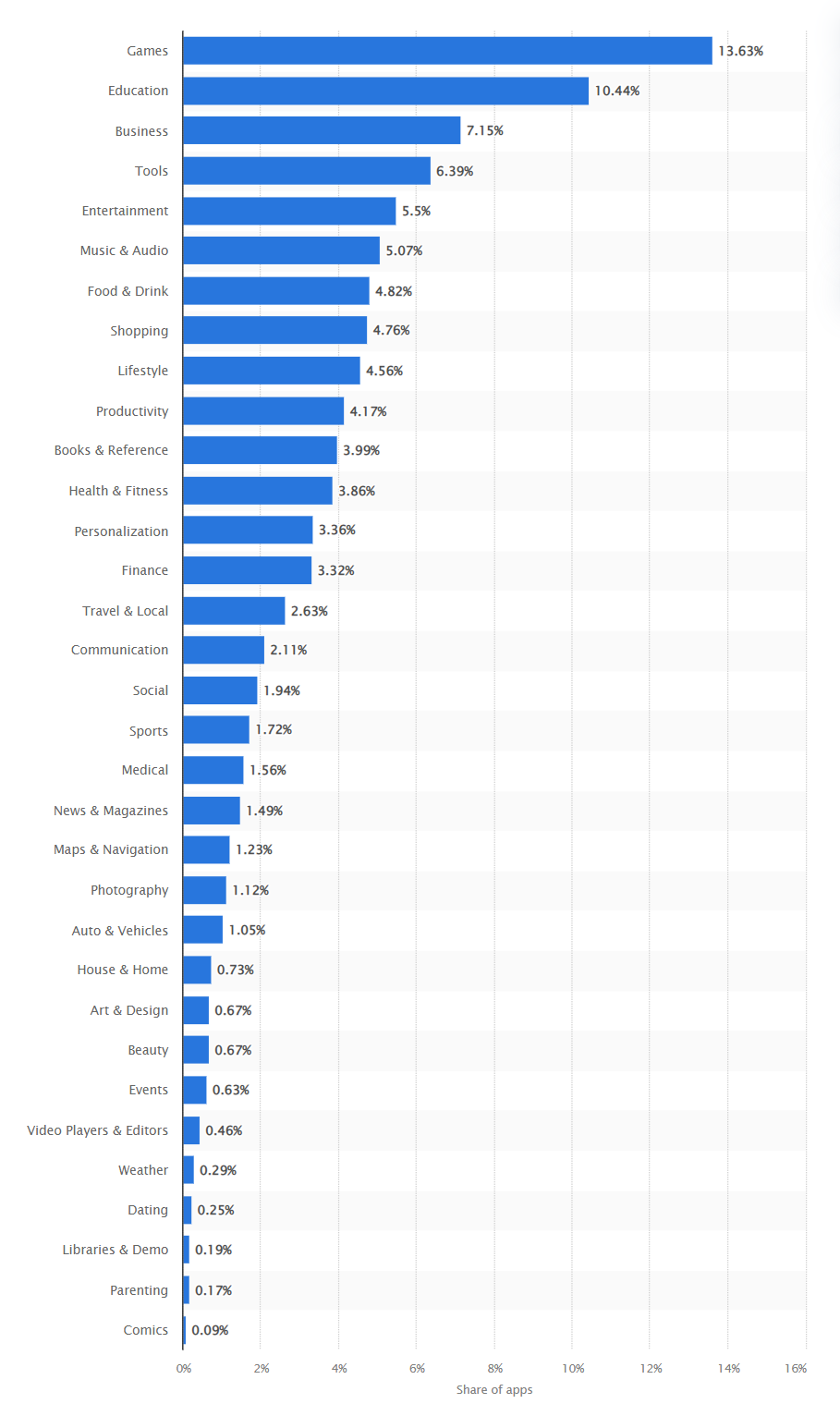 Now, let's get into our comprehensive list of mobile app ideas 👇
Ecommerce apps
Free from the competition of marketplace apps, ecommerce apps allow entrepreneurs to sell online and keep all their profits.
So whether you have a cheeky side hustle or a billion-dollar app idea, owning your own piece of digital real estate can only help kickstart your journey.
And below, you'll find a kaleidoscope of options to choose from:
1. Marketplace app
Buying and selling to a captive online audience is the name of the game when it comes to marketplace apps.
And while catch-all platforms like Amazon and Ebay lead the way, niche crafts platform, Etsy, has also carved out a significant market share.
Who's to say that another app can't shake up the marketplace landscape once more?
2. Sneakers app
With more subcategories than you can shake a stick at, the sneaker business is a potentially fruitful one for the right entrepreneur.
But to create an app that stands out, you'll need to offer better prices or more exclusive products than the competition.
3. Restaurant app
Like QR codes, restaurant apps shot to prominence during the COVID-19 pandemic.
With one, you can allow customers to skip queues by ordering at the table and gain loyalty points by returning to your restaurant.
You can also enable online food ordering so people can enjoy your dishes in the comfort of their own homes.
4. Grocery app
In densely populated urban areas like London, Getir and Gorillas have transformed grocery shopping by operating on a similar business model to demand apps like Deliveroo, UberEats and JustEat.
Their promise of these grocery apps deliver your groceries "in minutes". Question is, can you offer something different or better?
5. Events app
Dedicated apps are a lifesaver for event goers. Especially when that event experiences torrential rain and paperwork disintegrates.
But they don't only have to be for one-off occasions. Event apps like Eventbrite allow customers to make in-app purchases for a wide range of events in venues and locations of their choosing.
6. Ticket app
At first glance, ticket apps and event apps seem kinda similar, right?
The thing is, ticket apps aren't only for events. Just think about the train, bus and metro services you can access with a flash of your mobile phone.
Of course there are also specialist apps dedicated to sport and concerts, but the wide range of ticket apps already out there allows you to use your imagination.
7. Fashion app
The likes of Vinted, Depop and Grailed have changed the way second-hand selling works over the last decade.
Instead of sifting through mountains of junk on charity shop floors, users can now search for the items they're looking for and buy them for bargain basement prices on fashion apps.
And there's still a ton of potential for you to dominate a different niche.
8. Shopping app
Sure, every supermarket under the sun has its own app. But barely any small, standalone businesses do.
What better way to improve the experience of your regular customers and attract new ones by offering loyalty points or online-only offers?
9. Wine app
Like every other industry on the planet, the wine industry is experiencing digitisation. And there's more to wine apps than meets the eye.
As you'd expect, you can search for, taste and purchase your favourite bottles. But you can also connect with fellow wine lovers, compare notes and even meet them.
Plus, you can monitor your wine consumption habits over time and learn about the craft of wine making.
10. Crafts app
With Etsy becoming increasingly generalist, entrepreneurs have a chance to create apps that better represent niche craft communities.
For example, UK-based online selling platform, Folksy, has a much stronger community vibe than its American cousin, meaning users can rely less on algorithms and more on relationships to sell their products.
11. Art app
Let's face it:
Everyone takes free content for granted. But for fledgling artists who need to make a living through their work, this is a huge hurdle.
Apps like Patreon provide a solution to this problem, where fans can either purchase artwork outright, or at least access it.
As a result, artists aren't solely reliant on galleries or dealers to make a living. And there's plenty more room for apps that further reduce these barriers and give creators more control.
12. Salon, beauty or spa app
Thanks to the rise of salon apps, customers can guarantee their slot for a hair and beauty treatment and prepay for the services they require.
Treatwell, for example, also allows users to check out in-app customer reviews before booking and view the specialisms of individual artists, while passing solid discounts onto customers.
13. Jewellery app
It's easy to pay over the odds for low-quality jewellery. Or to buy pieces that don't match up to their online presentation.
If you can find a way to overcome these obstacles, then a jewellery app that puts the customer first could be an idea to hang your hat on.
Financial apps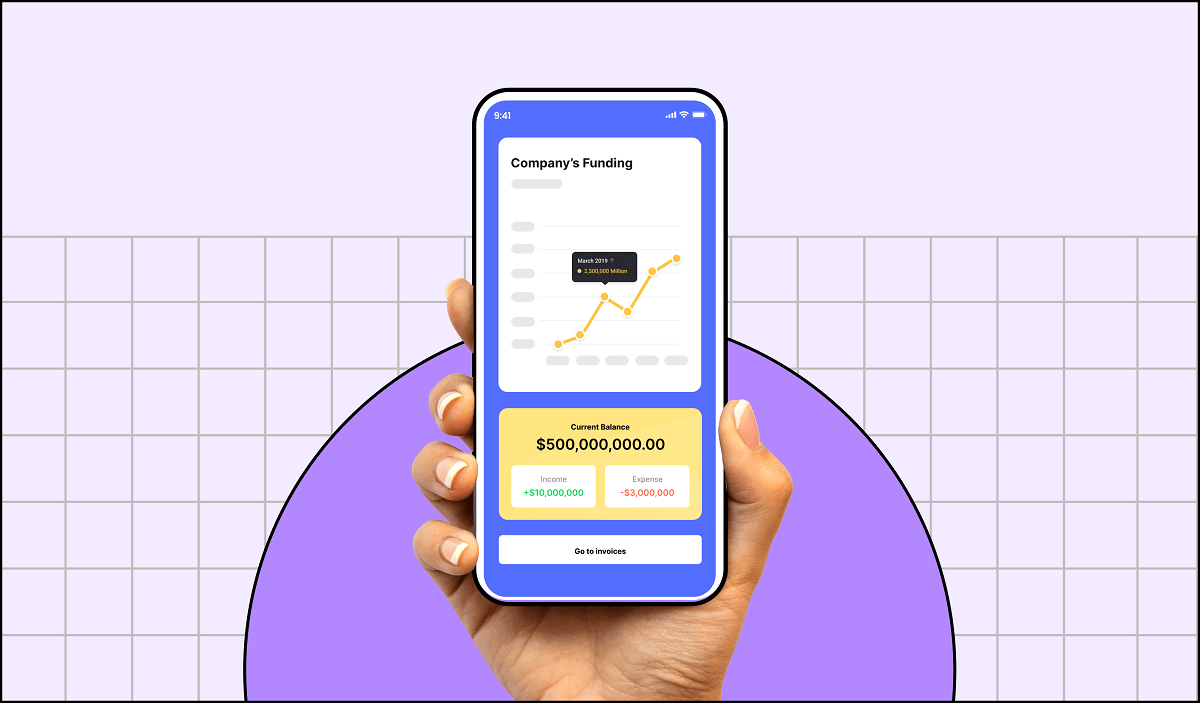 If you have experience in the City, or you're a Martin Lewis-esque money saving expert, creating a financial app could be your bag. Scroll to reveal all our ideas 👇
14. Banking app
The arrival of challenger banks like Monzo and Revolut has forced traditional banking services to take notice.
Setting up accounts without visiting physical branches changed the game, while smart bill-sharing features make customers' lives easier.
Meanwhile companies like WeBank cater to people that have traditionally been underserved by the industry.
And there's still plenty of room for finance experts looking to carve out a niche in this space, with sustainability and inclusivity pressing concerns.
15. Fintech app
Fintech is an umbrella term that ecompasses a wide range of apps, from blockchain and crypto to digital and mobile banking.
And it's a space investors are throwing money at.
In 2021, for example, crypto company, Coinbase, was valued at a staggering $86 billion. So, if you're looking for some small change, now could be the time to double down on a fintech app idea.
16. Investment app
Investment used to be a closed shop for people in the know. But apps like Freetrade, Moneybox and Nutmeg have made it more accessible to regular punters.
With better interest rates and low-risk investments, people can now make their savings count for more.
Some apps combine banking and investment, whereas others specialise. So there's a decision to be made for anyone going down this route.
17. Money saving app
Like investment apps, money saving apps may either be specialised or offer other services.
For example, the likes of Starling and Monzo serve as full-service banking apps while encouraging healthy spending habits for their customers.
An app like Chip, on the other hand, monitors the activity in your bank account to automate the process of money saving.
Primarily targeted at students, Chip shows the potential of financial services targeting niche audiences.
18. Budgeting app
While there are many parallels between money saving and budgeting apps, there are some key differences.
On the one hand, money saving apps are focused on helping users save money day to day. On the other, budgeting apps are more mission driven.
Budgeting app Emma, for example, allows you to sync both crypto and bank accounts, while it's also possible to trade in stocks and shares.
Meanwhile, Monese has the specific aim of improving your credit score as well as your budget.
Health-focused apps
Now onto apps for the mind, body and soul. Keep scrolling for a ton of health-inspired apps 👇
19. Healthcare app
Delivering better patient experiences is the name of the game with healthcare apps.
Their main purpose is often to enable patients to live chat with healthcare professionals or request appointments and repeat prescriptions.
Healthcare apps may also serve to reduce demand on reception by allowing patients to check in for appointments digitally. Or they could enable efficient shift and bed management, allowing doctors and nurses to be less reactive on the ground.
But as challenges with funding and demand are ever present, there's plenty of room for innovative apps to reduce the burden.
20. Medicine delivery app
Collecting prescription meds from a pharmacy can be a chore, especially for people with busy schedules or mobility issues.
And medicine delivery apps help serve these groups, ensuring everyone has access to the treatment they need.
21. Fitness app
Activity trackers, calorie counters, sleep quality monitors, audio coaches, AI-powered workout customisation…
The list goes on, and on, and on for the types of fitness apps you can create. To make sure yours doesn't get buried at the bottom of the avalanche, you could try tapping into emerging industry trends.
For example, apps that offer increased flexibility to customers are becoming more popular. Think home gyms and mini workouts.
The same is the case for apps that combine physical and mental wellbeing and those with an inclusive focus.
22. Gym app
Gym apps are the perfect way for gym owners to more efficiently manage their facilities and services.
For example, unique QR codes can be assigned to paying members, allowing them to access the gym. This reduces the burden on reception and the risk of opportunists using your equipment for free.
They also have the added benefit of improving the experience of gym goers by providing a direct line to personal trainers and tracking their fitness goals.
23. Mental health app
The explosion of mental health awareness in the last decade has given way to the rise of mental health apps.
And there's already a wide range of options on the market.
Whether it's connecting people to therapists or providing self-help techniques, mental health apps help people keep their wellbeing in check.
But it's not a project you should take on lightly. As a result, those with personal connections to the cause are best suited to creating dedicated apps.
24. Meditation app
Meditation may be a 7,000-year-old practice, but apps like Headspace have breathed new life into it, expanding its reach to new locations and demographics.
As a one-stop shop for beginners, intermediates and pros, challenging this giant may seem daunting.
But with a hatful of philosophies to pick from, including mindfulness, mantra and transcendental, you can still put a unique spin on your meditation app, or offer more personalised services.
25. Men's health app
Many cultural barriers still need to be overcome in order to stop men dying prematurely.
Aside from mental health and suicide awareness, issues like prostate and testicular cancer continue to devastate families.
With particular demographics more at risk than others, serving them could perform a vital public health role and make for a healthier and happier society.
26. Women's health app
The most popular women's health apps tend to focus on period tracking, although there are a range of other offerings out there.
Such apps are so powerful because they help women get to know their cycle – they can even raise the alarm on undiagnosed health issues.
Meanwhile, fertility and pregnancy apps are growing in popularity alongside cancer support and sexual health platforms.
27. Diet app
Sure:
Weight loss is one of the key goals for dieting apps. But not the only one. They can also track everything from overall nutrition and meal planning to calorie counting and specific food allergies.
As new diets regularly rise to prominence, jumping on one of these trends and creating a dedicated app could be a great business opportunity for you.
28. Meal-planning app
Meal-planning apps could be seen as an extension of diet apps, but they don't have to be health focused.
Users may simply want to cook recipes other people like them recommend. Or they may want to generate budget-friendly shopping lists without missing out on all the fun.
Manufacturing apps
You guessed it:
Apps are also a solution for industries managing huge workforces and highly valuable resources.
Scroll for three killer app ideas 👇
29. Construction app
Just like any technological advancement in the construction industry, construction apps are designed to improve efficiency and deliver better results.
They also have the added benefit of making day-to-day construction management activities much easier.
iNeoSyte, for example, helps managers make daily reports quickly and easily, while Hubstaff makes it far easier to manage the timesheets of the staff working on site.
To create your own construction app, though, industry expertise is an essential.
30. Oil and gas app
Similar to construction apps, oil and gas apps are all about maximising uptime.
Key to this is the ability to access data in real time and make more informed decisions. Decisions that can enhance safety and increase productivity.
Emerging oil and gas apps are now aiming to improve global collaboration and manage assets more effectively.
Again, industry expertise is imperative to create oil and gas software.
31. Logistics app
Logistics apps that allow companies to track their cargo, do inventory checks, log activity and more are essential for companies moving large amounts of stock.
This means everything arrives at its destination as planned and ensures supply can meet demand.
Automotive apps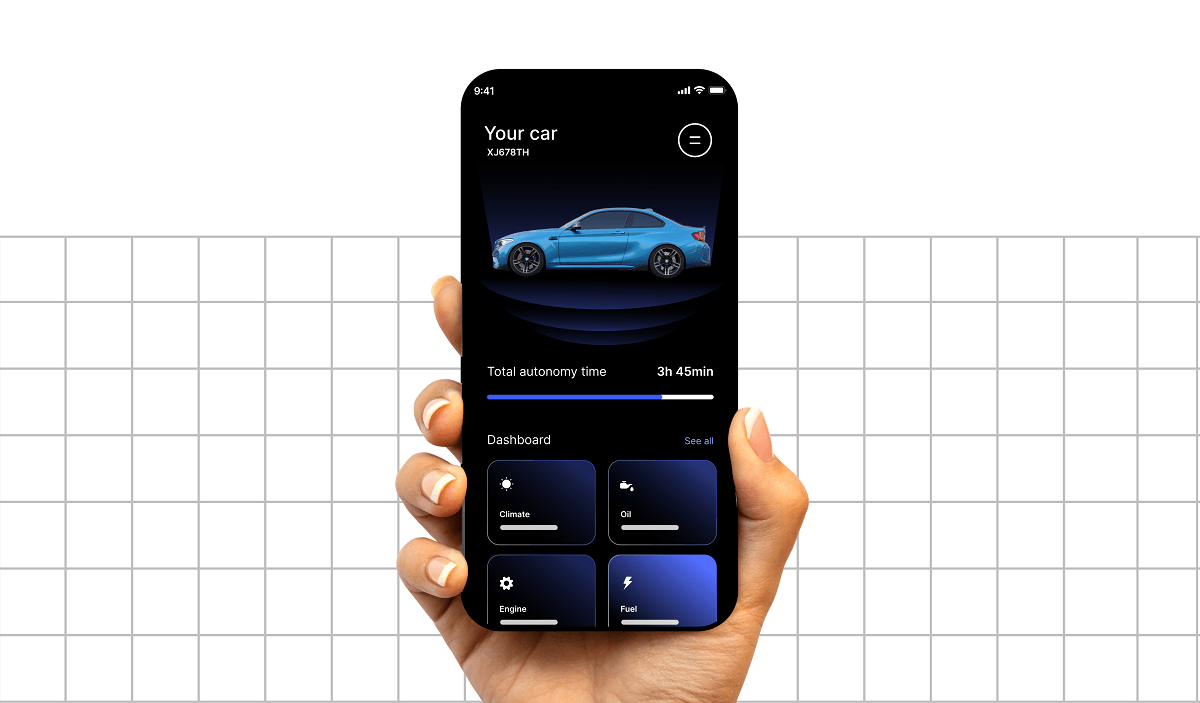 They may not be as exciting as travel apps, but automotive apps form a key part of iPhone and Android home screens. Here are some you could consider making 👇
32. Ride hailing app
City travel has never been the same since Uber burst onto the scene in San Francisco in mid 2010.
So much so that the average commuter has a range of ride hailing apps on their mobiles to suit the needs of the day.
Whether you're after budget-friendly or luxury travel, there's an option for you. Plus, consumers have the ability to make greener decisions by selecting vehicles that emit fewer CO2 emissions.
A word of warning though:
You'll need a strong value proposition to make your app stand out in this increasingly crowded space.
33. Vehicle rental app
Who needs to pay for vehicle insurance, tax and maintenance when you can just hire a car whenever they need one?
And rental apps enable just that.
Plus, you can pick different vehicles for different occasions. Visiting the in-laws with the kids? Choose an estate. Moving across the city? Choose a van.
Zipcar even allows you to pick up vehicles street side, rather than visiting a branch.
34. Parking app
There's nothing worse than having no change when you've found the perfect parking spot. Or entering a multi-storey car park with no spaces available.
These are the kind of issues parking apps solve.
For example, apps like RingGo allow you to pay for your parking by card, while Parkopedia allows you to pick the cheapest parking space by location.
If you have a solution to a common parking bugbear, creating an app could be the answer.
35. Public transport app
Relying on schedules on electronic boards or paper-based placards is all well and good...
Until something doesn't go according to plan. Then you might be waiting minutes (or hours) longer than you planned to get to where you need to be.
By providing real-time travel information, optimal routes and even discounted costs, public transport apps greatly improve passenger experience.
And the good news is, you don't need to be an operator to create a dedicated app. In fact, many of the best apps aren't.
Travel and hospitality apps
Although this app folder goes untouched for long periods on many a device, it's still one of the most exciting. See your possibilities for creating a travel and hospitality app below 👇
36. Travel app
The name of the game with travel apps is helping customers find value, regardless of the budgets they're working with.
At the lower end of the scale, you have apps like Skyscanner, allowing globetrotters to move around on the cheap.
At the middle of the scale, apps like AirBnB allow travellers to find accommodation that fits their budget while also enabling them to book experiences that make their stays memorable.
At the higher end of the scale, the Louis Vuitton city guide helps users find exclusive events in their destination, while LoungeBuddy allows luxury travellers to access private airport lounges and make their travel as comfortable as possible.
But as such a broad app category, there are tons of different routes into the travel space.
37. Hospitality app
Hospitality apps make it simple for customers to create and manage their bookings, while allowing hotels to manage vacancies and staff accordingly.
The likes of booking.com and Trivago offer the ability for customers to filter according to their criteria and offer them car hire and airport transport within their platforms.
All in the name of delivering personalised vacations and improving the customer experience.
Media and entertainment apps
Now for some bread and butter apps. Get inspiration for your media or entertainment app below 👇
38. News app
Dedicated news apps alongside news aggregators do exactly what you expect them to:
Keep you up to speed with current affairs.
Importantly, they also take proactive steps to filter out fake news from unverified sources, which can lead to misinformation.
39. Weather app
Weather forecasting has moved away from estimates and overviews and towards hyper-targeted, real-time information.
That's the type of information users now expect as a minimum, but there are plenty of features you can add to delight weather geeks.
Storm forecasting, air quality and detailed graphs are just a few things you can add to your weather app.
40. Sports app
Breaking news, live score updates, in-match odds, match reports, commentaries, opinion pieces and podcasts are now all, more or less, key features of leading sports apps.
So finding a way to create a leading sports app may seem tricky.
That said, niche and underserved sports without the access to huge funding are in need of service.
And those communities will help ensure your app launch is a success.
41. Streaming app (OTT app)
If you want to create a streaming app (and don't want to spend a long stretch in jail) you'll need to either create a ton of your own content, leverage user-generated content or pay for the rights to show other people's.
A niche streaming app with a low cost to entry, though, could be your way in.
42. Radio app
Radio apps are perfect for live streaming and catching up with your favourite shows.
They also allow users to switch seamlessly between channels and access better sound quality than they would on AM and FM frequencies.
The good news about radio apps is that you don't have to be a content owner to create one. Instead, you can act as an aggregator; just make sure you have the permission of listed stations.
43. Audiobook app
When you think about going into battle against Amazon-owned Audible, creating an audiobook app might seem daunting.
But as a DRM-free platform (Digital Rights Management), you don't need billions in funding to bring joy to listeners.
44. Podcast app
As a podcast app, you need to enable creators to host and monetise their content.
By providing unlimited bandwidth, team members and storage, you can get your target audience to think twice about choosing an established platform.
45. Comic app
Comic apps range from e-readers to databases and even collection trackers.
So before you create one of your own, you'll need to decide which side of the fence you're on. Or potentially amalgamate them all.
46. Video editing app
The best video editing apps are robust pieces of software.
That means choosing any old app builder to create one won't cut it. Instead, you'll need lots of customisability and features you can't just drag and drop.
Education apps
Shocking I know:
But some people actually spend time on their phones productively. Here are a bunch of education app ideas you can make to serve those people 👇
47. Student app
Depending on the course, you can have as much as 35 hours per week of unscheduled time as a university student.
So any student app that helps them organise their routines and stop wasting countless hours on the Playstation is more than welcome.
Apps that also enable students to record lectures and keep notes all in the same place are also ideal.
48. Learning app
Of course, you don't have to be a card-carrying student to learn something new.
So if you've got something you want to teach the world about, create a learning app filled with online courses, flashcards and quizzes.
But don't forget an exam at the end of it!
49. Study app
Locking yourself away in a dark room with a case of Monster Energy is one way to study. There are mentally and physically healthier ways to go about it though.
Study apps, for example, can enable anything from dictation and notetaking to automatic essay referencing and thought organisation.
50. Reading app
It's hard to immerse yourself in the written word when you're navigating through 500 different popups on a screen that burns your eyes.
Reading apps make it easier for the general public to enjoy this experience, with some apps like OgStar being specifically targeted at people with dyslexia.
51. Language app
For casual language learners, Duolingo has the market on lockdown. But there are also options for people who want to become fluent in another language, such as LinguaLift.
Before creating your language app, think about what you want your end users to achieve and develop with that goal in mind.
52. Grammar app
Grammar apps do an incredible job of ensuring that you don't get caught out including a basic error on a high-importance email chain.
Operating as a plug in as well as a platform, Grammarly is the standout option here. But even their advice has inconsistencies.
Free platforms like Hemingway Editor also allow you to correct your grammar while also reviewing the flow of your writing and providing a readability score.
But if you (and others) have grammar needs the main platforms can't cater for, building an app could be the answer.
53. Tutor aggregator app
Historically, finding trusted tutors through anything other than word of mouth has been a challenge.
Google reviews and case studies also go some way to helping those requiring such services, but tutor aggregator apps go one step further.
By providing a wide range of both local and remote professionals, users can make more informed choices and hire someone who fits their exact needs.
Home apps
Pretty much every homeowner is desperate to find ways to cut down their list of chores. Here are a few apps ideas that can help 👇
54. Smart home app
Smart home apps are the perfect way to manage all of your appliances in one place.
Aside from increased energy efficiency, users can also benefit from better home security and remote control of all connected equipment in their homes.
The key to a successful home app is one that integrates with leading platforms like Amazon Alexa and Google Home, allowing users to reap the benefits without disrupting their usual routines.
55. Bills app
On a simple level, bills apps give users an easy way to manage their monthly direct debits and ensure their plans match their energy and water usage.
But there is growing flexibility in how these payments can be made.
For example, users wanting to pay with cryptocurrency or fiat money can be enabled to do so.
56. Pet care app
When you have a pet, leaving them for more than a few hours feels like torture.
That's where pet care apps come in. They connect you to trusted sitters, allowing you to rest easy while you're away or out of the house.
As a crowded market, offering longer-term or specialist care could help set you apart.
57. Gardening app
Millenials and Gen Z notoriously find it more difficult to get on the property ladder than older generations.
That means the average age of homeowners is only set to increase. Particularly with seniors, gardening can become a challenge, especially when they have mobility issues.
Gardening apps can help connect them with local help and ensure their properties don't go into disrepair.
Social media apps
Given that TikTok is now the world's most popular web domain, there _might _be something in creating a social media app. Scroll for some inspo 👇
58. Dating app
Where would a blog that opened with an anecdote about Whitney Wolfe Herd be without a section on dating apps?
That's right. Nowhere.
The thing with the dating app landscape now is there are a wide variety of offerings for different purposes.
Bumble, as mentioned, puts women in charge, while apps like Hinge focus on building meaningful relationships.
With new niches emerging all the time, you'll have a ton of opportunities to jump on one.
59. Friend making app
The idea of "Tinder for friends" is no new concept.
Especially when 40% of 16-24 year olds experience loneliness, it's easy to see the demand.
Whether any app has nailed that model remains to be seen though, meaning it could be you who sweeps to first place.
60. Hobby sharing app
Similar to friend-making apps, hobby sharing apps connect people through common interests.
The main difference is that friends are a byproduct of the hobby, rather than being the sole focus of the app.
61. Discussion app
As many social media apps are shorter form and text based, it can be difficult to communicate nuanced opinions.
Instead, apps that connect you with strangers over video call allow you to dive deep into your chosen subject matter.
Which, in theory, makes reactionary opinions less likely.
62. Messaging app
As WhatsApp users increasingly fear for their personal privacy, alternative platforms are coming to the fore.
So if you think you can create a messaging app the Silicon Valley giants can't, now could be a good time to pursue your idea.
63. Couch surfing app
It can be difficult to settle into a new city, especially if you're moving there without the comfort blanket of friends and family.
And apps that allow people to offer their homes to these people are a lifesaver. Instead of feeling lonely and missing home, they can feel like locals in no time.
Tools apps
Want to help people get a job done? Then roll your sleeves up and create a tools app 👇
64. Alarm app
Keep people on time by creating an alarm app with a range of customisations, including routines, bedtimes and more.
65. Calculator app
Create calculators for specific use cases to make future buyers aware of your brand and help get more traffic to your site.
66. Calendar app
Give people a better picture of their partners', friends', family's and their own schedule so they can avoid double bookings.
67. Timer app
Allow users to set time limits for domestic activities like cooking, for work tasks, for workouts and much more.
Better still, integrate it with a Smart Home device so it can be activated by voice search.
68. Tracker app
Help people take control of their own journeys as well as friends and family with a travel tracker. Or generate weekly exercise trends with an activity tracker. Or monitor donations to a charitable cause.
69. Personalisation app
More for Android than iOS users, personalisation apps help users put a personal touch on their devices with a range of themes, wallpapers and ringtones.
70. Notes app
By creating a notes app, you'll enable people to save ideas, inspiration, work notes, recipes, grocery lists and much more.
71. Quiz app
Quiz apps aren't just a way to pass the time. They can also help users collect data about respondents and better target them in marketing campaigns.
72. Navigation app
Google and Apple Maps may be the default choice for many people. But a range of more accurate alternatives are now available on the market, including what3words, Waze and many more.
The latter was actually bought out by Google in 2013 for $1.3 billion. So the navigation gig isn't a bad one to get into.
73. Converter app
Whether it's currency converters, imperial to metric converters, file type converters or something else, converter apps help save a ton of time.
And if you have a use case someone hasn't thought of yet or a more user-friendly way of doing things, you could be onto a winner.
Business apps
Time to iron your shirt and get your suit dry cleaned. Here's a range of business app ideas to get you thinking 👇
74. Professional messaging app
While emails are still going strong, professional instant messaging services have helped to plug a huge gap in the last decade.
The likes of Slack and Microsoft Teams came into their own during the pandemic because of their ability to connect remote workers by text or video link in a single platform.
But there's still plenty of room for the industry to be disrupted.
75. Employee app
Employee apps help workers manage their quarterly reviews, shout out colleagues, book annual leave and much more to ensure their experience is as smooth as possible.
76. Collaboration app
If you live in a big city, you can't get away from metro ads for various collaboration apps including Monday, Notion, ClickUp and more.
The purpose of these tools is to better manage projects and timelines and ensure total visibility from end to end.
77. Email app
While most major email providers have native apps, the interfaces of these platforms often restrict visibility and collaboration.
Apps like Front are trying to change that, allowing users to tag each other in email threads where relevant and avoid cluttered inboxes.
78. Expenses app
Collecting 267 receipts and manually submitting them to the finance department is quite a chore.
With digital alternatives like Receipt Bank and Expensify, you can submit receipts immediately, with no need to worry about losing the physical copy.
79. Charity app
The best charity apps give users practical advice on how they can help their chosen cause.
For example, the Blood Donor app created by the Red Cross sends alerts whenever donations are needed for particular blood types.
And if you create a charity app yourself, it should be just as actionable.
80. Fundraising apps
The main difference between a fundraising app and a charity app is that a charity app doesn't necessarily mean making monetary contributions.
By contrast, apps like Charity Miles, Strava and Easyfundraising do allow this. And all in a streamlined and gamified way.
81. Swipe file app
Whereas notes apps require manual inputs from users, swipe files allow users to automatically save inspiration they see from across the web and access it whenever they need to.
82. File transferring app
You've composed the perfect email. You've attached all the necessary docs. But when you hit send, your email provider has other plans.
That's where file transferring apps like WeTransfer come in.
All you have to do is upload your attachment and they'll shoot out a shareable link you can include in your message.
83 Productivity app
Do you have a simple solution to a mundane task?
Then you could have the next unicorn on your hands. Productivity apps like Calendly and Toggl reduce the admin you need to do on a daily basis, allowing you to focus on more important stuff.
84. Concentration app
Mindless scrolling is a killer. Especially when your to-do list is longer than George R. R. Martin's timeline for The Winds of Winter.
But distraction blockers can stop all of that. The likes of Freedom and Serene ensure you can't access your favourite apps across devices when you need to work.
Trending apps
And last but not least, here are a bunch of trending app ideas that are ready to catch fire 👇
85. Security app
With hackers becoming more sophisticated, virtual private network (VPN) providers and other security focused apps are soaring in popularity.
And as the technological landscape continues to develop, more solutions like this will be required.
86. Design apps
If you thought creating a design app could be your ticket to the big time, you'd be right. Because not so long since, Adobe acquired Figma for a whopping $20 billion fee.
So if you have a design app idea you think could be the next unicorn, there's no time like the present to get it started.
87. Food delivery app
With household names faltering in the food delivery app industry, a window of opportunity is opening up for disruptors.
Especially considering that changes in legislation could transform the gig economy as we know it, which could compromise the whole business model.
88. Children's app
Outstanding children's apps tend to combine fun and education.
So if you have an engaging way to teach youngsters a new skill like coding, another language, or simply the alphabet, get started today.
89. Parenting app
A bit of solidarity goes a long way for new parents.
That's why parenting apps like The Night Feed, which connect new mums to others in their shoes, are so popular.
But the true beauty of parenting apps is there is no one type. You can create anything from a baby naming app to a baby changing app.
90. Gaming app
Gaming apps will never not be in fashion.
Whether they're helping kill time on a morning commute or providing a distraction from in-laws, they always find a way to drain your battery.
And with endless categories to choose from, you can create pretty much anything. Best of all, sometimes the simplest apps are the most popular.
Hello Wordle.
91. Sustainability app
Choosing to create environmentally conscious software is a sure-fire way to future proof your business.
Apps like Too Good To Go, for example, help combat food wastage by offering unused (but good to eat) foods from eateries at a discounted price.
Ecosia, on the other hand, is an alternative search engine that uses its profit to plant trees.
92. Feedback app
For creatives looking for feedback on their writing, songs or art, it can be challenging to access the "right" audience on the web.
Subreddits and Quora threads go some way to allowing this, but dedicated safe spaces are few and far between.
93. Habit-forming app
When work and life are intense, routines become blurred.
Habit-forming apps try to combat that, instilling mentally and physically healthy values through repetition.
94. Creativity app
The best ideas often come on a country walk or in the shower, rather than in the office. And what better way to harness that creativity than a creativity app?
Brainsparker and SimpleMind, for example, help transform lightbulb moments into something more practical.
95. Astronomy app
Not all stargazers want to stare mindlessly into the night sky. Instead, they want to know where to look and what to look for.
So apps that reveal constellations, planets and stars are incredibly useful and can be sold at premium prices, if they have the right functionality.
96. Qing app
Popular walk-in restaurants may be full to capacity when there's heavy foot fall. But that doesn't mean they want to lose those customers.
Qing apps allow people who are happy to wait to go do their own thing while a table becomes available, instead of waiting 45 minutes in the restaurant.
97. Betting app
It's no secret that the betting industry is hugely saturated. It's also no secret that it has struggled to adequately protect users from addictive behaviours.
Because of that, there's an opportunity for innovators to take advantage.
98. Poetry app
Poetry is sometimes thought of as a lost art form.
That said, enthusiasts still manage to get their fix with art apps. Wattpad, for example, allows you to both read other people's poetry and have a crack yourself.
99. Subscription alert app
Netflix, Disney Plus, Amazon Prime, HBO Max, Hulu, Britbox, Spotify, YouTube…
The list is never ending. And that's before you start with subscriptions that aren't entertainment based.
So apps that alert users when their subscriptions are about to renew, or when free trials are about to expire, are crucial money saving tools.
100. Handyman app
Even if you're a DIY pro, chances are, you're going to need a handyman to help with some jobs around the house at some point.
That's where handyman apps come in, helping homeowners and landlords source professionals to help solve issues around the house.
101. NFT marketplace app
NFTs were the talk of the town in 2022, with their stock rising and falling in an equally dramatic measure.
But chances are, NFTs are here to stay. And creating a marketplace app that enables collectors to trade is a way you can capitalise on the trend.
What app should you build?
If you got through those 101 app ideas, there's a good chance your head is scrambled. So here are some simple takeaways to help you decide on one innovative idea to roll with:
Be passionate - there's no way you're getting through the app development process if you feel "meh" about your project
Have some expertise - particularly in the case of specialist apps, you'll need prior experience of the problems you're solving for your target users
Niche down - come up with and stress test your USPs before starting mobile app development
And there we have it! For more app ideas and inspiration follow us on LinkedIn👈
Loretta Nguyen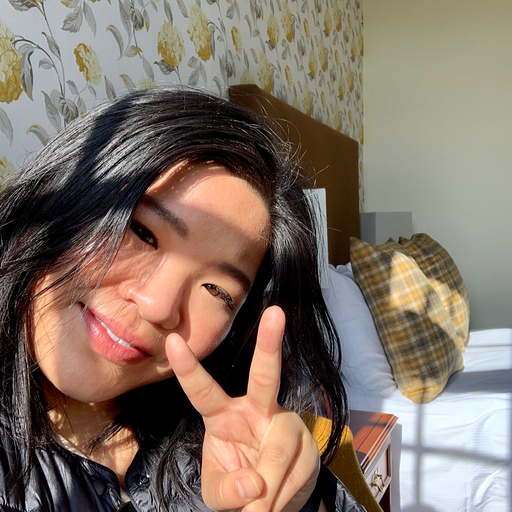 Digital Campaign Manager at Builder.ai
Loretta Nguyen is a Digital Campaign Manager at Builder.ai where she boosts awareness and generates leads through the use of multi-channel ad campaigns. Loretta has a Bachelor of Business/Commerce from Western Sydney University.