So, you want to get your side hustle off the ground.
Maybe it's a passion project you'd eventually like to focus on full time. Maybe it's a hobby you want to monetise to top up your income. Or it could be that word of mouth sales are soaring, and you want to take advantage of increased demand. 
Whatever your motivations, learning how to sell online is key to creating a successful and sustainable business. 
But any old guide won't cut it. With up to 24 million ecommerce stores already in business, you need expert advice from people who've been there and done it. 
So we asked 8 expert online sellers to give you tips that actually work. They are: 
Katheriin Liibert, Co-Founder of tech-empowered clothing brand, #muhoov, and Head of Marketing at eco-packaging startup Woola
Sam Speller, Founder of Kenko Matcha, an ecommerce brand that focuses on specialty matcha green tea
Daniel Barrett, CEO of Adwords Nerds, the world's largest Google Partner agency working only with real estate investors
David Bitton, Co-Founder and CMO at DoorLoop, a property management software provider for the real estate PropTech industry
Lisa Benz, Co-Founder of food delivery service RemoteCanteen
Jake Smith, Owner and Managing Director of custom car number plate provider, Absolute Reg
Allan Stolc, Founder and CEO of ecommerce bank loan comparison site, Bankly
Abe Breuer, CEO and owner of VIP to Go, a rental company for portable restrooms and shower trailers
Use the menu below to flick through their insights or keep scrolling! 👇
5 things you need to do before you start selling online
Just like you wouldn't dive into the Atlantic without swimming lessons, you need to prepare before you start selling online. Here's how you can set yourself up 👇
1 - Choose what you're going to sell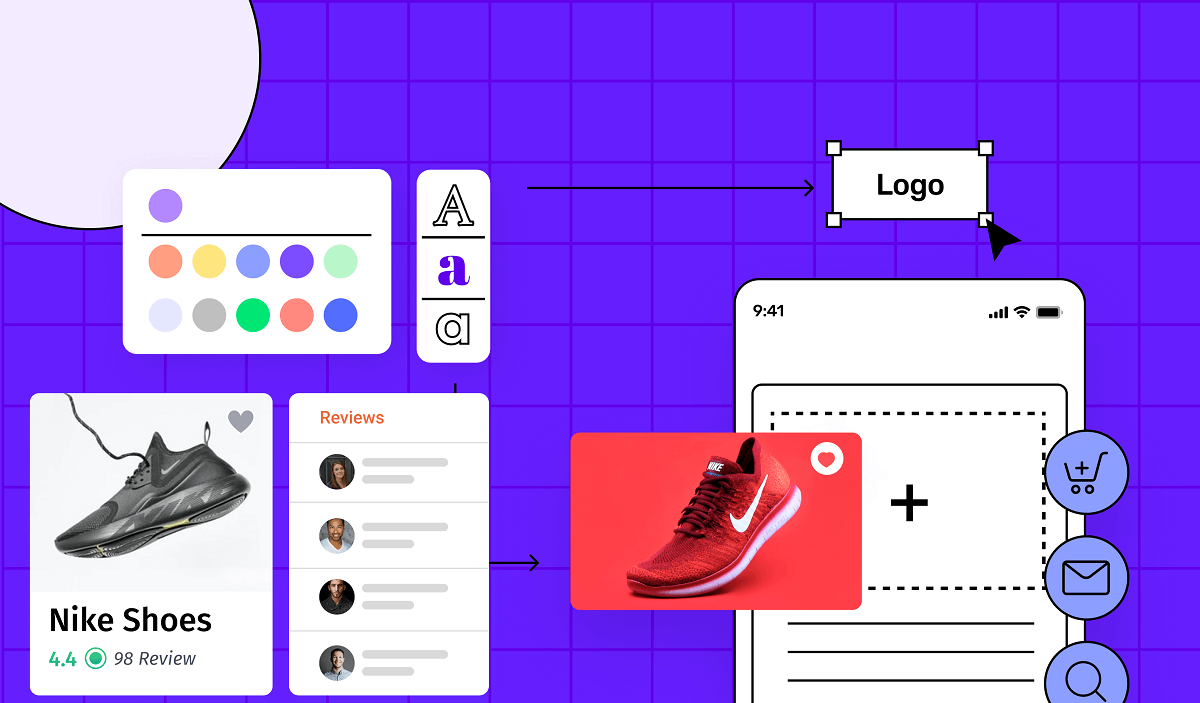 Sure, you probably have a decent idea of what you're going to sell already. But to establish yourself in the market, you need to niche down. 
If you're a jewellery store, for example, it'll be tough to build momentum with your online sales if you only sell gold hoop earrings. That's because there's no incentive for buyers to trust your store over one with a ton of brand awareness and reviews.
Instead, you could think about becoming the go-to retailer for something more specific; say 14k gold nose rings. Here, you'll experience less competition, allowing you to build a customer base and start making money. 
Next, you should validate your idea. Katheriin, whose ecommerce business has an annual recurring revenue (ARR) of €200K, explains:
"Find at least 5 people (preferably not close friends and family) who'd be willing to buy your product and find out why they'd buy it – this'll be the foundation of your product and marketing."
Daniel, who manages over 5 million dollars a year in client ad spend at Adwords Nerds, also has a few words of advice here:
"You should get feedback from customers and potential buyers about what they like about what you've created and what they'd change if they could—and then listen! This information is invaluable when it comes time for updates or new versions of your product line."
But acting solely on their feedback isn't enough. You should combine it with your own research on macro market trends to further refine your idea.
In 2022, for example, baking sustainability and inclusivity into your products and supply chains is a wise move—especially considering that 32% of consumers are ready to adopt more sustainable lifestyles and 38% of consumers trust diverse brands more. 
David provides a practical way you can do this:
"Determine or estimate how much stock you need to keep on hand at any given time. This guarantees that you just carry enough inventory to satisfy needs, resulting in a lower carbon footprint."
2 - Decide your target audience
As the old saying goes, "if you try to please everyone, you'll end up pleasing no one". That's why you need to create buyer personas, even if you're selling generalist products. 
Buyer personas detail the key pain points, motivations and ambitions your ideal customer has, allowing you to create products and messaging that align with their needs.
Depending on what you sell and how many products you stock, you may need multiple buyer personas, too. For example, even though the products are in the same category, the target audiences for flat caps and top hats are completely different. 
As a result, you'll need to serve them different messaging and ads (which we'll come to later) to convert them into customers. 
3 - Do market research
Remember when Google Glass was released in 2013?
Even though it was heralded as visionary technology and countless column inches were dedicated to it, it flopped. 
Hard. 
The reason? Google tried to create a market need—but consumers simply didn't respond, with only a handful being convinced to part with their hard-earned cash. And if a behemoth like this can fall so spectacularly on its face when trying to sell a product, you bet you can too. 
But proper market research will help you avoid getting egg on your face. To conduct it, check that there is some demand for your product(s). 
Free tools like Google Keyword Planner give you estimated monthly search volumes per keyword, while Chrome Extensions like Ubersuggest tell you how difficult they'll be to rank for. This will set your search engine optimisation (SEO) strategy up for success.
Next, identify your competitors and trawl through Trustpilot reviews to see what they do well and what they do badly. Then square those reviews with reality by reviewing their websites and downloading their apps.
All of this will help position you against your competitors and take advantage of their weaknesses.
4 - Set SMART goals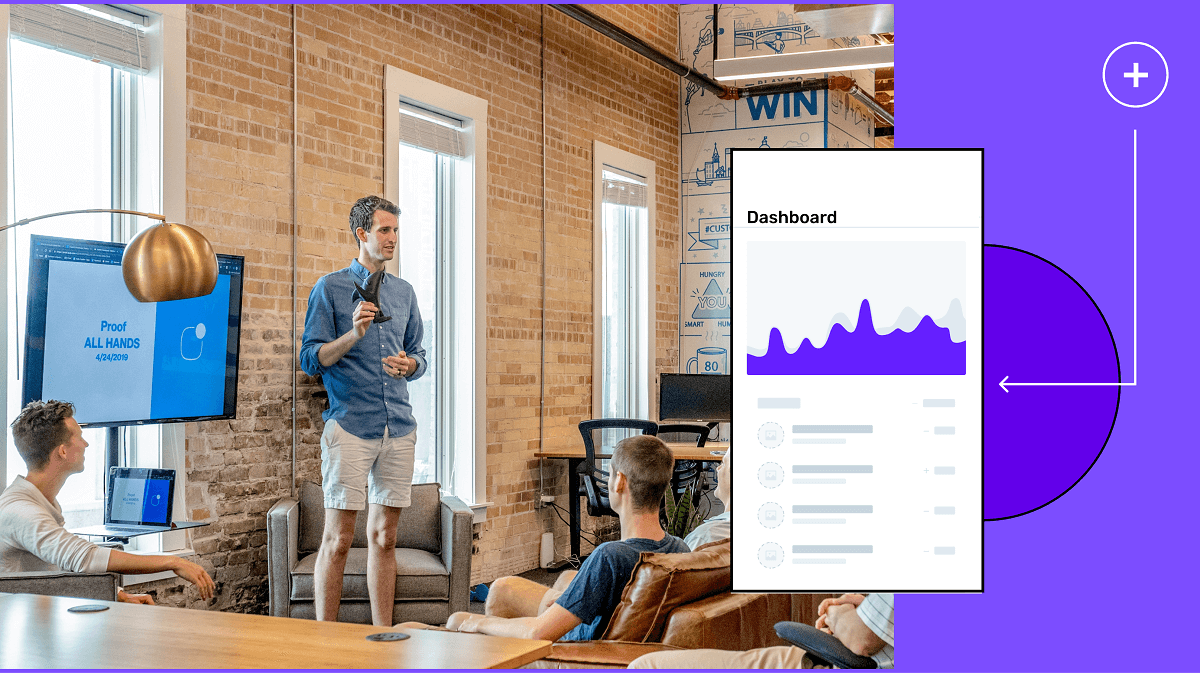 Who knows: 
This time next year, you could be on the Forbes rich list, taking David Beckham as your plus one to the Met Gala. 
But setting this as a goal for your online selling journey isn't advisable. Instead, use the SMART framework. 
With specific, measurable, achievable, relevant and time-bound objectives, you'll keep focused, stay motivated and ensure your new online shop is a success. 
5 - Do comprehensive financial planning
As an entrepreneur, it's your instinct to start selling right now and fill in the gaps later. But you need to be proactive when it comes to sorting out your finances.
Allan, an expert in the field who helps ecommerce firms set up successful brands and Bankly CEO, explains:  
"An online business thrives better with comprehensive financial planning. Before starting your online selling journey, you have to take into account the set-up and base costs required to run the business. 
"This advice may sound basic, but carefully looking into your finances gives you a good head start when entering the ecommerce industry.
"Consider some administrative expenses like the costs of consulting a lawyer for legal matters, an accountant for interpreting financial records, and any other factors directly attributed to setting up the business. 
"You also have to check on social media management fees, team software licences & staff costs, and all marketing expenditures to promote your business to the public.
"Things can get complicated as you go deeper into the financial aspect of establishing your online business. 
"For this, you better need to equip yourself first on how to handle complex financial situations. You can do this by attending beforehand financial literacy training or conducting a thorough feasibility study to increase your chances of success."
How to sell online: A comprehensive 6-step guide
Now you've laid the groundwork for your ecommerce store, it's time to start selling online. Here's everything you need to know. 
Step 1 - Decide where you're going to sell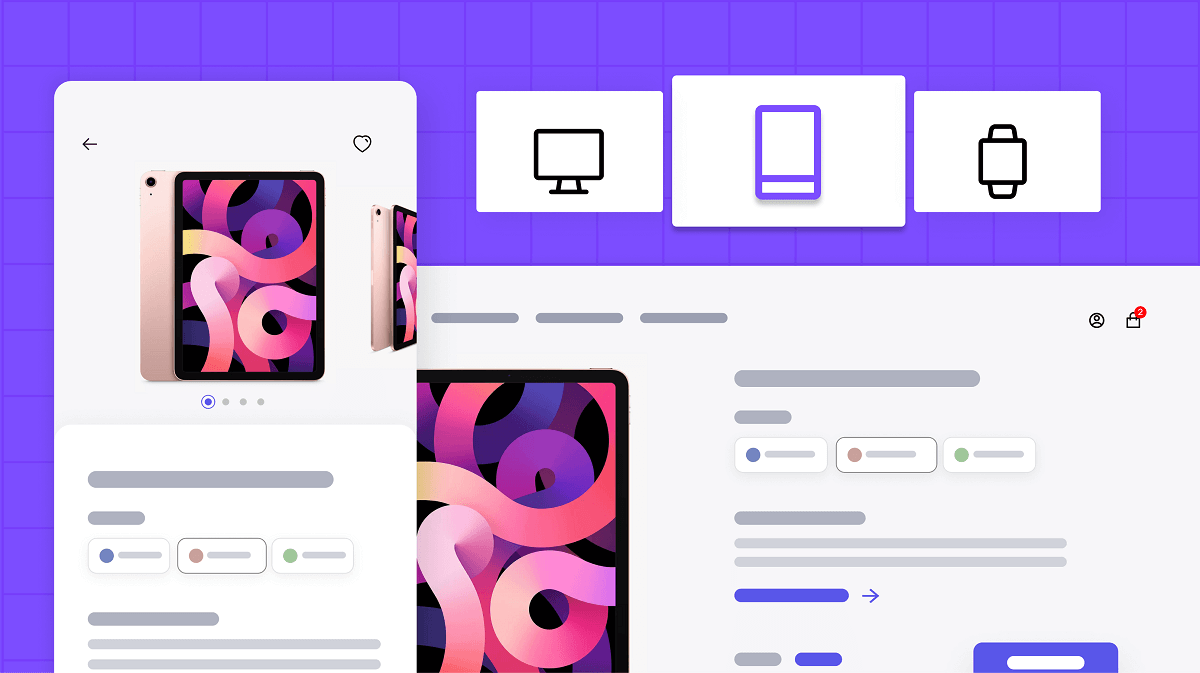 As DoorLoop co-founder and CMO, David says, to sell effectively, you need to: 
"Determine which platform is most suited for the product you want to sell and where your target market commonly looks for and purchases products like yours. By doing this, you'll be able to work out where you are most likely to reach them."
This may be through apps, websites or online marketplaces.  
Likelihood is though—at the beginning of your online selling journey—your resources will be spread pretty thin, meaning you have to choose one channel and nail it. 
The question is, which option can deliver the greatest return on investment (ROI) and support you as you scale?
Here are the pros and cons of each option 👇
Websites
Creating your own ecommerce website gives you the power to reach your ideal customers wherever they are. 
And if you use order fulfilment methods like dropshipping, you can do this cost effectively, increasing your chances of making a profit. 
Websites are also discoverable by Google, meaning you can optimise them for keywords. This means online shoppers can discover you for free when they input specific search terms into Google.
On the other hand, ecommerce websites struggle to take advantage of smartphone features like cameras and GPS, which mobile apps are built for. This is especially important when you consider that over 50% of internet shopping traffic comes from mobile devices.
They also can't offer customers anything in offline modes, stopping the customer journey dead in its tracks when there's no internet. 
Marketplaces
By selling on marketplaces, you can fast track your way to success. 
Listing products on Ebay and Amazon, for example, gives you instant access to millions of consumers who could be ready to buy. 
You also don't need to do much heavy lifting when it comes to marketing your products or optimising them for search engines.
The main downside?
For their trouble, marketplaces take a cut of your profits. And the more you make, the more likely this is to hurt you in the pocket. 
Apps
If we're basing this purely on conversions, creating your own ecommerce app wins hands down. Because research shows online shoppers convert at a 157% higher rate than they do on websites. But obviously, this isn't your only consideration. 
Building an app may not have entered your thinking because you have no tech expertise and don't know where to start. But it's actually much easier than you think. 
With no-code app builders, you can create your app by dragging and dropping reusable features into your chosen template. One of the greatest benefits of doing this is that you don't have to profit share with marketplaces, meaning everything you make stays in your bank account. 
Of course, there are downsides too. 
If you choose the wrong app builder, you won't technically own your app. That means if you encounter bugs or security breaches, only the app builder will be able to solve them. This process is slow, which isn't ideal when you're tackling critical issues that could see you lose trust with your customers—and a lot of money. 
What's more, the templates you choose from no-code app builders restrict you as you grow because they're not customisable. At least beyond adding your own branding. For example, if you want to improve user experience (UX) to get more conversions down the line, you won't be able to. 
That's where Builder Studio Store comes in. (👈 Hit the link to browse our starter packs!)
You start off with a pre-packaged app, but you can build complexity as and when you need to. Meanwhile, Studio One automatically takes care of updates, bug fixes and infrastructure monitoring. 
So, which should you choose?
Well, there's no one-size-fits-all solution. But Absolute Reg Managing Director, Jake, advises that you "sell your products or services using only one platform with the highest concentration of your niche market."
"This strategy is called micro-branding. It helps create a more successful and personalised brand that you can easily manage, considering you don't have enough experience in online selling. 
"Doing so will allow you to exert your time and effort on one approach that will guarantee success rather than casting a wide net and spreading your content across all channels."
Step 2 - Build your ecommerce brand
Sadly, just listing your products doesn't mean you'll sell any of them. 
You need to create an identity for your brand; one that allows your ideal customers to connect with you on a deeper level. This is something Katheriin puts a lot of emphasis on: "Brand building is everything, ESPECIALLY in the early stages," she says. 
"These days, products and services can easily be replicated, so product-based differentiation is pretty much dead. Only way you can stand out is with your brand.
"To quote my colleague Paula Pärnaste (Woola's Head of Brand): 'Building a brand that stands out is the way to win against the category leaders.'
"What we've seen is that if you use visuals and words to communicate your brand in an entertaining way, giving people a story worth telling, it spreads.
"Case in point: our December '21 fundraising news had the following team photo attached to it...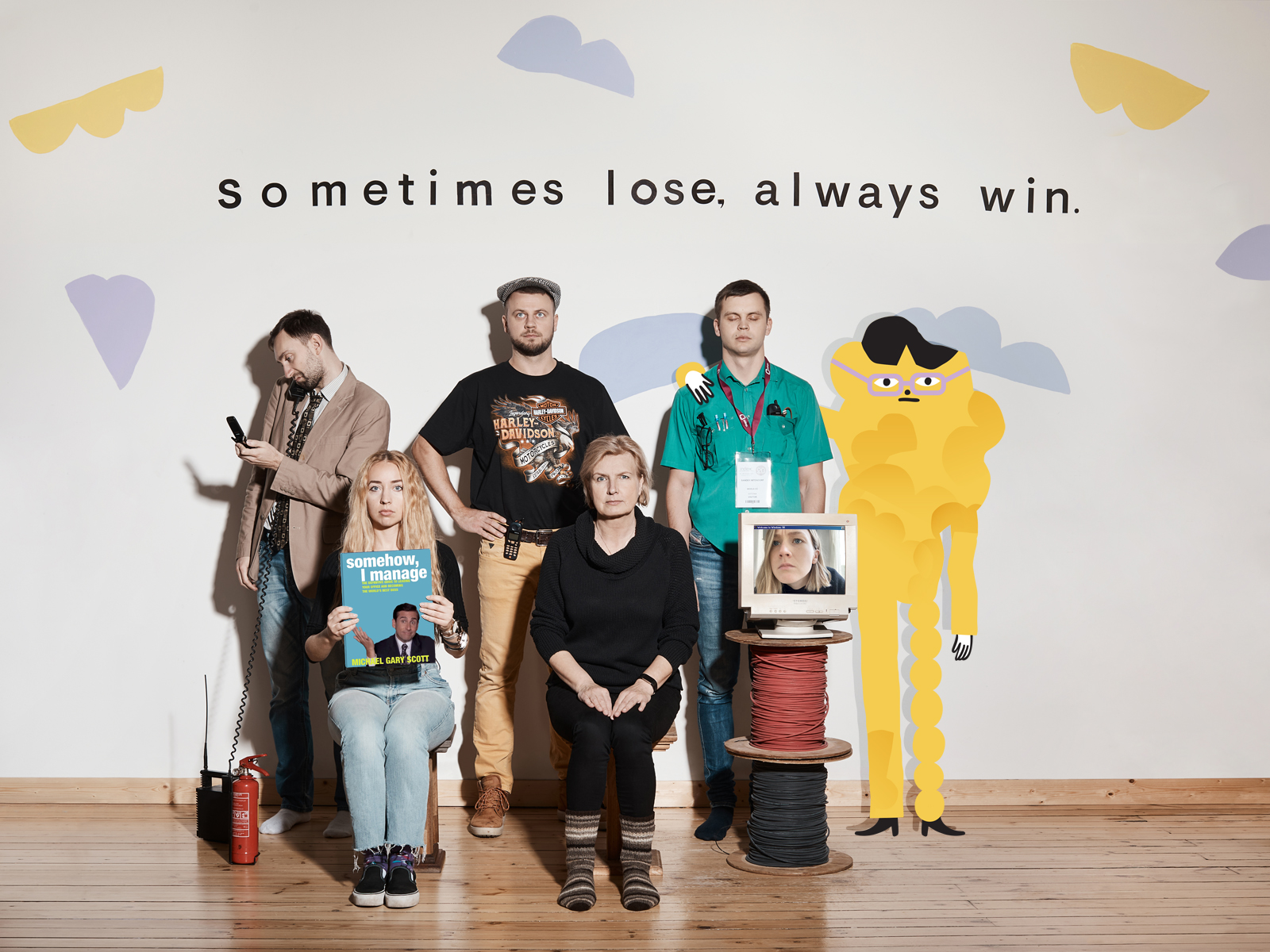 "Quite different from a typical startup fundraising photo (with logo-t shirts and power poses), don't you think? 
"Well, here's the result: 
"Mike Butcher of TechCrunch touted it on Twitter as 'probably the greatest tech founder team photo of all time.'
"Another example would be our 'hiring campaign' on LinkedIn, which really simply consisted of a series of LinkedIn posts by Woola's CEO. 
"The catch? They were posts that made it clear we do not take ourselves too seriously at Woola. Ones like this: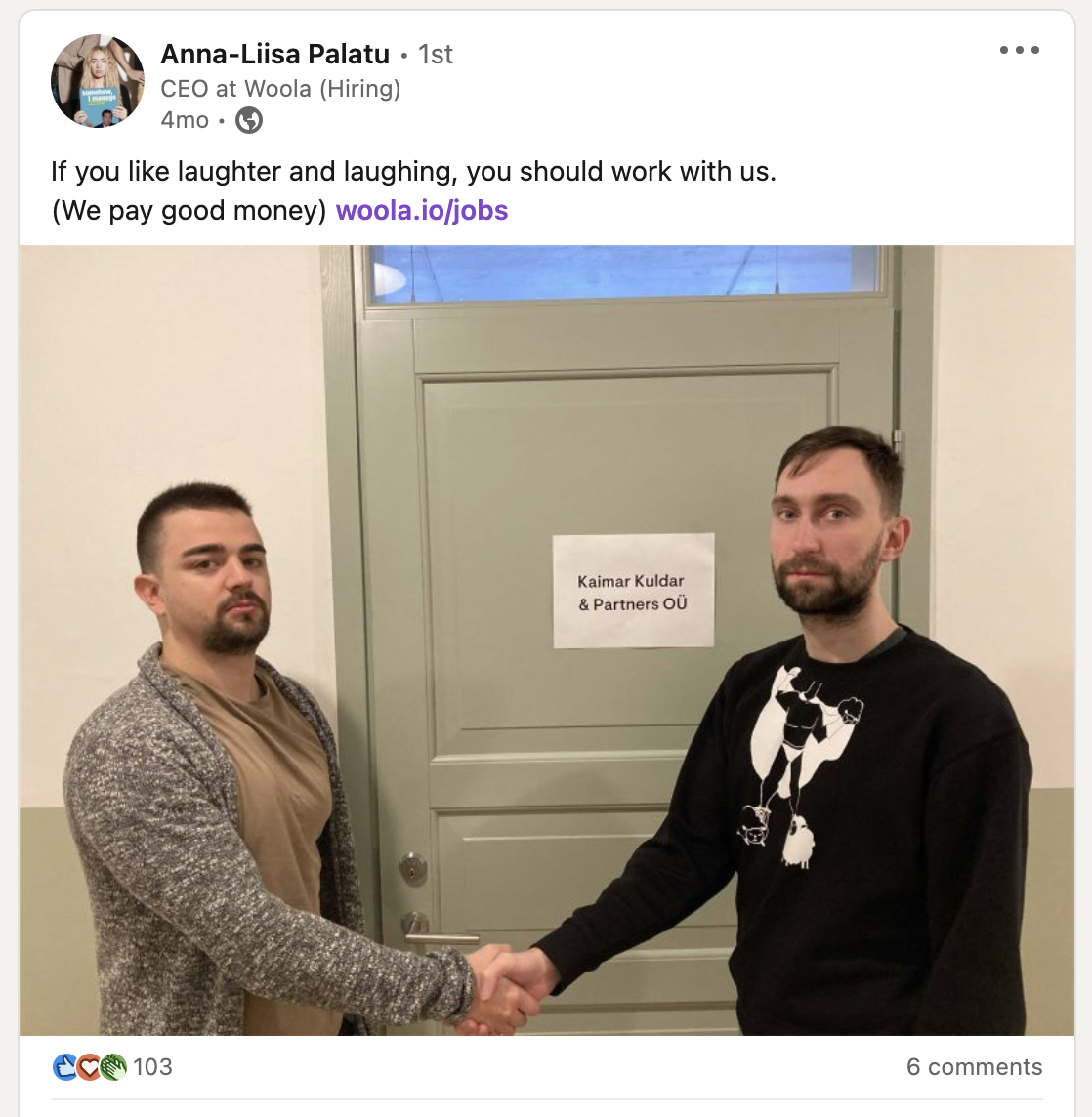 "The result? Amazing organic reach, considering our CEO has not built up a following or a personal brand on LinkedIn as such. (She's been busy building the company!)
"We didn't hire an agency to create this, there was no budget as such – simply a little bit of humour and an iPhone camera to get results like these 👇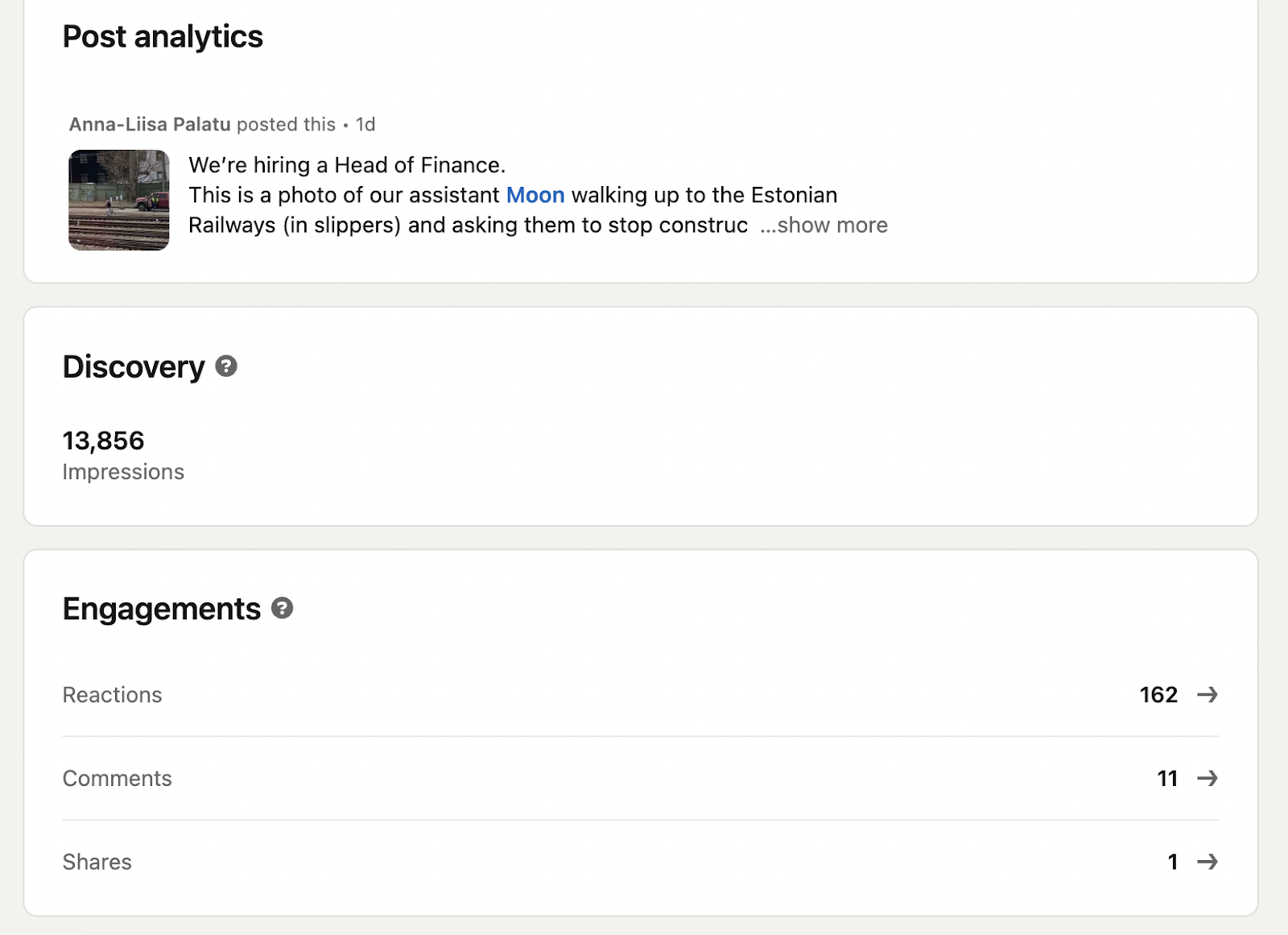 Katheriin and Woola's work show how you can effectively build your brand on a budget, before you think about spending anything on ads. To establish a framework that can replicate this success, Kenko Matcha founder, Sam says:
"When building your brand, it's critical that you start by knowing your audience. Who are they? What do they like? What do they hate? What do they need? How can you help them?
You should also create a plan for what kind of brand you want to be—and then stick to it! 
"Don't try to change things up too much once you've established a clear picture of who you are and what you stand for.
"Also, make sure everything about your business reflects the brand you've created. This includes everything from product descriptions to customer service interactions to photos on social media posts. 
"If it's not aligned with how people perceive your business, then it won't work as effectively at attracting new customers or retaining existing ones."
If you need a helping hand to start building your brand, check out Builder's resources, including our guide to creating a successful business name and our free logo maker.
Step 3 - Create a marketing plan
Now you've built a brand and know where you're selling, it's time to create a marketing plan. The idea being to become as visible as possible to your buyer personas. Here, RemoteCanteen Co-Founder, Lisa has some advice: 
"When selling online, the most important thing is to ensure that your products are well-presented and accurately described. 
"Good product photos are essential, as they will be the first thing that potential customers see. Make sure to use bright, clear photos that show the product from multiple angles. 
"It's also important to write detailed, accurate descriptions of your products. Be sure to include all relevant information, such as dimensions, materials, and any special features. 
"Finally, it's always a good idea to offer competitive prices. By following these simple tips, you can increase your chances of making a successful sale."
Keyword research will help you optimise these descriptions (return to point 3 of the first section of this guide for more info) and support your content marketing. Abe, CEO of VIP to Go, explains that all of this helps to create a buzz around your brand: 
"Take time coming up with videos, blogs, and social media posts that introduce your offerings to the market because this will help you ease through your ecommerce journey.
"Tell the story behind your brand and share a meaningful mission, vision, and values that resonate with your target demographics. Create and share content such as tips, how-to's, and guides that give them an idea about your products or services. 
"It also helps to feature customer stories and testimonials because these establish trust among your potential customers.
"Make sure that every content you develop links back to your website or ecommerce store so people will know where to go to buy your products."
Once you have all of this infrastructure in place, investing in ads will help maximise your reach.
For example, Google Ads gets thousands more eyes on the products and content on your ecommerce website, even if you don't rank for them on the search engine results page (SERP). 
Display ads, meanwhile, will help you reach online shoppers who've visited your website, marketplace store or app. This allows you to upsell similar products to customers who like your products and convince new ones to revisit you.
As many ecommerce stores use social media to drum up business, you should also explore Facebook and Instagram ads, which allow you to target customers while they're scrolling. This goes hand in hand with influencer marketing, which improves brand awareness. 
Step 4 - Set up payments
Research by invesp shows that 65% of online shoppers abandon their cart. 
And there are a number of reasons for this. Chief among them are unexpected shipping costs, having to create new user accounts and long, confusing checkout processes. 
The latter is what we're going to talk about now. 
Ultimately, you want to make it as simple as possible for customers to buy your products. And you can do this by opening accounts with payment processors like PayPal, Due, Stripe, Square or GoCardless. 
With these processors, customers can use existing account details to checkout, rather than creating new ones, reducing the likelihood of cart abandonments. 
For mobile customers in particular, you should also think about accepting payments from digital wallets like Apple Pay, Google Pay and Amazon Pay. This gives visitors to your website, app or marketplace store the chance to pay instantly without entering their details. 
Meanwhile, having shop now and pay later options like Klarna can increase conversions by 44%.
By providing a range of payment options like this, you're removing purchasing barriers for the customer, which means more money in your pocket. 
Step 5 - Make shipping arrangements
As we touched on in the previous section, shipping options are a key part of the customer journey. So key in fact that, according to Stitch Labs, sites that offer free shipping get 10% more sales than those who don't. 
This may not seem viable for you, especially if you're delivering items to far-flung corners of the globe or large items domestically. But you can absorb the cost simply by raising your prices, with many customers associating higher prices with greater quality and value. 
Striking a balance between shipping speed and reliability is another key issue to address. 
To go about this, you need to choose a shipping carrier. The likes of FedEx, UPS and DHL are solid choices for international shipments, but the ideal option for you depends on your requirements. 
For example, FedEx specialises in delicate and fragile shipments, UPS hazardous goods and DHL in small parcel delivery. Other providers cater to specific industries like hospitality and jewellery. 
Top tip
Including estimated delivery times in your checkout will help you improve customer experience.
Step 6 - Iterate and optimise
Setting up your store and not optimising it is like running the first 100 metres of a marathon and asking for a medal. 
While you've put all of the foundations in place to succeed, some channels and strategies will work better for you than others. It's your job to stay laser focused on the numbers and see where there's room for improvement. 
For example, if you find that profit sharing on marketplaces like Amazon and Ebay is hampering your growth, you should consider building an app or a website. 
If your social engagement metrics indicate your audience responds to informational content, include more of it in your marketing strategy.
If your cost per acquisition (CPA) is much lower on Facebook than it is on Google Ads, prioritise your ad spend to reflect this. 
Because you can bet your house that your competitors will be doing the same.
Closing thoughts
There you have it! 
That's everything you need to know before, during and after you start your online selling journey. 
Thanks again to our 8 ecommerce experts. Now it's over to you to cut and paste their advice and make your online business a stonking success!
If you need a helping hand getting your journey started, visit Builder Studio Store or chat to our team 👈
FAQs
See below for advice on how to set up specific ecommerce stores with Builder 👇
How to sell clothes online?
If you create an app to sell clothes online, you could benefit from hugely increased conversion rates. To do this, go to Builder Studio Store > Pick ecommerce template > Choose your pricing plan > Customise your app with your branding > Start selling!
How to sell art online?
Creating an app is one of the best ways to sell art online as you don't have to pay marketplace fees. To do this, go to Builder Studio Store > Pick ecommerce template > Choose your pricing plan > Customise your app with your branding > Start selling!
How to sell books online?
An emerging way to sell books online is to create an app so you don't have to profit share with Amazon. To do this, go to Builder Studio Store > Pick ecommerce template > Choose your pricing plan > Customise your app with your branding > Start selling!
How to sell furniture online?
If you're looking for ways to improve website conversion rates for your online furniture store, you can create an app. To do this, go to Builder Studio Store > Pick ecommerce template > Choose your pricing plan > Customise your app with your branding > Start selling!
Ananth Ramanathan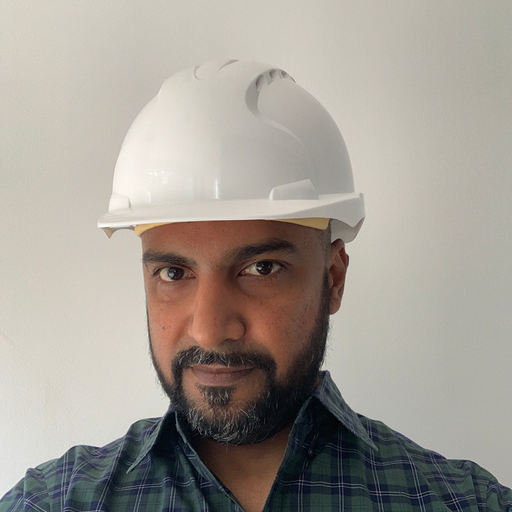 VP Studio Store at Builder.ai
Ananth Ramanathan runs Studio Store business at Builder.ai with a mission of digitising a 1M+ micro SMEs in the next 5 years. He oversees the commercial, product, and customer success functions to rapidly scale Studio Store globally. Ananth's an experienced tech business operator, a failed entrepreneur, and an active angel investor.