We make it easy to build a successful marketplace app like eBay. We'll explain the must-have features, then give you a step by step guide to easily create yours with our no-code platform.
Online marketplaces are the future
The online shopping mall experience is becoming increasingly common. One of the big names is eBay, there are more than 182 million users worldwide. Every month there are over 62 million people who use their marketplace app. That's a lot of potential customers.
Marketplaces like this make buying and selling goods simple. In Q2, eBay made $2.7 billion – up a huge 14%! These numbers show how much money the business model can generate.
Key features of eBay
Want in on the action? Building a marketplace from scratch requires a little planning. It all starts by looking at the basic functionality you need. You can't calculate custom development costs without this. Our eBay template comes with 22 basic features. Let's explore 8 that a successful business needs.
Email Login
Promote repeat business. Let a customer easily log in with their email address. They don't have to remember a confusing username and you build a list of potential buyers.
Profile/Bio
Your user base needs to trust each other. A profile adds a human touch and helps professional sellers stand out. It's a key element of any online marketplace platform.
Dashboard
Visualise the performance of your business. Your marketplace website is capturing loads of customer data. Use the dashboard to find your most viable products, track sales and more.
Payments
Secure payment gateways enable your marketplace to process a range of payment methods. Users can also save their card information to streamline future purchases.
Reviews
The marketplace business model needs the involvement of your user base. Let them share their experience with reviews and star ratings. Product listings are expected to have reviews.
Push Notifications
Send notifications directly to your target customers' devices. Share products and deals you think they'll like. It's a marketing strategy that draws in customers and boosts sales.
Search
As a marketplace owner, you need to connect sellers with buyers. Search helps buyers quickly find the products they're looking for based on the query they enter.
Share
A basic feature that's often overlooked. Let your loyal customers advertise for you. Make it easy for active users to share listings with their social networks.

How to create your own online marketplace
Depending on the type of marketplace you want, you have a few options. You could code it yourself... if you have the technical knowledge. But be warned, an app like eBay is a big undertaking – it's around 50 million lines of code.

Alternatively, you could hire a development team that does standalone marketplace software. It'll likely run well. The issue is it's expensive and takes a long time. All the design, coding and testing will be billed at their hourly rate. It adds up fast!

Why not try Builder.ai?
We give you a better option. It all begins with the idea that 80% of software uses the same 500 basic features. We turned these into reusable Lego-like blocks. Tell our AI your idea. It'll understand it, then use these blocks to quickly assemble your barebones marketplace app.

This nearly finished app is given to our team. They customise everything and build any additional features you need. As they don't need to start development from scratch, you'll save time and money.

Here's your step by step guide on how to build your marketplace app like eBay.
Step 1: Choose a base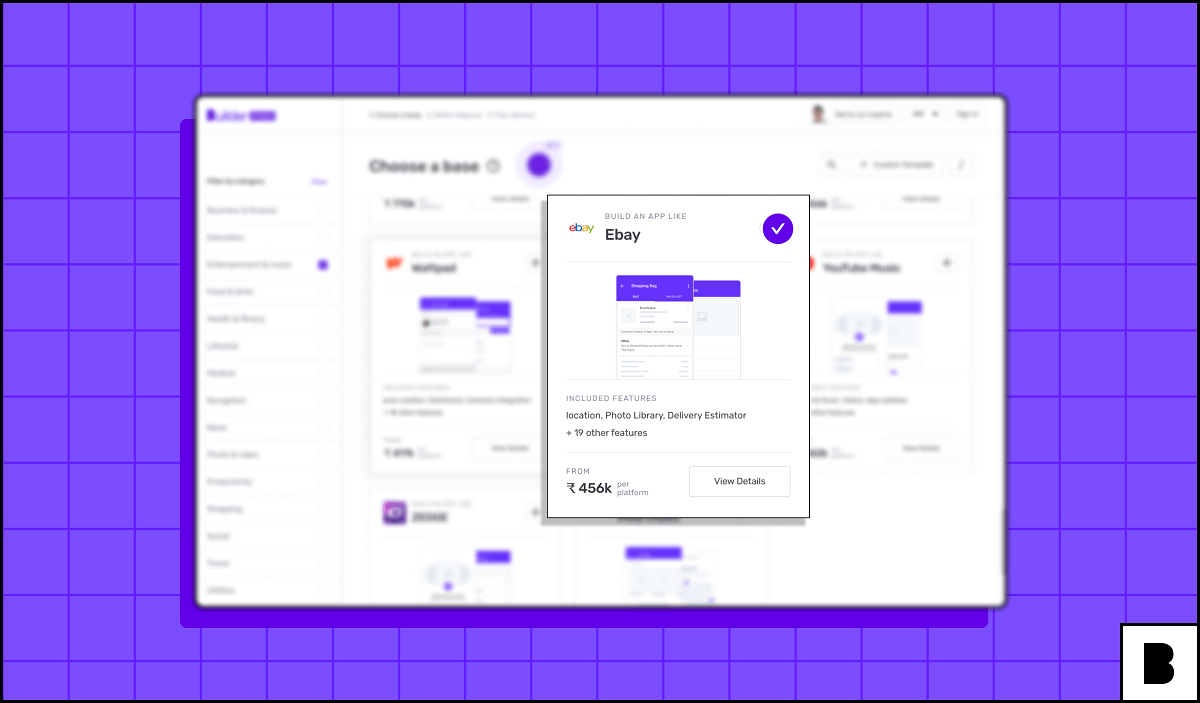 Head over to Builder Studio and select 'Shopping' from the 'Filter by category' section. Here you'll see all the shopping apps we've created templates for. Choose up to 3 that represent your marketplace ideas by clicking the plus icon. Perfect, we use this information to understand what you think is important. Click 'Build Now' to proceed.
Step 2: Refine the features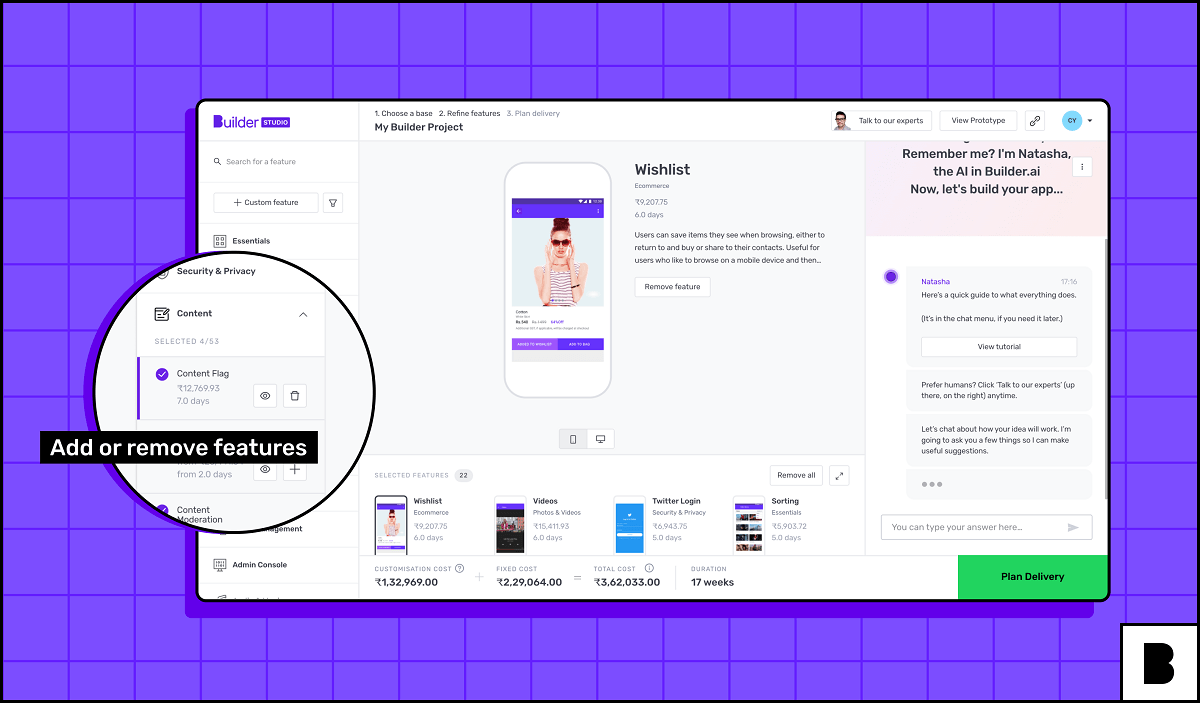 Complete the signup and say hello to Natasha – our handy AI. She'll talk with you and learn the specifics of your idea. Prefer working with people? Not a problem. Click the 'Talk to the experts' button to be connected with someone from our team.

Natasha understands your idea. She combines this with her knowledge of other apps to suggest features that'll make your idea great. Click the eye to learn about a specific feature or click the plus icon to add it. Your price updates in real-time as you make changes. It's calculated down to individual features, which allows us to give you a guaranteed price upfront. Click 'Plan Delivery' to continue.
Step 3: Plan delivery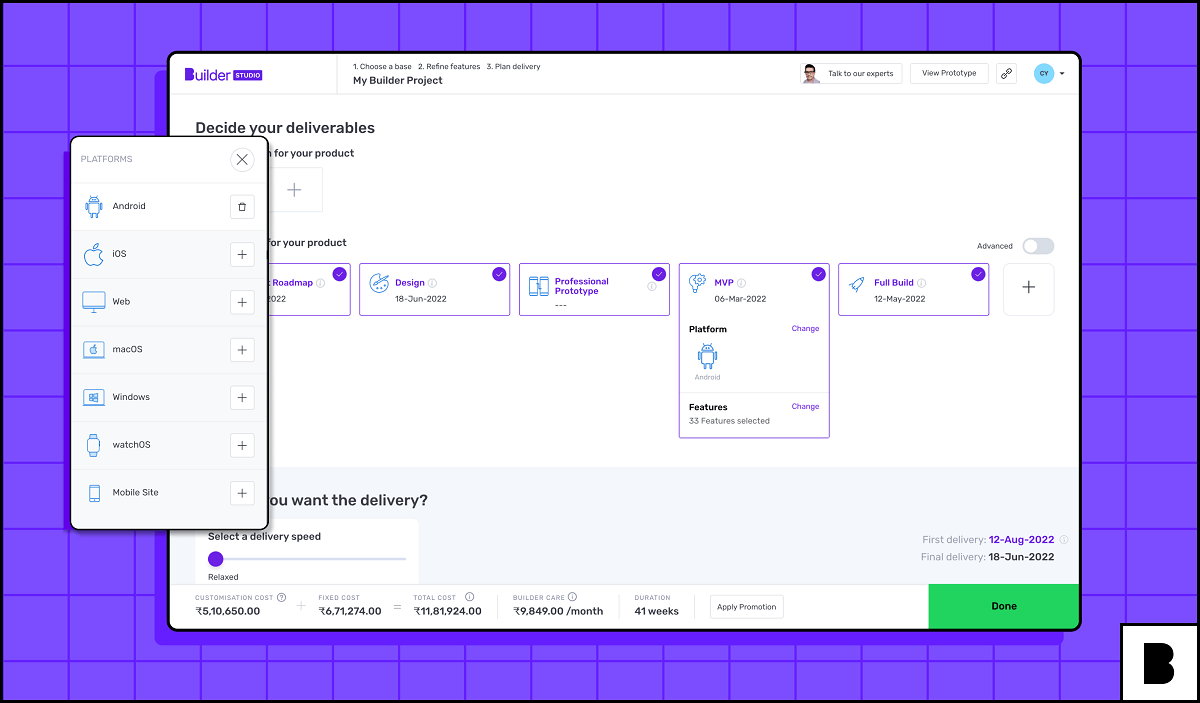 Click the plus icon to open the overflow menu – it shows all the platforms you can choose. Fancy a marketplace website? Click the computer. Android app more your style? Click the Android logo. Select all the marketplace types to be included. As always, you get real-time updates to your price and delivery date.

Now you need to choose how your project is split up. Our default is what suits most customers. First, you receive a professional wireframe of your idea from the design team. Next, an MVP (Minimum Viable Product) is shared so you can get initial feedback. The final step is when you receive your finished app.

Have very specific requirements? You can modify the timelines of each phase in the 'Advanced' view. Move the slider to indicate the urgency. Your price and delivery dates update in real-time. You can make big savings with a relaxed deadline.
Step 4: Name your Buildcard™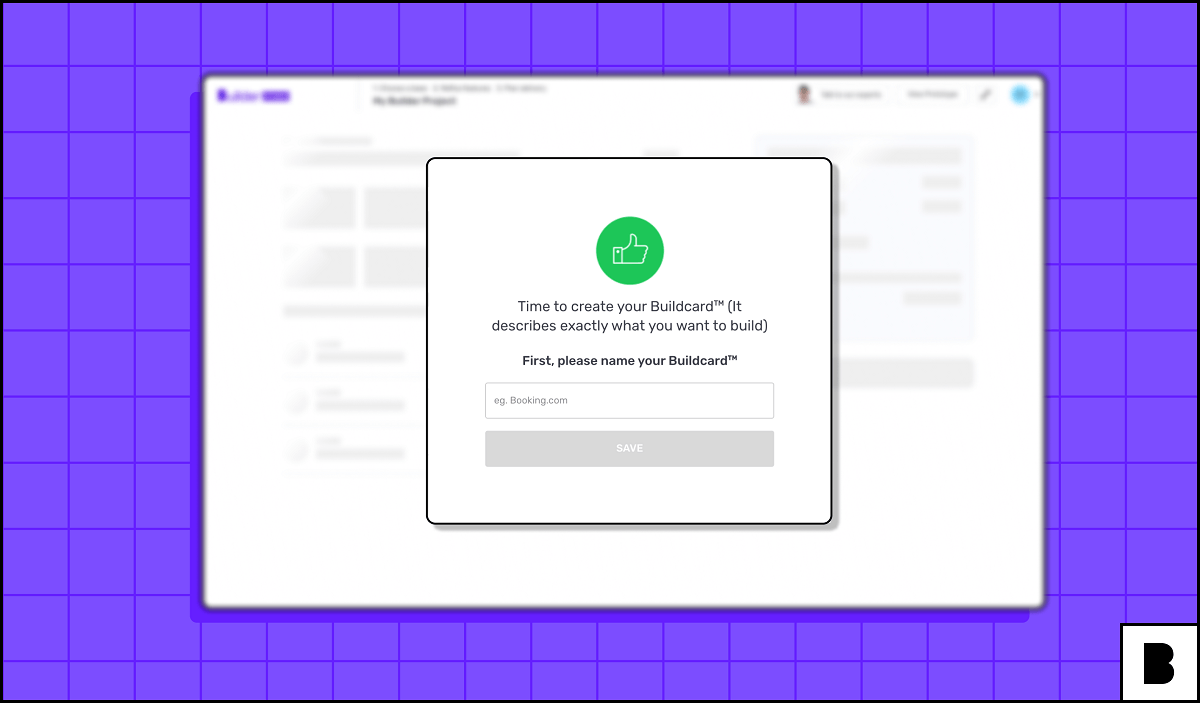 Your online marketplace platform needs a name. What should we call it? You can always update this later – there's no pressure.

Once your Buildcard is named, take a peek at all your previous choices. Review the features, phases, cost and timelines. Happy with everything? Click 'START BUILDCARD' to progress.
Step 5: Select your payment plan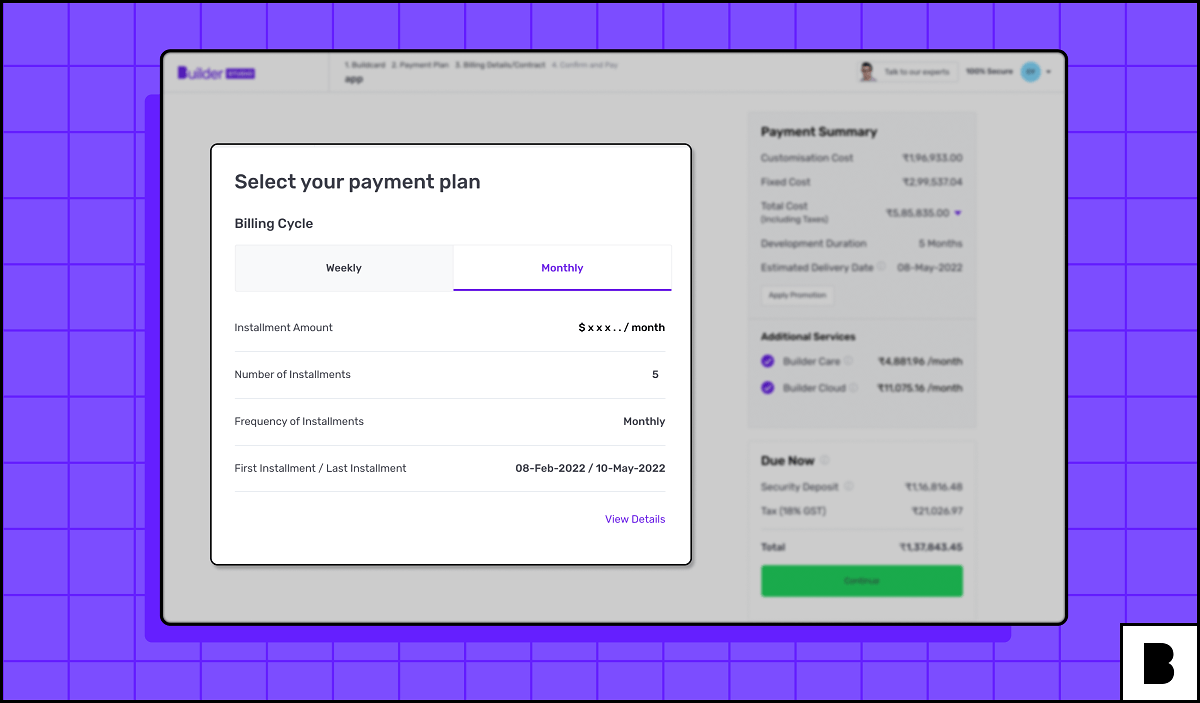 How often would you like to make your payments? We offer weekly or monthly schedules. The payment dates and instalment amounts are visible to simplify your choice. Review the payment options and select your preference. Click 'CONTINUE'.

Please input your payment details and agree to the terms and conditions. All good? Click 'Continue to Payment'.
Step 6: Leave it with us
Your custom platform is underway. You can see how the build process is going at any time through your dashboard. You're the boss, so you can make tweaks or pause development at any time.

Why choose Builder.ai?
Your online marketplace will be in your hands 6x faster and cost 70% less than traditional developers. Our AI-powered process means we can price per individual feature. This lets us offer a transparent process with competitive timelines, a guaranteed price and more...
You don't need to be a coder
Builder Studio makes creating your app as easy as ordering pizza online. Choose an app with comparable features – this is your base. Next, personalise it with our wide range of features – the toppings. Can't find a feature? No worries, we'll build it for you. Our team is always ready to help.
A cloud experience you'll enjoy
Builder Cloud enables your application to run on any public cloud – AWS, DigitalOcean, Alibaba Cloud and Microsoft Azure to name a handful. All of these are available from within your account. How to choose the best? Our AI recommends one after analysing your usage and the rates. Last year, we saved our clients more than $4.5 million.
Everything just works
Studio One is how we keep everything running smoothly. It's our aftercare service. Third-party updates can cause errors in your app. To make sure this doesn't happen, we do code reviews to ensure it's always bug-free. We even have our AI monitor for unusual activity. If any's spotted, it's sent to the developer team so they can preemptively investigate.
FAQs
1. How can I create an online marketplace?
Give Builder Studio a try. You don't need any tech skills. Pick a template and get right into the customisation process. Add or remove features until it's truly yours. All looks good? We take over and bring it to life.
2. What are the 3 main types of online marketplaces?
Options include B2C (Business-to-Customer), P2P (Peer-to-Peer) and the B2B marketplace (Business-to-Business). The marketplace model used by eBay is primarily a mixture of P2P and B2C.
3. How much does it cost to build a marketplace platform?
As a general rule, marketplace website development will usually cost less than building an app. However, the specific price is going to be unique to the features your app needs. Outline your app in Builder Studio if you'd like to see the price for your initial idea.
4. How do I create a multi vendor marketplace?
Multi vendor marketplaces mean that it's not just one individual vendor. The marketplace founder creates a space where others can sell their goods. Build this in Builder Studio with the eBay template. Make sure you include the 'User Roles' feature.
5. What are B2B marketplaces?
In this model, potential users all represent businesses. The primary product will be bulk quantities of goods being sold directly from one business to another.
6. How do online marketplaces work?
Each item a seller lists for sale will require payment of an insertion fee (sometimes called a listing fee). When a customer makes a purchase, the seller is responsible for the customer. As the business owner, you may take a small % of each sale.
7. How do I get a marketplace user?
Attracting real users to your marketplace is one of the hardest parts of launching your marketplace. Look at the advertising strategies popular marketplaces use. Then, run marketing campaigns for your target users. Consider paid ads, business directories and online forums.

Ananth Ramanathan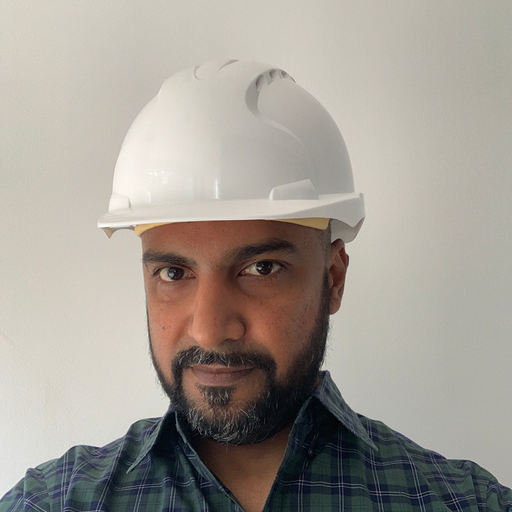 VP Studio Store at Builder.ai
Ananth Ramanathan runs Studio Store business at Builder.ai with a mission of digitising a 1M+ micro SMEs in the next 5 years. He oversees the commercial, product, and customer success functions to rapidly scale Studio Store globally. Ananth's an experienced tech business operator, a failed entrepreneur, and an active angel investor.