Well, you want to build an app and have no idea how to get started. Don't worry, we've a step-by-step guide on how to create an app from scratch.

Before you get started creating an app, it's vital to know why you need to develop a mobile app and how it can help your business grow. According to Statista, a market research agency, the number of smartphone users worldwide today surpasses three billion and it's forecast to grow by several hundred million in the next few years. This huge user base creates lots of opportunities for business enterprises.

No matter, whether you're a small-medium business enterprise or a big corporate, mobile apps are essential. So, what are you waiting for? The app development process isn't as complicated as you think. Here's how to create a business app from scratch and release it in the app store.
Write down your idea
Got an idea for a mobile app? Pen it down before you begin the app building process. It's the first step toward creating your mobile application. We recommend you to write down whatever you have in your head because an idea in your head has no value until it's worked on.

Decide on launch platform
Platform? Yes, again it's a vital decision to take make developing your application. You need to decide which platform you're going to build your app for – whether that's Android or iOS. Think about the platform used by your potential app users. The rest of the design and development process may vary, depending on the mobile platform you choose.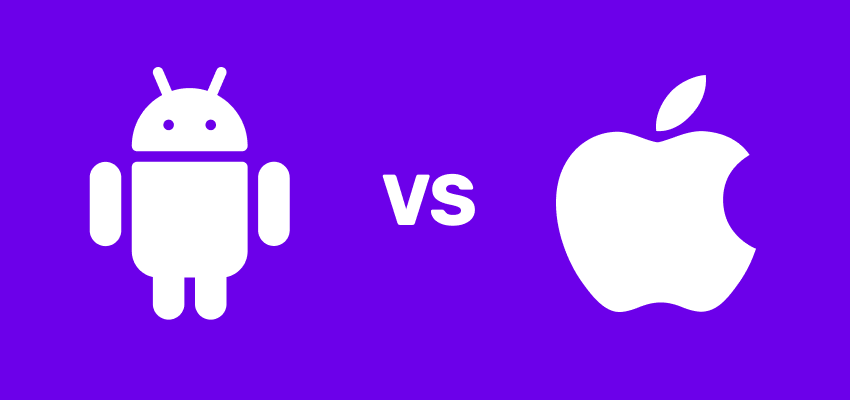 Competition analysis & report
Don't start the app making process blindly. Before you start, you need to answer these two questions:
Is your idea unique?
Do you have an app idea similar to an existing app?

If your idea is unique. Go and do basic market research on the scope of your product, your user's pain points and how you can solve their problems.

And if your idea is similar to an existing application, go and have a look at your successful competitors and try to find out the loopholes and scope of improvement in their products. Whether your goal is to enhance customer experience or improve business performance, outline the additional features and functionally that will put your app over the top.

Define business goals
What do you want to achieve from your mobile app? How do you want to monetize it? Is yours an internal app to increase workforce efficiency? Is it there to open the product or service up to a new set of customers? Will it increase sales from existing customers? These questions are worth thinking about before you start investing your time and money in designing and developing your mobile app.
Once you define your goals and understand the use cases or user's thought processes you can move on to the next step.

Get problem statement
In the next step of your app-building journey, we recommend you get a problem statement. Here you'll collect all the possible information on what problem you're trying to solve, who your target audience is and what are their pain points.
Theultimategoal of a habit forming product is to solve the user's pain by creating an association so that the user identifies the company's product or service as the source of relief. Nir Eyal (Author, Hooked)


Solutions: Yes, you need to work hard to find the solution for your users. To do so, we recommend you to follow these three steps:
User personas: Who they are, where they live, what they see, how they communicate and so on.
Pain points: What are their current problems? It's the most important step, which ensures the success of your application.
Gain points: Find out the way you can solve their problem. How they can get benefited by using your product.

Wireframe (low fidelity)
Now, it's time to get a wireframe for your application. The wireframe is a visual guide that represents the skeletal framework of an application. It helps you test your app's functionality before designing and developing it. Basically, it's a rough sketch of your idea with dummy text, which helps your team to understand how your application will work and look like.

Testing & feedback
Before you start the development process, test your wireframe and implement user feedback. This is one of the most important parts of the entire process. If you don't test your wireframes, you may lose time and money having to develop your project again. All of the best app development companies employ software to help with the testing and share what they learn with all the team members to make sure the app does what they intend it to do.

User journey mapping
This is the most important thing part of the entire development process while building an app. Map your user journeys so that you're clear about all the actions your users will be taking on your app. You'll use this journey map to build out your user interfaces. A user may have a single journey or multiple ones across your application. Just map all those possible journeys.

Prototype design & testing
Done with user journey mapping? Now it's time to get an app prototype. Your app prototype is a functional UI/UX which allows you to test your user journey without developing it. We recommend that you include this in your app-building journey as it'll save you efforts and money.

Agile testing:
Waterfall testing:
A/B Testing:

Final prototype (hi-fidelity design)
Once you've finished prototype testing, it's time to implement the feedback and get a final app prototype. You can implement this final app prototype in your development phase.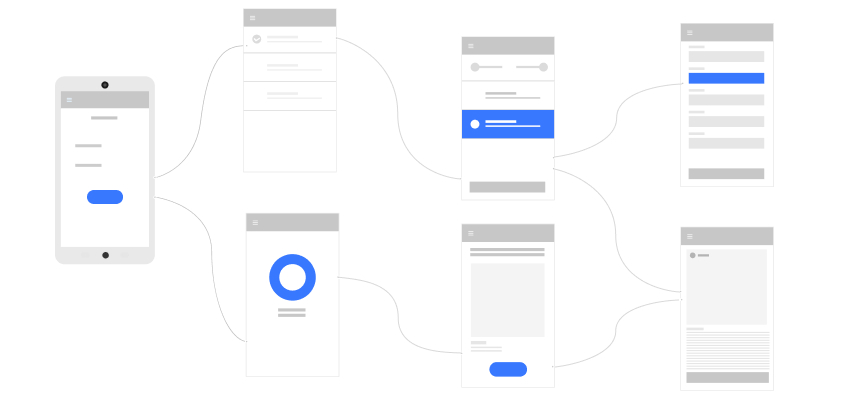 Get an app builder
Have you decided on the platform? Now it's time to finalize an app building software. builder. We recommend you to choose one of the following, depending on what suits you best:

App builders:There are numbers of online mobile app builders where you can simply start building your native app without coding. These app building platforms builders allow you to build your app idea your own and also offer dev support at marginal cost.
Development agency:If you don't want to get into that development process, get an app development agency. Be careful while hiring an agency as their charges may vary from location to location and country to country.
Freelancers:Freelancers could be the alternative to a development agency. There are some pros and cons of getting your app developed from freelancer developer as they can offer you their services at a low cost but there's no guarantee of their skills.
Code your own:Coding your own could be time intensive but the best solution ever. You'll have no dependency on others. You can add, edit or modify your application anytime you want.

Real environment testing
Do you have your app ready? Before launching it on the Apple App Store or Google Play Store it should be tested by real users. We recommend you to test it in a real environment. Just get that executable file, share it with your colleagues, friends and family members to help you understand the user experience. And ask them to use it for a few days. Get regular feedback from actual users, find the bugs and ensure your application works well on all devices.

Prepare launch document
Launch documents? Yes, to get listed on app stores you need to submit some content. Content includes app title, app description, privacy policy page on your website, email, website add so on.

Get some cool screen captures
What makes you download the app on your mobile phone from any app store? Screenshots and app review video. Yes, your screenshots and that review video give a brief idea about your application interface and functionality of your application. In short, it's a display of your store. So it's really important that you work hard on your app store screenshots and review video.
Release your app
Now, you have your application and supporting content ready. It's time to create an account on your chosen app store. The Google Play Store for Android and Apple App Store for iOS are the two most popular, but there are others as well, including the Amazon AppStore and GetJar. Just get an account on the app store you created your application for, make the payment and launch your app. But, don't forget about to do your app store optimization (ASO). ASO includes optimizing the keywords, titles, and descriptions in your app store listing.
We wish you luck with your app development journey. If you need any help with developing your application, let us know or visit our app builder platform to build an app, without coding a single line.
Design Head @ Builder.ai®
Tom Fenby, is a design head at Builder.ai®. He graduated from Ravensbourne College of Design and Communication with first-class honours. Almost a decade and half later, he brings his prowess in product strategy, UX, research, testing, and prototyping, and is adroit with Figma, Sketch and Adobe.