Choosing the perfect platform for your dream app can be a daunting task.
First, you need to consider whether you want to build your app through a software development agency or an app builder.
And when you've worked out that it's cheaper and easier to use an app builder, the next question arises:
Which is the best app builder on the market right now?
Well, no more wondering!
In this article, we've listed the 7 best no-code app builders that can effortlessly turn your app ideas into reality. But first, let's understand what no-code app builders are.
What are no-code app builders? (and how they work)
A few years back, you needed technical skills or a big budget to develop apps. But no-code app builders changed that, enabling non-technical people to make software without writing a single line of code or breaking the bank.
They do this by breaking down complex technical processes into user-friendly, drag-and-drop interfaces, with users selecting from a range of pre-built components and features to fit their needs.
You can then make small customisations using a visual editor, while some platforms also provide logic-based triggers where you can decide what action takes place when a button is clicked.
Behind the scenes, the platform generates code based on your inputs. Once your app is designed, you can test it and make changes within the builder before launching it.
Ultimately, no-code app builders accelerate the app development process and make it more flexible, allowing you to launch robust apps that go to market faster.
7 best no-code app builders
Now that we're clear on what no-code app builders are and how they work, let's find out what the best options are available on the market right now.
| | | | |
| --- | --- | --- | --- |
| Platform | Trustpilot rating | Pricing | Technical skills required |
| Builder.ai | | From $200/month | No |
| AppMachine | | $63-$159/month | No |
| BuildFire | | $100-$499/month | No |
| Bubble.io | | $29-$349/month | Yes |
| Google AppSheet | N/A | From $5 | Yes |
| Adalo | | $0-$200/month | Yes |
| Honeycode | N/A | $0-29.99/month | Yes |
The table above lists all the best options available on the market right now. Let's learn more about each option in detail. All the information stated is correct as of writing this article in September 2023.


1 - Builder.ai: Best no-code app builder (that isn't a no-code app builder)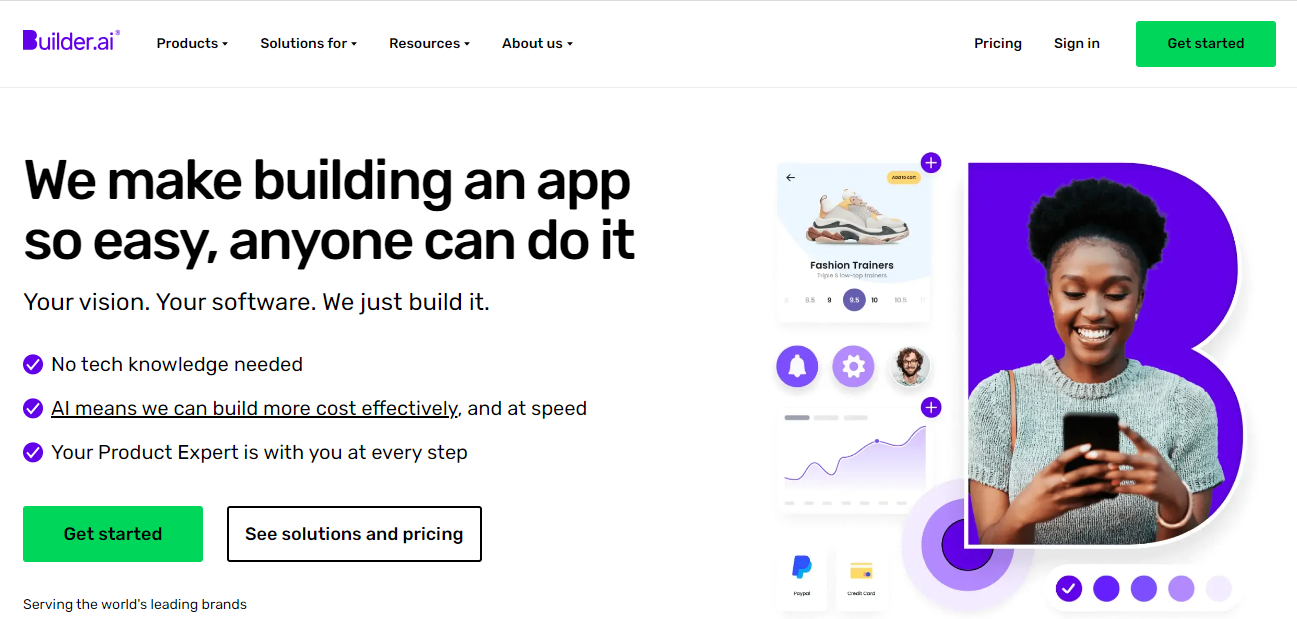 Technically, Builder.ai isn't a no-code platform. So what's it doing on the list, you might ask?
Because just like a no-code app builder, it's quick to build cost-effective apps with Builder.ai and you don't need to code.
But unlike a no-code platform, Builder.ai offers a fully managed service, meaning there's zero learning curve and no drag-and-drop dread. You can also build sophisticated, custom functionality with Builder.ai, by comparison to the rigid templates used by some no-code app builders.
So how does this happen?
All you need to do is simply share your idea, and you can get tailor-made apps with 500+ features to choose from as well as infinite customisation options.
When you work with Builder.ai, your app development cost is finalised in a Buildcard, which lists every feature that makes up your app. Because this process is handled up front, you receive a guaranteed pricing plan for your app project, meaning there are no nasty surprises down the line.
What's more, you own your code once your two-year payment plan is complete, making it easy to add new core features to meet emerging customer needs and scale your app.
Finally, the platform offers a free app maintenance service for the first year of your project, ensuring your app and website stay up-to-date, bug-free and secure.
Pros
Can build web, mobile and desktop apps
No vendor lock-in
Own your code
Guaranteed costs
Limitless customisation
One year free of maintenance service, Studio One
500+ features
Lego-like building blocks and human-assisted AI help to speed up the development process
Cons
No free option
Premium pricing
Our verdict
Where Builder.ai really comes into its own, though, is in the freedom it affords its customers. As there's no vendor lock-in, plus you own your code, you're not tied to the platform.
This gives you the flexibility to change providers if needed, which could save you lots of time, effort and money in the long run, even if initial costs seem higher.
And while there's also no free option to test drive the platform, Builder Studio is a great option for non-technical entrepreneurs hoping to establish and scale their businesses.
Want to start your app project with us?
Book a demo
Speak with one of our product experts today.
By proceeding you agree to Builder.ai's privacy policy and terms and conditions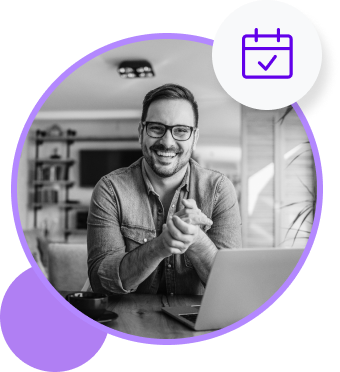 2 - AppMachine: Best no-code app builder for beginners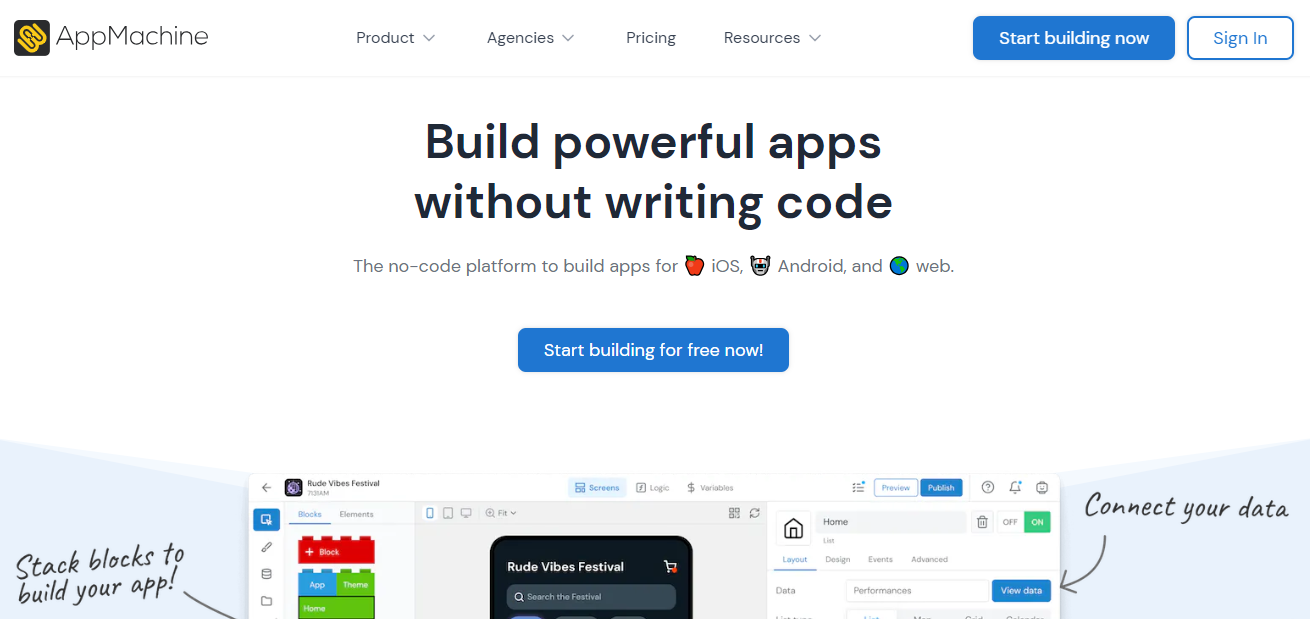 AppMachine is a cloud-based mobile app builder. On the platform, you can design and publish native iOS and Android apps using the drag-and-drop user interface.
AppMachine is beginner-friendly with its smooth navigation and intuitive user interface, making it easy to use if you don't have extensive technical skills to create apps. With its variety of pre-built templates, the platform allows you to create, test and preview your mobile applications in real time.
What's more, you can simply connect your data from Excel or Google Sheets with the platform and it can turn your data into app screens.
Because the platform is beginner-friendly, it's better suited for straightforward and simple mobile app projects. AppMachine is more suited for creating mobile web apps from the website, and on the platform, you might face limitations in terms of customisation and functionality.
For instance, if you want a unique feature with specific functionality, AppMachine's pre-built feature blocks may not be able to meet your requirements, while its range of integrations could be too narrow for those looking for scalability.
AppMachine offers two mobile app plans. A $63/month professional plan where you won't get dedicated customer support and need to pay an additional $10/month to remove AppMachine's branding from your app and a $159/month Agency plan.
Pros
User-friendly interface
Ease of previewing and testing the app
Transform data into an app
Wide range of customisable templates
Cons
Only 35+ pre-coded, snap-together building blocks
Limited design customisation
Unique specifications require help from customer support
Our verdict
If you want a platform that excels at being mobile-friendly and has a wide range of modules, then AppMachine could be a good choice for you. However, if you want your app to work on different platforms, have unique core features and customisation options and scale with your business, then it may not suit your needs.
3 - BuildFire: Best no-code app builder for social media integration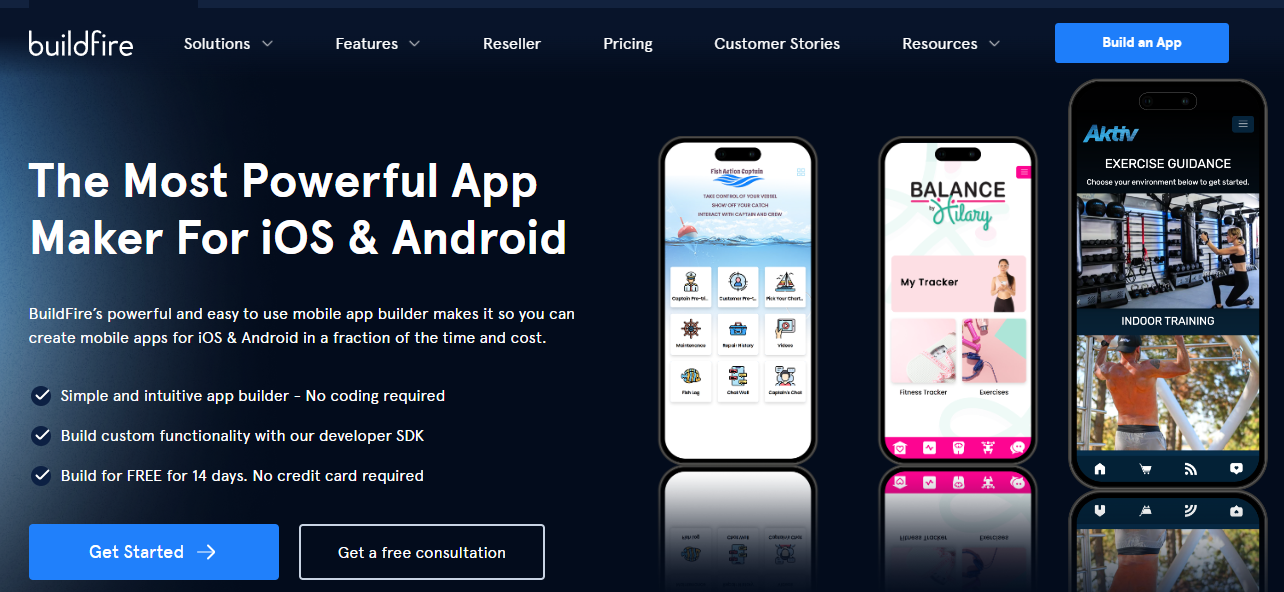 BuildFire is a popular no-code app builder that allows you to create apps for Android and iOS.
It offers a wide variety of template options that help you build functional as well as aesthetically pleasing apps.
BuildFire has a click-and-edit app maker that's easy and intuitive to use. The platform offers seamless social media integration through plugins. The BuildFire marketplace features many content and media plugins where you can connect your app with third-party platforms like YouTube or Vimeo to share your existing content.
The BuildFire platform is on the more premium side and offers four pricing plans. The plan starts from $100/month and goes up to $499/month. The $100/month plan is fairly basic and doesn't offer advanced features like in-app purchases, app access codes and app analytics. More robust functionality is available, starting from $349/month plan.
Pros
Click-and-edit app maker
Wide variety of templates
Easy integration of social media handles
Cons
Our verdict
If you want a functional app, aren't picky about customisation and don't mind paying extra bucks to build your app, then BuildFire can be a good platform for you. However, if you're on a restricted budget and can't afford to try out options that have a low user rating, it's better to look somewhere else.
4 - Bubble.io: Best no-code app builder for complex functionalities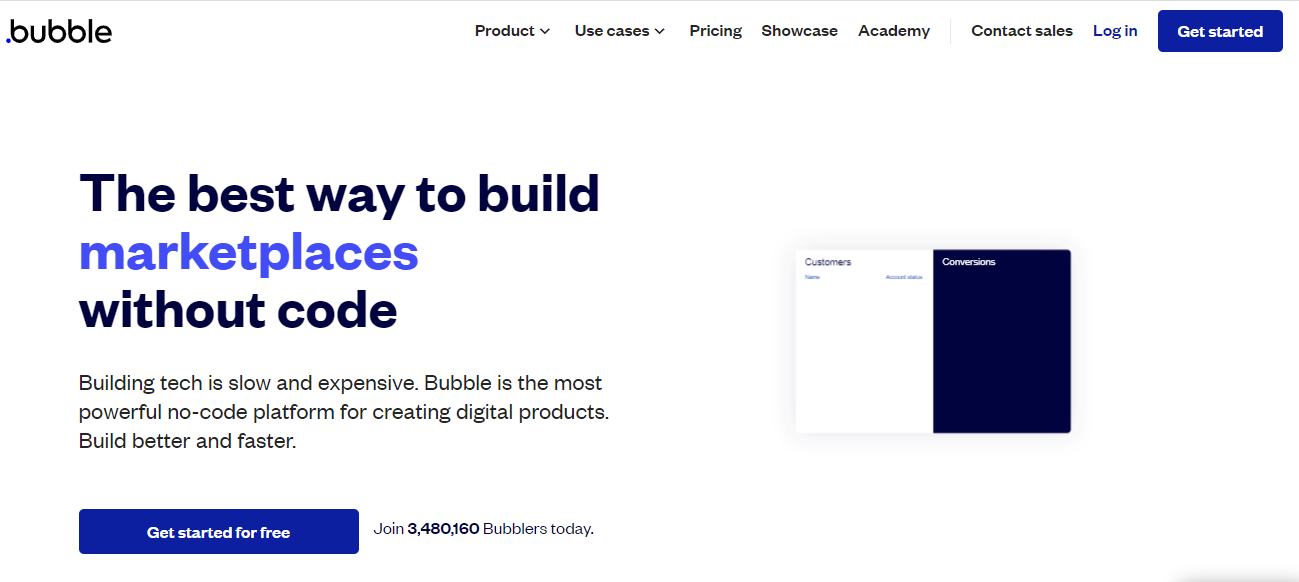 Bubble.io is a flexible no-code app builder that allows you to make responsive, functional apps.
The platform uses its own visual programming language that can be used for creating full-fledged multi-user apps. As a result, you can drag and drop templates, place elements according to your preference and quickly create working prototypes.
One place where Bubble.io excels is in the availability of an extensive range of plugins and integrations, enabling you to create business apps with complex functionality.
This said, the platform has a steep learning curve, especially if you want to add advanced features. You might find the platform overwhelming, which could leave you scrambling for training material and tutorials.
Bubble.io offers three pricing plans that depend on monthly workload units (WU). Monthly workload units are a metric that is calculated by Bubble to quantify how much work the platform does for your app (i.e. database operations, web interactions and workflows).
There's a $29/month starter plan that gives 175k WU, a $119/month growth plan that gives 250k WU and a $349/month team plan that gives 500k WU. if you overrun your monthly WUs, then you have to pay $.30 per 1k WU, with a full breakdown of the model available here.
Furthermore, if you wish to have a dedicated account manager or need database access to analyse your data, you must opt for a custom plan, which can easily cost upwards of $1500 per month.
Pros
Extensive plugin ecosystem
Responsive design
Rapid prototyping
Cheaper starting plan
Cons
Our verdict
If you're looking to roll out your first idea and don't want to spend too much, Bubble.io could be the platform for you. But if you need a more scalable app, then Bubble.io can be very expensive, meaning other options may better suit your needs.
The platform also has vendor lock-in, which makes it challenging to migrate your app to another vendor if it no longer meets your needs. And while you don't need coding skills to use the platform, you will need to spend some time upskilling so you can build an app that meets your requirements.
5 - Google AppSheet: Best no-code app builder for internal enterprise use cases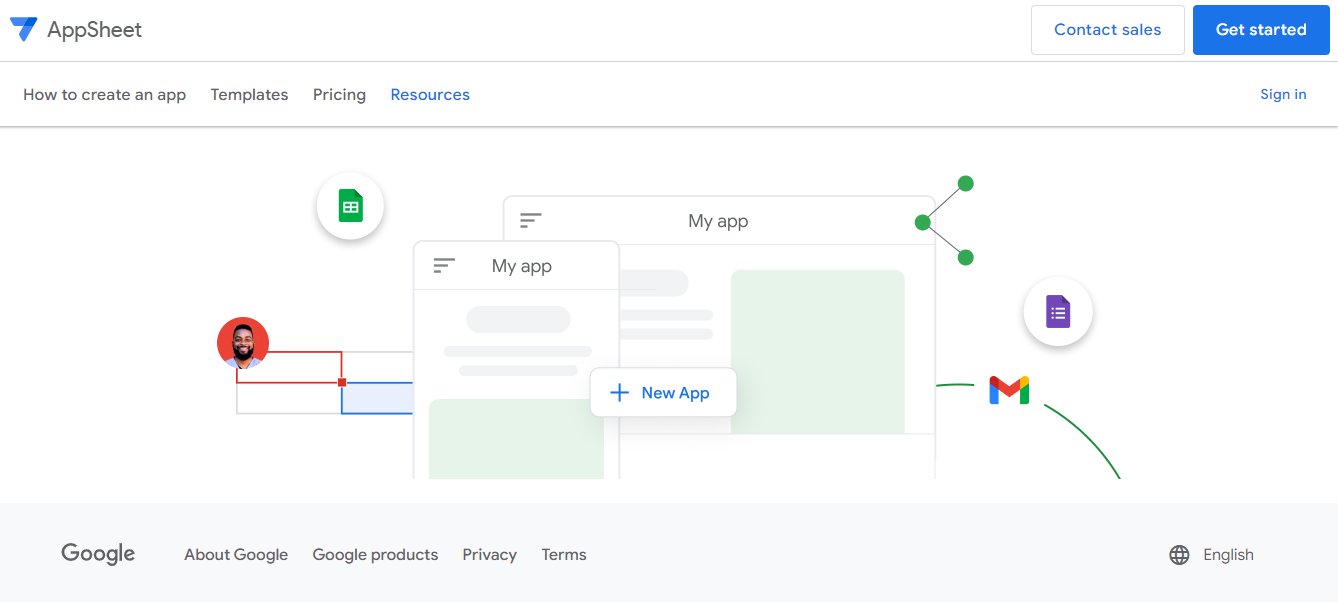 Google AppSheet isn't your traditional no-code app builder. In other words, it won't turn your business idea into an app and is more focused on enterprise-grade applications.
If you're an enterprise, then Google AppSheet easily transforms your data into a fully functional mobile app. Simply put, if you have existing data sources like Google Sheets, Salesforce and Excel, then you can easily make a mobile app using Google AppSheet without having to code.
The platform uses a totally different approach to building an app. Once you upload your data, AppSheet leverages artificial intelligence to build your app using your data file's rows and columns. It also adds screens to view your data and create forms for data entry.
However, if you're an entrepreneur or a small business, then this platform is not for you, as it's not suitable for creating doesn't offer drag-and-drop functionalities or even a canvas to design your app.
It also has a very high dependency on data sources and requires technical expertise to build even simple business apps.
Pros
Suitable for enterprise-grade applications
Transforms raw data into a ready-to-use app
Leverages artificial intelligence
Cons
Built for larger companies
Can't make complex applications like ecommerce or SaaS apps
Vendor lock-in
Our verdict
If you want to build a basic app that can help you and your team automate data, then Google AppSheet is a great platform. However, if you have an app idea for your business and want to share it with the world, look elsewhere.
Google AppSheet is meant to create simple business apps for internal usage in an enterprise, like project trackers, managing contacts and deals, shift management, task managers, team alerts, workstation booking and more.
6 - Adalo: Best affordable no-code app builder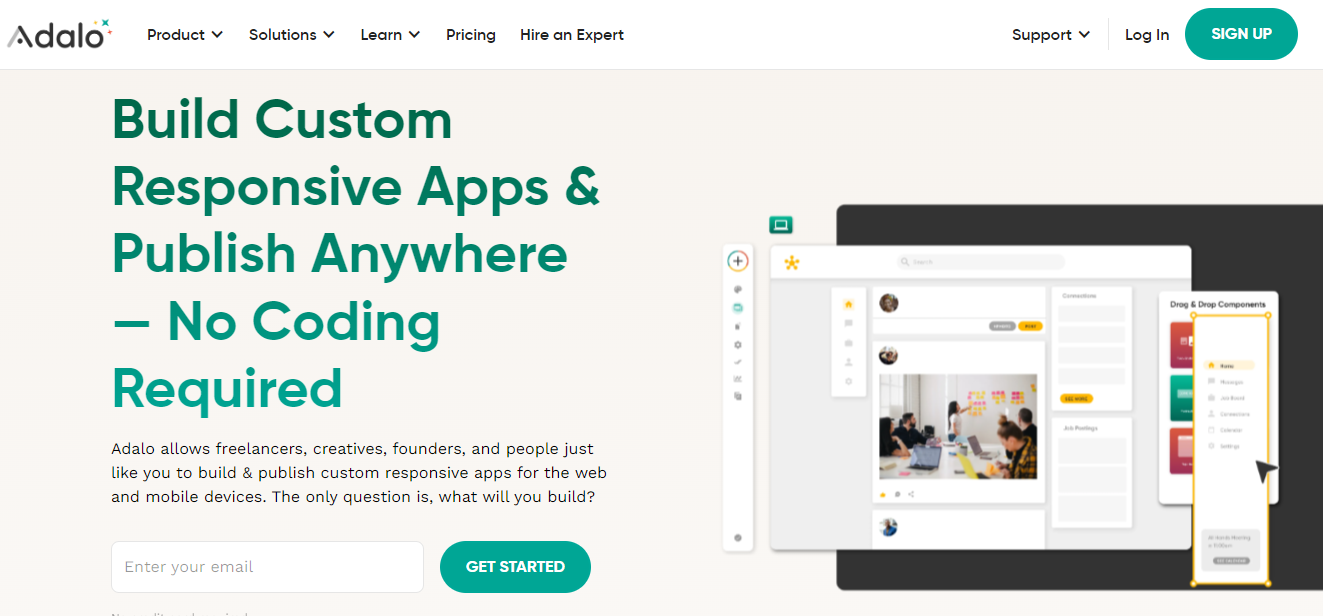 Adalo is a drag-and-drop no-code app builder with a steeper learning curve.
You can create well-designed apps relatively quickly if you know what you're doing and have familiarity with the platform. This is because the platform requires a database for external sources and API knowledge on your part.
When it comes to functionality, Adalo is a powerful platform and offers hundreds of pre-built templates.
Adalo offers some of the most affordable packages in the industry, with a free package for anyone who wants to start on the platform and a $200/month plan for enterprises. What's more, is that the platform keeps the app ownership with you and doesn't claim anything.
Pros
Affordable packages
Wide variety of pre-built templates
Drag and drop functionality
External integrations
Cons
Our verdict
Although Adalo is a no-code platform, you might get more value from it if you have some technical knowledge and are willing to spend time learning the platform.
7 - Honeycode: Best beta no-code app builder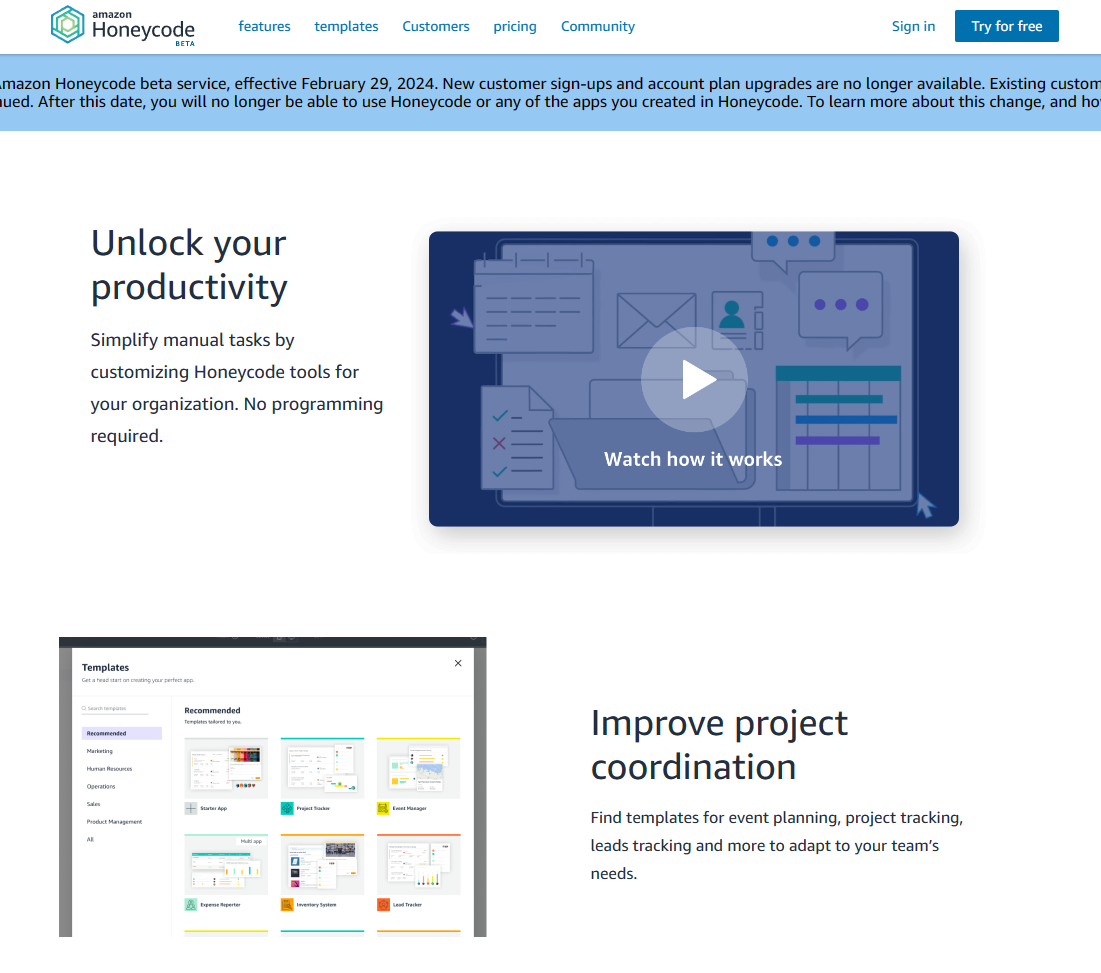 Amazon's Honeycode is a no-code app builder available in beta. It's a spreadsheet-oriented platform that can build business apps from a database. This essentially means you simply need to add your data from Google Sheets or MS Excel, and the platform creates an app for you.
The platform can be used to build basic enterprise apps for use cases like internal workflows, to-do lists, inventory management and more. However, it requires you to have deep integration with the Amazon ecosystem and isn't suitable for complex custom apps.
At the moment, Honeycode only offers 18 templates to help your app get started. The apps built on Honeycode run exclusively on AWS servers and require internal tools like Amazon AppFlow to connect existing workflows and databases.
Pros
Suitable for enterprise-grade applications
Transforms spreadsheet data into apps
Suitable for businesses having integration with AWS
Cons
Our verdict
If you're an enterprise looking to automate workflows, then Honeycode is a good platform for you. However, if you're an entrepreneur or a small business looking to run ecommerce or SaaS businesses, Honeycode isn't the most straightforward platform.
Conclusion
Creating an app without coding sure sounds like a dream. But no-code app building isn't as easy as it sounds, especially if you don't choose the right platform for your project.
Each of the mentions in the list above has its unique selling points, and by now, you should have a clear picture in your mind of which of these platforms is the best suited for your requirements.
If you're looking for enterprise-grade applications that your team can use internally, then look no further than Google AppSheet. It's a straightforward platform that doesn't cost much.
If you're a small business owner on a shoestring budget, can spend time training and scalability is not one of your prime requirements, then AppMachine and Adalo should be your choices.
However, if you're looking for a no-code app builder that makes your app-building super easy and offers limitless customisation and advanced features, complete transparency in development and pricing and hassle-free maintenance, then check out Builder.ai.
With Builder.ai, you can build your dream app for any use case without having to write even a single line of code. We specialise in creating scalable apps for entrepreneurs, small businesses and enterprises from the ecommerce, IT, finance, healthcare and hospitality industries.
With us, you're the owners of the code of your app, we just build it for you.
If that sounds good to you, book a demo below 👇
Want to start your app project with us?
Book a demo
Speak with one of our product experts today.
By proceeding you agree to Builder.ai's privacy policy and terms and conditions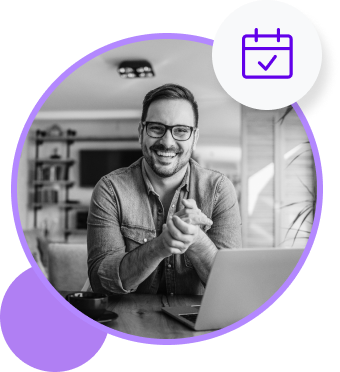 Greig Robertson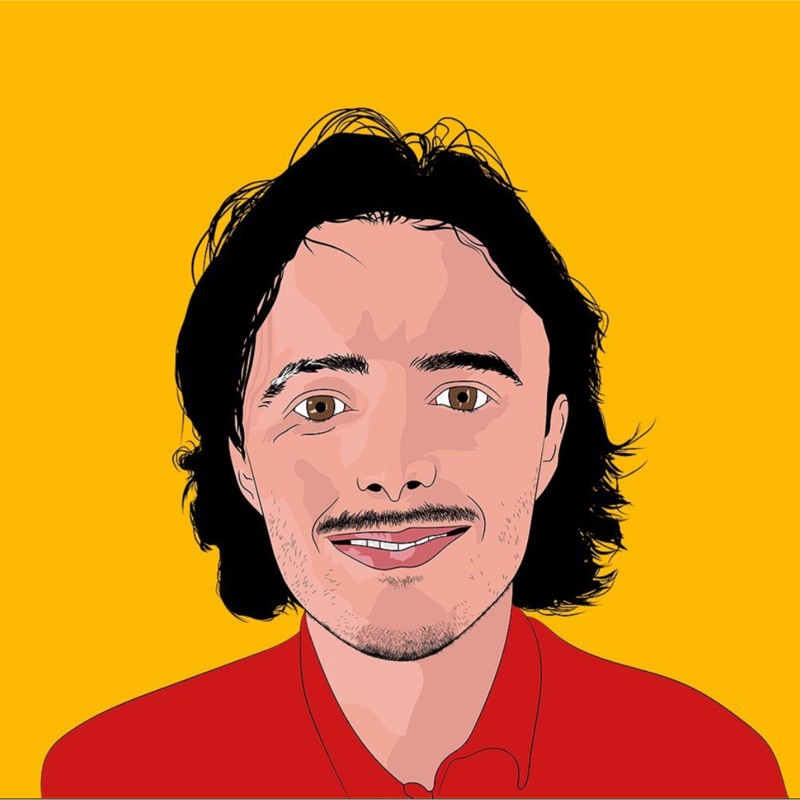 Greig is the Digital Content Lead at Builder.ai and a University of Bristol History grad. He has 5+ years' experience in B2B SaaS, creating data-driven, human-friendly content for high-growth tech startups. When Greig needs a dopamine hit, he checks Builder.ai's keyword rankings.