Do you want to decrease dead stock? Better forecast future demand? Or generally run a more efficient ecommerce business?
Then inventory management is a skill you need to master.
More on the specifics of how you can do that later. But right now, I'm going to let you in on a secret:
Something that you need to accept if you're planning to read past this introduction.
Effective inventory management can't be built on an Excel or Sheet when your business scales up. Instead, you need inventory management software tailored to your business needs.
Keep scrolling for inventory management techniques and best practice tips from real retail business owners (who found this out the hard way).
What is inventory management?
If you search "inventory definition" on Google, you get the following result…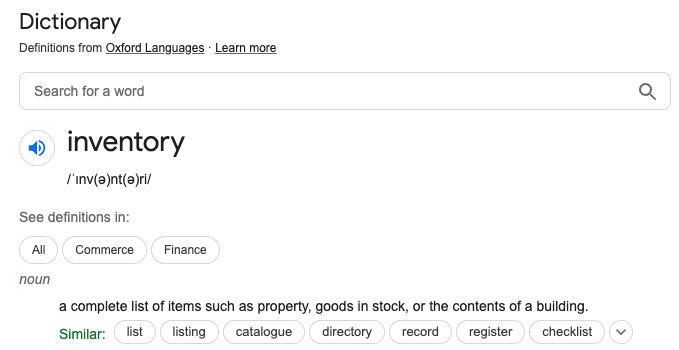 But inventory management entails much more than the management of a list of stock. Here's what it's all about:
Inventory management is a form of supply chain management that encompasses a range of processes, including sourcing, using, selling and storing inventory. If you make your products yourself, your approach to inventory management needs to account for raw materials and finished goods. If you don't, it'll just include the latter.
The best types of inventory management use custom inventory management software to track all these components in real time, allowing you to react to market conditions. Importantly though, it also leverages historical data to generate trends, meaning you can make more informed decisions about your entire inventory.
Which leads me onto my next point 👇
Why is inventory management important?
In the first line of this blog, I fired some of inventory management's biggest benefits at you. But there are a whole lot more.
And these are the best ways to explain why any growing retail business should invest in inventory management.
That's not to say there are no downsides to inventory management. In the table below, you'll get an overview of everything you need to know about the pros and cons of an inventory management system 👇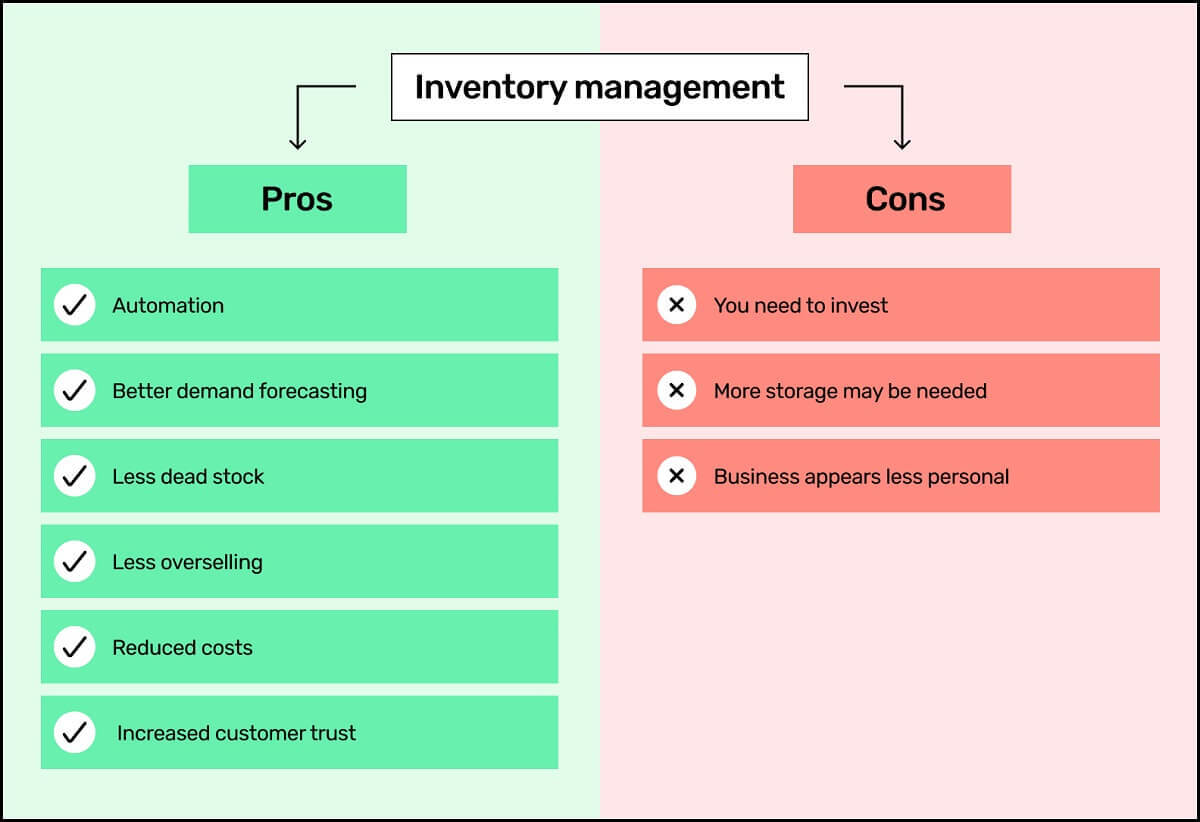 And here's more about each pro and con in depth 👇
Pros ✅
Pro 1 - Automation
Put simply, when you're managing a growing inventory on a spreadsheet, you run the risk of introducing human error.
This results in poor inventory management, where you're either under or overstocked.
Plus, if you did it manually, you'd probably spend more time in an Excel or a Sheet than you would running your business or taking care of customers.
Automation solves all these issues, allowing you to sleep easy at night.
Pro 2 - Better demand forecasting
With demand forecasting, you don't have to guess how a spike in customer demand at Halloween or Christmas will affect your business.
By considering factors like seasonality and historical sales trends, software platforms help ensure that you always have optimal inventory levels.
As Todd Saunders, Founder of online shopping platform, BIG Safety, says:
"The most important thing when forecasting stock is to have a clear understanding of your historical sales data. This will help you identify patterns and trends that can be used to predict future and seasonal demand. Other important factors to consider are lead times, safety stocks, and minimum order quantities."
This means there's no need to worry about the next two things on this list…
Pro 3 - Less dead stock
Remember those people who hoarded antibacterial hand gel and masks in the pandemic?
Only for those items to become widely available for low costs in stores across the globe, leaving them with egg on their face?
That's a situation no ecommerce entrepreneur or small business wants to be in.
Thanks to inventory forecasting, you can steer clear of any excess inventory disasters that eat into your profits.
Pro 4 - Less overselling
By the same token, inventory management software helps ensure you don't oversell.
It does this by providing real-time visibility of your stock levels, allowing you to list items as out of stock as soon as your inventory runs dry.
Pro 5 - Reduced costs
There's something implicit in all the points above that I'm yet to really focus on. And that's the amount of money you can save with inventory management software.
After all, not having accurate stock levels could sink your business if your mistake is on a big enough scale.
Plus, automated inventory management gives you a clearer picture of your cash flow, meaning you can see where your money is tied up.
Pro 6 - Increased customer trust
Even worse than losing money from an inventory management mistake is losing the customer trust you've worked so hard to build.
And when you're incapable of fulfilling orders, customers won't take long to check out your competitors.
Cons ❌
Con 1 - You need to invest
Inventory management is no different from other sophisticated software solutions, in the sense that it doesn't come cheap.
Problem is, without it, you'll almost certainly end up losing more money than if you invest, as Todd explains:
"Automated inventory management systems can be expensive, but the cost is often offset by the increase in efficiency and productivity. I recommend using a cloud-based inventory management system that can integrate with an e-commerce platform."
Con 2 - More storage may be needed
The better you anticipate demand, the more successful your business will be. And the more successful your business is, the more demand you'll get.
It's a chicken and egg situation.
One of the natural byproducts of that, though, is that you'll need more space to store inventory items. Which hits you in the pocket.
Con 3 - Business appears less personal
Small businesses pride themselves on their ability to provide a human touch when serving their customers.
And one of the natural downsides of automation is a lack of this. I mean, you don't buy from Amazon for their gift wrapping.
Above all else though, customers expect seamless experiences and responsive service. Inventory management changes none of that.
3 inventory management techniques you need to know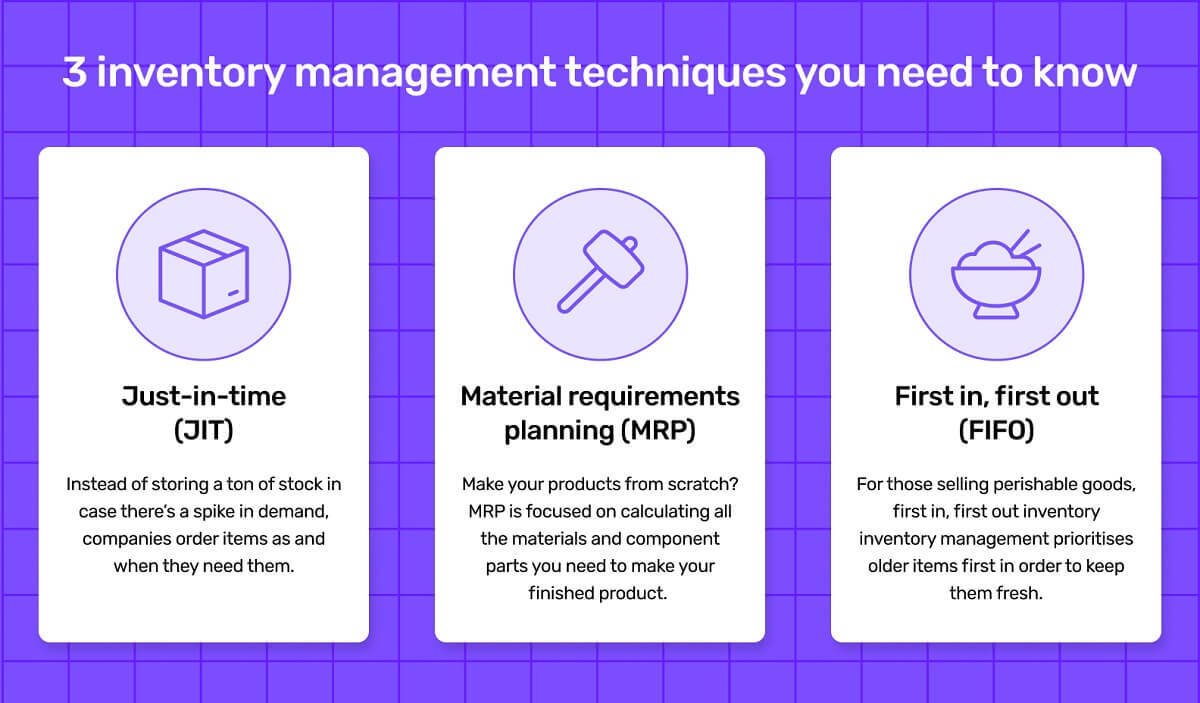 Now you know the benefits inventory management can bring, it's time to move onto how you can put it into practice. Here are some inventory management techniques to help you do that:
1 - Just-in-time (JIT)
JIT inventory management does exactly what you'd expect. Instead of storing a ton of stock in case there's a spike in demand, companies order items as and when they need them.
2 - Material requirements planning (MRP)
Make your products from scratch? Then MRP inventory management could be your golden ticket. It's focused on calculating all the materials and component parts you need to make your finished product.
On MRP, though, BIG Safety founder, Todd, adds some words of caution:
"MRP is a great inventory management technique that can help businesses save money and improve efficiency.
"However, it requires a significant investment of time and resources to implement properly – not dissimilar to JIT.
"I'd only recommend it to businesses that have the staff and budget to support such a system."
3 - First in, first out (FIFO)
For those selling perishable goods, first in, first out inventory management prioritises older items first in order to keep them fresh.
And Todd can attest to this technique's effectiveness:
"FIFO inventory management has worked great for us as an e-commerce business. Our turnover rate is high so most of our products have a short shelf-life.
"FIFO helps us keep track of our inventory and make sure we minimise the shelf-life of our products by selling them as soon as possible."
How SpecBooks and Cheeky Wipes (eventually) nailed inventory management
If you're worried about making mistakes with your inventory management process, chances are, business owners like you have made them a thousand times over.
So you can avoid them, I asked the following business owners about their experiences. Hopefully, this means you don't have to learn the hard way 👇
Zena Irving, Business Development Manager of SpecBooks
Helen Rankin, Founder & Managing Director of Cheeky Wipes, Cheeky Pants and Cheeky Wipes Australia
Case study 1: SpecBooks
Specbooks is an online platform working with various industry professionals to streamline the specification process.
Because of her personal experiences, Zena champions the impact of software on inventory management and its ability to provide key stock insights:
"When managing your inventory, an approach I've found valuable is using software that provides real-time sales analytics.
"Real-time analytics allows you to automatically adjust your stock whenever you make a sale, so you'll always know when it needs to be restocked and what isn't selling."
Zena then moves onto the importance of stock auditing and forecasting:
"Stock auditing is when you count your inventory to make sure what you think you have matched up with what you actually have in stock. While people often do this at the end of the year, doing it before and after busy times can help streamline your processes.
"Ultimately, software is essential to inventory management to ensure you have the most up-to-date information to keep your customers and bottom line happy."
"If you're forecasting stock, don't forget to look at a trend chart or time series analysis, which analyses data over a period of time so you can gauge your month-on-month (MoM) or year-on-year (YoY) sales to ensure you are stocking what your consumers want."
In terms of what to avoid in your own inventory management, Zena adds:
"It's a big mistake not to put an organisational method into place.
"Be sure you have specific places for the data so nothing gets lost, schedules for when to check, proper order placement procedures, and accountability so you can ensure you are forecasting correctly, eliminating the products that aren't selling, and avoiding overstocking products that won't sell.
"Ultimately, software is essential to inventory management to ensure you have the most up-to-date information to keep your customers and bottom line happy."
Key takeaways
Real-time sales analytics allow you to keep popular items stocks and prevent you from overstocking unpopular items; MoM and YoY sales data also helps with this
Auditing gives you increased certainty about your stock when approaching busy periods
Software is the key to scalable inventory management
Case study 2: Cheeky Wipes
Cheeky Wipes have been specialists in Simple Reusables since 2008. Through trial and error, Founder and Managing Director, Helen, has honed her approach to inventory management. But not without some growing pains. She explains:
"Managing stock has been an ongoing headache for my company for quite a few years. It's only now that we finally have it resolved that I can see what a HUGE problem it has been as we have so much cash tied up in stock.
"We're an online business selling reusable products and we started with our reusable wipes kit and accessories.
"Maintaining stock levels on that was pretty simple – we just looked in the warehouse and could see where we were at and knew at what point we would need to reorder using JIT methodology."
But a new product proved problematic. Helen continues:
"We ran into difficulty when we started producing period pants. One product, many sizes and colours! Although the ecommerce system that we use is great, it doesn't have good stock management functionality built in.
"So we knew how many of a style had sold, but no idea what breakdown of sizes that was related to. We ended up selling out of some sizes and then having to wait for more to be produced. This ended up in delays, which were exacerbated by COVID and global shipping problems.
"My solution to running out was to order shedloads of stock!
"One piece of advice for any small online business is to set up your stock management from the start and use software that easily forecasts when you'll need to reorder."
"We knew this wasn't sustainable and that we needed a good stock management system, but really struggled to find a system that we could integrate easily without costing tens of thousands of pounds in upfront costs.
"We sat through many sales meetings with advisors who promised that their system could do everything we wanted… But when pushed further, it all fell apart.
"Early this year, we finally managed to find an inventory control and warehouse management system that we could integrate.
"Now that it has bedded in and we have 8 months' worth of data, we can easily see that we have literally got YEARS worth of stock on hand for some styles and sizes of pants. As you can imagine, there's a cracking warehouse clearance sale running at the moment!"
When asked for a parting piece of advice, Helen concludes:
"Set up your stock management from the start and use software that easily forecasts when you'll need to reorder."
Key takeaways
Using guesswork as your stock management strategy doesn't work – and it can be costly
Inventory management software needs to have built-in stock management functionality
Leveraging historical data is key to accurately predicting stock
Conclusion: How to improve your inventory management
In this blog, three entrepreneurs and I have banged the drum about the importance of inventory management software.
The next step is to explore a range of platforms that can give you what you need. And a good place to start is Builder.ai's custom retail management system 👈
This allows you to:
Automate your inventory management
Increase your organisational efficiency
Save time and money to support your scale-up journey
Check it out by hitting the link above!
Ananth Ramanathan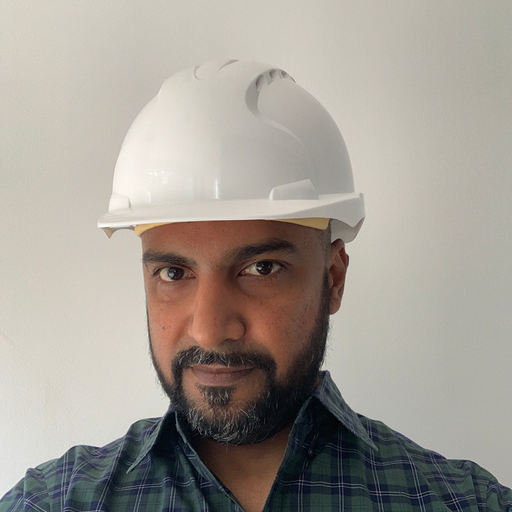 VP Studio Store at Builder.ai
Ananth Ramanathan runs Studio Store business at Builder.ai with a mission of digitising a 1M+ micro SMEs in the next 5 years. He oversees the commercial, product, and customer success functions to rapidly scale Studio Store globally. Ananth's an experienced tech business operator, a failed entrepreneur, and an active angel investor.