When you create and launch an app, you dream of achieving overnight success.

But for the vast majority of apps, this isn't the case. Instead, you need to keep developing your app in line with business needs and user expectations to survive and thrive.

One of the best ways to ensure this happens is by conducting an app SWOT analysis.
This framework helps you optimise your performance, nail down your niche and position your app effectively against the competition.
This blog will give you step-by-step guidance on how to do this. But first, let's dive in to understand what SWOT analysis is and why it's worth your time. 👇
What is an app SWOT analysis?
SWOT analysis is a simple yet powerful strategic planning tool that helps you evaluate your app's Strengths, Weaknesses, Opportunities and Threats.
This analysis helps app owners, marketers and businesses gain a better understanding of their app's current position in the market and make informed decisions about its future development and marketing strategies.
While strengths and weaknesses help you look at internal capabilities, opportunities and threats are external factors that influence your app's success.
Why is app SWOT analysis important?
Conducting an app SWOT analysis is important for your business as it provides a comprehensive understanding of your current situation, identifies areas of improvement and helps you make strategic decisions to achieve your business goals.
App SWOT analysis lets you explore your app's good, bad and ugly sides and help you avoid issues that may affect your app's development while steering it towards success.
When should I conduct a SWOT analysis for my app?
It's beneficial for you to conduct a SWOT analysis at different stages of your app's lifecycle. You can do it during initial development, before major updates and in response to shifts in the market. By regularly reassessing your app's position, you stay competitive and adaptable.
How can I gather data for a thorough SWOT analysis?
You can collect data from user feedback, app analytics, competitor analysis, market research and internal stakeholders. You can also conduct surveys, focus groups and interviews to gain a comprehensive understanding.
Pros and cons of app SWOT analysis
Before we start diving into the pros and cons of an app SWOT analysis, it's important to note that it doesn't give you ready-made solutions.
Instead, it provides you with data that helps you leverage strengths and weaknesses to your advantage while taking into account market trends.
| | |
| --- | --- |
| Pros | Cons |
| Provides a bird's eye view of your app's current market position | Relies on the opinions and perspectives of the people conducting it |
| Helps you make effective decisions that can help your app's performance and user experience | Not a quantitative analysis which makes it harder to estimate the potential impact of factors |
| Helps you identify your competitive advantage to stand out and attract more users | Provides too many ideas and information but won't tell which one to prioritise |
| Helps you understand potential threats and prepare for them in advance | Doesn't offer solutions or a detailed action plan to address the issues but is merely an analysis |
| Enables you to set clear goals to align teams efforts with overall objectives | Overlooks certain factors due to limited information |
| Helps you maximise you response to opportunities | Need regular updation to stay relevant and effective |
Conducting an app SWOT analysis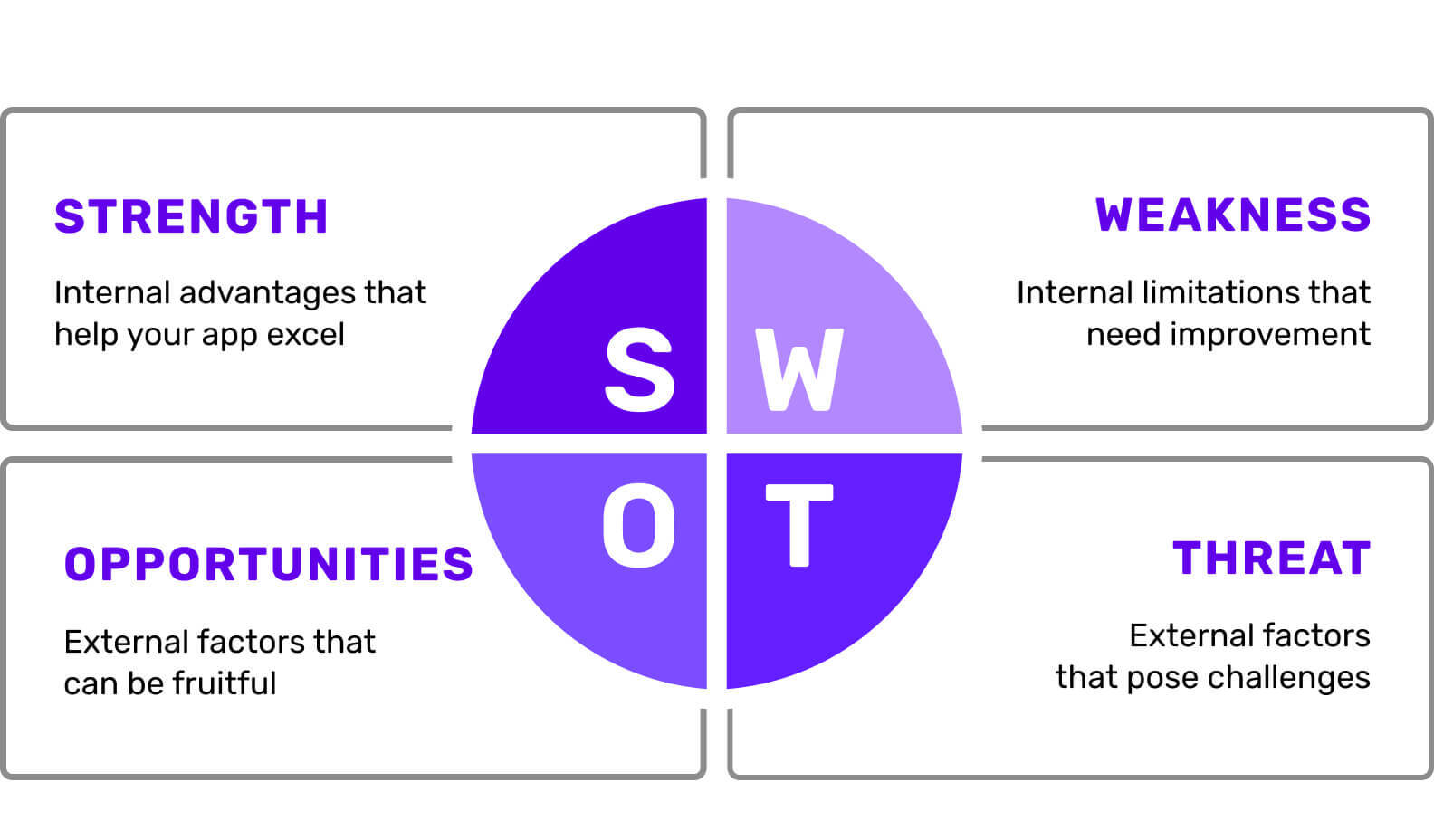 An app SWOT analysis consists of four boxes, each representing a certain factor. Let's discuss them all in detail 👇
1 - Strengths
The first step towards conducting a SWOT analysis for your app is to identify its current strengths. This involves taking an honest and comprehensive look at what your app excels at in its current state.
To fill in the Strengths section, you need to ask yourself some critical questions:
What unique app features and functionalities do your users like the most?
What sets you apart from your competition?
What positive feedback have users given about your app's performance and user experience?
What technical expertise and skills does your development team possess?
Are there any integrations that contribute to your app's success?
How does your app leverage data and user insights to improve customer experience?
To fill out the Strengths section, concentrate your questions on areas like unique selling points, user experience, technicalities and features. The more strengths you fill out, the easier it becomes for you to focus on them.
2 - Weaknesses
After identifying your app's strengths, it's time to acknowledge its weaknesses. This involves pinpointing areas where your app needs improvement to enhance the overall user experience, usability and value propositions.
In the weaknesses section, ask yourself some tough questions like:
Is your app infested with recurring bugs or technical issues that must be fixed?
Does your app lack functionalities that your competitors possess?
What is your app's retention rate, churn rate and what factors contribute to that churn?
Are there any limitations in your app's scalability?
How responsive is the development team to provide timely resolutions of reported issues?
What features is your app missing that hinder user engagement?
Do you have enough funds to bring in new features and functionalities?
Try to focus on this section in areas like competitive analysis, bugs and glitches, missing features and user feedback. Locating more weaknesses will help your app become more robust and increase the chances of its success.
3 - Opportunities
Opportunities refer to the external factors and circumstances that you can leverage to your app's advantage. This section focuses on recent trends and favourable conditions so your app can gain a competitive edge and expand its user base.
To fill out the opportunity section, ask yourself questions like:
Are there new target markets or demographics that can benefit from your app?
Are there emerging trends or technologies that your app can leverage?
Are there any new potential partnerships or integrations to benefit your app?
Can your app do something new which is not being met by existing solutions?
Is your app leveraging social media to reach new audiences?
Are there new ways to add app monetization options?
This section essentially lays down a new path for your existing app where it can shine the brightest. Look out for new app trends, ways to expand your user base and enhance your app's offerings.
4 - Threats
Threats have a tendency to lurk in the corner and haunt. Don't fear them, get them in the front and tackle them individually. Threats can stem from competitors, regulatory changes, security risks or other external risks that we need to account for and vary.
To map out the threats, ask yourself:
Are there any regulatory or legal requirements that could affect your app?
What are the security and privacy risks associated with your app's data?
What strategies are your competitors using to pose you a threat?
Could changing user behaviour affect your app?
Are there industry specific factors that could impact your revenue?
Can your app handle negative publicity or user backlash?
Is your app updated with the latest technology available?
The idea of identifying threats like competitors' strategies, market shifts, security and legal requirements is to be prepared beforehand and tackle them when they appear.
Implementation of SWOT analysis to the app
Now that you've prepared your SWOT matrix, it's time to implement your findings to the app for a fruitful outcome.
A good SWOT analysis will always be expected to reveal some contradictions within its findings. This is because the inherent nature of the analysis is to evaluate internal and external factors that may not align perfectly. For instance, some of the strengths can't fully capture opportunities or some weaknesses can't be eliminated due to threats.
As a result, you need to translate your findings into actionable strategies by combining internal and external factors. Here's some advice on how you do that:
Strengths and opportunities - try capitalising on your app's strengths and leveraging the opportunities to enhance your app's value proposition and attract more users. This will help you differentiate your app from your competitors.
Weaknesses and opportunities - address your app's weaknesses by investing in improvements that can help overcome those challenges and take advantage of the new opportunities. For instance, adding a new analytics dashboard can help you gain insights into user data and you can customise deals and discounts.
Strengths and threats - use your app's strengths to mitigate potential threats. For instance, if your app is technically sound, then it can act as a buffer against changing user behaviour.
Weaknesses and threats - prioritise addressing internal weaknesses that external threats could worsen and tackle them head-on. Develop contingency plans to mitigate potential threats.
Conclusion
It's clear that the ultimate goal of your business is to generate maximum profits. And to achieve that, you can't simply build an app with your eyes shut. To make a successful app that not only stands out from the crowd but generates maximum profits, you need to know its market position at any given time.
This is where app SWOT analysis comes in handy. Using app SWOT analysis, you're not only finding out your app's strengths, weaknesses, opportunities and threats, but you're also finding out the niche your app excels at and can craft a strategy for the success of your business.
You must also understand that conducting a SWOT analysis is an ongoing process. As your app evolves and the market changes, your strengths, weaknesses, opportunities and threats can also shift. Regularly revisiting the analysis ensures you're staying aligned with the current landscape.
Ridhima Gupta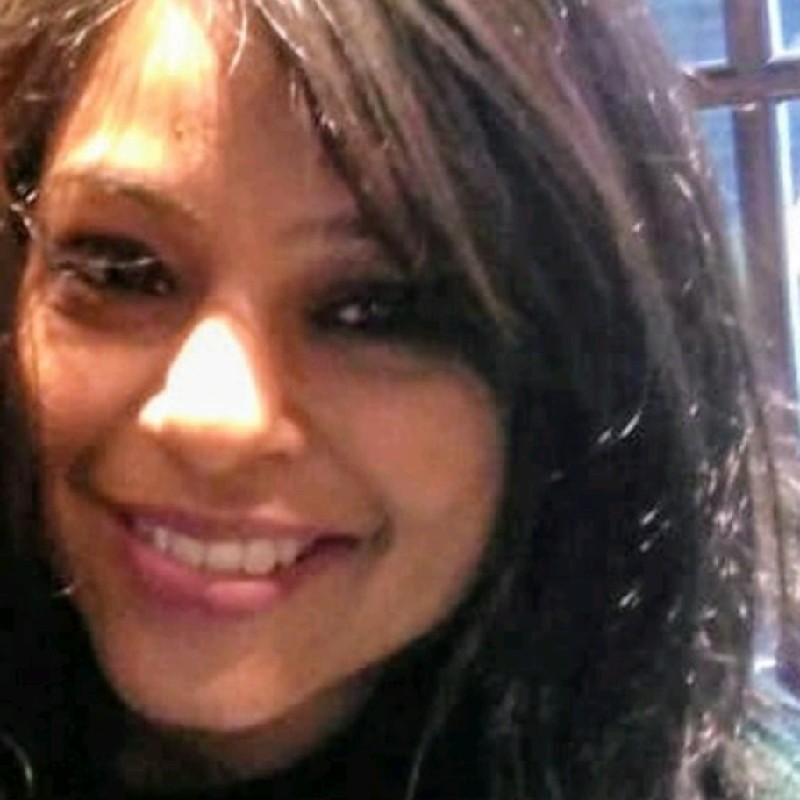 Global Head of Product Marketing at Builder.ai
Ridhima is the Global Head of Product Marketing at Builder.ai. With 16+ years of experience in delivering data-driven, strategic marketing campaigns, Ridhima's innovative approach has accelerated growth within the product marketing and content teams.