What is an app?
An app is a type of software application designed to perform specific functions on a mobile device, computer or digital platform. Apps provide users with a convenient way to access information, services and entertainment, while they can also enhance productivity and streamline communication.

To access apps, you need to download and install them on your mobile device via app stores, which typically cater to specific operating systems (OS). For example, the Apple App Store is dedicated to iOS while the Google Play Store is dedicated to Android. The majority of apps are free, but many employ app monetization strategies like in-app purchases and advertising.

These allow app owners to get return on their investment without putting users off with high entry costs.
What are the main types of app?
The main types of apps include:
Native applications - native apps are mobile applications developed for a specific operating system, like Android or iOS
Hybrid applications - hybrid apps are developed from a single codebase and can run on multiple operating systems, including Android and iOS
Progressive Web Apps (PWAs) - progressive web applications are desktop apps that simulate mobile app experiences
Inventory management - prioritising stocking and promoting items with a high AOV leads to improved inventory turnover and profitability
Web applications - web apps require a web browser and an internet connection to access
Different app types cater to different user requirements, so it's essential for business owners to know which one best fits their target audience before they start development.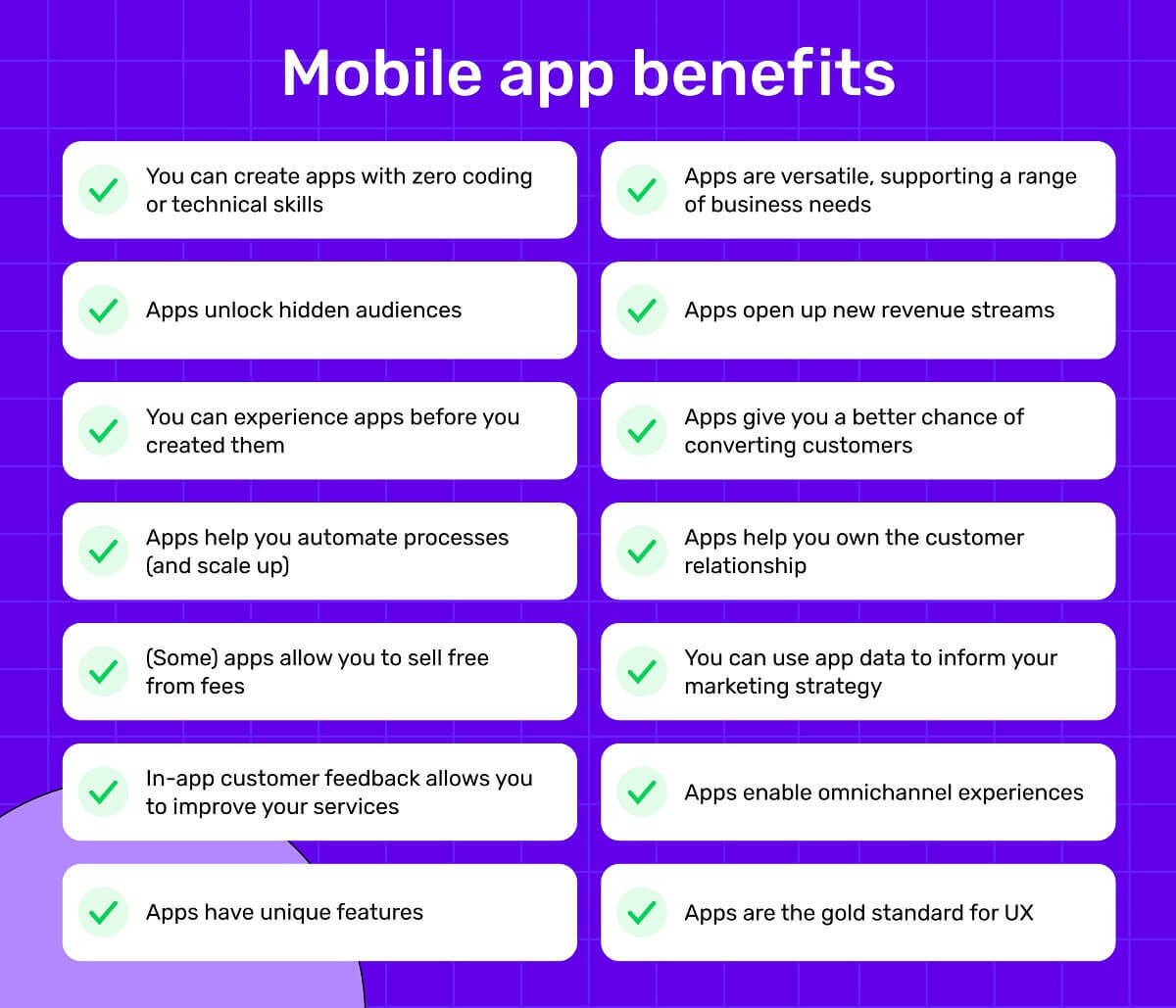 What are the main benefits of an app?
The most compelling reasons for investing in an app include:
They open up new revenue streams; for example, you could pursue a freemium model or monetise your app data
They're versatile, supporting different business needs, including everything from daily project tracking to enterprise-wide order management
They help you automate processes and scale up, including returns, order management and inventory management
They allow you to own the customer relationship, by comparison to marketplaces, which build loyalty to their store rather than your brand
They give you a better chance of converting customers as customers prefer to buy on apps by comparison to other channels
They allow you to deliver optimal user experiences, keeping your customers coming back for more

But there are also a ton of bonus benefits, such as:

You can create them without technical skills or a huge budget; this is made possible by no-code app builders and competitively priced app platforms
You can use prototyping software to experience apps before you build them, meaning you don't waste time and money on an app that isn't fit for purpose
You can unlock hidden audiences by creating one; after all, billions of people access millions of apps via mobile app stores
You can optimise your products and services using in-app user feedback
You can sell free from fees when you use certain platforms to build your app, meaning all the online revenue you make is yours to keep
`You can use app data to inform your marketing strategy by reviewing your audience's behavioural analytics
You can leverage unique app features, including cameras, contact lists and location-based services and deliver seamless, personalised experiences to users
You can deliver omnichannel experiences with an app, supporting your website and bricks-and-mortar store

For a deep dive into everything above, check out our blog on app benefits 👈
How much do apps cost?
The cost of creating an app depends on the complexity of the app, the platform you're developing for, your desired features and the timeline you're working towards. Other factors that can influence app development cost include your design requirements, plus the location and expertise of the dev team.

Simple apps with basic features and limited platform compatibility typically cost around $5,000 - $20,000. However, more complex apps with advanced features, custom designs, APIs, and app maintenance tend to range from $50,000 to several hundred thousand dollars.

Depending on who you choose to build your app, you may pay on retainer or via instalments. Before committing to any project, it's important to ask whether or not you're locked into payments for as long as your app is in use and if you own your app's code.

These issues could seem trivial early on, but will affect your business more as you scale.
App examples for ecommerce
Ecommerce apps are some of the most downloaded and used apps available. Here are some of the most popular:
Amazon - users can browse and buy a wide range of products, track orders and manage their account
Sephora - users can purchase beauty products and get points on their loyalty card
ASOS - users can buy clothing and accessories, save items for later and access ratings and reviews
Ecommerce capabilities can also be leveraged in a number of other sectors, including business to business (B2B), consumer to consumer (C2C), government to consumer (G2C) and more.
Learn everything you need to know from our blog on ecommerce examples 👈
App examples for other industries
Here are examples of how a range of industries leverage apps to better serve their customer base:
While all apps share many of the same features, it's important to choose the right "base" for your app, depending on the industry you're in.
This will vastly reduce development time, while keeping your costs to a minimum.
| | | | | |
| --- | --- | --- | --- | --- |
| | Self code | No code | Dev agency | App platform |
| Coding skills needed | ✅ | ❌ | ❌ | ❌ |
| Transparent costs | ✅ | ❌ | ❌ | ✅ |
| Clear timelines | ❌ | ✅ | ❌ | ✅ |
| Own the code | ✅ | ❌ | ✅ | ✅ |
| Lock-ins | ❌ | ✅ | ❌ | ❌ |
| Fully managed service | ❌ | ❌ | ✅ | ✅ |
How do you create an app?
To make an app, you have four main options:
Code it yourself - in other words, create your app from scratch, using online tutorials to navigate through the process
Use a no-code app builder - choose pre-packaged templates and themes and get simple apps live fast
Hire a dev agency - pay a retainer to an outsourced team and build more complex software
Use an app platform - get the flexibility of a dev agency and the reliability of a no-code app builder
For a deep dive into each of these app development routes, check out our guide on creating an app 👈