Let's be real:
You didn't sink sacks of cash into creating an app just for the heck of it. You did it because you saw a win-win opportunity for your business and your potential customers.
One that allows you to make a few dimes while helping them out. So how exactly can you cash in?
Well, back in the day, you'd charge users for the app itself. But app monetization strategies have come a long way since then.
In fact, you need two hands to count the strategies leading companies leverage to grow their revenue. In this blog, we'll discuss all of them, providing:
Their key pros and cons
Metrics to track their success
Recommendations on which strategies work best for different app categories
Let's get stuck in 👇
What is app monetization?
App monetization is the process of using an app to generate revenue. There are a number of ways app owners can achieve this, including in-app purchases and advertising, subscription models, paid downloads or a combination of several of these options.
Why is app monetization important?
Ultimately, app monetization allows app owners to get a return on their investment. This makes the business case for them sustainable and justifies their cost and maintenance. An app that doesn't even break even, on the other hand, will become a lead weight your company can't wait to cut loose.
Don't go any further before reading THIS
None of this is to say app monetization guarantees that your app will become profitable over the long term. That depends on your app development cost, the mobile app store fees you pay and the number of customers you're able to acquire.
Want to start your app project with us?
Book a demo
Speak with one of our product experts today.
By proceeding you agree to Builder.ai's privacy policy and terms and conditions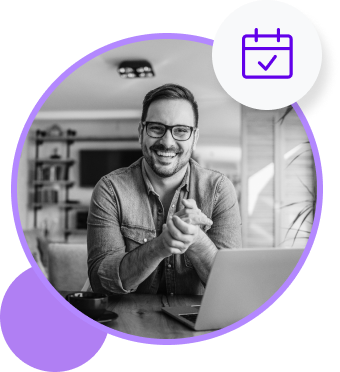 But one thing's for sure:
When you apply mobile app monetization models properly, you have a much better chance of being a successful app owner.
Keep scrolling to see exactly how you do that 👇
The 7 app monetization strategies unicorn companies swear by
Below, you can see a list of the best app monetization strategies out there. Either explore all of them or the ones most relevant to your company: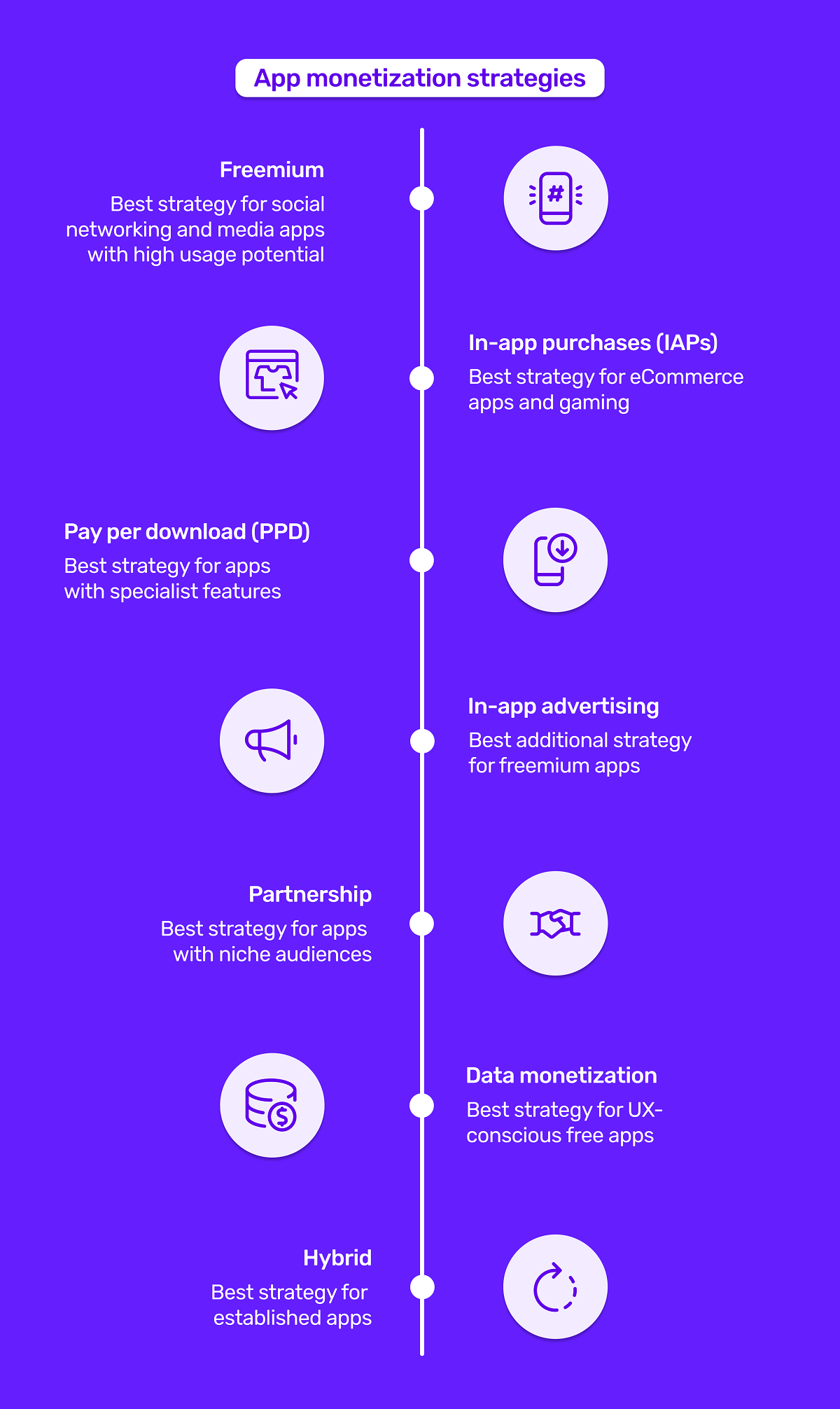 Freemium - Best strategy for social networking and media apps with high usage potential
Freemium is a popular software-as-a-service (SaaS) monetization strategy that can also be applied to apps.
Put simply, it allows anyone to access your app's basic features for free, with the aim of providing enough value to entice some of those users to pay for premium features on monthly subscription packages.
Popular examples of apps operating on a freemium model include LinkedIn, YouTube and Tinder, all of which have huge user bases.
This isn't to say smaller companies can't be successful with this strategy, but they need to be mindful of the number of free users they can convert into paying customers and whether or not this makes financial sense.
Review the full pros and cons below 👇
| | |
| --- | --- |
| Pros | Cons |
| ✅ - Allows users to try before they buy, growing your user base | ❌ - Even though the majority of your users don't pay, you still have to dedicate time, money and resources to them, which burns cash quickly |
| ✅ - No initial cost barrier means you have a bigger pool of potential users to convert into paying customers | ❌ - The bigger your user base, the higher your infrastructure costs are |
| ✅ - Freedom to offer tiered pricing allows you to entice free users with a range of packages to suit different budgets | ❌ - You may experience a high churn rate as customers reap the benefits of your free offering before leaving |
| ✅ - You have a large, proprietary data set to tap into, generate trends and optimise your app's functionality | |
| ✅ - You can generate a ton of ad revenue from your free users if you opt for a hybrid approach, blending freemium with in-app advertising | |
Key metrics to track
The key to successful freemium apps is stability, which means a steady increase of paying users month on month. Here are the numbers you need to be aware of to measure your progress:
Monthly conversion rate of free users into paying customers
Daily active users (DAU) and monthly active users (MAU)
Customer acquisition cost (CAC)
Monthly recurring revenue (MRR)
Revenue per user (ARPU)
In-app purchases (IAPs) - Best strategy for eCommerce apps and gaming
In-app purchases can be split into two distinct categories: consumable and non-consumable.
On the one hand, consumable IAPs allow customers to buy and use products on a one-off basis, like a pizza or a coat.
This makes it ideal for eCommerce companies like ASOS, food delivery companies like Just Eat and ride-hailing companies like Uber.
On the other hand, non-consumable IAPs allow customers to pay one-time fees to access extra features like ad removal, filters, avatar outfits and bonus levels.
This works best for gaming apps like Clash of Clans and Candy Crush.
See the full pros and cons below 👇
| | |
| --- | --- |
| Pros | Cons |
| ✅ - IAPs give you a solid proprietary data source, allowing you to develop more of the features they like and discontinue the ones they don't | ❌ - You need to invest a lot in the app development process to offer both standard features and in-app purchase functionality |
| ✅ - You can increase user engagement with additional features | ❌ - In-app purchases have to be value for money if you want to prevent customers from churning |
| ✅ - You can achieve lower churn rates as users have more skin in the game | |
Key metrics to track
For users to make IAPs, their experience has to be faultless. That's why the metrics you track should focus on engagement, as you can see below:
Daily active users (DAU) and monthly active users (MAU)
Retention rate
Stickiness ratio
Revenue per user (ARPU)
Churn rate
Pay per download (PPD) - Best strategy for apps with specialist features
An oldie but a goodie, PPD is still a viable option for a select few apps. And it means exactly what you think it would:
Users pay upfront for your app.
Only between 3% - 6% of apps on major platforms do this though, so what you offer had better be worth it.
That's why the strategy is best suited to companies with more of a specialist focus. For example, the Driving Test Theory app is one of the most downloaded PPD apps in the UK, as is the Squeezy NHS Pelvic Floor app.
Here are the pros and cons you need to know about 👇
| | |
| --- | --- |
| Pros | Cons |
| ✅ - You get money up front, meaning there's a guarantee of some ROI | ❌ - Potential users may be put off from downloading your app due to the cost barrier; as a result, you have an inherently smaller user base |
| ✅ - If you deliver value for money, you'll benefit from higher loyalty and retention rates | ❌ - You need to invest a lot into the app development process to deliver the sophisticated features paying customers demand |
| ✅ - You can position yourself as a premium option on app stores | ❌ - You're limited to a single revenue stream as paying customers expect ad-free environments and all features up front |
Key metrics to track
As a PPD app, you need to closely monitor your conversion rates in app stores and understand the best channels for driving app downloads. You can do this with the following:
Click to install (CTI)
Organic installs (OI) vs non-organic installs (NOI)
Daily active users (DAU) and monthly active users (MAU)
Customer acquisition cost (CAC)
Retention rate
In-app advertising (IAA) - Best additional strategy for freemium apps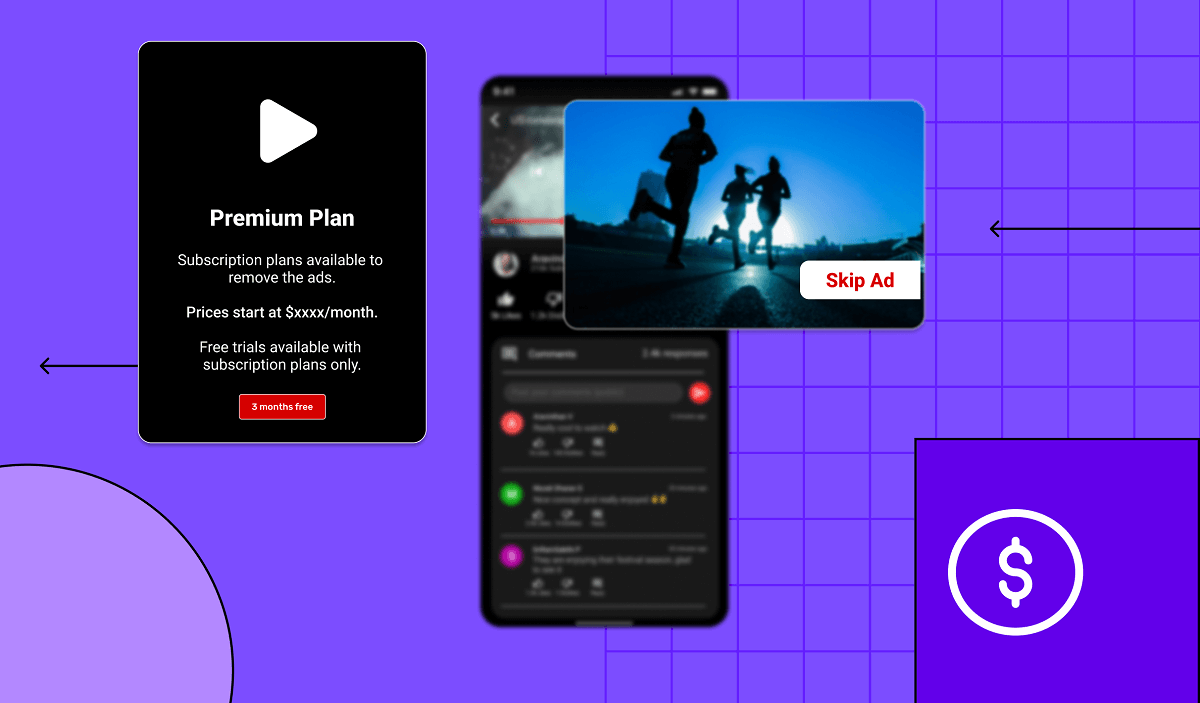 The use cases for IAA are twofold.
Basic mobile games and tools apps may use display ads as their sole form of income because they can charge advertisers per click, impression and user acquisition.
But perhaps the best use case for IAA is as a supplementary model for freemium.
That's because it gives app owners the ability to make money from their free users without solely relying on conversions.
There's one very important thing to note when it comes to IAA though. And that's not to overdo it.
You'll lose users in the blink of an eye if you flood them with unwanted ads at every opportunity. Plus you'll get a bad reputation to boot.
Here are the upsides and downsides of this strategy in full 👇
| | |
| --- | --- |
| Pros | Cons |
| ✅ - The larger and more relevant your captive audience, the more you can charge advertisers for your digital real estate | ❌ - Even discreet banner apps can disrupt the user experience, directing users away from your app |
| ✅ - You can choose to permit a variety of ad types in your app, including banner ads, video ads full-screen ads and interstitial ads | ❌ - Ads displayed in your app may not align with your brand values, which could lead to your audience losing trust and uninstalling |
Key metrics to track
The key IAA metrics you should focus on are the rates you charge advertisers to appear in your app, which will be determined by your daily and monthly active users. They include:
Daily active users (DAU) and monthly active users (MAU)
Click-through rate (CTR)
Cost per thousand impressions (CPM)
Cost per click (CPC)
Cost per install (CPI)
Partner marketing - Best strategy for apps with niche audiences
Think of partner marketing as a more targeted version of IAA.
Instead of plugging random companies that have nothing to do with your app or industry, you can instead team up with relevant ones.
In this relationship, you can provide access to your customer base and vice versa, allowing everyone to grow their brand.
The best partner marketing schemes will allow you to piggyback to some degree, ideally on a more established name.
Here are the pros and cons in full 👇
| | |
| --- | --- |
| Pros | Cons |
| ✅ - You can share audiences, insights and data with partners | ❌ - Sharing means you won't get 100% of your profits |
| ✅ - Many of the ads you serve will be highly relevant to your users | ❌ - One, several or all parties may feel that they're not getting enough value in return for what they're offering |
| ✅ - Partnering with established names in your industry adds credibility to your brand | ❌ - You could become too focused on satisfying partner needs as opposed to customer ones |
| ✅ - You're not solely responsible for your marketing, reducing the burden on your internal resource | ❌ - If your strategy isn't properly defined, partners could send bad-fit users your way |
Key metrics to track
The key numbers to track for partner marketing are very similar to IAA. No doubt, you'll offer fewer daily and monthly active users, but because your audience is highly relevant, you shouldn't sell yourself short. Be sure to charge fair rates for the following:
Cost per thousand impressions (CPM)
Cost per click (CPC)
Cost per acquisition (CPA)
Data monetization - Best strategy for UX-conscious free apps
Data monetization might ring alarm bells for compliance professionals – I mean, let's face it, no one wants to be the next Cambridge Analytica – but it is possible to monetize customer data legally.
And it's an option that's especially attractive for companies who want to open up a revenue stream that operates back of house.
After all, the more ads you serve, the greater the chance your brand is associated with serving spammy or unwanted content.
But to make data monetization work, you'll need to be 100% transparent with your users. More on the pros and cons below 👇
| | |
| --- | --- |
| Pros | Cons |
| ✅ - Reduces the reliance on IAA for free apps, ensuring a smoother user experience | ❌ - Data breaches could destroy customer trust |
| ✅ - First-party data helps you create your own benchmarks while also being a valuable resource to third parties | ❌ - Creating a sound opt-in process requires legal counsel |
Key metrics to track
As data monetization is focused on improving user experience, you should track app engagement metrics as a priority, including:
Daily active users (DAU) and monthly active users (MAU)
Average session length
Stickiness ratio
Churn Rate
Exit rate
Hybrid - Best strategy for established apps
As we touched on above, one of the best ways to adopt a hybrid approach is with Freemium and IAA.
That said, it's not the only way you can make a cocktail.
The freemium model can also incorporate IAPs, while there's no reason any app can't adopt partner marketing alongside its main strategy.
Ultimately, you're free to combine whichever strategies suit your business best. Just be wary of doing too many things at once…
Review the hybrid model's full pros and cons below 👇
| | |
| --- | --- |
| Pros | Cons |
| ✅ - Multiple revenue streams, meaning you're less reliant on a single one to succeed | ❌ - User experience could be compromised if the user is bombarded with IAA and IAPs |
| ✅ - Personalised to your business and customers; not cookie cutter | ❌ - If you introduce too many strategies at once, you won't be able to tell which ones are and aren't working |
Conclusion
There's no hard-and-fast rule for which mobile app monetization strategy will work for you.
But clearly, you have a range of options in your arsenal to both establish and diversify your revenue streams.
And by doing that, you'll give your app the best chance of succeeding, rather than becoming a (very) expensive burden on your business.
Don't forget though:
You should focus on executing one app monetization strategy well before you start testing new ones.
For more tips on how to market your app, follow us on LinkedIn 👈
Loretta Nguyen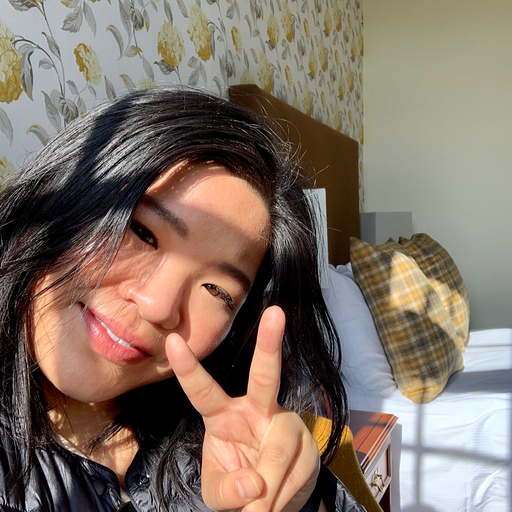 Digital Campaign Manager at Builder.ai
Loretta Nguyen is a Digital Campaign Manager at Builder.ai where she boosts awareness and generates leads through the use of multi-channel ad campaigns. Loretta has a Bachelor of Business/Commerce from Western Sydney University.