Build a dating app like Tinder
There's so much potential in this industry, if you've an idea for a dating app like Tinder, we'll help you build it faster and more cost effectively than traditional methods. No code? No problem.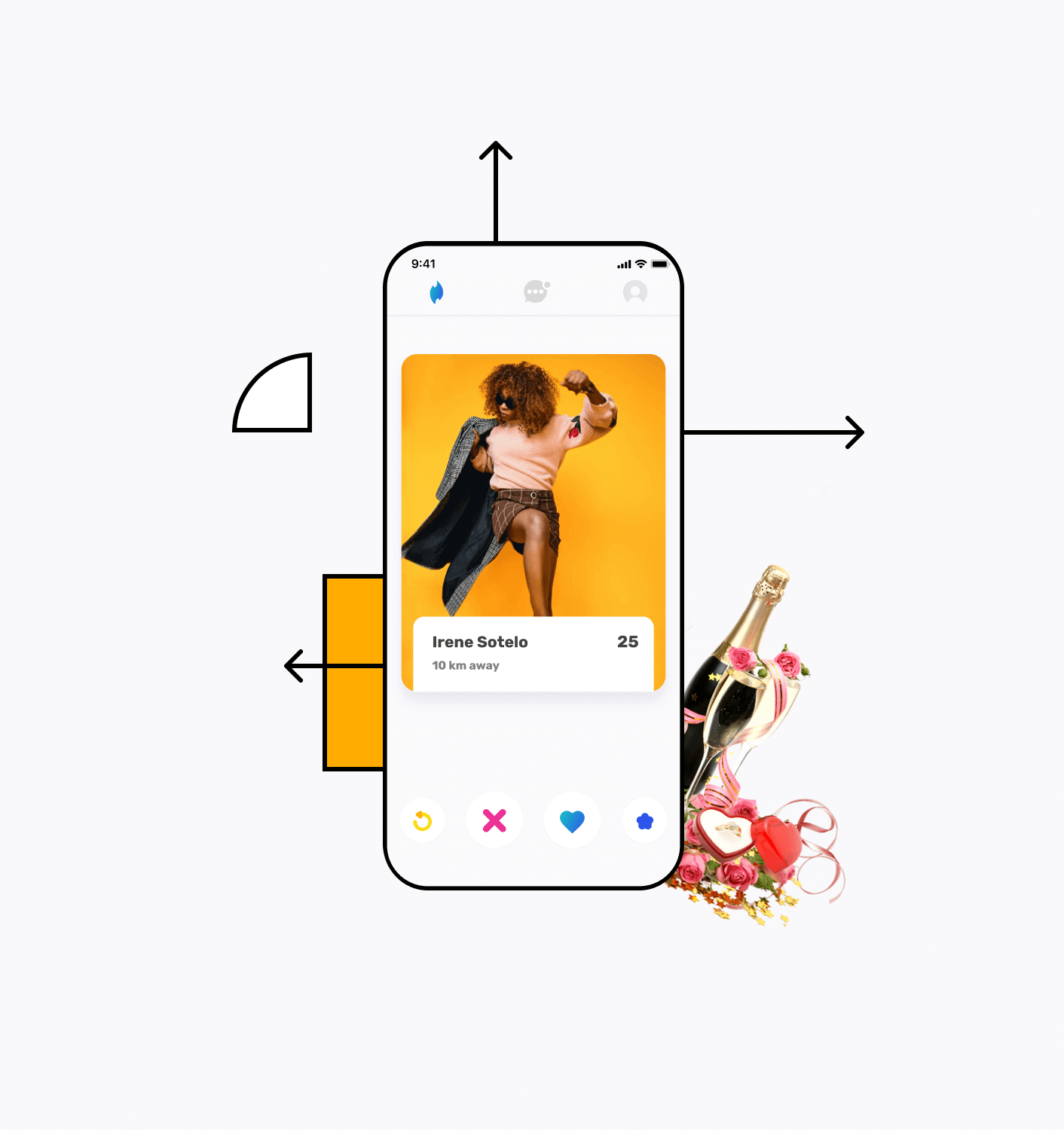 Why build a dating app?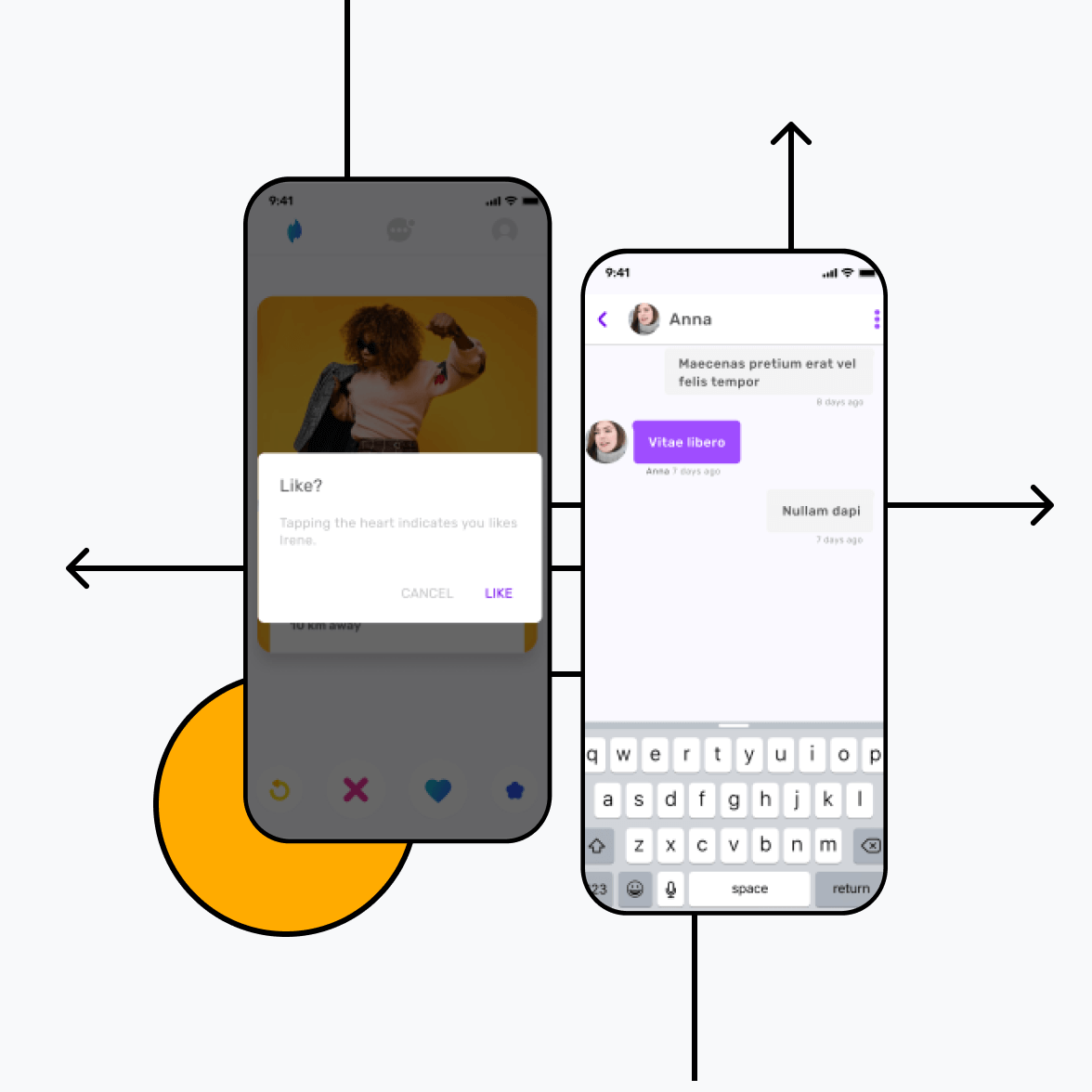 They're highly lucrative! Users spend more time on them than most apps (research shows people spend 90 minutes a day studying a dating app, compared to 5 minutes a day on a calorie counting one).

You've a range of ways to earn money from your app (see below). Also you get to play Cupid, turning potential matches into soulmates. Which is not a bad way to earn a crust.
Is it tricky to build an app like Tinder?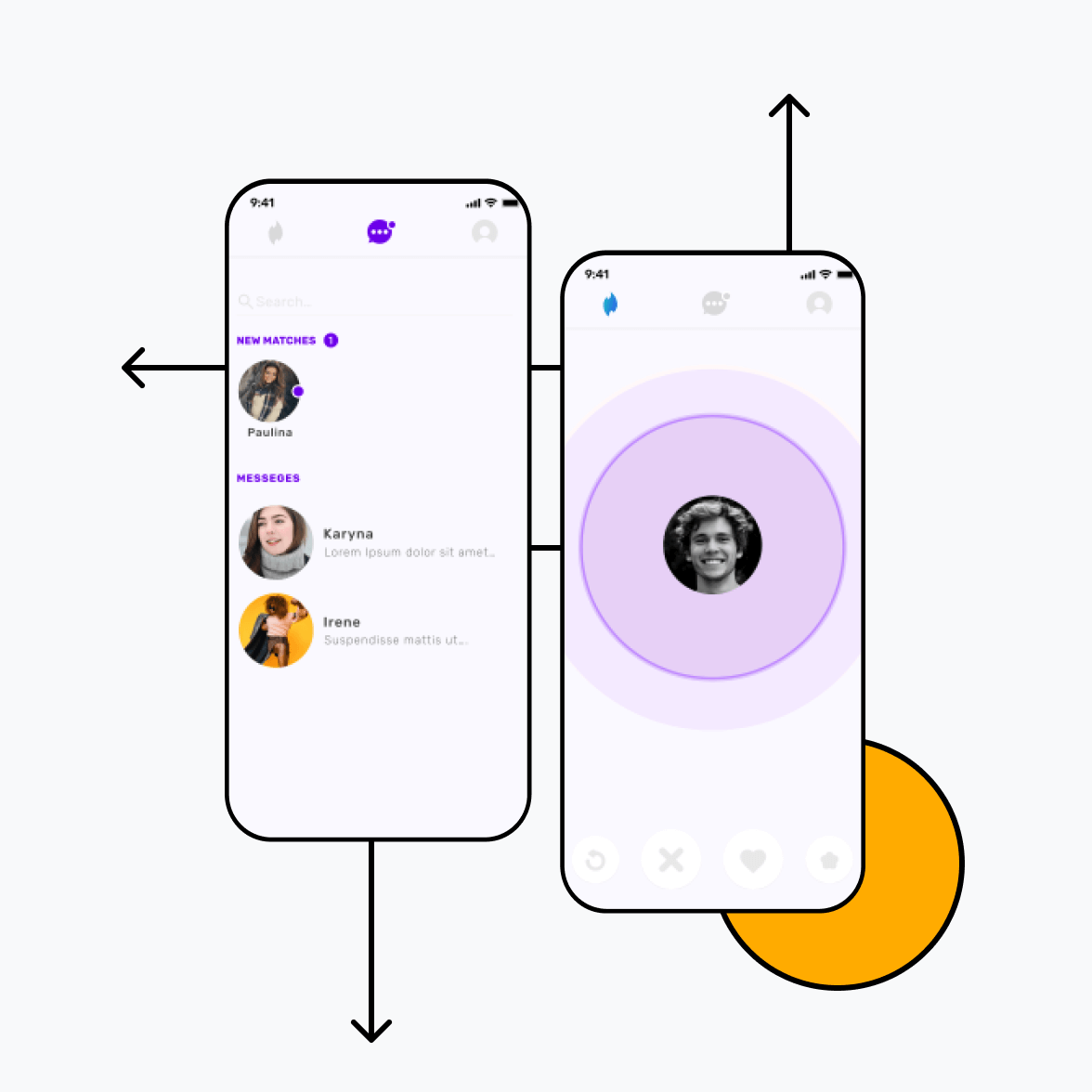 Not at all. We make it really simple, even if your technology skills end at Candy Crush.

Here's how it works:
1. You select a design, like popular dating app 'Tinder', on Builder Studio.
2. Drag and drop any additional features your idea needs to increase functionality, remove ones you don't need.
3. Chat to our mobile development expert who'll suggest things that have worked well for other clients.
4. Our network of mobile app development specialists customise your app so it perfectly fits your idea.
5. Start earning cash!
Basic features you'll need for your dating app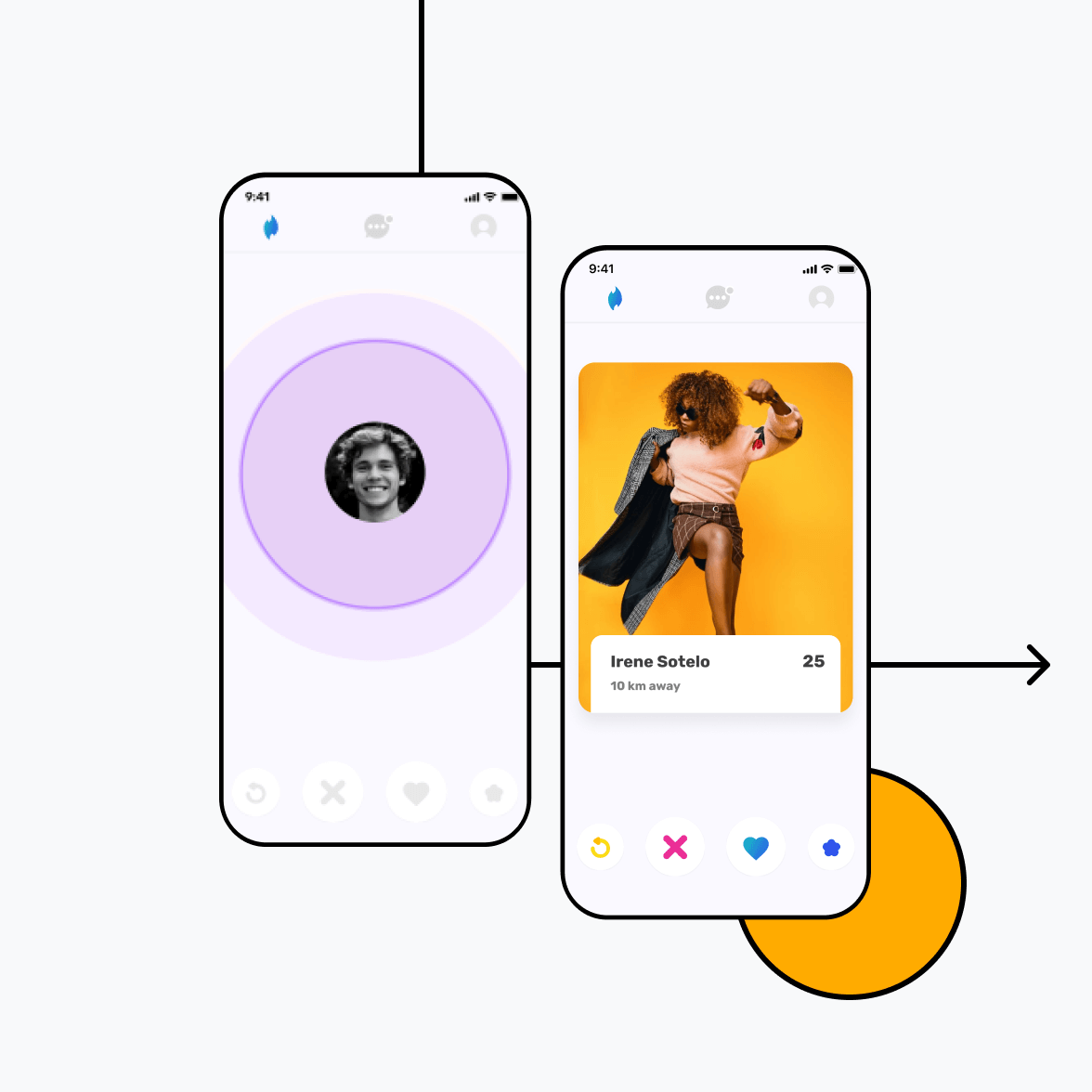 Profile tools and filtering: Catalog of photos to scroll through, video profiles and filtering tools help your singles find their perfect match.

Matchmaking – your way: Yours will be a tailor-made app, so you can add whatever algorithms you think will help your users find a potential match. (Read about the horoscope dating app we built, at the bottom of this page.)

Encourage romance: Chat, favourites, comments and video messages make it easy for your dating app users to make those first interactions. And status updates.

Love is just around the corner: Geolocation lets people find singles that they like, who are nearby.

Play it safe: Adding advanced privacy settings and letting your potential users block unwanted attention – means people will feel safer using your app.
How to monetize your dating app?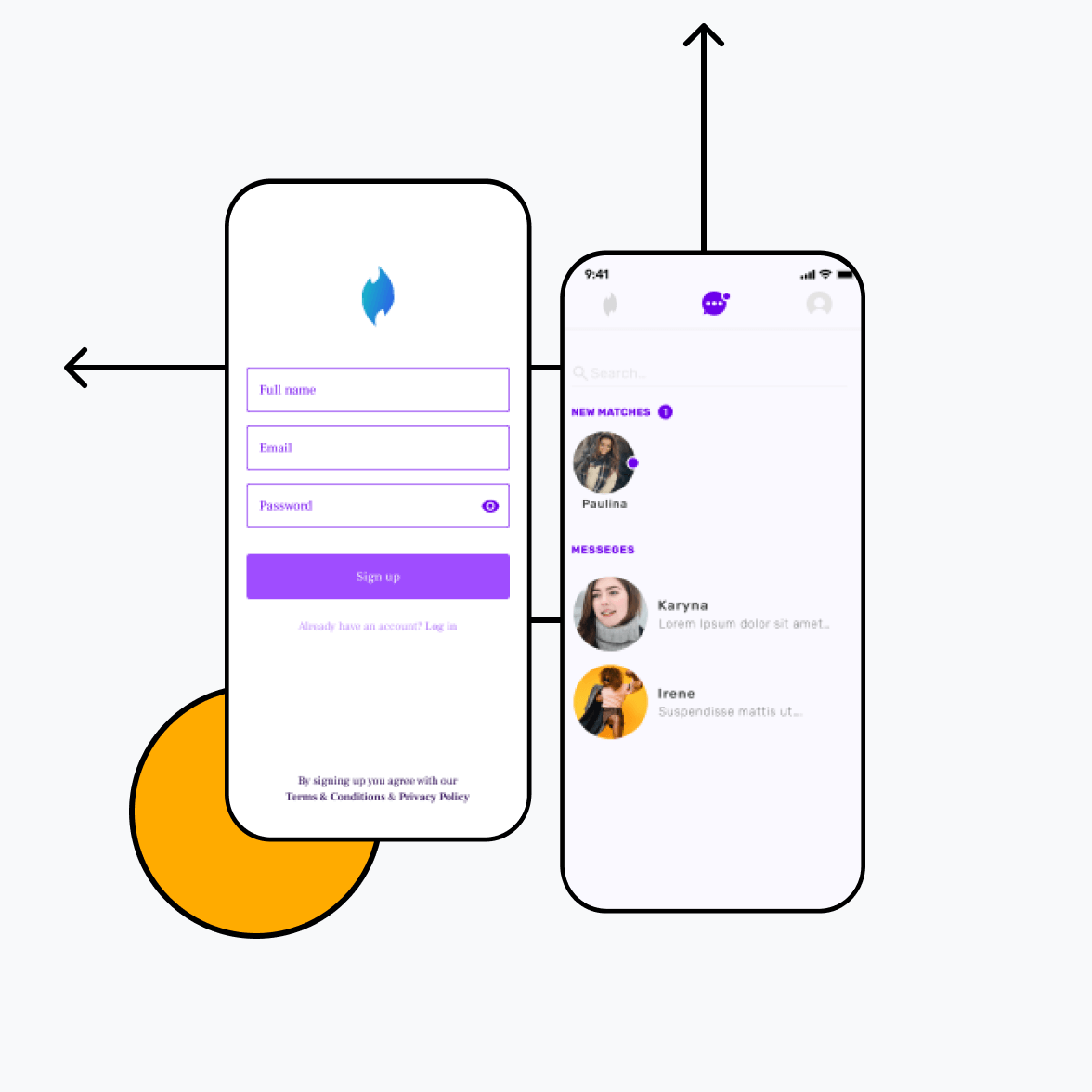 Subscription: Many dating app startups have plans that charge monthly or weekly fees. And sometimes this is seen as a selling point (more serious users are ones who are prepared to pay to join). But there are other ways to earn money – particularly when you're starting out.

Membership fee: You can charge users to download your app. This will limit the number of people who try it but it does let you position yourself as a premium product and does limit fake users and fraud.

Freemium: Give everyone a basic service and then charge for extras. You could make this anything you like, from appearing higher on the list of possible matches, to unlimited right swipes (and having a daily limit for basic users) or just make it ad-free for them.

In-app purchases: Let singles buy gifts, digital flowers, stickers, emojis, send teddies, cat pics or pimp their profile in other ways – earn money and encourage warm interactions through your app.

Adverts: Like every app, this is a simple way to make money from your customers while keeping it open and available to everyone. And you can charge for an ad-free version of your app.
FAQs
How much does a dating app development cost?
Any dating app development cost depends directly on the type of features it showcases. Builder.ai gives you a guaranteed price and all your timings, upfront. We break apps down into their features (for example swipe right or left or push notifications) so how much you pay depends on how many features you pick. And how complicated it is to make them all work together. Our AI works out these costs in real-time as you add or remove features.
Case studies
Solving complex business challenges for global brands like NBC Universal, Fujitsu, the BBC and Pepsi.