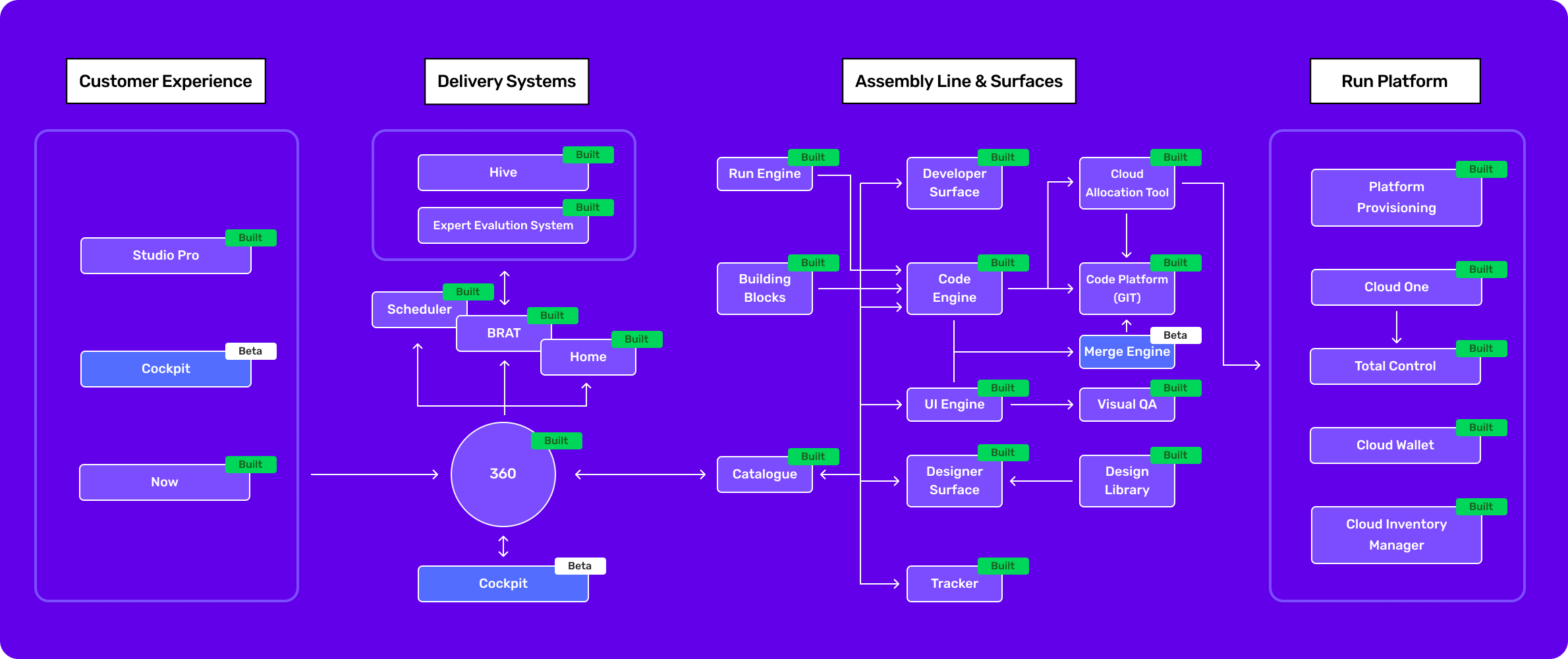 Builder.ai's platform is built on a vision of providing a "Domino's like" front end experience but producing custom software on a "Toyota-like" car assembly experience.  

The platform's primary mission is to step-change how software is built; an end to end connected platform where deep automation, lego-like reusable features, a bottom-up new software architecture, artificial intelligence and a global network of experts (except in the case of Studio Store) work together to deliver software applications to audiences that range from a micro small business, through to a large enterprise or army. 

Builder.ai is built on these two core theses 
Reuse where possible
This stretches from reusable code and reusable design - and also includes reusable questions to ask when a certain set of features come together. This is an important distinction as Builder.ai doesn't use AI to generate code (code synthesis is some way away from fully building apps!)
Remove human variance
A part of what we see as the problem in why 82% of software projects fail is because it is at the mercy of the consultant, developer or designer. In Builder.ai's world this is where we leverage our use of AI; from computer vision for quality control to how we can filter down the useful aspects what is "reusable" to a customer, to how we can listen to written/spoken conversation and recommend what a salesperson may wish to ask
(coming soon!).
Our secret sauce
Builder knowledge Graph
The Builder Knowledge Graph can be considered as the brain that powers our AI-assisted platform. It encompasses the majority of entities and relationships within the Builder ecosystem and enables the use of state-of-the-art graph and graph embedding algorithms to support our digital offering. Through the flexibility offered by the graph paradigm we are able to seamlessly calculate metrics like feature node centrality and degree, as well as exploring new innovative initiatives such as neighbourhood detection for recommendation systems and feature link prediction i.e. instant prototype generation. It also facilitates the generation of subgraph and node embeddings, which are a powerful tool for numerous machine learning models through the use of MetaPath2Vec and Node2Vec.

Currently our embeddings based services include time and cost estimation for new projects, parallel workstream/swimlane generation and developer allocation.

Our AI team strives to further bolster the Builder Knowledge Graph capabilities with an ever-increasing number of entities and relationships to be able to further support our workflows.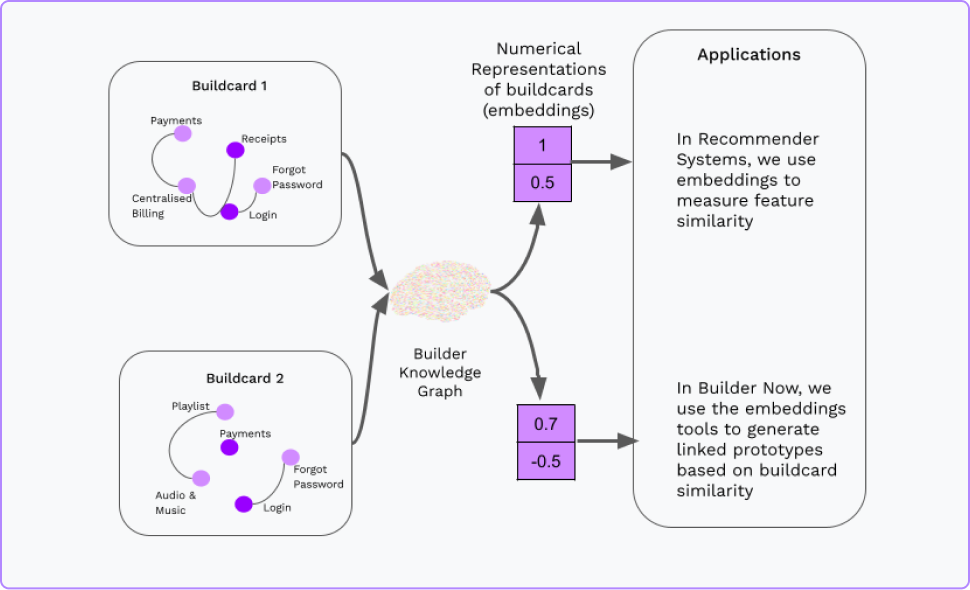 Natasha
Natasha is an intelligent conversational assistant system that is integrated into the Builder.ai platform products Studio and 360 Cockpit. It employs a proprietary dialogue manager and the Builder Knowledge Graph to guide clients in the conception and design of their idea. It also provides assistance to Builder.ai Productologists to increase efficiency and promote consistency, in real time, during spec calls. The cutting edge in natural language understanding such as Flair for Named Entity Recognition and neural based sentence embedding models are utilised along with graph embedding models such as Metapath2Vec and GraphSage.

This arsenal of data and machine learning algorithms supports a number of innovative solutions such as feature and template recommendations, negative feature recommendations and feature tagging.

The mission of our NLP team is for Natasha to one day become the voice of Builder.ai and completely replace Productologists to provide true AI-assisted self serve on Builder.ai platforms.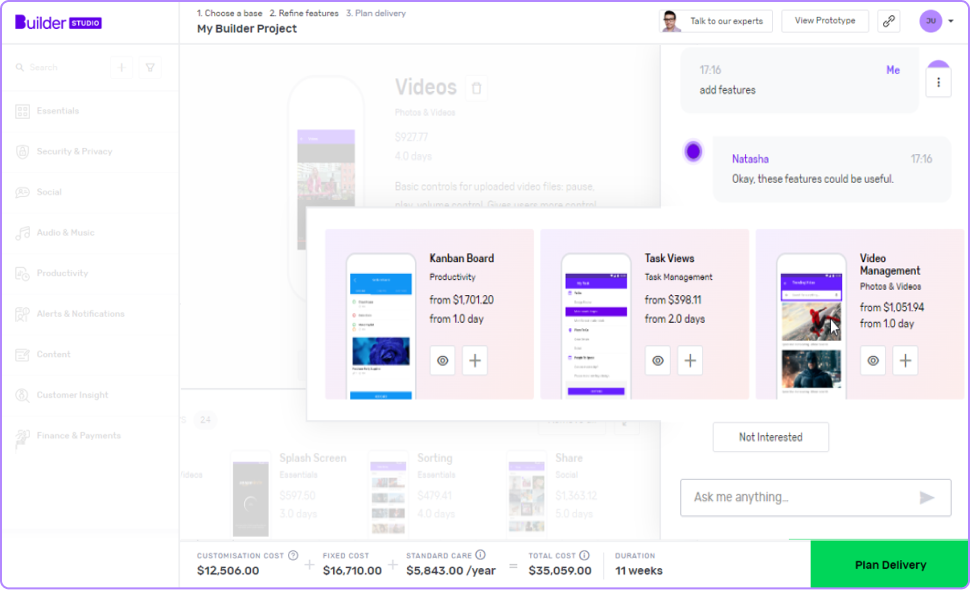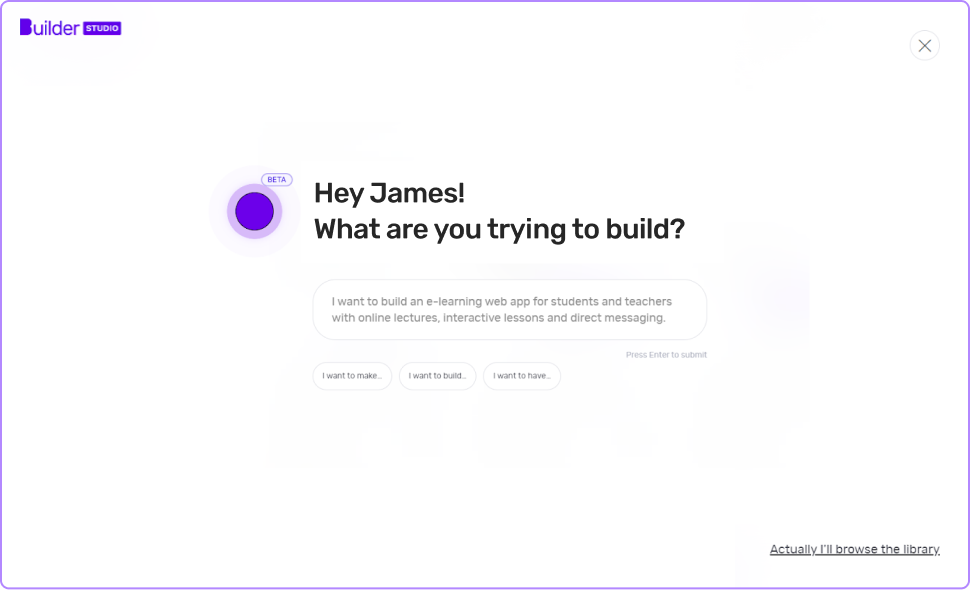 Natasha Cockpit (Beta)
Our Natasha Cockpit is used to help our delivery experience where each conversation will be powered by Natasha, providing our teams with the right question to ask & then listening for the answer to add the relevant features. This will allow us to be more accurate and precise and ensure that every person you speak to at Builder.ai is an expert in what you are trying to build. This is powered by our speech and conversational analysis system.

Tech Used: Deep learning for NLP, unsupervised learning. Transformers are applied to understand similarity between phrases. Hierarchical clustering then uncovers topics in chat.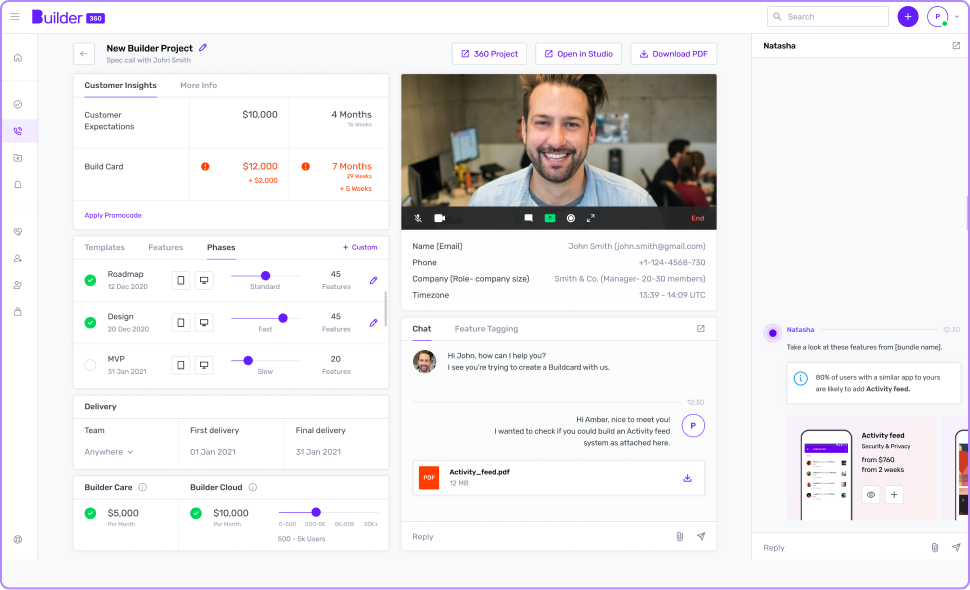 The power of Building Blocks
Building Blocks
Building Blocks are code components that are reused across multiple Buildcards, reducing costs and timelines on a Buildcard while maintaining standard code quality. Every Building Block consists of two sections - core and custom. Core sections comprise the lines of code which represent the main functionality and reusable components across Buildcards. We use MD5 hashing technology to maintain the reusability of every block. Custom sections comprise the snippets of code that define customisations specific to the Buildcard. This could include placeholder texts, theme, colour, font, error messages, branding information etc.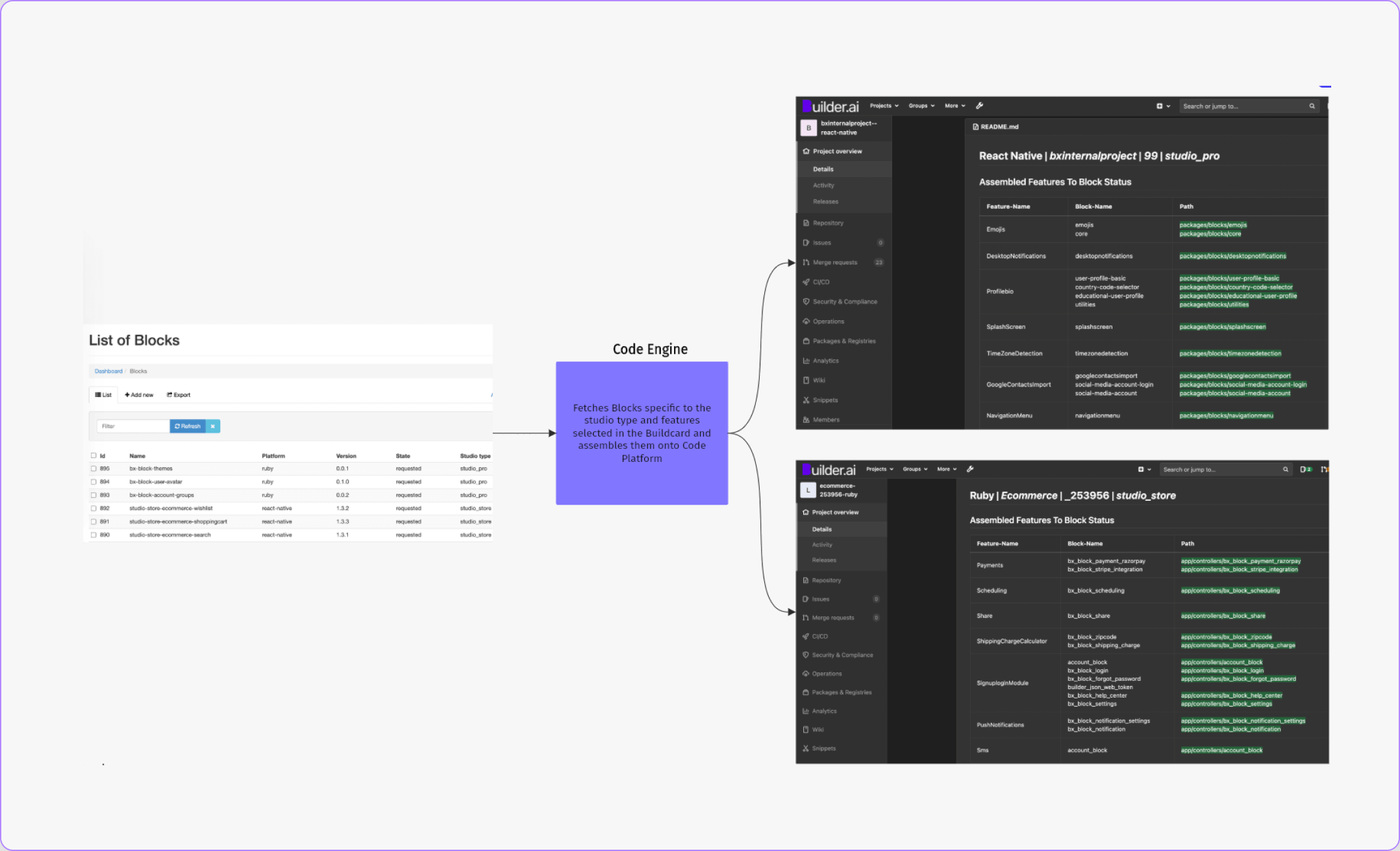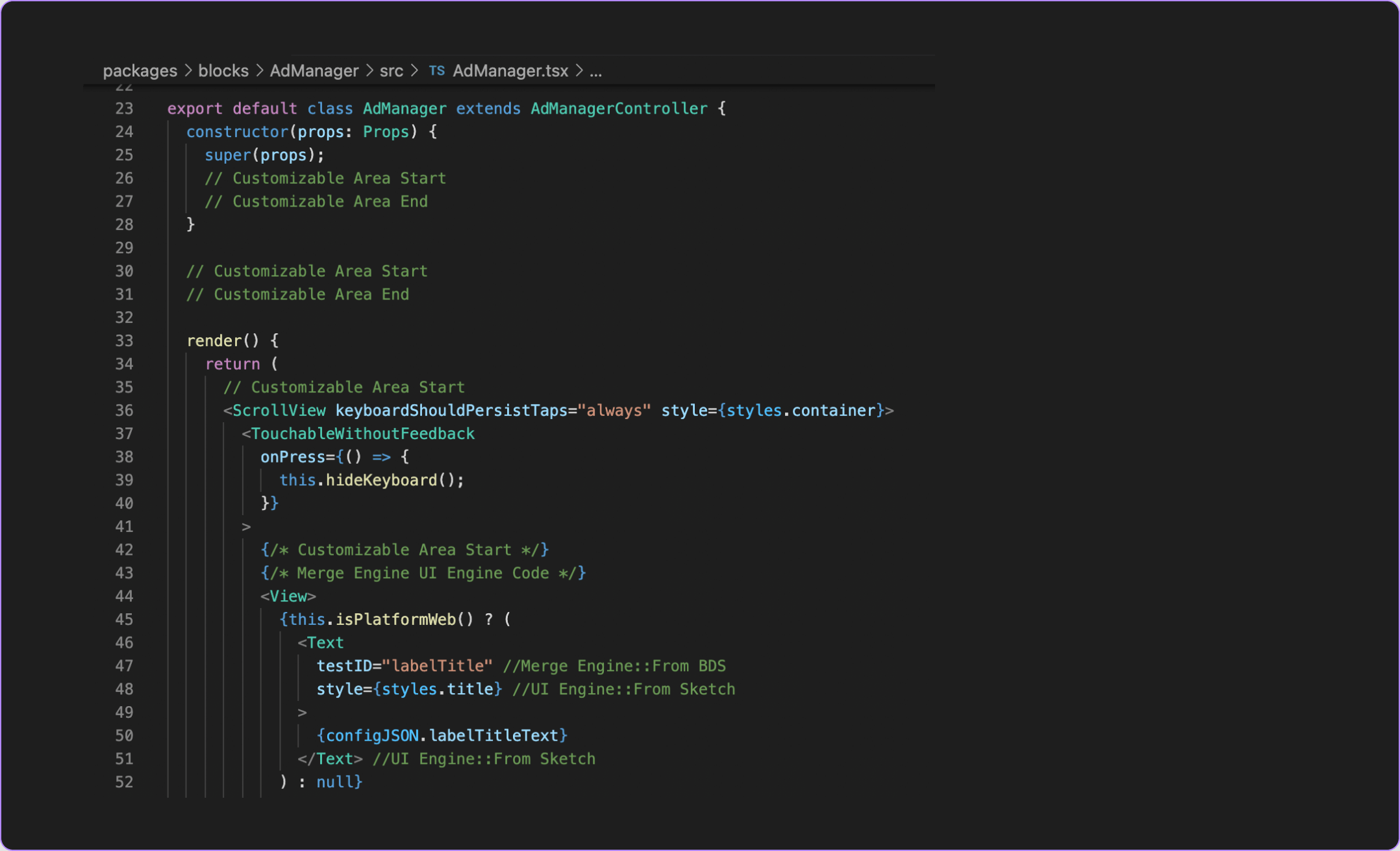 Code Engine
Code Engine is a platform which assembles all the Building Blocks required by the Build Card (based on the features associated with the Build card). 

The language-specific translators(LST) are utilised to generate code that follows a repeatable template qualifying the code to be 100% deployable and human-understandable. These LSTs utilise the concept of "markers" to identify the customizable part of a project to inject changes intelligently to make the build bespoke for the customer while still retaining the reusability concept of assembly. This concept is also utilised when we have to roll out updated/new features to an existing assembled project. The LSTs are stateless and work in a scalable Kubernetes Job architecture which allows for limitless scaling hence providing the needed throughput based on the volume of builds coming in through the Queue systems. This stateless architecture enables us to support multiple languages in a plug & play manner, allowing for increased horizontal coverage of available languages.

Continuous upgrades to a build card are supported by incremental runs which update the code platform with the newly added features automatically.

Run Engine
Run Engine is the messaging channel used to maintain communication between different building blocks within the project or outside of it. This includes sending HTTP/S GET or POST requests from one page to another.

Design Library
Design Library are design components that are reused across multiple Buildcards saving time and money, while maintaining design quality. All of the features in our catalogue have pre-created design files that are a starter kit for all design experts - rather than designing every feature from scratch. By reusing existing files, they can switch to customisations inline with customer expectations without having to design the basic use cases of that feature. With design files customised to suit every category, it objectifies subjective design discussions and leads to quick closure on the design conceptualisation.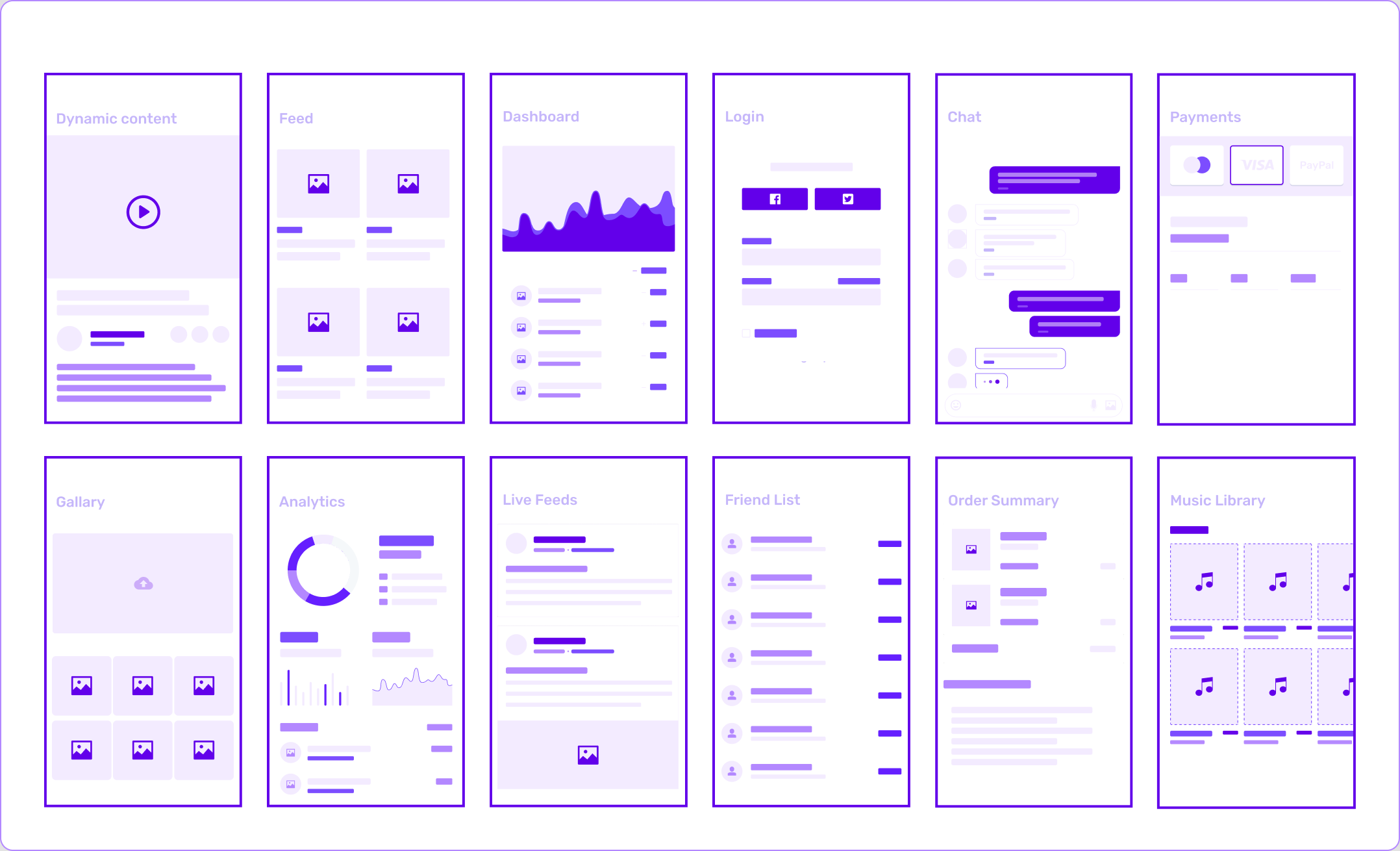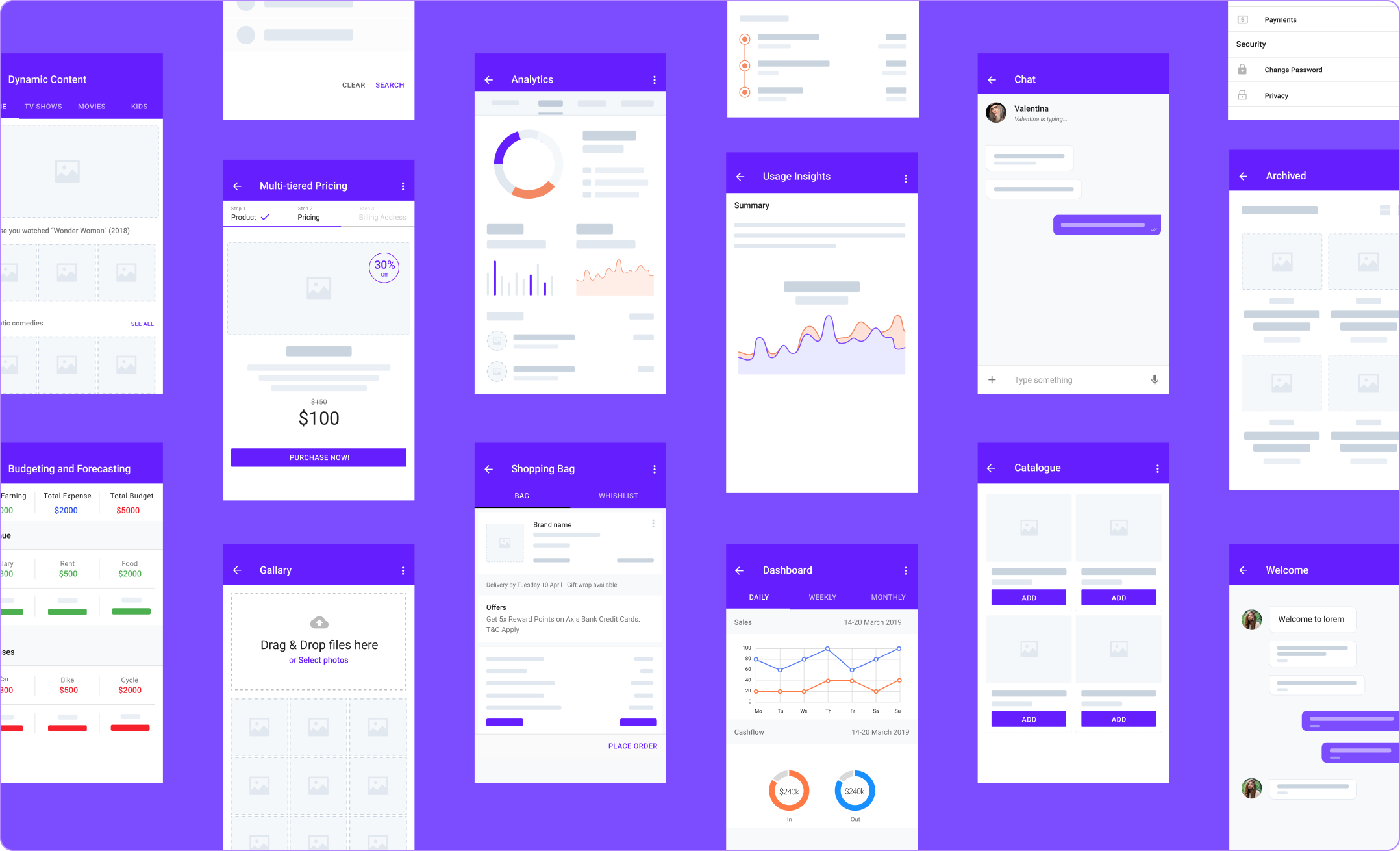 Merge Engine
Merge Engine is a tool that is responsible for automatically merging the design code with the functional code. It also handles navigations that connect different screens within an application, animations and any other interactions within a page. The tool consolidates styles and assets in one place allowing experts to easily customise and consume the generated code.

UI Engine
UI Engine is a Builder.ai homegrown design-to-code product that converts designs (sketch, soon Figma) into React Code (supporting both mobile and web). It has been architected to scale the generated UI code to different screen sizes without requiring any effort by the designer or the developer.

Any design file uploaded by experts on our network to our Designer Surface is automatically converted into corresponding web or mobile code. This system is designed in such a way that changing formats would be relatively easy. It is able to convert the design files into our proprietary domain specific language using adaptors, upon which we then run translators to get the actual React/React Native code.

Customising your blocks
Builder Hive
Hive is a partner management system that allows us to build supply so experts can then execute the customisation component of the Buildcard. This platform is used by our capacity partners for on-boarding themselves and their experts (designers, developers and QA members.) It is also used by our in-house experts to assess third party experts before they're hired to work on different swimlanes across Buildcards.

Below are the core functionalities provided by Hive:

Partner onboarding - profile and contract completion
Expert onboarding - expert profiling, quiz, assessments, course completion
Reviewer assessments - auto review system to validate the assessment basis code, repo status, code analyser
Expert availability management - schedule management and rate cards
Expert task allocation
‍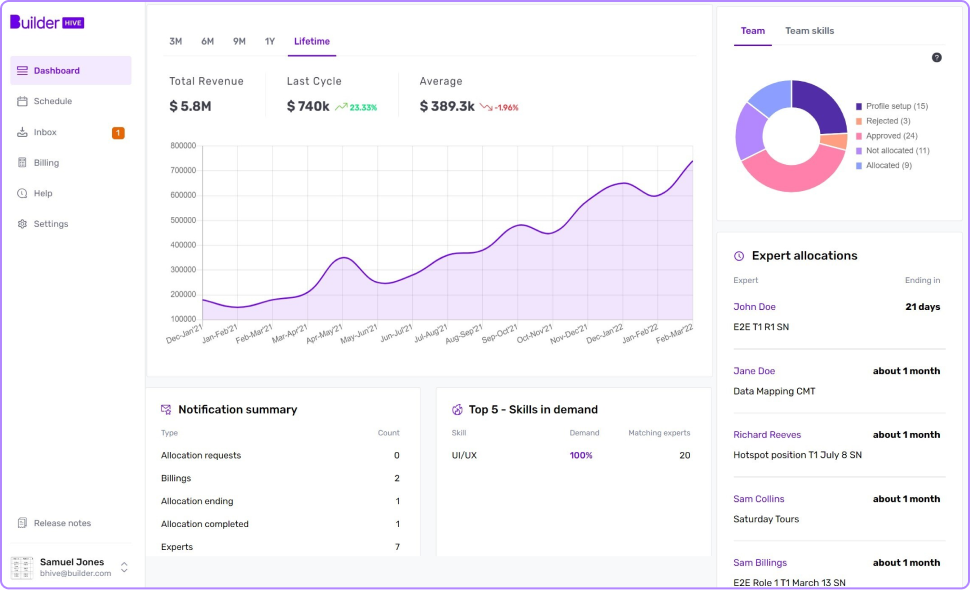 Builder Tracker
This is a task management tool used for tracking and managing granular tasks performed by experts in our capacity network, as well as our internal product and engineering teams. When a project starts we inject in the common tasks required for a particular feature from our catalogue based on inputs from our Knowledge Graph. This library of tasks/user stories is continuously refreshed as new stories are created or edited.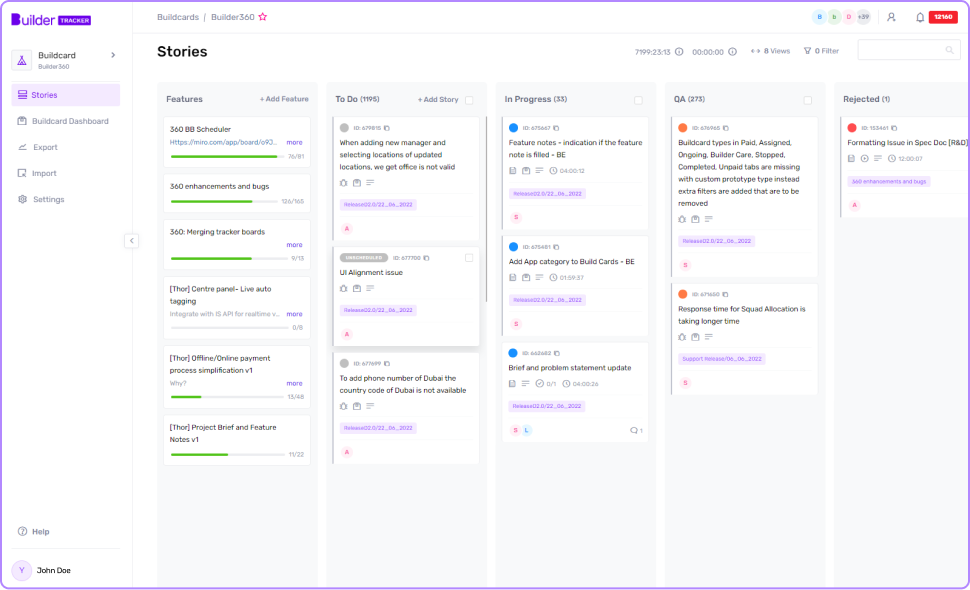 Designer Surface
Our Designer Surface is used by designers from our capacity network to view all their assigned tasks and create/submit custom designs for our customers' Buildcards. Using our design library of precreated designs, and Builder Now, it is able to immediately create a user flow of actual designs for further customisation by experts from our network.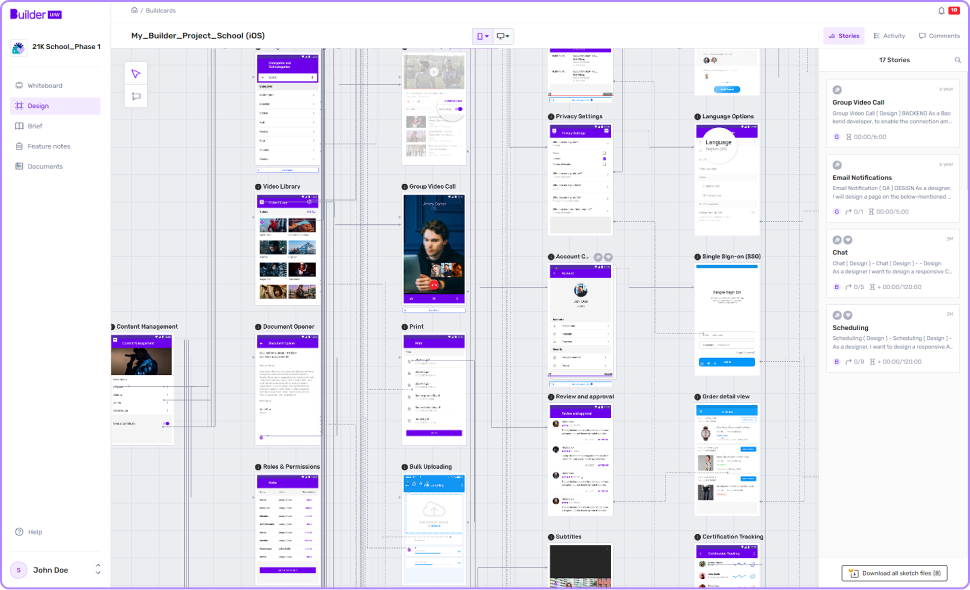 Developer Surface
Our developer surface is used by experts from our capacity network to do all of the development related tasks assigned to them from our customers' Buildcard. It is a virtual desktop with all the tools and packages required for the development installed. The ability to access the Developer Surface from a web browser, on any device, allows flexibility for experts to continue work in a secured environment from anywhere. We provide minimum latency to our cross-geographic experts by supporting multi-cloud regional clusters dynamically. The Developer Surface also uses facial recognition to ensure the named expert is the person working on the code strands. It captures all keystrokes to further ensure we know, at an industrial scale, if there is any code being copied in and where it is being copied from.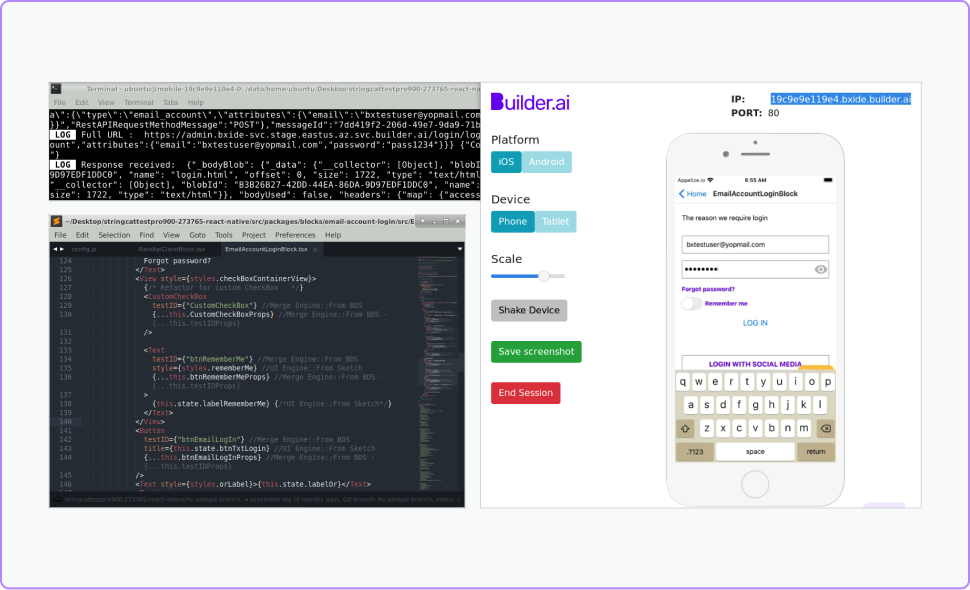 Expert Evaluation
Our expert grading/evaluation platform allows us to continuously evaluate our developer experts by providing them developer scores. These scores are integrated into our overall workflow. One of the key components is our code quality system (powered by SonarQube) which feeds into BRAT (our system for dynamic resource allocation) for determining the expert score. These metrics are captured across multiple front and back end skills and fed into our resource allocation system.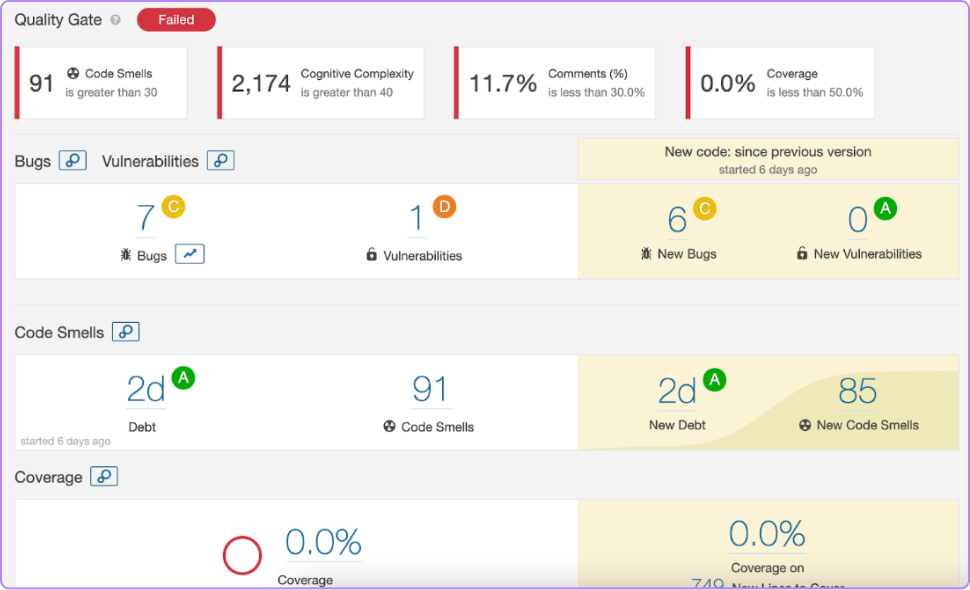 Health Check
This is an early warning system that provides the transparent, causal impacts of different factors on project delays using Bayesian network inference. By leveraging information from past projects encapsulated within the BKG, it is able to quantify the probability that current ongoing projects will be delayed, as well as the most likely causes for the delay: e.g. customer responsiveness, number of bugs raised by developers, feature to feature interactions, etc. These actionable insights are used to get ahead of probable issues and effectively reallocate resources to avert delays.

Resource Allocation
Our Big Resource Allocation Tool (BRAT) is capable of generating optimal developer assignments for every available parallel workstream/swimlane across all Builder.ai projects to minimise cost and time. It is based on an operation research model and considers a plethora of information including swimlane feature complexity, developer expertise, past developer experience, timezone and project affinity to make these assignments. Additionally, BRAT is capable of quantifying developer performance and expertise with a live grading system that employs qualitative and quantitative feedback based on code quality metrics.

Visual QA
Visual QA automates the process of comparing design files with actual generated screens and identifies visual differences between the two. It is a pixel to pixel comparison using computer vision to identify discrepancies on the static page layout of the screen based on location, colour contrast and geometrical diagnosis of elements on the screen. Once set up, the tool logs the differences as a bug in the task management tool which can be reviewed by the Ninjas/QA and assigned to the experts for further development.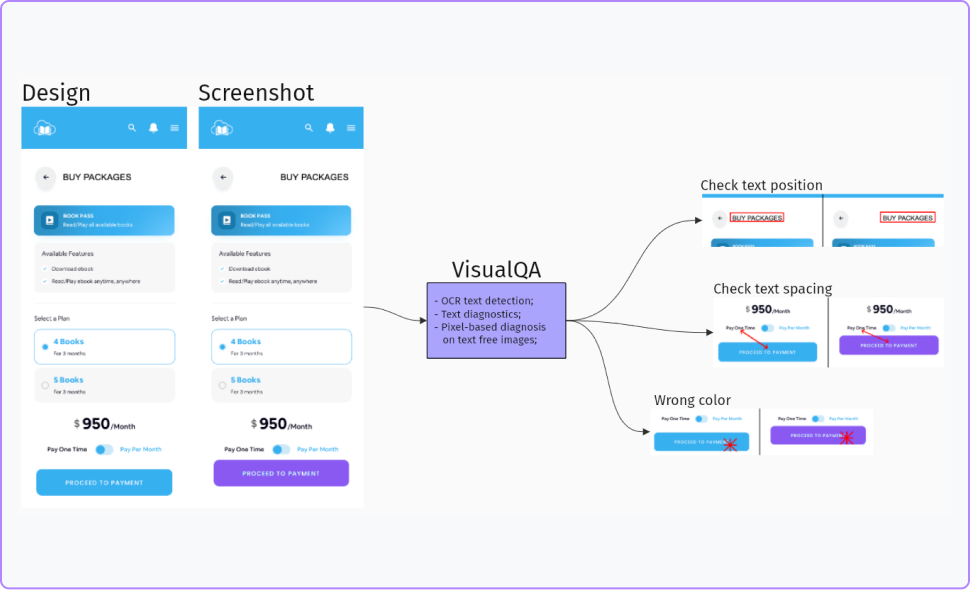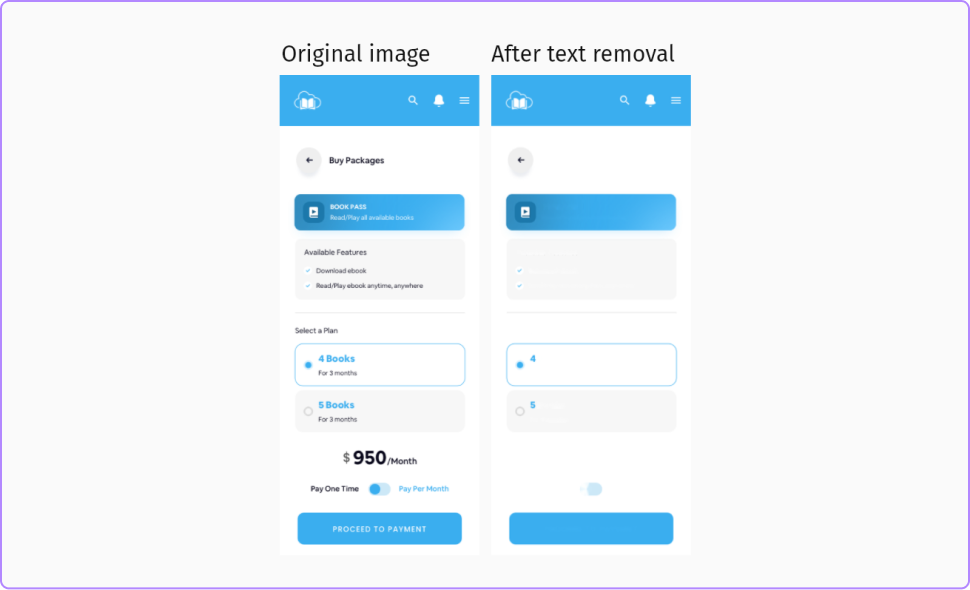 VisualQA implements an Optical Character Recognition (OCR) engine to detect and diagnose text position and spacing. Additional routines are then used to remove text elements (see image below) before applying pixel-based diagnostics. At this latter stage an approach based on similarity indices for computer vision is employed to check element position, detect missing/spurious objects in the UI and identify incorrect colours. Routines for content masking are also implemented to reduce the number of false positives associated with the presence of dynamic content in the UI (e.g. dynamically changing text and/or images).

Tech used: Computer vision, Detecting discrepancies between developed screens and designs using structural similarity indices. Excluding dynamic content based on masking, Text removal based on optical character recognition - Text is removed before running pixel-based diagnostics to reduce the structural complexity of the input images.

Choose the right platform
Studio Pro
The Studio Pro platform empowers anyone to turn their idea into tailor-made software, without writing any code or speaking to a developer or agency. It internally takes customer specifications (features, platforms, etc.) and turns them into a Buildcard, a machine readable spec for that project.

Using deep and graph learning and bayesian estimation, it is able to calculate the committed cost and timeline for a given set of features. It utilises our Knowledge Graph to analyse the past history of feature combinations to detect where potential conflict points may emerge and factors that into the output cost and timeline.

Natasha, our AI conversational agent, guides customers through this process and is able to recommend templates and features based on natural language descriptions provided by the customer.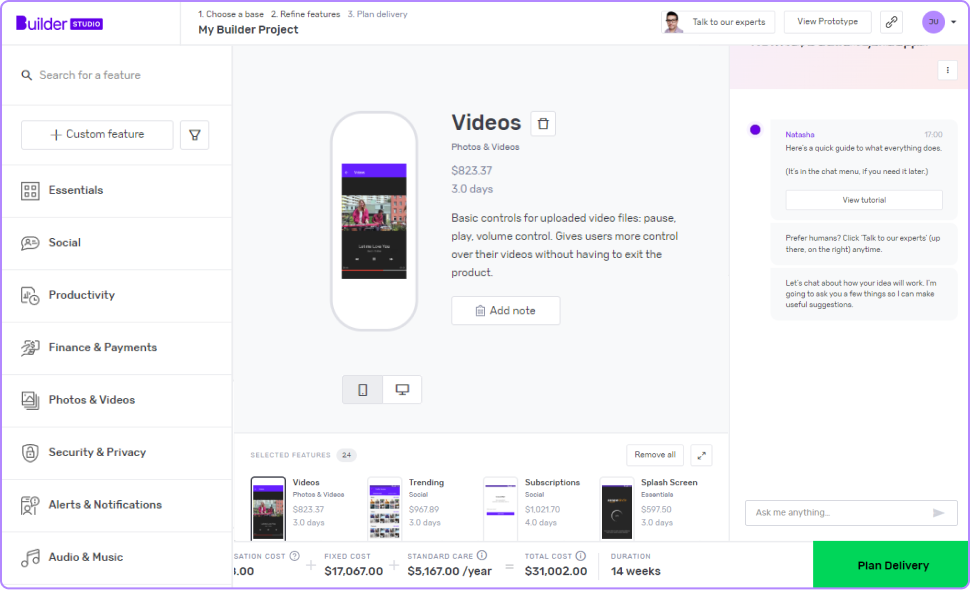 Studio Store
Studio Store is a flavour of Studio that automates the entire creation of an app without involving our expert network. We fuse together the common blocks with pre-written customisation. The power in this approach is that you can later upgrade to becoming a Studio Pro Customer by simply adding a feature.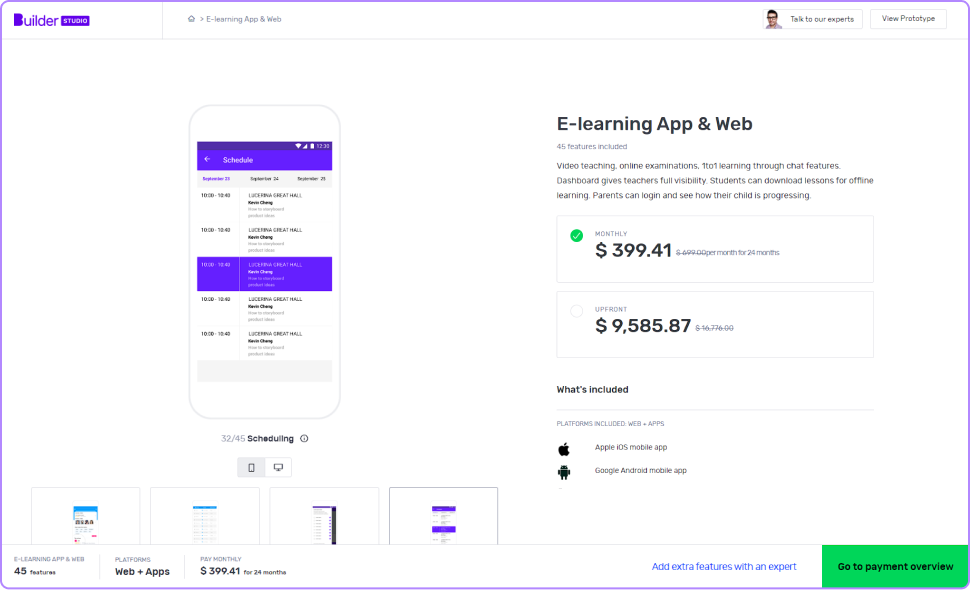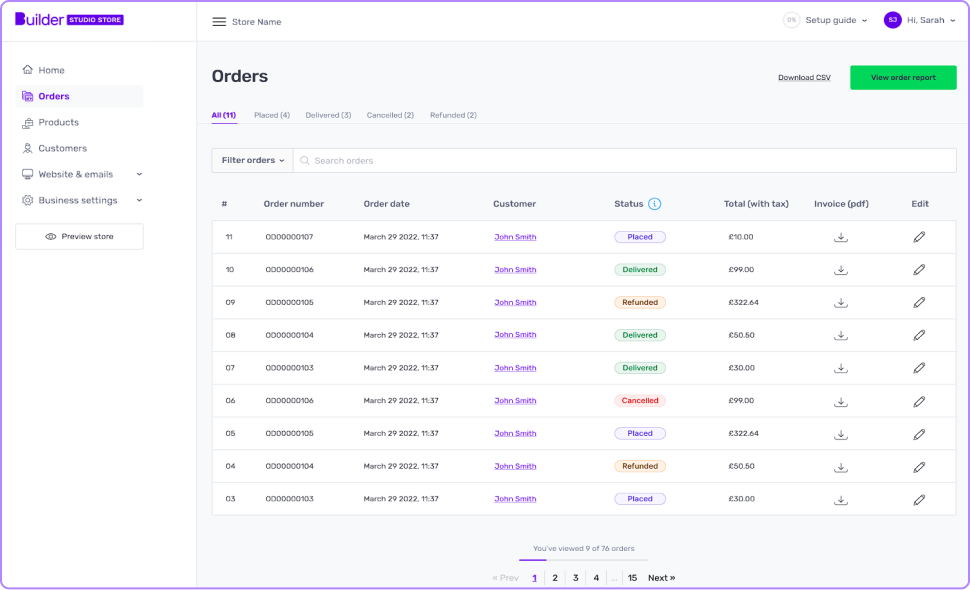 Studio Rapid
Studio Rapid is a next generation version of the no-code/low-code platform that allows ANYONE to build enterprise grade applications at their own convenience. With a basic design knowledge anyone from the team can build applications or create industrial grade using the simple/intuitive interface. And do it faster than with any other platform. In less than a day you can have a complete native app on your phone with the Studio Rapid previewer app (an app where you can instantly access all of your fully functional apps designed on the Builder Studio Rapid platform and test changes in real time).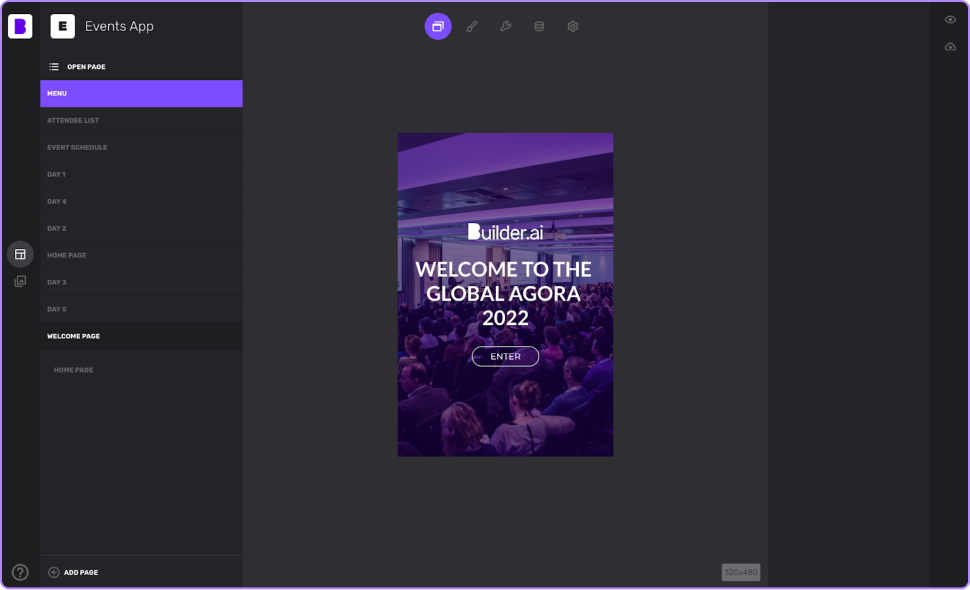 Builder Now
This platform is used by customers to automatically create an interactive prototype for the features selected in their Buildcard. It calculates which features to link to others in a logical manner and stitches that flow into a prototype. This is achieved through the use of the MetaPath2Vec embeddings generated from the Builder Knowledge Graph. This describes feature linkage based on project templates, past client projects, prototypes and our proprietary content management tool. These embeddings are passed on to a Gradient Boosting model that predicts linkage between any two features. A secondary model is then used to select the most likely starting screen for each prototype. Given that these two models cannot guarantee a path from the starting screen to every feature in the Buildcard, we invested in our own proprietary path finding algorithm that uses embeddings and an adjacency matrix to guarantee such paths.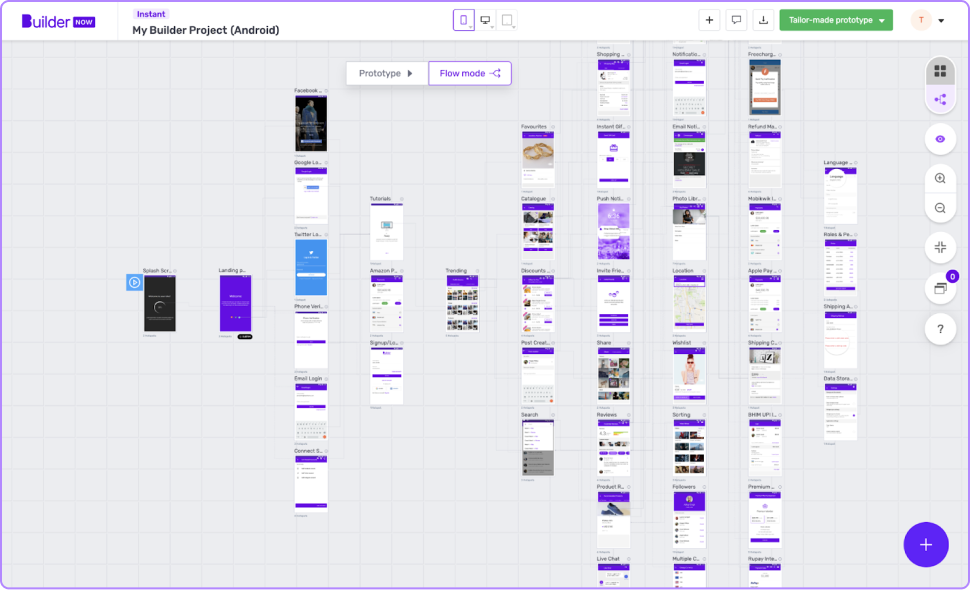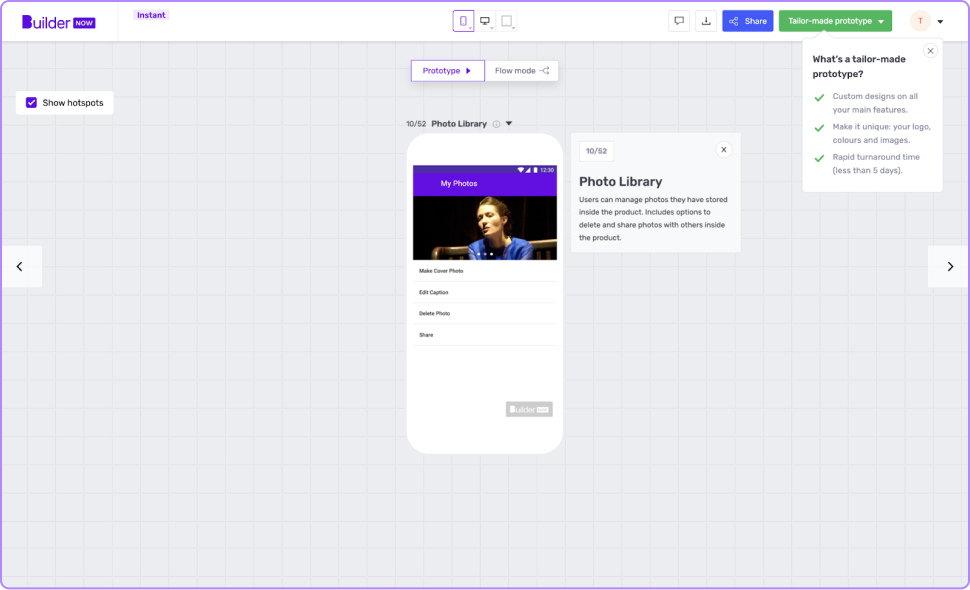 Keep track of progress
Builder Home
Home is a dashboard used by customers to view their Buildcard's progress. This dashboard shows live progress as a percentage feature along with releases, meetings, account settings, and ticket sections - through which all dependencies can be viewed and resolved by customers and squads. The intent is to reduce offline communication between our Productologist and the customer. All action points can be viewed and executed through this dashboard.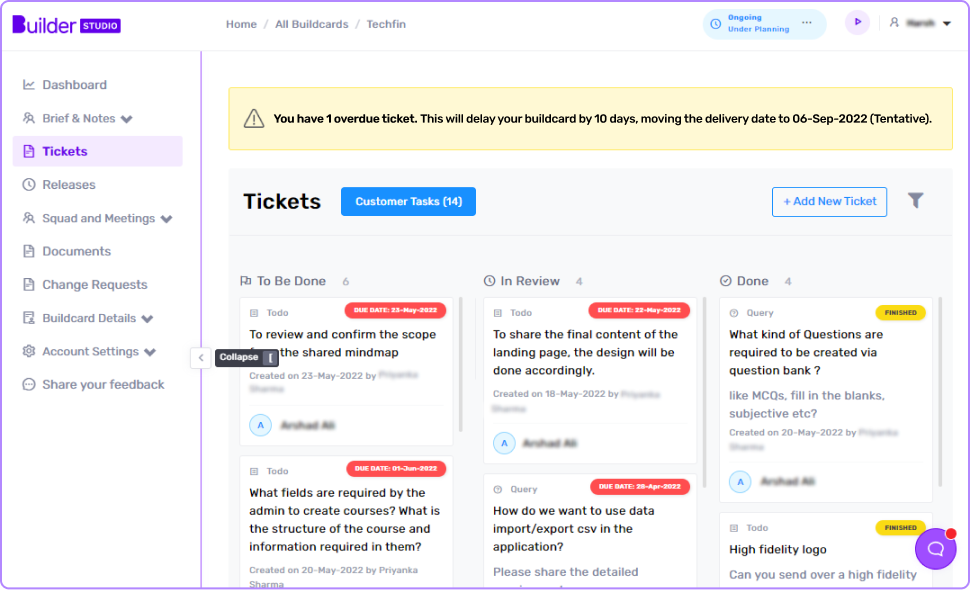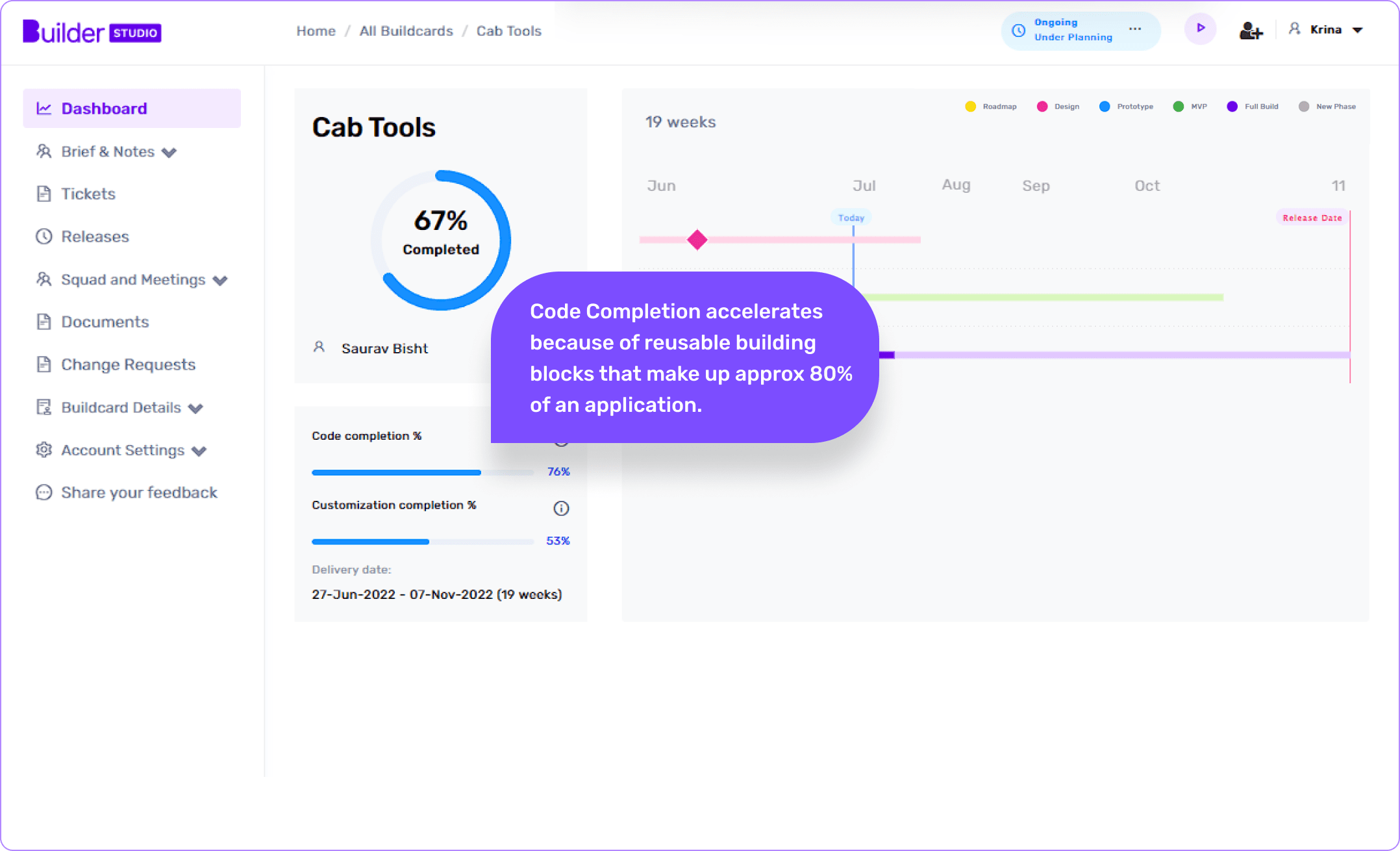 Builder 360
360 is the central nervous system of the Studio platform. It is primarily used by the delivery team to manage their Buildcards from payment to handover. Apart from this, 360 maintains all call (spec and demo) flows and allocations between sales and delivery during the pre-purchase journey, allowing teams to communicate before submitting the final Buildcard to the customer.
‍
Below are the core functionalities provided by 360:

Displays Buildcard's configuration - customer information, requirements and selections
All Buildcards as per their status (unpaid to completion journey)
Toolkits within each Buildcard to empower delivery to manage assigned customers - chat, email, hosting, 3rd party integrations
Integration with tracker, UIW, Hive for progress tracking
Integration with assembly line for code repository creation, infrastructure creation and management, expert and delivery access/management
Customer management - meetings, documentation, dependencies (To-dos/queries), payments, CSAT, release management
Team management - squads (Productologists, Ninjas and Senseis)
Spec and demo call booking and management
Meetings synced with Zoom, Builder Meet, Google Calendar
‍
Subsystems that power 360

Automated creator/resource allocation: constrained optimisation determines the assignment of resources to groups by minimising total project cost whilst retaining quality
Parallel delivery: unsupervised learning - features are clustered into groups based on estimated coupling
Healthcheck: probabilistic bayesian reasoning. Estimating the causal impact of different factors on delays using a bayesian network & causal ML techniques
‍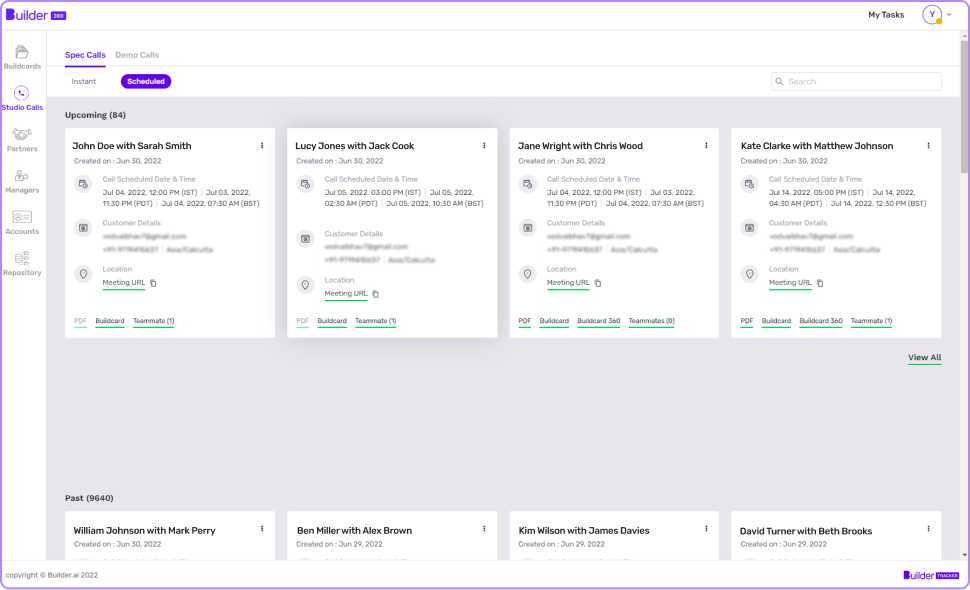 Backroom heroes
Cloud Allocation
Cloud Allocation is a tool that is responsible for predicting the cloud costs that would be incurred by a Buildcard. This is achieved by consuming data from multiple cloud providers and converting it to domain specific language, which allows it to predict infrastructure blueprints for customers' Buildcards in a cloud agnostic manner. It manages the infrastructure for the entire lifecycle of the Buildcard (from development to after care) which includes creation of cloud accounts, in predicted cloud providers, along with setting up CI/CD to facilitate automated deployments.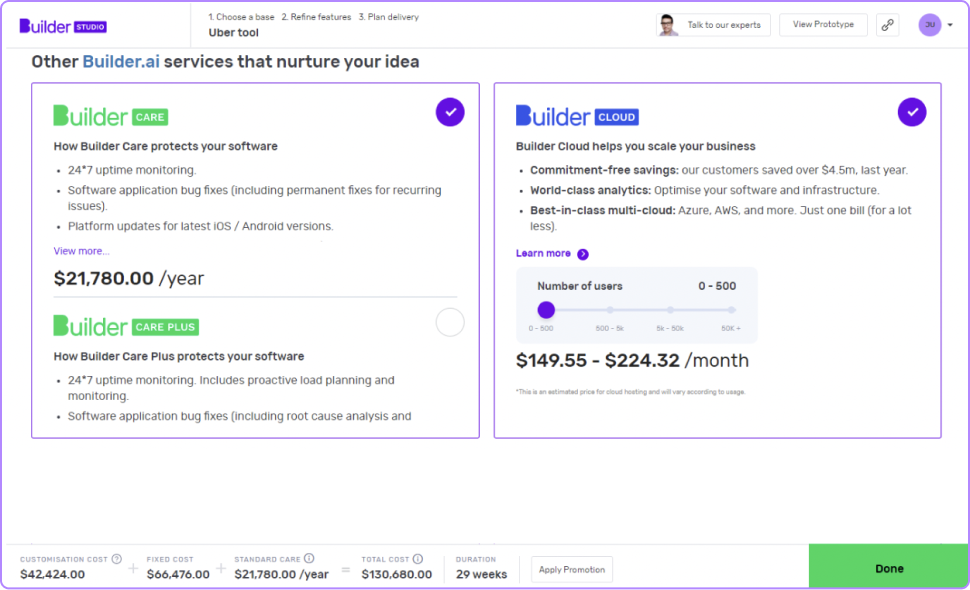 Inventory Management
We have developed an in-house tool for inventory management known as Osiris. Osiris is an analysis tool responsible for automating & managing all cloud reservations. It uses a combination of ETL pipeline which parses 5 TB of usage data every month and stores that in a data warehouse. It uses advanced data models such as SARIMAX to predict the usage quantity & trends. It then uses a modified version of knapsack algorithm to recommend the commitments. This allows us to manage inventory and purchases automatically without any human involvement.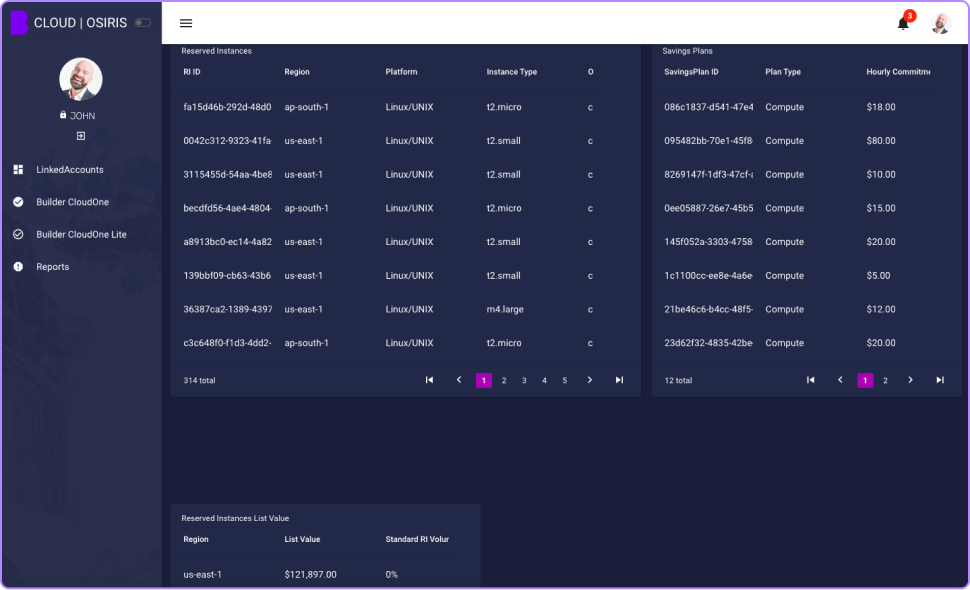 Catalogue
CMT, or Catalogue Management Tool, is the data backbone of our applications, used for driving centralised, uniform communication between different services. CMT also owns the creation of Gitlab repositories for projects as and when required.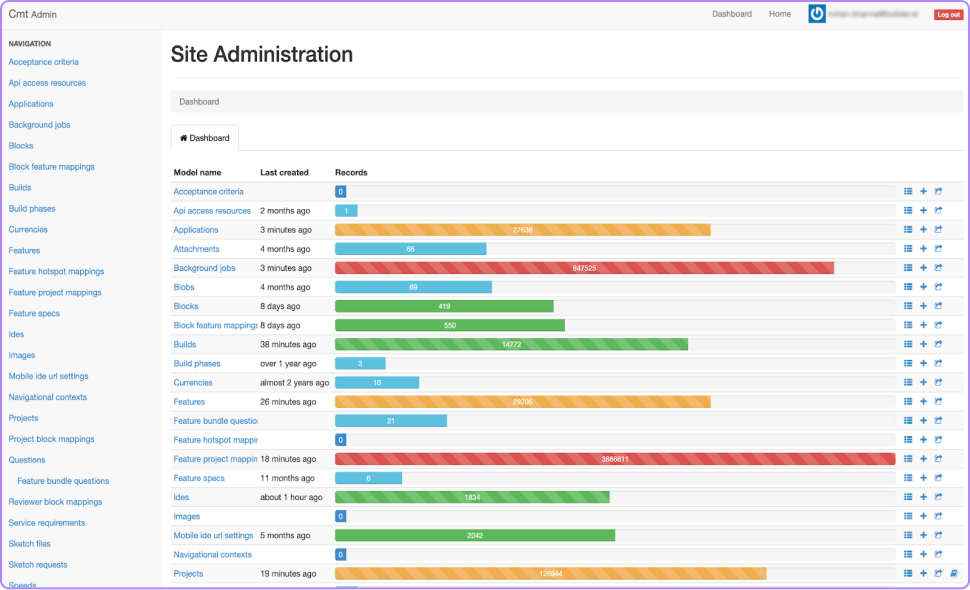 Platform Provisioning
Our platform provisioning service is developed to bring together, in a single place, all third party tools and services required by our customers to build, run and scale their software development journey with us. It aggregates software services from payment gateways and logistics to domains and licences like Office 365 and automatically provisions accounts for these services with a click of a button without the hassle of juggling between multiple platforms. Customers can choose from various services on demand to be integrated with their application and we facilitate account provisioning, invoicing on each of the services chosen in no time.

Builder Meet
Builder Meet is our video conferencing tool to facilitate seamless video communication within the builder ecosystem. We built this tool to address the security concerns posed by using third party tools available in the market and to help us continuously enhance our conversational AI models at the backend. Through Builder Meet our teams can interact visually with end customers and creators, from the comfort of their browser, without any installation hassles. It provides features such as file sharing, real-time chat and screen share, all at a reduced cost.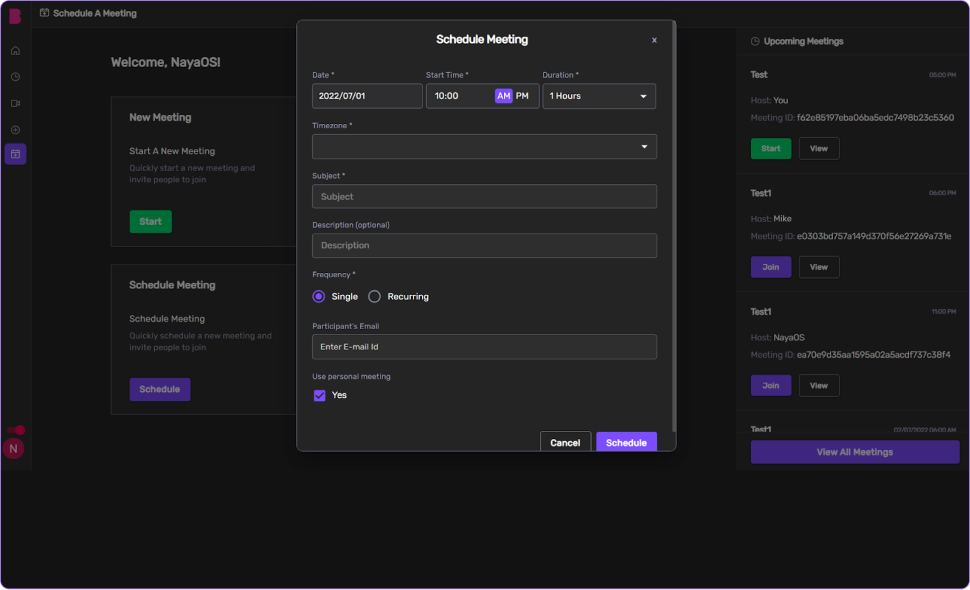 Health Check