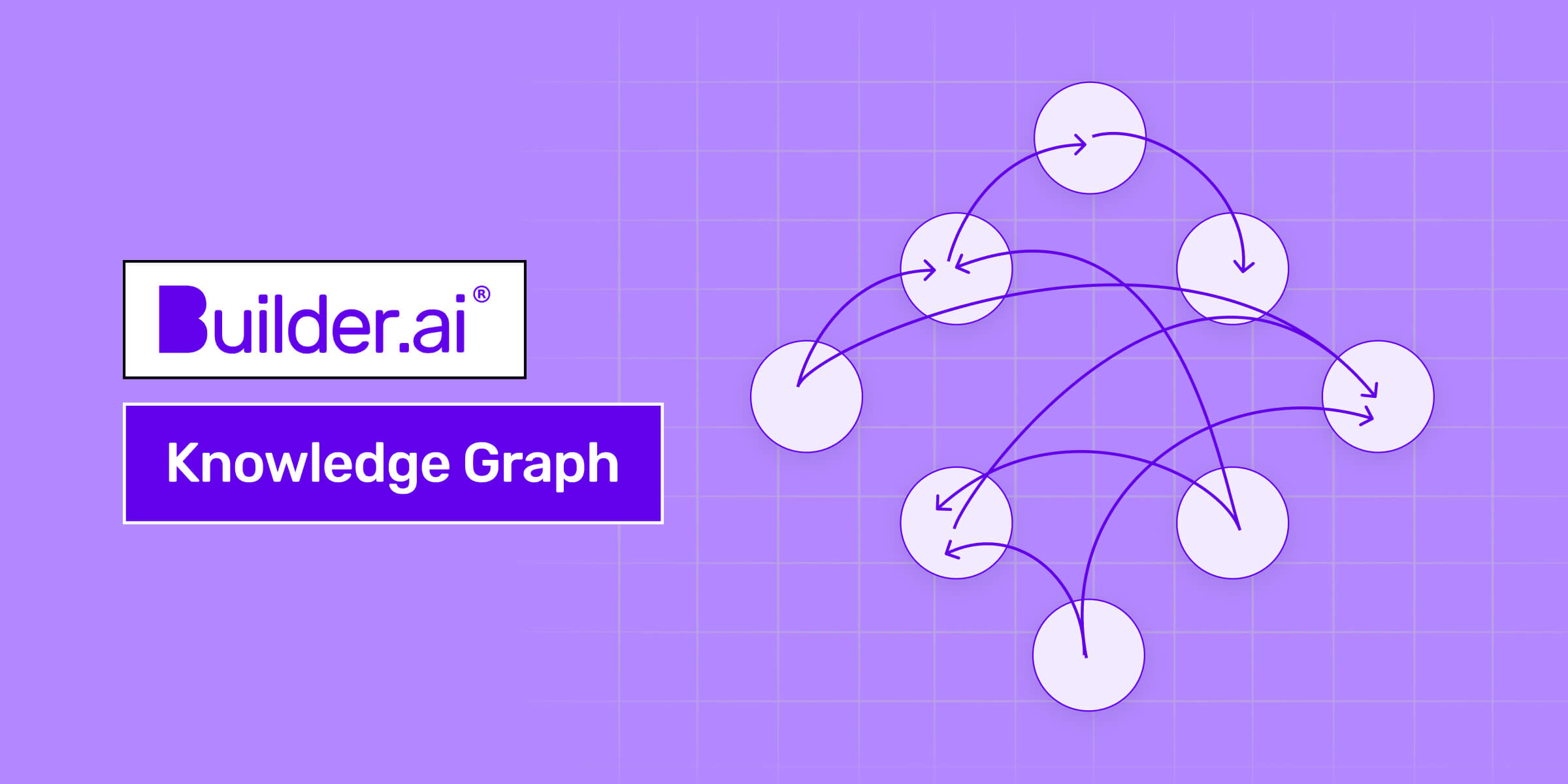 The non-digital world has no predefined model of how things work and where they can be found. It is often the case that something tangible can only be described and identified by its relation to something else. So why should data have a predefined model of rows and columns if that does not reflect the world it describes?
The most successful businesses of the last decade have moved away from such models and now utilise graphs to store and interact with their data. From social networking platforms, to search engines, media applications and even software building platforms.

Graph databases
Graphs are a way of thinking about and storing data that provides the freedom to express high degrees of interconnectivity more naturally than traditional relational databases.
Here at Builder.ai, we consider the Builder Knowledge Graph (BKG) to be the brain of our operations as it powers the majority of our workflows. In the Builder Knowledge Graph nodes represent the atomic entities that exist within the Builder ecosystem from Features, our smallest atomic unit of self-contained functionality, to Templates, Problems and Projects. The edges on a graph represent how the nodes are related. For example a feature can be included in a project as part of a template it is following; where a Template is responsible for solving a specific Problem.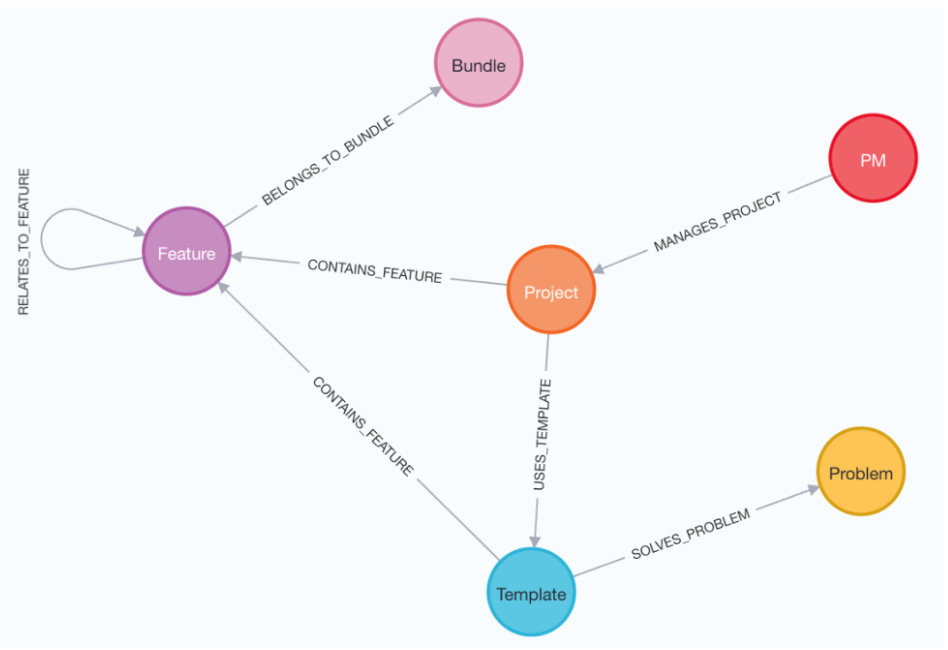 Graph embeddings
To fully utilise the BKG we employ graph embedding algorithms which transform structural and attribute information into numerical n-dimensional vectors that can be used as inputs to machine learning algorithms. These numerical representations are automatically learnt by the graph and embed information about the entity in question as well as its most relevant connections.

Empowering Projects through AI and the BKG
Automation is one of the hardest problems an organisation has to solve. We approach this problem in quite an innovative way, i.e. by letting the BKG guide the process and strive to automate as much of the assembly line as possible. We use constrained methods on top of the BKG to minimise development time and project cost.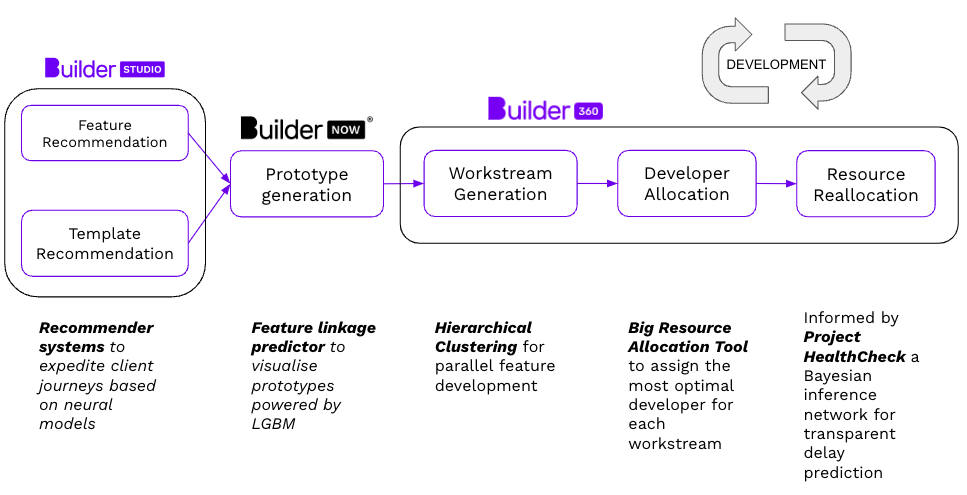 Template recommendation
Provided with a description of a problem statement, i.e. what is the problem our customer wants their application to solve, we combine natural language processing and graph-generated embeddings to recommend a number of project templates that could power the solution.
‍

Feature recommendation
Our customers can formulate a blueprint of their desired application by adding features, i.e. our smallest atomic unit of app functionality, to a Buildcard. Effectively like adding toppings on a pizza. Using both Template embeddings and Feature embeddings learnt by the BKG we are able to give customers relevant recommendations on additional features to improve their project.
Image: Feature recommendation system empowered by the BKG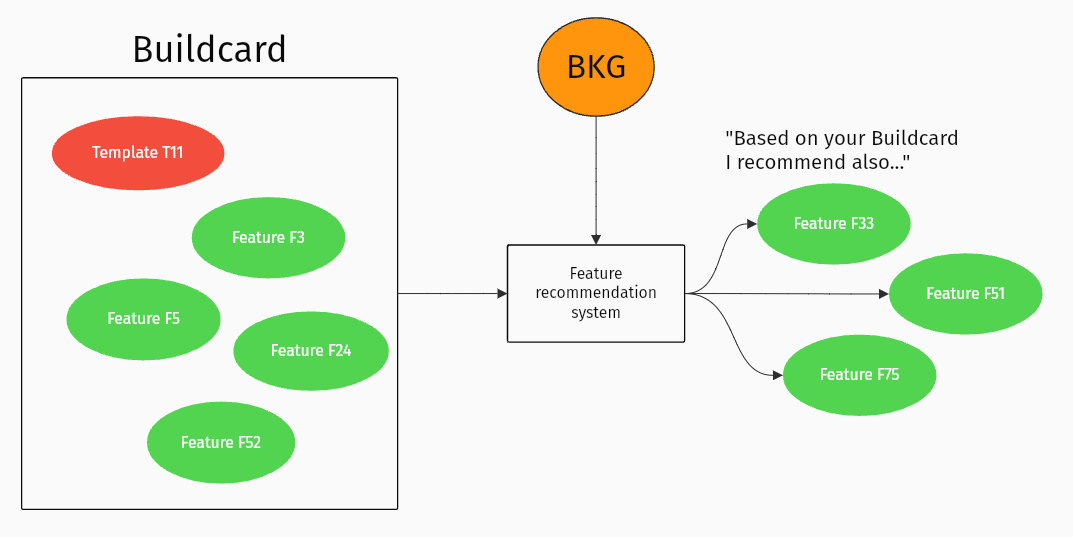 Prototype generation
We leverage the numerical representations of features and templates learnt by the graph to identify relevant feature-feature connections to include in our interactive prototypes in Builder Now, our platform dedicated to the design of user journeys and development of instant app prototypes.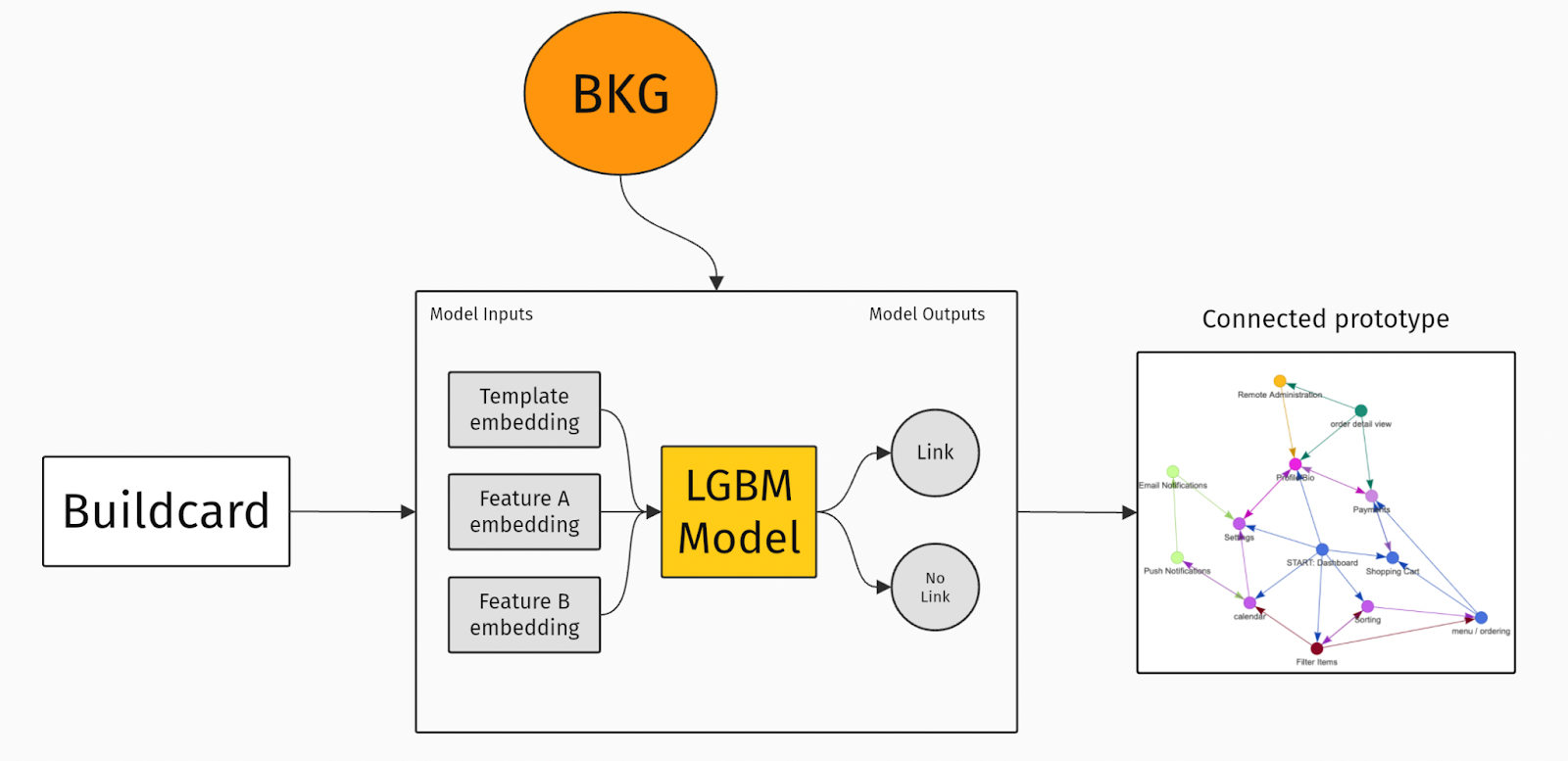 Workstream generation
The BKG captures the complex interactions between features through available historical projects. We leverage these insights to optimally plan the execution of a project to develop independent features in parallel workstreams.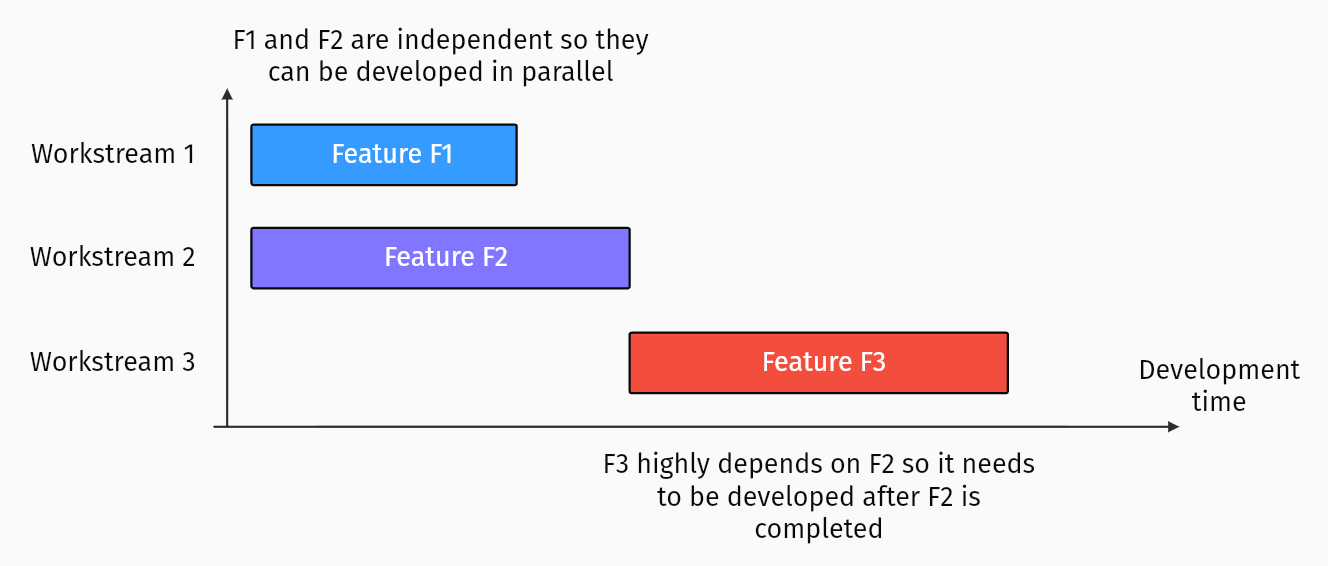 Developer allocation
The allocation of developers to each workstream is also handled by the BKG through embeddings generated accounting for expertise level, past experience on similar projects/features and timezone affinity with the rest of the team.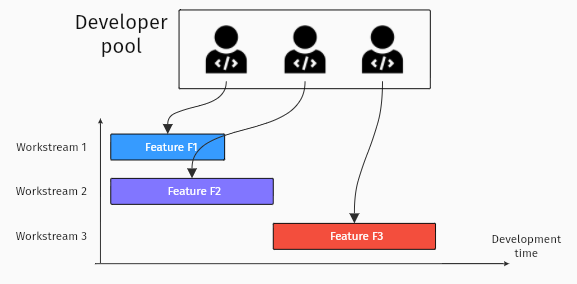 Resource reallocation
By leveraging information from past projects stored in the BKG we are able to quantify the probability that current ongoing projects will be delayed as well as the most likely causes for the delay: e.g. customer responsiveness, number of bugs raised by developers, feature to feature interactions, etc… This insight is then used to effectively reallocate resources and avert the delay.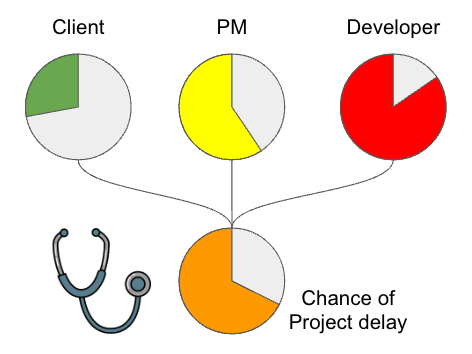 Conclusion
In this post we have outlined the reasoning behind using the Builder Knowledge Graph as the brain of operations at Builder.ai. We also discussed how the different entities within the Builder ecosystem are captured and used at inputs to machine learning algorithms through the use of graph embeddings. Finally we have discussed a few use cases where the Builder Knowledge Graph is employed to optimise our workflows.

Graph Machine Learning Lead @ Builder.ai®
Dr. Andreas Antoniades is the graph machine learning lead at Builder.ai where he improves technology using his knowledge of data science, graphs and neural networks. Andreas has a PhD in Deep Learning and Neural Systems from the University of Surrey.