When Cersei Lannister used Wildfire to ignite the Great Sept of Baelor in Game of Thrones, she did so as the result of a competitive analysis.
Yep, you read that right.
Obviously, she didn't do a Google search or use an online template to help work it out. But without the favour of her son, King Tommen, she realised that she was vulnerable.
And she used her understanding of her own strengths and her competitors' weaknesses to swing this back in her favour.
Because of this, she was able to wipe out everyone in King's Landing who stood in the way of her ascending The Iron Throne one fell swoop.
Now, this blog doesn't advocate skin-singing chemical warfare. Nor does it recommend gleeful and psychopathic ruthlessness.
But it will give you a bunch of actionable ecommerce competitive analysis tips, used by experts, to help you emulate parts of Cersei's success.
This'll result in you positioning yourself uniquely in the market, so you can steal market share.
Let's get started 👇
What is an ecommerce competitive analysis?
An ecommerce competitive analysis helps you gain a market advantage by identifying and analysing the strengths and weaknesses of your competitors.
Key areas to assess include their positioning, digital presence, pricing and marketing strategies.
You then use your findings to reverse engineer their success and differentiate your business.
The purpose of this is to appeal to potential customers by filling a gap in the online marketplace.
Why should you do a competitive analysis for your ecommerce business?
Aside from eating away at your direct competitors' profits, there are a bunch more reasons why you should perform a competitor analysis for your ecommerce business. Check out all the key benefits below 👇
Ecommerce competitive analysis benefits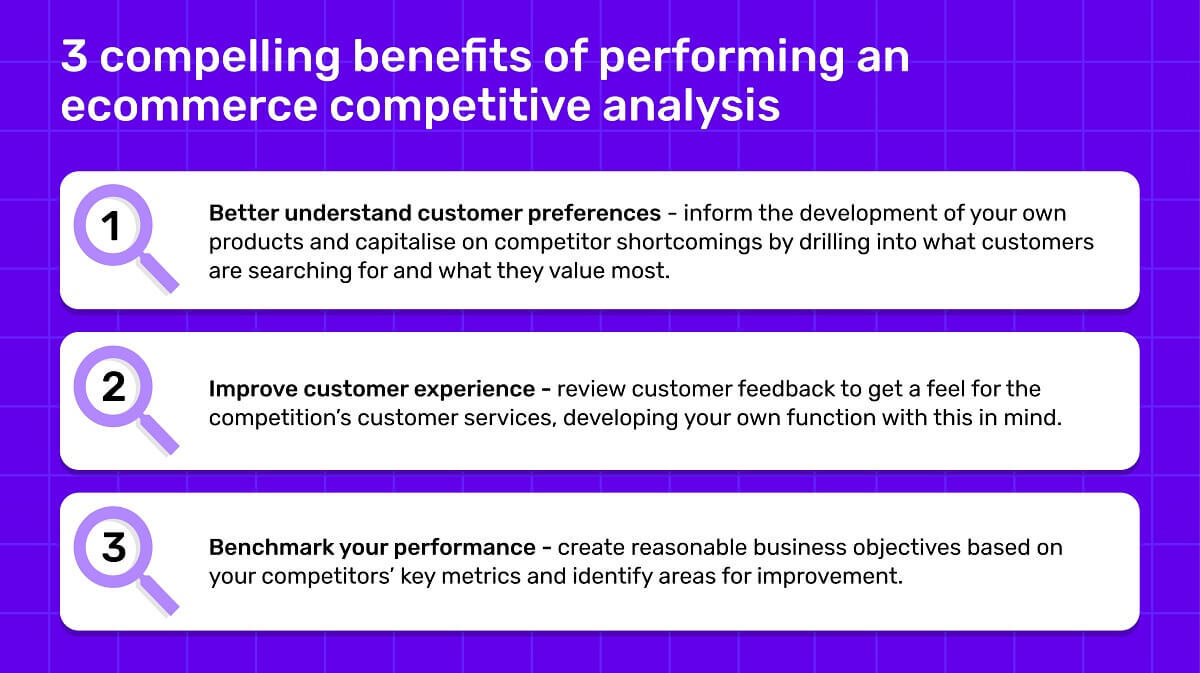 5 tried-and-tested steps to performing a comprehensive ecommerce competitive analysis
The sooner you get started with a competitive analysis for your ecommerce business, the quicker you'll be able to get a slice of the pie. Here's a step-by-step guide to help you achieve that, with advice from people who've been there and done it:
1 - Review your competitors' products
When starting your analysis, you need to keep your customers and your direct competitors front of mind. Robert Hoffman, Marketing Manager at cashback comparison site, CashbackHero, explains:
"Ecommerce companies should examine their competitors' assortment of products and services, as well as the features and benefits they deliver. By doing this, you can identify areas where you have competitive advantages or disadvantages in comparison with your competition."
Speaking about the insights his company revealed by performing this task, Robert adds:
"As our competitors weren't offering certain types of cashback rewards, we could differentiate ourselves by providing them. Offering faster delivery times than what the market already offered also allowed us to carve out a niche."
2 - Comb through their pricing
Want to know a major power play guaranteed to turn customers' heads and get rivals scrambling? Undercut their pricing or offer a more convenient, transparent payment model. Robert expands:

"For ecommerce companies, one of the most important tasks of a competitive analysis is to gain an understanding of their competitors' pricing strategy.
"This is because it allows you to determine where you can compete and where you need to differentiate.
"At Cashback Hero, we conducted a comprehensive competitive analysis prior to launching our business.
"We reviewed our competitors' pricing strategies and found that there were opportunities for us to offer discounts on certain products that they couldn't match."
3 - Assess customer experiences
Nightmarish interactions at every brand touchpoint will have customers running for the hills. Even if you're the most cost-effective option available in the market.
This is why it's important to think about your competitors' customer service offerings, as well as the end-to-end customer experience. Robert expands:
"Assessing the customer experience provided by each competitor—from customer service and delivery speed to website design and navigation—is important to inform your own approach.
"By doing this, Cashback Hero was able to launch a successful business with high levels of customer satisfaction compared with other offerings in the marketplace."
4 - Analyse their digital footprint
Sure:
You can get a feel for your competitors' online presence by reviewing their homepage and LinkedIn profile.
But truly analysing their digital footprint is a little more complicated.
This is because it involves unpicking the strategies they've used to achieve growth and identifying opportunities where you can improve on it.
Max Benz, Founder and CEO of financial product comparison site, BankingGeek shows how thorough this research needs to be:
"We gathered data about our competitors' digital engagement strategies—for example, the advertising channels they used—as well as their total follower count and subscribers list," he says.
"Meanwhile, we also compared the content on their social media channels with ours.
"Our next step was to track metrics such as conversion rates and website traffic. This allowed us to benchmark our marketing performance relative to others in the industry."
"Our approach was successful because it enabled us to gain an accurate picture of the competitive landscape. Because of that, we could make informed decisions on product development and marketing campaigns, which resulted in increased sales."
Away from paid ads, ecommerce Search Engine Optimisation (SEO) specialist, Harry Boxhall, gives his advice on what your biggest organic marketing priorities should be:
"My approach for analysing competitors' SEO footprint has four key steps:
Researching the top-ranking competitors and their online presence

Analysing their website structure, top-performing content, backlinks and keywords

Identifying their strengths and weaknesses

Understanding the target audience and their preferences
"These tasks are crucial because they provide valuable insights into the target market, competition, and the target audience.
"By understanding these factors, a company can improve its online presence, rank higher in search engines and increase traffic volumes."
Claire Brain, Marketing Manager for door retailer, Express Doors Direct, adds:
"Ecommerce companies should nail keyword gaps and entity gaps to discover ways they can outperform their competition in organic search.
"Ranking for the right keyword clusters and gaining salience for the most suitable entities can help your website to build authority. This helps your ranking potential and can make a real difference to revenue."
And Claire is speaking from experience.
"Through competitor keyword gap analysis, I identified missing and weak keyword groups that we could work on. I used this to develop a content plan that both fulfilled these opportunities as well as adding new content that differentiated us from the competition.
"Adding a series of new sales pages and content increased page 1 ranking keywords by 558.25% over a 12-month period. Meanwhile, we also increased first position ranking keywords by 869.32%, leading to a 415.30% increase in organic revenue."
5 - Continue monitoring your competitors
Great! You've used your competitor analysis to secure a position in the marketplace. Now you need to iterate on it to keep that position.
Tom Golubovich, Head of Marketing at Ninja Transfers, an ecommerce shop selling custom vinyl transfers, explains how a regular review schedule can keep you ahead of the competition:
"During each session, insights and information can be updated, new strategies can be implemented, and past strategies can be evaluated for their effectiveness.
"This allows the competitive analysis to evolve and adapt as the market changes, providing a more comprehensive and up-to-date picture of the company's position in the market.
This is an approach Lisa Dietrich, Partner at bank comparison site girokonto.io, also follows:
"We update any relevant information related to pricing models or competitor offerings at least once a quarter.
"This allows us to stay agile and ensures we're offering customers the best deals available.
"At the same time, we keep a leading edge over any potential competitors entering the space with more attractive offerings."
Further to this, Lisa says:
"We hold monthly meetings between all departments so each team can communicate their findings. As a result, we can adjust our business strategy and tactics accordingly."
To take this process one step further, Lisa says:
"Over time, you can introduce additional data points such as customer lifetime value to better understand who are more likely repeat customers over time versus one-time buyers."
Finally, BankingGeek Founder, Max, has some actionable tips to help make your competitive analysis a living and breathing document.
"We use automation tools like Google Alerts which enable us to instantly receive notifications whenever there's a mention of relevant keywords online. This helps us keep up with changes quickly, so we can modify or add new features on our website if needed."
"We also regularly monitor changes in customer behaviour patterns using analytics software like Google Analytics. Because of this, we can track user activity such as page visits and bounce rates, over time and make adjustments if necessary.
"Finally, we regularly incorporate qualitative feedback from customers via interviews and surveys. This means we can identify any potential areas for improvement before they become major problems for our business."
Need more ecommerce insight? Join the Builder.ai community
Conclusion
As Game of Thrones fans know, the actions Cersei took as a result of her competitive analysis were effective but unsustainable.
So unsustainable, in fact, that she was left with allies few and far between, while also provoking Tommen's suicide.
When it comes to the competitive analysis your ecommerce company does, you can't only have the now in mind.
After all, once you flip the scales, competitors will react, putting the onus back on you to respond.
And your success in reassessing the competitive landscape will determine whether or not you can hold onto and multiply the market share you seized.
If you haven't built your ecommerce store yet, why not check out Studio Store? 👈 You can build websites and apps and get selling in as little as 2 weeks.
Ananth Ramanathan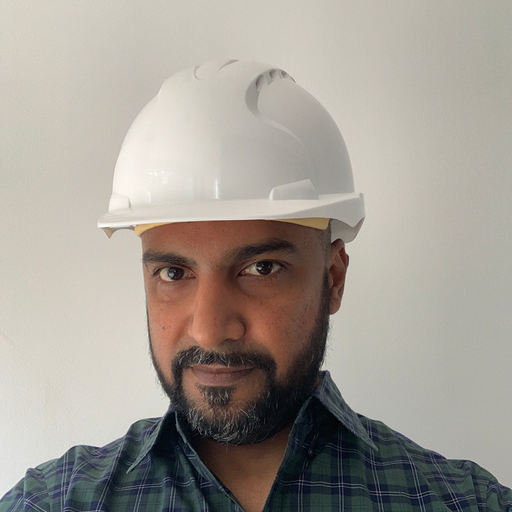 VP Studio Store at Builder.ai
Ananth Ramanathan runs Studio Store business at Builder.ai with a mission of digitising a 1M+ micro SMEs in the next 5 years. He oversees the commercial, product, and customer success functions to rapidly scale Studio Store globally. Ananth's an experienced tech business operator, a failed entrepreneur, and an active angel investor.