A go-to-market strategy is a plan that helps you successfully bring products to market. GTM strategies define the target audience of your product launch before using competitor research to create value propositions that resonate with customers. Finally, they select tactics to deliver your product to your audience. In this blog, we'll cover everything you need to know about GTM strategy and how to create your own. Scroll or use the menu below to flick through 👇
Who needs a go-to-market strategy?
Go-to-market strategies aren't just for individuals and companies launching brand new products. They should also be used for existing products launching into new markets – say a successful US software platform expanding into Europe. Ultimately, GTM strategies help anyone trying to make their product launch more predictable and avoid costly flops.
Why do you need a go-to-market strategy?
While a GTM strategy doesn't guarantee your product launch will be successful, it reduces your chances of failure. This is because it systematically maps out how you'll:
Reach your target audience
Serve your audience with messaging that guides them through the funnel
Convert a percentage of your audience into customers
Putting a process in place lets you see which parts of your strategy work well and which have room for improvement. For example, you may have a bucket-load of Marketing Qualified Leads (MQLs) but a paltry Closed Won (CW) rate. 
As a result, you could create more middle of the funnel (MOFU) and bottom of the funnel (BOFU) content to better nurture leads before they enter the sales process. 
But without a strategy, you'll have to guess where you're failing. And by the time you manage to attribute an issue, you may have tanked the whole product launch.
Derek Osgood, CEO of go-to-market platform, Ignition, emphasises the impact this can have. "Failing at go-to-market is one of the costliest things a company can do", he says. "It damages both the top and bottom line, as huge resources are invested to build and launch products, which is squandered as revenue opportunity is left on the table."
What are the different types of go-to-market strategy?
There are 4 types of GTM strategy you may want to consider, depending on the product you're launching. These are inbound, sales-led, product-led, and ABM.
Here's what you need to know about each of them 👇
1 - Inbound
An inbound or marketing-led GTM strategy combines organic tactics like content marketing and SEO to acquire target customers. 
The idea is to satisfy each part of the funnel – TOFU, MOFU and BOFU – with content in order to bring customers through to conversion. But there's an issue with this approach: 
Organic activities like content and SEO are long-term plays, meaning your strategy could stall without supplementary tactics.
Running ads on Google, LinkedIn, Facebook, Instagram and any other social media network relevant to your audience will reinforce your inbound efforts and reduce the time it takes to see results. So will an outbound sales strategy.
2 - Sales-led
Sales-led or demand generation GTM strategies combine outbound outreach tactics like cold calling and emailing with demand generation to acquire target customers. The process looks like this: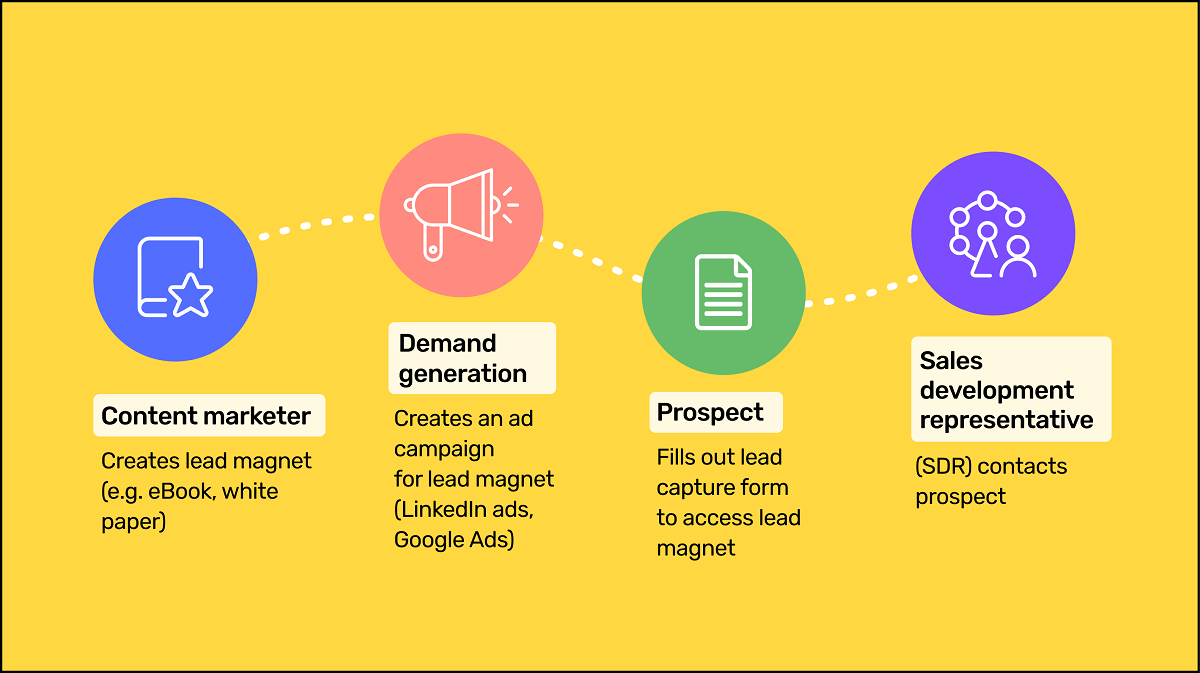 Sales-led GTM strategies also use organic tactics like content marketing and SEO to support this process, making it the most well rounded of your options. 
That said, they need lots of resources that smaller companies may not have. 
3 - Product-led
A product-led GTM strategy uses the product itself as a marketer and salesperson. 
It does this through the freemium model, initially providing value to users without charging them. Then it plugs updates and additional features to convert a percentage of users into paying customers.
Paid ad campaigns work well in tandem with product-led go-to-market strategies, as does content marketing and SEO. 
Trello and HubSpot are great examples of this strategy in action, but may not be suited to niche products. 
4 - Account-based marketing (ABM)
ABM is a hyper-targeted technique that treats target accounts as individual markets. It's particularly useful for companies targeting large enterprises with long buying cycles and lots of stakeholders. 
As a go-to-market strategy, ABM filters out bad-fit customers and focuses on the ones who have the highest value. And while it's a long-term play, 25% of companies who pursue it say their average deal size increases by 50%.
It's best avoided by companies trying to convert high volumes of low-paying customers, who'll be better suited to a product-led strategy.
The 7-step guide to creating a killer go-to-market strategy
Now we've covered the basics, it's time to create your own GTM strategy! We gathered 5 experts together to share best practices. They are:
Keep scrolling for their insights 👇
Step 1 - Calculate your total addressable market (TAM)
The vast majority of individuals and companies launching products have a good idea of their target audience. 
(If you don't, you should probably stop reading this blog right now!)
But to ensure your GTM strategy is successful, you need to turn the abstract idea of your ideal customer into cold, hard data. And the best way to do this is by working out your Total Addressable Market (TAM).
This can either take the form of the total revenue available to your product/service or the total number of accounts you can target. 
To calculate it, you can use a variety of methods, including: 
Top down: Use industry data and reports to identify your TAM
Bottom up: Find your annual contract value (ACV) and multiply it by the total number of customers in the market
Value theory: Use customer insights to find out how much they're willing to pay for your product or service
While the bottom-up approach is the most accurate, if you lack data, both the top-down and value-theory approaches will give you actionable insights. On using different methods together, Padmaja, says: 
"You can find your addressable market by calculating the top-down market research or alternatively by conducting an email survey to find the addressable market. 
"Further, you can adopt bottom-up to leverage data by drilling down your organisation's sales reports to estimate the market.
"Another aspect that helps in assessing the market is the value theory where you can gauge how the values of your product will affect the buyers' behaviour." 
Step 2 - Find product-market fit (PMF)
With your TAM defined, you're in a strong position to find product-market fit (PMF). 
To do this, you either need to offer something your audience can't find on the market already or improve on the existing market offering. Delivering the same solutions in the same ways won't give your audience any incentive to choose yours over your competitors. 
Also, if the market is oversaturated, you'll only have a tiny slice of market share. Depending on the size of the market, this could create issues for your GTM strategy.
If you've found product market fit, you'll be able to acquire customers for less than they're worth to you. But if this isn't the case, you'll need to revisit the value propositions you're serving to your TAM.
Andy adds:
"To understand if your product is a market fit and also if the GTM strategy is working, it's crucial to talk to target consumers. And that doesn't mean just once or in passing. But really ask what their problems and pain points are, the challenges they face, and continue that conversation." 
According to Luke, these questions should look something like this 👇
How are you using our services? What problems are we helping you solve?
How did you initially hear about us?
Was there anything that almost caused you not to buy? What made you choose us over competitors?
What do you like most about our service?
Is there anything we can improve on?
He says: "In a perfect world, you should be talking to all your customers, but in reality, it's okay to just focus on your largest, happiest accounts. 
"We're also frequently auditing customer emails, sales & support chat transcripts, and listening to call recordings. This helps us dial down on our ideal customer profile and buyer personas to optimise our messaging. It also helps us understand what channels are most effective to sell our services."
Andy, on the other hand, has created a bespoke framework to find PMF: 
"I'm a big fan of using the design thinking process to make sure we get the feedback we need along the way in creating new products. It's truly a sign of being consumer-first when we have an ongoing conversation with our consumers about the product we are building for them."
Step 3 - Position yourself against competitors
Positioning yourself against competitors gives you a key value proposition in the market, giving your customers reasons to choose your offering over alternatives. Back to Luke on the practical steps you can take to achieve this:
"Mystery shopping is the key to effective competitor research, but it should be done the right way.
"We're constantly asking our sales team what competitors are mentioned in their sales processes. We also check Google Ads' Auction Insights and manually review search results for our best-performing keywords to see which companies are listed.
"Last year, we created a fake online persona and used that persona to shop around our competitors.
"So, we signed up for trial accounts and paid accounts at some of our competitors. We also abandoned shopping carts, filled out demo requests, signed up for their email lists, etc.
"We wanted to understand our competitors' approaches to acquiring customers and also see their sales and marketing collateral like brochures and emails. Local market research also helped give us an advantage.
"Overall, because of our mystery shopping initiative, we were able to:
Abandoned carts emails and 'request a demo' emails from competitors
Email nurturing by our competitors
How competitors are onboarding new customers
Product demo strategies and competitors' main selling points
Details about competitors' invoicing and billing structures"
Padmaja expands on this, saying you should:
"Examine competitor websites, traffic, and backlinks and track down their sales process. Conduct an in-depth analysis of the marketing tactics they're using. Check out their content strategy and their distribution channels, and if they have a strong social media presence. Also, perform a SWOT analysis of the competitors to get a clear picture."
Finally, Patty adds:
"First seek to understand how your customers are currently solving the problem. Find out what products they are using and what is or isn't working about them. 
"Narrow this group down to the top 3 that broadly represent your competition. Then identify 4-6 key differentiating features between these competitors and your solution.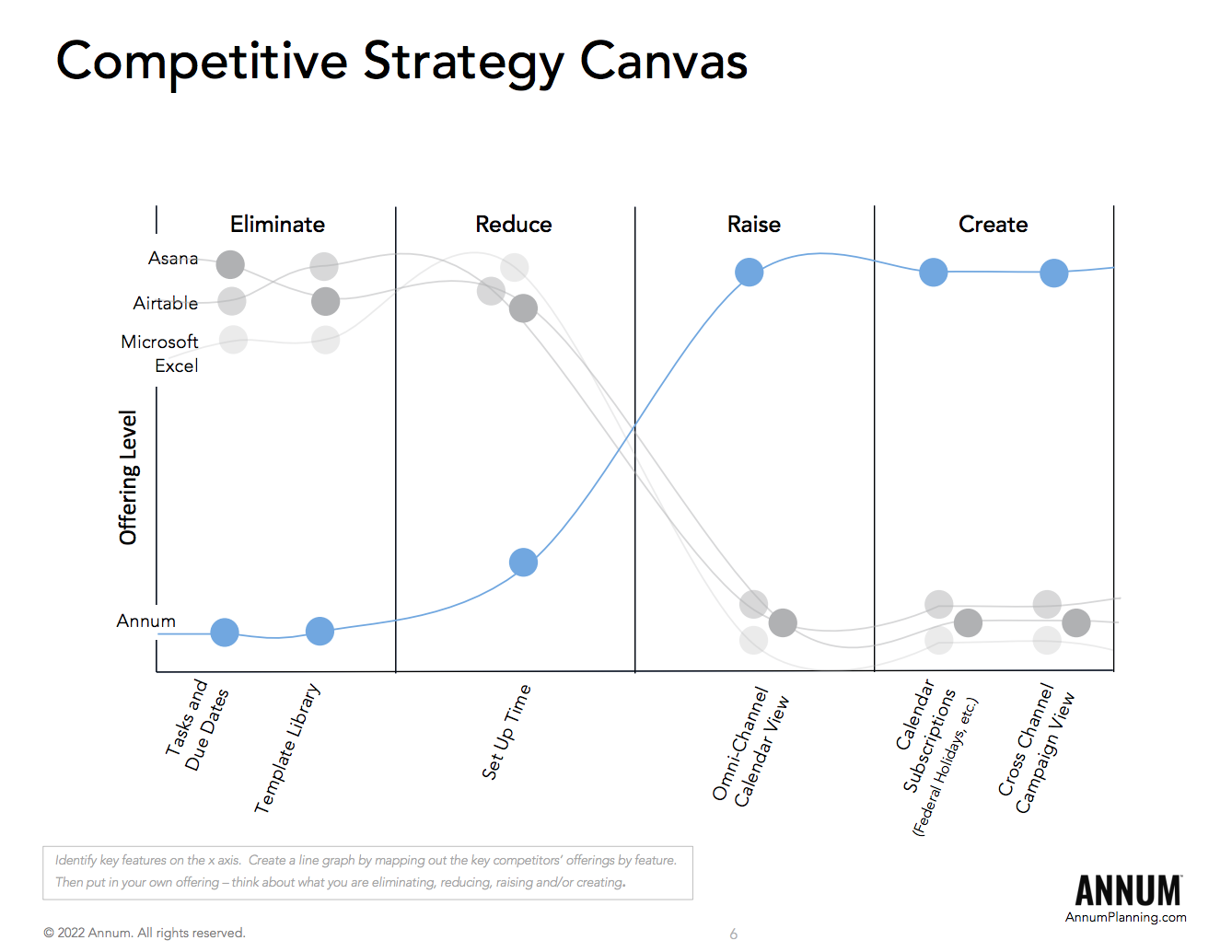 "Map your offering against the competition on a Competitive Strategy Canvas. Call out features that you are eliminating, reducing, raising, and/or creating. Now you've got a strong visual model of your competitive differentiation to build your unique value proposition from."
Step 4 - Test your messaging
Even by taking all the steps outlined above, you won't land on messaging that perfectly communicates your value proposition right away. To do that, you need feedback. Padmaja says:
"You can adopt both qualitative and quantitative methods to test your messaging. For the qualitative methods, use survey forms and ask open-ended questions. These will give you further insights into customer needs, preferences, and lifestyles. 
"For qualitative methods, you can drill down into the analytics for your digital ads, email cadences and landing pages and check how they're contributing to conversions."
Patty agrees. To test your messaging, she suggests that you:
"Start with the problem you solve. Ask potential customers broad, open-ended broad questions. Have them describe the problem and their frustrations. As you want to get to the emotion behind what they're feeling, let them complain. Then move on to your solution. 
"Have them explain the value it provides. Listen closely as they share how it will change their lives. Pay attention to the words they use when referring to it. This is how you'll learn what your product means to customers so you can develop messaging that resonates and drives action."
Step 5 - Decide a pricing strategy
We've already touched on the freemium model as part of a product-led GTM strategy, but there are other ways you can structure your pricing strategy. These include: 
Flat rate - one price to access all features
User based - price depends on number of users
Per feature - price depends on selected features
Tiered - access to features depends on pricing plan
Pay as you go - price depends on consumption
Markup - product/service is priced above its build cost
Dynamic - prices change according to factors like seasonality and demand
Skimming - new products are sold at higher prices
How do you decide on the right option for your product/service? Check what the competition offers and whether your TAM is happy with that. Trustpilot and G2 reviews are good places to start. If so, you can conform to existing standards, but if not, you can differentiate yourself. 
For example, while most players in the app building space operate on a SaaS model, Builder.ai offers greater flexibility by charging customers per feature. 
Step 6 - Choose your distribution channels
Now let's get into the nitty gritty. How you deliver your product/service to your customers is one of if not the most important parts of your GTM strategy. Here are your options 👇
Website
Digital stores are the first port of call for most people selling either physical or digital products. But many fail because their potential customers are unable to discover what they have to offer.
Effective Search Engine Optimisation (SEO) prevents this, by ensuring:
Load speeds are fast
Stores are optimised for keywords your TAM is searching for
User experience (UX) is smooth  
If you have no experience doing this yourself, your best bet is to work with an agency. But you can take quick steps yourself to make your business as discoverable as possible. For example:
Update your Google My Business Profile
List your head office or store on Google Maps
Verify and claim your business listings
Get customer reviews
Using these tactics, you can build trust and authority quickly. 
Mobile app
Mobile apps are the perfect distribution channel for your GTM strategy – especially if you can sell your product without serving your audience heaps of content. 
A product-led GTM strategy, for example, could be an ideal fit for an app. This is because they're more focused on providing optimal user experiences than they are on producing blogs, white papers or eBooks to nurture potential customers.
Push notifications, which you don't get on a website, could help enable upsells, while you can also deliver more personalised experiences to fit the needs of your individual users.
To scope out an app right now, use our app builder 👈
Third-party
Instead of building your own digital real estate for your product launch, you can always use a third-party. This lets you access existing audiences on platforms everyone uses, like Amazon, Ebay and Etsy.
Only problem is, you'll have to share your profits with these marketplaces, meaning you'll need to sell more to make a profit. 
Padmaja advises:
"To break down the competitive market for selling your product, you need to initiate an analysis: what's your product demand, and where do you want to sell your product? 
"Further, assess what you plan to sell this product in the next ten years or after a decade. Keep yourself in the place of a consumer and understand what benefits the product offers to them and how relevant the benefits are to their requirements. 
"Follow the self and customer analysis process by getting advice from a management consultant to get more clarity on product demand in the current market scenario."
Meanwhile, Logan says: 
"One way to decide where to sell your product or service is to think about how it will be used. Is it something people will be using on the go? Does screen size matter for usability? What is the primary platform your users are already using for business (laptops, desktops, tablets)? 
"Once you've identified this, you can use that to inform where you launch and sell your product. If you're unsure or stuck between two possibilities, run A/B tests and/or poll potential users to get direct feedback from your target market."
Step 7 - Measuring your strategy (and iterating on it)
So after all that, what metrics can you use to ensure your GTM strategy is a success? Padmaja says the following 3 are crucial 👇
Monthly Recurring Revenue (MRR) & Annual Recurring Revenue (ARR)
Customer Acquisition Cost (CAC)
Customer Lifetime Value (LTV) 
She then adds:
"To achieve your goals, ensure to adopt a SMART goal (Specific, Measurable, Attainable, Relevant, and Time bound). Be sure to develop a clear buyer persona and work on the plan of action to set a clear-cut definition of your content and lead-gen strategy.
"Set KPIs for your efforts, assess the metrics to get up-to-date insights, and adjust your plans. Engage with the customers, offer quality customer service for customer engagement, and focus on creating a loyal customer base by offering value to your customers. 
"When following this framework, this makes SaaS companies' growth more predictable."
Closing thoughts
Creating a GTM strategy is the smartest way to launch your product/service. It puts checks and balances in place to ensure that whatever you bring to market is actually worthwhile in the first place. 
This means you can invest more time and money into projects that add value to your TAM. And you won't become part of the 42% of startups that fail because they don't fulfil a market need. 
Ultimately, because of GTM strategy's repeatable nature and its ability to diagnose issues with your launch, it gives you the best shot at success. Both for your product/service and your business as a whole.
FAQs
What does a go-to-market strategy include?
A GTM strategy includes a clear definition of your target market and detailed competitor analysis. It uses this information to find product-market fit and create resonant messaging, which is disseminated through a variety of channels by marketing and sales teams.
Who is responsible for go-to-market strategy?
Sales, marketing and product leaders are responsible for GTM strategies. These individuals operate in small groups or pods to execute the strategy and iterate on it flexibly. It's essential that all these stakeholders are aligned and responsible for different parts of the strategy to ensure accountability.
How to prepare a go-to-market strategy?
To prepare your go-to-market strategy, you need to find product-market fit – in other words, the pain points you can remedy for your target audience. Next, you need to position your offering against your competitors', decide a pricing strategy and deliver the solution to your audience.
Ananth Ramanathan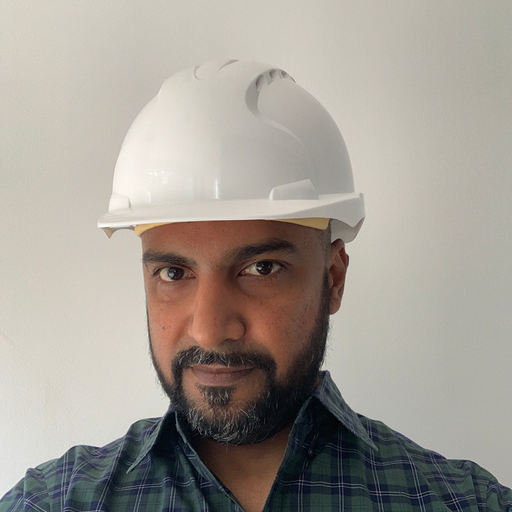 VP Studio Store at Builder.ai
Ananth Ramanathan runs Studio Store business at Builder.ai with a mission of digitising a 1M+ micro SMEs in the next 5 years. He oversees the commercial, product, and customer success functions to rapidly scale Studio Store globally. Ananth's an experienced tech business operator, a failed entrepreneur, and an active angel investor.