Selling on Facebook vs selling on Instagram is like choosing whether to have a Coke or a milkshake with your McDonalds.
both options are objectively good, but which one is going to wash down best right now?
The short answer is, it depends. 
And in some cases, you'll be able to run ads on both Facebook and Instagram to get results for your business.
In this blog, we'll explain:
How to sell on Facebook using ads
How to sell on Instagram using ads
Which option is best for you right now (depending on your business needs)
Scroll for in-depth breakdowns of each section 👇
How to sell on Facebook (using ads)
As Meta siblings, there are similarities between selling on Facebook and Instagram. 
Automatic placements on Facebook Ads, for example, means you can serve ads to Facebook, Instagram, and Messenger without lifting a finger.
But this isn't to say that you'll get the same results on each social media network. 
This is why you shouldn't cut and paste your successes from Facebook to Instagram, or vice versa. The same also goes for selling on Google Ads.
Here's how to get your first Facebook ad campaign running, plus some bonus tips on how your organic activity can help supplement your efforts. 👇
Top 5 Facebook ad formats
To sell your products on Facebook using ads, the first thing you need to know is the different types of ads you can leverage. Here are all the best options:
#1. Image ads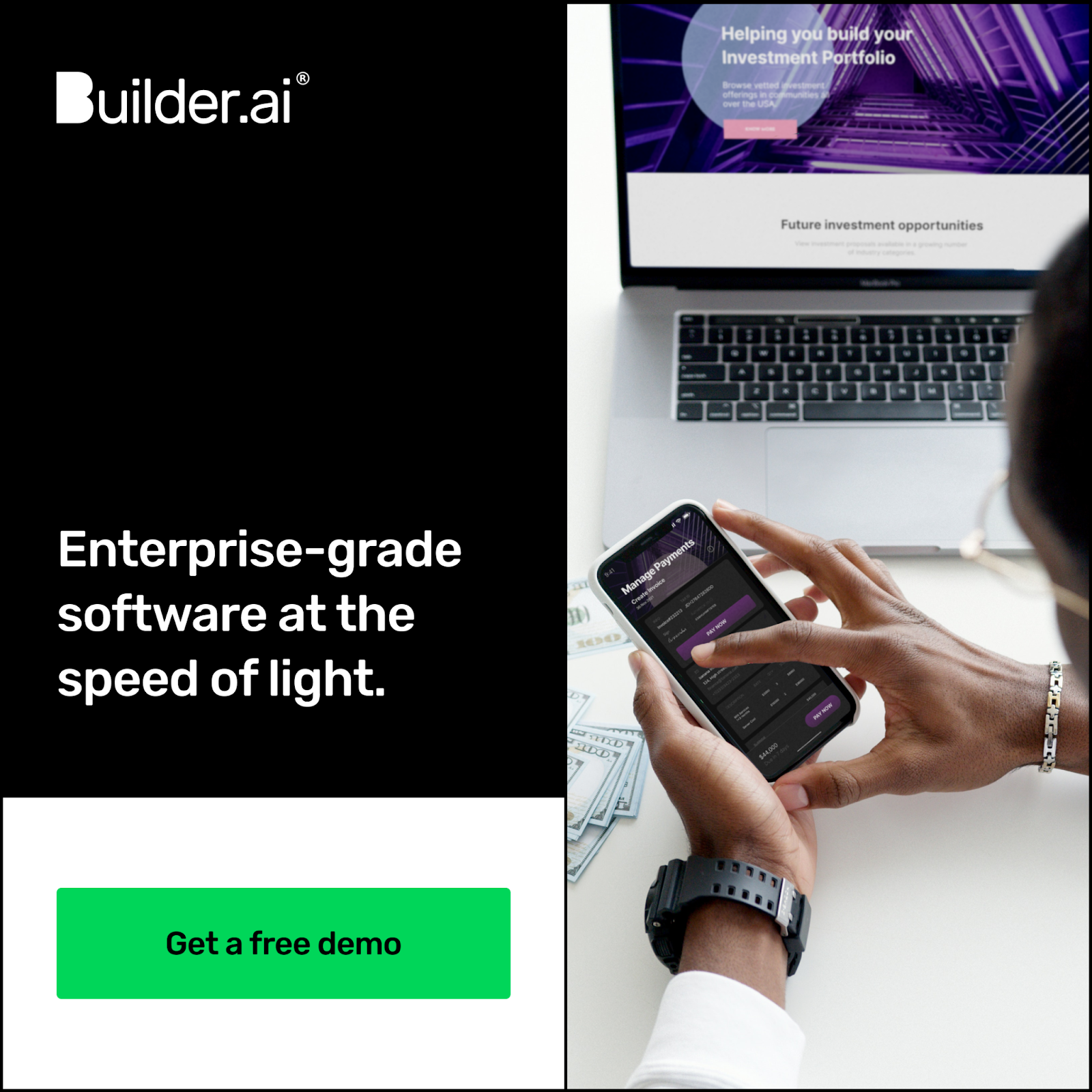 Because you can create image ads simply by promoting an existing post, they're one of the easiest formats to get started with. 
Say you have a viral post. Why not give it some extra juice by spending some of your ad budget to maximise its reach?
Alternatively, you can create bespoke visuals and CTAs, as you can see from the example above ☝ to get precise messaging to specific verticals and audience segments. 
Typically, you'll see them in the Feed though, which means you'll be competing against other posts for attention.
#2. Video ads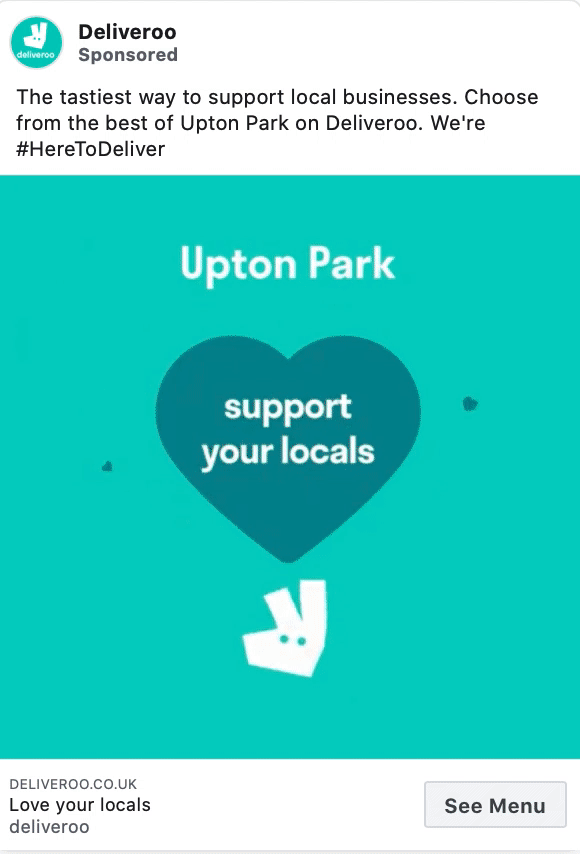 With increased effort comes increased reward. 
While longer video ads will be more of a burden on your internal resources to create, they give you the chance to distribute your brand and messaging in several ways. These include: 
News Feed
Stories
In-stream video ads
Particularly in the case of Stories and in-stream video ads, you'll have a window to serve your ads free from competition, giving you a better chance of persuading your audience to click through.
#3. Carousel ads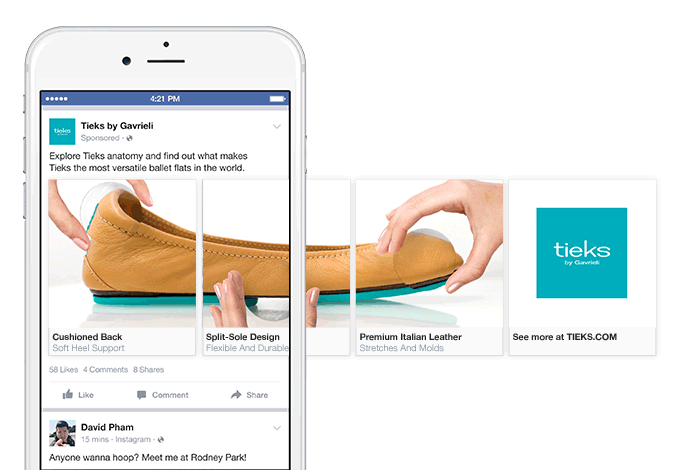 Carousel ads allow you to take your static image and video ads to the next level. 
Instead of serving a single message about a single product, you can deliver as many as 10 images or videos in one go. 
This gives you the chance to showcase all your top-performing products, or create immersive experiences, deep diving into specifications to help persuade buyers to make larger purchases. 
Even better, according to a carousel ads success story, they can drive 72% higher click-through rate (CTR) than static image ads and have a 35% lower mobile app install costs. 
#4. Dynamic ads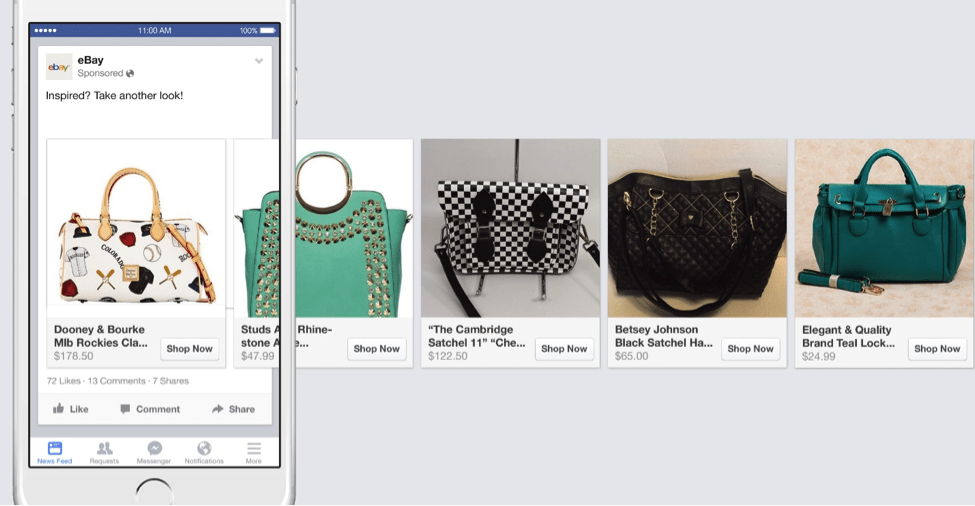 As Facebook puts it: 
"Dynamic ads look similar to other ads on Facebook, Instagram, Messenger and the Audience Network. However, instead of individually creating an ad for each of your products, you create an ad template that automatically uses images and details from your data feed for things you'd like to advertise."
These ads save you time and money by using:
"Machine learning to scale your ads when you have a broad range or large volume of products. Dynamic ads automatically deliver relevant services or offerings to people based on their interests, intent and actions."
To set up Dynamic ads, you need to create a catalogue including all your products and services, which Facebook chooses from accordingly. 
#5. Lead ads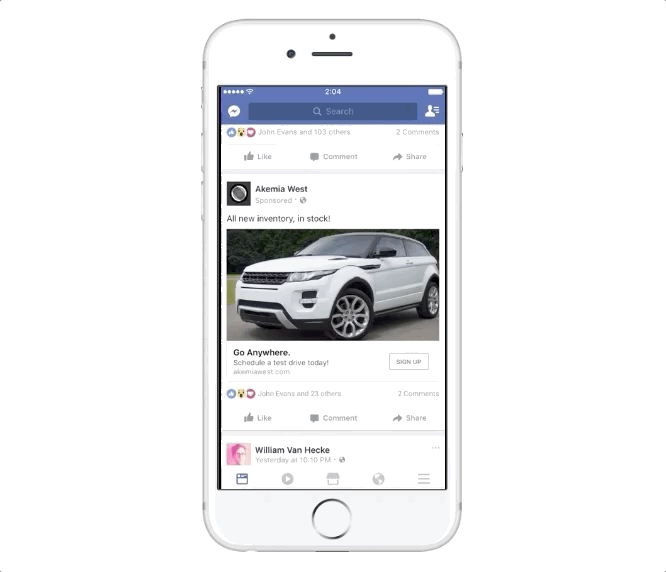 Building a solid contact database is the bread and butter of any successful business. 
And lead ads, a mobile-only ad format, allow you to do that. 
Instead of redirecting your audience to large forms they'll bounce off, you can quickly gather key information to secure newsletter, free trials, webinar signups, and more.
How to set up a Facebook ad campaign
There are 7 key steps you need to follow to execute a successful Facebook ad campaign, regardless of the ad format you choose. Keep scrolling to find out more 👇
Step 1 – Decide on campaign objective
To start your Facebook ad campaign, you'll need to choose from one of the following objectives:
Awareness - Top of the funnel (TOFU) ads designed to establish brand awareness.
Consideration - Middle of the funnel (MOFU) ads designed to consolidate brand awareness.
Conversion - Bottom of the funnel (BOFU) ads designed to encourage customer actions.
For a full breakdown, see Facebook's advice below 👇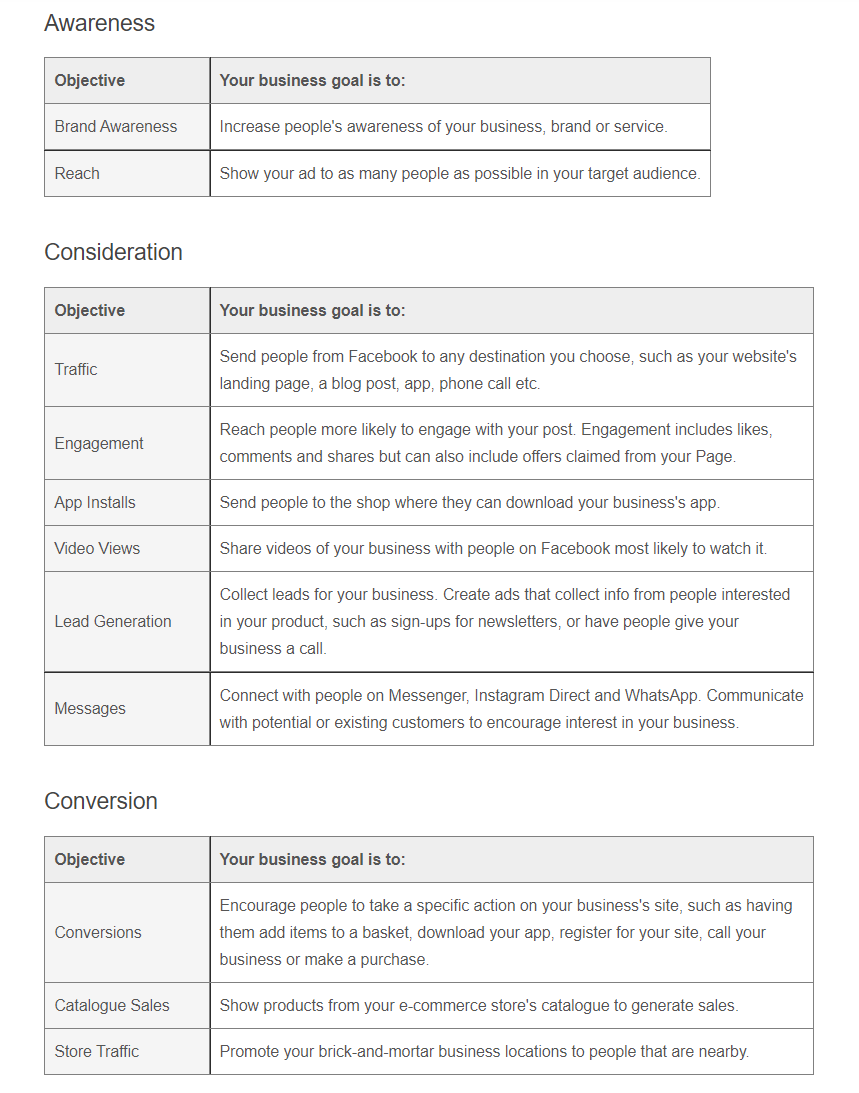 Step 2 – Give your campaign a name
It sounds simple, but naming your campaign is crucial. 
As you create more campaigns and increase your ad spend, being able to simply find and access individual campaigns will ensure costs don't go through the roof. 
Meanwhile, every member of your team will be able to make changes, rather than just the campaign owner. 
Step 3 – Set your budget
Once you've named your campaign, scroll down to set your budget. 
Depending on how much you want to spend, you can choose from either a daily or a lifetime budget and for both options you'll need to set time limits.
Facebook won't exceed either limit in the timescale you set.
Did you know?
Ad cost fluctuates a lot depending on the industry you operate in. Clothing ads, for example, will be far more expensive than ads for vegan dog food. Different Objectives are also associated with different costs.
Step 4 – Choose who you're going to target where
Next, you need to decide the exact audience you're targeting by choosing from the following filters:
Age
Location
Gender
Language
If you have no data to help you choose these filters, the product you're selling should help inform your decision. For example, a clothes store specialising in women's festival wear will likely want to target people between 18-35 living in metropolitan areas in the UK. 
To home in on your ideal customer, you may also want to use detailed targeting which includes "additional demographics, interests, and behaviours".
In its dedicated page on the topic, Facebook says:

Step 5 – Decide on your ad placement
As we mentioned earlier, automatic placement is an option that takes the stress out of ad placement by running your ads across different Meta social media platforms like Instagram and Messenger. 
This is especially useful for new starters, but those looking to further tailor their ads have more options. 
For example, you can include or exclude different device types, platforms, and placements depending on the data at your disposal. 
Step 6 – Control the content your brand appears alongside
By using Facebook's Brand Controls, you can opt-in to block lists which ensure your ads aren't associated with sensitive content. Take a look at Facebook's full breakdown for more info 👇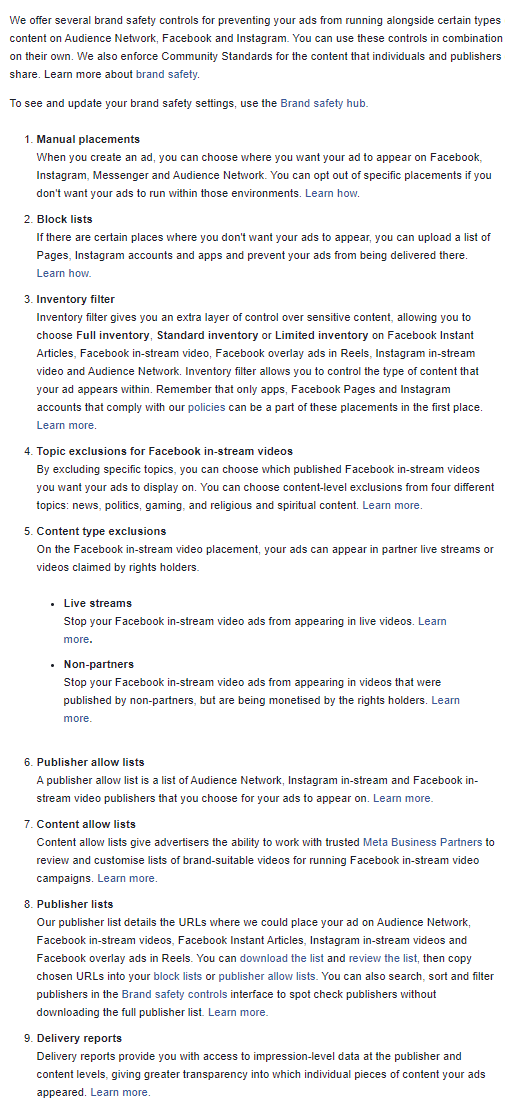 Step 7 – Make your ad
Finally, it's time to actually create your ad!
Return to the previous section about Facebook ad formats to decide which is best for your campaign and depending on your choice, you'll have different options to add text and media.
Top tip
Do a final check of your ad by previewing visuals and text before they go live. 
BONUS: How growing your Facebook brand organically helps ads perform better
Growing your Facebook brand organically will help to supplement your paid activity. To do this, try using every feature on your profile at your disposal.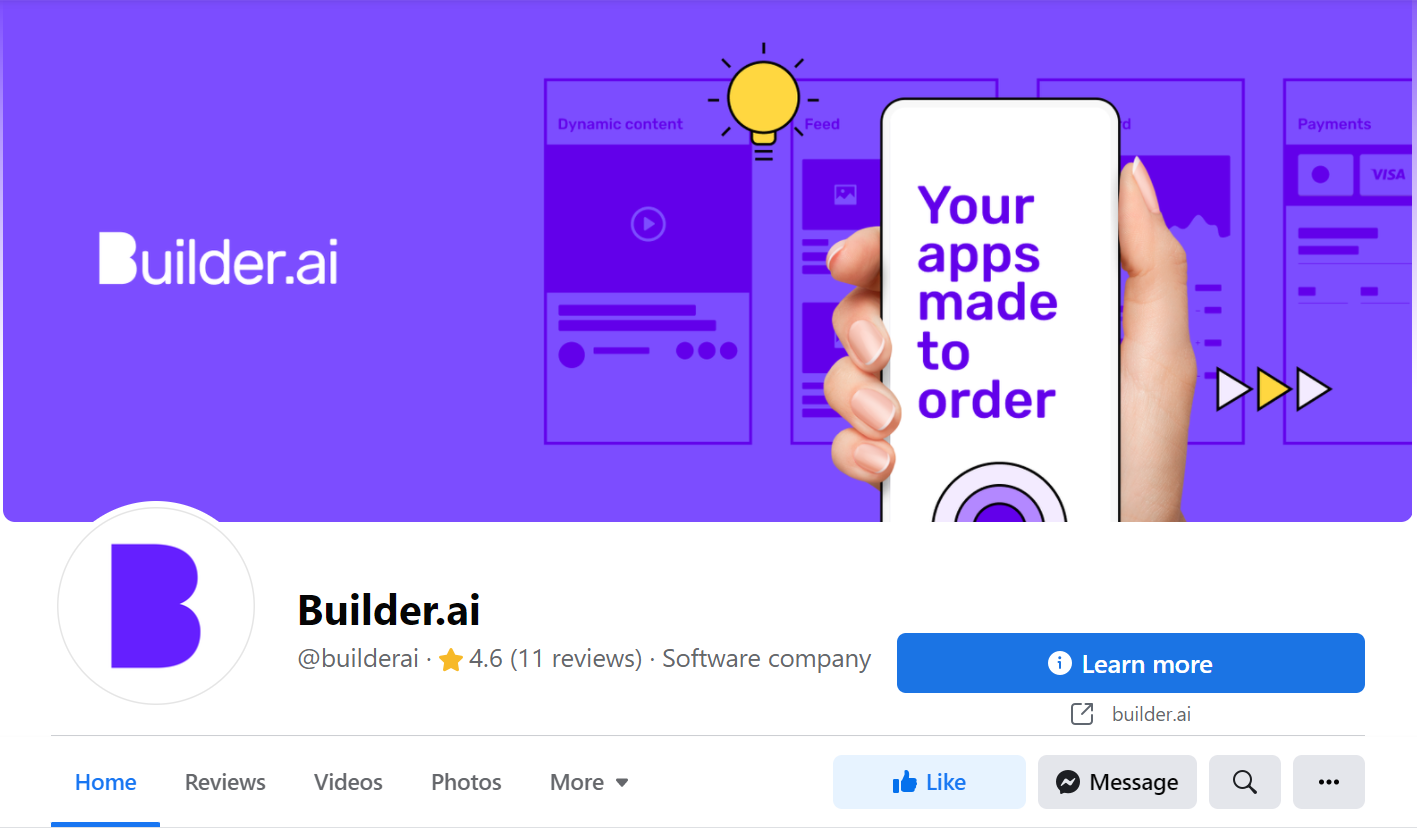 For example, take Builder.ai's Facebook page as an example. 👆 We have an eye-catching, on-brand creative as our banner, which also communicates our value proposition. 
You can also see that alongside our profile picture, we have a Facebook review rating of 4.6 stars, which adds authority to our products and services. To increase your review count, you could offer free or discounted products in exchange for a review.
Finally, the "Learn more" icon redirects users to our home page, making it easy for potential customers to continue their journey.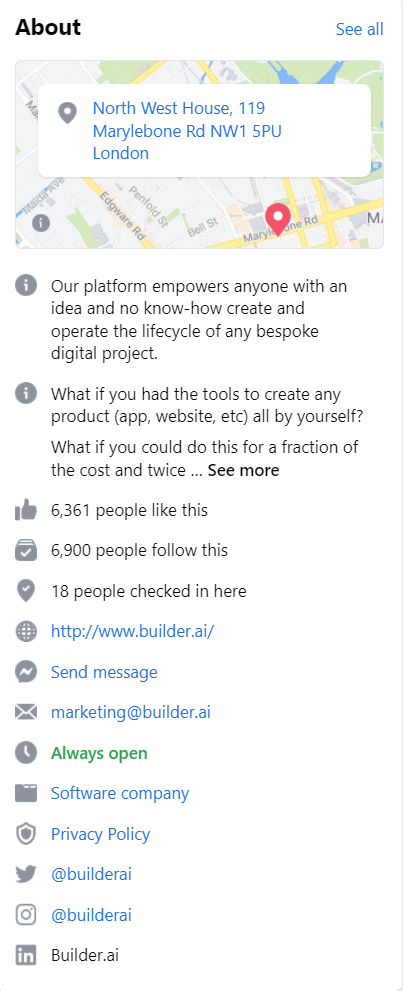 Meanwhile, in the "About" section, we provide key information about our platform, while making it easy for followers to find or contact us via email, Twitter, Instagram, or LinkedIn.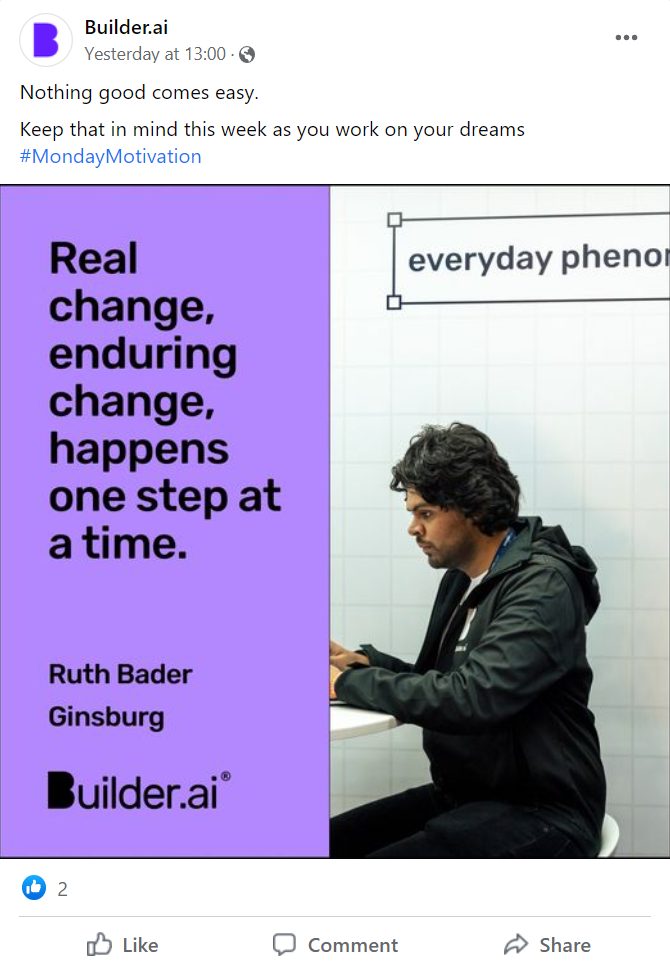 When it comes to posting itself, you're best off planning and scheduling in advance. This means you can convey a clear narrative over time, rather than taking a scattergun approach.
How to sell on Instagram (using ads)
Organic Instagram activity only goes so far when building a customer base. 
That is unless you can wait for the wrinkles on your forehead to be deeper than pre-botox Gordon Ramsey before building a reliable pipeline.
But when you do invest in ads for your Instagram business you don't have to spend an arm and a leg. 
Keep scrolling to see how you can use every type of Instagram ad to cost-effectively grow your business 👇
Top 3 Instagram ad formats
In an era full of ad-savvy consumers, you need to use every weapon in your arsenal to persuade them it's worth clicking through. Here are the ones you should think about using: 
#1. Feed ads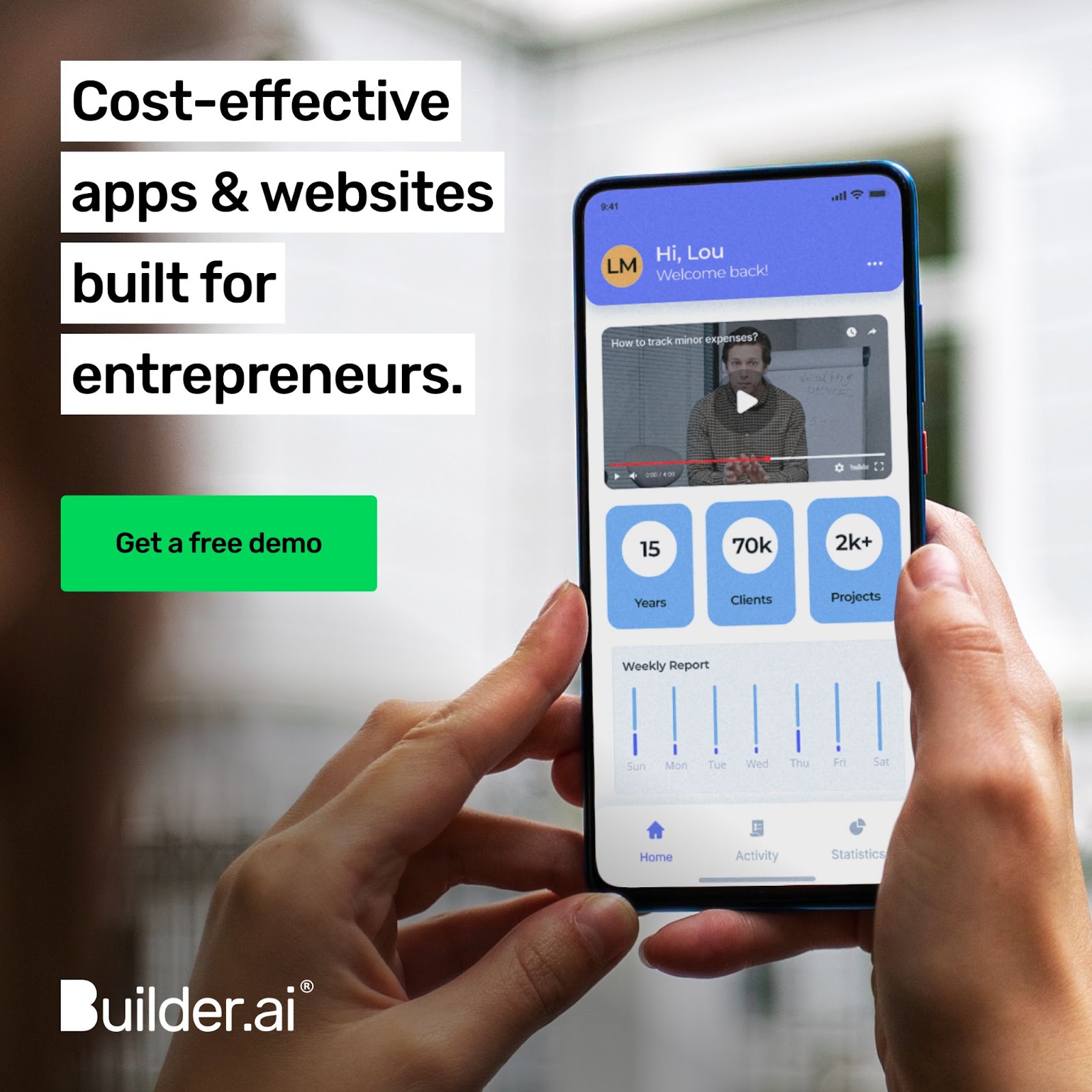 Instagram's Feed ads give you a chance to appear amongst organic posts while promoting your store and products.
The right kind of Feed ad doesn't feel like one, and should align with rather than disrupt the user journey. 
#2. Stories ads
You can also leverage Instagram Stories ads, which Social Media Examiner reckons perform "much better" than Feed ads. 
This is because you get the chance to serve your messaging free from competition and plunge potential customers into an immersive experience, instead of serving a static image. 
#3. Video ads
Video ads run longer than Stories ads, giving you the chance to beam more product messaging into the brains of potential customers. 
That said, you'll be competing with other posts for attention on the feed, so the snappier the better. 
How to optimise your ad campaign on Instagram
To avoid unnecessary optimisations to your Instagram ad campaigns, make sure you get the basics right from the get go. For example: 
Proofread your ad copy and amend any typos
Choose recommended image sizes and resolutions (Snappy says landscape Feed ads should be 1200 x 628 pixels and have an aspect ratio of 1.9:1)
Prioritise your ad spend on top-performing products with the highest potential ROI 
But even the most perfect first draft of your ad will need amendments to fulfil its potential.
The best approach you can take is to start small with your ad campaigns to begin with and A/B test: 
Value propositions - most resonant benefit your product can offer to customers
Visuals - colours, images, illustrations
On-image copy - copy that complements your caption
Off-image copy - caption that complements your on-image copy
Calls to action (CTAs) - action you encourage customers to take
Once you land on the winning formula, you can scale your ad spend accordingly. 
Likelihood is though, this formula will change over time, so be sure to check the performance of your ads at least weekly.
Top tip
Don't pump your entire budget into Instagram ad campaigns as soon as you get an influx of new followers. Wait until you can track ROI on more meaningful metrics like conversions.
BONUS: How to (organically) establish your brand on Instagram
As is the case with Facebook, building your Instagram brand organically will support your paid efforts. Here are 4 steps you can take to ensure both strategies are aligned:
Step 1 – Have a consistent brand identity
Imagine how you'd feel if ASOS started posting no-context pictures of pimped-up cars. Or Airbnb started posting about the benefits of staying at home this summer. Or Tiffany started posting about pet insurance.
At best you'd be confused as hell. At worst you'd lose trust in the brand, making you more likely to choose another vendor. 
So before you even start posting, think about defining your niche and your brand values. Then you can create a coherent Instagram strategy that conveys clear messages for the long term.
Step 2 – Post regularly
If you're running a superfan account for your cat, structured posting might not be necessary. 
But sadly, you can't rely on a "build it and they will come" approach when you're selling on Instagram. 
Reliability is key to building momentum and trust with your audience. So your best bet is to decide on specific days and times to post. 
Think about how skate brands like Supreme and Palace leverage structure. Their followers know they can rely on a drop every Thursday at 16:00 GMT (Supreme) and Friday at 11:00 GMT (Palace). 
Each post on their Instagram page feeds into this, building anticipation before each drop. 
As a result, new releases become part of their followers' weekly routines, guaranteeing return custom. 
Obviously, this isn't to say these are cut and paste approaches and your own page should be tailored to your target audience and niche. 
But irregular posting and random product updates will result in your brand forgotten by both your followers and the LinkedIn algorithm.
Step 3 – Use micro influencers
Getting an endorsement from Cristiano Ronaldo, who gets paid up to $1M for every paid post, is probably out of reach. 
But that's not to say working with influencers is completely off the cards, even if you're not offering monetary rewards. 
Instead, you could send freebies to smaller, but highly relevant influencers within your niche in exchange for a post.
Endorsements from these influencers, who have between 3,000 to 100,000 followers, helps to build authority with your audience as they are more associated with trust, friendship, and honesty than superstars.  
And aside from long-term gains, posts from these influencers should immediately send traffic your way, giving you a chance of converting a whole host of new customers. 
Step 4 – Collaborate with bigger brands
Few years back, a little known British singer from Walsall appeared on Drake's hit Get It Together.
Fast forward 4 years, Jorja Smith is one of the UK's biggest R&B artists. 
Not just down to the Drake collab, of course. Jorja was creating bangers in her own right years before that. But it certainly helped. 
And the same is the case for your brand. If you define your brand identity successfully and plug away with regular posting, collaborations with the biggest and best players in your niche will help give your brand more authority. 
Plus you can benefit from selling products on their sites as well as your own.
Selling on Facebook vs Selling on Instagram: which is better?
As we said in the introduction, the short answer is:
It depends. 
But when you're first launching a paid ads strategy, the best thing you can do is not make assumptions. 
Use a small budget to test on platforms you're not sure will work and see if you're right. Worst case scenario, you'll know how to prioritise your ad spend in future. 
To make your selling experience on Facebook and Instagram even easier, why not create an app with Builder? 
Hit this link 👈 to see how we could help out!
Ananth Ramanathan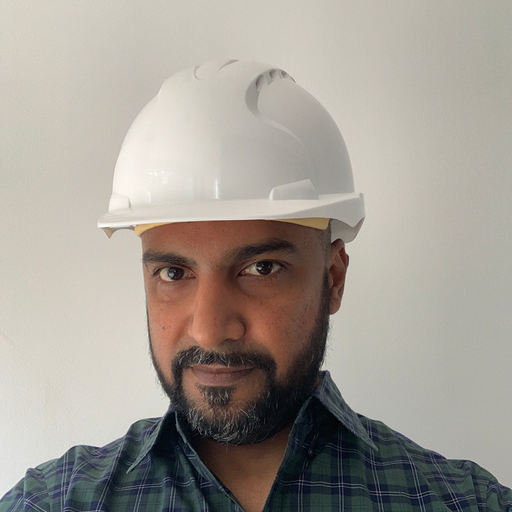 VP Studio Store at Builder.ai
Ananth Ramanathan runs Studio Store business at Builder.ai with a mission of digitising a 1M+ micro SMEs in the next 5 years. He oversees the commercial, product, and customer success functions to rapidly scale Studio Store globally. Ananth's an experienced tech business operator, a failed entrepreneur, and an active angel investor.