We'll explain the best ways to build your email list, what makes a good email and the importance of templates. Next, you'll learn how automation grows your business faster. Then, we'll compare 5 of the biggest email automation services available. By the end, you'll be able to launch and develop your email strategy.
What is email marketing?
If your business is already sending emails to existing and potential customers, you're doing email marketing. Marketing experts love to overcomplicate this, but it can be pretty simple. If the goal of your email is to promote your business then you're doing email marketing. 

Although it's simple to get started, email marketing is a topic that has a lot of depth. Most businesses will get better returns by learning the best practices.
Why focus on email?
There are lots of social media sites that make it easy to stay in touch with your customers. This makes it easy to neglect your email list. Big mistake. Your email list is one of your biggest assets.

ROI – email generates on average £38 per £1 spent according to a DBS report. 18% of businesses reported an ROI of over £70 for every £1 spent. That's huge! Imagine how an ROI of 6900% would affect your business.
Brand leadership –  it's also a great way to build your brand name. Regularly providing value through email newsletters will cement you as an expert and the go-to choice. Nurturing your list this way will convert people who wouldn't otherwise have purchased.
Promotions – let's say you've launched a new product. You can send a quick email offering a small discount to your email list. It's a win/win for both of you.
Can't be de-platformed – remember when Twitter banned Donald Trump? Social networks ban people for all sorts of infractions. If your marketing efforts are dependent on social media, this could cripple your business. Your email list prevents that. No one can take it away from you.

TIP: You can't be de-platformed from your own app
Owning your customers is hugely important. Collect emails and drive repeat business with an app. Our Studio Store apps make it simple to get started.

Email marketing for small business
You're sold on the benefits and ready to get started. Let's walk through the process.
How to build an email list?
You need a list of email addresses before you can contact anyone. There are a few approaches you can use to collect emails:

Opt-in form – add a signup form to all your blog posts. Ask readers to sign up to receive content updates and offers straight to their inbox.
Offer a lead magnet – create a useful piece of content (often a guide or report) and share it in exchange for their email address.
Discounts – imagine you run an ecommerce store. You can offer a discount code in exchange for an email address.
Purchase opt-ins – anytime you make a sale, add a checkbox for opting into your marketing and promotional emails. This has a good conversion rate, but only targets existing customers.
Your app – it's a great way to capture emails and make more sales. According to ad-tech firm Criteo, apps make 3 times more sales than mobile websites and in-app sales are growing 46% year-on-year. That's huge! You get more sales directly from your app and can use one-click signup to easily collect email addresses.

Fancy one? We can help – have a look at our Studio Store apps. These are prepackaged apps that come with all the features required for a particular business; e-learning, spa and restaurant apps to name a few. All the prices and delivery times are clear and upfront – no hidden surprises.

If you're an ecommerce business then we have a treat for you. We recently made our ecommerce app free. You get everything you need to make sales; a beautiful shopping experience, secure payments and hassle-free setup. You're able to process 50 orders for free each month. This is a great way to see if the app is a fit for your business! If not, it hasn't cost you anything.
Respect privacy laws
However you build your list, you need to ensure you are compliant with privacy regulations. CAN-SPAM (US) and GDPR (EU) are the two big ones. All the technical specifics are beyond this article. A rough summary would be:

Don't buy an email list online. 
Only send to people who've opted-in.
Add a link at the bottom to unsubscribe.

For legitimate businesses, this will be easy to follow. If you're sending unwanted messages then you'll be viewed as spam and people are less likely to do business with you. Constant contact is bad, regular contact is good. Focus on primarily providing value to your readers. Aim for a 3:1 ratio of useful content to self-promotion.
Decide what to send
Plan out in advance what you want to send. Think about how your emails fit into the broader picture of your company's activities. We discuss content calendars in our promote your business guide. In short, you want communications across all channels to work together – focus on a particular theme or objective for a month. Make it easy for people to dive deeper into your content. 
Create templates
You probably don't change your logo and branding weekly. Having a consistent image you present develops your brand's identity. Think about emails the same way. Create a template that reflects your brand. It doesn't need to be overly fancy. Over-designing your emails is a common problem. You want it to be simple, consistent and reflect your brand.
How do you write a marketing email?
Writing compelling emails doesn't have to be difficult. Nail these steps and you're going to be doing pretty well.

Catchy subject line – think about how many emails you receive in a day. The ones that catch your eye are either from someone you respect or they have a very catchy subject line. When writing your own, think about what you can do to make your business stand out. Try and pique your readers' curiosity.
Personalisation – Experian found that personalised emails generate six times higher transaction rates than non-personalised. This used the customers' name and audience segmentation. E.g. a pet shop wouldn't send promos for dog and fish food to all their customers. Rather, they'd only send the dog food emails to customers who have previously bought dog food and vice versa.
Enjoyable to read – provide value to your customers. This can be knowledge or useful promotions. Oh, and make sure you're speaking directly to your readers. Imagine your writing to one particular person as you write.
Proofread before sending –  write using correct English. The odd mistake will be forgiven, but run your email through a spell check before sending it. Try and have someone else to read it over too. Any mistakes will make your business look unprofessional.
Finish with a CTA – a strong call to action (CTA) is important. It doesn't matter how strong the marketing strategy is if you forget the CTA. What is the goal of the email? Ideally, you've written the body text to lead to one specific action. You can ask your reader to visit your landing page, reply with comments or buy now. The important thing is you ask them to do something.

TIP: People love the personal touch
Write as if you're speaking directly to one customer. Sign off with your name rather than the company name. Build a connection with the reader.

Email marketing automation
So far we've been talking about this as if you're doing everything manually. That could work if you're just starting and don't have a large email list. However, it'll quickly become unmanageable. Email automation is how you solve this problem.
Onboarding journey
When someone signs up for your email list, you'll probably want to introduce them to things in a certain order. You can create what's called an evergreen email sequence – a series of emails that can be used forever. This will introduce your company, your products and your best content over a few months. 

The software allows you to set time delays between emails. The fancy platforms allow you to send emails based on user behaviour. E.g. If they complete the CTA they will receive the next email sooner.
Segmentation
The email software also makes it easier to segment your audience. Remember earlier, when we spoke about the pet shop sending separate emails to fish and dog owners? The software can track this. It makes it easy to target different demographics.
You can segment readers based on almost anything: country, age range, web or mobile device, and interests. As we alluded to earlier, you can even split them based on how frequently they purchase. As your business grows, your marketing channels will become more complex.
When starting, consider splitting your buyers into 3 buckets: first-time buyers, regular buyers and people who ignore the messaging. First-time buyers will respond best to a nurturing campaign. Maybe follow up with some related products? Regular buyers don't need much nurturing. Send them regular deals and they'll keep buying.
The 'not interested' camp will need the most work. They need something truly eye-catching to get them to buy. Uber Eats is a great example of this. If you've ignored their basic promos they'll eventually send you a 50% off code. The idea is that once you've made a purchase you're more likely to make more.

Email marketing templates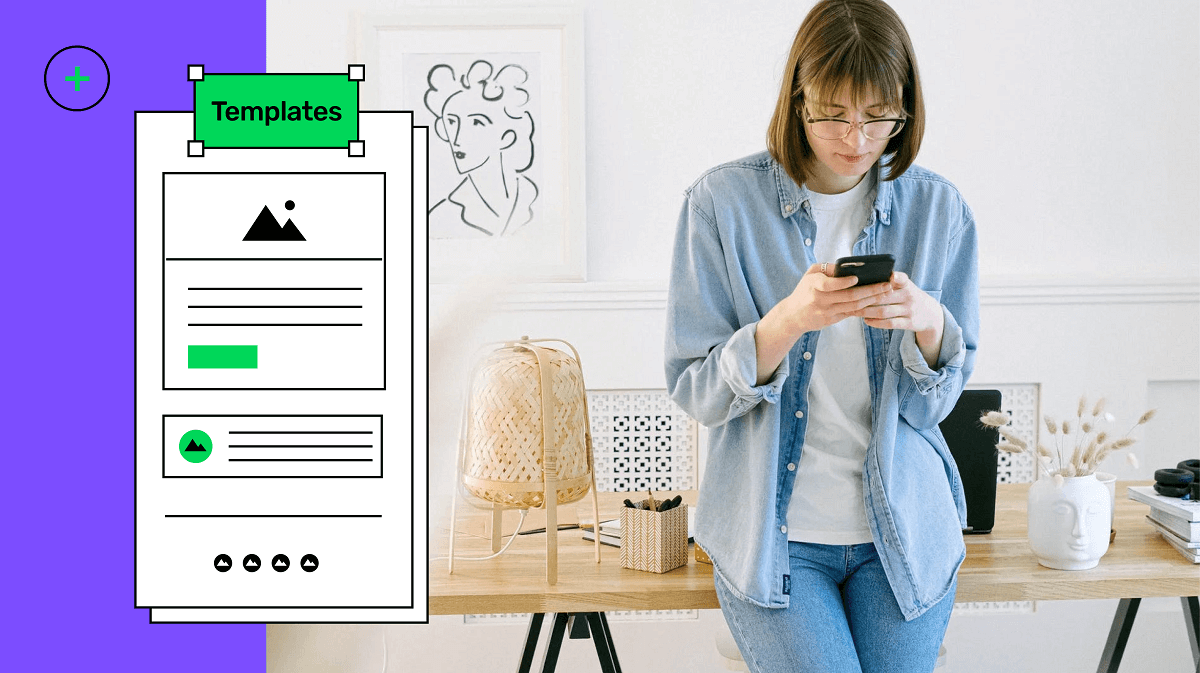 We spoke earlier about the importance of consistent design across your emails. When you use email marketing software this is easy to do. There are several premade templates you can customise for your brand.

Many of these templates come as part of a theme. This makes it straightforward to create eye-catching emails for a variety of purposes. Even though there will be some differences – a flash sale will look different to a new blog post alert – the overall design is consistent. The elements can change but it stays recognisably your brand. 

Most of the big-name platforms offer a drag and drop editor. This makes it easy to quickly create your email campaigns. Use the drag and drop email templates to add images that represent your brand.

Each of the big-name platforms offers templates you can customise. You can often sort these by most popular. They're tried and tested. A mobile-first approach is guaranteed. This is so important today. According to Campaign Monitor, 81% of people prefer to read emails on their mobile device. If your emails end up with wacky formatting you're going to lose business.

Email marketing platforms comparison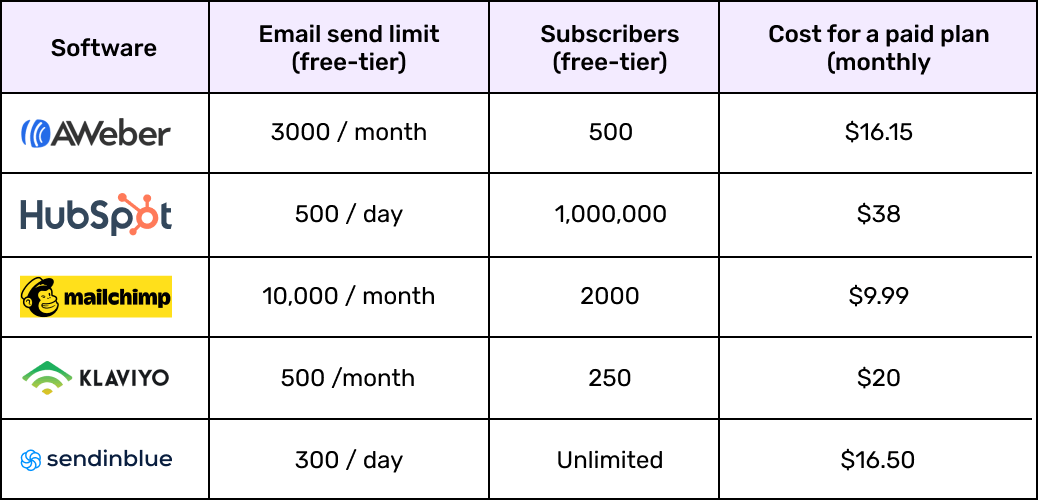 What's the best email marketing software?
Without knowing the specifics of your business, it's hard to give an accurate answer. Some of these platforms offer much more than email service. For example, HubSpot is a complete customer relationship management (CRM) package. It lets you manage your entire funnel from email collection to sale.

If your business will use those features then HubSpot is fantastic. One package that does everything makes things simple. To fully benefit you need the premium version. If sending emails is all you need then MailChimp is the go-to solution. The free version is generous and ideal for SMBs. As your business grows, it's affordable to upgrade to premium.

Before paying for anything, it's worth asking what your team thinks – you might have a team member with experience using a particular solution. This can make configuring everything much easier. The basics are straightforward on each platform, but advanced email flows require more knowledge.

It's also worth having a serious think about requirements. An unlimited number of subscribers sounds like a great selling point. But 99.9% of users won't meet the limits on any paid plan. It's the same with the daily email limits. How many does your business actually need?
What's the most effective email marketing strategy?
There are a handful of things to keep in mind as you grow your business with email marketing. We already discussed segmentation but it's so important we're going to mention it again. If you don't segment your audience you're throwing sales away. As your strategy develops, consider further segmentation in each of the following categories.

What are the 4 types of marketing emails?
Next up, you need to think about the type of emails you want to send. You don't need to set everything up at once. Gradually work your way through the 4 categories and then go back to improve them.
1. Transactional emails 
Also known as triggered emails. They're sent in response to a customer event. Events like order updates: abandoned carts reminder, thank you, feedback requests and re-engagement emails.

You might be asking what these have to do with email marketing? Good question. As they share information about a purchase, the open rate is very high. Buyers want to know the status of their order. We can take advantage of this by adding some marketing elements to our transactional emails.

You can use these emails to build brand awareness. For example, an extra paragraph that describes in more detail what you do or points to useful resources on your website. If you're after immediate financial results then consider adding in an upsell.

Let's imagine you have an online store that sells car cleaning and maintenance products. You sell everything from soap to premium wax that leaves cars shiny for weeks. A customer buys your soap and triggers an email.  When you send their order confirmation, why not tell them about the wax and give them a chance to add it to their order?

A good way to find related products is to review previous baskets. If lots of your customers are buying the same products together, it's probably a good upsell opportunity. Another use of transactional emails is advertising your referral scheme. Share discount codes when customers refer a friend. This is an easy way to upgrade emails you probably already use.
2. Onboarding sequence
We mentioned this briefly already. It's an easy win that makes use of the power of automation. Write a series of emails that introduces your readers to your best resources. This will nurture potential leads and generate more sales.
As your strategy develops, consider creating different onboarding sequences that reflect how the reader joined your email list. Let's say you're a pet store and a reader opts in after reading an article about dog health. Your segmented sequence should showcase all your dog-related content. The majority of dog owners won't be interested in your cat, bird or rabbit content. 
The more targeted you can make your onboarding sequence the better. Everyone prefers emails that speak directly to them. It's easier to write a personal email when you know their interests.
3. Newsletters
Share regular updates about your company and what you're doing. The goal is to build brand awareness and expose readers to your content. Although you're telling readers about your company, it's important to provide value. A good rule of thumb is to ask what your reader leaves with. If the answer is nothing, then it's not a great email. Point them towards content that expands on the ideas introduced in the email.

TIP: You don't need to send newsletters
Lots of successful companies have never sent a newsletter. The other 3 categories can grow your business.

4. Promotional email 
This is an email sent with one goal. Driving a sale. All the nurturing you've done pays off at this point. Your readers trust you and understand your products. They just need a little nudge to start buying.

Offer readers a seasonal or birthday discount. Remember and add a strong CTA. What exactly do you want them to do? Oh, and don't worry about making money off that initial purchase. Just get them in the door! Repeat business is a big earner.

BIA Advisory Services researched small business revenue. 61% of businesses reported half of their annual revenue comes from repeat customers. Even more exciting, they found repeat customers spend 67% more than a new customer.

How do you develop an email marketing strategy?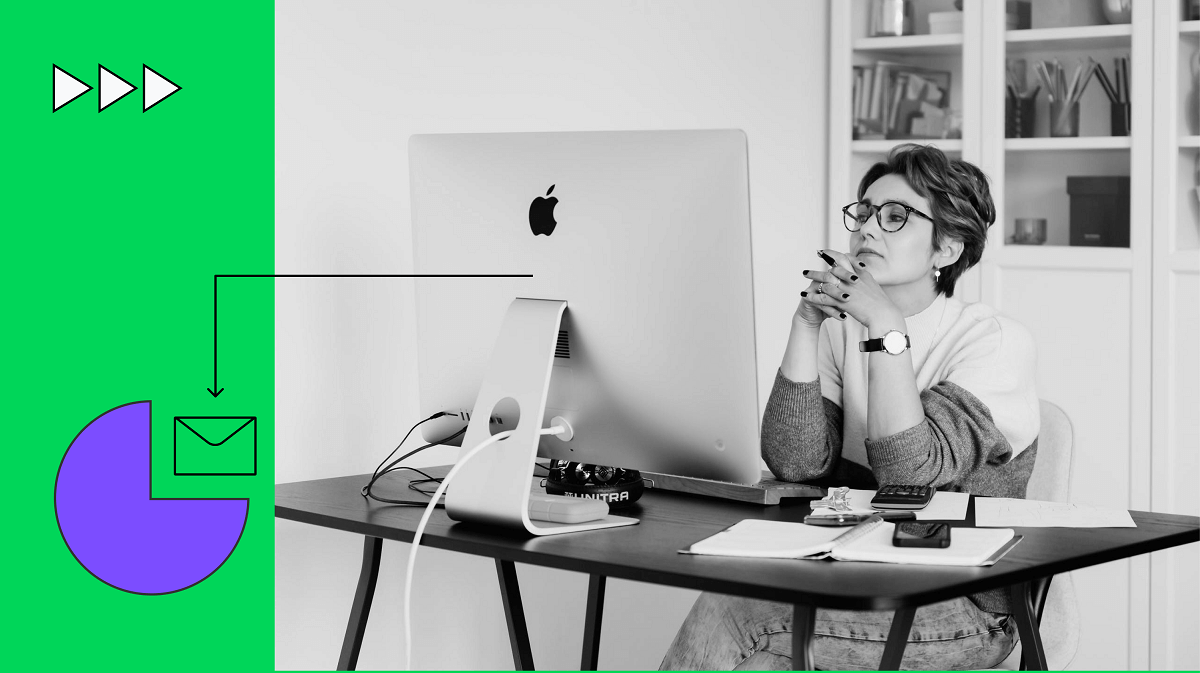 It's important that all elements of your business work together. In an ideal world, you'll have consistent communication across all channels: ads, emails, blogs, videos, etc. If that's not possible then at least make your emails align with your main communication method.

Next up, create the emails mentioned above. The onboarding sequence and transactional emails will be used again and again. Don't be afraid to invest the time required to do it well.  You're then in a position to make the best use of promotion based emails.
Data-driven approach
This is overlooked by many businesses. Almost all email platforms track performance metrics. This lets you identify what's working and where there's room for improvement. 

There are a few metrics that you want to pay special attention to (stats from Smart Insights):

Open rate – this is the % of people that open the email you send. Experiment with different subject lines and see what performs best. 16.97% is the average.
Click-through rate (CTR) – this tracks the % of people that complete the CTA and follow the link within your email. Experiment with the body of your email and observe the changes. 10.29% is the average.
Unsubscribes – how many people are using the unsubscribe button in your email. If you notice a huge spike it's time to review your marketing strategy. Provide value and unsubscribes will stay low.
Bounces –  this is the name given to undelivered emails. There are 2 types of bounces: hard and soft. A hard bounce is when the email address can't receive any emails. A soft bounce is when there's a temporary delivery issue. The overall average bounce rate is 10.59%. If yours is much higher you need to investigate potential causes. A high bounce rate must be addressed. Otherwise, your reputation gets damaged and you can end up being unable to deliver any emails!
A/B testing
Most platforms will allow you to set up A/B tests. This is when you send slightly different versions of the same email to different people in your list. 50% get version A and 50% get version B. You can identify the things that are working best and implement them across other emails.
A/B tests can get a lot more complicated. It's possible to test multiple variations at once. If you have a huge list you have even more possibilities. You can do a limited test of several variations before sending the best version to the rest of your list. E.g. 25% of your list is used for experimentation. The remaining 75% will get the best performing version.
TIP: You can apply A/B testing to push notifications
We explain everything you need to know to get started in our push notifications guide.

Recap – what are the 10 steps to start email marketing?
Build an email list.
Segment your readers.
Understand privacy laws in countries you do business.
Create a template that reflects your brand.
Add marketing elements to your transactional emails.
Create an onboarding journey.
Send promotional emails.
Monitor key performance metrics.
A/B test.
Use this data to improve your previous emails.
Final thoughts
If you've been thinking about getting serious with email marketing you're now ready. We've covered the steps you need to develop a complete strategy. You know everything required to create your campaign and use a data-driven approach to evaluate its success.

Although we've preached the importance of data, it's important to remember who you're writing for: real-life people. Write useful content that delivers value and your emails will be well received. Good luck!

FAQ

1. How do I create an email marketing template?
This is platform dependent. Most of the large platforms allow you to edit their premade templates. This is often faster than designing one from scratch. Ensure you keep the branding and style elements consistent across emails.
2. I'm happy with my email marketing campaign, what next?
We recommend most businesses get an app. It's a great way to continue growing your business and make more sales. If you want to jump right in, have a look at our Studio Store apps. They're designed to do everything your business needs, we handle the tech stuff and you get your apps superfast. Want to learn more about why you need an app? Take a peek at our mobile apps for small business guide.
3. What is the best email marketing software?
There isn't one software solution that'll be best for everyone. Each company is going to have unique requirements. If sending emails is all you need then MailChimp has established itself as the go-to solution. The free version is generous and ideal for SMBs. As your business grows, it's affordable to upgrade to premium.
4. What are the 4 types of marketing emails?
Transactional emails – automated messages when an event takes place. E.g. order updates.
Onboarding sequence – a series of emails that are automatically sent when someone signs up to your list. This exposes them to all your best content.
Newsletter – a regular newsletter that shares what you're up to.
Promotional email – any email that has a sale as its key metric. These are the offers and discounts you send out.
Greig Robertson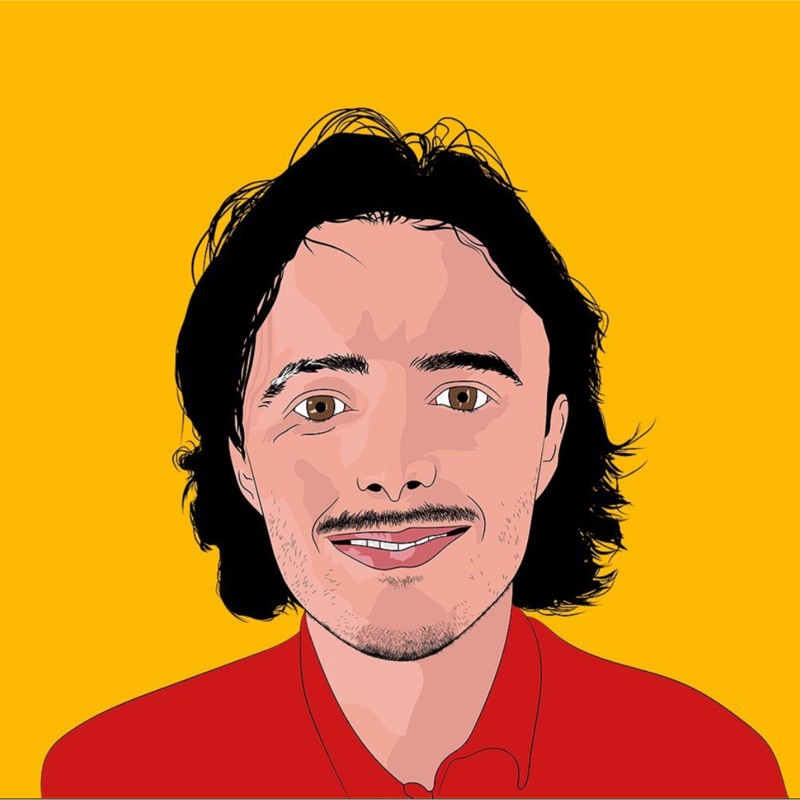 Greig is the Digital Content Lead at Builder.ai and a University of Bristol History grad. He has 5+ years' experience in B2B SaaS, creating data-driven, human-friendly content for high-growth tech startups. When Greig needs a dopamine hit, he checks Builder.ai's keyword rankings.