So, the spreadsheet you were using to track your ecommerce returns is more tattered than Lance Armstrong's legacy.
And your customer service team is so swamped that they can't do their actual jobs.
Here's why that's good news:
Being unable to manually keep a handle on all your orders means you're growing fast. And a more efficient solution will allow you to scale up your customer service and secure more repeat business.
Granted, replacing your existing processes is still a hassle, but we're here to make it as easy as possible.
So whether you're running a business full time, hustling on the side in your spare time, or maintaining a passive income stream, by the end of this blog, you're gonna know exactly how to automate your ecommerce returns and get hours of precious time back.
Over to our five ecommerce experts for their takes.
Here we go 👇
What are automated ecommerce returns?
Automated returns remove the need for ecommerce business owners to manually handle customer returns. As a result, human error is no longer part of the equation and customers receive a slick end-to-end experience, making them more likely to purchase from the same business again.
As Desku's Drashti Bhadesiya says: "Businesses tend to be established and growing when they invest in automated returns, although some proactive organisations seek to automate their processes from the outset."
And here's the thinking behind it…
Why should you invest in automated returns?
When you first start selling online, manually handling returns is manageable. But when you scale and volumes increase, it becomes unsustainable.
It's at this point that automated product returns start delivering huge time-saving benefits, when you compare them to manual returns. Here's how they measure up 👇
Want to start your app project with us?
Book a demo
Speak with one of our product experts today.
By proceeding you agree to Builder.ai's privacy policy and terms and conditions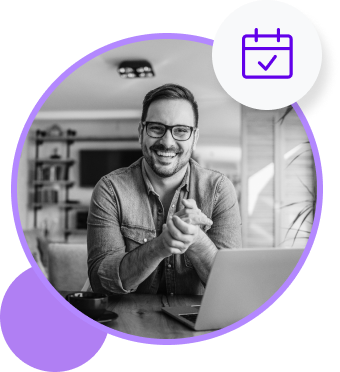 Benefits of automated ecommerce returns vs manual returns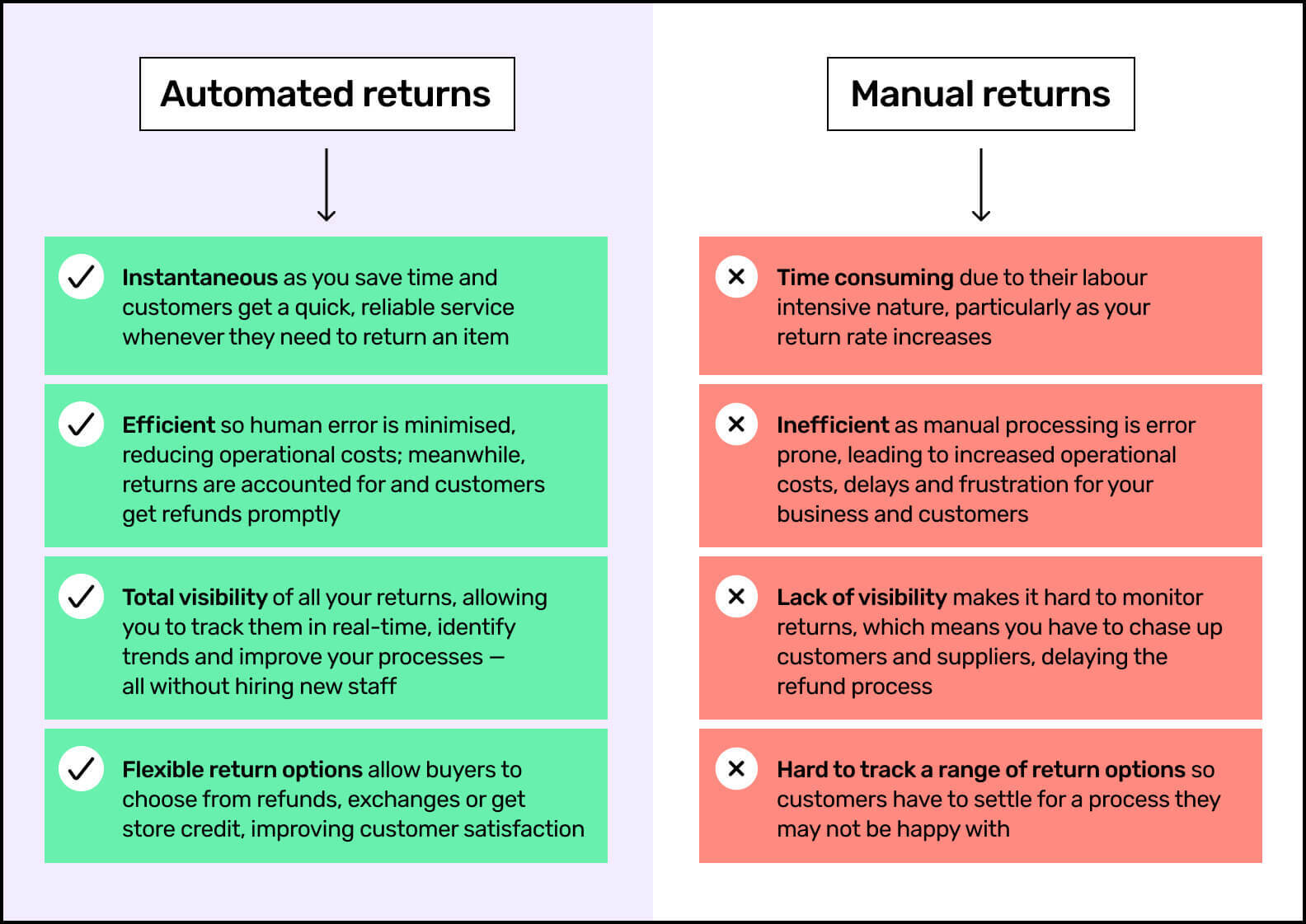 5 ways to automate ecommerce returns (and unburden customer service)
Clearly then, automated ecommerce returns are worth investing in. But how can you achieve all the benefits above so you can free up your customer service teams and allow them to spend time on actually important tasks, like nurturing customers and analysing their feedback?
Let's find out 👇
1 - Invest in a Point-of-Sale (POS) system
A lack of visibility on your ecommerce returns can be fatal.
To counteract this, you should think about investing in a POS system, as Vaibhav Kakkar, CEO of Digital Web Solutions, explains:
"Your point of sale (POS) system makes it simple to keep track of returns, which is crucial for good client return procedures," he says.
"All merchandise must be handed in and accounted for with purchase orders, with any losses documented."
In terms of protecting against cheeky customers who may take advantage of your returns process, Vaibhav also has some advice.
"You can ask customers who are returning goods for their identity. This can both help confirm that the return reasons and the consumer who made the original purchase are legitimate."
"Additionally, by including this data in your records, it'll be simple to spot any clients abusing the system. These can include clients who frequently purchase products for a single use before returning them."
2 - Think about getting a warehouse management system (WMS)
To support your POS system, Vaibhav emphasises the importance of having the right infrastructure in place in your warehouse.
"A warehouse management system (WMS) can be used to plan more effective picking and packing routes, monitor inventory levels and enhance the design of your facility," he explains.
"In your ecommerce firm, you may also employ returns management software to let your clients process returns without requiring support.
"Automation and supply chain process optimisation is essential for preventing these errors, which inevitably happen more frequently as your organisation expands.
"Automation can be used to avoid future issues if the size of your ecommerce site prevents you from manually packing and shipping each order to check that the products are indeed what the buyer bought."
3 - Set up an online returns portals
When it comes to low (ish) effort and high reward automation activities, you'll have to look hard to find something that delivers better results than an online returns portal, as Drashti explains.
"Online return portals help track all the returned products that customers generate.
"As a self-service process from end to end, there's no need for any input from your customer service team, meaning they can focus on more value-adding tasks."
"At the same time, because of the seamless process, customer trust increases in your ecommerce business, making them more likely to return to you in future."
4 - Provide return labels
To end the nightmare of manually handling different kinds of returns, you need to provide shipping labels.
"These help you better understand, differentiate and track the types of returns people are processing, whether they're refunds, exchanges, requests for store credit or even a warranty return," Drashti says.
Bizprint's Jake Fischground adds that "pre-paid, pre-printed return labels on packages provide customers with a convenient and cost-free way to return unwanted items. "
5 - Program automated email responses
In a self-serve process, it's vital that customers are kept in the loop throughout. That means notifying them when their return has been processed and received as well as when an action has been taken, such as a refund or an exchange.
"Automated email responses provide real-time validation on the return process," Drashti says.
"As customers are always curious about the status of their returns, automated emails ensure they're never left in the dark."
"Because of this, they don't need to repeatedly contact your customer support team throughout the process."
Case studies: How automated returns changed the game for CashbackHero and Girokonto
Those who embrace automated returns rarely look back because of their ability to deliver the benefits discussed in this blog. Here's how things turned out for CashbackHero's Robert Hoffman when he went down this path:
"We opted for an automated solution that allowed us to easily track each individual return request from start to finish. This included integrating with our existing customer service software so that all communications about the return could be stored in one place.
"We also set up notifications so that everyone involved would be made aware of any updates or changes along the way, cutting out tedious manual emailing processes while increasing transparency into where each return request stood in the process."


Because of this, CashbackHero's quality assurance team were able to check returns and issue refunds within 24 hours. "This reduced the time we spent on manual refunds significantly," says Robert.
"Automation enabled us to keep better track of which items had been returned and processed as well as making it easier for both ourselves and customers alike to stay updated on progress at any given moment without having to search through multiple communication channels or contact multiple people for an answer."
Lisa Dietrich at Girokonto can also speak to the benefits of automated returns:
"I integrated a third-party solution into my website that allowed customers to easily initiate their own return requests online. The platform also enabled me to set up automated emails so that customers would receive personalised notifications whenever their return status changed (e.g. accepted or declined).
"Additionally, by connecting the platform to our internal systems we were able to streamline our operations and ensure data accuracy and transparency throughout the process, even if there were some teething problems."
Conclusion
As we can see from Robert and Lisa's experiences above, you need more than one key to truly unlock the benefits of automated ecommerce returns.
In other words, it's not enough to just invest in a POS system or in an online returns portal.
Instead, you need a range of integrated returns software to enable the self-serve process and unburden your customer service teams once and for all.
For more automation tips and tricks, follow us on LinkedIn 👈
Ananth Ramanathan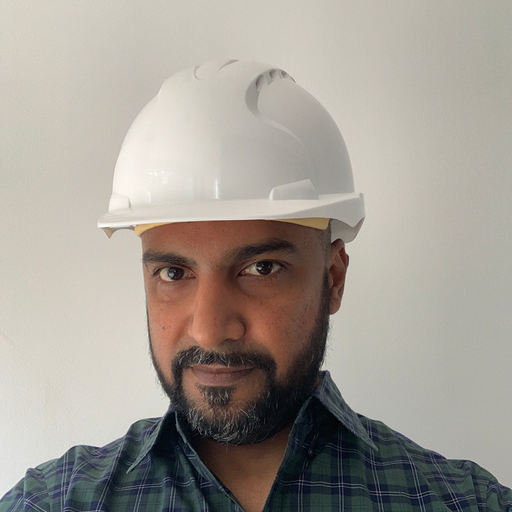 VP Studio Store at Builder.ai
Ananth Ramanathan runs Studio Store business at Builder.ai with a mission of digitising a 1M+ micro SMEs in the next 5 years. He oversees the commercial, product, and customer success functions to rapidly scale Studio Store globally. Ananth's an experienced tech business operator, a failed entrepreneur, and an active angel investor.