Ladies and gentlemen, we're in the trenches.
Recession, inflation and the cost of living crisis are hitting millions across the globe like a steam train. And with salary rises across many sectors also frozen, workers are being forced to make a decision:
Hunker down and hibernate
Or…
Get hustling
For those with a little extra bandwidth, the second option is a no-brainer, especially with an array of low-effort passive income ideas to pick from.
In this blog, I'm going to run through 17 of these to give you some inspiration. The best thing?
They shouldn't take any longer than an episode of The Office out of your day, meaning you can achieve financial independence without your active income suffering.
But first, let's cover the basics 👇
What is passive income?
Passive income is a form of extra income that doesn't require the active involvement of the earner, so little effort is needed for income to be generated.
Most passive income streams don't make enough money to support you fully, and they're usually combined with primary employment.
That said, they should provide you with more financial stability by topping up your salary.
Examples of passive income include property rental, selling online via dropshipping, investment and many more that we'll come to later.
Need more business insight? Join the Builder.ai community
What isn't passive income?
Although lots of blogs like this claim that you can earn passive income from activities like blogging, teaching online courses or becoming a YouTuber, the up-front time investment these require is significantly more than what can be considered passive income.
Instead, these activities are better categorised as side hustles, which you may dedicate as much time to per week as you would to a part-time job.
What are the pros and cons of passive income?
Now we've cleared that up, it's worth discussing the upsides and downsides of passive income streams. Especially before we get into a list of ideas longer than the Amazon.
While the benefits are clear, there are also some downsides you should give a second thought to, as you can see below👇
| | |
| --- | --- |
| Pros ✅ | Cons ❌ |
| Diversifies your income, meaning you're not solely reliant on a salary | Significant upfront financial investments needed for some passive income ideas require |
| Provides financial stability through steady, low-effort earnings | When something goes wrong, you have to resolve it, unless you pay for someone to do it for you |
| Earning potential is uncapped, so you're not restricted by your employer/salary | |
| Future-proofs you in case you lose your active income | |
17 recession-proof passive income ideas for 2023
Now you're convinced you want an extra slice of pie, it's time to reveal a hatful of passive income ideas.
To make things easier, I've divided these into four categories, including:
Ecommerce - Best for low start-up costs
Renting - Best for people with real estate
Finance - Best for people on higher salaries
Sitting - Best for remote workers
I've also recommended the occupations each of these options work best for, meanwhile this emoji 💰 indicates how much you could potentially earn. Without further ado…👇
Ecommerce - Best for low start-up costs
One of the main benefits of choosing an ecommerce idea is that they can work for more or less anyone. Here are the people who might be best served by it, followed by a list of ideas:
Students
Teachers
Hospitality workers
Nurses
Stay at home moms and dads
Introverts
1 - Start a dropshipping business 💰💰💰
Want to sell products online without the hassle of stocking and distributing your products? Then dropshipping could be the passive income stream for you.
With low up-front and overhead costs, you can get set up quickly. Meanwhile, as you're only responsible for being the seller of record (SoR), you don't have to do much of the heavy lifting traditionally associated with ecommerce.
Best of all, if you pick the right trending product to sell, there's a chance you could earn up to $5,000 per month.
One of the easiest ways to get your dropshipping store up and running is to get off-the-shelf websites and apps from Studio Store 👈
There are no transaction fees or revenue-sharing schemes. Plus, you get specialist support to set up, manage and grow your business.

2 - Flip retail products 💰💰
The potential returns on flipping retail products fluctuate. For example, those who manage to get hold of rare items from exclusive brands could make hundreds or even thousands of dollars per item.
Naturally, the difficulty of getting hold of these items is much higher and the cost far more than cheaper items that can be flipped in bulk for modest profits.
In the image above, the Reddit user has struck a happy medium, where they can flip low-cost items for a decent profit.
Ideally, this is the sweet spot you should aim for.
3 - Get cashback on online purchases 💰
If you're gonna spend some of your hard-earned cash anyway, why not get paid for it?
Cashback sites offer you this chance, simply by buying through them, while some credit cards offer rewards for every dollar you spend.
You can earn a few hundred bucks a year if you're savvy enough and you have to put in a small amount of effort.
4 - Take surveys 💰
Sharing your opinions on your shopping habits, food or current affairs doesn't just have to be something you annoy your friends with.
In fact, there are a range of sites that pay out for your responses, including i-Say and Swagbucks. Payments are likely to be small but you can record your responses while watching TV or even in the bathroom.
Who knew that was an activity you could monetise?
Renting - Best for people with real estate
Although people with multiple properties can reap the biggest rewards from rental income, just about anyone can participate in the sharing economy. Here are the people it works best for, followed by a list of ideas:
Accountants
Lawyers
Teachers
Doctors
Nurses
Artists
Graphic designers
Stay at home moms and dads
1 - Rent out your property 💰💰💰
Leasing your property can be extremely lucrative, although the upfront investment can also be very high depending on your property's location.
If you have a small property portfolio, it could be viable for you to manage everything yourself, from attending the needs of tenants and guests to making repairs and arranging safety inspections.
That said, this could end up being a significant time investment and you may be better off sharing a percentage of your profits from your rental property with a real estate agency or property manager.
2 - Rent out a room 💰💰
Don't own more than one property? No worries. Instead, you can generate passive income by renting out a spare room.
Depending on your circumstances, you can choose from short or long-term lodgers and make your property unavailable whenever you need some room to breathe.
Although this may not be one for introverts, it can help subsidise your mortgage, leaving you with more cash to spend elsewhere.
Apps like AirBnB and SpareRoom are perfect for this, if this is the idea for you.
3 - Rent out storage space 💰
Planning permission to extend homes can be hard to come by. So if you already have extra space available, you could lease it out to neighbours looking for a bit of extra room.
Your garage or shed are the most ideal candidates for this, and depending on their size, you may be able to earn passive income from several different parties.
To do this, you're best off using apps like Stashbee and Storemates.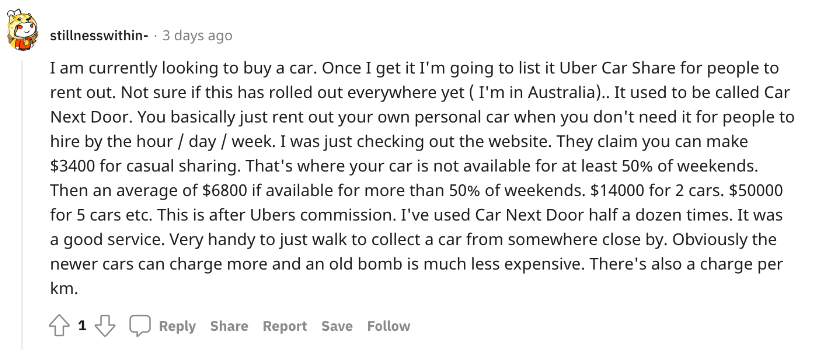 4 - Rent out your car 💰
If you have a car sitting in your driveway 23 hours a day, someone else might make better use of it.
But just be wary:
The newer and more valuable your car, the more mindful you should be about the amount of miles leasers are clocking up.
This is why the Reddit user above is aiming to buy a car for this specific purpose, rather than using their own.
Hyrecar and Turo are both solid options for this, but many more are also available.
5 - Rent out your parking space 💰
If you live in a block of flats and have a dedicated parking space, you're the real MVP. Why?
Because the amount of spaces available rarely match up with the number of households in your building.
By renting out your car parking space, you could save your neighbours 15 minutes on their morning commute and earn extra money in the process, all without making a financial investment.
6 - Rent your bike 💰
Instead of just decorating the hallway, the bike you can't be bothered to ride can be put to much better use.
Apps like Spinlister, for example, can connect you with anyone in your local area looking to rent a bike.
Plus you can decide the pick up and drop off times, so you're never left without your bike when you need it.
7 - Rent your tools 💰
Switched to artificial grass and decking but still have a lawnmower lying around?
Then you may actually be better off renting it out than selling it, especially if you have enough storage space.
Platforms like Fat Llama allow you to do exactly this, setting prices per item and per day.
Investments - Best for people on higher salaries
In recent years, investment has been democratised by apps like eToro, Nutmeg and Wealthify, which have low minimum investments, ranging from $1 - $500.
In theory, this allows anyone to buy stocks and shares and manage them on the go.
That said, the big money is made by those who have the financial freedom to stake larger amounts on high-potential stocks and shares.
Here are the people who could make the biggest heaps of cash, followed by a list of ideas:
Accountants
Doctors
Lawyers
1 - Invest in dividends 💰💰💰
Dividend stocks are a percentage of the profits a company makes that it passes onto shareholders.
And whether the dividends you invest in pay out regular dividends, special dividends or variable dividends, they can be a very profitable passive income stream.
Deciding on how you invest in dividends depends on how favourable the dividend yield is — in other words, the amount of money you earn back for every dollar you invest.
This is something those working in finance, or the financially savvy, will be able to do for themselves. But if you don't want the hassle, you could also pay for a specialist advisor to manage your passive income investments for you.
Either way, alongside having a rental property, this hits the sweet spot of being a low-effort, high-reward passive income idea.

2 - Invest in stocks 💰💰💰
You don't have to be a financial expert to invest in the stock market, simply because there are several options you can choose with levels of commitment to suit beginners and pros.
For example, those looking to take a keen interest could invest in individual stocks, carrying out research, tracking performance and identifying new opportunities. On the other end of the spectrum, you could choose a robo-advisor to invest money on your behalf.
Whatever you decide to do, this is a long-term play and you shouldn't expect to cash out your investments within five years.
And that patience will see you rewarded, with stocks providing an annual return of about 10% on average.
3 - Lend money 💰💰💰
Like any type of lending, peer-to-peer (P2P) lending carries some risks. But that doesn't stop it from being an effective way to earn interest on money that'd otherwise be collecting dust.
Platforms like Upstart and Lendbox connect you with people seeking out loans, with the final decision of whom to lend to coming down to you.
Best of all, there are tons of different use cases for P2P, lending including helping out small businesses and funding housing developments.
This means you can diversify your portfolio and mitigate risks.
Sitting - Best for remote workers and freelancers
If you have a mobile office, you can double up your income simply by being around. Plus there's a chance you get to stay somewhere exciting, or with something furry.
Here's who can benefit most from these lowest of all low-investment passive incomes, as well as a list of ideas:
Graphic designers
Digital marketers
Editors
Copywriters
Online tutors
1 - House sit 💰💰
People with a lot of money tend to have multiple properties. And when some of those properties are vacant, they like to know they're being looked after and not vulnerable to burglary.
So they use apps like TrustedHousesitters and Nomador to find people like you.
Aside from being paid up to $200 per day for your stay, you'll also receive allowances for food and reasonable expenses, meaning you're not paying for them out of your own pocket. And that's before we even come to the bonus benefit.
Regularly changing your scenery could enhance your productivity, meaning you make more active income.
2 - Pet sit 💰
Doggy daycare is no longer the preserve of specialist dog handlers. In fact, just about any animal lover can offer their services via apps like Rover and PetBacker.
Feeding the pets, playing with them and taking them for walks not only doesn't take much time out of your day between 9-5, but it could also help improve your mental health and productivity. All while you earn up to $20 per hour.
That's a win-win if ever I saw one.
3 - Shop sit 💰
High streets in towns, villages and boroughs across the globe are full of stores with low footfall.
So why not man one of these shops while you focus on your active income? Chances are, you'll only have to deal with a handful of customers per day and earn up to $15 per hour for the pleasure.
Conclusion: Diversify your passive income

Going through the list above, it's clear that there's a chance for anyone – regardless of their income – to improve cash flow and achieve financial independence.
And once you've landed on one passive income idea that works for you, you can start introducing more according to the time and budget you have available, just like the Reddit user above. This is what can really shoot your earnings into outer space!
If you want to own a passive income stream up and running by setting up your online store or a dropshipping store, we are here to help you. Start building your online store or dropshipping store with Studio Store. It requires no technical skills.👈
*This blog includes testimony from Reddit, which does not indicate an endorsement from Builder.ai
Liam Collins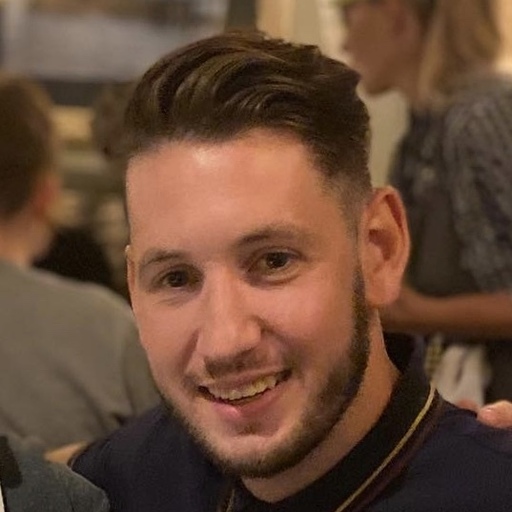 Head of Performance at Builder.ai
Liam is Builder.ai's Head of Performance, with 10+ years' experience of defining, activating and executing digital marketing campaigns. In his work at internationally recognised agencies like MediaCom and MG OMD, he was client lead for large accounts like DFS, Kenwood & De'Longhi and Boots as well as many SMBs, driving commercial growth through bespoke ecommerce and omni-channel strategies.