From revenue generated through app purchases to the number of app downloads, mobile app records keep tumbling down.
For example, in 2022 alone, app downloads reached more than 142.6 billion as consumers flocked to play more games, improve their health and buy products from their favourite brands.
And there are a few good reasons for that:
One of the most important being that app owners are becoming increasingly savvy at marketing their apps.
After all, having a great product alone might not be enough to succeed, with an effective marketing strategy ensuring your app gets the attention it deserves.
In this guide, we'll walk you through how to implement effective marketing strategies across different stages of your app launch:
Pre-launch
During launch
Post-launch
But before we dive into the nitty-gritty of mobile app marketing, it's essential to understand the mobile app lifecycle and why you need a marketing plan to support it.
Why is app marketing important?
With more than seven million apps available across Android and iOS platforms and thousands of new ones being added each month, it's hard enough to get your app noticed, let alone downloaded. Without strategic marketing efforts, your app could easily become a needle in a haystack.
App marketing solves this by shining a spotlight on your app, making it more discoverable and enticing to potential users. It enables you to gain user acquisition, provides you with a competitive edge, enables feedback through two-way communication, educates your users and builds credibility and trust.
It's for this reason that marketing budgets have climbed to 9.5% of a business's total revenue in 2022, according to a report by Gartner.
Here are some other key benefits worth considering: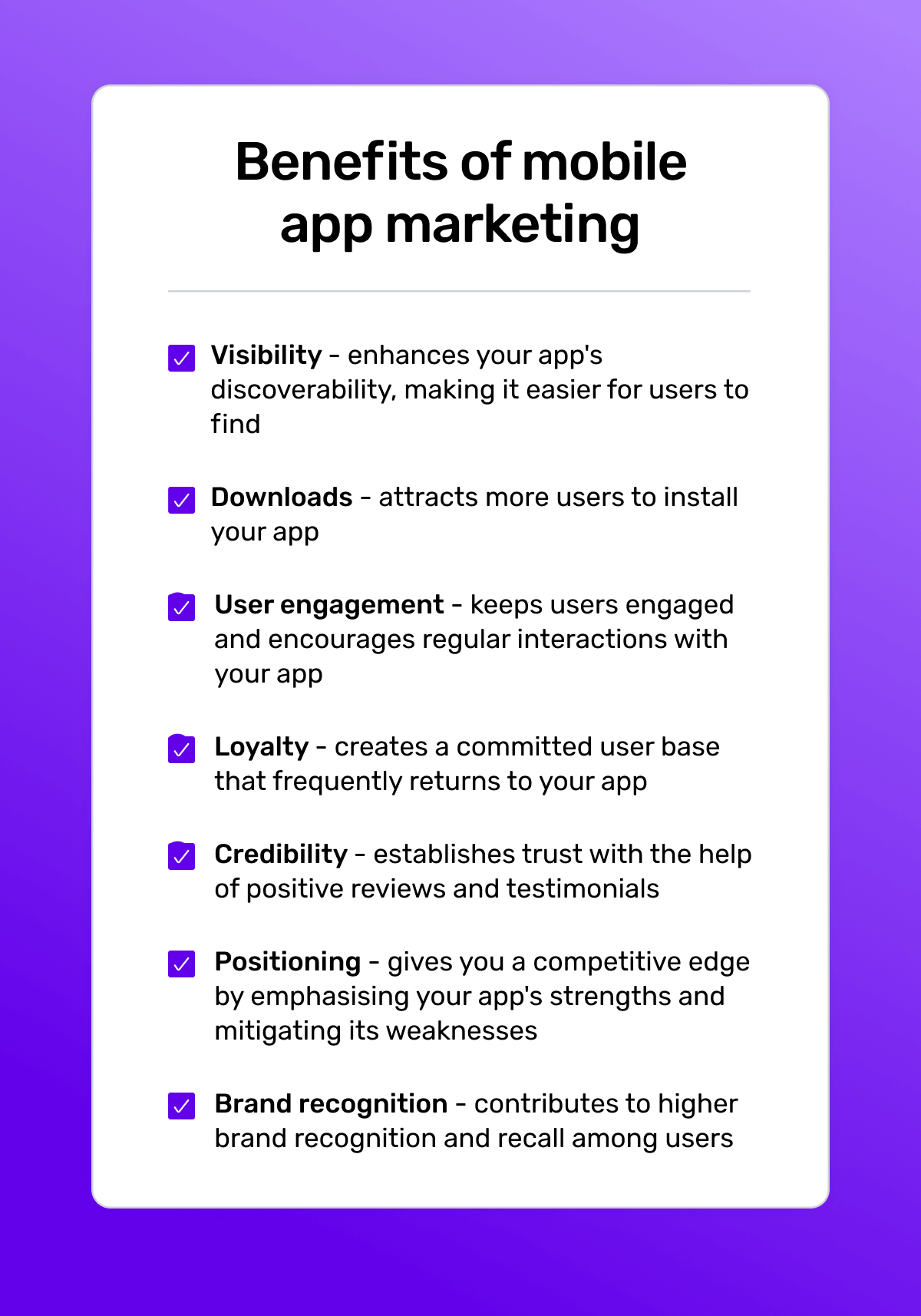 Phase 1: Pre-launch
App marketing starts well before you launch your app to the masses. In fact, it should start before you even create your app. Because the work done before the big launch gives your app the platform to succeed, enabling you to discover your target audience, identify your competitors and gain insights into the market you want to crack.
1 - Market research
Creating successful apps and running effective marketing campaigns rely heavily on one thing:
Knowing your users inside out.
That's why you need to identify your target audience, their pain points and their preferences well in advance of committing to an app project.
This helps you make an app that actually solves problems, while also giving your marketing campaigns more focus, enabling you to spend your budget more wisely.
Another area where market research will help you is to identify your competitors.
Before you launch your app, knowing who they are, what they do well and what they do badly is important. As a result, you can position yourself uniquely in the market, playing to your strengths.
2- Pre-launch landing page
At the pre-launch stage, your app is a long way from being live. So how will your audience know what's cooking under the hood?
The answer is a pre-launch landing page.
This is a web page that allows you to tease your launch, showcasing your brand positioning, unique selling points (USPs) and key app features. More importantly, though, your landing page allows you to capture the contact details of potential users.
For example, you could enter everyone who fills out your form into an email nurture cadence, updating them on your progress, offering promotional discounts and inviting them to launch events.
Because of this, you can start building relationships with your target audience long before you need them to convert.
3 - Email marketing
According to a report, more than 89% of marketers use emails as their primary channels to generate leads. That makes the channel an excellent way to spread the word about your new app.
You need to create an email list to update your audience. You must segment your audience based on their demographics and interests. This'll help you personalise your emails.
After segmentation, run different email campaigns before launch, like educating campaigns, onboarding campaigns, promotional campaigns, feature spotlight campaigns and app launch campaigns.
Remember to keep your CTAs simple and personalised, as Hubspot found that personalised CTA can outperform basic CTAs by more than 200%.
Email marketing proves to be a better channel for marketing as it's an opt-in channel. This essentially means that those who have shown interest in your app are going to receive your content and, therefore, become the most loyal users of your app.
4 - Social media marketing
By posting relevant content on social media, you not only inform your audience about your upcoming app but build a lasting relationship that enables you to reengage with them in future.
Social media is also great at creating awareness among people with no intention of buying right now, but may become customers down the line.
Leverage social media to create buzz about your app by releasing sneak peeks, behind-the-scenes development and countdowns. You can also increase engagement through interactive polls and Q&A sessions to build excitement.
Phase 2: During the launch
The big day is almost here! You're about to launch your app for your audience to use. Congratulations!
Now let's discuss the marketing tactics you can leverage to make it a success.
During the launch or early into the launch phase, your main goal is to create momentum and attract early users. At this stage, you need to be on your toes all the time and be proactive.
That means continuously engaging with your audience by looking into their feedback and refining your marketing approach in real-time. Some of the proven marketing strategies you could use at this stage are 👇
1 - Press release and media outreach
A press release is a sure-fire way to increase your reach beyond your usual audience and gain visibility of your app, attracting a much larger user base.
Issuing one and announcing your app's big launch builds credibility and trust among your potential users, while also having the potential to increase app downloads.
Making connections in the media may also be helpful down the line, leading to interviews that further increase your reach and strengthen your brand.
2 - App Store Optimization (ASO)
App store optimization is necessary if you want your app to be discoverable on the app stores. Both the Google Play Store and Apple App Store use ASO to list and rank your app.
ASO focuses on search relevance and keyword density in your app's description. To do it right, you need to identify relevant keywords that your audience will likely search for and then incorporate those keywords into your app's name, description and metadata.
You also need to make your app icon, screenshots and video previews enticing enough to showcase your app's best features and lure your audience to download the app.
3 - Influencer marketing
Using the power of word-of-mouth advertising can catapult your app's standing within your target user base; especially if you get a well-regarded influencer in your niche to vouch for it.
When pursuing an influencer marketing strategy, you have a range of options and can work with:
Mega influencers - these influences have more than 1 million followers and possess the power to make any marketing campaign an instant success. Work with them if you wish to expand the reach of your brand, but be prepared to pay top dollar.
Macro influencers - these influencers have more than 100,000 followers and are better suited for big-budget campaigns. Work with these influencers if you're more focused on creating awareness and buzz.
Micro influencers - these influencers have followers between 10,000-100,000 but have a genuine bond with their followers. They're better suited for conversation-oriented campaigns that deliver high engagement rates.
Nano influencers - these influencers have fewer followers than 10,000. Because they're so trusted within their niche audience, they have the ability to persuade their followers to actually purchase items.
While mega and macro influencers drive awareness and expand your reach, it's the micro and nano influencers that drive high engagement rates as they leverage word-of-mouth marketing. According to a report, mega and macro influencers aren't that influential and have the least influence over purchasing decisions.
4 - PPC and paid campaigns
Using various textual and visual media, you can run user acquisition campaigns like pay-per-click and display advertising and other paid campaigns to convert customers with buying intent on search engines and social media platforms.
You can leverage platforms like Google Ads, Facebook Ads and Apple Ads to reach your ideal audience effectively.
These campaigns can be costly, so you must track your key performance indicators, like impressions and new user registrations, to track the effectiveness of such campaigns.
5 - Content marketing
Content marketing can be a game changer for your app as it can generate more than 3X the leads compared to traditional marketing while costing 62% less, according to a report.
To do this effectively, you need to provide relevant information to your users according to the stage of the buyer journey they're at.
However, the effectiveness of content marketing might depend on the type of business you're in or the kind of app you're launching. Generally, content marketing works wonders when customers need more information to make a decision. For instance, a general retail app might not need as much content as a healthcare app.
Where content marketing is concerned, search engine optimization (SEO) is likely to be your primary distribution channel, allowing you to reach millions of potential users worldwide.
Phase 3: Post-launch
Finally, you launched your app, and your audience is trying it out for size.
There's nothing more you can do and now it's time to relax, right? WRONG!
That was just a prelude, the movie starts now. At this stage, your whole focus should be on increasing the engagement of your app, retaining your audience, killing whatever isn't working and, at the same time, building a community of loyal user base that stand by you through thick and thin.
Some of the marketing techniques that should be deployed at this stage are:
1 - Engagement and retention strategies
A customer retention strategy is a plan that sets out to build customer loyalty and achieve sustainable repeat revenue. There are many retention strategies you can deploy, like in-app communications, personalisation, push notifications and loyalty programs to keep them engaged and build trustworthy relationships.
Use in-app messaging to notify users about upcoming security patches or feature updates. Convey to your users the discounts, offers and personalised recommendations to deliver value.
Also, don't forget to leverage the power of push notifications, using them to alert your users about promotions and special offers.
If done right, push notifications will increase user engagement at the very least, with companies achieving up to 7x higher click-through rates as a result.
2 - App Store Optimization (again)
According to TechCrunch, 63% of apps are discovered by general browsing in an app store. That's why app store optimization is not a set-and-forget activity.
Instead, improving your app's ranking and visibility is a never-ending process. Until you're satisfied with the number of downloads and ranking, you must need to keep returning and optimising it.
You also need to continuously work on your app store listing by monitoring user reviews and adapting to their feedback while ensuring your listing is visually appealing, informative and error-free.
3 - Explore new social media channels
Yes, Facebook, Instagram and X (formerly Twitter) are important. But more and more millennials and Gen Z are spending time on social media channels like TikTok, Snapchat, Pinterest and Reddit to explore new things.
In fact, simply posting on Facebook and Instagram won't cut anymore. You need to create separate content for Instagram reels and Youtube Shorts and keep your audience engaged by showcasing your app's functionalities, quick tips and memes.
If yours is an ecommerce app or a B2B app, then you need to use Linkedin to share professional use cases and show thought leadership.
You must understand that each platform has a unique audience and engagement style and therefore need to create content that best suits your audience and the platform's tone.
4 - Kill ineffective marketing campaigns
During the pre-launch and launching stage you tend to try everything that you can to score maximum downloads.
However, after your app launch, it's crucial that you track and adjust your marketing strategy.
It's important to recognise what's not working and discontinue ineffective campaigns, as they can drain your valuable resources.
By killing the marketing campaigns that don't resonate with your app, you can redirect your resources towards effective campaigns that enhance user experience and ensures your app's long-term success.
5 - Community building
After you've launched your app, you need to focus on building a community by engaging users on social media, forums and other platforms. By nurturing a community, you not only establish user engagement but make them your advocates who amplify your app's reach.
For this, you need to act swiftly to your user's concerns and bad reviews. You need to be transparent about behind-the-scenes issues and come up with genuine solutions. This way, you'll earn high-quality positive reviews, increasing the likelihood of app downloads by 270%.
To build a community around your app, you also need to give your users reasons and an environment to get together. You can facilitate beta testing of your app, assemble networking opportunities and organise events and parties, fostering deeper connections with and encouraging users to spread word of mouth.
Conclusion
In today's competitive market, where thousands of apps launch every single day, you need to accompany your app's launch phases with a great marketing strategy to stand out.
While developing and launching your app, you can easily become fixated on the app development process and might completely overlook marketing efforts. However, you need to harmonise cutting-edge technology with an effective marketing strategy to become the best app business in your niche.
Working with Builder.ai, you won't have to worry about your development and design process and can focus on your marketing and ways to maximise the impact of your app.
In the pre-launch and during the launch phases, Builder.ai helps you with app store optimization, whether you're uploading an app to Google Play Store or submitting an app to the Apple App Store.
For more app-related tips and tricks, join our community below 👇
Need more app insight? Join the Builder.ai community
Ridhima Gupta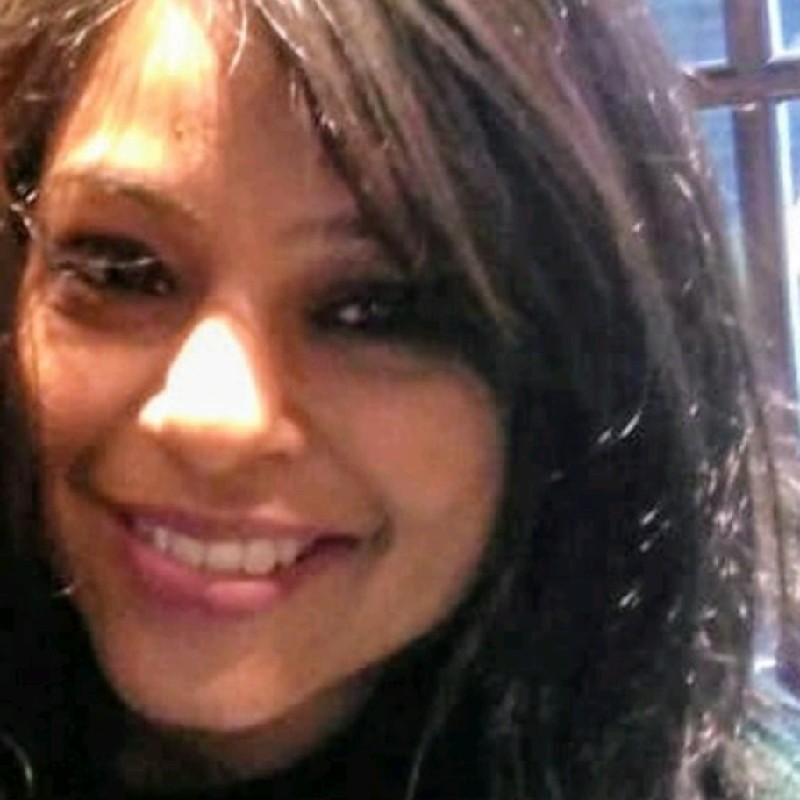 Global Head of Product Marketing at Builder.ai
Ridhima is the Global Head of Product Marketing at Builder.ai. With 16+ years of experience in delivering data-driven, strategic marketing campaigns, Ridhima's innovative approach has accelerated growth within the product marketing and content teams.