As an entrepreneur or small business owner, app store optimization (ASO) may be the 987th thing on your to-do list.
Makes sense, given that you're the captain of the ship, while also being the chef, engineer and deckhand.
But if you've created an app and you want to improve how you sell online, ASO isn't something you can afford to shelve. Especially when you consider that there are nearly 2 million apps on the Apple App Store and around 3.5 million apps on the Google Play Store.
Without it, your app will be listed so low on your chosen app store, potential customers will need a microscope to discover it. But with it, your app will soar to the top of the rankings and secure a hatful of downloads.
The in-app purchases you get from there on in are the difference between your business surviving and thriving.
In this guide, we'll run you through the basics of ASO before sharing best practices from the top ASO experts on the web.
Either scroll or flick through by using the menu below 👇
What is app store optimization?
App store optimization (ASO) is a technique that allows app owners to maximise their visibility on app stores and increase app downloads by including metadata like titles, keywords and descriptions in their listings. ASO is focused on major app stores like the Apple App Store and Google Play Store.
While many compare ASO to search engine optimization (SEO), it's also important to distinguish the two. Holly Lawton, Sales and Marketing Head at document scanning service provider, Pearl Scan, explains:
"The main similarities I've found between SEO and ASO is that reviews are a crucial ranking factor in ASO, rather than one of many factors in a search engine-optimized page," Holly says.
"For example, where you would have product schema on an ecommerce page for SEO purposes, you also need a sizable amount of reviews on any app listing for both social proof and trust signals for the visitor.
"Where I would say ASO differs is that it's much more reliant on the types of factors you can control. For example, search engine optimization is often reliant on external factors such as link building and page speed linked to a certain CMS. Whereas for in-app store optimization, this isn't really the case.
"It's more about focusing on the value of your content, how it's presented, and aspects such as imagery and reviews that truly matter with ASO.
"We've found greater success by focusing on what the user expects to see from a review, imagery and content perspective and not trying to 'game' any app store platform into what we think it wants to see."
Why is app store optimization important?
We hinted about the importance of ASO in the introduction, but there are many more reasons why your company should be doing it. In a Quora post, Kris Aguilar, former Business Development Associate at Gummicube lays some of them out, including: 👇
The affordability of ASO
The necessity of ASO in a crowded marketplace
The ability of ASO to kickstart customer acquisition
1 - ASO is affordable
Kris begins:
When in startup mode, funds and budgets can be tight. The best thing about doing organic ASO is that it can be done in-house. Even better is that instead of paying per install, developers and marketers are paying to cast a wider net that helps establish their overall reach.
2 - App stores are saturated
He continues:
Thousands of apps are launched every day, adding to the millions of apps already live on the store [...] About 70% of apps discovered happen through search which is what ASO helps an app appear in.
3 - It gets the engine going
Finally, he adds:
ASO can mean the difference between 100 users a month and 100 users a day. For a startup trying to acquire new users to either test a product, get funding, or generate revenue, ASO can aid with the user acquisition side of things.
What should you do before you start app store optimization?
Before we speak about the technical elements of ASO, it's important to get the basics right. Anyone who wants to be successful with ASO needs to do the following groundwork 👇
Customer research
Knowing exactly who you're selling to is the foundation of any marketing activity. And ASO is no different.
So before you can optimize for downloads and conversions, you need to create buyer personas.
These should cover the key challenges, motivations and ambitions your perfect customer has, allowing you to create messaging that aligns with their needs.
Competitor research
Peeking on your competitors' app store listings is essential.
That's because by looking at their reviews, you can see what customers like and dislike about their apps and verify them by downloading the app itself.
As a result, you can create titles, write descriptions and create promo videos that highlight your strengths and play on their weaknesses.
How to do app store optimization: 11-step beginner's checklist
Now onto the things you need to consider to make sure your company's app store optimization strategy is on point. See the infographic below for a taster of our best practices and scroll for a detailed look: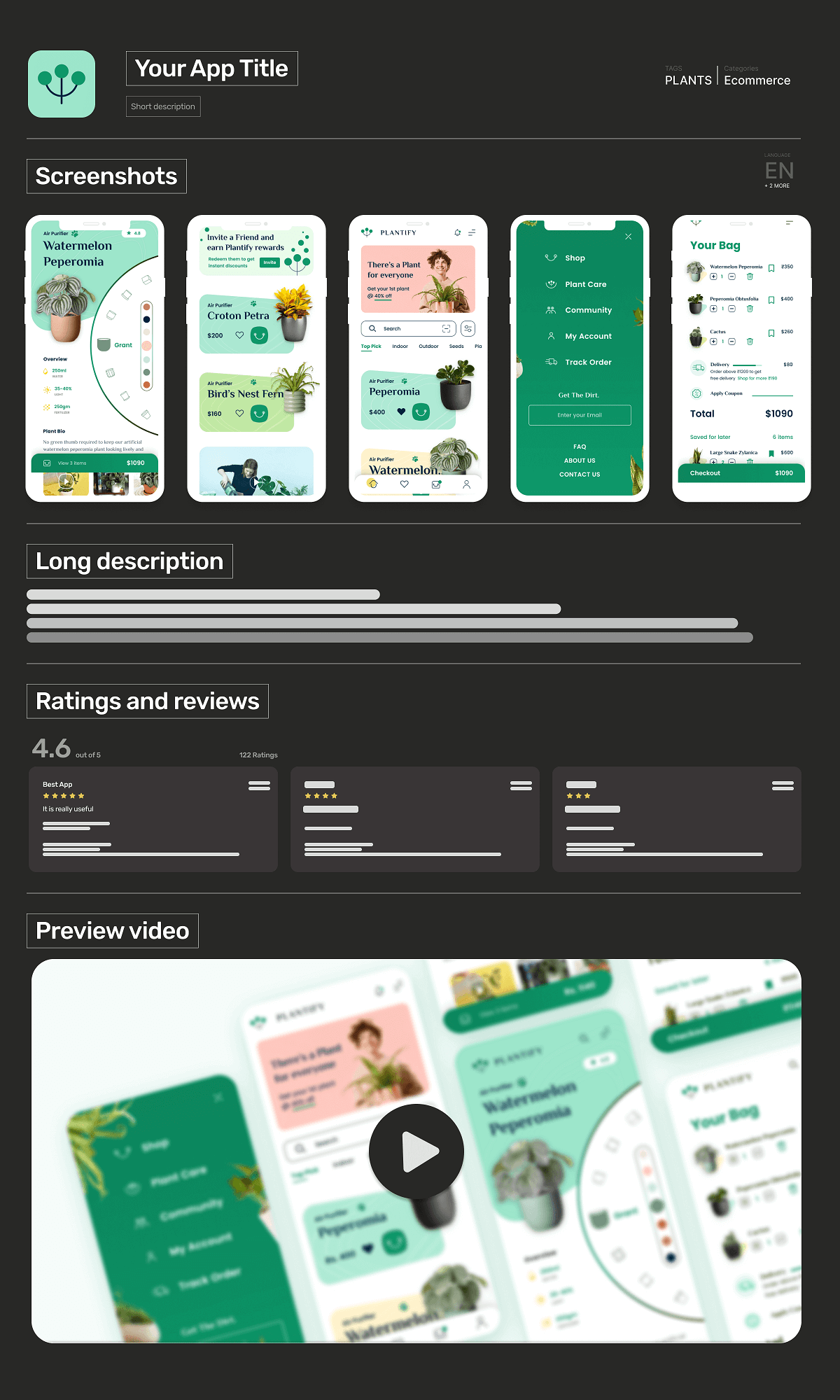 Title - Include your target keyword to make your app discoverable
Short description - Communicate your app's biggest features and benefits in as little as 45 characters
Long description - Explain how you'll deliver the benefits you promise in the short description
Screenshots - Visualise your app's key features, while catering to a range of devices and markets
Preview video - Give users an idea of the look and feel of your app, while calling out key value propositions
Categories and tags - Help users find your app by listing it in the right places
Localisation - Consider the language and cultural requirements of your global audience
Ratings and reviews - Create a quality app that puts users first to ensure you get kudos
Experiment - A/B test different screenshots and descriptions to see which combinations have the best conversion rates
App quality - Ensure you build an app that can scale with your customers' demands
Customer engagement - Use customer feedback to deliver better experiences
Step 1 - Create an app title
Imagine if the title of this blog was "The one thing most people forget to do with their apps".
Sure, if you discovered it via a display ad, you might click on it, because it creates some intrigue. But you'd never discover it through a search engine.
You know why?
Because there's no specific keyword in it. Just by looking at this title, it's impossible to know what this blog is about without clicking. That makes it hard for people and search engines to understand what they're looking at.
So before you choose a title for your app on the Google Play Store or the Apple App Store, use an ASO tool to find a suitable keyword for your title with plenty of traffic. Ideally keep it to under 30 characters. Then stick with it.
Constant chopping and changing of your app title will make it hard for you to grow awareness of your brand.
Top tip
Don't add your brand name, category name or the word "app" as keywords as these are included automatically on the Apple App Store. Meanwhile, on the Google Play Store, there's no keyword section as Google picks them up automatically.
Step 2 - Craft your short description
Writing a short description is the next thing on your to-do list.
While Google Play allows you 80 characters to communicate your app's biggest features and benefits, the Apple App Store has a 45-character limit.
So being direct and concise is the name of the game here.
Including relevant keywords will also help Apple and Google to index your app store listings, but stuffing them won't benefit your users.
Step 3 - Write your long description
Long descriptions give you more leeway to include keywords and explain exactly how you can deliver the benefits you promise in a natural way.
That's because there's a 4,000 character (around 500 words) limit. But don't waste it on waffle.
Adopting the inverted pyramid formula will ensure that you prioritise important information first, detail second and general or background information last.
A call to action (CTA) to download your app at the end will also remind the most committed readers why they're there in the first place.
Top tip
Long-tail keywords which are more specific and have lower search volumes are ideal to include here.
Step 4 - Take screenshots
A study by Store Maven revealed that making a good impression on your chosen app store can increase your conversion rate by 35%.
And screenshots are a key part of this.
Again, it comes down to communicating the biggest advantages you can deliver to your audience as succinctly as possible. To max out the potential user base of your app, be sure to include screenshots optimized for different devices and orientations.
For example, because an iPhone 12 is 5.8 inches x 2.8 inches, the optimum screenshot size is 1125 x 2436 pixels for portrait photos and 2436 x 1125 pixels for landscape.
On the other hand, as a 3rd generation iPad Pro is 12.9 inches x 8.5 inches, the optimum screenshot size is 2048 x 2732 pixels for portrait photos and 2732 x 2048 for landscape.
Step 5 - Record an app preview video
Preview videos help bring your app to life and enhance your descriptions and screenshots. In fact, apps listed on the Apple App Store may even rank higher simply by including one.
Also, as one of the first things your potential users see, it's crucial to create a video that entices users to click through and download.
Rather than simply explaining key features and benefits, though, your preview video should also give users an idea of the look and feel of your app.
This is also a great time to call out your value propositions. In other words, things you can offer that your competitors can't.
Step 6 - Select categories and tags
Imagine how you'd feel if someone told you to go to Starbucks to buy boxer shorts. Confused, right?
That's why choosing the right product categories and tags is so important.
For users to find your app, you need your chosen app store to understand as much as possible about it. On the Google Play Store, for example, you have a maximum of 5 tags to choose from, with the company providing examples of which you might want to choose for your app.
Where the Apple App Store is concerned, you can choose a primary and a secondary category. Apple advises that you should select the former by deciding:
Your app's purpose
Where users naturally look for an app like yours
Which categories contain the same type of app as yours
The secondary category is less important but will still help App Store Search accurately list your app.
Step 7 - Localise your app
When it comes to localising your app, you need to think about more than just translation. That's because cultural context is equally important.
In different territories, for example, a playful tone of voice may be perceived as desirable or inappropriate. Red colour schemes may be interpreted as alarming or exciting. And so on.
As a result, a one-size-fits-all approach is unlikely to bear fruit.
Instead, you should evaluate your audience's requirements in each of your chosen territories and add localised graphic assets.
Step 8 - Compile ratings and reviews
If you cast your mind back to the first section, you'll remember how much Holly Lawton emphasised the importance of positive ratings and reviews to ASO.
And the stats back her up. Apptentive's research, for example, shows that 50% of users won't even consider downloading something with a 3-star rating.
The best way to get positive reviews is to create an app that meets the needs of your target users.
After all, this is the only way you're going to achieve the 4.4+ star rating you need to encourage users who may not be familiar with your brand to download your app.
Step 9 - Run experiments
You know what the worst ASO mistake you could make is?
Assuming that your first stab at it will work forever. That's because optimization is an iterative process.
And you can only work out what works best by comparing different variants of, say, the screenshots, short descriptions and videos you use.
The best way to do this is through A/B or split testing which shows two variants of your app listing at random. Once the duration of the test is complete, you can review which variant produces the best results and make it your permanent offering.
Step 10 - Ensure your app is high-quality
As we mentioned in Step 8, you can't do good ASO without a high-quality app.
In fact, you can bet your behind that the snazziest preview vid and screenshots won't save you from a one-star review if a user can't log in.
That's why choosing how you create your app is so crucial.
No-code app builders are one option. Hiring app developers or an agency is another. But Builder.ai is the only one that combines the main benefits of the two.
To learn more about how you can build a scalable app for a fixed cost, check out Studio Store 👈
Step 11 - Engage with your customers
Although this may shock you, ratings and reviews aren't always bile and vitriol.
So when you receive constructive criticism, be sure to feed it into app development and improve user experience (UX).
As you do this, you'll be able to gain more users by receiving better reviews. Meanwhile, you'll also be able to retain users much easier.
How long does it take for app store optimization to work?
As we explored in the first section, there are some similarities between ASO and SEO. But does that mean the former is as much of a long-term play as the latter?
Max Loel, Senior Strategic Coordinator at Gummicube, clarifies this in a Quora post, covering:
How long each deployment takes to index and return updated rankings
How A/B testing differs on the Apple App Store and the Google Play Store
How to continue optimizing an app for the Apple App Store and the Google Play Store
1 - Indexation
Max says:
Apple indexes an app after each update, which should be done approximately every four weeks to prevent stagnation [...] This indexation process can take three to four weeks to complete, hence why it is recommended to allow a full month for a keyword update to index before submitting another update.
He then explains the differences between indexation on the Google Play Store and the App Store:
On the Google Play Store, there is no declared keyword bank. Instead, Google's algorithm indexes an app's public facing metadata [...] This process can take a bit longer than on the Apple iOS App Store, up to 45 days and sometimes longer, particularly for new apps.
2 - A/B testing
On A/B testing, Max explores the key methods you can use to evaluate the performance of your listings. On the Apple App Store, the assets you should test include icons, screenshots and preview videos. On the Google Play Store, you should test icons, screenshots, feature graphics and promo videos:
A/B testing can be done in a number of ways on each platform. The Google Play Store has a built-in testing tool in the form of Google Play Store Listing Experiments. The Apple iOS App Store historically had no native testing tools.
As a result, Max says app owners and developers need to think outside of the box.
Create alternate store listings with different creative assets, and divert a percentage of traffic to these alternate listings. The test variants (alternate listings) are compared against the control (default listing to measure conversion success. Whichever option is driving the most conversions may be selected to replace the default listing.
Max also urges you not to introduce too many variables when testing and to be patient. Tests should run for a maximum of 30 days and results may become clear at any time during this period.
3 - Optimizing over time
Finally, Max emphasises that ASO is an ongoing process:
While you will start to see improvements in visibility, ranking and conversion within 30 days of your first optimization, this doesn't mean the process is one and done.

Revisiting your ASO strategy from the top after indexation occurs to assess changes in metrics such as conversion rate, click-through rate, as well as ranking and overall visibility will keep your app's metadata and creatives from becoming stagnant and outdated.
Conclusion
For the difference app store optimization can make to your business, it's well worth the time investment. Especially when most of the ranking factors are firmly in your control.
But remember:
It's a pointless exercise if you're marketing a low-quality app that users will hate. To ensure that doesn't happen, create a robust and scalable app with Studio Store 👈
Ananth Ramanathan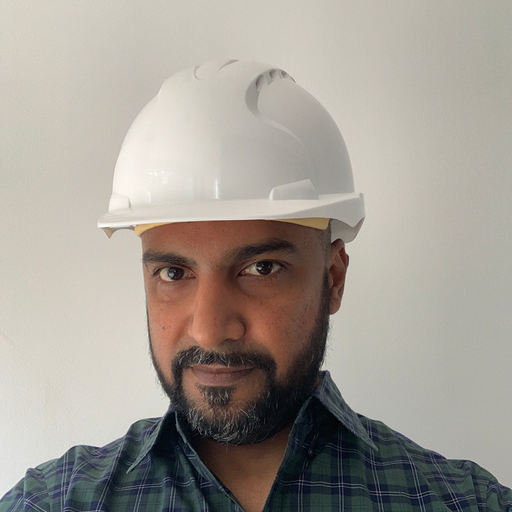 VP Studio Store at Builder.ai
Ananth Ramanathan runs Studio Store business at Builder.ai with a mission of digitising a 1M+ micro SMEs in the next 5 years. He oversees the commercial, product, and customer success functions to rapidly scale Studio Store globally. Ananth's an experienced tech business operator, a failed entrepreneur, and an active angel investor.