You've smashed your pitch deck. Your script is fine tuned. Today's the day you secure app funding. Right?
Well, unless you have the descriptive powers of George R. R. Martin, you'd better hold your horses.
After all, you can't expect investors to accept your app idea is the most impressive thing since the moon landing – and more importantly, part with wads of cash – just because you say so.
No.
Instead of telling them, you need to show them how you're going to create an app that changes the world. And that's where an app prototype comes in.
This helps take your pitch to the next level by visualising your app to key stakeholders, who can experience its flow and provide feedback on it, all without you spending a penny on app development.
More on exactly how this all happens later. But first, here's what I'm going to run you through in this blog:
What an app prototype is (and isn't)
Why app prototypes are key to securing app funding
How you can create your own app prototype
Keep scrolling to knock your investor pitch out of the park👇
What is an app prototype?
The best way to explain what app prototypes are is to compare them with Minimum Viable Products (MVPs).
So, let's think of an MVP as an unfurnished house. You're missing a few of the things you'd need to call it home, but the plumbing works and the lights turn on. And because of this functionality, it takes a lot of time, effort and resources to create.
On the other hand, let's think of a prototype as a 3D model of your house. You can see the floor plan and imagine how you might decorate it, but you can't flush the toilet. With that in mind:
An app prototype is a digital model of an app that visualises your app idea, showcases screen flow and simulates how users could interact with your app. Prototypes have no coding baked in and aren't functional, making them cheaper and faster to produce.
This said, an app prototype is a precursor to rather than a replacement for an MVP.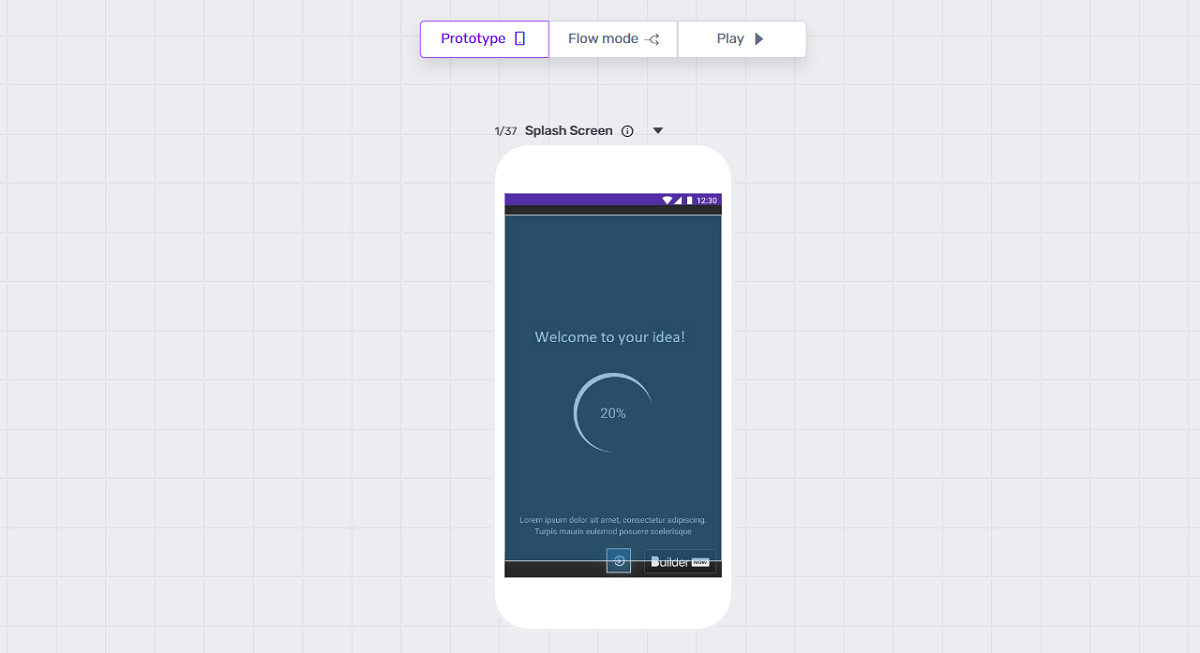 As an example, here's what an individual app screen looks like in an app prototype 👆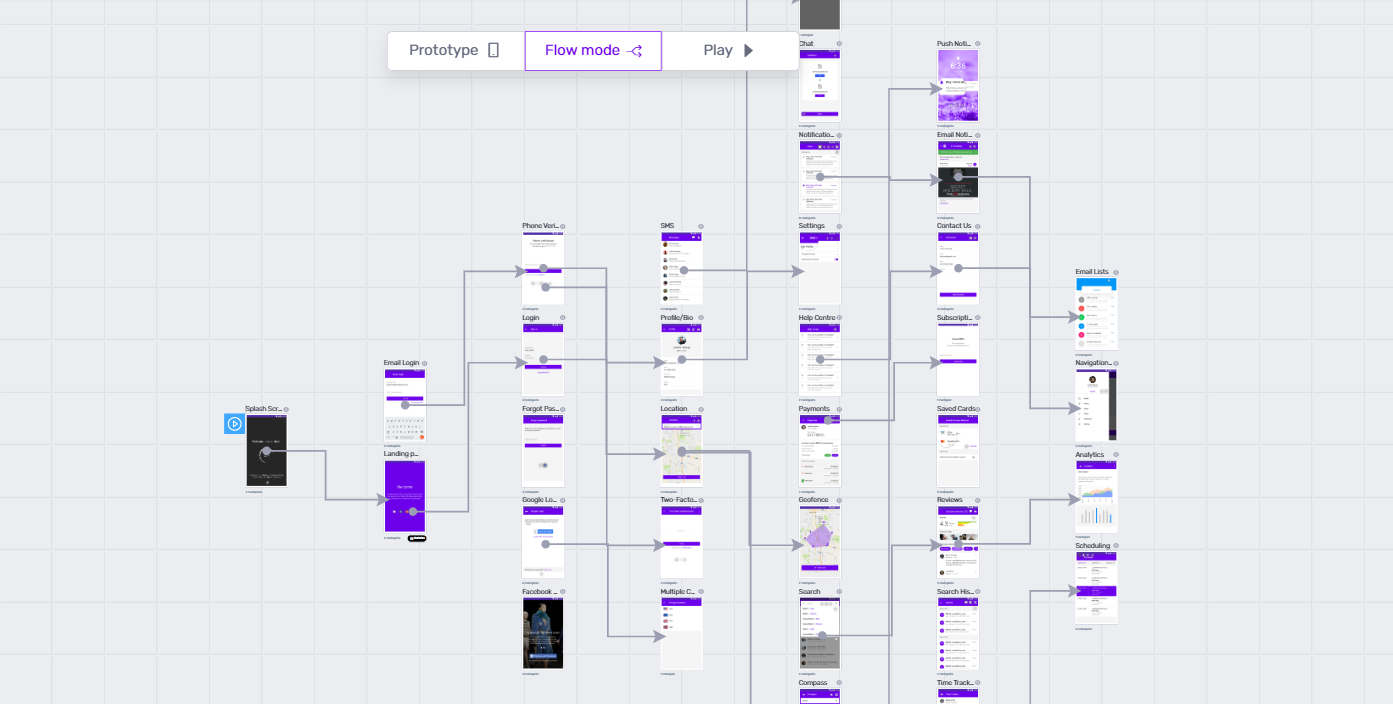 And here's what a full flow, including all your app screens, looks like in an app prototype 👆
Why is a prototype key to getting app funding?
In an ideal world, every entrepreneur and small business owner would be able to create a working version of their app to take to their first investor pitch.
But that simply isn't viable for anyone who doesn't want to pour money down the drain. Especially considering the enormous risks involved in creating a functional app with zero input from the people you're asking to fund it.
Those who take this leap of faith are usually met with the same scenario…
Investors say: "Love it! But I want you to make a ton of backend changes and reimagine the whole flow of your app."
That means you have to go back to the drawing board and invest even more into your project, skyrocketing app development cost.
On the other hand, with a prototype, you're still early enough in your app development journey to test your app concept, get feedback and iterate on the designs before you move on to build the app. Check out their key benefits below 👇
7 awesome app prototype benefits that save you time and money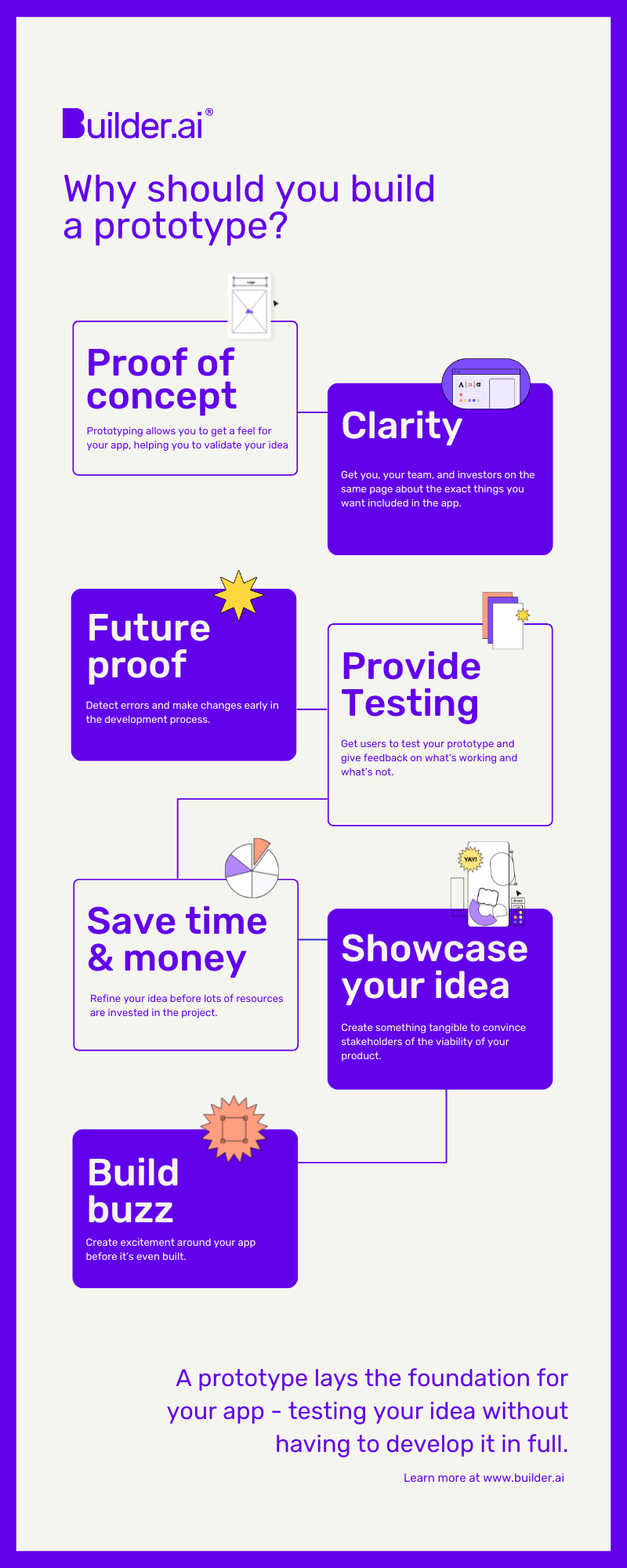 Now, it's time to see what an app prototype actually looks like. Keep scrolling 👇
How can you create a prototype? (and help secure app funding)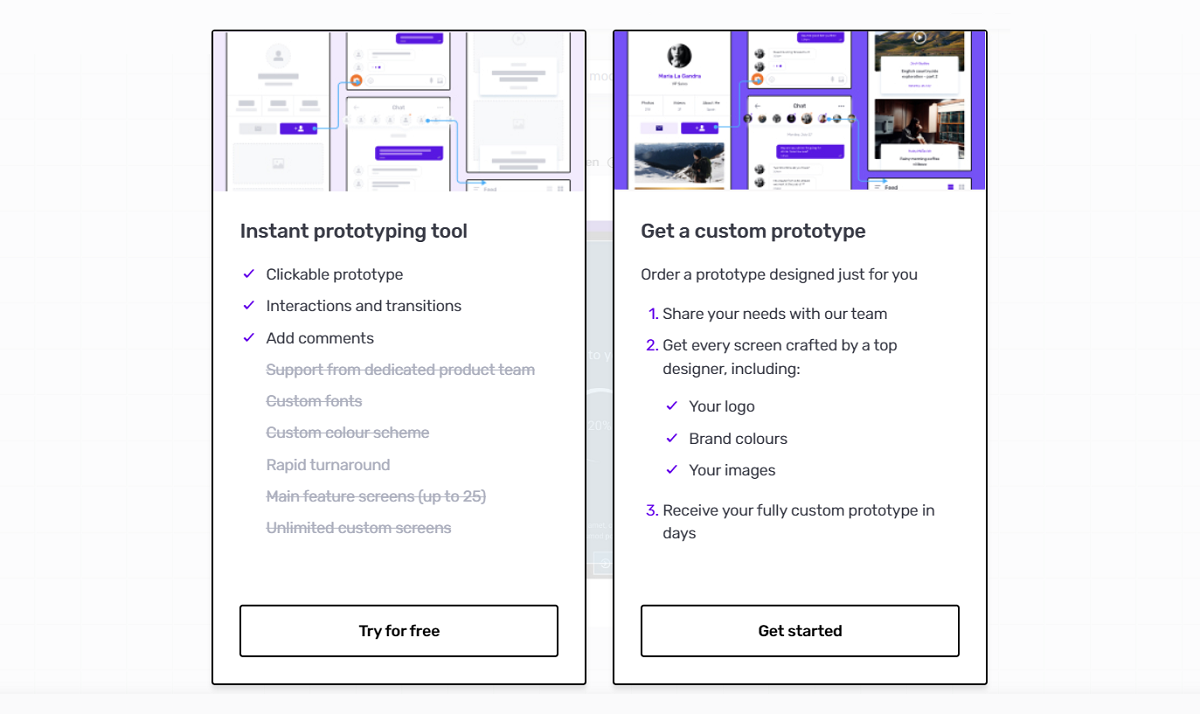 Many app platforms give you the ability to create an app prototype as you can see above from Builder Now.
And although instant prototyping tools give you the ability to visualise a few screens to get a look and feel for your app, the best way to win over investors is by mapping out a full flow with a custom prototype.
This is because it's the truest visualisation of how your app will look in reality. Here's what you can expect from the process of using Builder Now to do this: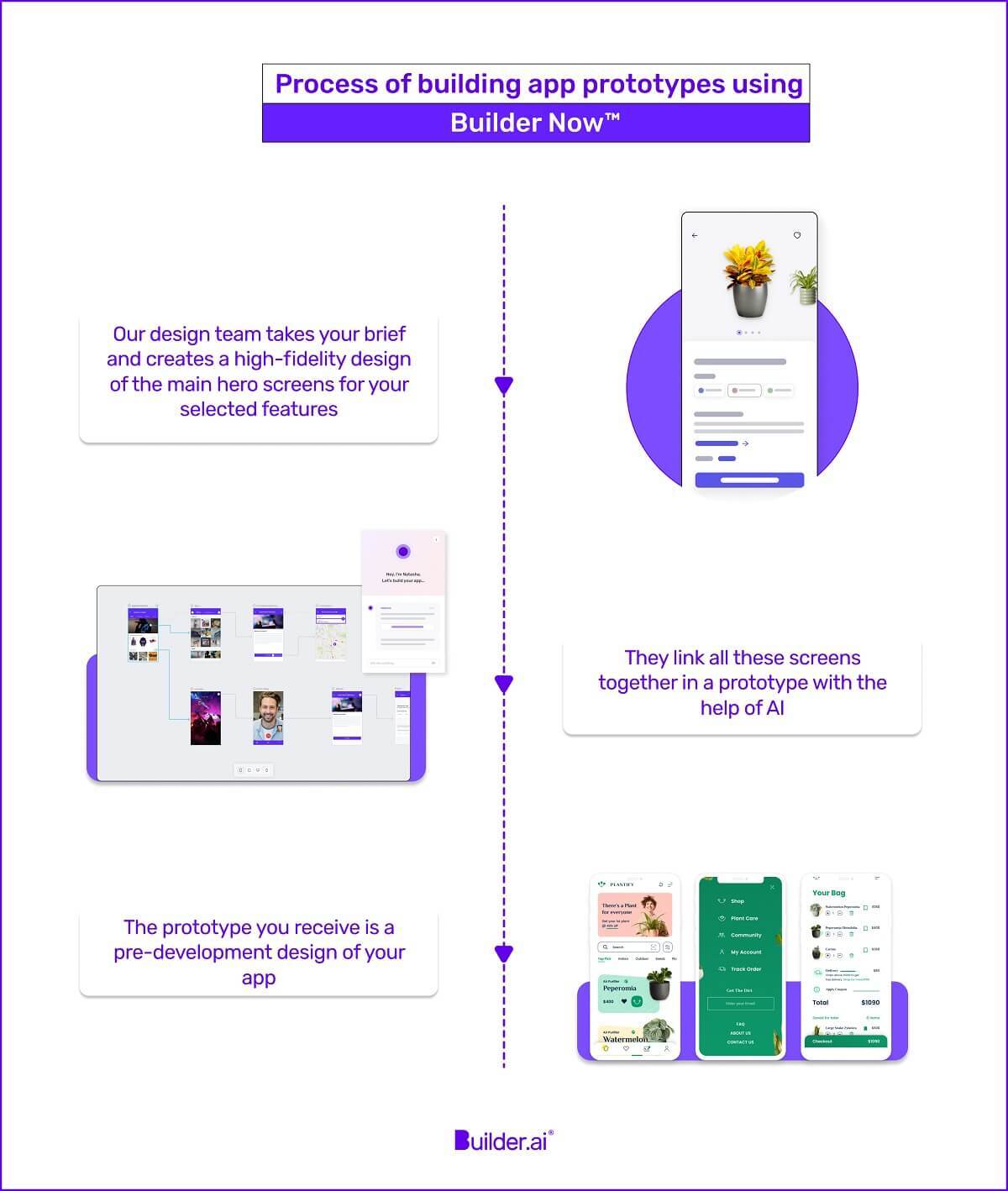 With custom prototype pricing starting at £1,918.80, that's a fraction of the cost you'd lay out for an MVP.
And with Builder Now, you also get a shareable link of your app prototype.
This means all your investor feedback doesn't need to be gathered on the spot. Instead, key stakeholders can gather their thoughts and mull over it, reducing the need for endless meetings to discuss iterations.
If that sounds good to you, head to Builder Now 👈 and explore prototyping today!
Want to start your app project with us?
Book a demo
Speak with one of our product experts today.
By proceeding you agree to Builder.ai's privacy policy and terms and conditions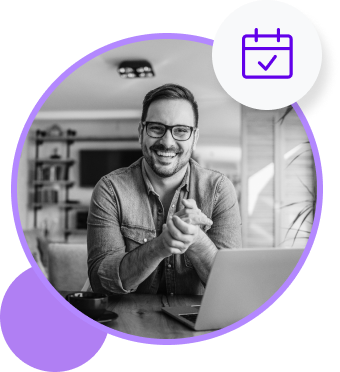 Conclusion: Experience your app before you build it
Your investor pitch is the crowning moment of your journey to securing app funding. And you need to go into this battle with a loaded gun, not one with empty barrels.
That's exactly what an app prototype gives you, becoming the hero of your pitch, a taster of what you can offer and something investors remember.
Best of all, everyone involved in your app gets to experience it before you build it, keeping unnecessary hassle to a minimum.
Priyanka Kochhar
VP of Product at Builder.ai
Entrepreneurial senior management executive of fast growing technology businesses. Successful in taking ideas from concept to profitability, using a blend of lean, agile and rapid result methodologies. A background in building and managing cross-functional and hybrid teams, with a record for retaining talented individuals and delivering results. Skilled in developing and maintaining a clear product and project vision, strategy and roadmap. Willing and able to adapt to changing environments. Often named as a Crisis Manager with a vision to "Make Things Happen".