We'll explain the basics that apply regardless of the logo generator you're using. Next, we'll look at the most popular logo makers available – and how some of them are tricking you! Then, you'll learn the 3 characteristics of a good logo. By the end, you'll be able to create a logo that represents your business.
Why create your logo design online?
Your business is growing. It's time to create the perfect logo that represents your brand. The first thought that enters your mind might be to hire a freelancer. Before you do this, be aware they can be expensive. Small businesses should be especially cautious as their budget is limited.
Luckily, there's a much cheaper alternative available to you. Many online logo maker tools are available. These design tools make it easy to create a business logo that you and your customers will love.

TIP: It doesn't take long to make a logo
Using logo templates makes it quick and easy to create your logo.

How to use custom logo design tools
Now you know these logo design studio tools exist. How do you actually use them? Do you need to be a graphic design wizard?

Good news – they're straightforward to use and require no design experience. The basic user flow is the same across most of these logo creators:

Enter your business name
Add business slogan
Choose a preferred font style
Choose a colour scheme
Choose icons that represent your business (some will let you choose an industry and auto select icons)
Pick favourites from the generated logos
Refine the logo – modify fonts, size and rotation

The exact steps vary slightly depending on the logo generator you use, but it's the same basic idea. The process is designed to be as intuitive as possible so you'll have no issues.

Online logo maker for business
Now you're probably asking where can I create a logo? We're going to look at 3 sites you might consider. Spoiler: we're saving the best for last.
LogoMaker.com
This is probably the most popular of all the logo sites. However, we'd suggest looking elsewhere for your logo. 

Why? Their marketing is somewhat deceptive. They advertise with the 'make a free logo' slogan. This is technically true as you get to make your logo for free. However, if you want to use the logo you have to pay. It seems unlikely that people looking to make a free logo only want to go through the creative process. 
If you're interested in learning about marketing done right, check out our complete guide to online advertising.
In their favour, they do have a wide selection of logos. Their suggestions seem to be less filtered than some of their competitors. This results in a huge library of logos, but with wildly varying quality. Some of them are great while others look extremely dated. 
TIP: Choose the logo with the icon you like
There's no easy way to change the icon used in Logo Maker. Pick the icon you like and then customise the text.
Remember, you don't have to sign up to use Logo Maker. You can have a play around with it right now. However, you need to sign up and purchase the logo if you want to use it. These costs quickly mount up – the basic package they offer costs £32. If you need logo files for your social media then you'll need to get the advanced package that costs £47.
Looka.com
Another popular option and they use the same marketing trick as above. They market themselves as the 'best free logo maker'. As above, it's only the logo creation process that's free. You need to pay to download.
You can experiment with their logo generator for free and see if you like the logos. The logos they offer all have a modern feel. Another point in their favour is the editor is much more advanced. Everything is customisable. It also generates several logos that are similar to the one you've selected. This is great as it helps you explore related ideas you wouldn't have considered otherwise.
However, unless you purchase your logo you can't download and use it. Their basic package is £15, but it only offers a low-resolution image. To get a high-resolution image and full rights to your logo, you need to upgrade to the next package which is £50.

Free logo maker
The options we've looked at so far all cost money. Is there a good option if you want a truly free logo maker? Yes.
Namecheap's logo maker
The domain and hosting site Namecheap has created a 100% free logo maker. All that's required to download your logo is to sign up with your email. Oh, and it's not just one image you receive. The download includes a large selection of sizes that cover the majority of uses.
The logos it generates are arguably the best designed too. They're modern and somewhat minimalist. The exact style you'd expect small businesses looking for professional logos to want. The editor is easy to use and offers a range of customisation options. Lastly, you own the rights to the image.
Namecheap offers a free logo creation tool that's truly free. They do have a related service printing business cards. This is paid, but you don't need to use it.

What makes a good logo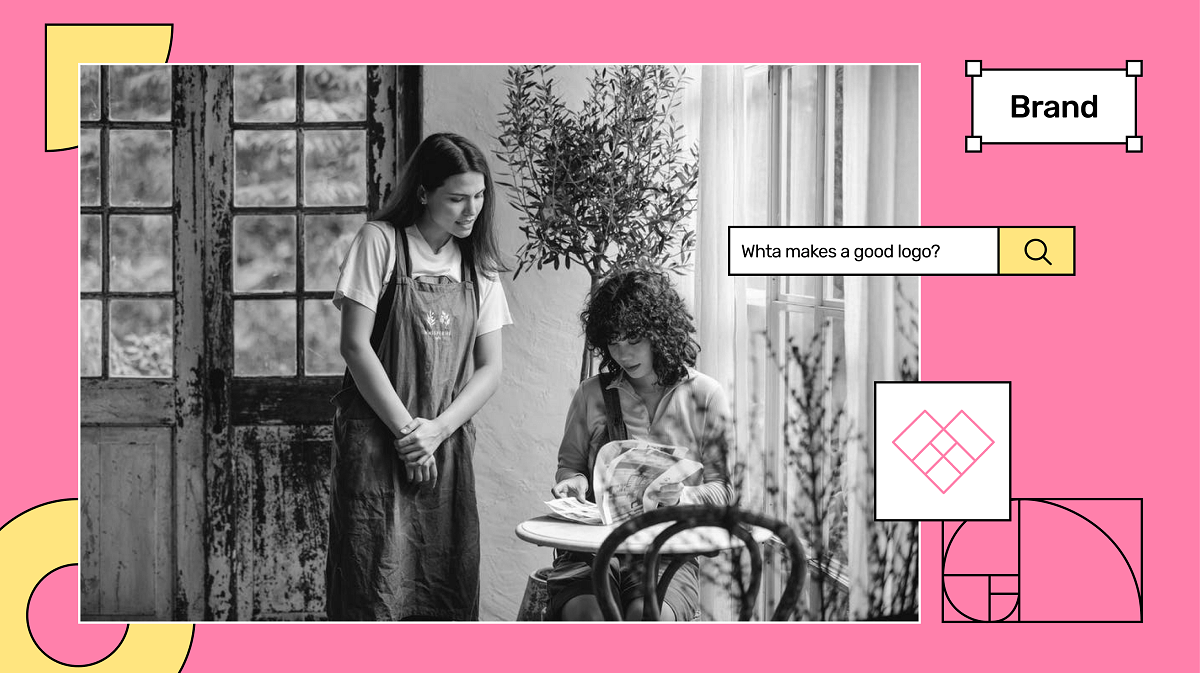 Now, before you run off and start tinkering, there are a few ideas to keep in mind as you design your logo.

Depending on who you ask, you'll get all sorts of answers. We advise you to keep 3 characteristics in mind. Luckily, the online logo generators make it difficult to accidentally ignore these guidelines.
1. Original
You don't want your logo to look like anyone else's. There's a good chance potential customers will think you're a scammy brand. Even if they don't, you don't want to indirectly advertise another company.

It doesn't matter how much you like a company's logo. Ensure your logo looks original.
2. Relevant
Your logo represents your brand. Let's imagine you run a garden centre. What would be an appropriate image to base your logo around? A laptop? Hopefully, you think that's a ridiculous idea. A laptop has no relevance to the garden centre business. A plant or tree would be a more relevant image.

You also need to ensure it matches well with your business name. You do have a name picked, right? If that's still undecided, go check out this handy article: '6 quick steps to create a successful business name'.

Make sure the imagery in your logo reflects your business name and what you do. Is it relevant?
3. Understandable
A great logo is pointless if no one can see it. Don't make it so cluttered that people can't see what's going on. All the design elements should be clear and understandable.

Additionally, your logo will be used across a range of formats at very different sizes. The key messaging of the logo must be understandable at all times.

Final thoughts
We've looked at what goes into a good logo and explored a few online logo makers you can use. We recommend Namecheap's logo maker as it's free and produces logos with a professional design.

Once you have a logo for your business, what's next? We recommend getting an app. It's a great tool to grow your business. Not sure you need an app? Check out 'Mobile apps for small business - the complete guide'.

Our Studio Store apps are pre-packaged apps that come with everything your business needs to grow.  We handle all the technical details. Upload your new logo, add a couple of details and your part is done.

We're looking forward to seeing your logo out in the world. And hopefully in one of our apps!

FAQs
1. What's the best free logo maker?
We recommend Namecheap's logo maker. It generates professional logos that are 100% free to use. Your completed logo is available in a large selection of sizes that cover the majority of uses. 
2. Can I copyright a logo I created on a logo maker website?
As long as you receive full rights to the image you should be able to copyright it. The 3 sites we listed give you full rights to your logo. The exact copyrighting process will depend on your country's local laws. 
3. What's next after getting my business logo?
It depends on how far along you are. New business owners will benefit from our guide: 'Starting an online business - PSCM method'.
If you're a bit further along, then we recommend getting an app. Our Studio Store apps are pre-packaged and come with everything your business needs to grow. All you need to do is upload your logo and add a couple of details about your business. We handle all the tech stuff so you can focus on growing your business.
Greig Robertson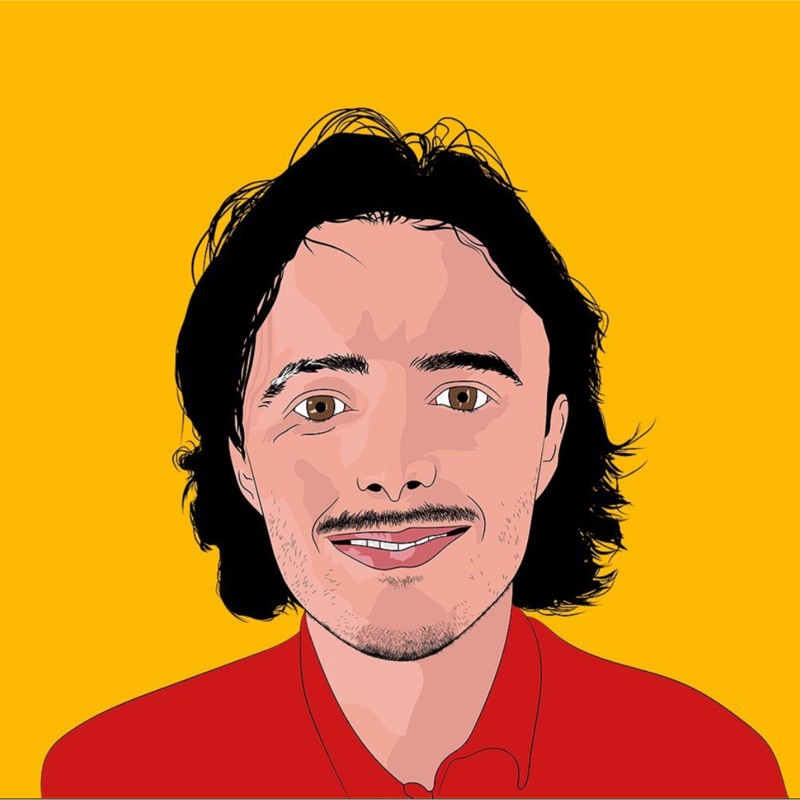 Greig is the Digital Content Lead at Builder.ai and a University of Bristol History grad. He has 5+ years' experience in B2B SaaS, creating data-driven, human-friendly content for high-growth tech startups. When Greig needs a dopamine hit, he checks Builder.ai's keyword rankings.