What kind of news apps can you build?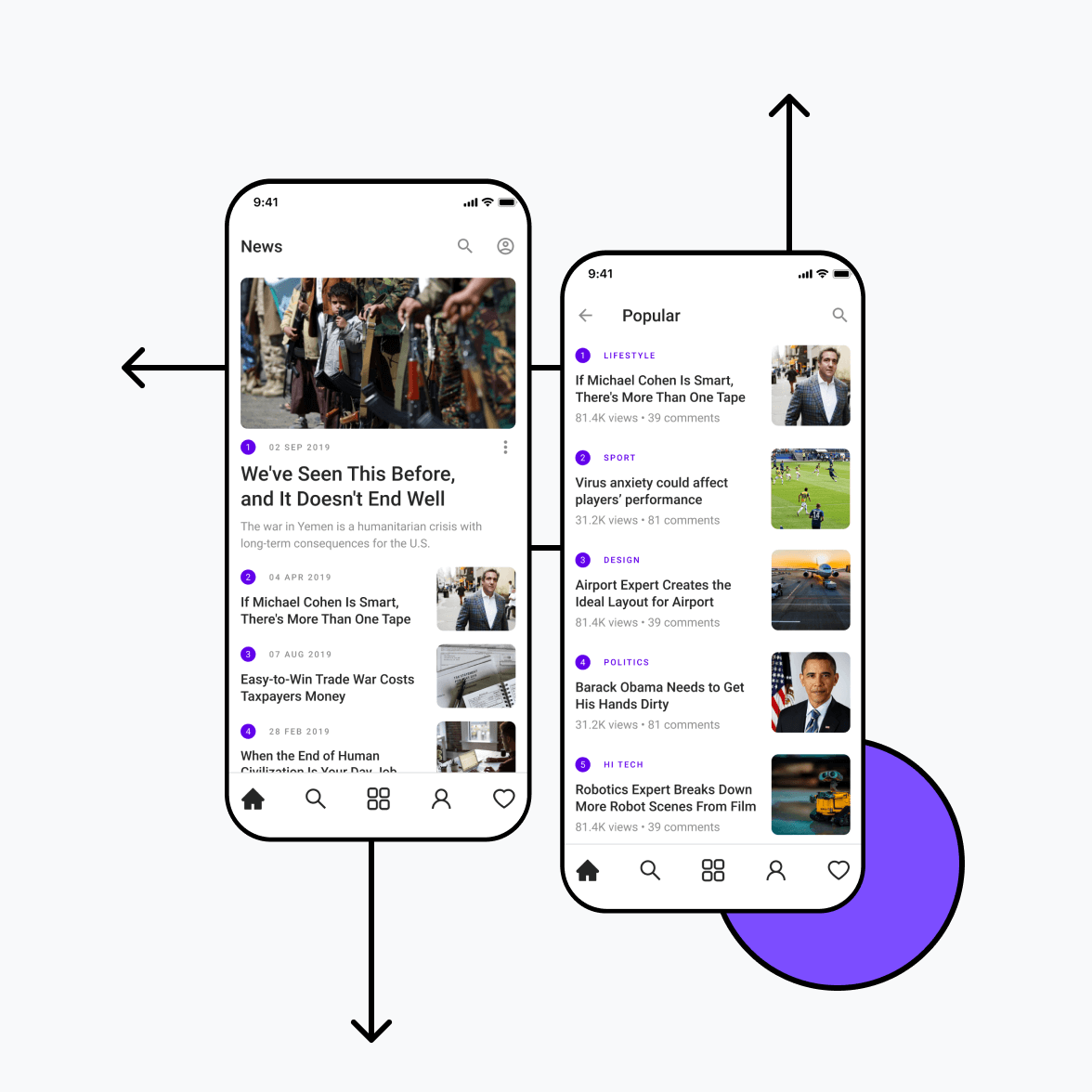 You've got an app idea, we want to help you build it. There is a wide range of news applications to choose from. So before you start, let's have a look at what kind of news apps you can build with us.

Branded News Apps: Do you run a media house, magazine, or publication? If you do, build a branded news app like The New York Times, BBC News or CNN. These apps publish news from in-house editors or contributors letting you bundle breaking news, business news and other news stories in a great looking app.
News aggregator: You've got a community of readers and want to serve them news from around the world? Then build a news aggregation app like Google News, Apple News, Yahoo News, Feedly, Pocket and other popular news aggregator apps. These apps collect information/news from all over the web and post it in one place. 

Blogging apps: Are you a Blogger? These apps let you publish your blog stories on mobile platforms. They work in sync with your online blog (a website) or can run independently. Millions of bloggers out there are curating stories on websites and apps every day – why not join them?

Community-based news apps: These apps work as a community platform for news editors, bloggers and PR agencies. People simply register on these platforms and can publish their stories on a range of topics. Medium is one of the most famous community-based news apps.

Start building
What features to include in your news app?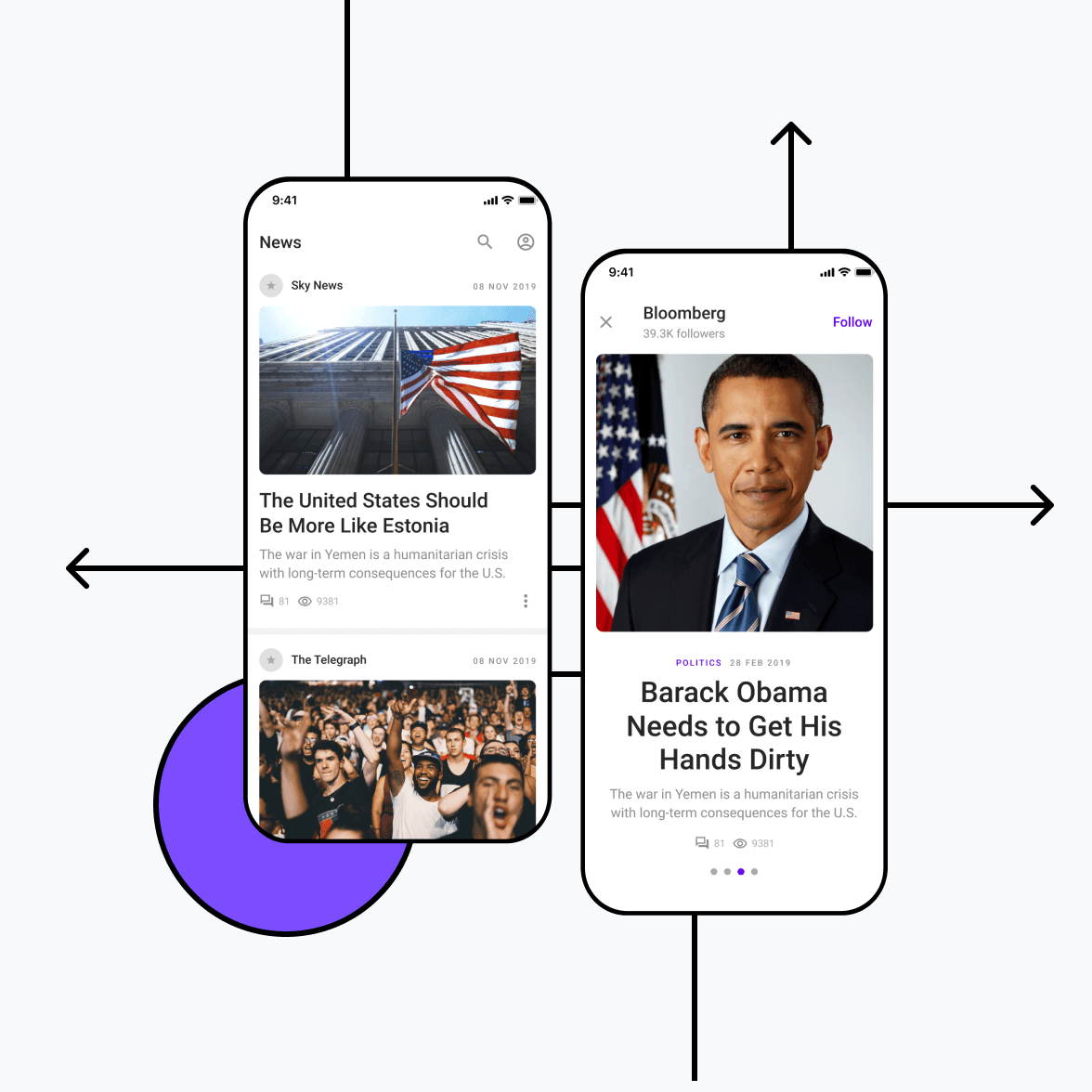 News is fast-paced and your reader's attention spans are short. Having the right mix of features to get the stories they want to read to them fast, will determine whether your app becomes a favourite or gets uninstalled. 

Categories: You'll need to categorise your news to make navigation easier. It also gives easy access to the different sections of your mobile application helping your users find popular news stories. Running a tech publication? Then electronics, wearables, operating systems and software could be some hot categories on your app.
Read or Listen: Read it or listen to it. How cool does this sound? Give your readers full freedom to consume their favourite news when they don't have time to read it. Add an audio option to your story and make it happen.  
Search and filtering: You need a smart search feature in your app when it comes to news content. There could be millions of stories on your app, as time passes and you never know what your users may search for. Your search should give the most accurate results from your database.
Social integration: "I love the story (or it's made me really angry!) and want to share it with my friends." This feature lets a user share news updates on social networks. Have a social share button on your app and help your readers spread your words. 
Email alerts: A must-have feature for both publishers and readers. By subscribing to your news feed via email alerts, users get their favorite stories delivered in their inbox, where you get a chance to drive them back onto your platform. 
In-app purchases: Do you want to monetize your app traffic by selling monthly subscriptions? If so, we recommend in-app purchases for your news app. A multi-payment system gives your readers broader options on how to pay – making it more likely they will. 
Comments and likes: Let your reader express their views by liking or disliking and commenting on the stories they read. It makes your app much more engaging and encourages social sharing. 
Push notifications: New news is what it's all about. Send news alerts every time you published a story. Stay connected with your readers and engage them with relevant news.Add to your user experience with the help of push notifications. 
Easy registration and login: Like any other on-demand apps, if you are planning to monetize your app traffic by selling the subscription, event tickets, books, white-papers or e-magazines then this is the must-have feature.

Start building
6 steps to build a successful news app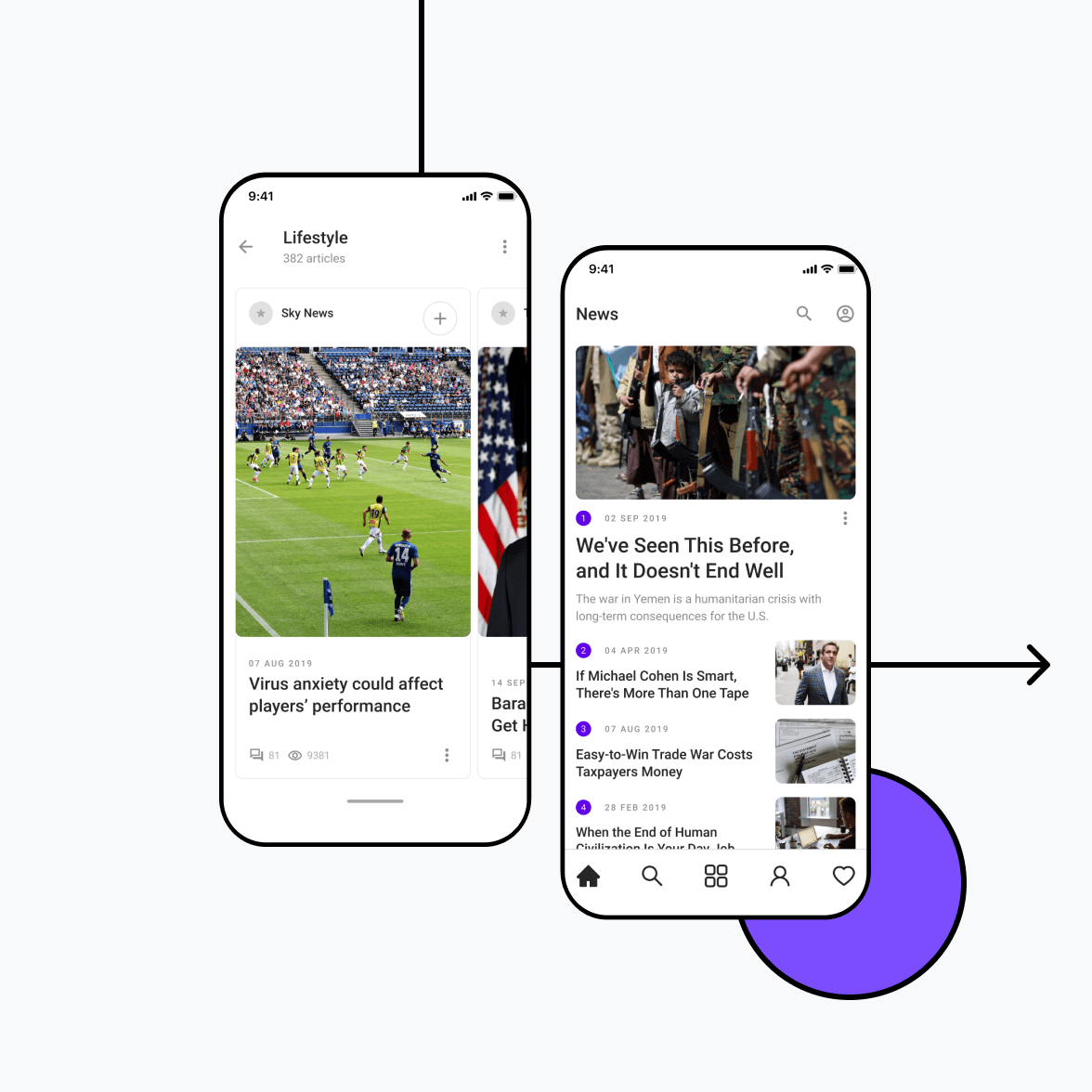 Decide on the type of app: Decide on the type of news app you want to build with us. Whether it's a branded news app, news aggregator, or something else entirely (we can build anything you want).  

Choose the most similar app to your idea: Choose the most similar app to your news app idea and start the building process. 
Select the features you want: Our AI suggests useful features from our library of over 500 - add any extras you want, remove any you don't need. It's that simple. 
Select the launch platform: Do you want to get it developed for iOS, Android, Web, or wearables? You could get an MVP (a bare bones version) in one. And then once it's tested and you're happy, add other platforms. 
Select the team and delivery time: Where do you want the team who'll assemble the features and get your news app ready for launch? Also, choose how quickly you want your project to get delivered.
Launch the app: Your code is ready, now launch it on the platforms you've chosen and make headlines.

Start building
Case studies
Solving complex business challenges for global brands like NBC Universal, Fujitsu, the BBC and Pepsi.