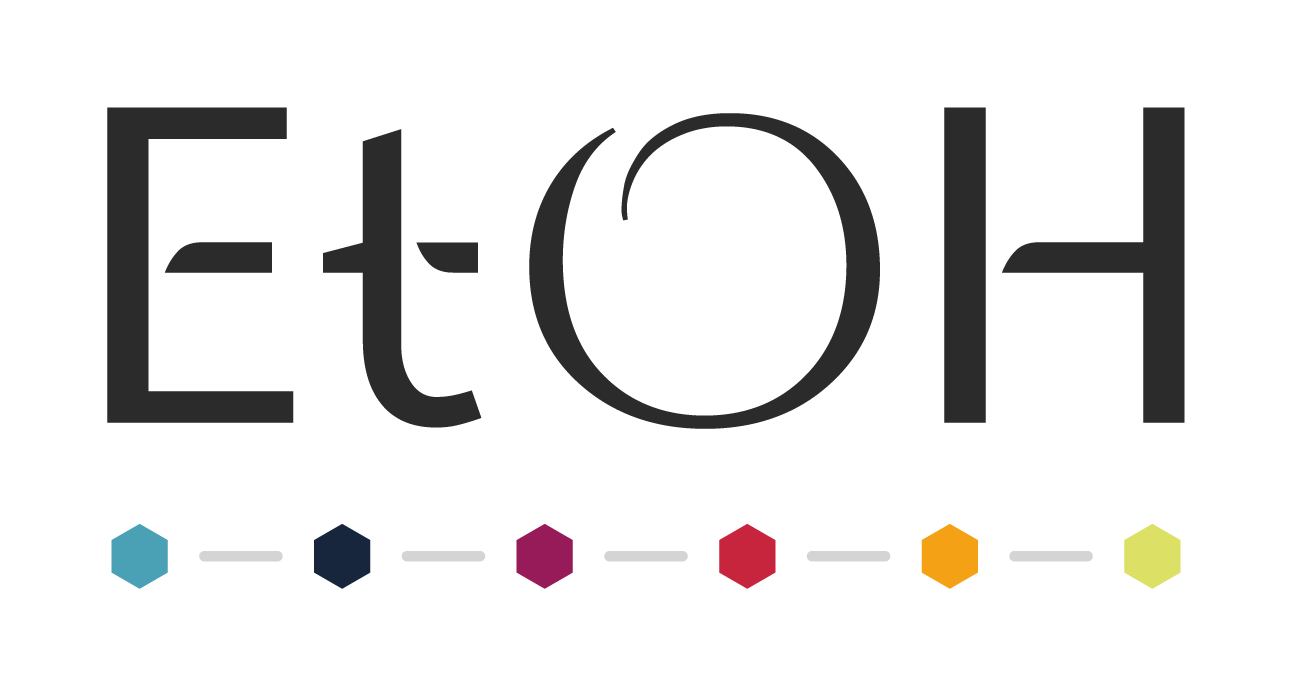 EtOH
Technology in the wine, spirits, and beer industry is as vintage as the whiskey barrels. EtOH Suite levels the playing field by giving small and medium businesses the same digital advantage as large companies.

Know more about EtOH suite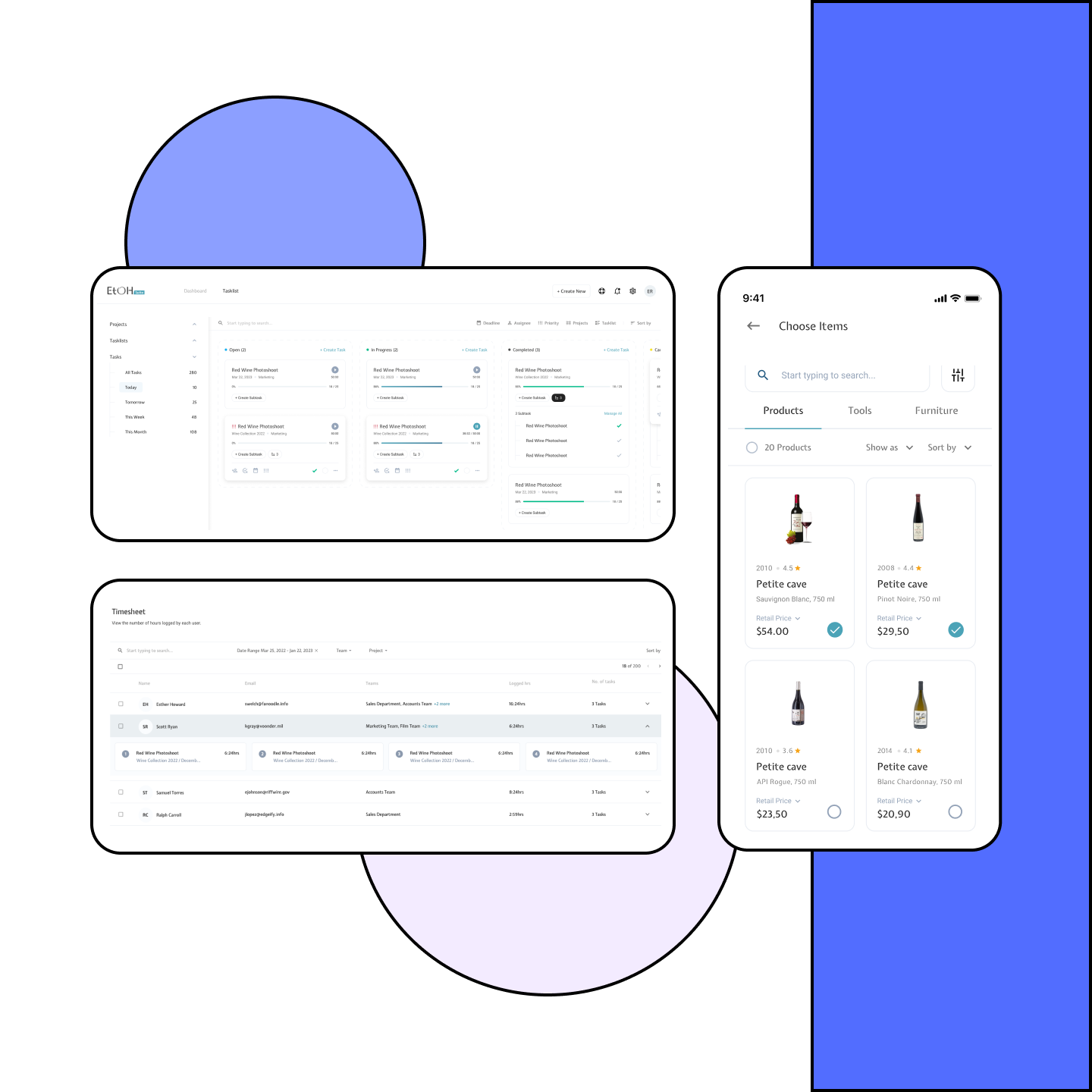 Create a level playing field in the wine, spirits, and beer sector.
Challenge
So many businesses in the wine, spirits, and beer sector are stuck with poorly designed desktop software and outdated tech. This means they can't compete with larger companies that can afford expensive and expansive digital product suites.
Solution
The EtOH Suite creates a level playing field by giving small and medium-sized companies the same digital advantage as larger companies, through an all-in-one platform. It helps to manage production, projects, sales, and marketing from the field - or vineyard!
Book your free demo today
We recommend Builder.ai. They take care of everything, allowing us to focus on the idea and the business while their highly skilled team handles the technical aspects. We were so pleased with their work we have already begun development on another Builder.ai app: EtOH Coach.
Creating a level playing field
With the EtOH Suite, companies can manage all their operations from end-to-end, wherever they are. They can add their entire inventories including sites, tools, assets, materials, and product lines. They can also create, track, and update all their projects, deals, and associated tasks. This gives small to medium-sized companies the same level of visibility, traceability, and control as enterprise organisations.
A clever and connected solution
The biggest benefit of the EtOH Suite is that everything is interlinked. It's Alexandre's favourite feature, "everything is connected. Inventory management is connected with task management, which is connected with people management."

This makes it easy for companies to trace a product back through the entire production process and see every site, tool, asset, and material used to create it. It also provides them with a clear picture of where they're spending their time and money.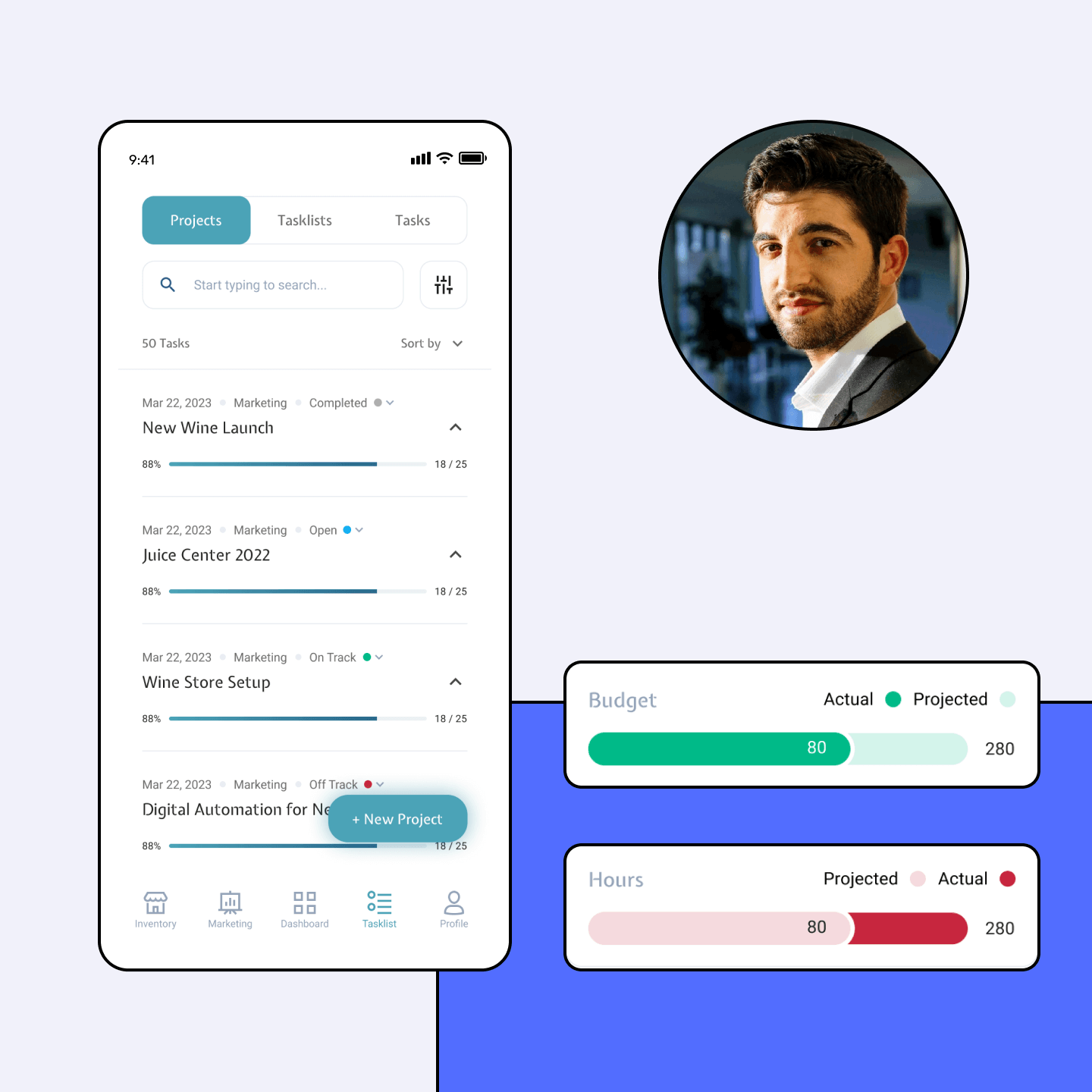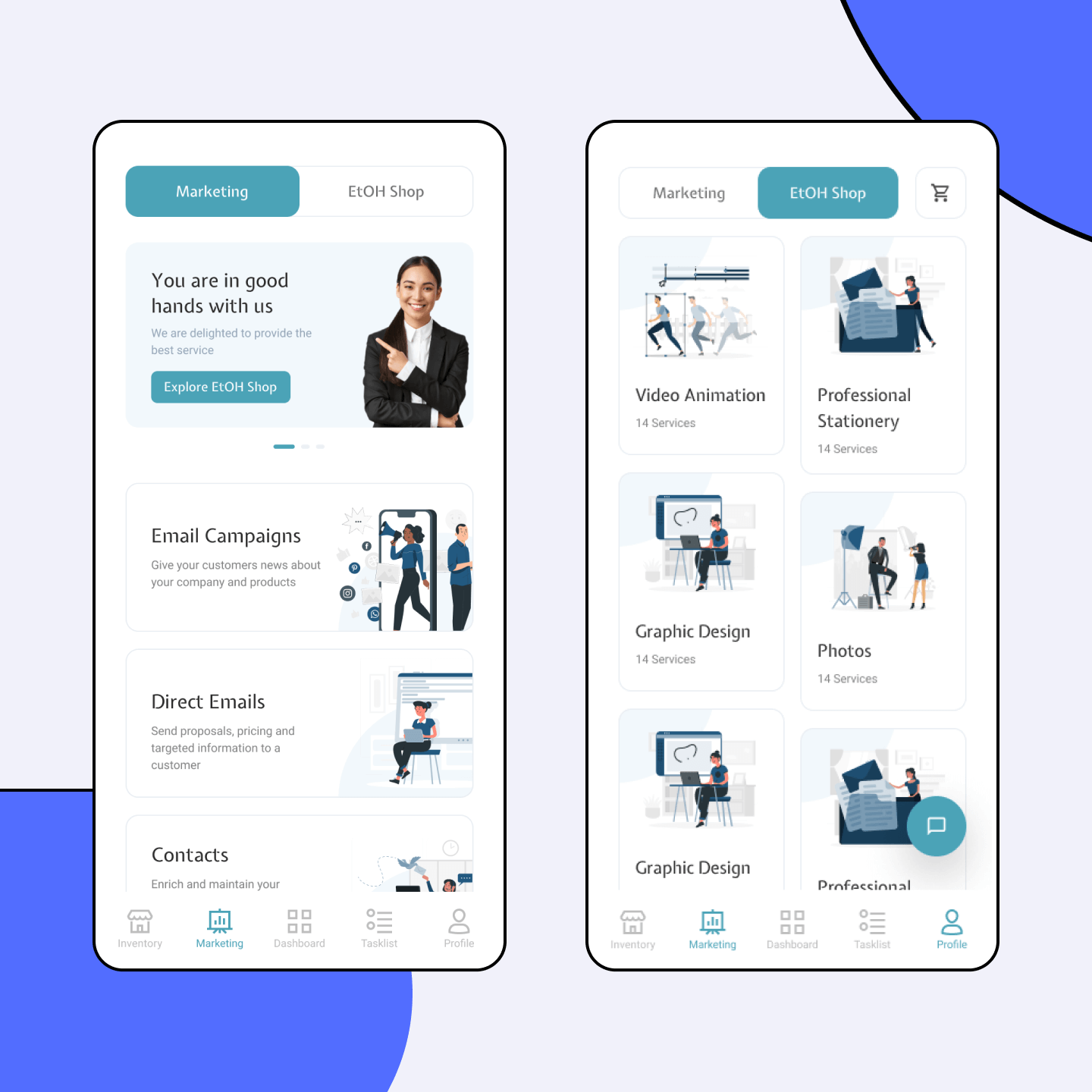 Choosing the right tech partner
Before undertaking such a huge project, Alexandre knew he had to choose the right tech partner, "transparency and simplicity were key factors in choosing Builder.ai over the alternatives."

"I absolutely recommend Builder.ai. You just have to have the idea, they will take care of the rest." Alexandre also had a lot of praise for the Builder.ai team, "they were genuine, easy to talk to, and extremely helpful right from the specification phase. They even challenged our ideas to ensure we were building the right thing."
New regulations require companies to understand their impact on our planet. A major reason smaller businesses don't have Environmental, Social, and Governance (ESG) initiatives in place is because they lack information on how to take action.

The EtOH Suite doesn't just help companies to work more efficiently, it also helps them understand how they can have a positive impact on the environment through the built-in e-score survey, "It's exciting to see how our tool helps companies streamline their operations in the wine, beer, and spirits sector."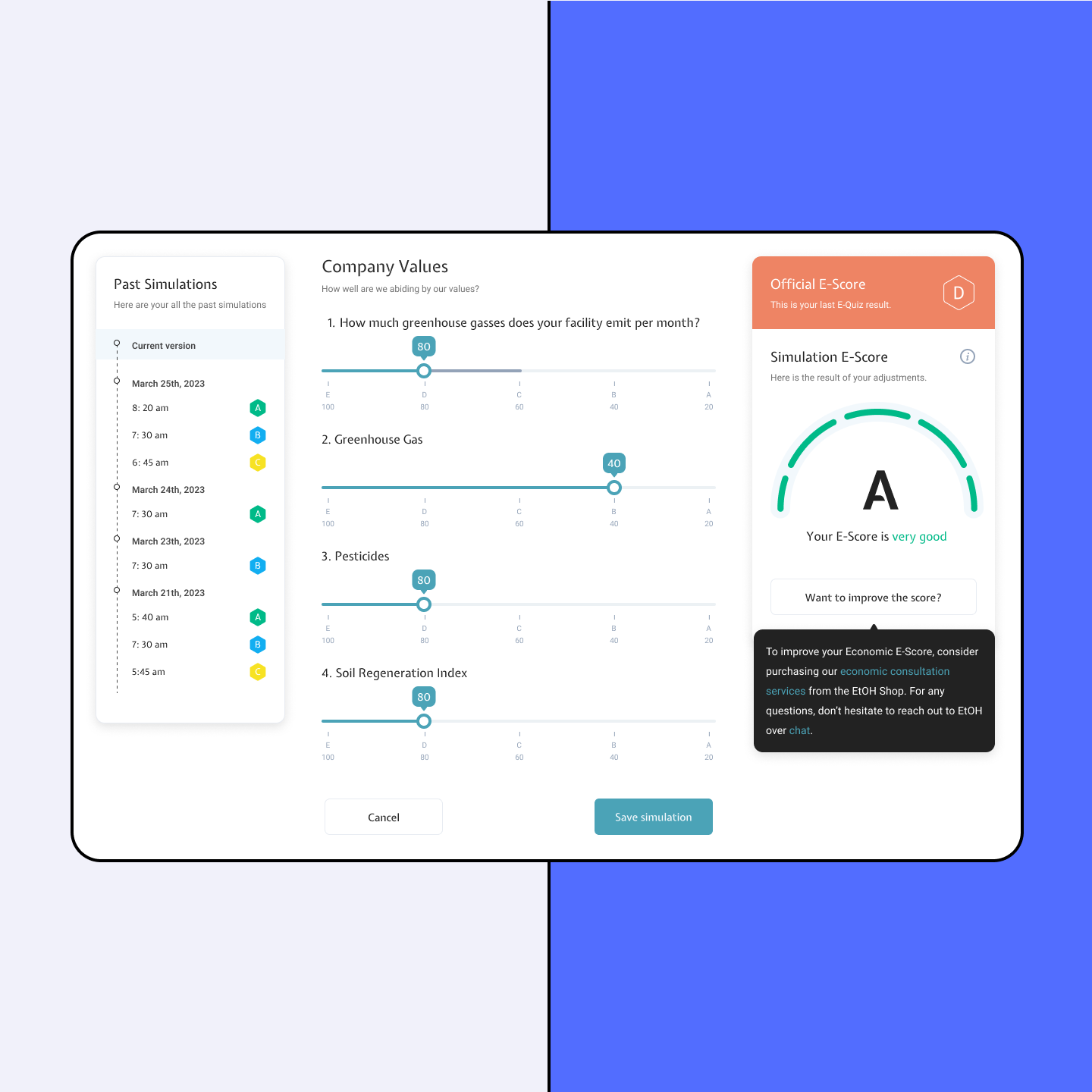 Some of the features used
Time Tracking & Billing
Track hours worked to quickly calculate payments due, manage time and productivity.



Order Management
Orders can be entered and processed. Gives users a way to instantly see how many orders have been made, and the progress of each order.

User Groups
Assign users to groups and allocate different levels of access to each group. The feature provides the means to manage group activity, permissions and members.
Statistics & Reports
Users can discover how the content they publish is performing. A single dashboard shows pageviews, bounce rate and time on page, giving insight into what content is working best.

Scheduling
Enables efficient personal appointment, meeting scheduling, and event planning via a user-friendly interface. It helps users stay organised and on track.

Task Allocator
Assign tasks to other team members from a central dashboard. Includes fields for date due, task details, and who's been assigned to the task.

Pepsi Case Study - Builder.ai®
We created a B2B ecommerce app for Pepsi at a fraction of the cost. Automating the order process and enabling their resellers to order online. Read the full case study here.
Software as easy as ordering pizza