Build a grocery delivery app - fast
Selling groceries has become a political issue. Suddenly, being digital-first has gone from nice-to-have to utterly essential. In such uncertain times, the last thing you want is take any unnecessary risks. That's why we offer a low monthly price with everything included. And you can get your grocery mobile apps in just 2 weeks!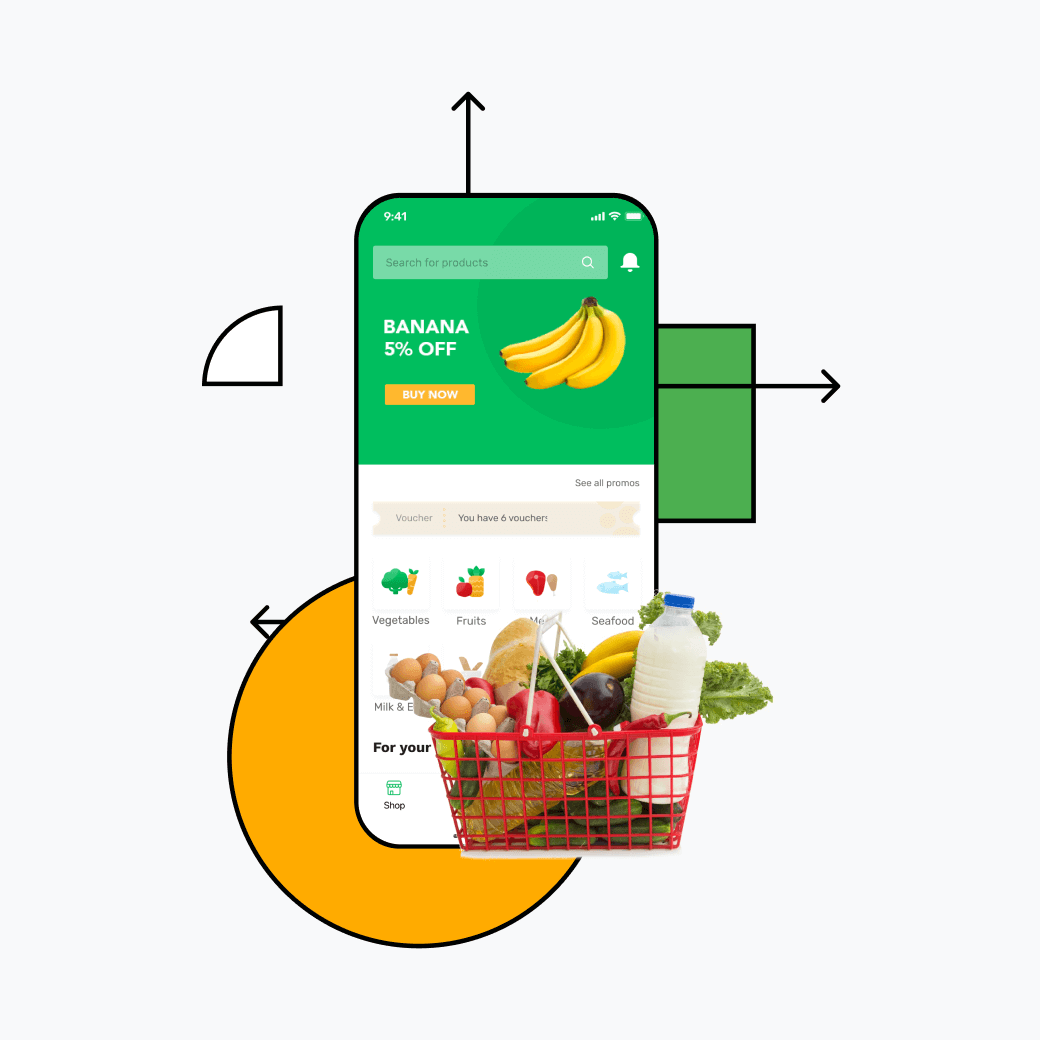 How to build a grocery app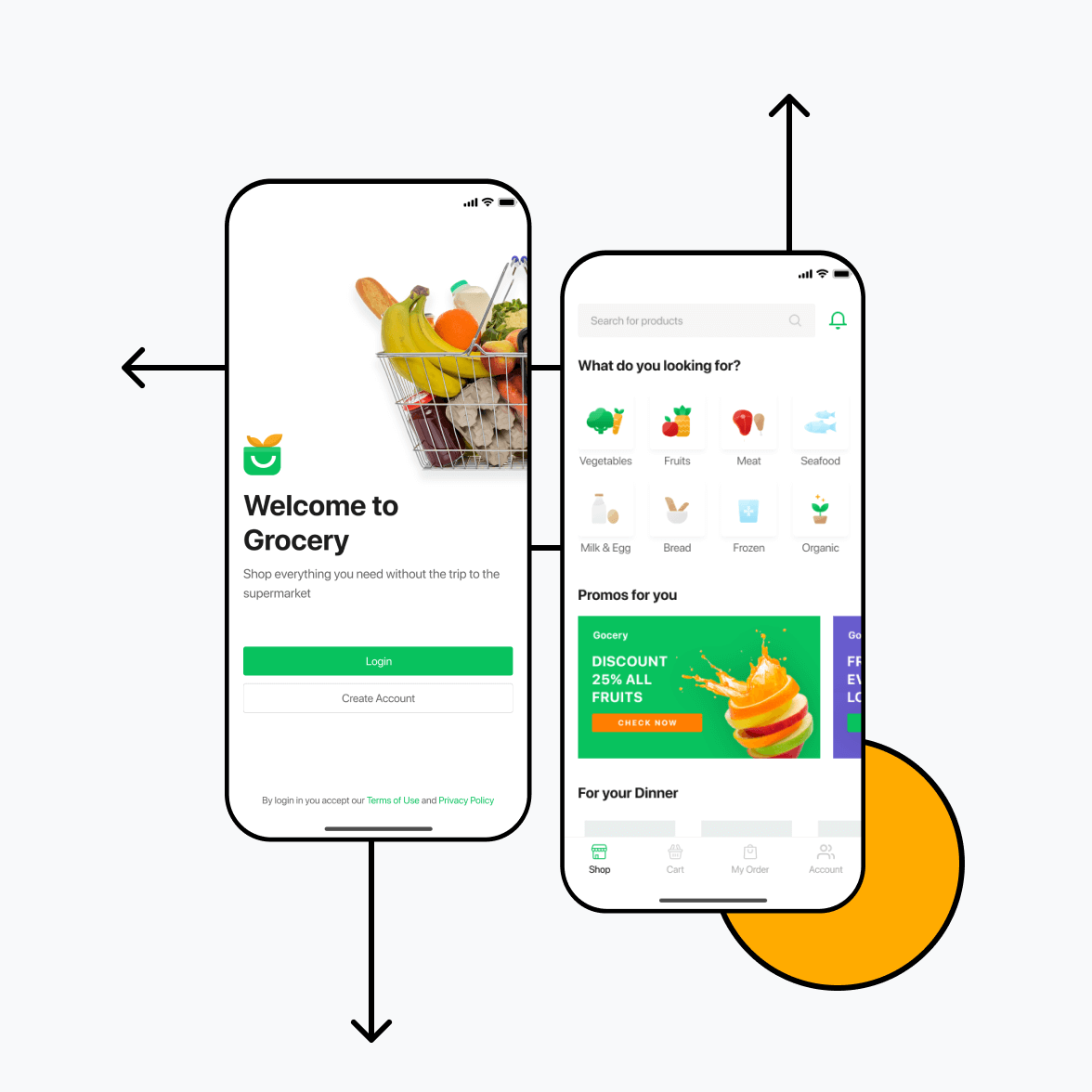 1. Get it in 2 weeks

That's your grocery mobile apps (iOS and Android) to sell online and offer a complete grocery delivery service, along with maintenance and the cloud to keep them running perfectly. Bring your grocery store online, fast.

2. Build a custom app

Build a custom grocery app May be you'd like your app to be a bit like Happy Fresh, Instacart or Walmart Grocery? Or perhaps you've got an innovative new idea for online grocery sales? Head to Builder Studio and we'll help you build anything you like – with a guaranteed price and competitive timelines.

Which app builder should I pick?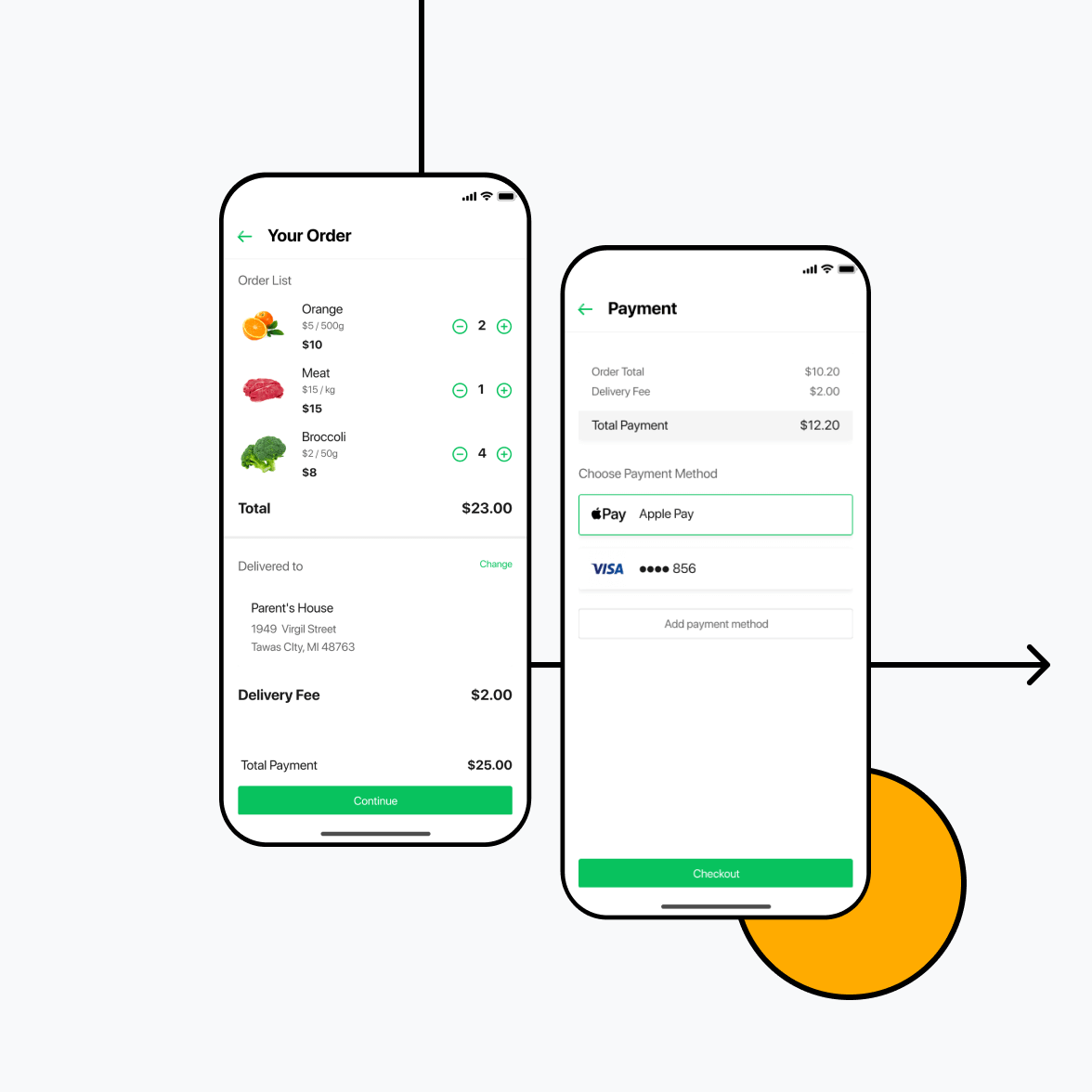 You're searching 'grocery delivery app maker' and faced with millions of options. Obviously we'd suggest choosing us! But whoever you pick, there's a few things to bear in mind.

Award-winning apps

Awards aren't everything but you do need to be confident in whoever's building your app that you'll be happy with the results. Our grocery delivery apps won 'Best COVID-19 Innovation for Recovery' at CogX 2020. So you know you're in safe hands.

Clear pricing

Whether you pick monthly payments for a Studio Store app or go fully custom with Builder Studio, we'll always give you a guaranteed price upfront. And we always stick to it. Make sure whoever you choose to develop your app can say the same.

Get online fast

Your own native apps for your grocery business are delivered in just 2 weeks. Studio Store means almost as soon as you've decided to create an online grocery – it's delivered to you. So you can start increasing your sales, straight away.

Features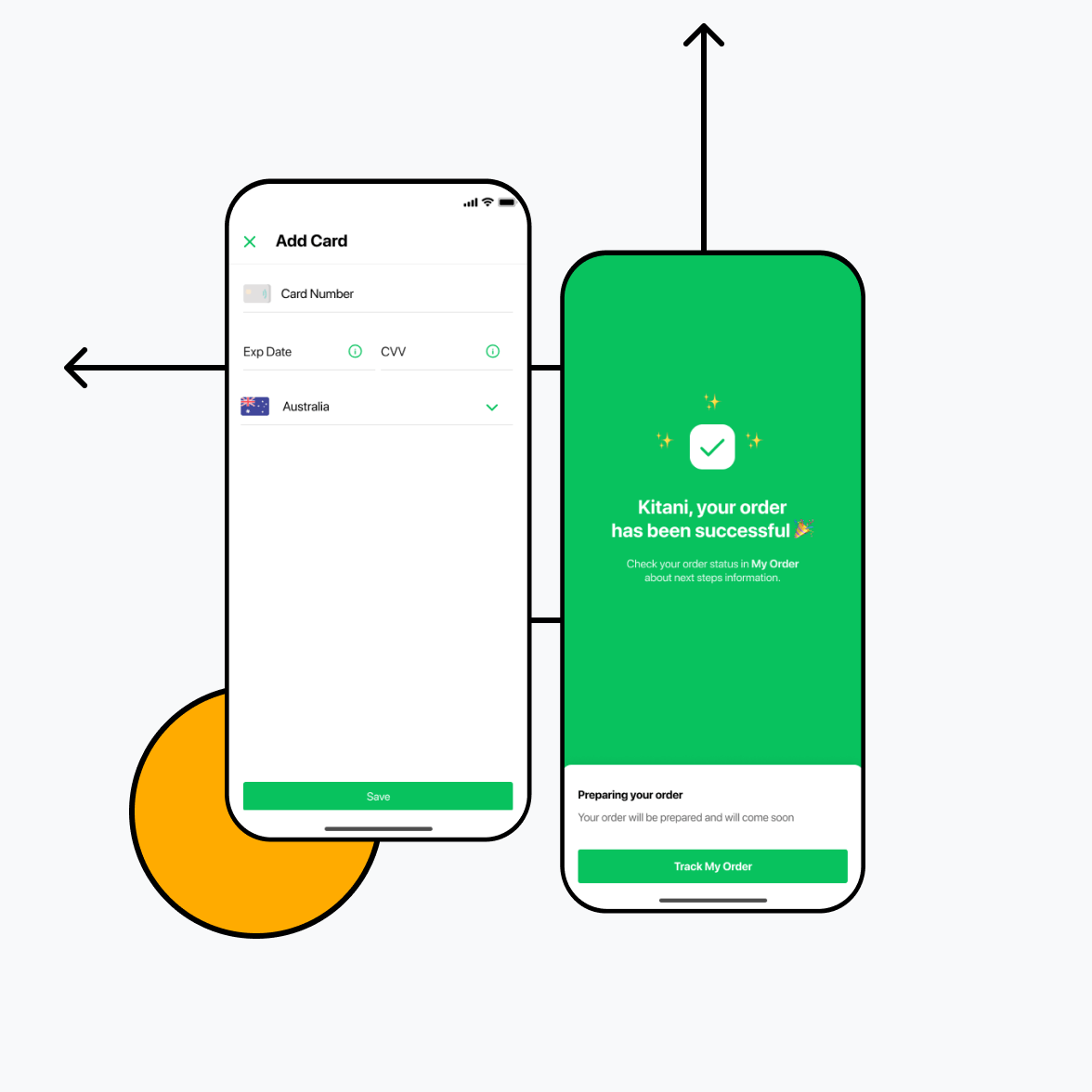 Offer secure payments

Your customers can choose from a range of secure payment methods. Get a payment gateway as one of your core features. Password-protected accounts keep your customer data protected.

Make online delivery effortless

Choose any delivery provider and we'll link your apps up to their tracking system. You've total flexibility on how you want your grocery delivery service to work. SMS or push notifications let you keep customers updated.

Build your brand online

Social features let your customers create a community around your products. And the data you'll capture (and push notifications) help you to offer the right offer to the right customer at the right time. Create loyalty programs, with gift cards or add a premium version of your app to top customers.
Encourage reordering
Let each customer create a user profile, this saves them time as they can save grocery lists, delivery addresses and card details. Also make sure it's easy to search for favourite food items. Busy customers can save their food preferences, create shopping lists and star favourite items for faster online shopping.

You're not locked-in

After 2 years of monthly payments (or straight-away, if you pay upfront) you'll own the code for your apps. Other monthly app building subscriptions usually tie you into their platform, with us, you've the freedom to host your app wherever you like.

Frequently asked questions
Everything you've ever wondered about online grocery services:

1. How much does it cost to develop a grocery delivery app?
A lot less than you'd think! Choose a Studio Store app and your grocery app development cost is massively reduced. You can either choose 12 low monthly payments, or 1 upfront payment at a discounted price. Both include 12 months of Builder Care to maintain your app and 12 months of free cloud hosting with Builder Cloud to help you run it.

2. How much time will it take to develop a grocery mobile app?
2 weeks! Yes, that's how quickly you can get a Studio Store Grocery app. So you can bring your grocery business online quickly and avoid losing sales.

3. How do grocery delivery apps make money?
During the Covid-19 pandemic, stores without an online presence made no money at all. Grocery stores may remain open but an online grocery can reach far more customers. And with a bit of clever marketing and building up loyal fans, you can massively increase your sales.
Demand for grocery delivery has surged and busy customers are more than happy to pay a delivery fee in return for such a convenient shopping experience. Whether you're wanting to add delivery service to an existing in-store experience or you're purely online, the time to do it is right now.

4. How do grocery delivery apps work?
Grocery delivery services are nothing new. Last century, people would tell shopkeepers what they wanted and a delivery boy would drop them off at the customer's home later in the day. Developing an app for an online grocery lets your customers see exactly what you have on offer and decide when and where they'd like it delivered.

5. Do I need a grocery ordering app template?
Studio Store Grocery app works like a template. It's got all the features you need to get your grocery business online ultra-fast. That's why you can get it in just 2 weeks.
If you'd like additional features you can head over to Builder Studio. There, you also start with an app template – choose the app most like your idea and then customise it completely. It saves a lot of time developing a grocery shopping app, you get rigorously tested code and we can give you a fixed price that never goes up!

6. What is on-demand grocery delivery app development?
It's where you get grocery delivery applications without the wait and without needing any techie skills. Studio Store's Grocery app brings together the key features you need for online grocery services. Your images, words and branding are all your customers will see but there isn't the long delivery time you usually get when developing a grocery store app.
Need more advanced features? Speak to your app development team about your business model and all the essential features you need for your custom grocery app. Our experts

7. How do I start an online grocery delivery?
The simplest way is to head straight to Studio Store. You'll get a 'Shop in a Box' this includes grocery shopping app that's affordable, ultra-fast and award-winning. You get Android & iOS and web apps, free maintenance and free cloud hosting for 2 years. You'll get it all delivered in 2 weeks too.

8. What's a native mobile app?
This is an app that's been designed in the specific programming language for either Apple or Android devices. They're faster and more responsive, more reliable and offer a better user experience. So if you're developing an app for your grocery, they're a strong choice. And with Studio Store Grocery app you'll get both a native Android & iOS app.

9. When's the best time to create a grocery mobile app?
According to GeekWire 2020, 42% of the US population tried online grocery shopping in March 2020, up from 22% in 2018. More people are open to trying online grocery delivery services and once they've tried your delicious food, they'll want to come back for more. Rather than it being a necessity (although for some grocery stores and self-isolating customers, it really is) this is your chance to switch up your business model and digitally transform.
Build your grocery delivery app today!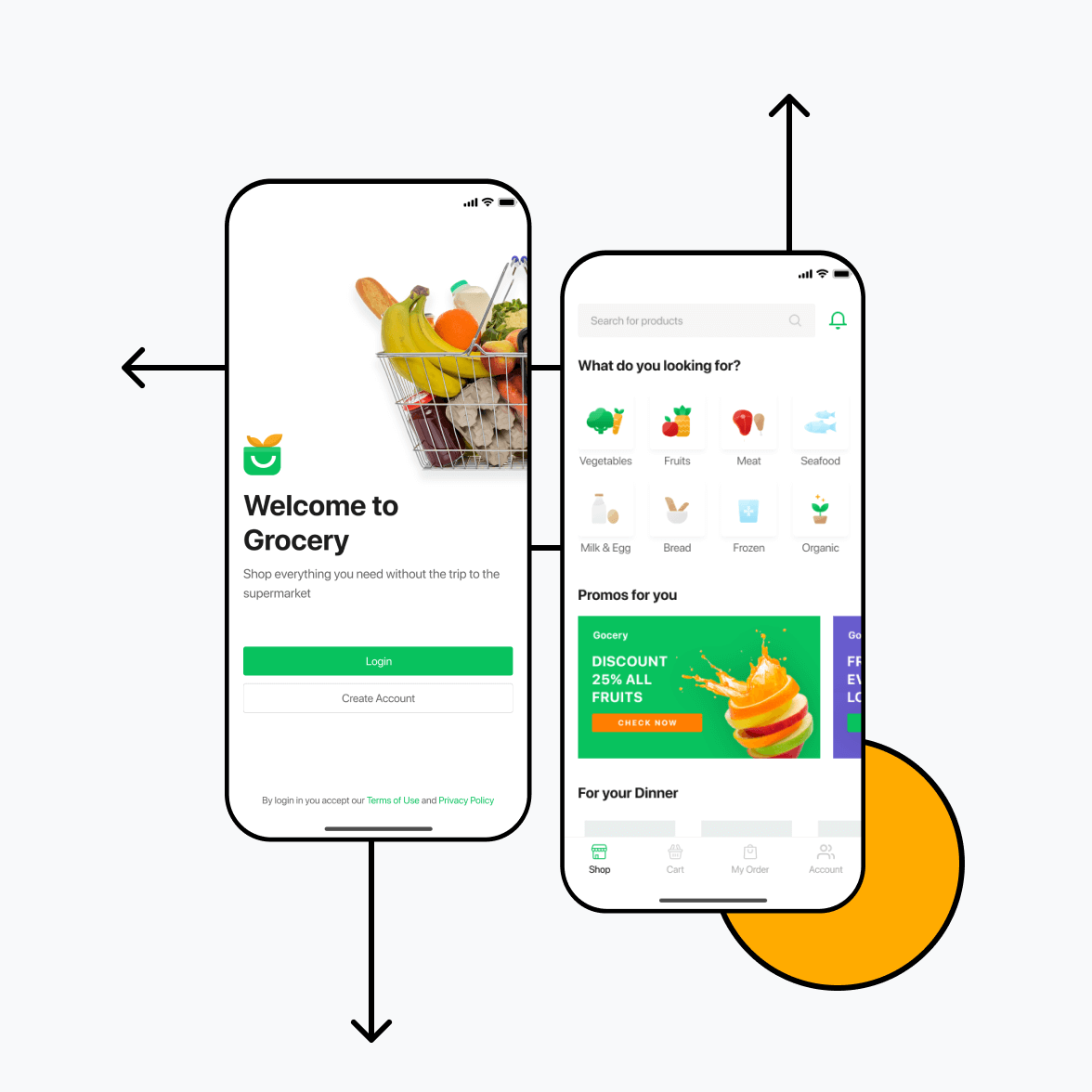 Developing a grocery delivery app doesn't need to be hard, or slow, or involve any technical skills at all. Have a chat with one of our experts and find out if we can help you out today.
Case studies
Solving complex business challenges for global brands like NBC Universal, Fujitsu, the BBC and Pepsi.

Pepsi Case Study - Builder.ai®
We created a B2B ecommerce app for Pepsi at a fraction of the cost. Automating the order process and enabling their resellers to order online. Read the full case study here.