Build a medicine delivery app
Take your pharmacy store to an online pharmacy business by creating a medicine delivery app with Builder Studio. Let your customers quickly order medicines and get them delivered to their doorstep. Create your feature-rich and fully customisable online pharmacy app today!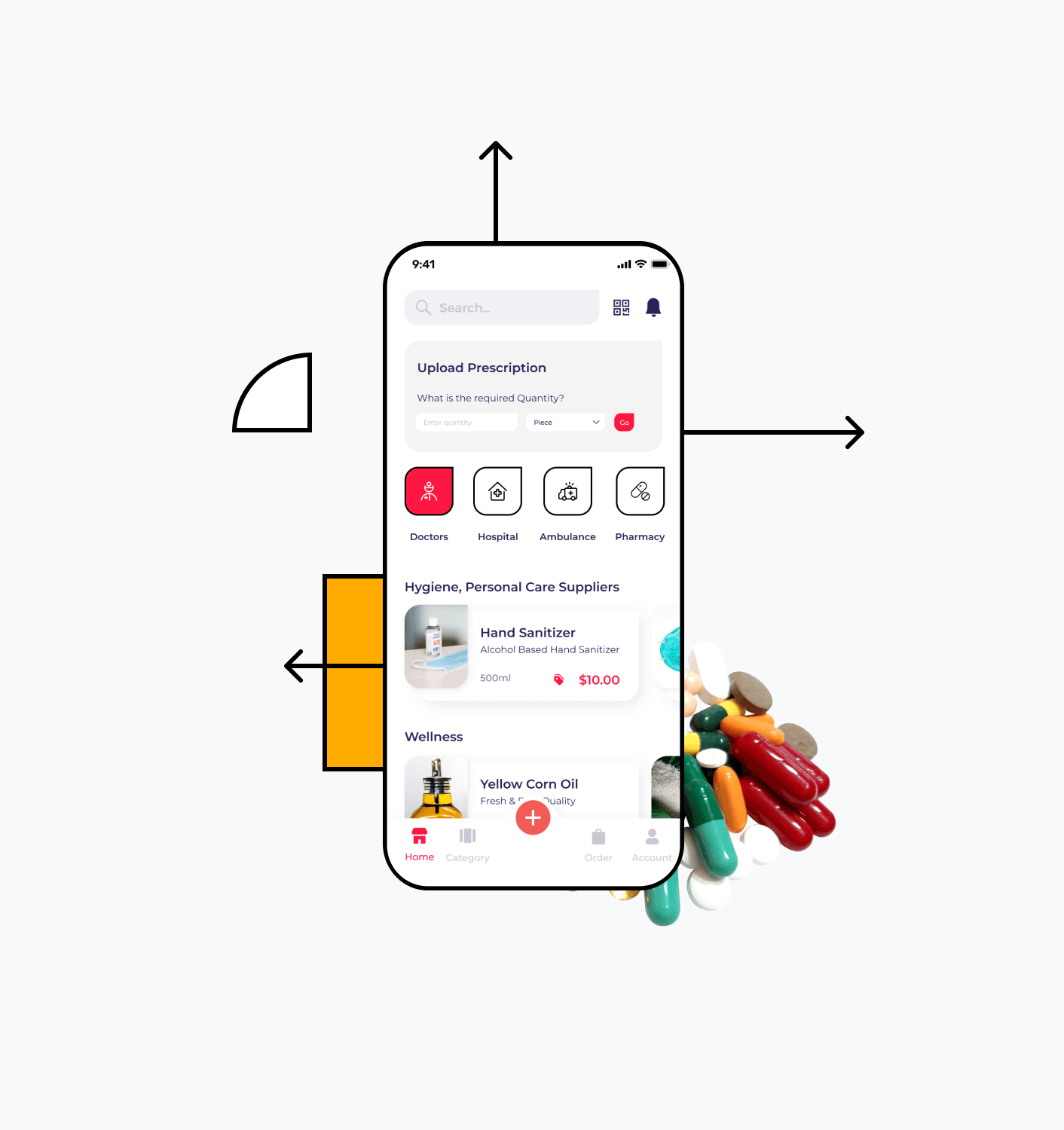 Why build a medicine delivery application?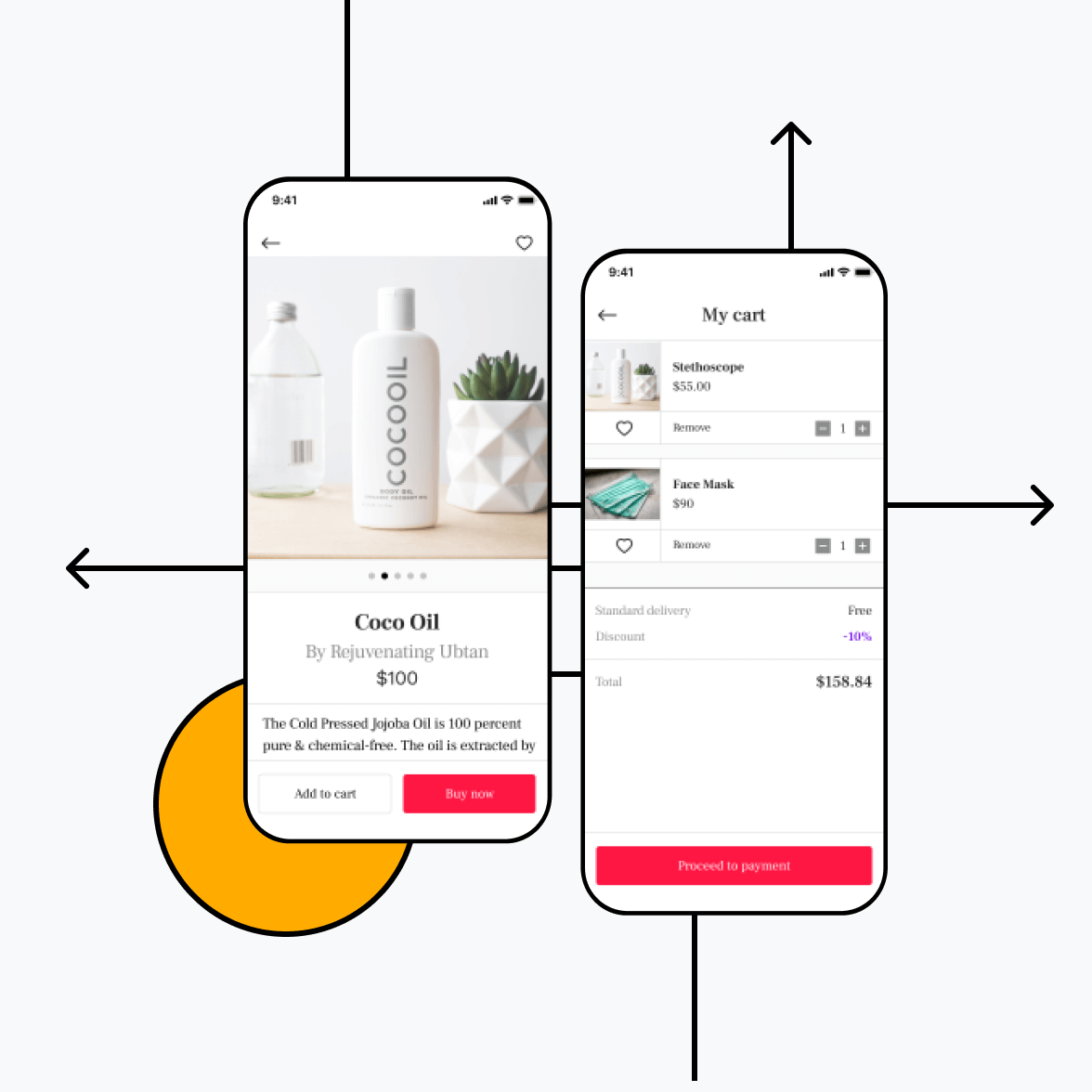 Firstly, the global online pharmacies market is expected to reach around $107.53 billion by 2025.* During lockdown, businesses with no online presence failed. These are extraordinary times for healthcare industry, but they're only accelerating what was happening already – what changed was the timeline. Home delivery apps became essential to every business, overnight. The pharmacy industry is no different. Now is the time to build an online medicine delivery application.
Benefits of pharmacy apps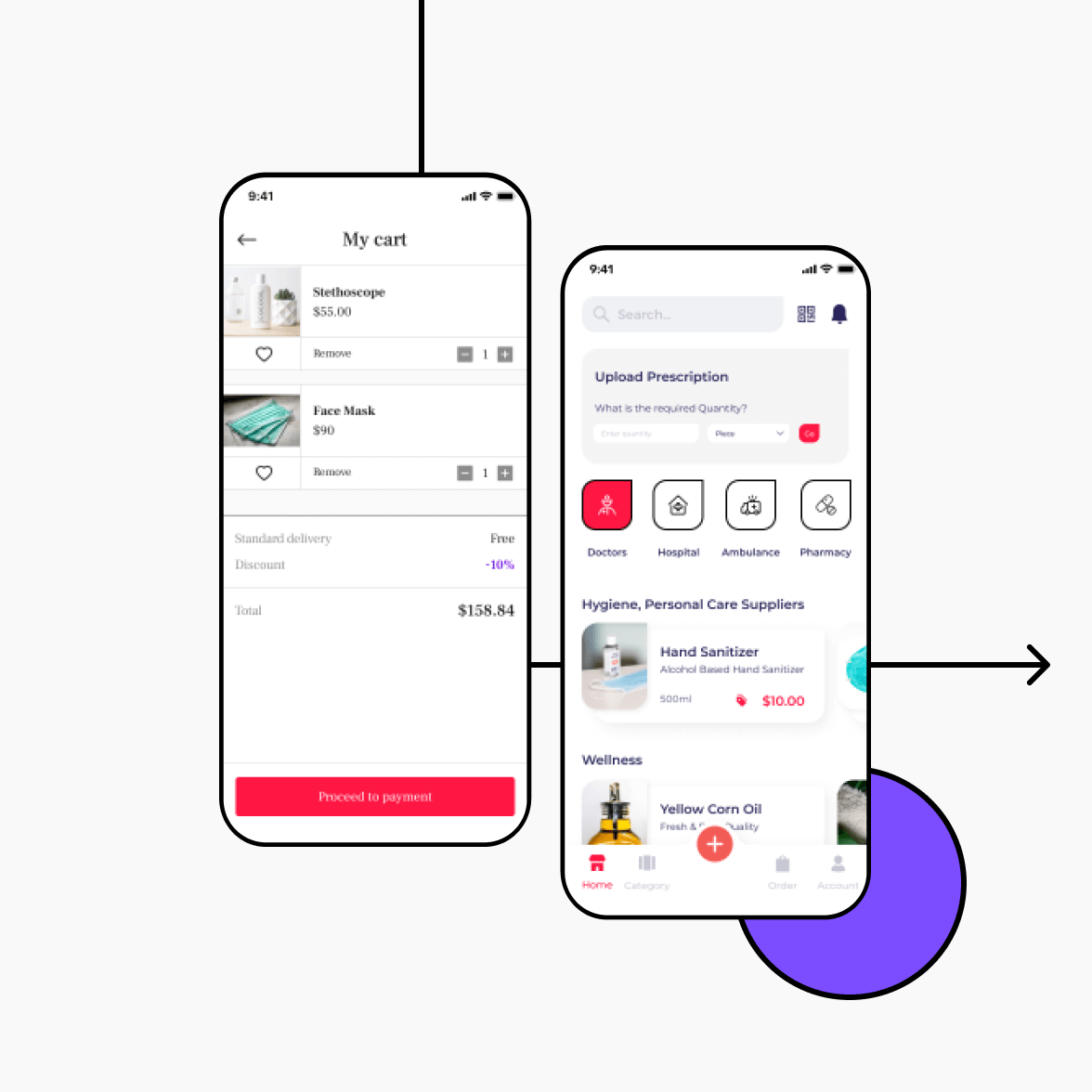 Greater privacy
Rather than an over-the-counter chat in a busy pharmacy, customers can have a private video consultation or order the medicines they need from home.

Secure data

Data security is vital for any online store, for medicine orders it's even more essential. Our HIPAA and HL7 compliant apps will keep all your patients' data secure.

Push notifications

Push notifications or SMS messages are helpful for repeat prescriptions (and repeat business). You can add a handy feature that reminds customers to take their medication at set times.

It's so easy

Regular Customers can order medicines online from their sofa. On-demand medicine delivery app is particularly useful when illness (or risk of infection) prevents them from coming in-store.

Discounts and offers

Customers already compare prices of healthcare products online. By offering discounts on your app based on their behaviour, you can build a loyal customer base.

Reach more customers

Rather than relying on footfall, your products have huge reach with an app. The pharmacy industry is a global market and an app opens this up for you.

Core features for your online medicine delivery app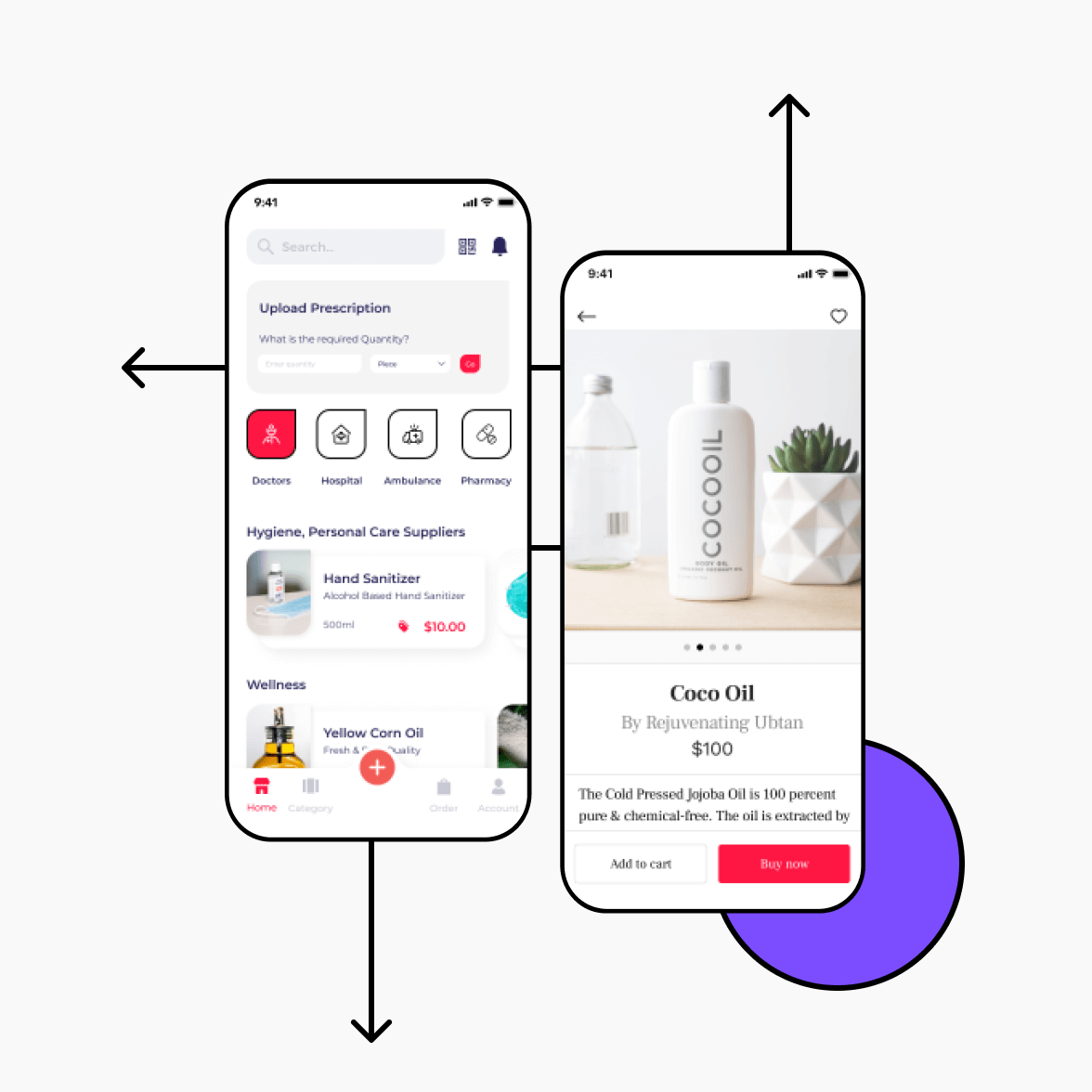 For your online business to succeed, you need to ensure your mobile app is packed with useful, core features. A feature-rich application improves your conversion rate and the overall user experience of your app.

Some basic features to consider:

Customer profiling
Add prescription
Search
Order tracking
Refund
In-app payment
Order history
Discount and offer
How to build your app with Builder Studio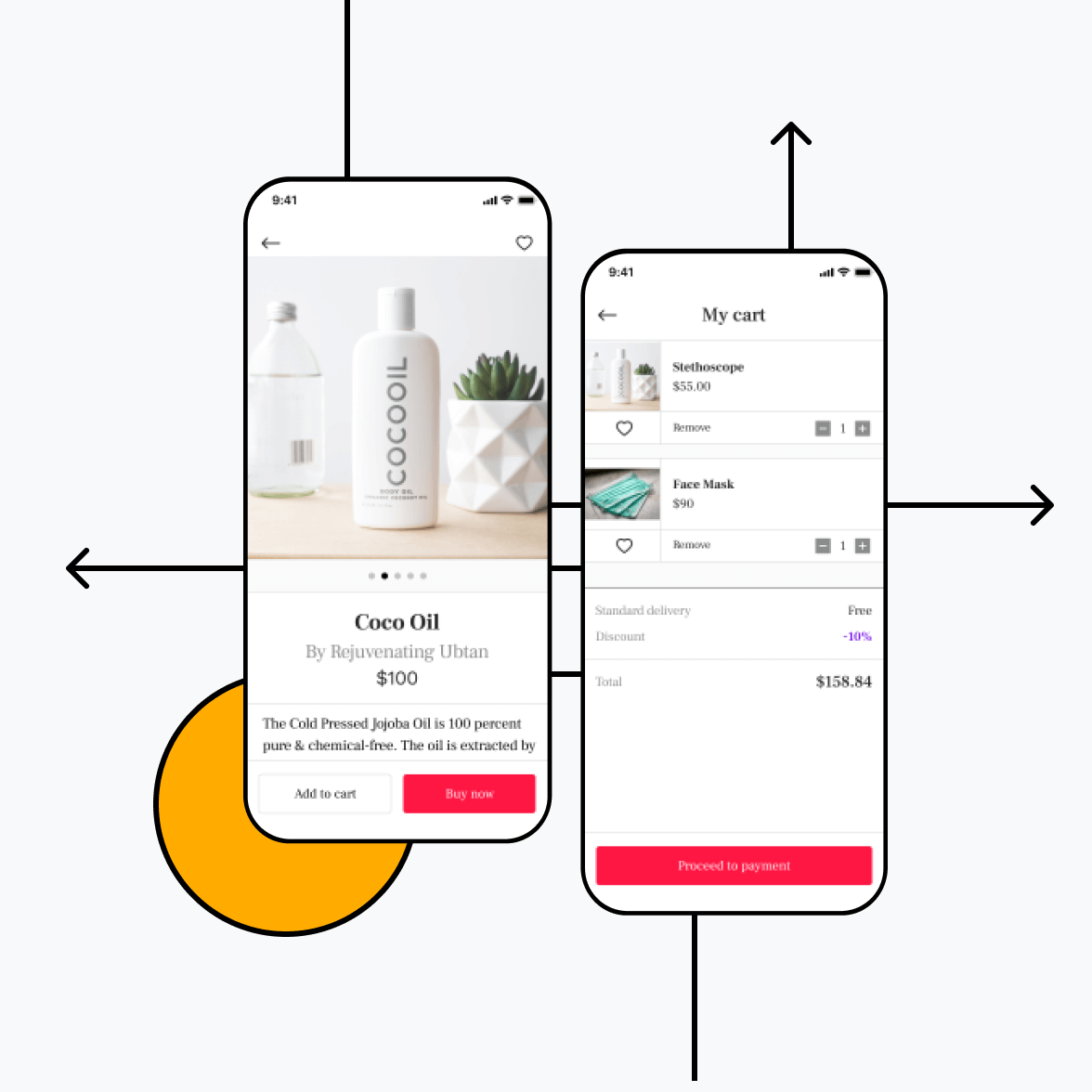 Medicine delivery app development is as easy as ordering pizza. We help you build your mobile application without coding. Here's how you can build your app with us.
Select your tech
Building with Builder.ai is super easy and fast. Just select what technology you're building for, like web apps, native mobile (iOS and Android) apps, desktop software, or wearables.
Pick your features

Choose a similar app to your idea, add extra features your idea needs, remove any it doesn't. Then add any custom features you want. Simple.
Prototype your app
Get a free prototype in less than 10 minutes with Builder Now. It's easy and quick to see how your healthcare app will look in the real world.
Choose your timeline
How quickly do you want to get your app developed? If you're in a hurry, that's no problem. If you're in less of a rush, it'll cost you less.
See your idea come alive
Your Build Card shows you guaranteed prices and your timings upfront. Now come the fun bit, watching your healthcare app idea come to life!

Future of your application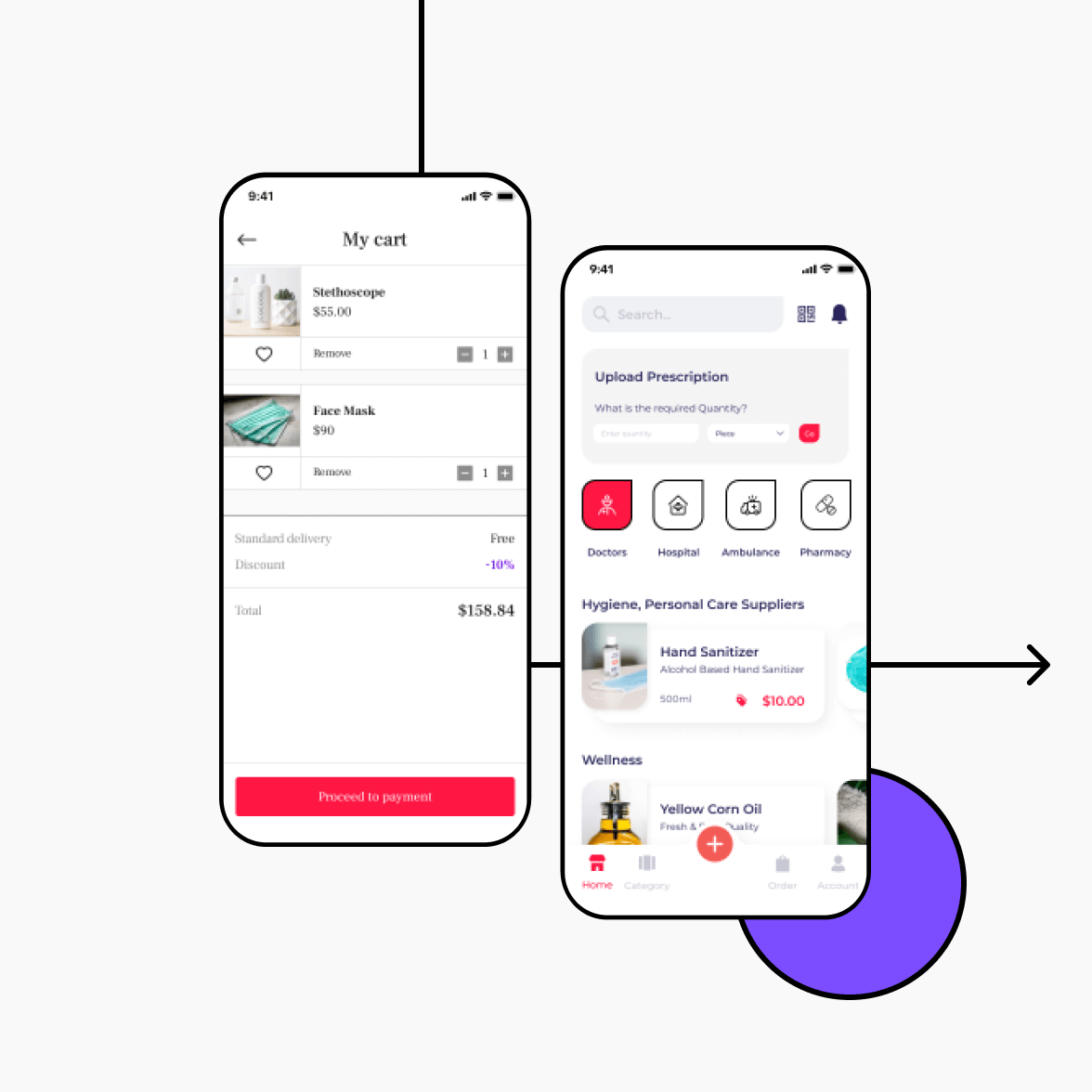 Your app will help you boost your sales. Yes, we used to hear this before this pandemic but now mobile applications have become the main business revenue stream. Today, businesses operating 100% on digital assets (apps & websites) are playing an essential role in keeping businesses running. In the near future, only retail businesses who have consumer mobile apps or websites for online orders will survive. So, what are you waiting for? Start building an online medicine delivery app for your pharmacy.
Frequently asked questions about pharmacy apps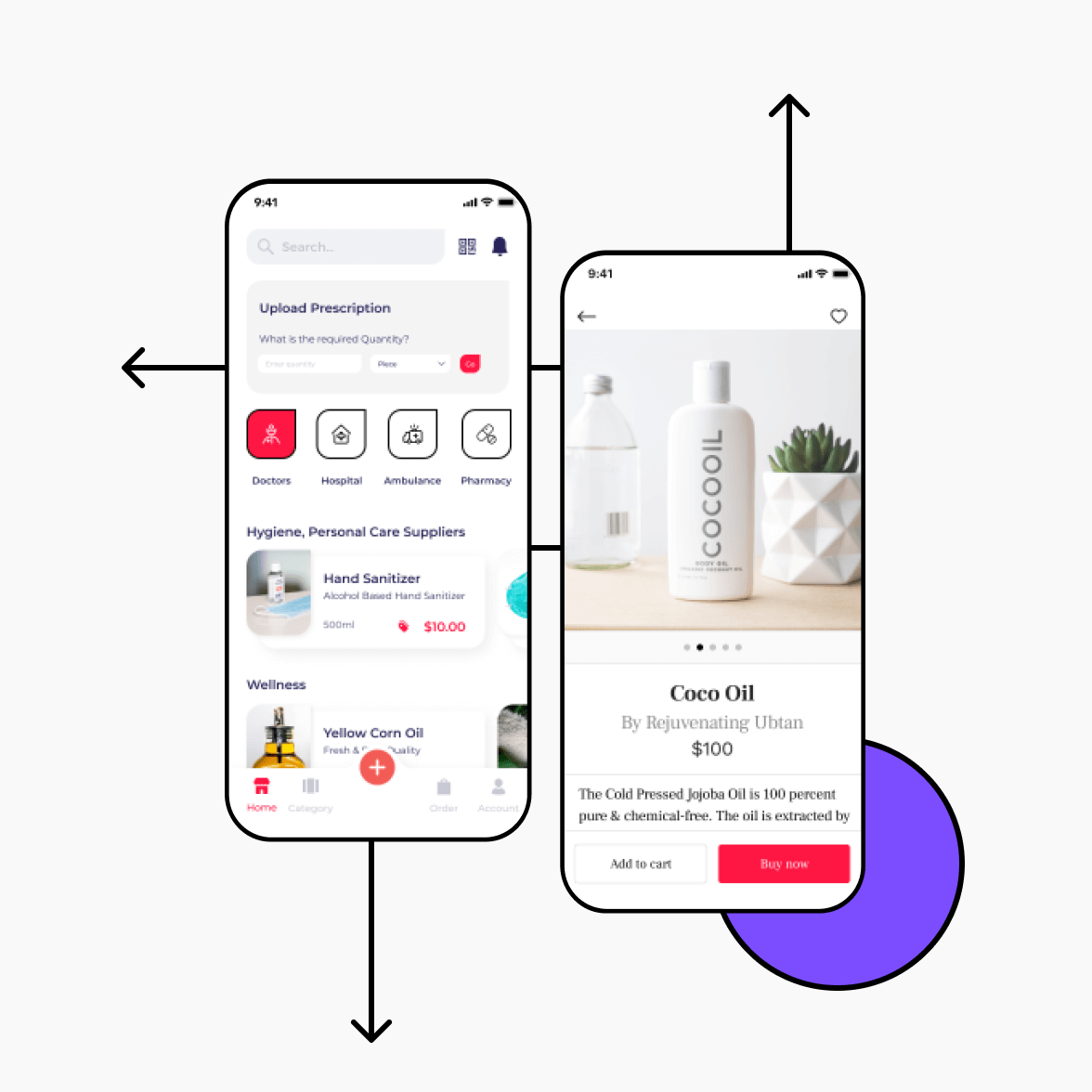 How much does pharmacy app development cost?

Builder Studio gives you control over the cost of your medicine delivery app development. Add a feature (shopping cart for your online store for example) and your price goes up, remove features you don't need (maybe you don't want Facebook login?) and the price goes down. If you want it delivered faster your medicine app's cost goes up. For a more relaxed build time the price of your healthcare app goes down. Where your development team is based affects your price too. What you do know is that you'll get a guaranteed price upfront. And this never goes up.

How much time will it take to develop your pharmacy app?
You can choose a faster delivery time for your online store. Once you've spec'ed out exactly what you need for your medicine delivery services. We don't start from scratch, which makes developing your healthcare app much faster. Pick a template of an app similar to the one you want to build (for example, Netmeds) then customise it so it's exactly what you want to create. We have a library of reusable features (login, shopping cart, order summary...) which are sent to specialist developers who customise them for you. That's how you get the surprising combination of faster, cheaper and higher quality with Builder Studio.

How do medicine delivery apps make money?
Home delivery for medicine orders is big business. In fact, the global e-pharmacy market is expected to reach around $107.53 billion by 2025. Your app might be an extension of your pharmacy, adding a medicine delivery service to a physical store. Perhaps you're a supplier who delivers medicines or healthcare products. Or you can add video features, where you offer online consultancy with patients before you prescribe medication.
How does a medicine delivery app work?
Your customers order medicines online and arrange a home delivery for their healthcare products. It's an online store for the pharmacy industry – so that comes with extra regulations. You'll need to make sure your app keeps data about your medicine orders secure. We're very experienced in creating HIPAA and HL7 compliant apps.

What's the pharmacy app building process?
Choose Builder Studio and you'll have a call with one of our experts who'll talk you through exactly what you need. They'll spec out all the features and give you a guaranteed price and delivery dates, all before you start your medicine delivery app development. Then you can watch the build process on a simple to view dashboard. Once your healthcare app is built, Builder Care (our aftercare service) keeps your app and medicine delivery services running smoothly.
Case studies
Solving complex business challenges for global brands like NBC Universal, Fujitsu, the BBC and Pepsi.