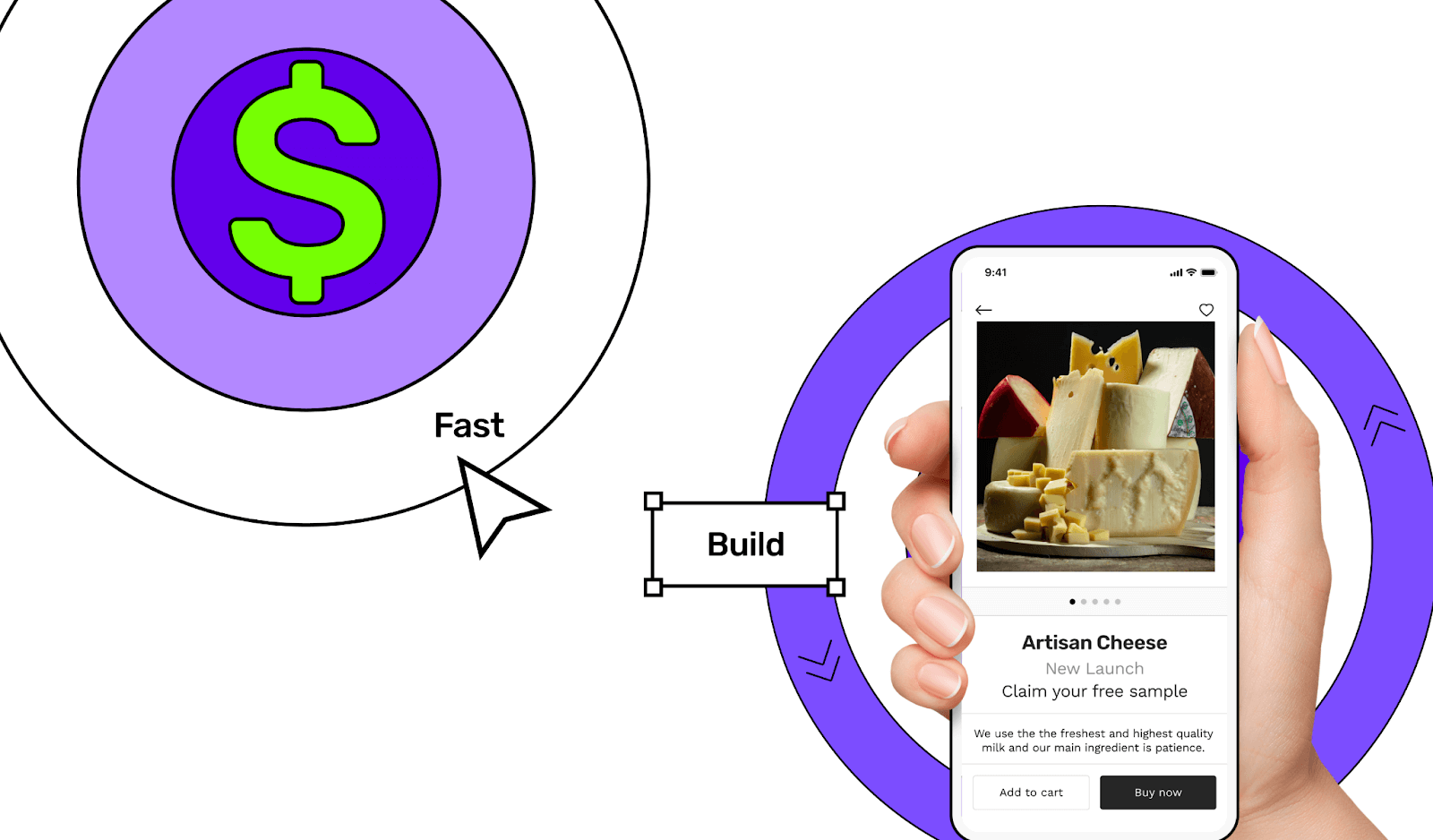 You want to start an online store but not quite sure where to start? This guide will take you from that first idea to a fully launched online business. You've loads of different routes on offer to launch your online store but to keep things simple, we've picked a free ecommerce app where cloud hosting is sorted out for you. We'll explore other options at the end.
In this article
1. Add your branding
To get started, fill in a couple of details then upload your logo and pick from a selection of colour palettes to find one that suits your brand best. Easy peasy if you've already got your brand sorted out, but what if you haven't? Don't panic. Here's some advice to help you get cracking.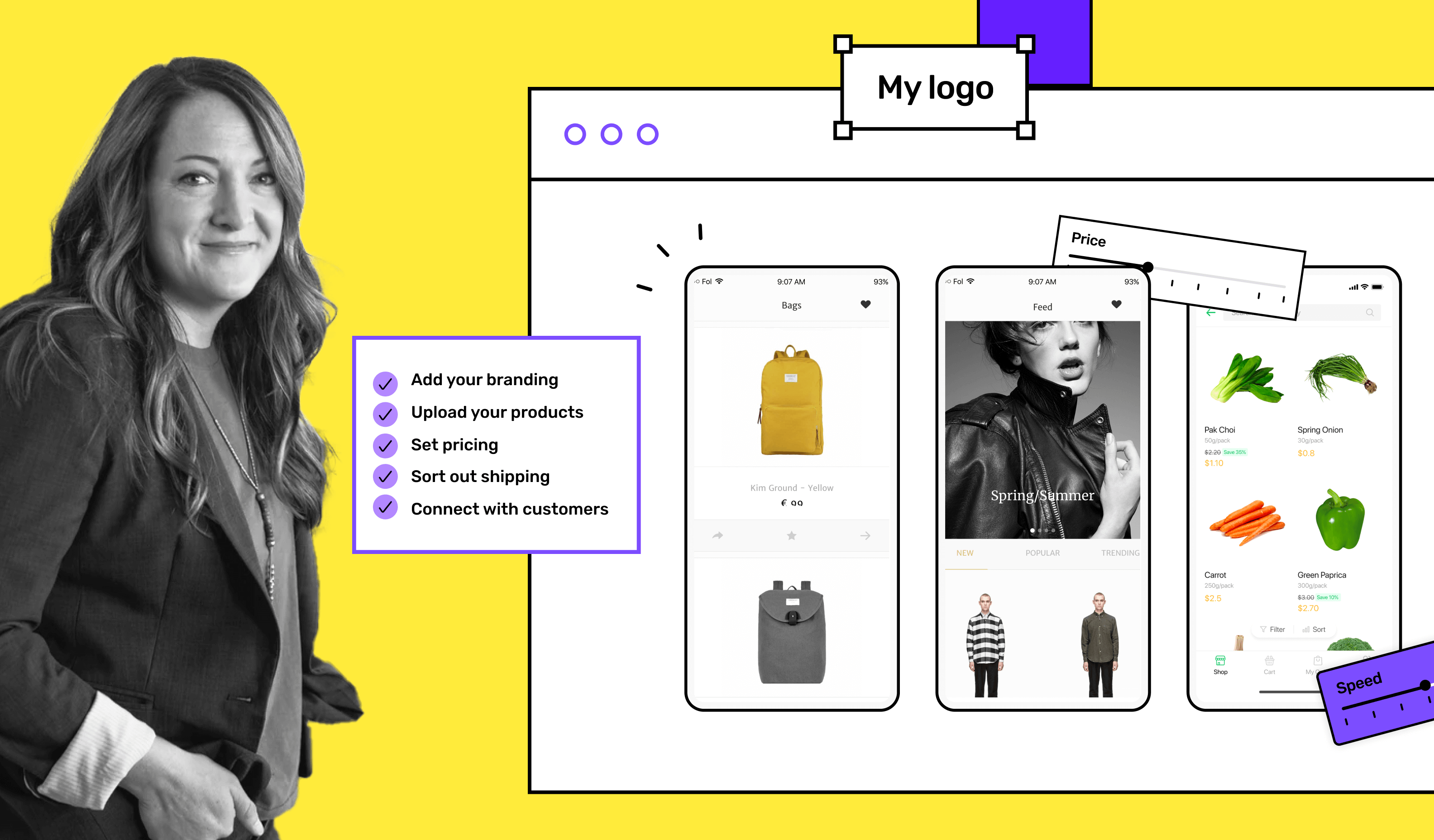 How to choose a name for your online business

Brainstorm: write down everything that comes into your head even (especially) the silly stuff. Write a massive list of possible names without judging any of them yet.
Use sites to help, like these:/li>
NameMesh.com
Naminum.com
VisualThesaurus.com

Get feedback (but don't follow it all!): A name no one minds is probably a boring name. But if people have bad associations with one of your names, listen hard.
Easy to say, easy to spell: there are lots of businesses that don't do this but it'll be simpler for customers to find you.
Anyone else using your name? It might still work if you're in different industries.
Grab the .com: different urls can be great but if you buy common endings and point them towards your site, there's less chance of people going to a competitor by mistake. (This free app includes free cloud hosting so you won't need a url yet, but check out what is and isn't available now.)

How to create a logo

Keep thinking: The first ideas you brainstorm will probably be cliches (swooshes, gears, lightbulbs, globes). You've got to get them out of your head onto paper to get to the interesting stuff but make sure you keep going...
Size matters: Make sure it works at different sizes – shrunk down for ads or your app and also enlarged for events.
Raster vs Vector: What's a raster image? It's made of pixels (formats like .jpg, .gif, .bmp and .psd files) the problem is they're often larger files sizes, which are slower to load and when enlarged, the picture can become grainy. Make sure your logo is a vector image (created in a design program like Adobe Illustrator).
Does it work in black and white? You won't always have a full colour version (for example on receipts or packaging or just to reduce print costs). Make sure your logo still makes sense using only 1 ink colour.
2. Upload products
Already know what you plan to sell?

Cool, it's simple to add each product into your admin panel. Make sure you take time to categorise them into SKUs, (explain this). It'll make stock control much simpler as you grow. You can skip this next section and pop down to Set pricing.

Not sure yet?

Ok, one key thing people often forget when starting an online store is making sure they have a niche. If you're launching yourself into a vast sea of choices, how will anyone find you and why would they try your products?

The power of a niche

You don't need to pick the latest trending product (one growing in popularity makes sense though) but if your online store is selling cupcakes: are they vegan? In the shape of superheroes? Only using local ingredients? A secret recipe your granny only told you on your wedding day? If so, you've got a story and a better chance of finding an audience eager to hear from you.

Going up?

You don't need to pick the latest trending product (one growing in popularity makes sense though). Google Trends is a free tool that can help you spot how many people are searching for things online.

Customer Lifetime Value

Something to bear in mind, have you got a plan to keep customers coming back to your online store? For example, the Wedding industry can charge more for the same goods, as people are happy to spurge but you'll probably never see them again (even if they get remarried, you're an unhappy reminder). Pick something people want frequently like salty snacks or create a subscription model for zero effort repeat orders and you're onto a winner. You don't need to know this before you set up your online store, but it's worth thinking about…

3. Set pricing
There are 2 interesting stats to bear in mind: the top factor driving the decision to buy (56%) is product quality and the most important store feature (80%) is competitive pricing. So you need to dance the tightrope between quality and cost. Research and testing will be key.

Which payment methods to offer?

The more payment options you can offer, the fewer barriers you have for people to buy from you. Make sure whichever online store builder you choose offers credit cards, debit cards, PayPal and bank transfer. There's a few other things to consider:

Don't get stung by transaction fees

Before you choose an online store builder, ecommerce website or online marketplace to sell products, take a good hard look at their transaction fees. They range from 14% to 25% (more on certain categories like tech or beauty products). Choose Studio Store and there's no revenue share or extra transaction fees. You pay credit card charges to the provider you've chosen – that's it. And you can try it out for free – that's 50 orders every month, with no revenue share, for nothing!

Cash on delivery

Removing the online payment step encourages impulse buys and increases trust as customers get to hold your product before handing over any money. (Cash on delivery is the preferred ecommerce payment method in India.) However, it's not without risks for you, fraudulent orders are something you need to consider and it's obviously tidier to have money in your account straight away. Also, cash on delivery isn't contactless.

Apple Pay

Apple Pay is a digital wallet letting shoppers pay with a tap of their mobile phone. Transactions are verified with face ID, touch ID or a passcode and it's safer than credit cards, as customers' data stays encrypted. So should you offer Apple Pay? Do some research on the age and location of your audience. Find out if there are more iPhone or Android users and, if they're younger, they're more likely to want Apple Pay.

4. Sort out shipping
Next, you need to work out how you'll get your goods to your customers. This app lets you select any delivery provider and then it links your apps up to their tracking system. It means your customers get up-to-date information automatically. But which one to pick?

How to choose a delivery provider

Are you shipping internationally or locally? Are your products uniform size and weight? If customers spend over a certain amount, will you offer discounted or free shipping? If so, you'll need to know how much those costs will be (far easier if your products are similar weights!). An app with an in-built shipping calculator makes this simpler.

Thought about Click & Collect?

Got premises? If you want to offer your customers more options, Click & Collect could work for you. The main benefit is you both avoid paying delivery charges. And you get more control about how your goods are handled. It's a way to offer free shipping without harming your bottom line.

Free shipping: the pros and cons

Free shipping doesn't really exist. Someone's paying to deliver your products, either it's you taking a hit (when customers order over a certain amount) or you hike up your prices to absorb shipping rates.

One massive advantage of free shipping is it reduces abandoned carts. There's no scary extra charge to put people off that final click. But if shipping rates go up, you need to raise your prices or loose profits. And those shipping rates flex depending on lots of factors outside your control. Free shipping will get you more sales but make sure it's not harming your profits.

5. Connect with customers
Once your apps are ready (it's very quick) as well as iOS, Android and Web apps you'll also get QR codes that you can use in your marketing. Bung them on flyers or add them to email – when your customers click on them they'll go to your app's listing on the App Store or Play Store. It's a really easy way to spread the word.

Build loyalty

Starting an online store is actually the easy bit. Building a loyal customer base is where it gets interesting. Once you sell products you've customers' email addresses and the chance to reconnect with them. If it's on your own app, you've also got push notifications to lead them back to your online store.

Data brings you closer

Online marketplaces have huge traffic but it's not loyal to your brand. On your own app for example, you can use the data you'll get to drive targeted promotions – ones you know your customers will respond to.

Feedback on social media

It can be a job in itself to keep an eye on your social channels (so maybe don't start off on all of them, while you're starting your online business) but it's really important to reply to comments. Thank people for the good ones and you'll deepen the relationship.

The bad ones are even more vital – ask for more details and put it right. It's not just about turning it around for an individual customer, either. Most people don't leave comments, they just go elsewhere and that feedback can show you problems you'd not spotted. Resolve customer complaints in a positive way and it makes your brand look good.

"Don't take our word for it"

Testimonials are powerful – much more powerful than anything you say about yourself. So whether it's sending emails asking for a review in whichever place suits your brand best (Trustpilot? Google? Facebook?) or a competition on social media based on your customer's experiences – if you've got fans, get them talking about you.

FAQs
1. How do I create an online store?
Find an online store builder, make sure you're not sharing revenue on each sale with them (or having to pay extra translation fees). If possible, go for a free trial.

2. Can I get a free trial?
Yes. Studio Store gives you a website, iOS and Android apps and you can process 50 orders every month, for free. And that includes cloud hosting and maintenance too.

3. What will my start up costs be?
We've talked about Studio Store because you can get a free website, iOS and Android apps for 50 orders a month. What your product costs are depends on what you're selling online and your strategy (check out our drop shipping guide or print on demand where you don't need to touch the actual product).