Online stores help you maximise your reach, deliver seamless customer experiences and sell free from marketplace revenue sharing models.
But these benefits don't come for free.
To realise them, you need to pick an online store builder that meets your business needs and make an investment.
The good news is there are cost-effective options on the market that allow your business to scale in the long term without breaking the bank.
In this blog, we'll outline all the costs involved in building an online store, including ones that could give you a nasty surprise down the line, so you can make the most informed decision possible on your app development route.
Keep scrolling 👇 for more or use the menu on the right-hand side to flick through…
Online store development routes
| | | |
| --- | --- | --- |
| | Online store builder | Development agency |
| Features | Basic to advanced | Custom features |
| Technical skills | Some may be required | Not required |
| Time to market | Days to weeks | Several months to a year |
| Pricing model(s) | Subscription | Fixed fee, hourly rate, revenue sharing or subscription |
Like apps and other digital products, there's more than one way to build your online store.
Either you choose to build with an ecommerce store builder or hire a third-party website developer. Both methods have their strengths and weaknesses and make a huge difference in how much you spend on your online store and the final outcome.
For instance, if you want a budget-friendly option with quick time to market, essential features and hassle-free aftercare, then you should consider building your online store with an ecommerce builder.
But if you have a larger budget, want custom features and don't mind waiting for a few months for your online store to be ready, then hiring a development agency might be the way to go.
7 fundamental online store costs you NEED to know about
Whichever path you choose, there are things you'll have to pay for in order to build your ecommerce store. We've broken them down below for you 👇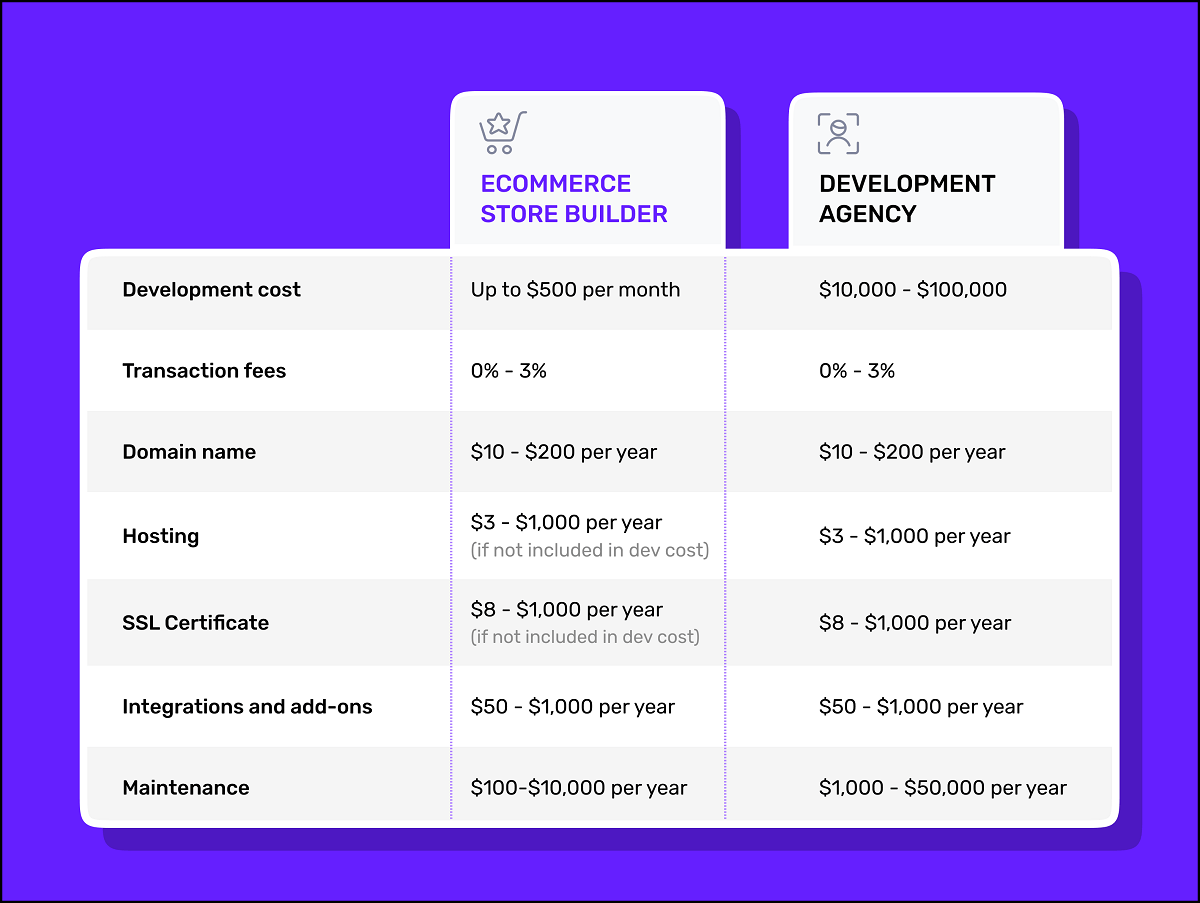 1 - Development cost
Have you ever noticed that all ecommerce websites and online stores have a similar look and feel?
It's because they share many of the same features, like product catalogues, shopping carts and payment gateways. They also adhere to user experience (UX) best practices, helping to maximise their conversions.
For your store to do the same, you'll need to dedicate a sizeable chunk of your budget to its design and development. Thankfully, there are budget-friendly options out there for early-stage businesses.

For example, you could leverage pre-built templates provided by the website and ecommerce app builders and simply personalise them with your branding, colours and content while adding your product inventory. Alternatively, you could use a drag-and-drop builder, including all the features you want from a setlist.
Because these options don't include custom features, you can get them for under $500 per month. On the other hand, if your online store needs more advanced features, you're likely to pay north of $10,000 for it.
This is because the custom design and development of features and backends take more time. And when you work with a development agency, more development hours result in a higher average cost. Depending on the custom features you need, development costs could soar to between $50,000-$100,000.
The latter option, however, is only applicable to rapidly scaling or more established ecommerce businesses that make enough revenue to justify the higher costs.
2 - Transaction fees
Your online store needs to accept customer payments to process their orders. Payment processing fee is the cost that is associated with the transactions that occur on your website. This cost varies from platform to platform, with different plans available based on your requirements.
For instance, Builder.ai's online store builder, Studio Store, doesn't charge any transaction fees, but third-party payment processors do. Shopify itself, on the other hand, charges a 2% fee as well as a payment gateway fee of 2.9%+30¢ for every sale you make with their basic plan.
This is worth factoring in when thinking about your margins, especially when you're already shelling out on your products, shipping, overheads and salaries.
3 - Domain Name
As your domain name is what your customers type into their devices to find your online store, it's crucial that you have one and that you get it right. Ideally, you should choose something that represents your brand identity, is unique and easy for customers to remember.
Domain names are fairly cheap, and you can get one for as little as $10/year from providers like GoDaddy, Cheap Domains and Bigrock. That said, in-demand domain names are more expensive. Factors that could influence this include extensions like .com,.org or .net, availability, length, uniqueness and popularity.
You can expect a good domain name to cost anywhere between $10-$200/year for your online store.
4 - Hosting
Website hosting refers to the service that stores your website files and data on a server and connects them to the internet. Simply put, it's like renting a space on the internet from where your customers can access your online store. Without hosting, your online store won't connect to the internet, meaning it's inaccessible.
Website hosting costs can vary on the type of service you opt for. For instance, shared hosting, where you share the server with others, is the cheapest option and is available for as little as $3/month. This should be your option if you're not expecting more than a few thousand customers to visit your ecommerce website.
However, if you're expecting higher volumes of web traffic, you should opt for a virtual private server (VPS) or self-hosting. In private or self-hosting, as the name suggests, you get a private server that can handle large traffic and deliver more reliability to your online store. The cost for private hosting can start from $200/month and can go up to $1,000 or even higher, depending on your requirements.
If you choose to build your online store through an ecommerce website and app builders, you may not need to manage or host the domain on your own. Some ecommerce platforms also provide all-in-one packages that can help you adapt to demand if your store traffic spikes.
5 - SSL Certificate
Ever wondered why websites start with "https"? It's because they have a secure sockets layer (SSL) certificate, which makes sites far more secure than "http". This functions as a digital passport that verifies your website's identity and encrypts the information exchanged between your website and the users.
Today, an SSL certificate is essential for secure transactions and if you want to establish trust with your customers. Getting one can cost you anything between $1-$1000, depending on the provider. As is the case with hosting, some ecommerce websites and app builders include this as part of your subscription.
6 - Integrations and add ons
With drag-and-drop and pre-packaged ecommerce builders, your online store comes with all the fundamentals you need, including customer logins, easy checkout, shipping and fulfilment and more. Templates and reusable building blocks are what enable this, meaning your online store can be up and running quickly.
But if you're hiring web developers to make your online store, they may build many of your advanced features from scratch, lengthening development time and increasing your costs.

For both routes, you also need to consider the costs of third-party plugins you'll need to make sales, track your marketing performance, manage customer engagement and enable dropshipping if that's the model you're pursuing.
These are enabled by APIs and come at an added cost. And depending on your requirements, they could add thousands to your annual online store bill.
7 - Aftercare and maintenance
Building your online store is one thing, but running it is a different ball game altogether.
You need to keep the store updated, fix bugs, monitor performance, improve security measures, add new features and much more. It's essential that your online store always runs smoothly and therefore, you need to invest in its aftercare and maintenance.
Maintaining your online store with ecommerce builders can be easier as they take care of aftercare, including 24x7 uptime, support for API updates, bug fixes, security patches, backup management and more.
Depending on the size, functionality and complexity of your online store, the maintenance price can range from anywhere between $100-$10,000 per year. It may either be included in your app development plan or you may need to onboard third parties.
Web developers, on the other hand, may offer these services in house, but they're likely to come at an additional cost. This will likely be charged on an hourly basis or through a monthly retainer.
On a per-hour basis, a reputable company can charge anywhere in the price range of $100-$500 per hour. This isn't recommended, as maintenance is never-ending work, and costs can easily skyrocket.
Monthly plans provided in house or from third parties are likely to range from $500-$5,000 per month, depending on your requirements.
Once your online store is live, there are other costs that you need to consider to run it smoothly and efficiently.
1 - Inventory costs
For your store to make a profit, you need to sell products. That means you need to have sufficient inventory in stock with you at all times and don't want to be a store that runs out of stock or has back orders to fill. The cost of inventory can vary hugely and depend on the type of products you sell.
But if you don't have the funds to maintain surplus inventory or are unsure of the kind of products your customers might order, you can always try dropshipping. This enables you to sell products you don't physically have and you pass on the order to your suppliers.
Once you receive an order, your supplier sends the products out from their depot. You work as the front end of the business and handle all the customer service. Dropshipping allows you to reduce your costs, like inventory costs, manpower costs, warehouse costs, office rent and software costs.
2 - Advertising and marketing costs
When it comes to running an online store, advertising and marketing become an essential part of getting the word out and attracting new customers. It is essential that you have a sound marketing function that increases visibility, generates leads and ultimately drives sales.
Though the average cost varies hugely depending on the marketing strategies you have in place and your final goals, you might need to spend on running display advertising campaigns, creating an SEO strategy, running affiliate marketing, establishing media relationships, handling social media and email marketing and many more.
With your online store, you need to go all out, guns blazing. Your marketing function should be highly focused and well-developed because it not only helps you gain more users but is essential for the growth and success of your business.
3 - Lock-ins
Lock-ins make your online store dependent on a particular ecommerce platform and make it difficult for you to switch to another vendor. This means if you can't get the functionality you want from your existing provider, you may have to create a new store from scratch with a different vendor, significantly impacting the lifetime costs of your online store.
In vendor lock-ins, you don't own your code, which essentially means you rent out your online store from your provider, rather than having autonomy and freedom to use your code any way you like.
While it isn't always obvious you're entering into a lock-in, it's definitely worth clarifying with your chosen ecommerce platform. After all, if your online store needs to scale fast, you need your ecommerce software to be flexible and customisable, which isn't always the case with low-cost platforms.
4 - Mobile app stores
If you have an app for your online store, it's also worth bearing in mind the costs associated with mobile app stores. For both the Play Store and the App Store, you have to share your revenue every time your app gets downloaded.
For Google's Play Store, you have to pay a one-time fee of $25 and a 15% service fee for earning up to $1 million, and then 30% thereafter.
For Apple's App Store, you have to pay an annual fee of $99 and a 15% service fee for revenue up to $1 million, then 30% thereafter.
Conclusion: How to avoid unnecessary online store costs
Studio Store by Builder.ai

Other ecommerce builders

Development agencies

Guaranteed cost

Yes

No

No

Transaction fees

No

Up to 3%

Up to 3%

Own your code

Yes

No

Yes

Lock-ins

No

Yes

No

Total cost

From $200/month

(app+website+aftercare)

$35-$500/month

(only website)

$5,000-$100,000

(only website)
GET YOUR ONLINE STORE QUOTE HERE
The final cost of your online store depends on the kind of business you're running now and the kind of business you want to be in a few years' time.
And typically, the most flexible, scalable online stores come in at a higher price point than those designed to get you up and running and selling online fast.
But Builder.ai can help you get the best of both worlds while avoiding some of the key costs we explored above.
That means you get a guaranteed cost for your online store, while we don't charge any transaction fees. There are also no lock-ins and you own your code, giving you the flexibility to migrate and scale.
Book a Studio Store demo 👈 today and get a quote!
Ananth Ramanathan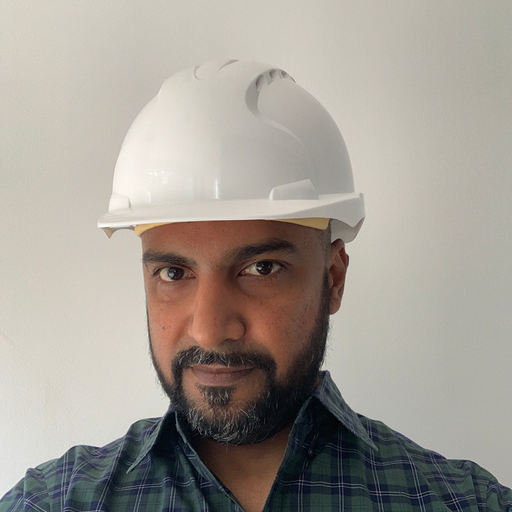 VP Studio Store at Builder.ai
Ananth Ramanathan runs Studio Store business at Builder.ai with a mission of digitising a 1M+ micro SMEs in the next 5 years. He oversees the commercial, product, and customer success functions to rapidly scale Studio Store globally. Ananth's an experienced tech business operator, a failed entrepreneur, and an active angel investor.