Setting up a business is easier than ever thanks to the internet. You can sell a product or a service online with little hassle – all you need is an idea, a supplier, and a website. Start-up costs are minimal, but the potential gains are huge, so much so, that more than 85,000 new online businesses were launched in the UK during the 2020 lockdown. Many of those businesses are dropshipping companies.
Running a company that sells goods or services online is called ecommerce. Most of us are familiar with this term and buy plenty of things online using an ecommerce website or app, but fewer people know there are different types of ecommerce – dropshipping being one of them.

Unsure what dropshipping is and how it is different from traditional ecommerce? Keep reading as we explain, in detail, what each is.
What is ecommerce?
Firstly, let's start with ecommerce. Ecommerce is the umbrella term for selling goods or services online. It mostly refers to online retail businesses. You've likely shopped online before and contributed to the massive economic growth ecommerce has seen over recent years.
According to the ONS, ecommerce was worth a staggering £137.38 billion in 2020, and that figure is set to increase year on year. Worldwide, ecommerce brought in a massive $4.28 trillion USD. It's a huge industry, and all estimates forecast ecommerce to overtake every other form of shopping in the coming years.
Examples of ecommerce businesses include:
Asos
Boohoo
Amazon
Alibaba
JD.com
Wayfair
eBay
There are literally millions of others selling all manner of items, including clothes, technology, food, jewellery, homewares, and just about anything else you can imagine.
When a company follows the traditional ecommerce format, they have a website listing products for sale and consumers choose products they want to buy. They add them to their basket and checkout, making a debit card payment. The company receives the order and processes it. They'll have a warehouse where they pick the stock from, pack it up, and send it to the customer via a courier. Larger companies like Amazon may use their own delivery drivers.
Ecommerce businesses effectively utilise a well-planned chain, with various departments involved along the way. From the marketers, to inventory management (it's vital to keep the website and stock levels updated) to the warehouse staff and customer service agents. Smaller businesses might not have dedicated teams, but the process remains the same.
The product comes directly from the manufacturer and they sell it from their warehouse, taking stock from their own site, and handling the order in-house every step of the way.
Need more ecommerce insight? Join the Builder.ai community
What is dropshipping?
Dropshipping is a form of ecommerce, but it follows a different process. It accounts for around a quarter of all ecommerce sales, but like ecommerce, it's a business model that is growing in prevalence.
So, what exactly is dropshipping ? Well, you still need a website and you still need suppliers, but you don't need a physical store. When a company dropships, it means that they sell products they don't physically have.
It's common in the fashion industry – specifically personalised goods. A user will log on to a website, browse the items online, add the ones they want to their basket, and then they'll checkout. Behind the scenes, the company they bought from passes the order to their supplier who creates the products and sends the items out from their depot. The original company does all the customer service and fronts the operation – but they never even touch the product.

Examples of dropshipping companies include:
Hygo
Gadgetox
Bluecrate
Inspire Uplift
Generally speaking, the customers won't know their product has been dropshipped. That's because all their contact is with one company. Dropshipping is a bit like a company forming a deal with another company – as Peugeot and Citroen did, and how Apple and Samsung work together. Dropshipping customers typically have no idea that two companies are behind one order.
Benefits of ecommerce
There are a number of benefits to using the traditional ecommerce method, hence why millions of new ecommerce businesses are set up every single day.
The modern way of shopping
Firstly, it's fast becoming the preferred way to shop. Shoppers are moving online, and current data predicts that by 2040 – in less than 20 years – over 95% of all purchases will be made online. This is largely down to the integration of the internet in every aspect of our lives, but also due to the increased demand for convenience. People work long hours and often don't have time to buy things physically. Ecommerce offers them an invaluable solution to that problem.
Bolster physical retailers
The unstoppable rise of ecommerce may spell bad news for the high street, it could help smaller physical shops. The internet has billions of users, so in theory, any number of people could stumble across your website and discover your brand. You could make enough from online sales to bolster your physical shop, allowing you to potentially open new stores and expand for brand awareness purposes.
People still like to head out to stores and see things for themselves, but the high street in its traditional form is struggling. Ecommerce can help with that and create a financial safety net for a lot of physical retailers. In fact, ecommerce was one of the major winners of the pandemic, with most people having no choice but to shop online. From a business perspective – and especially after living through a pandemic – it's clear that covering all your bases is a must because things can literally change overnight. Those with physical stores suffered, but those with an ecommerce presence had a liferaft.
More options
On top of boosting brand awareness and generating a more reliable source of income, another benefit for retailers (and consumers) is that the internet isn't bound by brick and mortar square footage. You can sell a vast range of products and not have to worry about the arduous task of visual merchandising it all.
From a business perspective, this is great because you can offer more solutions to your customer's problems. For consumers, it provides more choice to find the right fit and make the best investment for them.
Cheaper to run
A lot of ecommerce businesses are just that – they've never had and will never have a physical store. The benefit is that you don't need to pay ghastly high rent rates in expensive shopping centres or in retail parks. This allows you to get up and running from pretty much anywhere – including your living room!
There are countless dining room to boardroom success stories in the ecommerce world, with numerous high profile brands, such as Amazon, starting from the confines of a house. The only outlay at the beginning is the cost of the goods. As the business grows it may need to expand into a warehouse, but this remains cheaper than running a shop as well.
Drawbacks of ecommerce
For all its glory, ecommerce is not without its flaws. There are undoubtedly more benefits than negatives, but here are some things to be mindful of.
Learning the ropes
If you're new to business, you will need to get to grips with how things work. This means putting in place all the right processes and procedures from start to finish. After all, the responsibility to fulfil your customer's orders lies solely with you. This means you need to get used to order processing, distribution, and ensuring you have all the stock available. This can be a full-time job in itself.
Unforeseen growth
Business growth is always a good thing, but with an ecommerce business, you still need a premises to operate from. Eventually, you'll graduate from your dining room to a small office, and from there to a warehouse. If you do your business right, you'll be able to continue growing.
The downside is that as you continue to grow and need more stock, you'll need more staff. The more staff you need, the bigger the property you need, and the bigger the property you operate from is, the more expensive it'll be. If you're not prepared, this could catch you off guard.
Ecommerce has the potential to explode overnight, so if you don't have a buffer, you could find yourself with mismanaged stock and the need to move to bigger premises but without the budget for it.
Benefits of dropshipping
Dropshipping shares the same benefits of ecommerce, and then some, but because it's a different business model, it does have its own advantages.
No premises required
Dropshipping businesses don't hold stock, meaning they don't need a storage facility. They also don't send stock out, so they don't even need an office to process deliveries from. You can run a dropshipping business from your bedroom if you wish, with absolutely no need to spend money on renting out business premises in any capacity. This'll save money, allowing you to reduce your outlay costs and reap more profits.
No contact with stock
The good thing about having no contact with stock is that the onus isn't on you to keep on top of stock levels. You don't need to update your website (unless your supplier runs out of product), so there's one less thing for you to manage. This pushes the responsibility to your supplier, so you can focus solely on your customers.
Rather than doing stock checks, you can put all your energy into sourcing new products and building excellent client relationships.
No staff
Only the biggest dropshipping companies have staff on hand to deal with customers, but until you reach that point, you can go it alone. For those just starting out, this is a great way to build up a brand that is 100% yours.
Global reach
Any ecommerce business can sell globally (in theory), but not every company does. This is because international orders have different delivery protocols, with many having to pay customs on imported goods.
Dropshipping companies can get around this by using manufacturers based on every continent and in every country. This means no customs need to be paid, and the price remains low and affordable for the customer. This is why many dropshipping businesses operate on a global scale as opposed to a national one.
Drawbacks of dropshipping
Like everything, dropshipping has its cons. While it's a completely viable business model, there are aspects that you must be prepared for.
Quality control
When you don't handle stock yourself, you can't guarantee your customers the best quality, nor can you spot defects in shipments before they go out. This could expose you to customer service issues if things go wrong. As a precaution, it's best to order several of each item you want to sell before you start – to gauge what your customers might be getting if they place an order with you.
Refunds and returns
If something does go wrong with your stock and your client isn't happy, you're limited as to what you can do for them. You'll have paid the trade price for the product, and the return process will be out of your hands. Not to mention the fact that dropshipping businesses tend to not want their customers to know that they're dropshipping. If something needs returning, it will need to be sent back to the supplier, not you, and this could give the game away so to speak.
Your best option would be to offer a refund, and this will need to be clearly stipulated in your terms and conditions in case some customers want a replacement instead.
Summary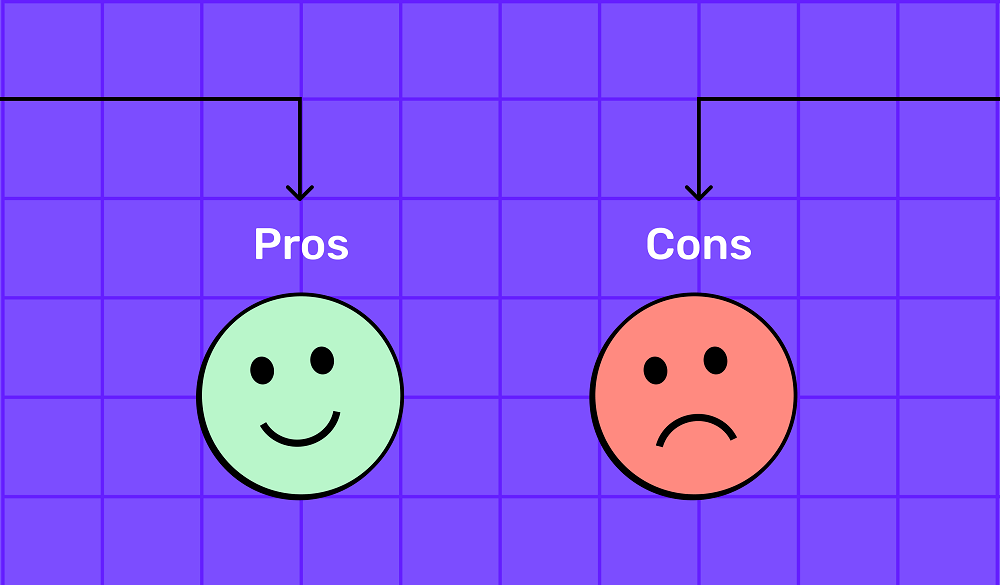 To recap, here are the main pros and cons of ecommerce and dropshipping: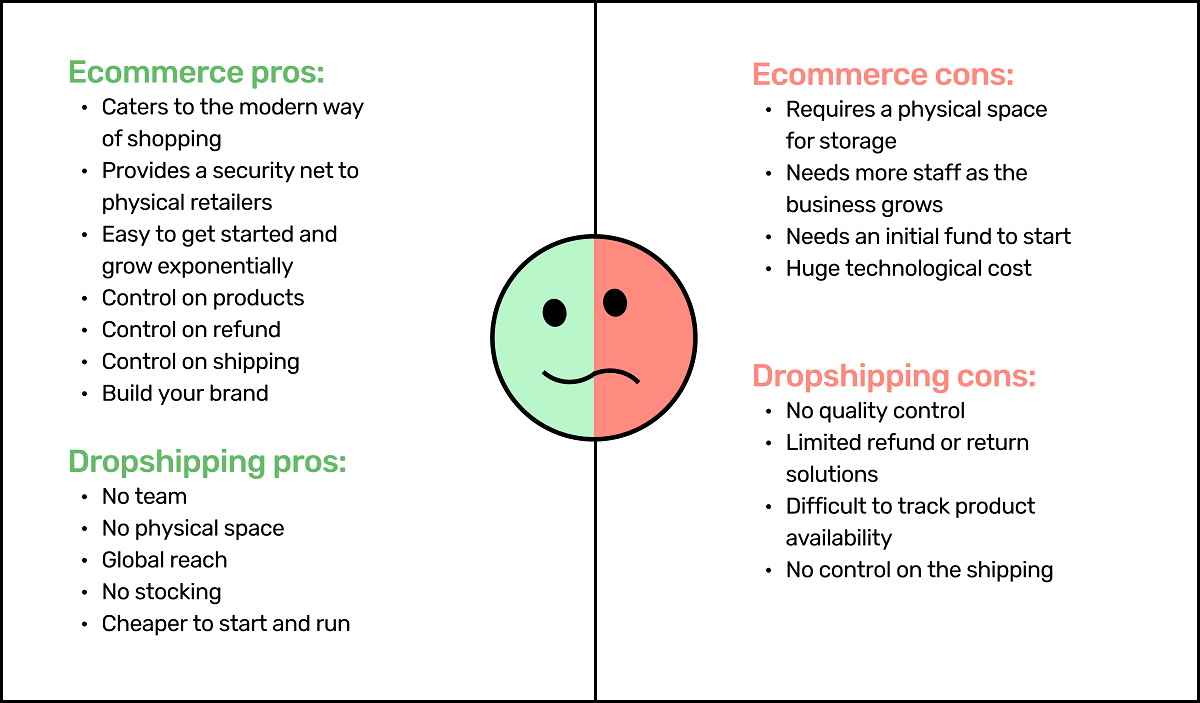 How to start an ecommerce business
Now you know the pros and cons of ecommerce vs dropshipping, it's time to talk about how to get started, beginning with ecommerce.
In theory, you only need an idea to get started. If you have a vision to sell clothes, you can do so by yourself (provided you can make them yourself). If you can't make what you're selling, you need to source suppliers who you can partner with to get going. You'll need to buy stock in and then take photos of everything you're going to be selling.
Images then need to be placed alongside product descriptions on an ecommerce website. Your website should be easy to navigate and let you easily process orders. It'll need to have some sort of functionality for you to integrate with shipping. For example, if you use DPD as your courier, your website will need to be able to pull data through to DPD so you can manage the delivery side of things.
You'll then need to package each order and send it to the courier on time, ensuring your website can manage stock levels automatically. Once you have your processes and procedures in place, as well as your website, your ecommerce website is good to go. If you have a lot of stock, you may need to look into leasing commercial space and potentially hiring staff.
How to start a dropshipping business
Starting a dropshipping business is similar to creating any other ecommerce business in the sense that you need to establish an idea and build a website, but there's less pressure to take your own images because it's not your product. A lot of the start-up marketing will already be done for you, so you can save some time in that regard.
You also don't need to worry about finding a commercial premises, either, because you don't need to hold any stock. You simply need to build your website and find your suppliers. Keep an eye out for suppliers who do blind dropshipping. This means they'll be able to send the product to your customer, but with none of their own branding.
Suppliers who engage in blind dropshipping won't provide any invoices or marketing materials in the box, nor will they use any of their branding. They won't necessarily use yours either; instead going down the plain label route. Make sure you enquire about this before you agree to work with a supplier, otherwise your customer could be confused as to why they're receiving branding and labelling from a company they didn't order from.
Build an ecommerce/dropshipping website
As mentioned, the key to any ecommerce or dropshipping business is a website. You need to build a safe and secure website that protects users' data and that gives you an easy way to manage orders.
You can use a website builder like Builder.ai to build an ecommerce website easily and on a budget. Unlike many of the big names offering prepackaged ecommerce websites, we never do revenue share. So you keep those all important profits (this becomes even more crucial if you're dropshipping where margins can be very tight).

Using a website builder is easy. All you need to do is select the solution that's right for you, choose your design and then upload your products. Ecommerce competition is fierce to say the least, so you will need to think long and hard about your SEO (search engine optimisation) in order to get your website to rank so that consumers can find it.
Once you've uploaded all your branding, your website is good to go. In the way of dropshipping, you have everything you need. It's a good idea to complement your website with an app. More people use their mobiles to shop than they ever have before because it's convenient, so having an app will open you up to an even wider market. Mobile ecommerce is called mcommerce or mobile commerce, and it makes business sense for ecommerce businesses to take advantage of mcommerce, too.

You'll get iOS and Android apps – as well as a new website – with the Studio Store ecommerce app. Think of it as a shop-in-a-box. You get a website, apps, app maintenance and even cloud hosting to get you started – and no revenue share means more profits for you.

Get started today
Hopefully, you're now clearer on what ecommerce and dropshipping are and what their main differences are. If you think you're ready to take the next step and set up your own business, we can help. Get in touch with us today to discuss your idea, or alternatively, start building your ecommerce or dropshipping website today.
FAQs:
How to get into ecommerce?
Getting into ecommerce is easy enough when you have a website, business premises and stockist list sorted out. Chat to us today and we'll help you get started quickly.
How to get into dropshipping?
Getting into dropshipping isn't too different from traditional ecommerce. You'll need to speak to suppliers and see if they offer blind dropshipping. If so, pull off their images and upload them to your own website. All you need to do is send orders through to the supplier as and when they come in from your customers.
What is the difference between ecommerce and dropshipping?
Ecommerce is when you have an online business and handle every stage of the selling process yourself, from the website through to delivery and aftercare. Dropshipping is where you have a website, but you don't sell the products yourself. Items are delivered directly from your supplier to your customer, and you take care of all the customer service.

Liam Collins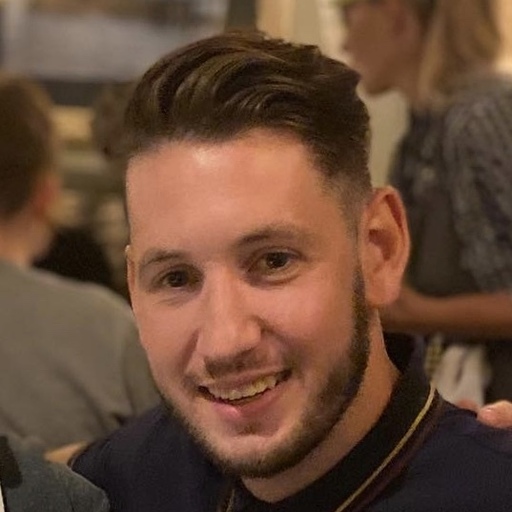 Head of Performance at Builder.ai
Liam is Builder.ai's Head of Performance, with 10+ years' experience of defining, activating and executing digital marketing campaigns. In his work at internationally recognised agencies like MediaCom and MG OMD, he was client lead for large accounts like DFS, Kenwood & De'Longhi and Boots as well as many SMBs, driving commercial growth through bespoke ecommerce and omni-channel strategies.