In times of economic uncertainty, few business sectors come out on top and relatively unscathed. Many nosedive, but there is one industry that never ceases to thrive: food and drink. It's also one of the unlikely beneficiaries of online shopping, with up to 95% of restaurants saying having an app and going digital has improved their efficacy. Looking at food business ideas is a great way to build upon the success of an existing restaurant, or to start a new restaurant.
Despite still being amid a pandemic, there has never been a better time to develop a food restaurant app. They're what got most people (and businesses) through the pandemic, so it's no surprise we're seeing an increase in the number of people looking to develop an app to start their restaurant.
If you're in a similar position but are struggling to pinpoint an idea, we've put together a list of some of the best food app ideas you can jump on today.
The top four mobile food app business ideas of 2022
Looking for some inspiration? Read more about our top mobile app ideas for this year and learn how they can each make you a small fortune.
#1 Restaurant delivery app
Whether it's the middle of a pandemic and you're not allowed to leave your house, or if it's a Friday night following a long week at work, there has always been and will always be a market for food delivery. It's convenient, fast and available on-demand, and it's something most of us have grown accustomed to over recent years.
Almost everyone has had a takeaway at some point. For an estimated quarter of the population, enjoying a takeaway is a weekly occurrence, lamenting the fact that food delivery is here to stay. There are some giants already dominating the food delivery field, including Just Eat, Uber Eats and Deliveroo, but that's not to say you can't create a successful delivery system of your own.
Developing a restaurant delivery app for your establishment is a good way to generate customers directly to your business and not have to pay a third-party platform like those aforementioned. That being said, online marketplaces are unparalleled for increasing brand awareness, so it's good to keep a profile on them to better your brand awareness whilst simultaneously driving traffic to your app.
Need more app insight? Join the Builder.ai community
#2 Table reservation app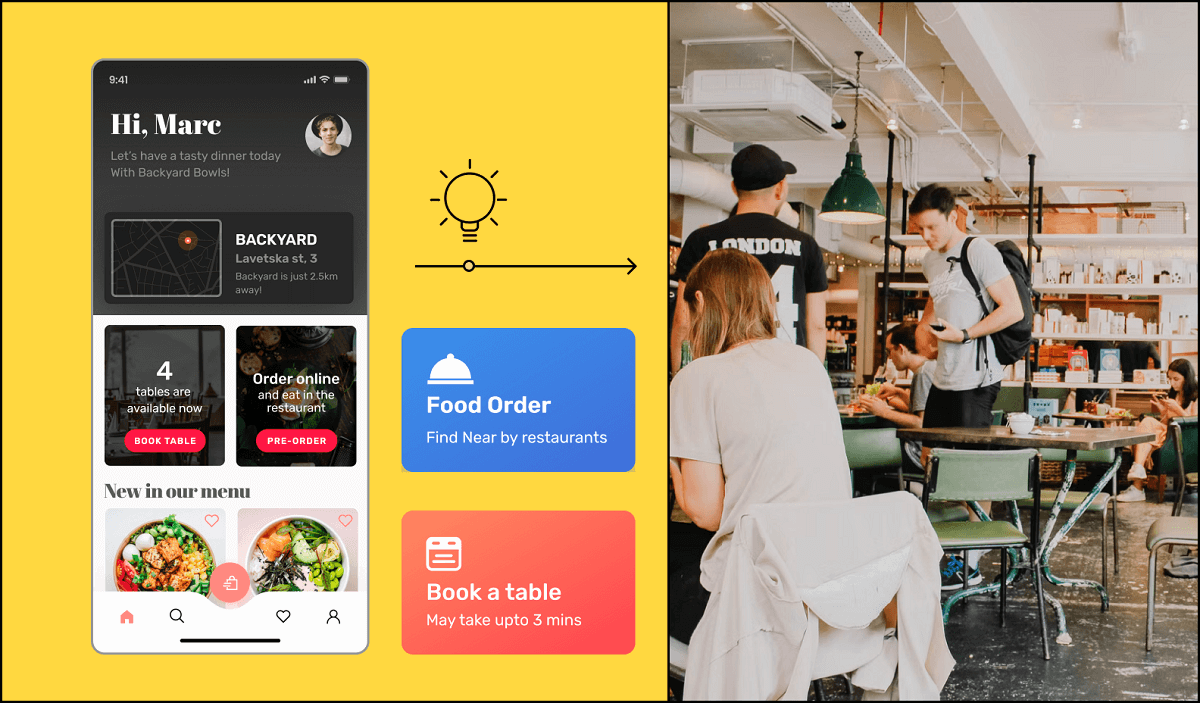 Both customers and restaurateurs benefit from a table reservation app, making it a good option for those looking to accept dine-in customers. Firstly, your customers will be able to see what dates and times you have available and book a table in advance, ensuring they have somewhere to eat no matter the occasion.
From a restaurant owner's perspective, having an online reservation system allows them to better manage their bookings and keep on top of things like supplies and staff. If you have a restaurant in a high traffic area, this is an especially useful tool.
#3 Recipe sharing app
Food technology is about more than being able to order pre-made food. There is an increasingly widening market for recipe sharing, especially for restaurants. The rise of the so-called fake-away means more people are looking to create their restaurant favourites at home. We're not saying you have to give away all your restaurant's secrets, but some of your more basic dishes could be featured on a how-to style app complete with ingredients and instructions.
#4 Online ordering app
Last but by no means least on our list is the online ordering app, mostly for in-house orders. For pubs and bars, this is a great option because it allows customers to order from their seats, therefore reducing long queues and managing footfall within the establishment. Wetherspoons do this exceptionally well, but we're seeing more restaurants implement it, too.
There's a multitude of benefits for this type of app, including giving customers the option to order when they want, taking pressure off of stretched floor staff, and allowing diners the opportunity to pay and leave as and when they see fit. Online ordering combines the convenience of takeaways with the luxury experience of dining out – a winning combination in 2022.
Building a food app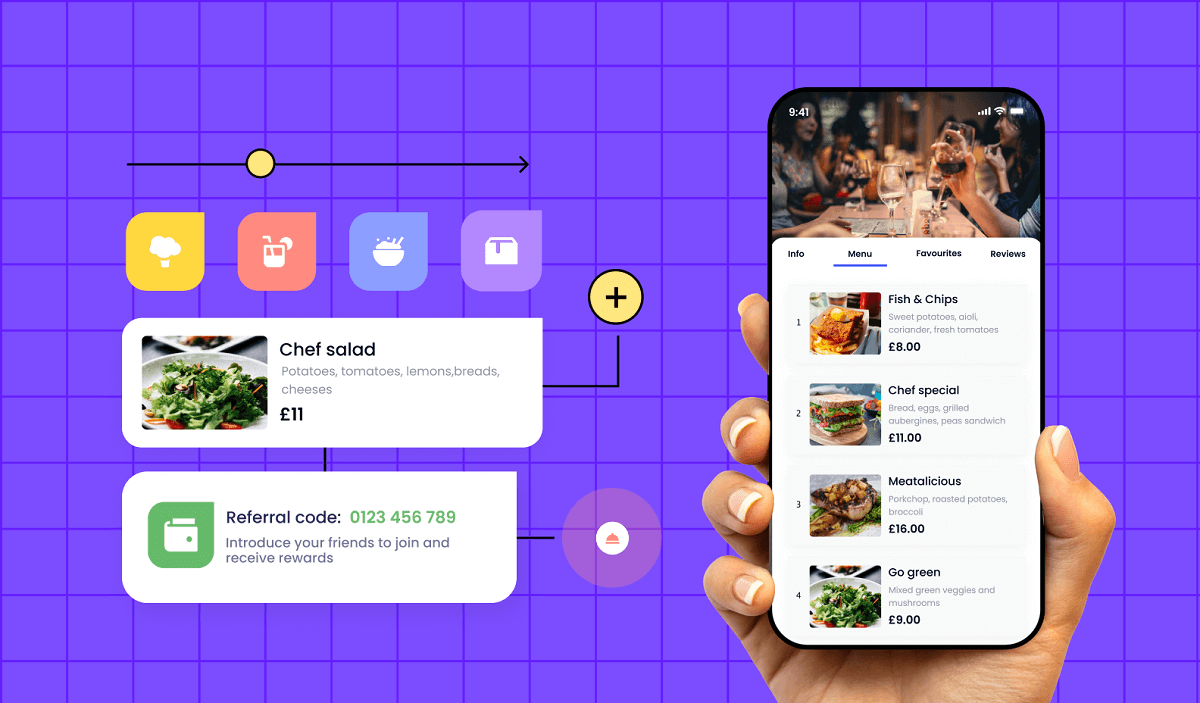 Whether you choose to go down the table reservation or online ordering route, you're going to need a platform to build your app on. The quickest, easiest and most affordable option is to use an online app builder like Builder.ai.

We offer EPOS integration (electronic point of sale) and full delivery management, as well as functionalities to boost customer loyalty through click and collect, table ordering, QR menus and more. Whatever type of food app you want to build, we can help.

Take a look at Builder Studio and start creating your restaurant app today.
Frequently asked questions
Which food business is most profitable?
There are many examples of successful food businesses that turn large profits, including restaurant apps like Deliveroo and food delivery companies like Hello Fresh, both of which can be replicated when you build an app using a Builder.ai template.
What are the easiest food business ideas?
If you already have a restaurant, the easiest food business idea you can implement is in the way of creating an app that can manage your bookings and take orders online. Use our prepackaged Studio Store apps to grow your restaurant business.
What are some food business ideas for beginners?
There are plenty of food business ideas for beginners, including online bookings and orders, recipe sharing and restaurant reviews, all of which are entirely viable and can easily be brought to life using an online app builder like Builder.ai - no coding experience required!
Ananth Ramanathan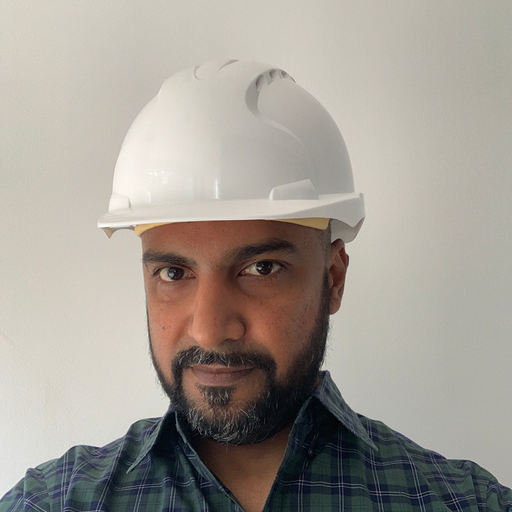 VP Studio Store at Builder.ai
Ananth Ramanathan runs Studio Store business at Builder.ai with a mission of digitising a 1M+ micro SMEs in the next 5 years. He oversees the commercial, product, and customer success functions to rapidly scale Studio Store globally. Ananth's an experienced tech business operator, a failed entrepreneur, and an active angel investor.