When you think of a restaurant takeaway app, there's one name that springs to mind: Just Eat. From the catchy adverts on TV and radio to its consistently ranking at the top of the app store in the food and drink section, Just Eat has grown into the restaurant and takeaway market leader in just 20 years since its inception.
Whilst it has a total monopoly on the market, there is still room for you to create your very own restaurant app like Just Eat. Since the COVID-19 pandemic began, online food orders have exploded and there is more of a market now than ever before, making it the perfect time to create your app.
Why create an app like Just Eat?
You might be asking yourself why you should be thinking about creating an app like Just Eat, but the answer is simple: it works and there's room for more. As mentioned, Just Eat dominates the UK online food industry, making it the ideal blueprint to follow.
In the final quarter of 2020, Just Eat announced that its sales had increased by over 300% compared with the same period the year before. The growth could have been due to COVID-19, or it could have been due to consistent market growth in the food sector.
The food delivery industry in the UK is worth over £8.5 billion, with more than 11 million people having ordered food online at some point. There's more than enough to go around, but why focus your app on the Just Eat model?
When asked which food delivery companies people are aware of, 80% said Just Eat. Compare that to just 38% who said Uber Eats and it's clear to see that what Just Eat is doing, including everything from their marketing campaign through to the way their app works, is a big hit. This, paired with their £779.5 million revenue, is indication enough that Just Eat is a great example to use for your very own restaurant app.

With so much revenue and being such a common choice, restaurants can gain a lot from being on a platform like Just Eat in the way of marketing and digital exposure, so much so that being on a marketplace as successful as Just Eat is seen as an investment. Your app could also be seen as an investment for brands – if done correctly.
How to build an app like Just Eat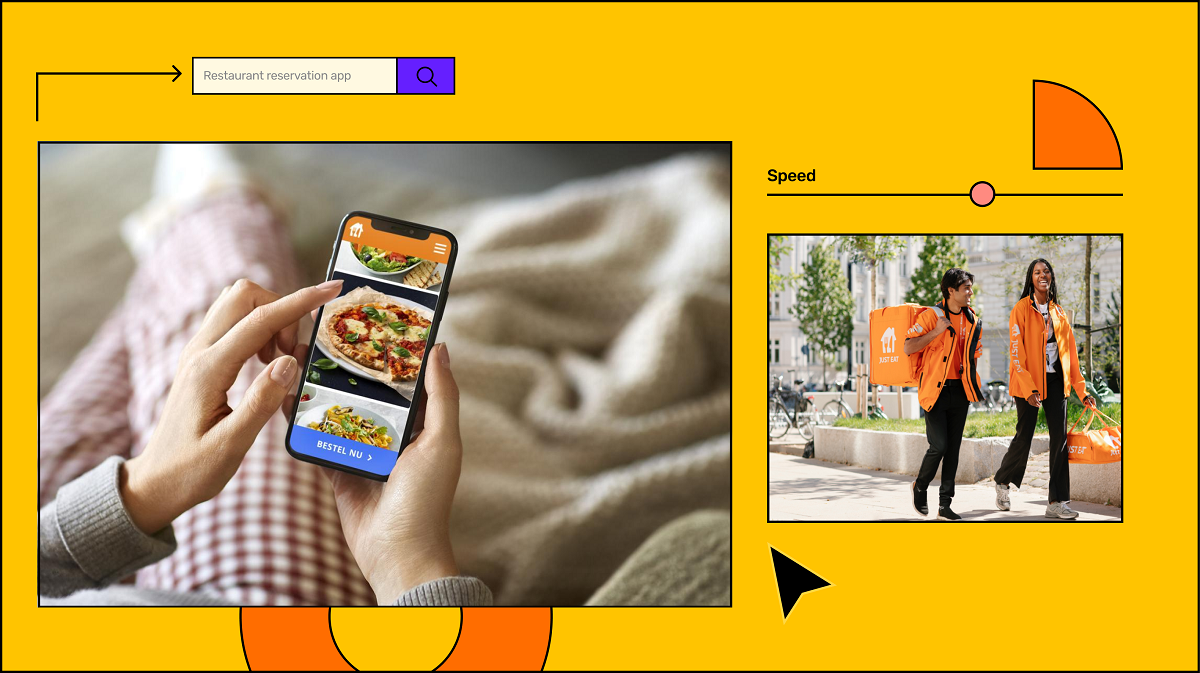 You might think that due to the size of Just Eat and how successful it is, it must be pretty hard to replicate their app. In fact, this is not the case at all. Just Eat is extremely simple in practice – provided you use an online app builder like Builder.ai.
#1 Choosing your build method
When it comes to building an app of any kind, including a takeaway ordering app, you can either:
Build it yourself (including design, coding and testing)
Hire an agency/developer to do it for you
Use an online app builder
Using an app builder is by far the best option if you're a beginner or if this is your first experience building a piece of software specifically for the restaurant industry. App builders essentially take the hassle out of building complex apps, such as those that mirror Just Eat.
You don't need to put in any of the leg work – and this is especially useful when you're trying to replicate something that already exists.

#2 Choose a template…or don't!
The next step is to design the app. If you're using an app builder, this will involve choosing a template. But you can avoid all the drag and drop of online app builders by picking a prepackaged Studio Store app.

If you pick this one, your customers can book food for online delivery or collection – and you'll get your apps in as little as 2 weeks.

On top of this, we provide:

Click & Collect functionality
EPOS integration
Delivery management
Customer loyalty scheme implementation
#3 Personalisation
This is the fun bit. You upload your restaurant's logo, pick colours and branding. It's all done on your Studio Store dashboard, that's also where you can start adding your menu items and adding pictures.
#4 Test, test, test
When you've finished adding all your restaurant's details on your dashboard, it's time to test it out. You don't need months with focus groups to give you their honest opinion on what your app is like, but it's a good idea to test it out with as many colleagues, friends and family as possible.
Studio Store apps come with 24 months of maintenance included to cover off any bugs or updates, so that's one less thing to have to worry about.
#5 Final changes
After testing (which should take a few weeks at least) you can make any final changes based on the feedback you received. You can then do one final test to ensure everything is running as it should. You will also want to take a moment to double-check your marketing strategy at this point, too.
#6 Launch
When you're completely happy with what you're seeing on screen, you're ready for launch! App builders will launch directly onto the app stores for you; just another way they take the headache out of app development.
That's it! It takes just six simple steps to build a restaurant reservation app like Just Eat, you're in control the whole time. Even better, you never have to pay those profit-stealing fees that Just Eat charge on the value of your dishes. It's your app, you keep your profits (we think that's only fair!). It really couldn't be simpler.
Start building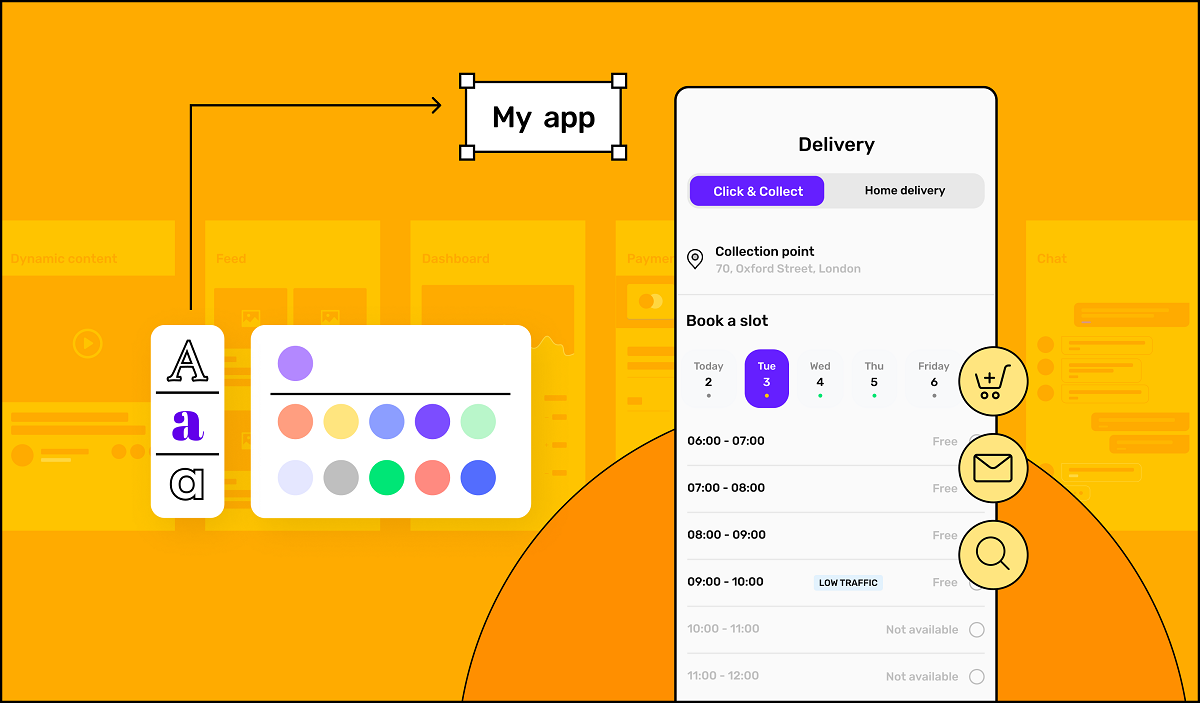 Ready to launch your own app like Just Eat? If so, we're ready for you. Use Studio Store to create a professional app that mimics Just Eat – for a fair and competitive price. You don't need any experience to create an app – our expert team does all the work for you.

Give your restaurant all the benefits of Just Eat – without any of the profit stealing fees.

Frequently asked questions
How much does it cost to build a restaurant app for reservations?
The price of building an app fluctuates based on the app at hand and the individual features it has. But if you want a low cost professional app for online orders, this award-winning app is worth a look.

How to build a restaurant app for beginners?
If you're a beginner with little to no technical or app development experience, the easiest way you can create an app is by using the Builder.ai online app builder platform. Everything is coded for you – all you need to do is upload your restaurant branding.
How do restaurant apps like Just Eat make money?
Apps like Just Eat make money by charging restaurants featured within the app a commission fee. You can do the same for your app when you build it using Builder.ai.
Priyanka Kochhar
VP of Product at Builder.ai
Entrepreneurial senior management executive of fast growing technology businesses. Successful in taking ideas from concept to profitability, using a blend of lean, agile and rapid result methodologies. A background in building and managing cross-functional and hybrid teams, with a record for retaining talented individuals and delivering results. Skilled in developing and maintaining a clear product and project vision, strategy and roadmap. Willing and able to adapt to changing environments. Often named as a Crisis Manager with a vision to "Make Things Happen".