Whether you own a restaurant and are looking to build your own restaurant app or are looking to invest and build an app like Deliveroo, we can tell you one thing: the timing couldn't be better!

The concept of food delivery isn't new. Some days, nothing can beat a crime show marathon coupled with some Chinese delivery. Or treating yourself to pizza on long, exhausting workdays. But the approach to food delivery has certainly changed since the COVID-19 pandemic hit.
While ordering online for food delivery was once more popular amongst lazy students, hungry introverts, or tired office-goers at the end of the day, now it is more the law. More than 6 months after it all started, restaurants are only slowly opening up in selected cities with stringent social distancing. One wonders, "Why to go through all the trouble when I can just order in with a zero-contact food delivery provider?"
And so, restaurant aggregators and food delivery apps like Deliveroo are taking off.
Research and Markets, the world's largest market research store that even companies like Microsoft and Ikea rely on, recently published a report titled, "Online Food Delivery Services Global Market Report 2020-30: COVID-19 Growth and Change". Here is what it says:
"The global online food delivery services market is expected to grow from $107.44 billion in 2019 and to $111.32 billion in 2020 at a growth rate of 3.61%. The slow growth in 2020 is mainly due to the economic slowdown across countries owing to the COVID-19 outbreak and the measures to contain it. The market is then expected to grow and reach $154.34 billion in 2023 at CAGR of 11.51% and $200 billion by 2025."
Another reason for this growth may be the recent proliferation of delivery models and fleet types: same hour, same day and next day delivery; single fleet, multi-fleet, crowdsourced fleets and in-house fleets; delivery from store, curbside pickup, delivery from robotic warehouses...the list would never end as brands continue to innovate and find ways to dazzle customers.
Domino's Pizza captured the Twitterverse when it started letting customers order through tweets. Not long after, they launched their Facebook messenger bot called Dom that lets people message Dom and request food with a single word or emoji. Dom also replies to customer inquiries about vouchers and the latest deals.
You see, to say that the competition is stiff is a massive understatement. But even then, equally massive is the market potential that has big and small brands fighting for a piece of the pie.
So, whether you own a restaurant and are looking for a food delivery app builder or are simply looking to build a takeaway-delivery app, we can tell you one thing: the timing couldn't be better!
We bring you the soup to nuts on how to build an app like Deliveroo:
How do food delivery apps work?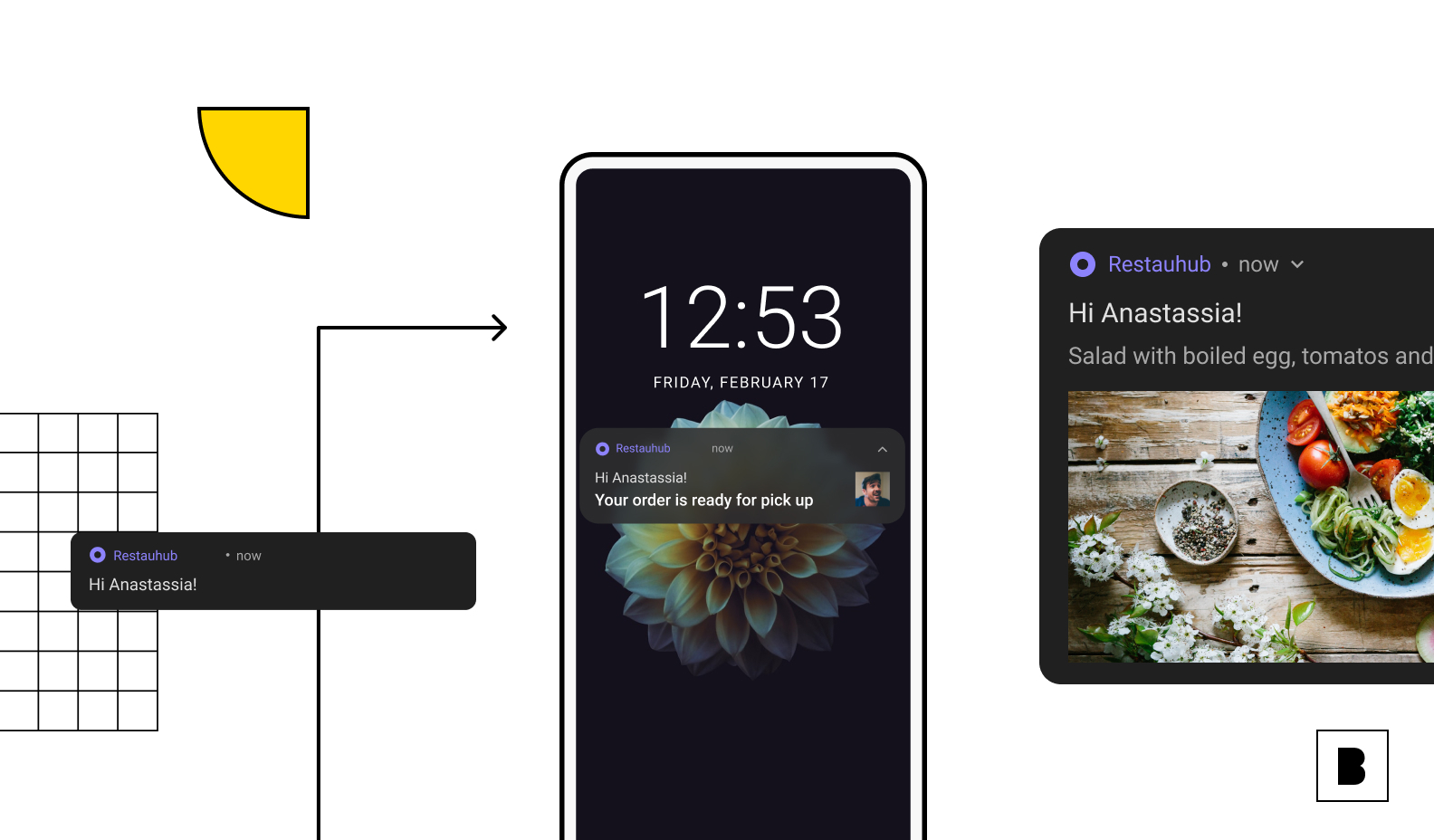 Hungry customers access the website or app of the food delivery service on their phones or laptops. They are only shown restaurants near their current location because for the service, it is logistically feasible. Next, customers place an order for the food they crave via the app or website. The restaurants are alerted of all new orders and start preparing food. As the food gets ready, a rider reaches the restaurant to pick up the order and drops it at the customers' doorsteps.
All of this can happen in as little as 30 minutes!
Now, the more important question is, let's say you build your own restaurant app. How do you make money?
If you have a robust order placement-delivery system in place, then you could turn your app into an aggregator for local restaurants and generate extra revenue by providing cafés, diners, and bars an opportunity to publicize on your platform.
You could charge a small fee for delivery or offer a subscription service for regular customers if they like free delivery.
You could launch exclusive memberships for loyal customers giving them priority booking, discounts and more with a small monthly fee.
Now you see why it makes sense to build an app like Deliveroo?
How much does it cost to develop a food delivery app like Deliveroo?
The answer to this would depend on the partner you choose to build your app with. Big software development companies charge a hefty downpayment even before the project starts. With freelance software developers, quality may be a big concern and SaaS companies will always take a cut of your profit and never give you autonomy of your app code.
Let's talk about Builder Studio Store now. Depending on where you live, it only costs $500 or ₹9,999 per month. This includes building your restaurant app (which you'll get within 12 weeks), maintaining it and even cloud capacity to run and scale it.
How to code a delivery app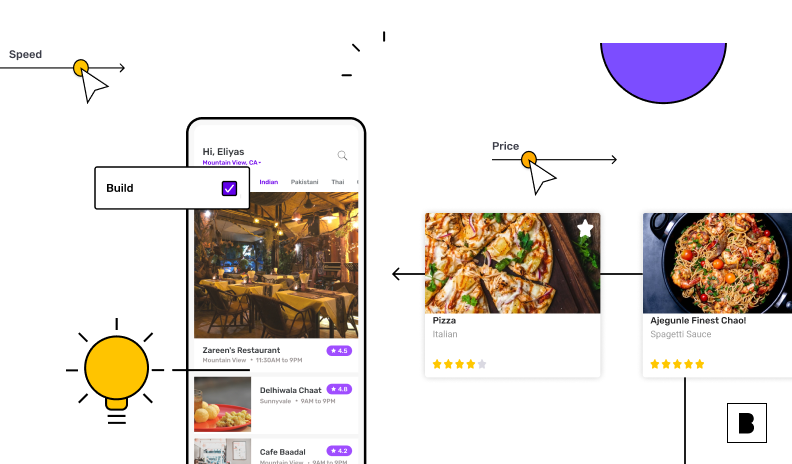 You don't have to, thanks to software app developers today. Before low-code/no-code platforms happened, restaurant app development meant tens of thousands of dollars and more than a few months spent in just getting a basic prototype ready. Nowadays, you can build your own app from scratch with no developer skills necessary. Today, with the right partner, food delivery app development would take you as little as 8 weeks. For instance, with our own app builder, Builder Studio Store, if you need to create a food delivery app, we make it simple (and quick). That's essential whether you're a restaurant owner who suddenly needs to offer delivery, or you're an artisan food producer whose shops are only possible online, now. Unlike other services which take a cut of your sales, once you build your food delivery app, all that profit is yours. And right now, we know that's vital.
How to build an app like Deliveroo?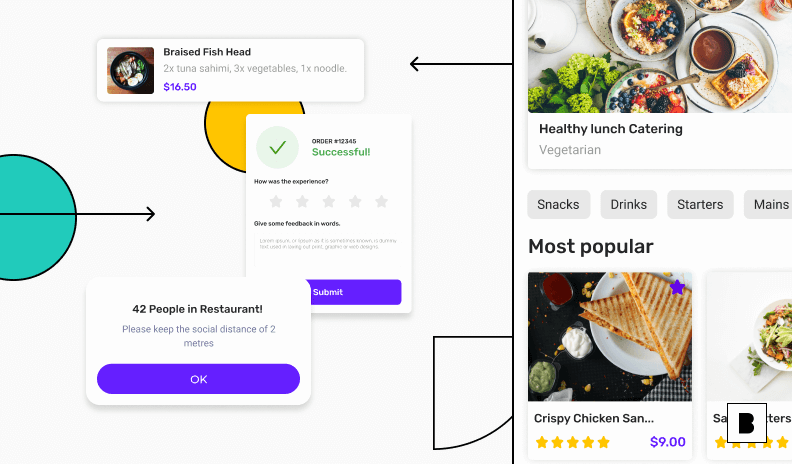 Easy. Say you want an app like Deliveroo? Other than standard restaurant delivery app features, let's see what more Builder Studio Store has to offer:
Safe food service: The industry has been hit and massively changed so let us help you adapt. By the end of 2020, restaurants are expected to lose more than $240 billion (in the US alone*). But you're not powerless. As people travel less, a loyal customer base becomes more valuable. Enter this award-winning app. Get yours in 12 weeks, with essential COVID features and the cloud to run it too.
Social distancing handled: Send notifications to your customers before their visit, checking if they have symptoms and explaining the safety measures you have in place. Use push notifications to keep staff safe and informed too. Once they arrive, customers sign into the app and then it sends them warning messages if they stray too close to others. If 2 people move closer than 2m (or whatever spacing you set up) they're both notified.
Contact-free orders: Customers can order through your app, this order goes straight to your kitchen and you can link it with any existing order management software you already have. They can also pay through your app minimising face-to-face contact with your staff and removing any need to handle cash. And, as your app allows you to take deposits, this helps you to reduce the number of cancellations.
Virtual queuing: Your customers can use this either to pick up takeaway food or reserve a table to dine in. They can pre-order food and notifications tell them when it's ready. Removes the need for queueing inside or outside your premises – it's not only safer but a much nicer experience for everyone.
Kitchen management: In the app, you set how many customers you can serve at any one time. This limits how many people can reserve a table, so your kitchen is never overrun with orders. As everyone signs in to your app when they arrive, diners can see how much of a crowd there is before they get to your restaurant – and if there's space for them.
Push notifications: These marketing tools are only limited by your imagination. On quiet days, send geo-targeted push notifications to app owners in the vicinity and remind them of your delicious cuisine! Or target everyone at the right time - usually just after office hours have ended and everyone is hungry and tired!
You can also exclude people who order pineapple on pizza. It's not mandatory but we highly recommend it!
The takeaway (pun intended!):
Build your own restaurant app stress-free and with zero complications. No more scrolling through google to learn how to build an iPhone app, because we build native apps for both iOs and Android to ensure easy use for the entire customer market, meaning you don't have to choose sides! With our service, you benefit from:
Build your branding with your business logo
No hidden costs, just one monthly payment
Free hosting with Builder Cloud for two years
Free maintenance with Studio One for two years
After 2 years receive your app coding to use as you wish
Analyse customer data for better marketing
Push notifications to drive those extra sales
With your own delivery app, you can revolutionise your brand marketing strategy by using in-depth communication and rewards for loyal customers, and promoting yourself to new ones all at the same time!
Building your own app has never been easier, and only maximises your brand strategy, and therefore your business. So check out our Studio Store today and learn exactly what's on offer with our restaurant, take-away or even our brand new FREE Qing (Queueing) app! In a matter of weeks, your app can be up and running and taking orders.
You're hungry for business and your customers are hungry for your food.
That's why we make software as easy as ordering pizza - but you'd know all about that of course!

Lakshmi Devan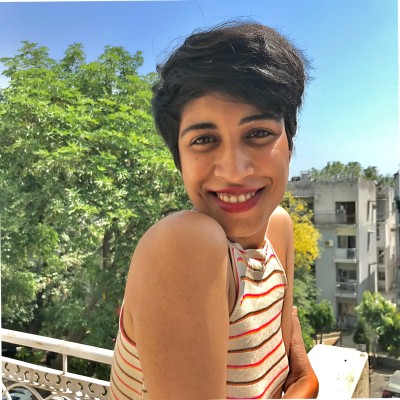 Senior Manager Content at Builder.ai
Lakshmi is a communications professional with over 6 years of experience across industries- from digital media and fashion to health and technology. She specialised in Integrated Marketing and Communications cum laude, and naturally, can work her magic best when handling public relations, marketing and editorial content and communication. Most people find her moderately introverted, conspicuously sassy, significantly energetic, and massively dog-loving.