The UK is a nation of foodies, but nowhere more so than in London. Food delivery companies like Just Eat, Deliveroo and Uber Eats are on speed dial for a lot of Londoners, with almost half of their £1 billion service fees coming from the capital alone. By revenue, Just Eat is the best food delivery service in London, but there's plenty of scope outside of takeaways for you to create an app and start your restaurant business in the beating heart of the UK.
There are big bucks to be made in the UK food sector, with it contributing more than £40 billion to the country's economy each year, most of which comes from London. Everywhere you turn there's an eatery, a café, a gastropub, or a street food stall.
It's truly a thriving industry, and the pandemic hasn't put a dent in people's taste for good food, either, even though large parts of hospitality were forced to shut for over a year. If anything, it has bolstered the UK food delivery market and seen a growing number of people looking to cash in on the industry.
If you're one of them but don't know where to begin, here's six of the best food app ideas for setting up shop in London.

Get the best app delivery in London, using these 6 ideas
1. Alcohol and drinks delivery app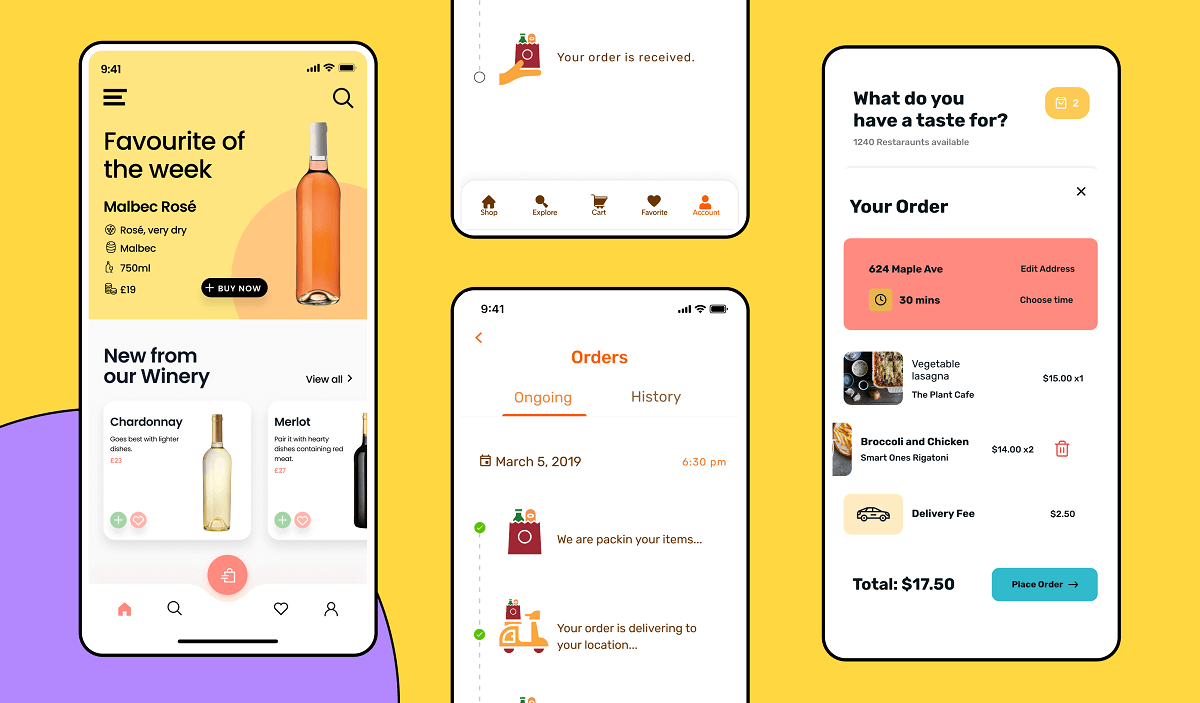 Food delivery is about more than just food. Sometimes, people just want a good drink to see them through, whether it's a classic espresso martini or a virgin Mary mocktail. Many food delivery apps don't offer a wide variety of drinks, leaving a big gap in the market for a cocktail and mocktail delivery service. Some effort would need to go into the packaging to ensure everything is secure, but once that's sorted, there's a high chance it will be an extremely viable food delivery app idea, especially in London.
2. City dining to suit your budget
We all know the cost of living in London is high, and it can sometimes be a nasty surprise when you pick out a restaurant and look at the menu, only to find that it's way over your budget. Similarly, for special occasions, it's nice to have somewhere unique to go as a treat, but that's not always the easiest to find, either.
London is saturated with restaurants, and it's no mean feat to filter them out by price. For this reason, an app that filters city dining by price is a fully viable app option for the city. You could develop an app that allows diners to filter out restaurants in their desired area by budget.
3. Food waste reduction app
The world is becoming more eco-driven as a result of the climate emergency, and it's affecting decision-making across all industries. From beauty products and clothes to food and drink, lots of people are actively trying to make the switch to low-waste or no-waste living. Food waste is a big problem across the world, with London alone producing an estimated 1.75 million tonnes each year, though the true figure could be higher.
Food waste is a huge contributor to global warming, meaning more people are looking for ways to cut their waste. This is where a food waste reduction app could come in handy, informing people of how they can reduce their food waste whilst simultaneously showcasing restaurants (or your restaurant on its own) that have low-waste initiatives in place. Check out the awesome food waste app Cup 'O Sugar built on Builder.ai.
4. Frozen meal delivery app
Between working full time and dealing with life in general, finding the time to make food can be tricky. This is a major reason why people order takeaways on the weekend, but that's the only time food to go can come in handy. Ready meals are a practical option for those who lead busy lives, but they're usually packed full of salt and the selection can be a bit dismal.
You could launch an app where people can order frozen meals in a ready meal format from your restaurant or others in London, making the perfect, healthier alternative to otherwise mass made food.
5. Freelance chef app
Freelancers span every industry, and food is no exception. The COVID-19 pandemic has taken its toll on hospitality and many talented chefs have found themselves without a formal type of employment as a result. There's endless potential to help chefs out by launching an app where freelance chefs can get in contact with people who want a meal cooking for them.
This would be particularly great for occasions where there is a need to impress – nothing says 'effort' quite like a private chef!
6. Grocery delivery app
The sixth and final app idea to get your restaurant business on the go in London is a grocery delivery app. We're seeing established apps like Deliveroo and Uber take a stab at grocery shopping, but there's yet to be a dedicated market leader for it, and what better place to pave the way for a new breed of food app than London?
Users can either opt for a Click & Collect style service, or they can send a shopping list in. This type of app is extremely convenient, and that's the fundamental aspect of a successful mobile application; it needs to make the user's life easier, and this certainly does.
Start building your food restaurant app in London today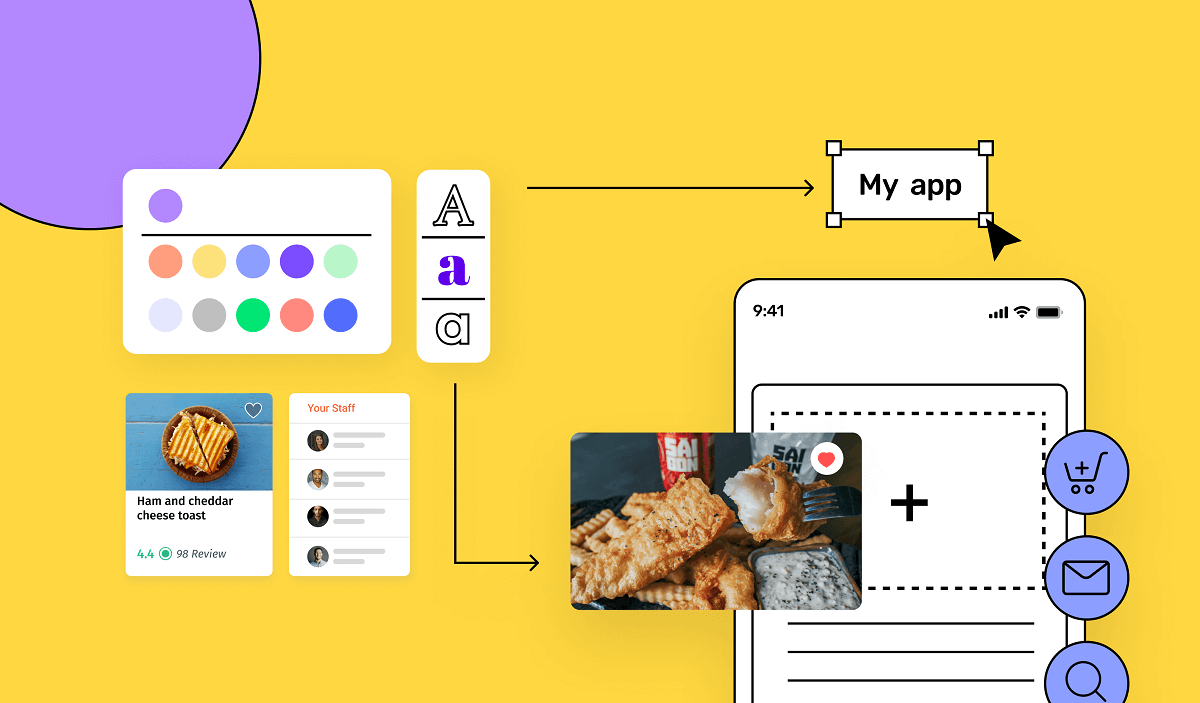 Whatever type of app you're looking to create to get your London food and restaurant business off the ground, Builder.ai can help.

Our expertly designed templates are built by our team of in-house developers and UX/UI professionals. For a competitive price, we provide key features you'll need for your London food app, including:

Click and collect
EPOS integration
Contactless table ordering
QR menus
Delivery management
Customer loyalty schemes

See what we can do for you and get ahead of the curve with our no-code, hassle-free app building service that's sure to improve your online food ordering experience: book a free demo.
Frequently asked questions
What is the best food delivery app in London?
The best app comes down to personal preference, but Just Eat took the largest portion of orders in London, followed by Deliveroo and Uber Eats. What's stopping you from beating them all? Create the ultimate food app, with Builder Studio, it's as easy as ordering a pizza!
What is the best way to build a food app in London?
The easiest and best way to build a food app in London is to use an online app builder platform like Builder.ai. Get iOS and Android apps and a website in as little as 2 weeks (and these apps won a CogX award so you're in safe hands).

How much does it cost to build a delivery app in London?
There is no set price for building a food delivery app in London because apps are completely unique in terms of their features. We always give you a fixed price upfront. And if you pick our prepackaged Studio Store apps, you'll get all the restaurant features you need for a great value price.
Gus Aldaya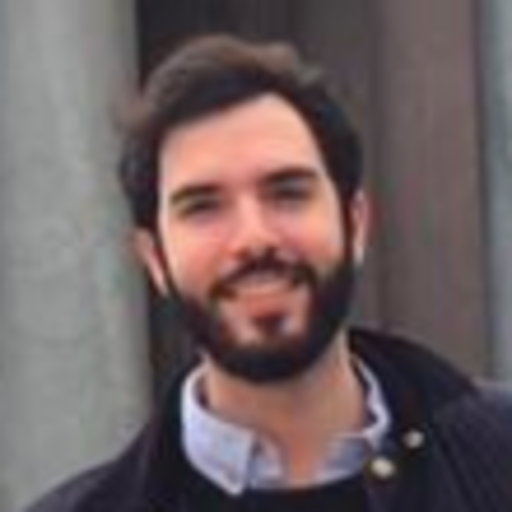 Product Marketing Manager at Builder.ai
Gus Aldaya is a product marketing manager at Builder.ai where he applies 10+ years of experience to ensure quality product marketing. Gus has a BA from the University of Kent.