Creating an app
for Android is like going on a bachelorette party to Vegas.
Without discipline and a military precise itinerary, you're gonna blow a few months' wages, and return to your loved ones with your tail between your legs.
Thankfully, that's not gonna happen, because you've got this guide. 
In it, we'll cover all the steps you need to make your app idea a reality. And just to let you in on a secret: 
You have more options to build your app than you think…
Keep scrolling, or flick through the menu below 👇
1 - Develop an app idea
In this chicken or egg debate, there's only one winner. 
Because you can't build an Android app without coming up with an app idea first. 
Chances are, you already have your app category in mind, whether that's social media, ecommerce or hospitality. Just to level with you now though: 
That idea probably isn't original, given the fact that there are around 3.48 million apps on Google Play.
The good news is, this isn't a problem. Far from it.
That's because with app building platforms like Builder, you can create apps with reusable, lego-like building blocks. As a result, you can build your app faster, cheaper and more reliably than you would be able to do internally or with a dev shop. 
More on that later, but back to your app idea. 
Your next step is to lay out your key motivations for building an app. These are six of the most popular: 
To gain a competitive edge in the market
To make your service/products more accessible to clients
To build brand awareness and increase brand exposure
To communicate with your clients directly 
To increase client engagement with your brand
To reward loyal clients for their support
Once you've nailed the reason(s) you want to create an app, you can start to think about how it'll take shape.
For example, if you feel like you could improve customer engagement, you could create an app that pushes interactive content to your customers. Think video, audio, polls and quizzes.
You may also want to make your product or service more accessible to your clients. By creating an app for your ecommerce website, you'll be able to achieve this, given that 86% of mobile users prefer using them to websites. 
Without solid motivations like these, your app build is likely to go off course, with build costs and production timelines skyrocketing.
2 - Do your market research
When Jeremy is gifted a pub by university friend, Merry, in Peep Show, Mark asks him whether he's done his market research. Jeremy replies: 
"If you build it, they will come. That's my market research."
Newsflash: this isn't gonna work for you. 
Now you've got an idea in your head, it's time to see if it's viable before you start building. The key to finding this out rests on the depth of your market research which will influence the way you decide to build your app.
Competitor analysis
First things first, you need to do a generic search on the Google Play Store to find similar apps to your idea. Here, you'll be able to see how many other competitors there are in the market, but don't be alarmed if you pull up tons of results.
Android is the most common mobile operating system, having around 73% of the market share, so this is totally normal.
By reviewing the top-ranking apps, you'll be able to identify clear themes which you should consider implementing in your own. Checkout as guest and social integration features are a couple you may want to consider. 
You'll also be able to see what kind of audience you need to be aiming your app at, which is especially helpful if your product is brand new or you don't yet have a client base. 
Once you know what best practice looks like, it's time to look at your direct competitors. 
Checking app reviews to see what customers like and dislike about their apps will help you set more benchmarks and identify where you can improve user experience (UX). Downloading the app itself will help you square those reviews with reality. 
No matter how much you think you already know about your industry, audience and type of app, market research will give you key insights that help you position your app effectively and ensure your app is a success.
3 - Create your Android app
Now you've done your market research and competitor analysis, you're ready to make your app idea a reality. To do this, you have 3 options: 
Use a no-code online app builder - Drag and drop app features from a library of templates to create your own app
Use a dev shop or internal developers - Build from the ground up or have technical teams use low-code app builders to create your app
Use Builder - Get the delivery times of a no-code app builder, plus the quality and scalability of a custom app
Here are the pros and cons of each option 👇
No-code app builder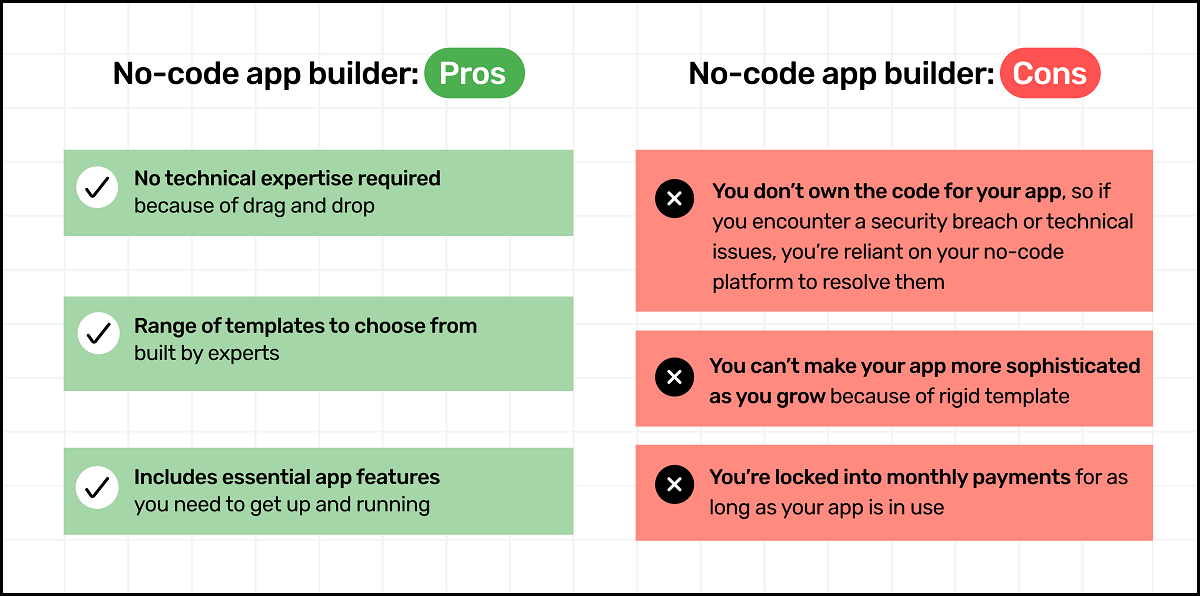 Team of developers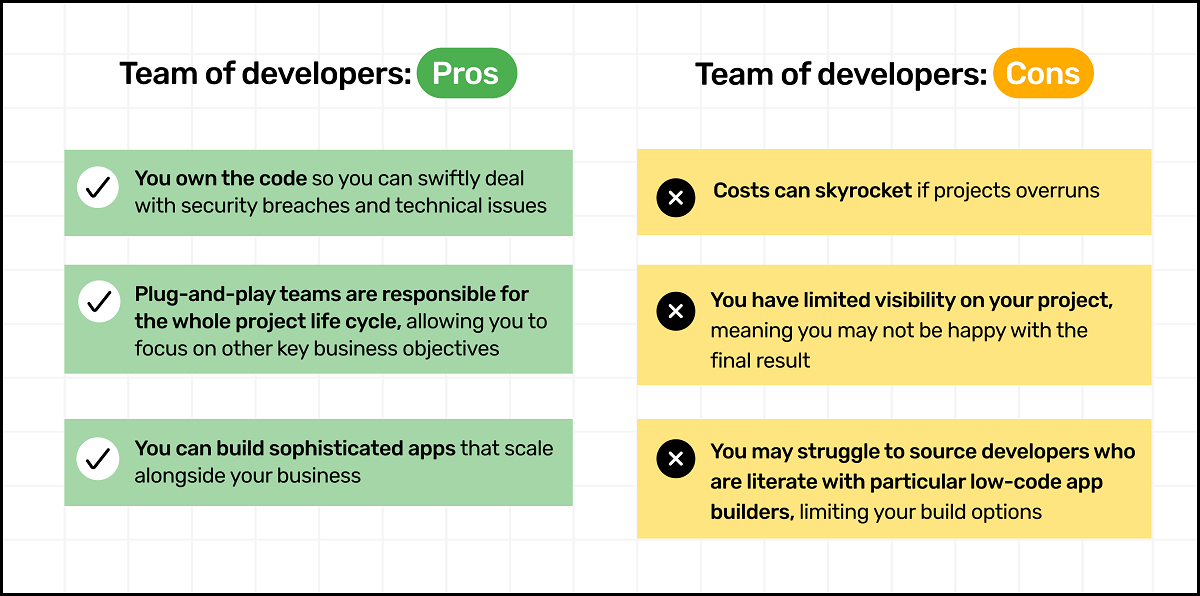 Builder.ai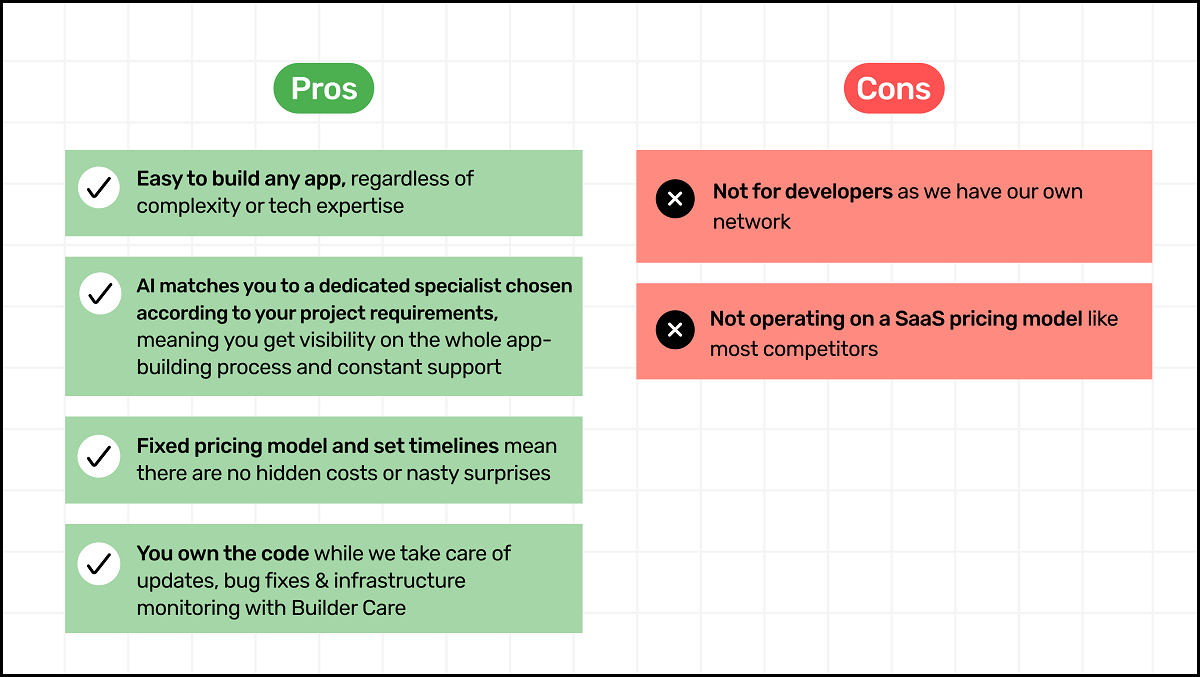 So, which should you choose?
It depends. 
Entrepreneurs and early-stage startups are the main users of no-code app builders. This is because they can build apps quickly and cost-effectively, while having no technical expertise. 
Individual users in large enterprises tend to use no-code app builders to automate workflows and enhance collaboration.
However, they're not suitable for building business-critical apps because the software can't scale. Templates are rigid and tough to customise beyond adding your own branding. 
Because teams of developers require more budget, they're mainly used by SMBs and enterprises. In the case of the former, outsourced agencies tend to be the best option, as they can access plug-and-play teams capable of building sophisticated, scalable apps. 
In the case of the latter, internal teams are essential for business-critical projects. They need complete ownership of their code and the ability to monitor their own infrastructure to deal with bug fixes and security breaches. 
And then it comes to Builder.ai. Whether you're an entrepreneur, SMB or an enterprise, there's a use case for you. For example: 
4 - Market your Android app
Now that your app is a living, breathing thing, you need to make sure people can find it. Here, your app description is key.
To optimise for the Google Play Store, prioritise keywords that are relevant to your app and also have high click-through rates (CTR). 
If you only use high-volume keywords, you're likely to be swallowed by your competition. Whereas long-tail keywords allow you to carve out and own a niche and take advantage of high buyer intent.
This will give you a higher CTR and will boost your listing's rank in the Google Play Store.
Whatever keywords you use, think about the user. No-one, and particularly not Google, likes a keyword stuffer. 
Next, use the features available to you to make your listing as descriptive and enticing as possible. For example, you could add screenshots and videos of your most important features—ideally, ones your competitors don't have. 
Once you have this sorted, focus on building awareness about your Android app in your customer base. If you have one already, send out an email sequence to your mailing list. If not, try running Google, Facebook and Instagram ads and capture customer data with lead forms.
You can also use influencer marketing to create hype around your app. And trust us: you don't need to spend $100K per post to do it.
5 - Go live
Now, for the moment of truth. 
After all your preparation and hard work, publish your listing and let the downloads roll in. Just make sure you do it on a weekday and not on a public holiday. 
Then sit back in a reclining chair, swill some scotch and take a breather. Because soon it'll be time to think about optimisation!
You can't just set and forget your app or the marketing strategy that goes with it. Inevitably, you'll encounter some technical issues over time and new challengers will enter the market.
And to make sure your Android app is successful long term, you need to keep your finger on the pulse.
Build an Android app today
And there we have it! You're ready to build your Android app. Get in touch with us to discuss your idea further, or start building your app today with Builder Studio.
FAQs
How to create an Android app for free?
You can create a prototype of an Android app for free using Builder Now. To start, choose an existing app template or start with a blank template > Pick the category for your prototype e.g. travel or social media > Select template e.g. Tripadvisor > Review your prototype 
How to create an Android app for my website?
To convert your website into an app, you have a couple of options. For very basic sites, you can enter your URL into a free website to app converter. For more sophisticated sites, you should work with someone with development expertise, for example a dev shop or online app builder.
How to create an educational app for Android?
You can create an educational app for Android using Builder Studio. To start, enter Builder Studio > Tell our AI assistant, Natasha, you want to create an educational app for Android > Natasha suggests templates > Choose your preferred template and customise > Hand over to us to build.
Ananth Ramanathan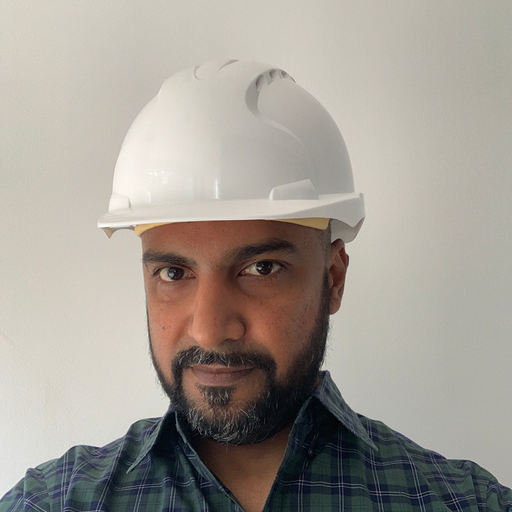 VP Studio Store at Builder.ai
Ananth Ramanathan runs Studio Store business at Builder.ai with a mission of digitising a 1M+ micro SMEs in the next 5 years. He oversees the commercial, product, and customer success functions to rapidly scale Studio Store globally. Ananth's an experienced tech business operator, a failed entrepreneur, and an active angel investor.