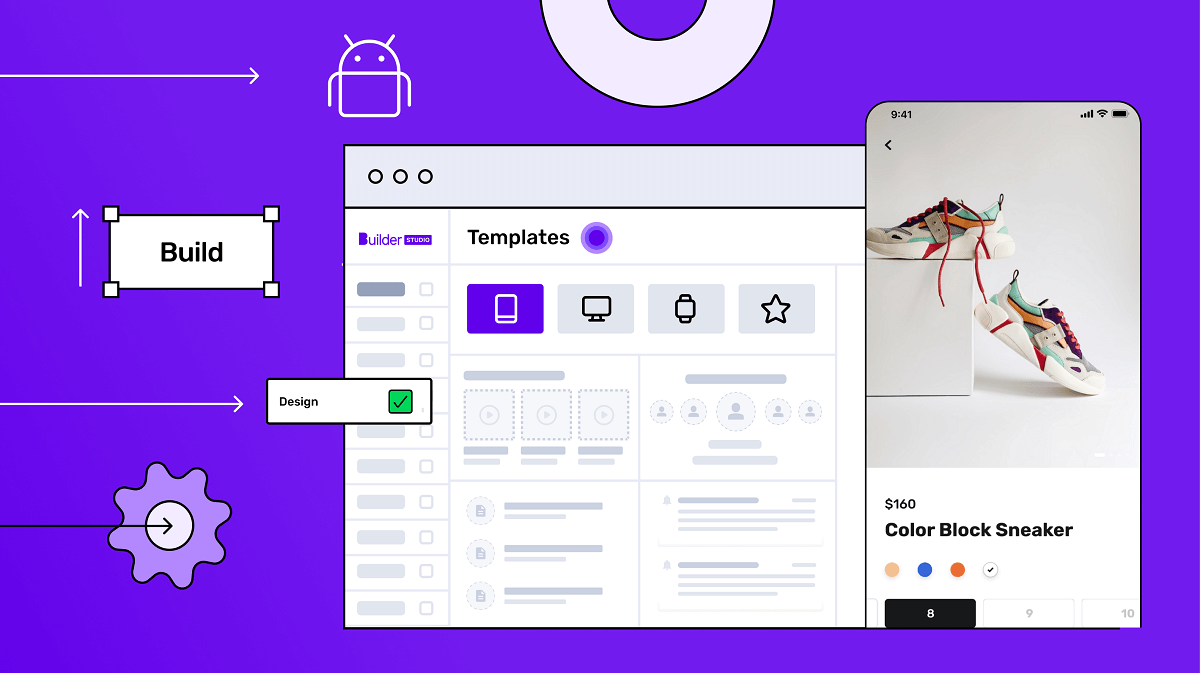 Whatever you do, don't read this blog from top to bottom.
Why?
Because there's no one size fits all when it comes to creating an app. And your motivations for doing so will dictate how you bring your project to life.
Entrepreneurs may need an app to sell online, supporting their side hustles or passive income streams. SMBs may need an app to help scale their business processes and support their growth. Enterprises may need an app to introduce automations that unlock huge efficiency gains.
And all of these motivations require specific approaches.
My aim here is to get you to the right information depending on what yours are, and help you take the best next step for your business, as quickly as possible.
Just so you know, Builder.ai has created hundreds of apps with a near 0% failure rate, by comparison to the industry standard of 78%. And everything I'm about to say will draw on that experience.
Use the menu below to navigate through the sections most relevant to you!
In this article
Looking for an easier app development route?
Take our quiz and find your perfect app-building solution
Help me find a plan
Checklist: Are you actually ready to create an app?
Given the time and cost investments involved, app projects tend to be very well thought out. 
But starting an app development project spontaneously can be tempting, especially for entrepreneurs and small businesses with fewer barriers to entry. 
Hold your horses though. Before you create an app, you need to have your house in order, which means: 
If you're unclear on any of the above, it's best to do more research before diving into the deep end, and the resources below will help:
App ideas | App benefits | Website vs app | Why apps convert higher than websites | App development cost | Android apps | iOS apps | Progressive Web Apps (PWAs)
But if you have all of this covered, then keep scrolling 👇
Analysed: The 3 main ways to create apps
As we touched on in the intro, the size of your business, the resources at your disposal and the purpose of your application all influence your app development route.
We've broken down the pros and cons of the three most established app creation methods below, but that's not the end of the story, as you'll discover in the next section…
1 - Self code: For technical entrepreneurs creating apps
If you have technical skills and you don't have strict project deadlines, coding your own app is the most attractive app building route. Here's everything you need to know:
Pros
You can drive app development costs down by upskilling yourself with free educational resources readily available on the web
You own your code if you write it, meaning you have total control of your app environment, rather than relying on dev agencies or app builders
Cons
Extremely time intensive, meaning your free time will be consumed by the project
You have to resolve technical issues yourself and may need to invest in further education to do so
Sophisticated, scalable software is tough to create alone, given your time and resource restraints
2 - No-code app builder: For non-technical entrepreneurs creating pre-packaged apps
No-code app builders allow non-technical users to quickly and cost-effectively build simple web and mobile apps and have the following up and downsides:
Pros
No tech expertise needed to build an app, thanks to drag-and-drop interface
Fast to build because templates are reusable and customisable
Cons:
You're locked into monthly payments for your app as long as it's in use, meaning you could pay over the odds to keep it live
Rigid templates mean you can't scale your app as you grow, or improve your app's sophistication over time
You don't own the code, so if you encounter a security breach, or technical issues, you're reliant on your no-code platform to resolve them
You may need to complete educational courses just to use your chosen app builder
3 - Dev agency: For larger, scaling businesses creating custom apps
If your developers don't have the resource to dedicate to an app development project, or you don't quite have capacity to hire an internal team, you're in luck. Because plug-and-play teams can fill the gap, and build powerful, custom-code apps. Here's what you need to know 👇
Pros
You don't need to burden internal teams with your app project as dev teams take responsibility for everything
You own the code, allowing you to quickly resolve security breaches and technical issues
Your app is secure and scalable because it's custom coded, meaning you can protect customer data and meet emerging business needs
Cons
Costs can skyrocket if you're on a retainer and the project overruns
Liaising with developers can be difficult and confusing, particularly if you don't have technical skills
You have limited visibility on your project, meaning you may not be happy with the final result
But if the shoe doesn't quite fit with any of these routes, there is another way 👇
App platforms: The best way to create apps (for every business size)
App development platforms are all-in-one solutions, offering a middle ground between no-code app builders and dev agencies. On the one hand, you can create apps cost effectively and at speed. On the other, you're not restricted by templates and have the ability to level up your app as your scale.
This means everyone from non-technical users founding their own startup to large enterprises looking for extra resource can use them. Here's how they measure up to the options we talked about above:
| | | | | |
| --- | --- | --- | --- | --- |
| | Self code | No code | Dev agency | App platform |
| Coding skills needed | ✅ | ❌ | ❌ | ❌ |
| Transparent costs | ✅ | ❌ | ❌ | ✅ |
| Clear timelines | ❌ | ✅ | ❌ | ✅ |
| Own the code | ✅ | ❌ | ✅ | ✅ |
| Lock-ins | ❌ | ✅ | ❌ | ❌ |
| Fully managed service | ❌ | ❌ | ✅ | ✅ |
Want to start your app project with us? Book a demo 👈 with one of our product experts.
Pros
No coding skills needed as humans and AI work together to assemble your app
Transparent pricing model means there are never any nasty surprises down the line
Project progress is viewable in a central dashboard meaning you're never out of the loop on timelines and activity
You own the code so you have total autonomy when it comes to technical issues, while you can scale your app whenever you need to
Fully managed service means you don't need to liaise with developers once you've shared your app idea and chosen your features
Cons
Not for technical entrepreneurs looking to take a hands-on approach to their app project
How to create any app with Builder.ai
As this isn't an M. Night Shyamalan movie, you might've twigged by now that Builder.ai is an app development platform that can help you realise all of the benefits listed above.
If you decide to create an app with us, you have two main options. Here's how you can decide which one's right for you, followed by an explanation of our processes 👇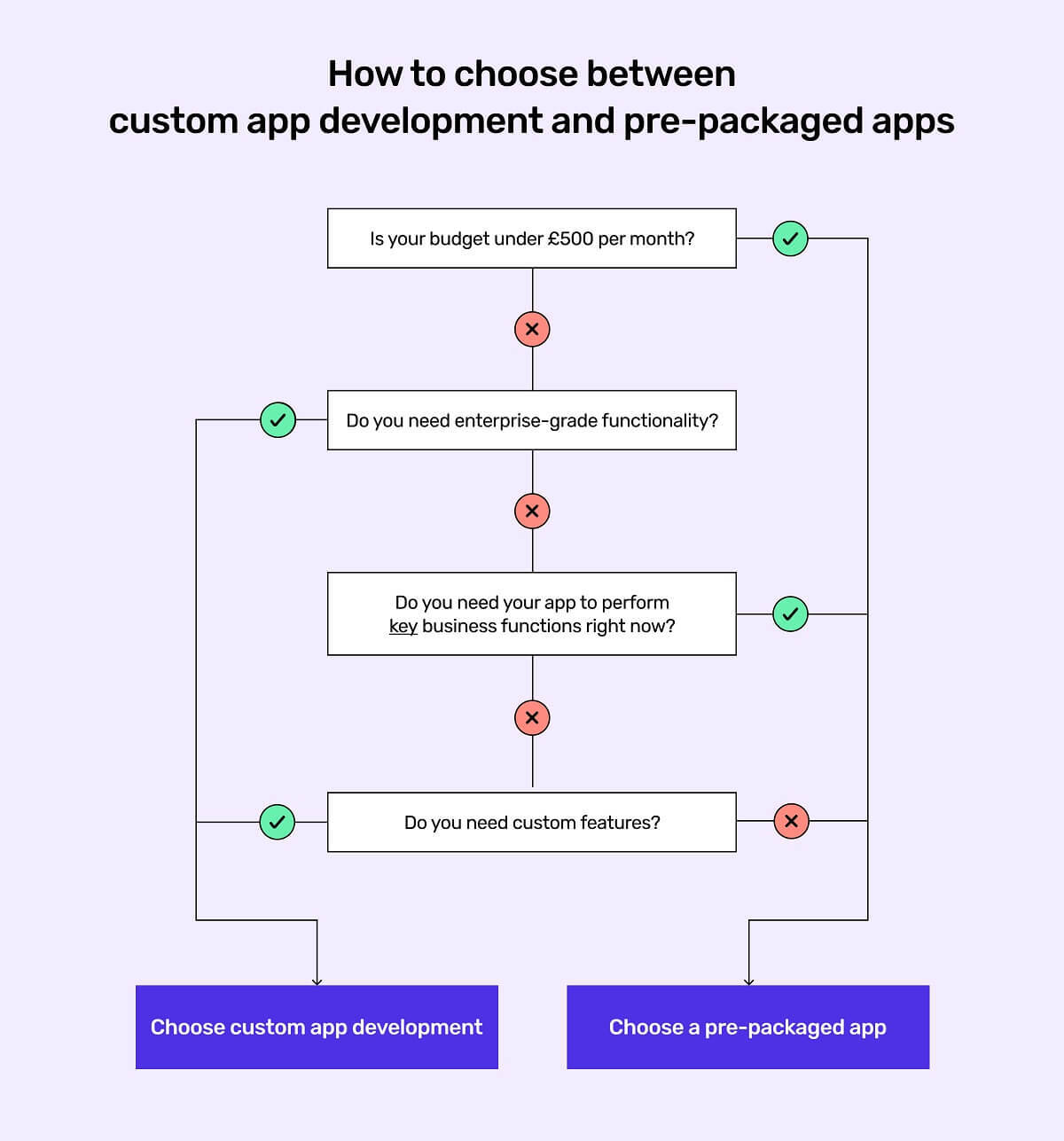 Builder Studio - Custom app development
Custom app development is the ideal route for you if you're looking to build robust software that can meet complex needs specific to your business. If you choose Builder Studio to create your custom app, this is everything you can expect 👇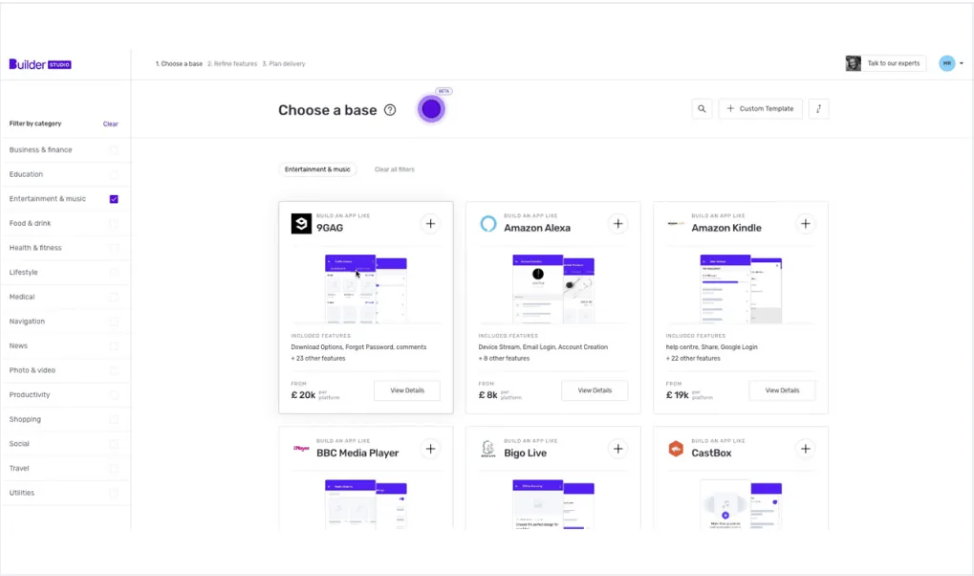 1 - Choose a base for your app idea
Our AI Product Manager, Natasha, finds relevant app templates (based on the world's favourite apps). Use them as a base for the sort of app features you might need.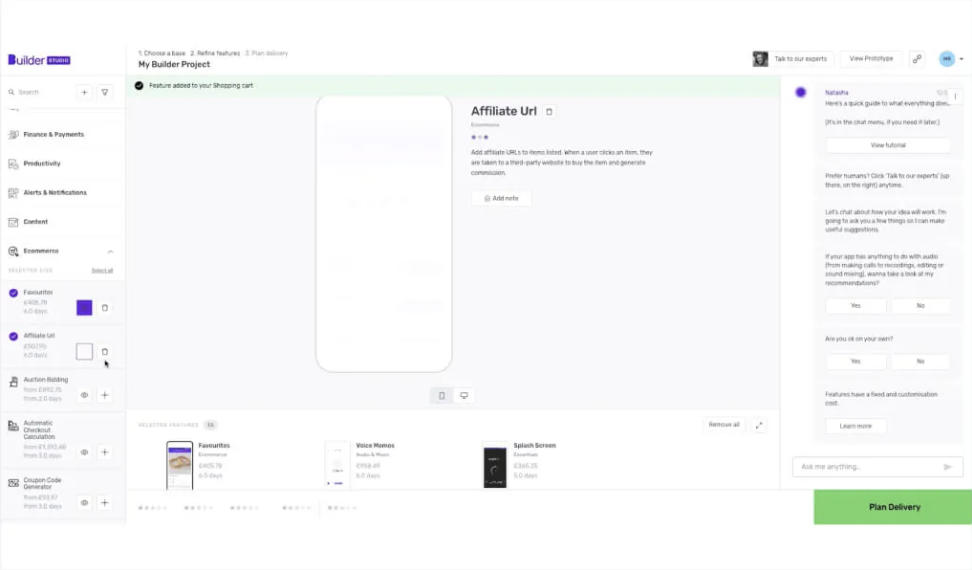 2 - Customise app features
Our team helps you add and remove app features to meet the needs of your business and real users.
3 - Select your app platforms and set timelines
Choose your app platform (Android and/or iOS), map out the delivery of your Minimum Viable Product (MVP) and choose your build timeline. Prices adjust according to the speed of your app build; for example, "Speedy" costs more than "Relaxed.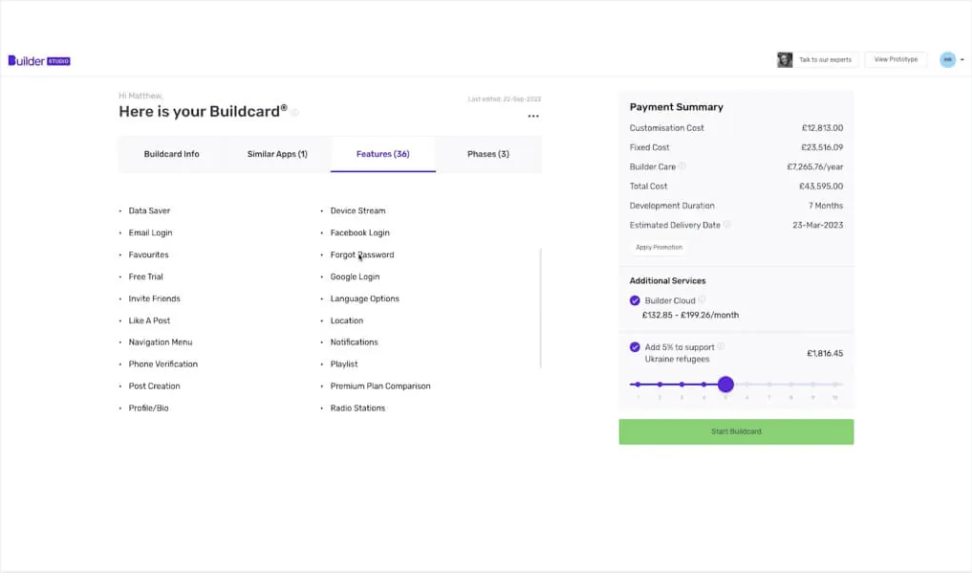 4 - Get your Buildcard
See a full breakdown of your app's features before committing to your project.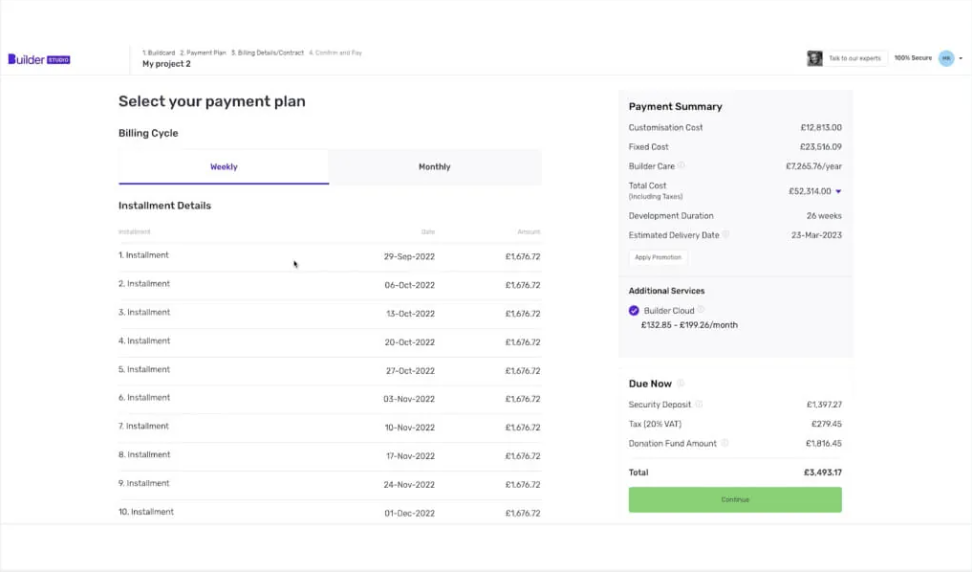 5 - Choose your payment plan
Select either weekly or monthly instalments.
6 - Match with a product expert
After choosing your payment plan, we assign a dedicated product expert to your project to manage your app build. They handle all comms with our network of developers, so you don't have to.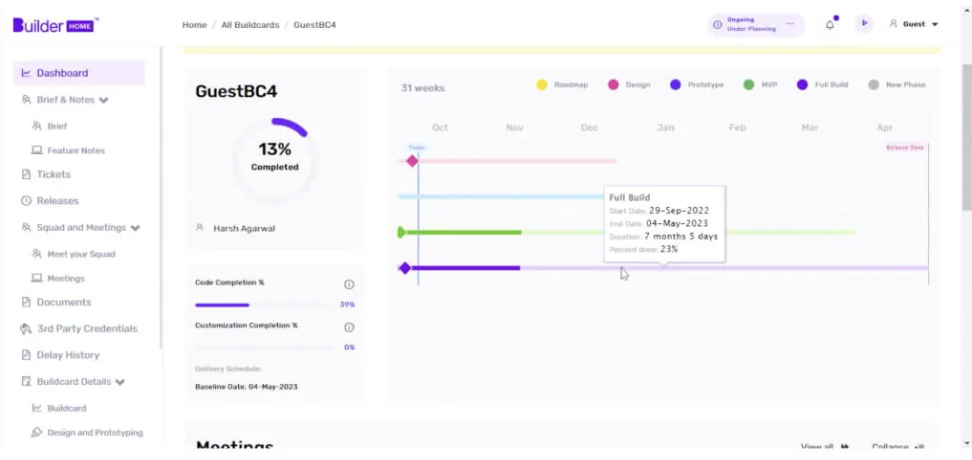 7 - Review your build progress
Your real-time customer dashboard allows you to interact with your product expert and monitor your project up until the launch.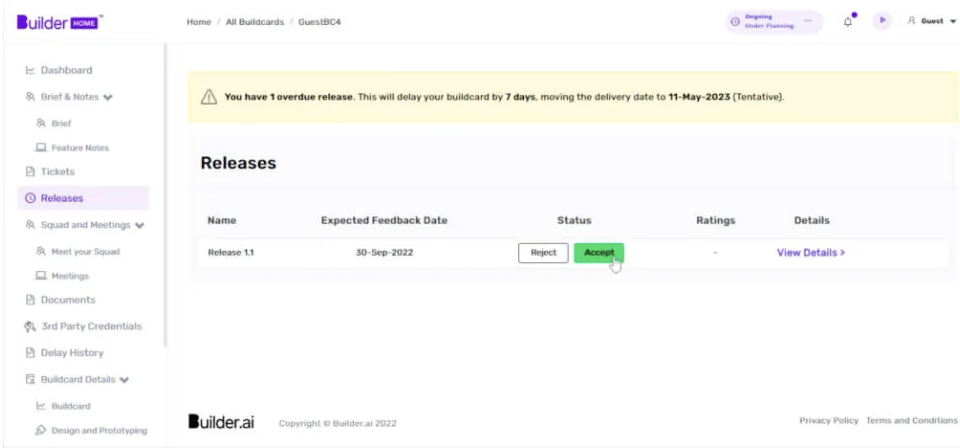 8 - Release your app
You're ready to launch on the mobile app stores of your choice; for example, the Google Play Store or the Apple App Store.
Ready to kickstart your app project? Book a demo 👈 with one of our product experts.
Store - Pre-packaged apps
Pre-packaged apps allow you to take your business online quickly, using a templated set of features. If you choose Studio Store to do this, here's what you can expect 👇
1 - Select your business category
Get a website & app with all the essential features you need to build, manage & grow your online store.
2 - Create your branded store
Choose the design, upload all your product information, add your logo & promotional banners.
3 - Go live quickly
In as little as 2 days, you can go live with your website. And in 2 weeks, you'll also have your app.
4 - Grow your business
Our built-in support keeps your website and apps up to date with no fuss. Plus, you can scope and add new features at any time.
P.S. with Studio Store, there's no revenue sharing, you own the code, meaning you can scale, and there are no lock-ins.

Want to build your online store? Book a demo 👈 with one of our product experts.
Conclusion
Want to create an app that doesn't flop harder than The Green Lantern? Then choosing the right app development route is a decision you need to get right.
And for most businesses, app platforms offer a low-risk, high-reward way to build both custom and pre-packaged apps and achieve their strategic goals. Question is:
What are you waiting for?
FAQs
If you want to learn more about the app creation process, check out the FAQs below 👇
Who do you need to create an app?
Who you need to create an app depends on your technical expertise. If you're a programmer or you can code, you can create mobile applications independently, using online resources to upskill yourself. If you can't code, you can use a no-code app builder, an app development company or an app platform.
Can you create an app for free?
You can create apps for free as long as they perform extremely basic functions. For example, an IT professional might use a free no-code app builder to create a ticket resolution system for their clients or organisation. This said, you can't create high-quality, scalable apps without spending money.
How do you design an app?
While app platforms take care of app design, you can also take a DIY approach. To do this, you'll need to be clued up with graphic design, user experience (UX) and user interface (UI) best practices, as well as the intricacies involved in designing mobile applications for different operating systems.
How can you create an app from scratch?
To create an app from scratch, you need to: 1 - Come up with a killer idea | 2 - Decide on your launch platform | 3 - Perform competitive analysis | 4 - Define your business goals | 5 - Get a problem statement | 6 - Wireframe | 7 - Test and get user feedback | 8 - Map user journeys | 9 - Create and test an app prototype | 10 - Finalise your prototype | 11 - Do real environment testing | 12 - Prepare launch documents | 13 - Launch
How can you create an app without coding?
To create an app without coding, you can either use a no-code app builder, development companies or app platforms. The first option helps non-technical entrepreneurs "create" their own apps by dragging and dropping templated features. Development companies and app platforms, by contrast, offer a fully managed service.
What are the main app programming languages?

App programming languages vary depending on the type of app you're creating and the operating system. The best web app languages are PHP, ReactJS, HTML5 and Python. For mobile devices, the best iOS languages are Objective-C and Swift and the best Android languages are Java and Kotlin. Meanwhile, Flutter and React Native both allow you to create apps for different mobile platforms and screen sizes from one codebase.