Ever thought about creating an ecommerce website? If you haven't, you definitely should. It's a fact of life that the internet has evolved from being a luxury to a necessity, and throughout the pandemic, it's proved to be our saving grace, especially in terms of shopping. There's so much to be gained from building a retail website (as we'll explain in a moment), but it's not quite as easy as going online and using just any ecommerce website builder. If you want to maximise your results, you need to choose the right one, and we're going to explain more about how you can do this.
Why choosing the right ecommerce website builder matters
Firstly, you need to do your research. Ecommerce is a tough game. There are more than 24 million ecommerce websites active on the world wide web right now, and that number is growing every single day. Ecommerce websites are those that sell goods online, like online shopping retailers.
A lot of sites are built using online website builder platforms, and many compete with each other. Your idea probably isn't unique, so that means you need to execute it perfectly. If you're selling the same thing as 20 other retailers but your website is hard to use, has weak search engine optimisation (SEO), and doesn't look good, why would customers choose to use your website? They wouldn't, and that means you could be missing out on some major revenue. In fact, 73% of shoppers will abandon a website if it's poorly designed and visit one that's easier to use instead.
Need more marketing insight? Join the Builder.ai community
Ecommerce website stats you need to know
As mentioned, ecommerce is big business, but you probably don't know quite how big it really is. If you need any more convincing to start an ecommerce website, these facts will surely make your mind up for you.
95% of all purchases will be made online through ecommerce websites by 2040
The reason most people shop online is that it's available at all hours of the day
More than 41% of consumers receive at least one Amazon package a week
Over 93% of global internet users have used ecommerce websites to buy something online
On average, new ecommerce websites generate $6.5 million in just three years of trading
Ecommerce websites are worth a global $4.28 trillion USD and growing
Financially, ecommerce websites can be lucrative, but they do bring other benefits to your brand, too.
Why you need an ecommerce website
If you want to make more money and you have a product or a service to sell, ecommerce sites are great, but they have many other benefits, including:
Increasing your brand awareness by reaching a wider audience
Allowing you to communicate with your customers in a more direct way
Informing your customers more about your brand and your products
Allowing you to compete more directly with your competitors
Allowing you to give back to your customers, such as through loyalty schemes and discount codes
Allowing you to grow your brand by working with resellers and stocking more items on your site
So, it's clear, ecommerce is the way forward, especially if you have a brand or business but don't have an online presence yet. That being said, it's not quite as easy as searching for a professional website builder and choosing the first one that comes up.
Here are five things you should be looking for when choosing an ecommerce website builder.
#1 Easy to use
The first thing you need to look for in a website builder is its ease of use for both you and your customers. A lot of people who are looking to start an ecommerce business by using a website builder are new to web development, meaning they don't have a great understanding of coding or user experience. Web developers shine in this sense because they take away the complexity of building a website.
They will offer a range of pre-determined templates that you can choose from, and most website builders use a drag-and-drop interface to make the build process even easier. There's no need to go near code, but this doesn't necessarily mean the platform will make building an ecommerce website easy.
The big players in ecommerce website builders are WordPress, Shopify and BigCommerce, but out of all three, Shopify is widely considered to be the easiest to use. WordPress will require a WooCommerce plugin to operate in an ecommerce capacity, and this can be confusing for beginners. Not only this, but some people struggle with the layout of WordPress. Shopify is a one-stop shop for all things ecommerce and has an interface that most people can get along with.
At the end of the day, if you find it difficult to use a website builder's format and struggle to add items and optimise your website with ease, it's likely not the one for you. The nature of ecommerce is such that products sell out and new ones need to be added, so you need to make sure you find it easy to operate and manage. You can trial this by using some of the free options offered by online website builders to get to grips with the functionality from an admin perspective. As a side note, you will want to see if the website builder you choose has good customer support service. Just because you're using a template, that doesn't mean things can't go wrong, and when they do, you want to know that someone is there, day or night, to help you solve your problem.
Customer use
On the other hand, you need to make sure the website builder and the template you choose are easy to use for your customers. We know that most people will abandon a hard-to-use website in favour of one that is more user-friendly to make their online purchases, so it's vital that you select a platform that offers great usability for your consumers.
A lot of this will come down to the template you choose. Most free templates are relatively basic, but the benefit of a basic template is that it's simple and to the point. Widgets and cool features can set your website apart from your competitors and give you the edge you need to grow your brand, but if you use too many, you risk overpowering the content and pushing users away. If there are too many bells and whistles, people will lose sight of the reason they came to your website in the first place: to buy something.
One way to know if your website is user-friendly is to approach it as if you were a consumer. Another way is to look at your competitors and use your market research skills. Go on their sites, see what they're offering and determine if their website is user-friendly. Make note of what you do like and what you think could be improved from a consumer perspective, and then implement this data on your own website.
If you have access to a focus group, do some A/B testing and listen to the feedback you're getting. It might seem long-winded, but it will do wonders in terms of making sure your website is easy to use. Think about the use of colour, buttons and navigation menus as a starting point. You will also want to consider a search bar and defined categories for easy filtering.
#2 Customisation options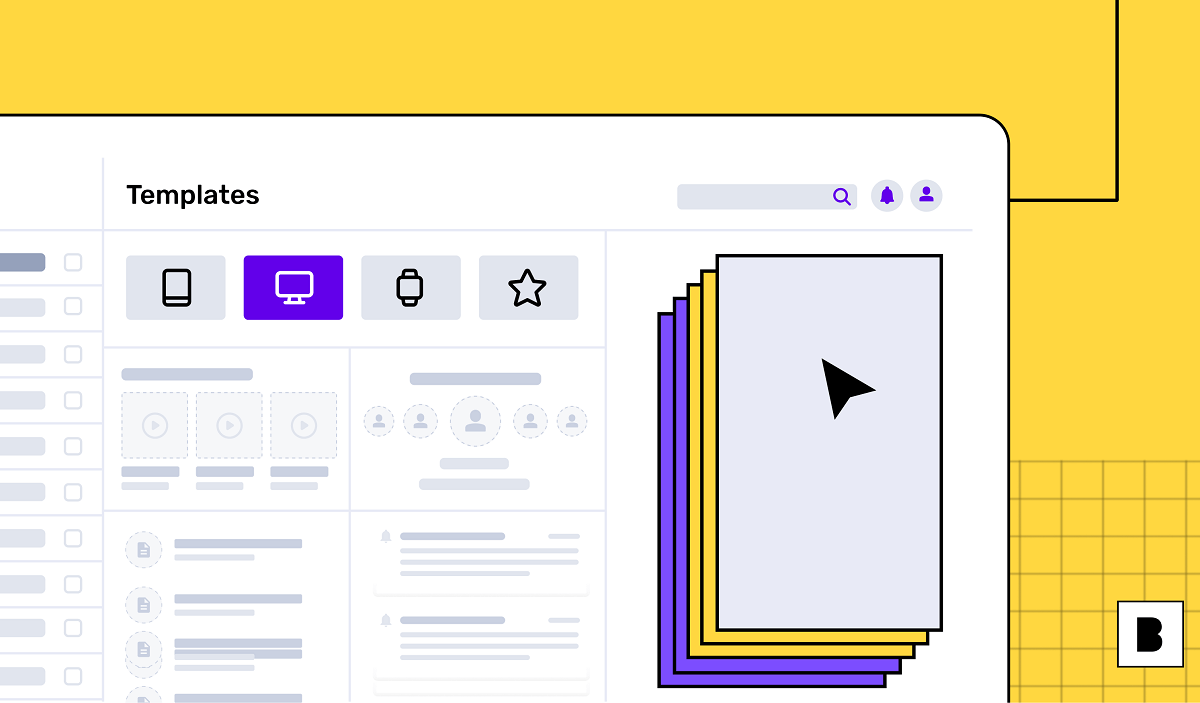 We've briefly mentioned customisation, but it deserves its own section. When you build a website, you likely want it to last a long time. Migrating to a new website can be hard at the best of times, especially when you have hundreds – or even thousands – of products to move over, too. With this in mind, you want to choose a website builder that can grow with you and your brand.
This means looking at how much storage space you're getting with each website builder, how easy it is to add new functionalities such as buy now, pay later, and what widgets you can add on to make your site look unique. As we pointed out before, your ecommerce website idea likely isn't new and you probably have thousands of competitors before you even get started, so what will sway people to your site will boil down to the finest of details, i.e. customisation.
The most important aspect of customisation should be your website's ability to scale up or scale down depending on the device being used. This means your website needs to be responsive. Not all ecommerce websites are mobile-friendly, and users are often directed to the desktop site which just doesn't make for a good experience on a mobile device. The mobile commerce market is worth over $488 billion USD and that number is rising. Soon, mobile commerce could equal ecommerce, so the best way not to lose out is to ensure your ecommerce site can seamlessly work as an ecommerce site, too.
This may mean cutting back on some of the customisations and features you've been thinking of adding. That being said, here are some of the items you need to look out for in terms of customisation when choosing an ecommerce website builder:
Adding trust seals (such as the Shopify Secure badge) to let buyers know your website is safe and reputable
The types of fonts available
Your ability to place your branding where you want it
An online chatbot to help with customer service
High-quality images (some website builders have a library of stock images you can use as placeholders)
Quick view feature so users don't have to leave the page they are on but can still see an item and add it to their bag
A wishlist feature so buyers can save items for later
These aren't bells and whistles, but they're small things you can do to make your website stand out and look professional. There are so many other ways you can customise your website beyond adding your logo and importing your products, but be careful not to over-customise to the point where your website is inaccessible. Your customer base will include people with disabilities, and you need to make sure your design works for them, too. This means:
Adding alt-text to images so those with visual impairments or people who use screen readers can understand what the image is of
Your website should use a skip navigation feature for content
Any videos or audio should be captioned and/or have transcripts
The website should be navigational via both a mouse and the keyboard
Colour should not be used as a main navigational tool – not everyone can see colours clearly and therefore wouldn't be able to use your website effectively
Under the 508 act, your website needs to be accessible to everyone, including disabled users. This may mean holding back on some of the customisation options you've been thinking about because they could alienate an entire group of people.
Once your website has been designed and customised, you can 508 test it to make sure none of the features you've added to enhance your site are making it inaccessible.
When it comes to customisation of any sort, you might find that certain features are behind a paywall and that you need to pay extra for them. Before you sign up to a plan with a website builder, compare what you're getting for your money in terms of widgets and extras. Some might require you to pay for them whilst others will include them for free.
#3 Content
Content is king and will continue to be for a long time yet. When choosing a website builder, make sure you look at the opportunity to add content easily. Can you add product descriptions and category text? Is there a blog section? How many different pages can you have? If you want your ecommerce website to do well, it needs to perform highly in terms of SEO (search engine optimisation). It's incredibly hard for a website to perform well SEO-wise without content; this is a key consideration you should be looking at.
When you choose to use a website builder to make an ecommerce website, you will likely need to choose a specialised ecommerce plan. This will present you with retail-specific themes, and not every builder will include a blog section on their free ecommerce templates. A blog is where you target keywords and phrases that are relevant to your website, helping to drive organic traffic to your site through search results.
On top of a blog, you will need meta titles and descriptions for each product and page on your site, as well as alt text for images and captions where possible. This not only helps in terms of accessibility, but it can help with SEO, too.
In addition to the ability to add content to your website, you should also be looking out for an SEO tool. WordPress uses Yoast whilst other platforms have their own personalised SEO tools. These are good if you don't subscribe to an SEO tool like SEMRush because you can easily see if your meta descriptions and meta titles are within the character limits for search engines. You can also check that your content isn't keyword-stuffed or spammy, and you see how easy to read it is.
As a pro tip, when you compose your content – especially at a product level – make sure you have the capability of highlighting key sections and adding in formatting. This means adding in headings and subheadingssub-headings, bullet points and identifiable calls to action. Only 20% of the content on a website is read, with the majority of people looking to pull out key information. For this reason, you should make sure your content is snappy, concise, informative, and easy to navigate. Above all else, you need to make sure you can add content in the first instance.
#4 Social media integration
Like it or not, social media is here to stay, and when you're building an ecommerce website, you need to factor in social integration. If a website builder doesn't allow you to link and manage your social media enquiries effectively, it's not the one you should choose. Ecommerce habits and social media are closely linked, with 87% of consumers saying that social media helps them to make a buying decision. This is typically through reviews and testimonials, both of which you can pull through onto your website. With good social integration, you can also make it easier for users to share products on their social feeds and with friends. The internet might be coming up trumps, but word of mouth still reigns supreme when it comes to building trust with a brand and a product.
With social integration, you can also manage social media ads and track conversion rates through your website. You might not have thought about social media ads as a way to complement your brand new ecommerce website, you definitely should. Here are some of the key stats you need to know:
27% of people who use the internet say they discover new brands and products via paid ads on social media
43% of people take to social media to research a product or a brand before making a purchase
92% of people on Instagram have either followed a brand's profile, clicked through to their website or made a purchase after seeing an ad
Facebook users typically interact with 12 ads every month
Whether your preferred social media channel is Facebook, Twitter, Instagram, YouTube or Linkedin, syncing your new ecommerce website with your social media profiles makes perfect business sense, but it's not something every website builder allows.
Not only will you be able to see how many people are interacting with your ads and making purchases from social media, but you will also be able to track feedback. You must respond to queries and reviews, especially if there's a grievance. It could be easier for you to manage it through your website rather than through the platform itself, and having social integration acts as a safety net so that no comments get missed.
Social integration goes hand in hand with mobile responsiveness. You need a mobile-friendly version of your website, but you should also consider creating an app. This will make buying on a mobile device even more seamless and smooth, and you can promote people to download your app to boost revenue through social media.
If you already have an app, make sure your website builder is compatible with your app. At Builder.ai, you can effortlessly manage your website and your app from one place. If you don't have either, you can build both on our platform. We offer a wide array of stunning templates and themes to match various budgets. Find out more and start building your dream ecommerce website/app here.
#5 Secure checkout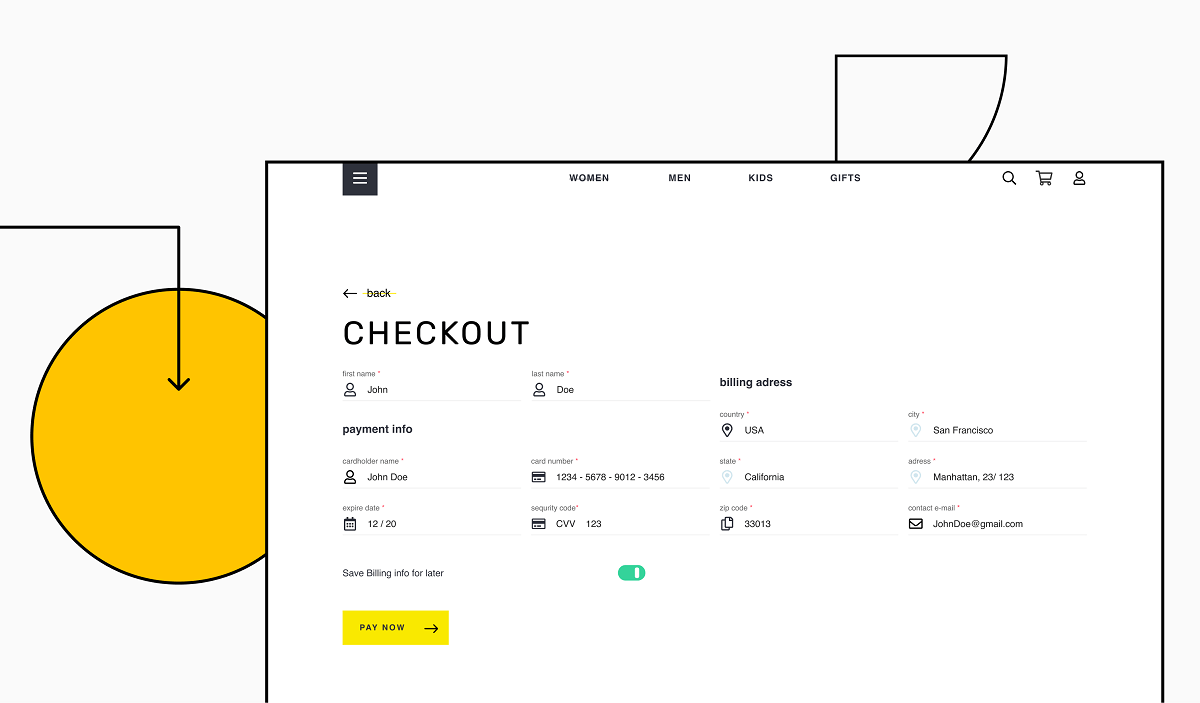 The aim of every ecommerce website is to put users at ease and encourage sales. If people get bad vibes from your checkout, either because you have no trust seals or poor post-sale communication, they will abandon ship and assume your website is a scam. This is the last thing you want for your brand awareness, so you must be able to nip it in the bud quickly.
When you choose a website builder, you can rest easy knowing that the checkout is secure and that your customer's data is protected. That being said, your customers don't know this unless you communicate it to them. As we've mentioned, trust seals like Shopify Secure indicate that a person can trust your platform, and this could sway them to follow through with their purchase.
On average, 69% of people abandon their transactions at the checkout stage. This could be due to lack of trust, or it could be because the checkout process is complicated and long. You need to ensure the website builder you choose and the template you consequently opt for have a good checkout functionality. No one wants to spend 20 minutes filling out their personal details, so don't make them.
Firstly, make sure it's easy to add items to the cart/basket. Next, allow people to edit their cart without having to completely remove items (common when people accidentally add too high of a quantity). Next, give users the option to sign in if they have an account with you, or to checkout as a guest. One of the most off-putting things for people trying a new brand is having to sign up to a newsletter that they don't want to be a part of and that they will have to go back to later to unsubscribe from.
Social integration can be of use if someone does want to sign up, however, because at the click of a button, their details can be pre-filled in, saving time and making for a faster transaction. Not all ecommerce website builders will allow for this, so do keep this in mind when choosing and comparing platforms and themes.
Ideally, once a person has edited their basket they will be directed through to choose their delivery options. They will then enter their billing and shipping information (having a 'same as delivery address' button is another quick hack that can improve the user experience). After this, they can choose their payment method and securely checkout.
As a business, you need to be offering post-sale support. Most website builders will send a confirmation email to the customer after their purchase. People like to be updated with where their order is at in terms of delivery, so try and find an ecommerce website builder that allows you to automate email communication, but be careful not to spam.
Build an ecommerce website with Builder.ai
Choosing a website builder is no mean feat. We recognise this and that's why we've made our process as easy and as simple as it possibly can be. From stunning templates through to competitive plans and app integration, we can transform your business into a powerful ecommerce brand.
Find out more and start building here.
FAQs:
How to build an ecommerce website?
The easiest way to build an ecommerce website is through a website builder. They're easy to use, great for beginners and allow you to get your website up and running in mere days or weeks. Most offer good support packages and a whole host of advice regarding SEO and marketing. Have a look at some online and see what you like the best.
What is the best website builder for ecommerce?
Most website builders offer an ecommerce option, with some of the biggest platforms including: Builder.ai, WordPress, Shopify, BigCommerce, Squarespace, GoDaddy, and Wix. They all have different plans and strengths, and some take a commission from any sales you make, so ensure you shop around and compare first.
What makes a good ecommerce website?
The hallmarks of a good ecommerce website are ease of use, accessibility, social integration, the ability to add content, and a stunning-looking shop front with a secure and trustworthy checkout.

Liam Collins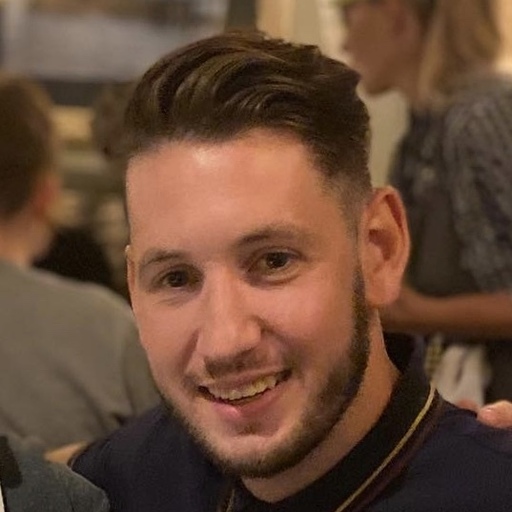 Head of Performance at Builder.ai
Liam is Builder.ai's Head of Performance, with 10+ years' experience of defining, activating and executing digital marketing campaigns. In his work at internationally recognised agencies like MediaCom and MG OMD, he was client lead for large accounts like DFS, Kenwood & De'Longhi and Boots as well as many SMBs, driving commercial growth through bespoke ecommerce and omni-channel strategies.