More than half the global population are active on the internet and it's thought that more than 380 websites are set up every single minute. So far, there are over one billion active websites in the world, with the majority being hosted on a website builder platform such as Wordpress. What these impressive numbers tell us is that the internet is becoming less of a luxury and more of a necessity, and it won't be long before every single business will need an online presence to thrive.
Prior to the integration of the internet in our daily lives, it was somewhat of a skill to build a website. If you wanted one, you'd have to track down a developer and pay a high fee for their expertise. Nowadays, you can use a website builder and set up a fully functioning website entirely by yourself with very little knowledge or experience. This could well be the driving force behind thousands of websites being indexed on Google every single day.
Having a website is an obvious first step for most fledgling businesses, but many have tight budgets and don't have the resources to spend on a developer. In this case, website builders are perfect. They're highly accessible, often affordable and require no web expertise whatsoever. For all the problems they solve, there is one glaring issue many people find overwhelming: which builder to use. The market is saturated, with beginners being pulled in all different directions towards various platforms.
In this article, we will explore the 10 most popular website builders and what they can offer beginners, but first we're going to detail more about builders as a whole.
What is a website builder?
A website builder is an online platform that allows you to use pre-determined templates to set up your own website – without the need for hard/manual coding. They provide you with a unique web address (such as a .com or a .net URL), and this essentially means you have a piece of online real estate belonging to you.
What are the benefits of website builders for beginners?
One of the biggest draws of website builders is their ease of use. Many operate on a drag and drop framework, allowing users of any skill level to build a website and customise it with minimal effort or understanding. You can design and publish a website in as little as a few hours, making these platforms attractive to those who want to start building the foundations of their online presence rapidly.
In addition, website builders are often far cheaper than hiring a developer, increasing their appeal to small businesses and internet beginners. They generally look after themselves, so you don't need to spend hours on the phone to your developer if there's an issue.
Now we've covered what website builders are and why they're so popular, it's time to look at what the best options are. There are countless platforms out there for you to choose from, but before we get into the nitty gritty, here are some of the basic things you need to ask yourself.
#1 Is it user friendly?
While website builders aim to take the hassle out of building a website, some are easier to use than others. It's worth having a play around with multiple different options to see which interface you prefer the most and get along with. Think of it like the Android vs Apple debate – some people simply get along with one more than the other and it's entirely personal to the user.
#2 Can social profiles be linked?
An increasing number of people use social media to do business. From buying a water bottle to booking a table at a restaurant, people turn to social media as a first port of call. It wields a lot of power over buyers because customers can scroll through reviews and easily contact a business. As a result, you need to ensure the platform you choose has seamless content integration.
#3 How customisable is it?
Most website builders will have a wide array of templates for you to choose from but how restrictive are the actual templates? Can you easily change layouts, customise menus and add in your branding? Are widgets freely moveable, or will you be penned into a specific design with limited wiggle room and how important is this to you as your business grows?
What are the best website builders?
Once you know the answers to these three golden questions, you can begin the process of looking at website builders. We're going to compare the 10 most popular and widely used website building platforms, but it's worth noting that there are others that are not on this list.
#1 Builder.ai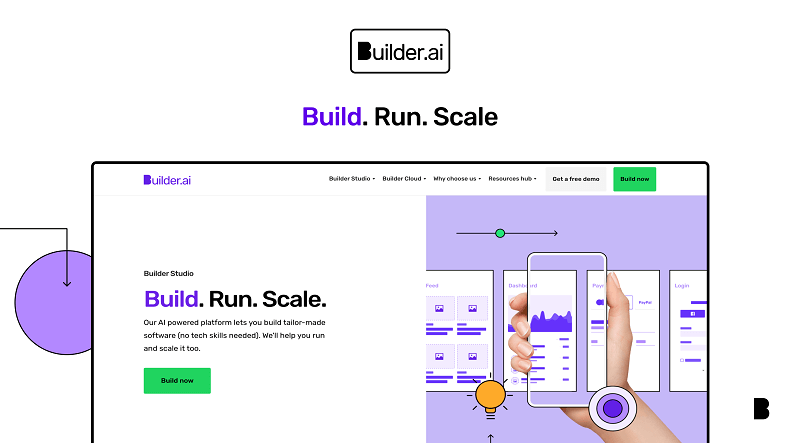 While Builder.ai specialises in websites of all types, it is by far one of the easiest to use and we're not just being biased. We understand that coding can be hard for beginners and most will want to steer clear, so that's why we've made the process as easy as can be.
You can try our website builder for free, allowing you to get a good feel for our services and make an informed decision without having to sign up. Simply use our demo mode and choose the option that reflects our business type.. You will be prompted to select from a range of brands that are a similar style to your business. We will then ask you what type of problem you're looking to solve. This will help us better suggest ideas for you based on your needs no matter whether you are planning to build a website for your restaurant business or consulting business.
Once you have chosen your template, you can begin to see features associated with that website type. For example, in terms of ecommerce, you'll see suggestions like international delivery, coupon codes and more. You will also see the price for each feature. We don't believe in hidden fees, you'll always know where you stand with us versus with other website builders who keep the price hidden until the end.
You will be able to see a desktop and mobile version of your website, and you can view a prototype, too. We use a tick box system, making it even easier than dragging and dropping. All this and you don't even need to sign up!
Overall, Builder.ai is a good option for beginners due to ease of use and transparency. You can also make a complementary app on our platform, too, giving you the option to grow your business with us and manage all your digital channels from one central hub.
Want to build your online store?
Book a demo
Speak with one of our product experts today.
By proceeding you agree to Builder.ai's privacy policy and terms and conditions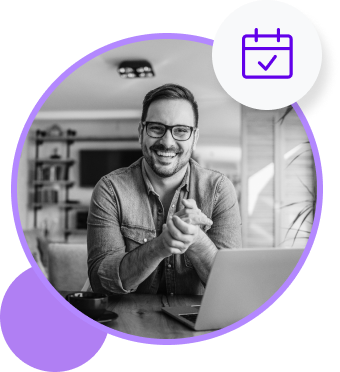 #2 Wordpress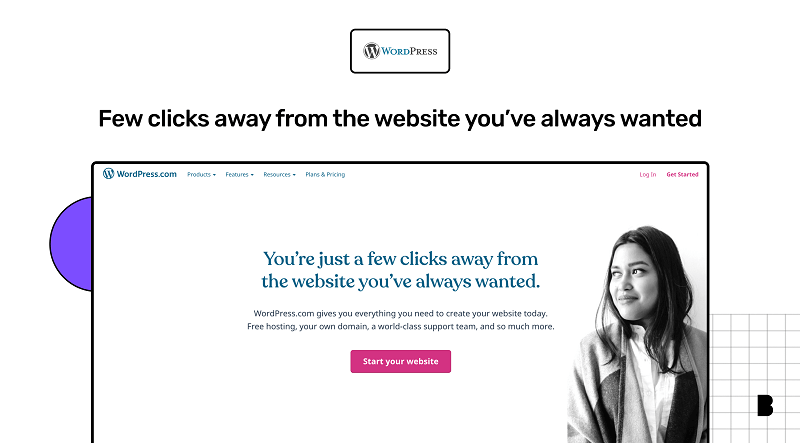 The biggest of all the website building platforms is Wordpress. As previously mentioned, more than 40% of all the websites in the world (of which there are more than a billion) are built using Wordpress. There are two parts to Wordpress: Wordpress.org and Wordpress.com.
Wordpress.org is the most widely used of the two and is the go-to choice for the majority of people looking to build a website. It requires you to find alternate hosting (you will need to pay a company to host your website and store its files), but other than that, it's a very free flowing platform. It's free to use, you can use either templates or have someone design your site from scratch, and perhaps best of all, you own your website. You don't need to worry about abiding by terms of service; no one can push a button and remove your website because it violates said terms and conditions. Your site is 100% safe and 100% yours.
In addition, Wordpress.org can be paired with plugins like Google Analytics so you can track how well your website is doing. Many private developers use Wordpress.org for the sites they are commissioned to build, but it's easy enough to use that anyone can do it. You can install the software in one click, so provided you have a host, there's no reason why you can't start using it today. It's a great choice for ecommerce businesses in particular.
Wordpress.com is the sister site to Wordpress.org, but they're vastly different. Wordpress.com is a hosting site, so unlike Wordpress.org, you don't need to find somewhere to host your website. Essentially, all your eggs are in one basket. There are various different plans available on Wordpress.com, ranging from a free version (which is very limited for ecommerce but is a good option for hobbyist bloggers and creatives), and there is a VIP option. In between the two is an ecommerce option, as well as personal, premium and business plans, all of which carry a price tag.
The free version of Wordpress.com severely limits the potential for users, and you can only get 3GB of space before you need to upgrade to a paid plan. You will also automatically have to use a .wordpress.com URL, and ads will be shown on your website that you have no control over and make no money from. You also can't sell ad space on the free version, so if you're a blogger looking to monetise your website, this can greatly hinder your earning potential.
Generally speaking, Wordpress.org is the better of the two. It is a professional website builder used by developers and beginners alike, and it can often work out cheaper. If you're a blogger or influencer looking to build your brand and need a place to start out, Wordpress.com is a good way to get your foot on the ladder and get to grips with website building.
#3 Wix
For a long time, Wix was one of the most popular website builders, so much so that even today, more than 160 million websites are hosted on the platform. Like Wordpress.com, Wix is an all-inclusive hosting website, so you don't need to seek out a separate hosting platform. Wix is extremely well known for its set of stunning templates which is what draws most users to its platform, but it's relatively easy to use, too.
Wix has a comprehensive onboarding option which makes it great for beginners who are completely new to website designing and building. The step-by-step tutorials provide a fool-proof guide for new users to get fully set up, making it a good choice for complete novices.
There are free and paid options, but like most sites, there is only so far you can go with the free version. Whilst you can move widgets, icons and layouts with the templates as much as you like, you can't move from template to template. As your website grows, you might outgrow your initial design, but you won't be able to easily move over to a brand new template. You will need to manually copy and paste each item over, and for those looking to hit the ground running, this might be more trouble than it's worth as things can easily get complicated.
The good news is, Wix has an artificial design intelligence option. This means you can essentially tell Wix what you are looking for and it will come up with a design that it thinks will work for you. It really doesn't get easier than that!
When you sign up to Wix, you won't get a domain name unless you pay for a premium plan. As a beginner, particularly if you're looking to build an ecommerce website, it can be a hassle to change your domain name later down the line, and your business may not look 100% trustworthy and professional with a .wix.com URL.
Despite this, Wix provides some of the cheapest upgrade options, second only to Weebly. Unlike Wordpress.org, Wix is not used by professional developers because it does have limitations with adding widgets and apps, but it has long been loved by beginners as a website builder so is a great choice to this end.
#4 Weebly
One of the oldest website builders on the market is Weebly. It has been around since 2006 and to this day is still famed by small businesses and those looking to build their own online presence as a first port of call. It is most notable for its extremely affordable plans and ease of use. Weebly works on the infamous drag and drop interface, making it easy for users to select a template and customise it to suit their needs.
Unlike Wix, you can switch between templates on Weebly, so if you find after a while that the initial template you chose isn't quite to your liking anymore, it's easy to give your site a whole new look without needing to do a whole lot of work.
Another great thing about Weebly is its SEO guides. The previous two sites also have SEO guides, but Weebly's are widely considered amongst the easiest to understand. Those who are new to building websites are probably new to SEO, too. SEO (search engine optimisation) is the deciding factor on whether your website will thrive or not, so it's important you understand it if you're going to be in with a chance of building a website that not only looks good, but that performs well on search engines like Google, too.
By all accounts, Weebly is a good all round online website builder and has been the springboard for more than 30 million website beginners.
#5 Squarespace
You've probably seen adverts for Squarespace at some point or another and wondered if it's worth your time. It's one of the major players in the website building game, with many chic start-ups choosing to host their sites on the platform. Whether you're looking to build an online portfolio or a retail website, Squarespace has an option, with many of its templates having won awards.
Squarespace not only looks good, but it has a wealth of integrated apps and SEO features to help your website perform better. They are rated highly for their online chat service which means if something goes wrong, or if you can't figure out how to do something, a friendly chat assistant will be able to help you in a timely fashion.
Squarespace is both a host and a website builder, so if you're looking for an all-in-one package, it's a good option. It is worth keeping in mind that Squarespace can appear more technical than some of the other website builders, but if you're computer proficient or have worked on websites before but haven't made one, you should be able to get along with the platform just fine. On the other hand, if you're still new to technology, you might find the interface slightly more complex and harder to follow than the likes of Weebly or Wix.
If you choose Squarespace, you will need to be vigilant and remember to save your work as you go. As of yet, there is no autosave function. Despite this, one of the best things about Squarespace is its ability to restore deleted pages. Mistakes happen and sometimes buttons get pressed by accident. If this happens to you, Squarespace will save a restorative copy of your webpage for up to 30 days.
Squarespace's main market is creatives due to its heavy design focus, so if you're a beginner looking to showcase your art, photography, writing or portfolio, this is a sound website builder option.
#6 GoDaddy
More than 20 million people use GoDaddy, many of whom are beginners. The website builder has many unique features which are appealing to those looking to get started with a website. You can commence with a one month free trial, after which time you can decide to proceed with a paid plan, or to try a different platform. This gives you plenty of time to get used to the features and the functionality of the site, allowing you ample opportunity to decide whether it's the right choice for you.
One of the best things about GoDaddy is that it's very much a one-stop-shop. You can build your website and manage all aspects of your email marketing from the same platform. This makes it easy for beginners to get to grips with. On top of this, if your website needs to accommodate appointments and bookings, GoDaddy makes it extremely easy.
Another unique aspect about GoDaddy is its InSight feature. It shows you everything from how well your website is doing compared to your competitors, as well as how your social media platforms are performing and how your email marketing could be improved.
Like other website builders, GoDaddy has a whole host of predetermined templates for you to choose from, with no technical insight required on your part. Managing social media profiles can also be done from the website builder, so you don't need to worry about logins, but you will need to pay extra for the privilege.
GoDaddy plans are reasonably priced, with each one including a domain name, analytics, email marketing, support and website security (SSL). If you're looking to create an ecommerce site, you will need to pay extra because a basic plan won't cover you.
#7 Web.com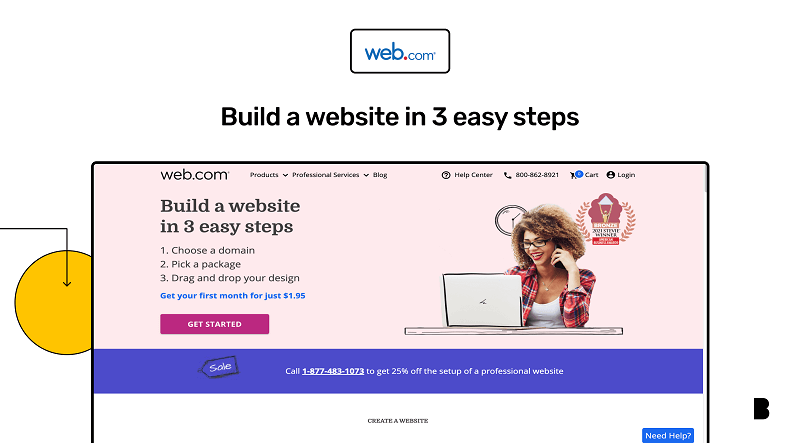 Web.com has been around for almost a quarter of a century, but its customer base is relatively small compared to some of the other website builders on this list, with around three million customers worldwide. From the get-go, Web.com has been focused on small businesses and beginners, and this is something it does very well.
You can build your own website, or you can speak to an adviser during the onboarding process and they will handle the web development for you. Even if you choose to build your own site from scratch, you will need to pay. There are no free plans at Web.com, and the introductory prices do get considerably more expensive after the first month.
Web.com is considered very easy to use, but it is also considered a basic option. Whilst there are templates and different plans, users are still restricted on what they can and can't do, hence why many people use the platform to get a basic knowledge of website building and then move elsewhere.
One noteworthy point is that every plan features a custom domain URL that you can keep for life, but one of the biggest downsides is that the mobile site options are limited. More than 90% of all internet users use their mobile devices to scan the internet, so it's important that – even as a beginner – you have a comprehensive mobile site ready to go. Web.com isn't the best for this, but its desktop sites are more than enough for those looking for a basic website that gets the job done.
#8 BigCommerce
If you're looking to build an ecommerce or retail store, BigCommerce could be the website builder for you. It specialises in online stores and appears to be the go-to option for growing businesses and start-ups, likely because it boasts more built-in sales centric applications and features than any of its competitors.
There are no free plans with BigCommerce, but even their basic plan has plenty to offer users. You can add any number of products you want to your site using a pre-designed template. You can integrate your website to work seamlessly with other channels, including Amazon and eBay, so if your business sells across multiple platforms, BigCommerce is a good home-base to manage everything from.
On top of this, the basic plan offers the ability to introduce coupons and for customers to leave feedback and reviews, but there is one major drawback. You need to upgrade to the 'plus' plan in order to access cart recovery. This means customers who come to your site, build a basket and then leave won't be able to recover their cart if they return – unless you pay extra to allow them to do so.
BigCommerce's main competitor is Shopify, over which it does have one major advantage: no transactional fees. This means although you might need to pay extra for a better plan to rival Shopify's most basic plan and all its features, you could end up saving money because you won't need to pay the platform any extra on top of the fee you pay for them to host your website.
BigCommerce has a lot to offer, but it's not the easiest of all website builders to use. If you have no technical knowledge at all, you might struggle to get your website up and running quickly. Alternatively, if you have the time and patience to spare to learn how to use the platform, you can certainly make an effective ecommerce site that looks professional and runs smoothly, even as a total beginner.
#9 DreamHost
DreamHost is a website builder that is part of Wordpress. It's essentially an extra layer on top of an existing building platform, but it's geared more towards bloggers than any other type of industry. Like Wordpress, DreamHost is easy to use, making it a good option for beginners, but some might argue that it's an additional layer beginners don't necessarily need.
In a nutshell, DreamHost offers more processing power and customisation options than Wordpress. Some of the features available include a free domain (although you need to pay for a plan because a free version isn't available), live chat for additional support, unlimited sub-domains, unlimited data storage and optimised hosting on Wordpress. The benefits you receive will largely depend on the plan you choose and what version of Wordpress you are using.
For all its positives, many criticise DreamHost because the features it pushes as benefits often have additional charges. Despite this, DreamHost really allows you to take your website to the next level and make it 100% your own.
There are a number of templates available, and it operates on a drag and drop basis which is great for those who aren't design-focused. You might be thinking – as a beginner – do you need all these additional features, or is a standard Wordpress site (.com or .org) enough? The main benefit of DreamHost is its unlimited storage. For bloggers who will routinely be adding content to their website, this is ideal.
DreamHost offers a 97-day money back guarantee. This means you can trial the platform on top of your Wordpress site and see what it has to offer. If you don't like it, you can get your money back. This policy makes it a good option for website building novices looking to play around with various types of software in order to find the right fit.
#10 Gator
The Gator website builder service is a sister company to HostGator, a popular website hosting service. The website building service isn't necessarily a standout option, but it is beginning to gain momentum against bigger names for its ease of use. There are no free plan options, but for a relatively small fee, users will have access to a myriad of tools to help them get started.
As with many of the websites we've mentioned further up the list, Gator uses a drag and drop functionality. There are plenty of free templates to choose from, more than 200 in fact! Gator is similar to Shopify in the sense that they have lots of mobile themes, meaning you can easily build a website that looks good and works flawlessly on all devices.
There is a stock library on Gator, so if – as a beginner – you don't quite have the imagery for your website sorted and set in stone, you can easily find high quality placeholder images without having to subscribe to a service like Shutterstock.
Gator offers a 24/7 customer support service, so if you do have any issues, someone will be on hand to help you, no matter the time of day or night. There is also a free analytics service included with every plan, so you can see how your website is performing in an easy-to-read format.
The main downside to Gator is that it is limited in terms of expanding your website. Adding a blog is a limited affair, with very few options to choose from. Other than this and the lack of integrated email marketing, Gator is a worthy contender for beginners.
There's lots of information to process and a huge amount for you to consider based on the information above.

Apps to Complement Your Website
Hopefully this article will have made it clearer for you to choose which website builder to use as a beginner, highlighting the key advantages and disadvantages of some of the most popular platforms on the market today.
Websites are not the be all and end all. More and more people are turning towards apps as a platform for their business, and if you're thinking of building a website, you should definitely be thinking about building an app to complement it.
Knowing how to build an app isn't any harder than building a website. In the same way there are website builders, there are dedicated app builders, too. Builder.ai makes the process exceptionally easy.
You might be thinking an app is frivolous, but it's actually very necessary in the modern day. Here are just some of the benefits of apps:

Apps yield a higher ROI compared to websites
Over 60% of all online traffic is through mobile devices
Almost 68% of all e-commerce sales are completed on a mobile device
Nearly $50 billion is spent on apps every year
Mobile converts a higher number of sales than desktop
Desktop use is falling and mobile use is rising
The average person checks their phone 50 times a day

It's clear, there's a lot to be gained from using an app. You can learn more about the benefits of using an app for your brand here. People carry their phone more than they carry a laptop, so there is the potential to reach a wider market depending on what your brand is. If you're looking to build a retail business or a blog, an app is an obvious complementary next step to your website, and you don't need tons of know-how, either.

Summary
There's lots to think about and to consider, both on the website builder and the app front, but we hope this guide will have gone some way to helping you narrow down a seemingly infinite choice to a handful of strong contenders. There are other website builders on the market, so if you can't find what you're looking for in these 10 sites, don't worry. There is bound to be an option out there for you that will make you feel confident and at ease whilst designing and building your new website, but these are the most popular options and are well worth being considered if you're a beginner.
FAQs

Still have questions? Have a look at our quick-fire FAQs below.
How much does a website builder cost?
There is no set price for a website builder because every platform is different. Most offer free plans which are great for smaller, hobbyist websites. Free plans on websites such as Wix still provide you with easy-to-use and beautiful looking templates, although free versions tend to have their limits in the way of customisation and storage, as well as domain names. Most website builders will offer you the opportunity to upgrade to one of several paid plans, with each one offering different benefits. Wix and Weebly are very cost-effective, with the VIP version of Wordpress.com costing in excess of £5,000. Research each plan and see what works for your needs and your finances.

What website builder should I use?
There is no right or wrong answer as to what website builder you should use or what the best website builder is. Each one offers users its own unique benefits and USPs, so it really comes down to what you want to get out of your website. Wix is extremely easy to use, but Wordpress is equally as simple and is trusted by professional developers. Think about grow room as well as usability. There are guides online for each platform on how to use them effectively, so don't be put off by the initial interface. As well as usability for you, you need to think about how your website traffic will interact with the site. Can you offer everything they will need such as apps and widgets on your chosen platform? If not, consider one with more flexibility using our guide above.

Which website builder is easiest to use?
By their very definition, website builders are designed to be easy to use. The ethos behind each platform is to take the hassle and stress out of building a website, with most doing this by initiating a drag and drag format. Which builder service is easiest to use will depend on your preferences and what you interact best with. Wix and Squarespace are often touted as the easiest to use, followed by Weebly, so as a beginner, it may be worth checking these sites out ahead of the others if you're worried about the usability aspect of building a website.

Which website builder is best for SEO?
If you're a beginner at building a website, then the chances are that you're entirely fluent in the language of SEO, also called search engine optimisation. SEO is a long-ball game whereby your website will be tested on many different aspects in order to gain a place on Google, Bing or other search engine results pages. If your website doesn't rank for keywords you're trying to target, you won't get much traffic. With this in mind, finding a website builder that can explain SEO to you and help you is essential. Wordpress offers a Yoast integration which is relatively easy to use, but Wix, Weebly and Squarespace are equally as good.

Which website builder is best for ecommerce?
There are as many as 24 million ecommerce websites active on the internet at this present time, with hundreds more being launched every single day. Lots of beginners look to build ecommerce websites, and this is where Shopify holds the niche. It is an ecommerce specific website builder. It allows you to easily add and sell products, all the while remaining easy to use. Many self-built retail websites use Shopify, but Wordpress.org is an option too, although it's slightly more advanced so isn't the best option for beginners.
Team Builder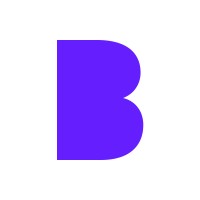 Editorial Team at Builder.ai
Stories published by the editorial team at Builder.ai.