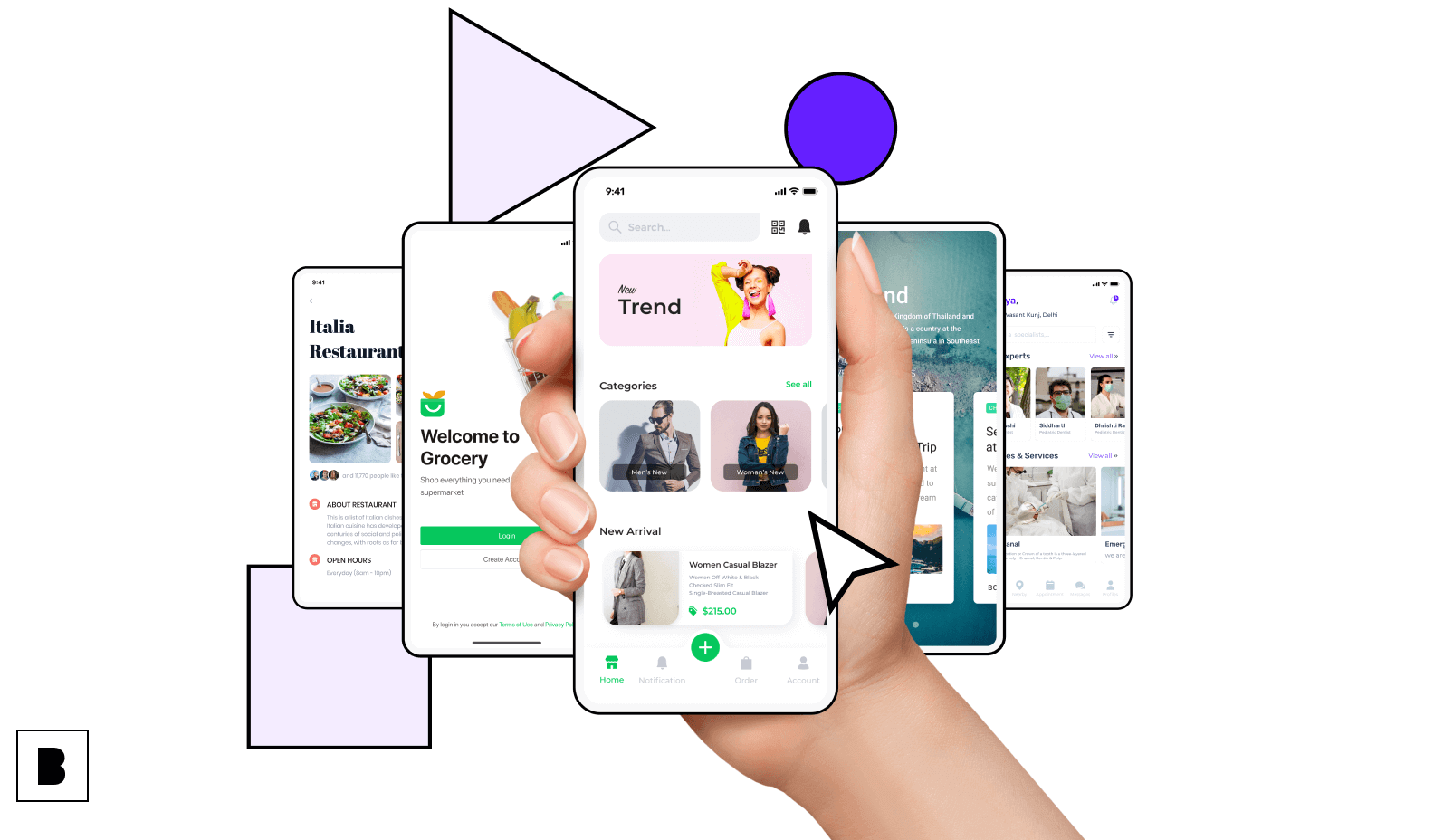 Once a protracted process that required a software development team, app development now is cost-effective, fast, and accessible for businesses of every shape and size. App development has skyrocketed into the 21st century, and Builder.ai is the rocket fuel.
Modern Codeless Mobile App Development
Developing an app today is not the same as it once was - it's much better.

The traditional app building process has been stripped away and replaced by quicker, more accessible routes that still produce beautiful, highly-functional results with bullet-proof stability.

Regardless of whether you're wondering how to make an Android app, how to make an iOS app on Windows, or how to make an iPhone app, Builder.ai's modern app development process is quick and intuitive without compromising results.
#1 Ideation: The 'Why'
Apps are used at almost every juncture of our lives. We use them to navigate the web, interact with brands, order products, and food, learn new information, perform tasks and play games.

By developing an app for your business, you're sending a powerful signal to your customers and users. You're pitching yourself in with the big guns, offering fresh alternatives, designs, and ways of doing things.

Maybe your app will complement your business, a new eCommerce venture?
Maybe you're looking to create a fresh alternative to a tried-and-tested platform.
You could be looking for app-based solutions to business analytics, management, and strategy.

The potential for mobile app development is limitless - decide upon your app journey and you can start putting the pieces of the puzzle together.
#2 Creation: Choose Your Tools

So, it's time to develop your app. The tools you choose will affect your whole experience - no pressure! Painstakingly developing an app from scratch is not only time-consuming but fiddly too. The good news is, it doesn't have to be that way!

The Studio Store provides awesome pre-packaged apps with a wide range of features your users will love. Your mobile application that can be ready to roll out in just 2 short weeks, and the process is so quick that it's just like ordering pizza.
The Studio Store is the perfect mobile app developer for building a range of apps to enhance your customer experience, covering everything from:

eCommerce apps
Restaurant apps
Takeaway apps
Gym apps
E-Learning apps
Spa apps
Grocery apps

We will create, brand, personalise, run and maintain your app. After 24 months, you get a copy of the code.
#3 Maintenance: Keep Your App Running Smoothly

Apps need maintenance to run smoothly. As operating system updates roll out, apps need to be updated to maintain their compatibility with the latest software.

Performance tweaks ensure that apps remain bug-free and provide the seamless mobile experiences your customers expect. New features can also be rolled out to apps to keep them up to date.

Builder.ai will maintain your app for you! We'll also host it from our cloud.
The Takeaway
App building as easy as 1, 2, 3.

Using the Builder Studio Store is as easy as:

Choosing your pizza, selecting your toppings
Enjoying no-hassle rapid delivery
Full aftercare and cloud hosting
Builder.ai is the mobile app development company trusted by huge brands like the BBC, NBC Universal, and Virgin Unite - you're always in safe hands with us! Find your pre-packaged app now.
Neetu Mogha is a Tech Lead at Builder.ai® where she applies 10+ years of management experience to guide the software development team. Neetu has a BTech in Computer Science from Hemchandracharya North Gujarat University.