Ah, the joy of running an ecommerce business. 
Ones and zeros pecking at your brain from 513 different Excel sheets. Margins tighter than a Houdini straitjacket. And a bunch of rabid competitors snapping at your ankles, ready to put you on your ass. 
Hold up. Why did you choose to do this again?
Alas, you did, and here we are. But all isn't lost. Because I'm here to toss you a life raft, just like Jack did for Rose in Titanic. 
The raft I'm talking about is ecommerce automation. And in this guide, I'm gonna tell you exactly what it is, how it works and why you should invest in it, before moving onto how Builder.ai specifically can help. 
For reference, I have 10+ years of experience in ecommerce, working in senior digital marketing roles at internationally recognised agencies. In my time at MediaCom and MG OMD, I was responsible for large accounts like DFS, Kenwood & De'Longhi and Boots as well as many SMBs.
So if you want to improve your efficiency and get better ROI, it's time to scroll 👇
What is ecommerce automation?
Ecommerce automation is the process of using software to automate repetitive tasks. This could include anything from your point-of-sale (POS) system, to dropshipping and returns, to your email campaigns. 
Ecommerce automation's main purposes are to reduce heavy lifting for ecommerce owners and make them more efficient and cost effective. 
In other words, you have more time to focus on improving customer experience and refining your business strategy.  
11 types of ecommerce automation that save blood, sweat and tears
As I hinted at above, there are tons of ways to leverage ecommerce automation. Here are some of the most important 👇
1 - Point of sale (POS)
Digital POS systems allow you to take orders and sell online without physically using a till. Plus, by integrating with your order management and supply chain management systems, you can automate reordering and stocking of items. 
2 - CRM
Contact management, lead management and documentation management can easily spiral when they're not automated, losing you prospects and customers. But with automation, your internal teams can quickly and effectively communicate with customers, action leads and drive revenue. 
3 - Order management
Automated order management removes all the manual inputs entailed in receiving, tracking and fulfilling orders. Because of this, human error doesn't get in the way of customers receiving their orders. 
4 - Inventory management
If you want to improve your demand forecasting, reduce your dead stock and costs, increase customer satisfaction and oversell less, automating your inventory management is a no brainer. It does this by providing real-time analytics that automatically adjust your stock when you make sales.
5 - Dropshipping
Instead of handling your dropshipping relationship through endless email chains, you can automate the entire process, taking care of order sending, approval, picking and packing.  
6 - Returns 
Automated ecommerce returns help you remove human error from your returns process, meaning customers receive a slick end-to-end experience. As a result, they're more likely to buy from you again. 
7 - Product feeds 
Manually uploading product feeds to your site is painful, tiresome and requires a ton of optimisation. Especially when you're dealing with a wide range of products. By automating, there's no need to manually build your feed, while reporting and analytics are made easy, allowing you to promote your top performers.  
8 - Accounting
When integrated in your existing ecommerce tech stack, accounting automation eliminates the stress of manual accounting, allowing you to better analyse your financial data and identify opportunities for growth.  
9 - Invoicing
Much like returns, manually handling invoicing is a time drag on both you and your internal teams. Automation allows you to send repeat invoices at pre-programmed dates and times, ensuring you're never out of pocket. 
10 - Email
Customers constantly asking where their orders are or if their orders have been confirmed? Then sending automated emails triggered by purchases will save you a ton of tedious work. Adding order tracking info will also help free up your customer service teams.
11 - Promotions
Automatically sending personalised promos to new and existing customers helps you build brand loyalty at scale, enticing customers back when they didn't even know they wanted to buy again. 
Why should you invest in ecommerce automation? 
Like anything worth having, you're gonna have to part with some of your hard-earned cash to unlock the benefits automation can bring. 
But as I've already implied, these are too dang significant to turn a blind eye to, as you can see in the infographic below 👇 
8 insanely impactful ecommerce automation benefits it's impossible to ignore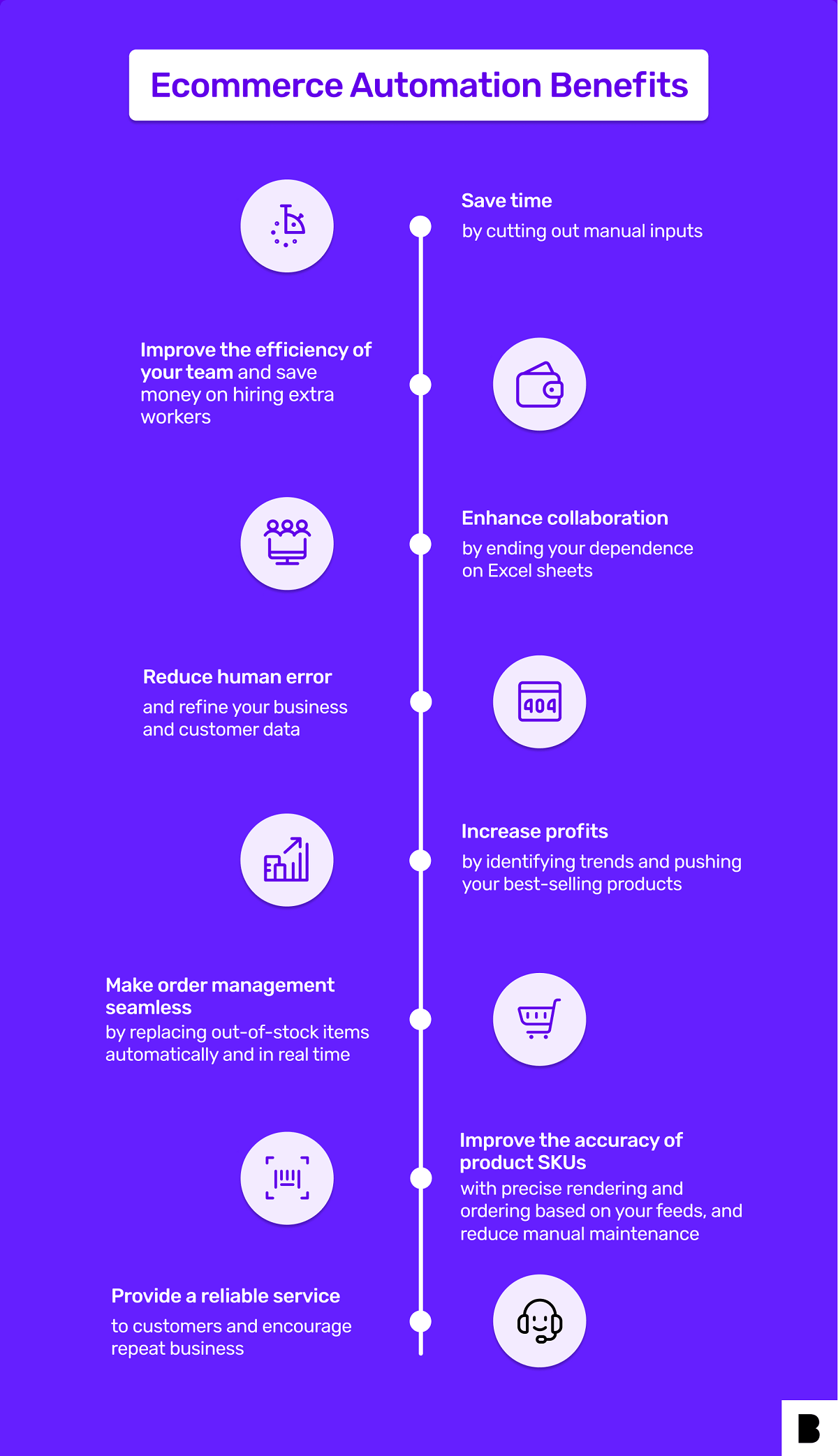 How does ecommerce automation work?
Now we know what ecommerce automation is all about and why it's important for your online business to consider, it's time to cover what actually makes it tick. 
And that, of course, is software.
Specifically, all-in-one or highly customised software that connects your business-critical automations and allows you to realise the benefits above.
The solution your organisation needs, though, depends on your business size and whether you're online already or not. Let's dive into which one is right for you 👇
Entrepreneur/SMB: Online selling platforms 
Online selling platforms tick most of the boxes for early stage ecommerce vendors. 
That's because they help you create apps and websites optimised for selling online, while including things like order management, dropshipping and secure payments as standard. 
As out-of-the-box solutions, these platforms also allow you to start selling quickly. All you need to do is add your branding to the templates provided, plug and play. 
What you will need to do yourself is create marketing and search engine optimisation (SEO) strategies to ensure your customers can discover your products.
On the other hand, you can, in theory, skip investing in any software at all by choosing to sell on marketplaces. These handle key automations like order fulfilment and marketing, while giving you instant access to a global audience. 
That said, there are some issues with this approach, including that your chosen marketplace will:
Take a cut of your profits, eating into your margins
Own customer data, so they can optimise their own feeds, which could negatively impact how your products are listed
Take charge of the customer relationship, building loyalty to their platform, rather than your brand
Scaleup/Enterprise: Custom retail management software
For businesses looking to either scale or streamline their operations, out-of-the box solutions don't cut the mustard. Especially when 1% efficiency gains can be worth hundreds of thousands — if not millions — of dollars. 
And that's where custom software comes in. 
This is robust enough to handle order management on an industrial scale and is tailored to the specific workflows of your organisation. 
Now, it's time to see how each of these routes look in practice…
Ecommerce automation examples: SafariArts and Siam Makro 
Regardless of your business' size, Builder.ai has you covered, offering both online selling platforms and custom retail management software. 
The case studies below show what you can expect by working with us on your ecommerce automation project 👇
Entrepreneur/SMB - SafariArts
SafariArts is a creative print design manufacturer, inspired by founder Anup Lalli's quest to provide quality artwork for children.  
Challenge
When she first started out, Anup used craft marketplace, Etsy, to sell her safari prints. But after a couple of years, things took a turn. 
"I spent a lot of time building up the product catalogue and presence and out of nowhere one day, my account had been blocked," she says. 
"When getting in touch with Etsy customer service I was given a boilerplate terms and conditions response, and no specific reasons as to why my account had been suspended."
So it was Builder.ai's job to help her wrestle back control of her business.
Solution
Builder.ai's Studio Store ecommerce app gave Anup 43 features to make selling online simple, with her package including iOS and Android apps, plus her own website.
The features that really made the difference included:
Admin panel, providing full visibility on SafariArts' best-performing products, while allowing them to take control of their product feed
Email notifications, helping the company to provide real-time order updates to customers
Discounts and offers, enabling them to build customer loyalty and encourage extra purchases
Results
Free from transaction fees and with more control over her store, Anup and SafariArts are thriving. And Studio Store played a huge role:
"The whole set-up process was really quick and easy and the all-in-one package offered everything I needed to get my business online, including a website and app."
Start building your ecommerce platform 👈 today with Studio Store! 
Want to start your app project with us?
Book a demo
Speak with one of our product experts today.
By proceeding you agree to Builder.ai's privacy policy and terms and conditions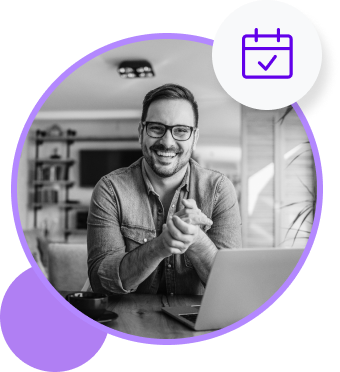 Scaleup/Enterprise - Siam Makro
Siam Makro have over 30 years of experience in the retail industry and are Southeast Asia's largest cash & carry.
Challenge
When they came to Builder.ai, the company needed a SaaS solution that could scale with their rapid growth and their previous order management system (OMS), IBM Sterling, had been found wanting. 
As a result, Siam Makro needed user-friendly software with a smooth onboarding process, and one that allowed users to quickly make changes without coordination with third-party vendors. 
But they couldn't afford their internal development teams to be burdened by the project. 
Solution
To address these issues, Builder.ai created a purpose-built OMS to minimise manual tasks and helps Siam Makro manage B2B orders from multiple sources. This included their ecommerce website as well as Lazada, across several countries like Thailand, Cambodia, India and China.
Some of the key features comprising the OMS were: 
Customised dashboards, allowing Siam Makro to review sales, cashflow, recent activity 
Sales reporting, to help the company evaluate historical performance
Roles and permissions, to help control what users see and do inside the product
Results
By replacing Siam Makro's legacy OMS with a cost-effective, reliable solution running on AWS, we've helped them:
Roll out the OMS in 120+ Makro stores 
Process more than 1.5 million orders since Nov 2019, with a daily average of ~3000 orders
Save 98.3% by comparison to the cost of their previous SaaS solution
Dhruv Kumar Singh, Technical Lead Siam Makro, said of the project:
"Builder.ai has been a valuable partner of Makro for over 2 years, allowing us to create our own proprietary platform upon which we have built our entire ecommerce presence."
If you want to achieve similar results to Siam Makro, create custom retail software 👈 today with Builder Studio!
Conclusion
The beauty of ecommerce automation is that it allows any company of any size to work smarter, not harder. 
That allows you to transform your business processes from tedious and bloated to simple and lean.
And because of that, you can scale. 
Liam Collins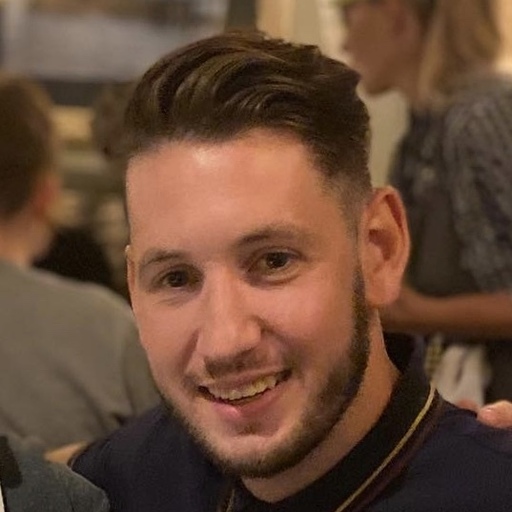 Head of Performance at Builder.ai
Liam is Builder.ai's Head of Performance, with 10+ years' experience of defining, activating and executing digital marketing campaigns. In his work at internationally recognised agencies like MediaCom and MG OMD, he was client lead for large accounts like DFS, Kenwood & De'Longhi and Boots as well as many SMBs, driving commercial growth through bespoke ecommerce and omni-channel strategies.