SafariArts
One expectant mother spotted a gap in the market – filling it with creative print designs on a safari animal theme. Here's how we helped her wrestle back control of her business…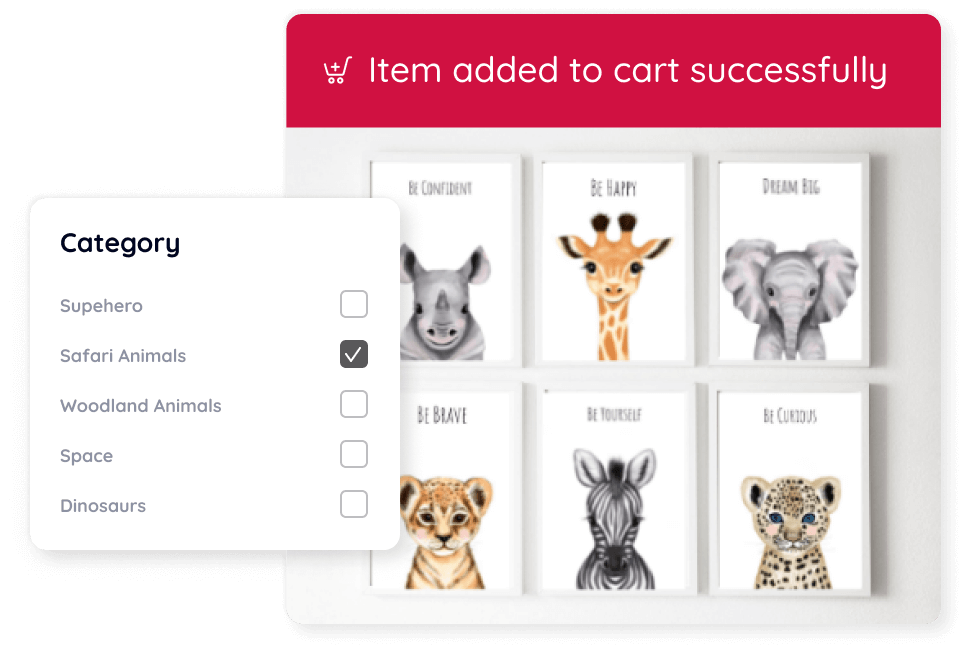 Move away from marketplaces
Challenge
Anup Lalli was using marketplaces to sell her safari prints for a couple of years when suddenly it all went horribly wrong. She decided to take back control of her business.
Solution
Our Studio Store ecommerce app gave her 43 features to make selling online simple. iOS and Android apps plus a website put her firmly back on top.
Book your free demo today
Builder.ai's Studio Store offered everything I needed to get my business online in one package. I needed a website and app, and with Studio Store I could get everything from the same company.
The idea for Anup Lalli's business came while she was heavily pregnant with her first child. "I was looking to buy some prints to decorate the walls of my child's room, but wasn't able to find anything of good quality. So decided to have some made with a safari / animal theme."
Marketplaces can be a great way to find potential customers - however in return for access to their customer base, you give up a lot of control.

Anup found this out after two years of selling on Etsy - "I spent a lot of time building up the product catalogue and presence and out of nowhere one day, my account had been blocked. When getting in touch with Etsy customer service I was given a boilerplate terms and conditions response, and no specific reasons as to why my account had been suspended."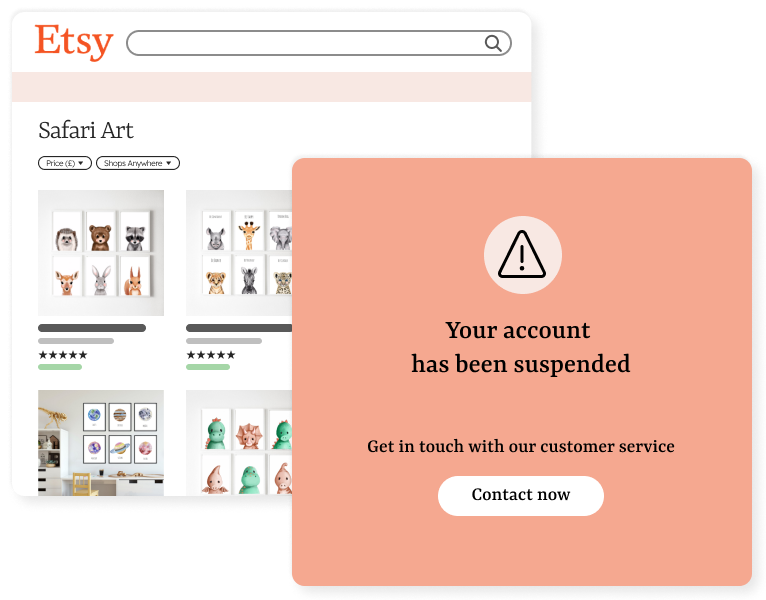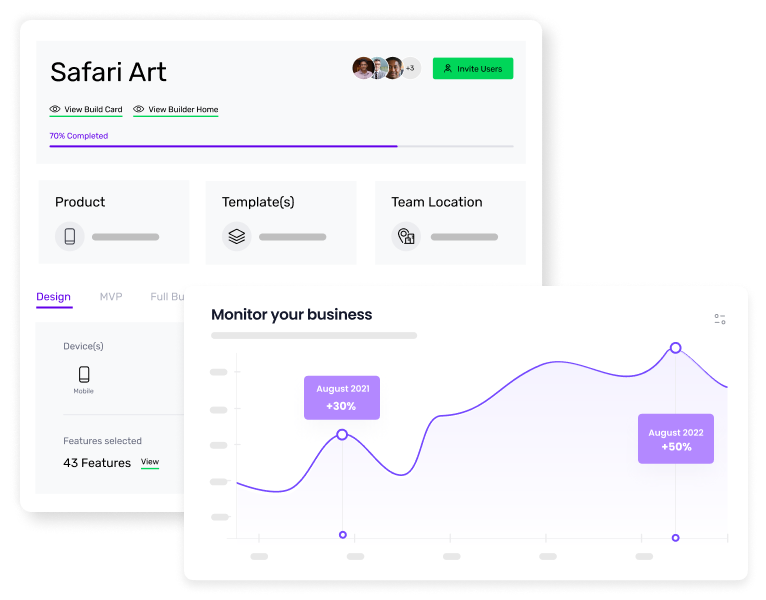 Luckily, Anup found Studio Store and created her own apps and website. It meant she had complete control over her business with zero transaction fees..

"The whole set up process was really quick and easy – the Builder.ai team made every step very clear and everything went smoothly".
Some of the features used
Discounts & Offers
Display a list of all available discounts and offers. Can be used as a way of boosting customer loyalty and encouraging purchases.

Connect Social Media Account
Users can connect their social media accounts to the product. They can then import profile information, saving time when setting up their profiles.

AD Hoc Reporting
Create reports based on data added, either automatically or manually. Offers a way for users to track business activity and trends. Example: Comparing the number of purchases to the number of active users.

Advanced Search
Give more ways to filter searches. Base options on categories and criteria you have inside the product, so users can find what they want faster.

Customised Order Status
Create custom labels and statuses for as many orders as you need. Gives you more control over choosing how ecommerce operations are represented, at every stage from purchase to delivery.

Email notifications
Email notifications to users, ability to unsubscribe to such emails.

Shipping Charge Calculator
Offer users a way to calculate the costs of shipping their item. Add weight and dimensions and get an estimate based on local providers' rates.
API Integration
Integrate another piece of software with the product so they 'talk' to each other by automatically sending and receiving data. You can then use or make the data and software available to users.
Categories & Sub categories
Use categories and subcategories to organise and group data, products, listings or posts. Helps manage large amounts of data, and can benefit users when they want to search and filter items.
Pepsi Case Study - Builder.ai®
We created a B2B ecommerce app for Pepsi at a fraction of the cost. Automating the order process and enabling their resellers to order online. Read the full case study here.
Software as easy as ordering pizza