Are you going to launch the next Walmart? We'll talk you through the essential features, then explain how to create your online shopping platform using our no-code tech. It's easy.
The ecommerce industry is growing fast
Online stores are an everyday part of life now. UK online retail sales grew 74% year-on-year – similar behaviour can be seen around the world. In fact, more than 50% of the US population prefers to shop online.
It's estimated that 95% of all purchases will be processed through ecommerce by 2040. This shows the importance of an ecommerce solution for any business focused on long-term growth and development.
Key features of Walmart
Virtual stores like Walmart need a couple of things. Ecommerce website builders make it easy to find the must-have features. This lets you decide exactly what your ecommerce app needs and accurately calculate the development costs. Our Walmart template comes with 49 features. Let's explore 8 of the most important.
Catalogue
Let potential customers browse your products. Attach eye-catching images, compelling product descriptions and relevant information such as price.
Email Login
They don't have to remember a username. Make it easy for users to sign in and receive a personalised experience. Customer emails also make it simple to start email marketing.
Live Chat
Customers expect their questions to be answered fast. Let them open a dialogue with your team to quickly solve problems. Better customer service often turns into more sales.
Payments
Ecommerce apps need to accept a wide range of payment methods. A secure payment gateway makes it easy. Credit card details can be saved to make repeat purchases simple.
Product Recommendation Engine
Watch sales increase when you turn on AI-powered recommendations. Customer behaviour and order history are analysed, then the products they're most likely to buy are suggested.
Push Notifications
Deliver a better customer experience by sending useful updates and notifications about their order status. Make more sales by enticing customers back with promotions they might enjoy.
Reviews
Let your customer base sell your products for you. Anytime someone makes a purchase they can leave a review and add a star rating.
Search
Almost unlimited products can be daunting to navigate. Make it easy for app users to find what they're looking for – we use similar strategies as Google to deliver intelligent results.

How to create an online shopping platform
Creating a dedicated ecommerce platform can be done in many ways. If you have the programming knowledge, you could code it yourself. The issue is that it needs a huge codebase. The very similar Amazon app is 20 million lines of code – it'll take you a while.

You could hire a traditional mobile applications development team. They'd handle design, backend development and testing. If they're reputable, everything will work fine. But there are two problems: it's a slow and expensive process.

Have you considered Builder.ai?
We have a better way. We realised 80% of all apps use the same 500 core features. Our team of coders turned these into reusable building blocks – just like Lego. Tell us your idea, then our AI will analyse it and quickly build the framework of your app.

This rough version of your app is sent to our team. The AI assigns tasks to the most suited team member. They'll personalise the features and create any bespoke elements your idea requires. As the AI handles the repetitive work, you get your app faster and more cost effective.
Here's your step by step guide on how to build your ecommerce app with Builder Studio.
Step 1: Choose a base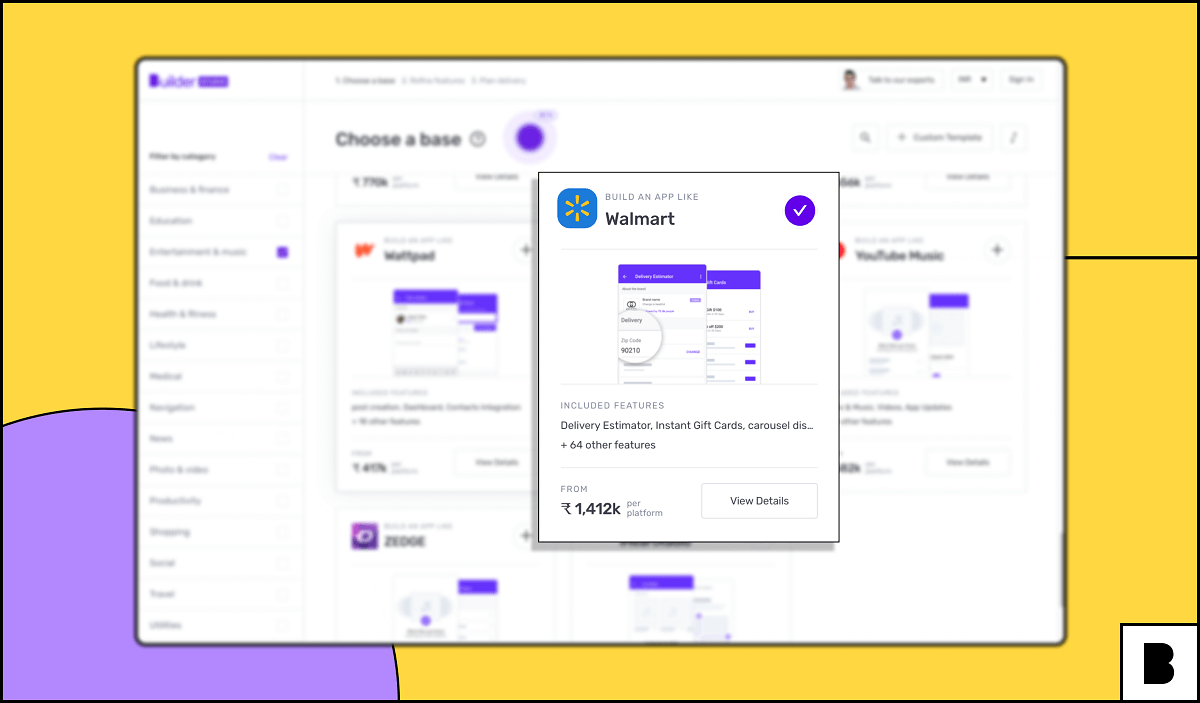 Visit Builder Studio and click the magnifying glass to search for 'Walmart'. This will show you our template. Add it by clicking the plus icon. You can also add 2 more templates if your idea isn't quite the same. This helps us find the features your app needs. When you're ready to continue, click 'Build Now'.
Step 2: Refine the features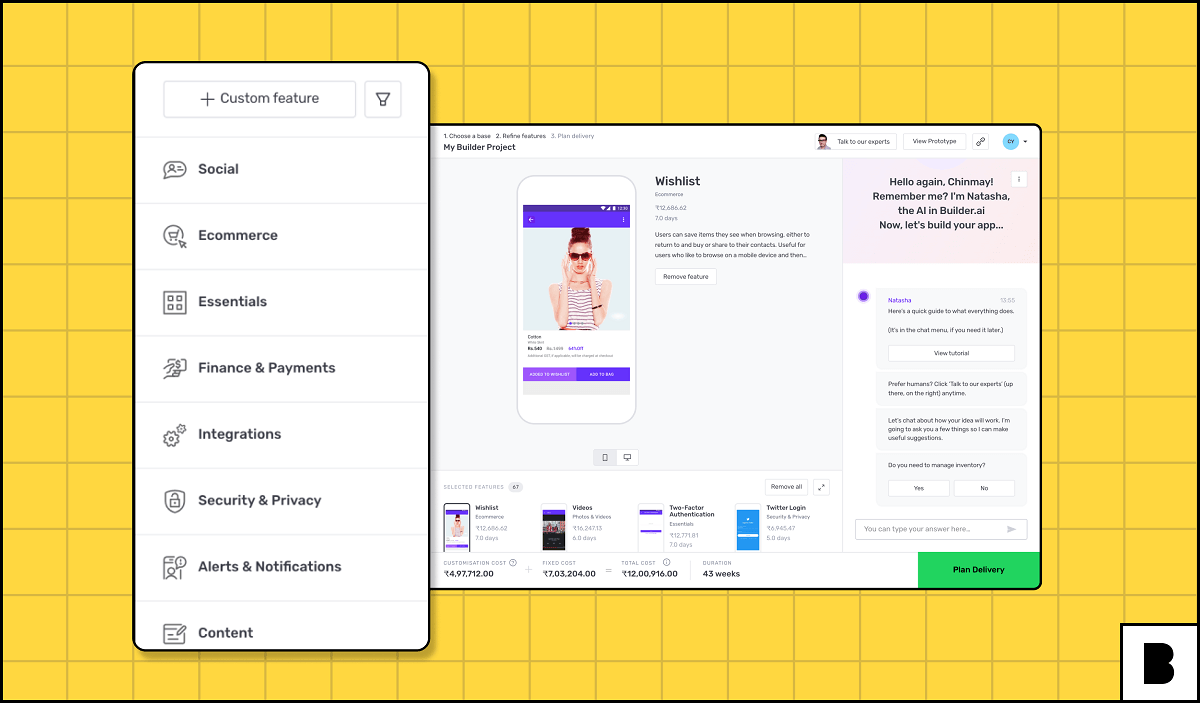 Complete the steps to sign up and you'll be welcomed by Natasha – our friendly AI. She'll discuss your idea and find out what makes it special. Prefer a human? No worries, our team is always available. Just click the 'Talk to the experts' button.

Natasha understands your idea and compares it with all the apps she's ever seen. Then, she'll give you feature recommendations. Learn about a specific feature by clicking the eye or add it to your app by clicking the plus icon. We calculate your price down to the individual feature – it updates in real-time. This is why we can give you a guaranteed price upfront. Click 'Plan Delivery' to progress.
Step 3: Plan delivery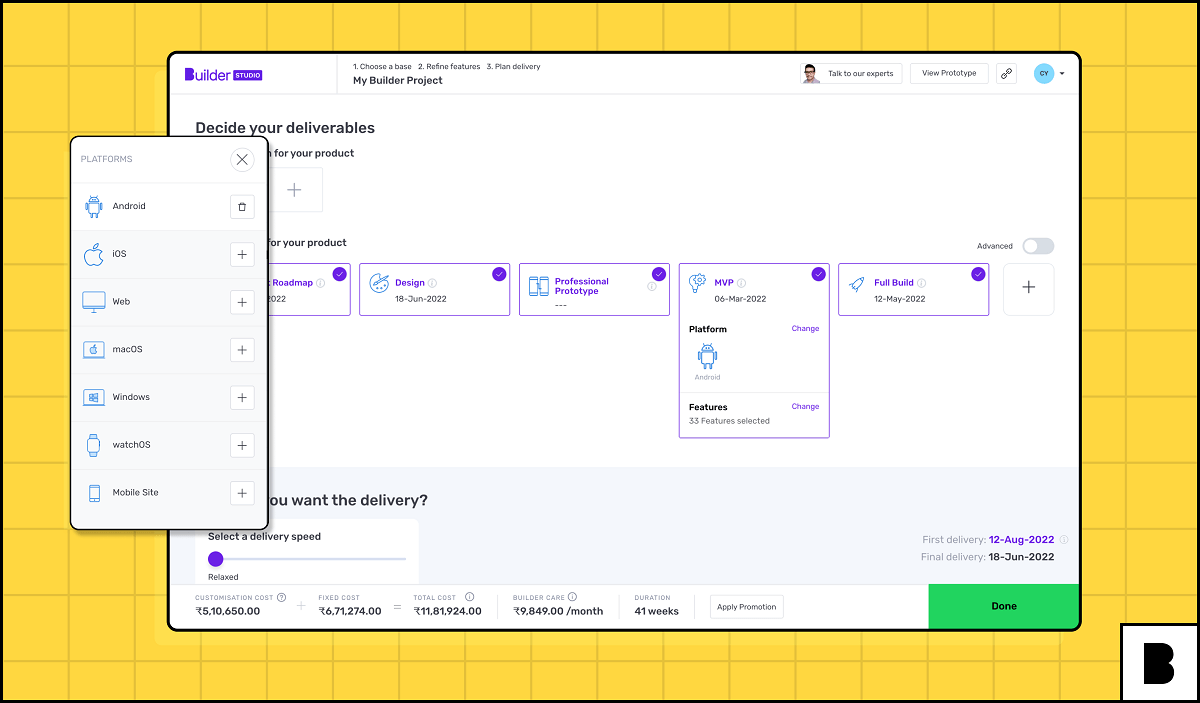 Choose your platforms by clicking the plus icon to open an overflow menu and see the options. Do you want mobile ecommerce apps for Android and iOS? Click both their logos. Select all the platforms you want. Your price and delivery date will update automatically.

Now it's time to plan how you want your project broken up. You don't need to change anything. The default is what most of our customers need. The design team will build you a gorgeous wireframe. Then, you get your MVP (Minimum Viable Product) – this lets you collect user feedback early. We use that information to polish your app before sharing the finished product.

Want more nuanced control? Toggle 'Advanced' view. You can customise the delivery time and price to what suits you best. In a hurry? Pay more for fast delivery. Want to make the price a little cheaper? Use a relaxed deadline and you'll get a discount.
Step 4: Name your Build Card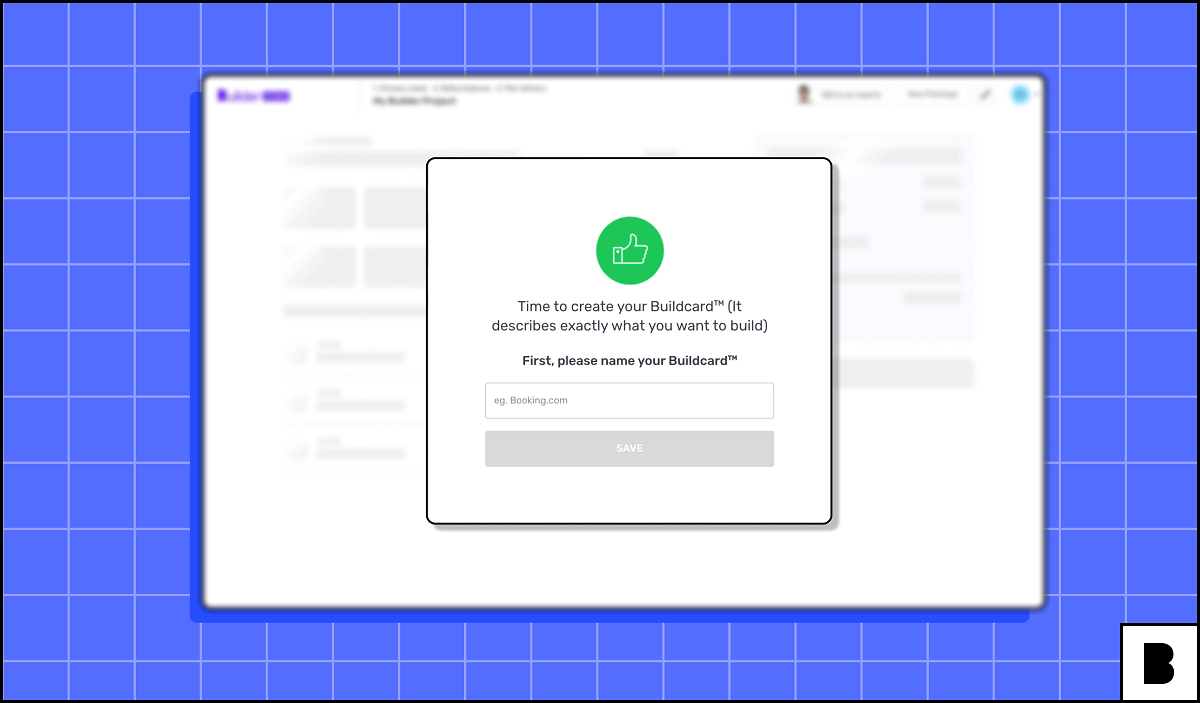 What should we call your idea? Share your app name with us. Not decided yet? No worries, you can always change it later.

Once you've named your Build Card, it's time to review all your previous choices. Check that the features, phases, cost and delivery dates are how you'd like them. Happy? Click 'START BUILD CARD' to proceed.
Step 5: Select your payment plan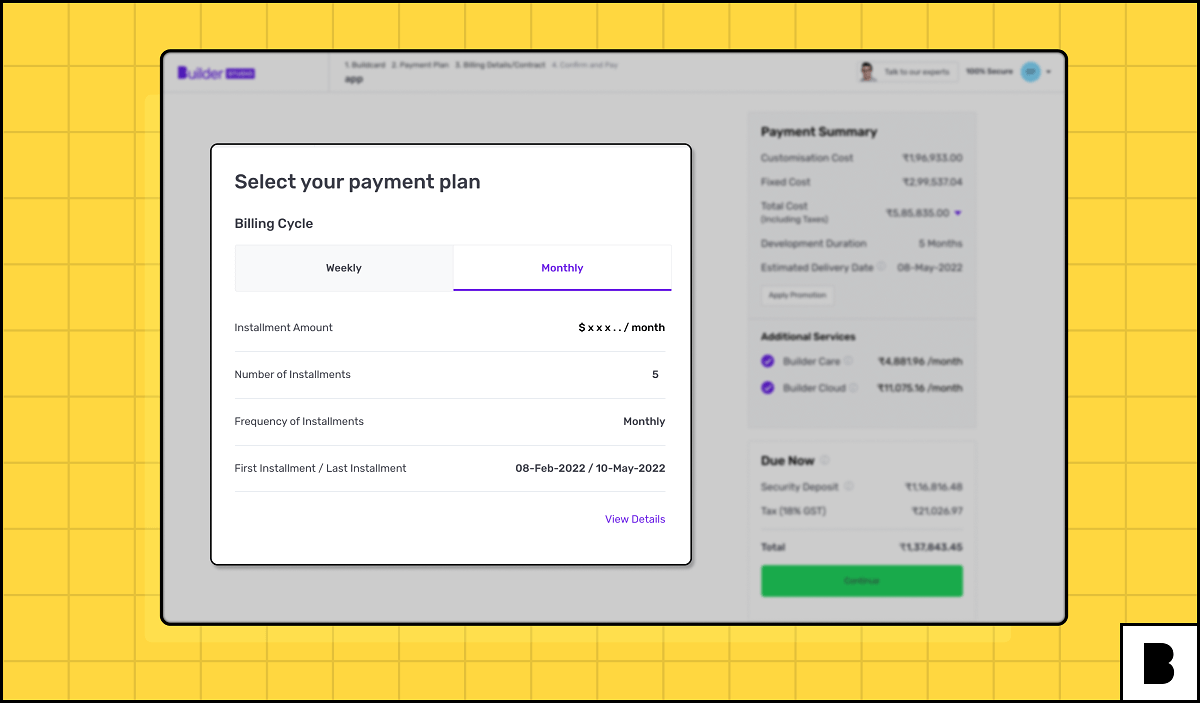 How would you like to pay? We offer a weekly or a monthly schedule. Pick the payment frequency that best suits your ecommerce business. To help you decide we show the payment dates and instalment amounts. After you've chosen, click 'CONTINUE'.

Next, we'll ask you to enter your payment details and agree to the terms and conditions. Click 'Continue to Payment'.
Step 6: We'll handle it from here
Work starts on your ecommerce application. You have access to a dashboard and can check how things are progressing at any time. From here, you can request changes or even pause development. You're in control at every step of the process.

Why choose Builder.ai?
Your e-commerce app is made faster and more cost effective with our AI-powered platform. Our process is transparent –each feature is priced individually, so you know exactly what you're paying for. This lets us give you an upfront delivery date, guaranteed price and more...
No tech skills needed
Builder Studio lets anyone turn their idea into a professional app – it's designed to be straightforward. Choose a similar app to use as a template. Then, add or remove features until it's exactly how you imagined. You don't need to do any coding. And our team is available if you'd like a little help.
Save big on the cloud
Builder Cloud enables your ecommerce mobile app to run on any public cloud – AWS, DigitalOcean, Alibaba Cloud and Microsoft Azure for example. All these providers are available from your cloud account. Our AI helps find the best option for your online business. Last year, we saved our clients over $4.5 million.
Your app's a tough guy
Studio One is how we keep your software running smoothly – it's our aftercare service. Third-party software updates can cause errors in your app. We make sure this doesn't happen by running compatibility checks to detect potential conflicts. Our AI also monitors your app for odd behaviour, then gets our team to investigate and fix it.
FAQs
How do I create an online shopping platform?
Give the no-code Builder Studio a try. Get started quickly by using a similar app as a template. Next, change the features and customise everything until it's perfect. Once you're happy... we build it.
What's the best ecommerce platform?
There isn't one. It changes depending on your niche and the features you think are most important. You can pick and choose all your favourites when building in Builder Studio.
How much does it cost to make an ecommerce app?
It depends on the complexity of your app. Adding lots of features will increase the price. Your chosen delivery time also affects it. Changes to these can be seen in real-time when using Builder Studio.
What payment options do you accept?
Our payment processor supports a range of online payments including major credit cards.
How are you better than ecommerce website builders?
An online store builder like Wix Ecommerce is very limited as you have to work within their ecommerce template. Builder Studio lets you create exactly what you want and launch it on multiple platforms. Bespoke features are not a problem.

Can I build a custom integration?

Yes, many such as social media integrations are already built. If you need something unique like custom shipping options for your shopping cart, we can build that too. Just ask one of our team if you need a bespoke feature.
What marketing strategies should I use?
Whether you sell physical or digital products, you need a strong online presence. Use Google Analytics to understand the user experiences your customers enjoy. Then, build a campaign around that using a mixture of social channels and Google ads.
What payment methods will my online stores support?
Any you'd like. We can add support for Apple Pay, Google Pay, Square and any other services you'd like. Anything you think will make online transactions smoother for your customers can be added.
Greig Robertson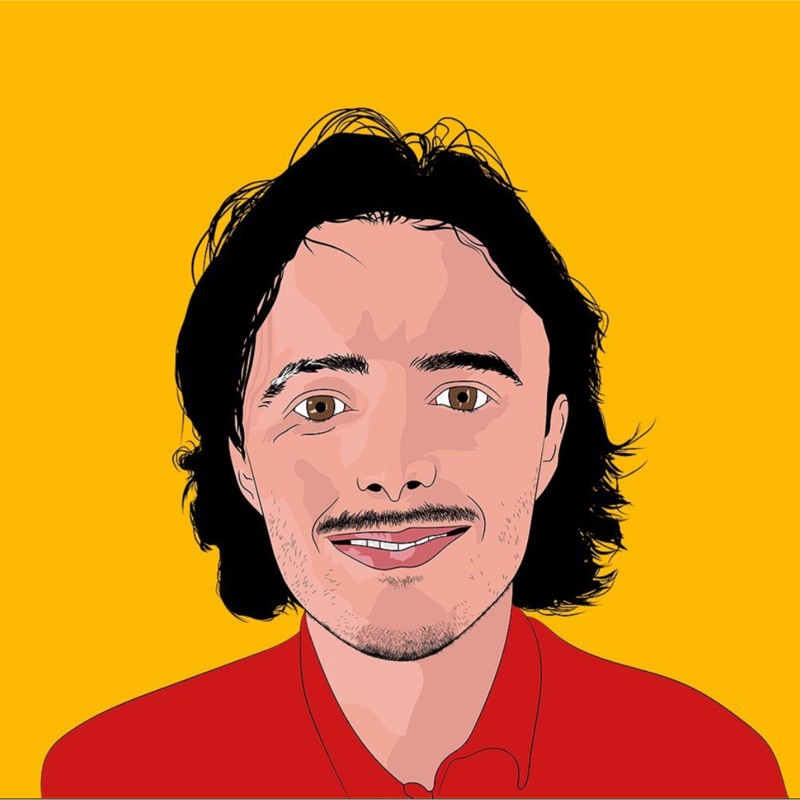 Greig is the Digital Content Lead at Builder.ai and a University of Bristol History grad. He has 5+ years' experience in B2B SaaS, creating data-driven, human-friendly content for high-growth tech startups. When Greig needs a dopamine hit, he checks Builder.ai's keyword rankings.