We'll review the features of each video editing tool and explain who it's best used by. Whether you're looking to make a short video for an Instagram ad or want to edit a documentary about your business... we have you covered. You'll leave this guide knowing the best editing software for your business.
Best free video editing software – browser-based
According to HubSpot, 4x as many people would rather watch a video than read about a product. This means you're missing out on potential sales by not showcasing your product in a short video.

For most of our readers, these browser-based solutions will meet their needs. As they're browser-based, you don't need to download anything. Make a free account and you're good to go. If you need to create video assets for social media then this is more than sufficient. You'll have a selection of basic video effects and editing tools.

TIP: These tools don't add a watermark
There's nothing worse than using a 'free' tool and finding out it's not actually free. The tools we recommend don't add watermarks. 
Kapwing
Kapwing's video maker might be exactly what you're looking for. The free version comes with all the functionality you'd expect: 

Drag and drop layers
Zoom and crop within scenes
Trim and cut media – audio & video
Export videos up to 7 minutes long – more than long enough for social media!
Easily resize and export for sharing on your favourite social media platform.

This is the easiest editor to get started with. It's as simple as uploading some media – videos, gifs or images – and arranging them the way you'd like. The controls are intuitive and you'll be able to edit video clips into something pleasing pretty quickly.
Limitations
You can only export and publish 3 hours of video per month. If you're going hard on social media or have plans for long-form videos you'll need to upgrade to premium  – $17/month.
No templates. If you don't have a good idea for your video, it can be hard to create something that looks appealing.
Lacks advanced editing features.
Canva
Canva's video editor is similar in functionality to what Kapwing offers. But it offers a handful of features that make it a better choice for most users looking for an in-browser video editing tool.

As it has more functionality, Canva has a slightly higher learning curve. It's worth taking the time to learn as it makes it easier to create high-quality videos that'll benefit your business.
Unique features:
Templates – Canva has a huge library of templates that make it simple to create high-quality, professional video content. They have templates for everything from slideshows to Youtube intros.
Stock content – they have a large collection of "pre-licensed high-quality icons, illustrations, photos, stock video, audio, and graphics."
Limitations
Limited library of free templates and stock content. There's enough to get started, but if it becomes a key part of your business strategy, you'll want to upgrade to Pro – $9.99/month.
Lacks advanced editing features.
Free video editing software – desktop
If you need something with a bit more oomph you'll need to download a desktop program. There are a lot of options available to you. But if you need the extra power of a desktop editor, we believe you might as well give yourself access to the greatest selection of features possible. 

Notable free mentions that didn't make the cut: HitFilm express, OpenShot Video Editor, Clipchamp, VSDC and Apple iMovie. Paid notable mentions: Apple Final Cut Pro, Adobe Premiere Elements and Pinnacle Studio.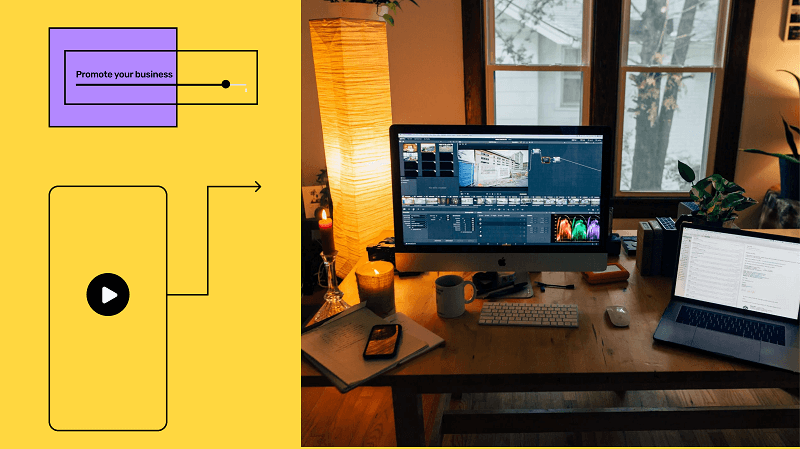 Lightworks
Lightworks is one of the heavy hitters when it comes to video editing software. It's powerful, feature-rich and used by professionals around the world. 

According to Wikipedia, it's been used to edit some big-name films such as: The Wolf of Wall Street, Pulp Fiction, Heat, Road to Perdition, Hugo, The King's Speech, Bruce Almighty and 28 Days Later.

Video editing software of this calibre has a much higher learning curve than Canva or Kapwing. However, it's still a relatively intuitive interface and there are online resources that explain exactly how to use each feature. It's available for Linux, Windows and Mac.
Limitations
This is the free version of a premium product and it shows in a few ways. Using the free version requires you to regularly renew your license – not a big deal, but pretty annoying. A more serious issue is that you can only export videos in 720p quality. 

Users looking for maximum editing power will be disappointed to know that lots of advanced features are exclusive to the Pro version – $30/month. Features such as Stereoscopic (3D) output, AJA, Blackmagic, Matrox and Mackie Mixer Support, and Timeline Rendering. The majority of these are overkill if you're just looking to make videos for social media.

Even more annoying, not all the functionality is even available in Pro. There's additional functionality available through paid plugins – e.g. the Boris FX and Graffiti plugins which each cost $299.
DaVinci Resolve 17
Blackmagic Design DaVinci Resolve 17 is arguably the best free video editor available.
It comes with a huge range of functionality including colour grading, 360-degree VR, motion graphics and special effects. However, this also means it has the highest learning curve out of the tools we've recommended. 

TIP: DaVinci Resolve has the most features
"DaVinci Resolve is the world's only solution that combines editing, color correction, visual effects, motion graphics and audio post production all in one software tool! " – Blackmagic Design

According to Wikipedia, it's also been used to edit some Hollywood films. Some of our favourites: Alien, Avatar, Deadpool 2, Jason Bourne, Kingsman, Pirates of the Caribbean, Prometheus, Robin Hood, Spectre, Star Wars: The Last Jedi and X-Men: Apocalypse.

There's a premium version that includes: "DaVinci Neural Engine, stereoscopic 3D tools, dozens of extra Resolve FX filters and Fairlight FX audio plugins plus advanced HDR grading and HDR scopes.". You'll only need this if your business is aiming to create videos that are on par with the best editing in Hollywood.

They make a lot of money selling editor keyboards and colour panels designed to streamline the editing process. Making it free software is a great way to attract potential customers who'll want the increased efficiency offered by their tools. It's available for Linux, Windows and Mac.
For the average business, the free version will provide more functionality than you'll ever need. Using the free features will allow you to create extremely high-quality videos that promote your business. Interested in some other ways? Check out 'Promote your business online: the complete guide.'
How should I use my videos?
You've picked an editor that meets your needs and made an awesome video. Now what? 

It's only benefiting you if potential customers can watch it. The goal is to share it in places they see it. If you have an email list this can be a good option. Send them an email telling them about your exciting new product and include a link to your promo video. For more, check out our guide: How to develop an email marketing strategy.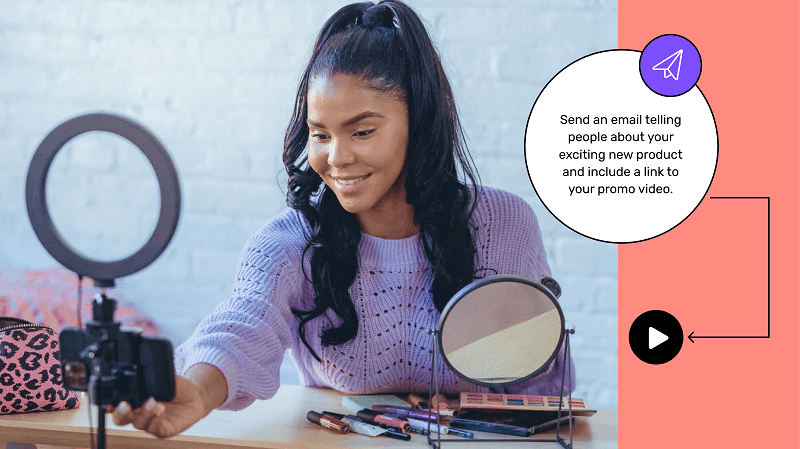 Another option is to feature it on your website. Did you know that 4 in 5 consumers say a video showing how a product or service works is important? (source: Animoto) This doesn't only apply to your website. It's true within your app too. Don't have an app yet? No worries, we can help with that.

Our Studio Store apps are the quick start option. Unless you work in a niche industry we recommend looking here first. If none of the Studio Store apps meets your needs then we invite you to pop over to Builder Studio – it's where we make bespoke apps.  

Studio Store apps are designed for many popular industries – food delivery, gym and e-learning apps to name a few. Each app is designed so it's easy for you to add your branding and personal touch. We provide web, Android and iOS apps that run super fast.
One notable mention is our free ecommerce app. It comes with everything you need to start selling online. The free version allows you to process 50 orders for free each month. This gives you a risk-free method of testing out our service.
Final thoughts
If you've been thinking about creating videos for your business you're now ready. We've looked at 4 of the best free video editing software choices. You can now choose the one that best meets your needs.

We recommend most businesses try Canva first. If that's not powerful enough, consider trying DaVinci Resolve. 

Whichever option you choose, we wish you the best of luck!

FAQs
1. What's the best in-browser video editor?
We recommend Canva. It has all the features you'll need to make good videos for social media. In addition, it has a big library of templates and free to use stock content.
2. What's the best desktop video editor?
We recommend Blackmagic Design DaVinci Resolve 17. It's used by the best in Hollywood. Why? It's extremely powerful and the free version alone has more features than most people will ever need.
3. I've made a video, what next?
We recommend most businesses get an app. It's a great way to continue growing your business and make more sales. If you want to jump right in, have a look at our Studio Store apps. They're designed to do everything your business needs, we handle the tech stuff and you get your apps superfast. Want to learn more about why you need an app? Take a peek at our mobile apps for small business guide.
Greig Robertson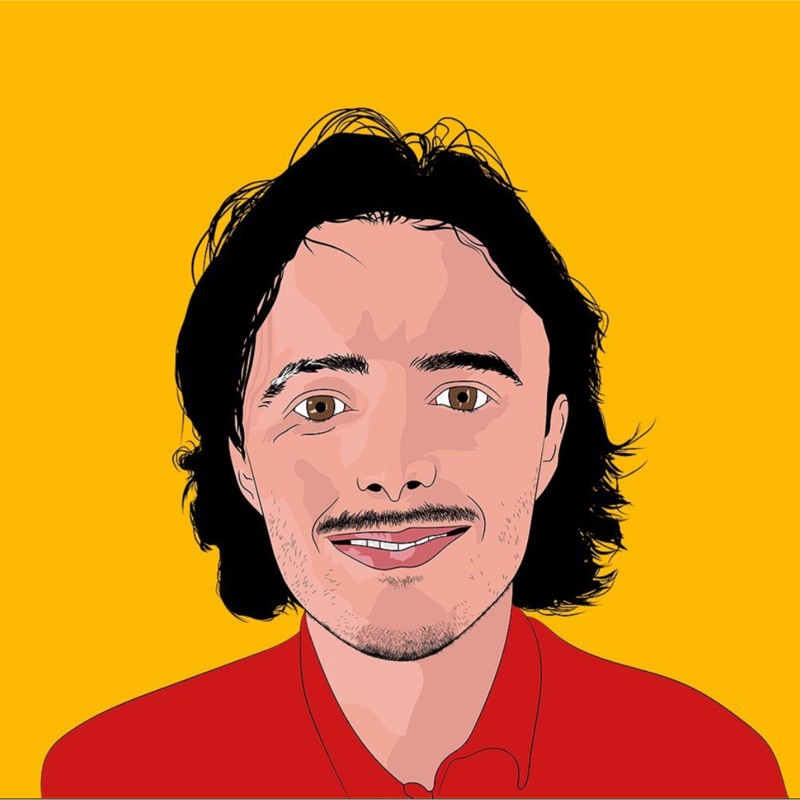 Greig is the Digital Content Lead at Builder.ai and a University of Bristol History grad. He has 5+ years' experience in B2B SaaS, creating data-driven, human-friendly content for high-growth tech startups. When Greig needs a dopamine hit, he checks Builder.ai's keyword rankings.