How do today's small businesses grow? By bolstering their online efforts, both through building a website and through mobile app development. You might think that your small business doesn't need an app, but that couldn't be further from the truth. Apps are the future of browsing, shopping and client communication so, if you're going to build rapport with your customers and maximise your growth potential, you need an app.
Apps aren't a new concept but in terms of small independent businesses, they are. This means most people don't know where to start or what to look for when it comes to mobile app development. The same was once true of websites, but as the internet has grown into a facet of everyday life, most people know what makes a good website and would feel comfortable making one.
Given that there are more than 3.8 billion smartphone users worldwide and they each average opening up 10 apps every day, it's clear that those little square tiles on our phone screens are becoming just as integral to our lives as the actual handsets. Knowing how to create an app and what makes a good app, however, is still a relatively unknown concept.
If you're a small business owner, or you're looking to start your own business and want to get off on the right foot, we're going to share some top tips to keep in mind when developing an app. Before we do that, though, let's go into more detail about what an app is. The best way to nail the development of something is to know it inside out, so let's start right at the beginning.
What is an app?
An app is a piece of software that can be downloaded onto a mobile, tablet or desktop device, although when most people talk about apps, they're referring to mobile apps. An app can be any piece of software. The most widely used apps today are social media and messaging apps, but games remain ever popular. Many people regard the Snake game that was pre-installed on the Nokia 6110 in 1997 to be the first proper app, although the concept of apps goes back another 10 years.
An app can be anything: a photo editor, a chat platform, a retail store, a rewards hub or a new social media platform. You probably use apps every single day, be it to keep an eye on your bank or to keep in touch with relatives.
Many global brands rely on apps, especially ecommerce businesses. How many times have you bought something through the Amazon or eBay apps? Mobile commerce is a multi-trillion-dollar industry, meaning if you're a small business, it makes sense to cash in.
Why do small businesses need to consider mobile app development?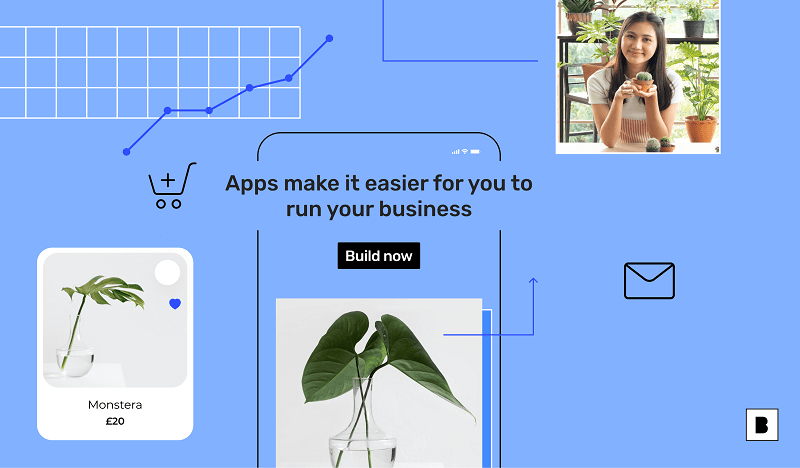 We've already touched on the fact that there are some big bucks to be made from developing a small square tile on people's phones, but your small business can benefit in other ways from apps. When you create an app, you have the potential to:
Expose your business to a bigger customer base
Strengthen your communication with your customers
Make your business more accessible to everyone
Increase your brand awareness
Give back to your customers through promotions
Diversify your business with the help of new and exclusive features
Get ahead of your competitors and cement your online presence
What you can gain from creating an app will translate directly to how you go about developing one, but that's not all. Not only will you benefit from giving your customers another way to reach you and support your small business but they can gain a lot from it, too.
What customers gain from your app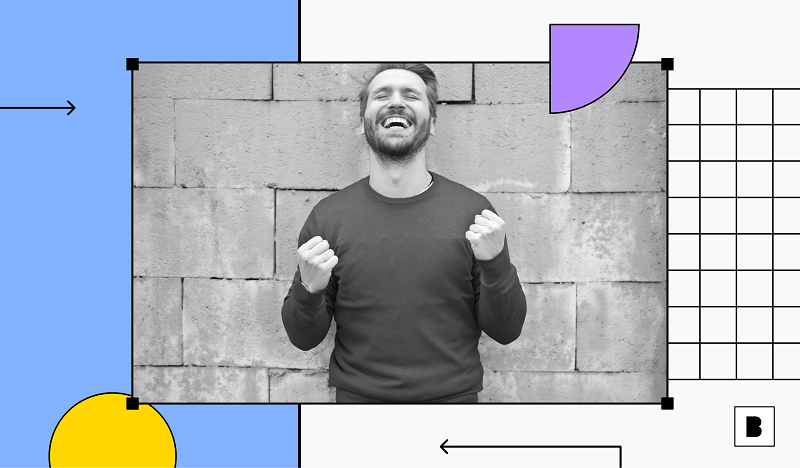 First and foremost, your customers should be at the very centre of your app development. You need your app to work for them, so you need to be thinking about what they can gain from an app and how you turn that potential into reality. Some of the things your clients can get from an app include:
Easier way to contact you about orders and customer service queries
Access to promotions and loyalty schemes that benefit them
More convenient way to shop and use your services
Every small business will have something unique they can offer their customers in addition to the points above. So make sure you understand your unique selling pointand keep it at the front of your mind when it comes to your app design and development.
Now that we've covered the basics of apps and how they can benefit both you and your customers, let's delve into how you can use all this information in the mobile app development process for your small business.
#1 Know your purpose
Wanting to develop an app purely because it's the cool thing to do isn't going to do you any favours. It's better to have no app at all than to have a bad app that gives users a negative impression of your brand, but this is exactly what will happen if you make an app with no clear purpose.
You need to establish a clear goal, otherwise you risk your app failing. Think of it like spinning plates; you can't do it all, so it's best to focus on one thing and do it well, than to try and do several things and do them all to a mediocre or even poor standard.
If you're unsure what your purpose is, refer back to what you can gain from an app. Do you want to make it easier for customers to buy items from you, or do you want to reward your customers for their loyalty to your small business by providing them with coupons and incentives to continue supporting you?
You should then think about how you can pair the benefits an app brings to you with what your customers can gain from it. As mentioned before, your customers should always be at the forefront of everything you do, especially as a small business. Even if your goal is to double in size in two years, you can't lose sight of what's in front of you now. Deciding to create an app can certainly play a part in your business growth, but you need to combine it with a purpose for your customers, too.
If you're still unsure what the purpose of your app is, take a look at your competitors (if they have apps). Most small businesses not only have to compete with major brands, but with several similar-sized companies too and it's these smaller ones who usually present the biggest competition. In this case, if they have an app, download it and scope it out. What features does it have? Maybe it's a loyalty scheme app where customers can't buy anything but they can redeem money off or get exclusive offers simply by signing up or logging in. It might be an ecommerce app where customers can shop online rather than going in-store, or perhaps the app gives access to content like blogs, podcasts and videos that show an entirely different side to the business. Whatever your competitors are doing, you should be aiming to do better. So if you're lost for a purpose, this is where you could find it. Check out this ecommerce blueprint just to get started.
It doesn't necessarily matter what the driving force behind your app is, as long as you have one. As a small business owner, you most certainly put 110% into everything you do, so don't let your app be the one thing area where you don't. If there's no clear purpose, it'll show. If you can't identify a purpose and are contemplating designing an app for the sake of it, don't. Hold off until you know what you want to get out of the app and what you want your customers to be able to get out of the app, too. It's better to take your time and get it right rather than rushing the process and making an expensive mistake.
#2 Do your research
If you're thinking about building an app, you likely already have a website, store or brand set up. This means you know who your competitors are and who your target audience is. For those with websites and who keep their marketing in-house, you likely also have a list of keywords and understand what makes a good website. While this information will go a long way to helping you build an app, you still need to do lots of research.
Where websites have SEO (search engine optimisation), apps have ASO (app store optimisation). You are restricted a lot more in terms of how you can get your app noticed on the app store, and while the Apple App Store allows you to enter relevant keywords, you have limited characters available. We know that as a small business you're busy and time is precious, but make sure you prioritise learning about ASO to get your app ranking as highly as possible after the launch.
#3 Boost your marketing strategy
Before you even get to thinking about the launch, you need to develop a bulletproof marketing strategy very early on in your mobile app development. Provided you know your target audience well – we have no doubt you do – you'll have a good idea of the type of marketing campaign they will respond the most positively to. It might be that your target audience typically spends a lot of their time on social media, Facebook in particular. In this instance, you should think about creating Facebook ads to promote the launch of your new app.

It's best to save this step until after you have started the app design process so that you have strong renders and screenshots of what the app will look like. But in the event you've never set up a Facebook ad before, now is a good time in the development process to learn about it. The same goes for other platforms such as Twitter and Instagram.
This stage in the app development process is also a good time to think about influencer marketing. Celebrities have always endorsed brands and businesses, and they've generally always boosted sales for the companies they've been seen to publicly back. The problem is, celebrities are somewhat untouchable for small businesses, demanding high rates in return for the endorsement.

The good news is, influencers have started to take over from celebrities and this is great for small businesses. Influencers are people who have large social media followings. Luckily, there's a lot of them around and they will charge you less for an endorsement than a celebrity. Influencer marketing has blown up in the last five years, with all kinds of brands jumping on the bandwagon. From toothpaste and shampoo to home furnishings and – you guessed it – apps, there's almost nothing you can't push through influencer marketing.
Some influencers are managed by agencies, but most can easily be reached on social media. As a small business, you'll need to do your research to make sure you're choosing an influencer who represents the same values you have. It's also best to choose one who has some sort of relevancy to your business industry and whose audience may be genuinely interested in buying something from you. Once you've selected the right one, send them a message and give them early access to your app, making sure to provide them with renders and imagery of your app that they can use during the promotion. Most brands also give influencers a script to follow, and in the case of ecommerce companies, an affiliate code customers can use to get money off a purchase. You will have to pay a fee for the endorsement, but it's a great way to market your brand new app and to spread awareness of it.
Whether you're marketing an app or a bar of soap, there are some standard things you need to be doing. Firstly, you need to create a buzz around the product. Going back to your app's purpose, what's the USP(unique selling point)? Whatever it is, make sure that's the highlight of your marketing campaign. You need to show people what they can get from your app and give them a reason to download it. Considering that finding your purpose is the first step of mobile app development, screaming about it from the rooftops should be the next natural step and the very core of your marketing strategy.
You will need to decide what platforms to utilise, the best time to post, how frequently to post and any other campaign tools that you might find helpful, such as email marketing. As mentioned, it's best to create a buzz around your new app in order to make the development process worth it, so ensure you're thinking about it early in the development process.
#3 Choose the right app builder
The next phase of mobile app development is the fun part – the actual build. As a small business, your best bet is to use an app builder like Builder.ai. This is because while apps are a common part of our lives, they're still quite tricky to understand if you're not technologically advanced. This makes building one quite a feat – but use an app builder service like ours, you can complete the build in as little as a couple of weeks.
With our Studio Store, you can select from a range of pre-packaged apps to model yours on. Unlike other app builders, we provide our pricing upfront, making sure you know exactly what you're getting for your money – from the very beginning. Our app design studio lets you create an app that reflects your needs, but you don't need to spend a penny to access it. This means you can have a look at the features we offer and the customisation options available on our platform, and make an informed decision about whether or not we have what you need to make your app.
There are many other app builders available, so it's imperative that you do your research and see which one might be best for your small business. Your time is precious and while an app is a big move, ultimately, you'll want something that takes care of itself so that you can concentrate on what matters most to you. This means choosing an app builder that you get along with. You will need to look at the functionality and usability from the back end. Is it easy to add content and products? Can coupon codes easily be added? Does the app builder release onto both the Apple App Store and the Google Play Store? The last thing you want is to spend hours or even days building an app, only to find that it's not compatible with the platform you want to release it on.
Another thing to consider when choosing an app builder to develop your app is pricing. An app is an investment and should be viewed as such, but the last thing you want is to overspend on an app. While it's highly likely you'll see a return on your investment, no one likes to pay over the odds. That's why we break all our prices down, but other app builders may present you with package prices instead. This can be a good way to quickly see what you're getting for your money and how much you'll be spending off the bat; however, it may mean you're restricted with certain features. If you do opt for an app builder that uses a pricing plan system, make sure you establish how far you can go in terms of the design process and whether there is an option to upgrade later down the line.
You want to make sure your app gives you the option to grow in line with your small business. It's no different to a website. The one you choose in the beginning will change and grow over time, so what you have in your first year likely won't be what you have in your fifth year. The same goes for apps. An app builder should be like a good pair of shoes – something that gives you enough room to grow without making you feel out of your depth initially.
Another thing you will need to think about when you create an app is how you can marry it up with your website. The key to growing a small business is to make it uniform across all platforms. This means creating a seamless transition from your app to your website. If you choose to develop a mobile app instead of a desktop app, it needs to reflect your desktop website. The design should be simple and the two should link smoothly so that users can barely feel the difference between your website and your app. If your app is going to be an ecommerce one, make sure it mirrors the smoothness of your website in terms of things like the checkout service as this will be a feature your customers will have come to be acquainted with.
From your perspective as a small business owner, it's best to have all your leads and data in one place for both your website and your app. This is where Builder.ai can help. We are a website builder and app builder platform, giving you uniformity across all platforms and ensuring you can manage everything you need to from one central location. How can this help in the app development process? Well, you don't need to learn multiple operating systems which can be a big help when trying to create something new and effective for your business.
#4 Keep it simple
When you've got past the nitty-gritty part of the development (the planning, the marketing strategy and finding a platform to host your app with), you can finally set your sights on the build. This is the part of the development process where your research will start to show, but it's the only part that your customers will actually see and it's the part that will reflect your brand. Arguably, this part has a lot riding on it.
We've already touched on keeping the app in line with your business branding. If you're planning a rebrand, launching an app is the perfect time to do it, but if not, keep to the same branding guidelines you have for the rest of your business. You need to ensure consistency and uniformity across all platforms. So no matter where people are – be it in-store, online or on your app – they know instantly that it's your small business.
Don't overthink the actual app design. Whether you're building a loyalty app or a full mobile app extension of your shop, the app needs to be fast. The more features and frills you add on, the slower it will be. Stick to the basics. This means going back to point #1 and knowing your purpose. Remember why you're building an app and make that the focal point of the design. If your USP is exclusive content, don't overpower the app with coupons and discounts as this isn't its primary focus and will detract from the end goal. Know your purpose and stick to it.
There's nothing wrong with white space and breathing room, but at the same time, don't leave too much or else your app will look bare and unfinished. Another thing to note is colours. When developing an app it must look nice, but not to the detriment of accessibility. You have a legal obligation to make sure your app is accessible to everyone, including those with disabilities such as visual impairments. If you use an app builder to create your app, you will be presented with several templates that have been tried and tested and that tick all the accessibility boxes. On the other hand, if you opt to build your app from scratch, you won't necessarily have the same guidance. This means you could end up making mistakes like using colour as a navigational tool around your app. There's nothing wrong with different sections being different colours, but it's important you don't rely on colour as a way for users to get around your app because visually impaired people may find it difficult to use.
If you're not sure about what makes a good app design, think about the apps you use on a daily basis, specifically ones that are similar to the app you're looking to create. Make a note of what you like in an app and what you don't, and look at your competitors to see what they do well and what you think you could do better. Above all, keep it simple. App builders will already have simple designs for you to follow and customise using a drag and drop system (mostly). This can be a double-edged sword; it can be restrictive in the sense that you're using a template and therefore there will be limitations, but it can also prove to be useful because you won't be able to overcomplicate things and develop an app that isn't user friendly.
#5 Test it out
During the app design process, there will likely be things that you're toing and froing with, such as what font size to use or what colour your buttons should be. You want to make sure that you get your app development right. One of the most important ways to ensure a good launch and reception of your app is to do A/B testing. Anything that you're unsure of, be it colour schemes, menu titles or links, can be tweaked and tested by creating two prototype versions.
Once you have your prototypes, set up a focus group and give them both versions to test out. You can ask customers if they want to be in your focus group, or you can hire people online. You should then present them with your app and allow them to have a good play with it. You can provide them with a questionnaire asking certain questions such as, did you prefer the font on App A or App B, or, do you prefer the page layout on App A or App B? It's a good idea to create open questions too regarding the overall functionality, usability and look of your app.
Focus groups and app testing is such a vital part of the development process because you'll have access to real people's thoughts and feedback. They might suggest things that you didn't even notice. When you spend a long time working on something, you can often become too close to notice errors. For small businesses making apps, it's likely that only a handful of people will be working on the project, and it's natural to have the blinkers on to an extent. This is where focus groups and real-time testing can help.
# 6 Don't rush it
As a small business, time is of the essence and you'll likely want to get your app up and running as fast as you can so you can begin work on your next project. The most important thing to remember is not to rush it. Sure, your competitors and larger companies might be able to get apps out and release new features seemingly overnight but this doesn't mean you have to. Like everything, you need to be patient.
App development is a multi-faceted process. From conception to completion, there are countless things to do and plan, leaving you with a to-do list longer than your arm. You need to think about your marketing strategy, the design, the app builder, how you're going to launch it and when you're going to launch it. On top of this, you'll probably have a million other things to do to keep your business running as normal.
There might be days where you don't work on your app at all, and there will be days where you can dedicate hours to the development. It's important to remember that there is no set timeline for releasing your app. The process takes as long as it takes. App builder platforms can take the pain out of the design and build and get that part sorted for you within weeks, but all the work that needs to be put in before that stage could take months.
That's why Studio Store is so appealing, you don't need to put in any time managing your app development project and you can get your apps in as little as 2 weeks. Generally speaking, most apps take between six and nine months to fully develop and launch, but you might do it either faster or slower than that timeframe. There is no right or wrong answer, just remember to trust the process and take your time.
Begin your mobile app development journey today
If you're a small business and you're ready to start your app development journey, we are here to help. You can speak to a member of our team and discuss your idea. They can talk you through your options and lend advice.
Alternatively, if you've already done the leg work and are ready to start building, our platform is ready for you. Start building now.
FAQs:
Why mobile app development?
Developing an app can have many different benefits for both your business and your customers. From increasing your brand awareness and building loyalty to your brand to giving your customers an easier way to reach you and use your services, mobile app development is a natural next step for any small business looking to grow – especially digitally.
What is the best mobile app development platform?
There are several mobile app development platforms that all aim to make creating an app easy. There is no set answer to which platform is the best because it comes down to personal preference and what you're looking to get from your app. Obviously we'd recommend Builder.ai but don't take our word for it, read how we helped Pepsi digitise their distribution in the Middle East and saved Makro 98%on their order management system. Or how Studio Store won 'Best Covid-19 Innovation for Recovery' at CogX for helping small businesses get online faster and more cost effectively than ever before.
Is mobile app development the future?
Looking at data trends, apps are the future which means mobile app development will become as natural to small businesses and building a website. According to estimations, mobile apps generate over $77 billion USD, and over 60% of millennials prefer to make purchases on apps instead of websites. Mobile commerce or mcommerce is expected to rival online ecommerce in the coming years. On top of this, 87% of people spend most of their digital time on apps.
How to choose the best mobile app development company?
There's a lot of choices when it comes to finding the best app builder company. It's best to look around and take advantage of any free trials. Read reviews and get in touch with the app builder's customer service to talk about what they can offer you.
How to build a mobile app without coding?
You can build an app without coding by using an app builder. Check out Builder.ai and start your app development journey today.

Liam Collins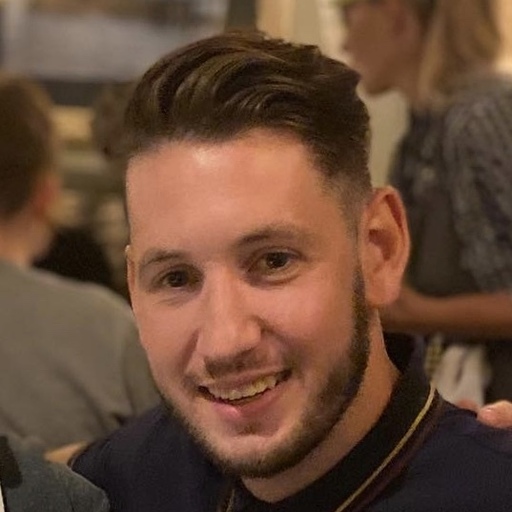 Head of Performance at Builder.ai
Liam is Builder.ai's Head of Performance, with 10+ years' experience of defining, activating and executing digital marketing campaigns. In his work at internationally recognised agencies like MediaCom and MG OMD, he was client lead for large accounts like DFS, Kenwood & De'Longhi and Boots as well as many SMBs, driving commercial growth through bespoke ecommerce and omni-channel strategies.