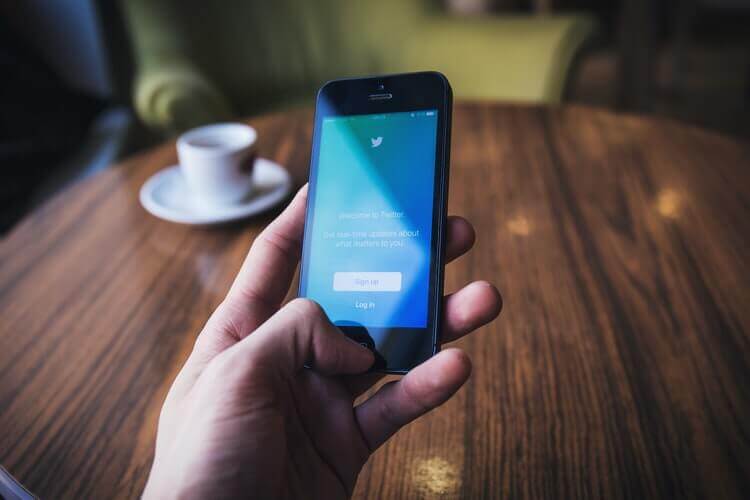 Are you making the most of quarantine with social media? Not only does it make sense, but it helps you learn about everything from technology to storytelling and so many other skills influential Twitter master-users come from. Are you making the most of this time by listening to smart and insightful women? Now is the time.
What's the criteria to be included?
Each of these Twitter rockstars comes recommended from the fields of media, venture capital and technology. They don't just have a list of amazing tweets, they update regularly (including in the last month or less) and they are highly influential on Twitter. Additionally, they have high quality tweets, they've been tweeting for over a year and lastly, they have an engaging community of followers and fans. These Twitter professionals are knowledgeable, informational and downright fun.
How we organize this incredible amount of information

We broke up these influencers into several groups, namely, software and game development, venture capital and investment, journalism and podcasts, alongside tech entrepreneurs and tech enthusiasts and lastly, non-profits.
What's our goal?

Our aim here is to share their stories, talk about the issues facing them currently and shine light on their relevant and interesting professional (and personal) work.

SOFTWARE DEVELOPMENT

#1. MINA MARKHAM (@MinaMarkham)
Description: am: Staff Engineer @SlackHQ. Keynote Speaker. @SF_DSC ¶ was: @HFA ¶ always: INFP. Ravenclaw. Beyoncé. #BΔΚ #BlackTechTwitter ¶ Opinions are @stewart's ¶ she/her
Location: KS → TX → NYC → Oakland
Mina Markham is a front-end architect in Oakland, California. She's actively involved in the tech community, teaching for Black Girls Code and founding the Dallas chapter of Girl Develop It and DFW Sass. In addition, she has presented at various conferences, including Front-End Design Conference, Midwest.io and Distill. Lastly, she's co-organizer of Front Porch, a conference on front-end web technologies for developers, designers, entrepreneurs, and managers.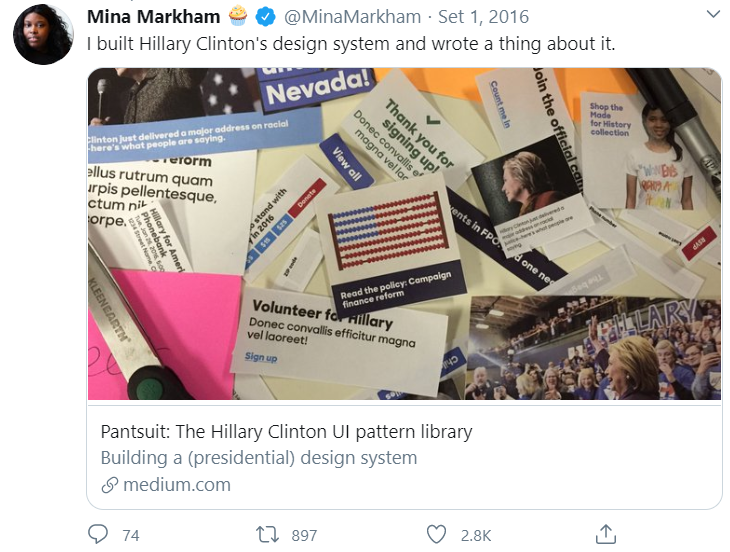 #2. JULIA GRACE (@jewelia)
Description: Director of Engineering at @Apple working on Siri. Previously @SlackHQ, startups. @Medcorder board member. Startup Investor/Advisor. @unccs alum. Runner.
Location:Silicon Valley, CA

Julia is currently Director of Engineering at Apple, working on Siri. Previously she was a Senior Director of Engineering at Slack, having first led the Slack Developer Platform team, then built the Slack Infrastructure product and engineering team from 10 to 100+ people in 3 offices in 2.5 years. Her work contributed to Slack achieving significant gains in reliability and performance, and unlocking Slack's ability to be used by very large, geographically distributed enterprises: something previously impossible due to scalability limits.

She is an effective, driven technical executive with over 15 years of building software products in both the consumer and enterprise space, and highly skilled at bridging the gap between engineering and business. She has both strong infrastructure and product experience, spending many years in her early career at one of the world's top user experience research groups: IBM Almaden Research. She's capable of both tactically improving the execution of large technical organizations, as well as setting vision and defining strategy in line with top line business goals.

#3. AMBER CONVILLE (@crebma)
Description: Dir of eng at @Integral_io, founder of @selfdotorg & @selfconference, lover of games both board & video, she/her. https://patreon.com/selfconference
Location:Detroit, MI

Amber Conville is a developer at Test Double, and has been a software developer for 7 years. She loves code in lots of languages, tdd, craftsmanship, and the software community, and can be found helping out with user groups, conferences, and nerd gatherings whenever possible.

#4. JULIE ANN HORVATH (@nrrrdcore)
Description: Design Manager. Previously @Apple, @Amazon, @GitHub, @Yammer. Board of Directors @NatBrut. Moonlights as a Nail Tech. Tweets are @_dte's.
Location:London, UK
Julie Ann Horvath is a designer and front-end developer at &yet. She previously worked at GitHub, Cherry, and Yammer. Horvath likes to think of herself as an open source advocate with a big heart for making mockups in markup. She spends a lot of her time speaking at conferences and volunteering to teach (more) women to code. Horvath is also the creator and organizer of Passion Projects, a monthly talk series designed to help surface and celebrate the work of incredible women in the tech industry.

#5. ALISON GIANOTTO (@snipeyhead)
Description: Hacker, CTO, founder of Grokability. I made Snipe-IT. Open sourcerer, author, speaker, devops, infosec, atheist, NSFW, shitty runner, worse puns, she/her
Location: NYC expat in San Diego
Alison Gianotto is passionate about creating order from chaos, developing systems and workflow to make the right thing the easy thing, and advocating risk management as a valuable tool for innovation. Alison frequently speaks at conferences about technology and security/privacy issues. Her personal heroes are Carl Sagan, Neil deGrasse Tyson, & Jane Goodall.

She created Downworthy in her free time, a fun little Chrome extension that changes hyperbolic viral news site headlines into something funnier. It's been written up in AdAge, Daily Dot, BoingBoing, Jezebel, Washington Post and more. Check out more of her personal projects on GitHub.

#6. RESHMA SAUJANI (@reshmasaujani)
Description: Founder/CEO @GirlsWhoCode. Activist. NYT Best Selling Author. Former Deputy Public Advocate. Mom @toddlershaan @stanleythepuppy. Wife @nihalmehta. Tweets my own
Location: NYC

Reshma Saujani is the Founder and CEO of Girls Who Code. She began her career as an attorney and activist. In 2010, she surged onto the political scene as the first Indian American woman to run for U.S. Congress. During the race, Reshma visited local schools and saw the gender gap in computing classes firsthand, which led her to start Girls Who Code. Reshma has also served as Deputy Public Advocate for New York City and ran a spirited campaign for Public Advocate in 2013.

#7. CHLOE CONDON (@ChloeCondon)
Description: Workin' on ☁️ things at Microsoft 👩🏼💻📎 Diagnosed & living w/ RBF + ADHD 😒😐 Just picture Elle Woods, but w/ the personality of Michael Scott
Location: Oakland
Former musical theatre actress and Hackbright Academy graduate, Chloe is now a Senior Cloud Developer Advocate at Microsoft. Pre-Hackbright, she spent her nights and weekends performing in the Bay Area as a singer/actress and worked in tech by day in various non-engineering roles. Perhaps the only engineer you'll meet who has been in "Hairspray", "Xanadu", and "Jerry Springer: the Opera"- she is passionate about bringing people with non-traditional backgrounds into the world of tech.

If you're trying to place her face, yes--she's the young woman giving the awkward thumbs up in the "What It's Like to be a Woman at a Tech Conference" article (which she also wrote). She was recently featured in the Grace Hopper Conference 2018 gallery featuring 15 influential women in STEM by AnitaB.org, and in early 2018 was named one of the "200+ Thought Leaders in Crypto and Blockchain" and still knows absolutely nothing about Crypto and Blockchain. Seriously- not a thing. She considers it her greatest accomplishment.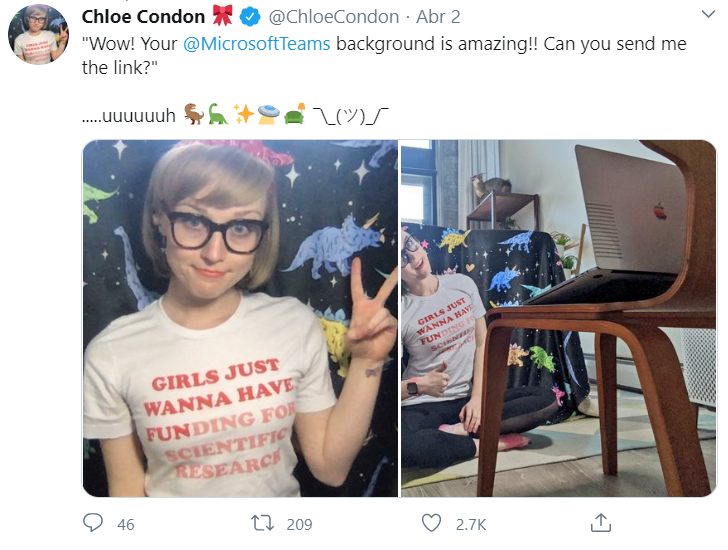 #8. LINDA LIUKAS (@lindaliukas)
Description: I like shiny things and software. Children's book author at httpS://helloruby.com
Location: New York | Helsinki
Linda is the author and illustrator of Hello Ruby, a children's picture book about the whimsical world of computers, as well as the founder of Rails Girls, a global movement to teach young women programming in over 260 cities. She loves Muji, Zelda Fitzgerald, software and sparkly things.

#9. BRIANNA WU (@BriannaWu)
Description: Candidate for US House of Representatives in MA District 8 for 2020. Software engineer. Feminist. DMs are open. #TechPolicyMatters brianna@briannawu2020.com
Location: Dedham, MA

Brianna Wu is a software engineer, entrepreneur and outspoken advocate for women's rights. One of the most prominent women in technology, Brianna founded her first $250,000 startup at 19. In running for US Congress, Brianna is working to bring a new generation of voices and values to Washington.

#10. JESSIE FRAZELLE (@jessfraz)
Description: 👩🏻💻 @oxidecomputer, 📝 @ACMQueue
Location: Falken's Maze

Jess Frazelle is an engineer, product focused, and sees the big picture of how it's more than just software. She has served as a maintainer of Docker, contributor to Runc, Golang, Kubernetes, and the Linux kernel as well as other projects. She is known for her work to make containers more secure and for running everything in containers on her desktop. She started the maintainers conference for maintainers all over the world to get together and talk about the problems they face.

#11. BRITTNEY BALL (@Brii_toe_knee)
Description: YouTuber | Tweeter 🐥 | InstaGrammer | TikToker 💃🏾 | Coder 👩🏾💻 | Blogger 💻 | Speaker | LGBT | My views are my own
Location: Charlotte, North Carolina
Brittney Ball was living in a homeless shelter with her baby when she learned of a one-year program offering technical training, professional skills and an internship. She took the plunge. Five years later, Ms. Ball is a software engineer in Charlotte, N.C., earning more than $50,000 a year.

#12. SARA CHIPPS (@SaraJChipps)
Description: Just a girl, standing in front of a microprocessor, asking it to love her. She/her. I work @stackoverflow. Making @jewelbots. Board @dotnetfdn.
Location: New York, NY
Sara Chipps is a JavaScript developer based in NYC. She has been working on Software and the Open Source Community since 2001. She's an engineering manager at Stack Overflow, the singular source for Q&A for software developers worldwide. She is the cofounder of http://Jewelbots.com, a company dedicated towards drastically changing the number of girls entering STEM fields using hardware.

She was formerly the CTO of http://FlatironSchool.com, a school dedicated to teaching people of all ages how to build software and launch careers as software developers. In 2010 she co founded Girl Develop It, a non-profit focused on helping more women become software developers. Girl Develop It is in 50 cities, and has taught over 100,000 women how to build software. Sara founded GirlDevelopIt in 2010 and went on to become the CTO of Flatiron School. She's currently the CEO of Jewelbots and is passionate about getting more women to become software developers.

#13. UNA KRAVETS (@Una)
Description: Making the web more colorful | CSS/Web DevRel @googlechrome | host of The CSS Podcast, @toolsday, & Designing in the Browser | IG: http://instagram.com/unakravets
Location: New York

Una Kravets is a front-end developer, writer, and speaker who works on the Cloud Platform Team within IBM Design. She cohosts a podcast called Toolsday, loves to travel, and occasionally does calligraphy. You can find her on the internet @una.

VENTURE CAPITAL

#14. SHELLY KAPOOR COLLINS (@ShalKCollins)
Description: Founder of the Shatter Fund; Investor in Women and Tech, STEM Advocate, Mother Founder, love Consumer, Health, Finance, AI (not in that order) Pilates devotee
Location: San Francisco, CA

Shelly Kapoor Collins is founding partner of the Shatter Fund, a returns driven fund investing in technology companies led and started by women. A few of Kapoor Collins's investments include leading female-led companies GlamSquad, UrbanSitter, HelloAlice, Hint Water, On Second Thought, The Riveter, Storm Sensor, and more. Kapoor Collins is a frequent speaker for corporations and nonprofits on relevant topics including Women in Tech, Women's Empowerment, Women in Venture Capital, STEM, and more.

#16. AMBER ATHERTON (@AmberAtherton)
Description: Building Communities with http://zyper.com | Founder & CEO
Location: San Francisco, California

Amber Atherton is a British entrepreneur who founded Zyper, a marketing software company backed by Y Combinator. She is known for co-creating and appearing in the reality television series Made in Chelsea. She also founded the e-commerce company My Flash Trash and visual recognition app Rubric.

#17. EILEEN BURBRIDGE (@eileentso)
Description: Early-stage tech VC and recovering work- and tech-oholic. Online identity full circle: Eileen Tso, Eileen Broch, Eileen Burbidge
Location: London
Eileen Burbidge is a Partner at Passion Capital, the pre-eminent early-stage technology venture fund based in London. She brings extensive operational experience to her investment activities gleaned from business and product roles at Yahoo!, Skype, Apple and elsewhere. On behalf of Passion, Eileen serves as non-executive director on a number of fast growing SMEs including Monzo Bank, Digital Shadows, Tide, Butternut Box, Prowler.io and Focal Point Positioning, among others. She is also the Chair of Tech City UK, which is the British government-backed organisation supporting the digital economy across the UK. She is also the UK Treasury's Special Envoy for FinTech appointed by the Chancellor; Tech Ambassador for the Mayor of London's office and served on former UK Prime Minister David Cameron's Business Advisory Group.

#18. CHRISTINE HERRON (@christine)
Description: Early-stage investor and diversity advocate. Supporting @500Startups, @BullpenCap, @LINESBallet, @StartX, and @Calista while I work on New Things.
Location: San Francisco, CA

Offering witty gripes, advocacy, and product insights in equal doses, Christine Herron's Twitter is a great read if you want to stay up-to-date on political news and tech startups. Her post at Intel Capital has her overseeing startups such as Yummly, a personalized recipe recommendation tool and search engine, and Jelli, a programmatic radio advertising platform. Herron also advises the startup accelerator 500 Startups and is on the board of nonprofit StartX. Watch her Twitter closely if you're a student entrepreneur: You might get the inside scoop on a $9,000 scholarship that includes investor mentorship.

#19. HEIDI ROIZEN (@HeidiRoizen)
Description: Partner at @ThresholdVC, co-lead Stanford's Threshold Venture Fellows. Board members Zoox, Planet, Memphis Meats, Polarr, DMGT. Mom, dog lover.
Location: Silicon Valley

Heidi has achieved success as an entrepreneur, executive, director, venture capitalist and educator. She has also held positions of leadership with a number of industry organizations, and is a recognized and popular spokesperson for the technology industry.

#20. MONIQUE WOODARD (@MoniqueWoodard)
Description: VC - In the kitchen // Investor @Blavity @OdotSchool @MentedCosmetics @CourtBuddyinc Former: @500Startups @SFMOCI.
Location: San Francisco

Monique is an early stage investor at the intersection of technology and emerging demographics. Her investments as a venture capital and angel investor include Blavity, Court Buddy, Mented Cosmetics, Silvernest, and others. Previously, Monique was a Venture Partner at 500 Startups. In her 15+ years in the startup and tech industry she has been both a startup founder and product-focused operator, the founder of a national community of tech entrepreneurs, and adviser to governments on technology and innovation. Today, Monique invests in the future of technology being driven by major demographic trends. She invests in companies with global ambitions who are creating technology products that meet the needs of tomorrow's internet users.

#21. AILEEN LEE (@aileenlee)
Description: Founder of @CowboyVC. Backer of seed stage founders. Love family, yummy food & beaches.
Location: palo alto, ca

Aileen has many years of experience helping start ups build products customers love, and helping companies scale, both as an investor and operator. Prior to Cowboy, she joined the venture firm Kleiner Perkins Caufield & Byers in 1999. At KPCB she worked hands-on with a range of consumer, enterprise, media and greentech companies including Bloom Energy, Blue Nile (NILE), Good Technology (acquired by MOT), One Kings Lane, Plum District, Rent the Runway, Shopkick, Tellme (acquired by MSFT), and Trendyol.

During that time she was also founding CEO of RMG Networks (RMGN), the leading digital out-of-home media company, backed by KPCB. Aileen has also held operating roles at Gap Inc., The North Face and Odwalla and started her career at Morgan Stanley. She has degrees from MIT, Harvard Business School, and Millburn High School; and she's the proud mom of 3 kids plus a dog, chickens and bees, and the wife of a series A stage co-founder/CTO.

#22. JALAK JOBANPUTRA (@jalak)
Description: VC since 99. Founder @futurepvc. Global Nomad. x Ballerina. Early #blockchain investor.
Location: NYC

Jalak Jobanputra is a technology venture capitalist whose philanthropy, public service and investing career has spanned the globe over the past 20 years. Prior to founding emerging technology fund Future\Perfect Ventures in 2014, Jobanputra earned her MBA from the Kellogg School of Management at Northwestern University in 1999, then established micro financing projects for female entrepreneurs in Tanzania. She has represented the U.S. State Department as an adviser to social entrepreneurs overseas. Meanwhile, in New York City she has focused on charter schools, affordable broadband and the introduction of emerging technologies such as blockchain to the public sphere.

INVESTMENT

#23. KATHRYN FINNEY (@KathrynFinney)
Description: Bio: She was warned. She was given an explanation. Nevertheless, she persisted #BIGATL #BIGNWK @digundiv.
Location: New York

Named by Inc Magazine as one of the most influential women in tech, Kathryn Finney has made her mark as a tech entrepreneur, social media visionary, "women in" advocate, investor, writer, and television correspondent.

#24. JOANNE WILSON (@thegothamgal)
Description: Angel Investor, Blogger, Podcaster, and woman about town
Location: New York, NY
Joanne Wilson began her career in retail, eventually moving to the wholesale arena before transitioning to the media side of the technology industry. She is currently an angel investor with a portfolio of more than 100 companies. For more than 13 years, Wilson has maintained her popular blog, gothamgal.com, and recently launched a podcast, Positively Gotham Gal.

#25. KELLY HOEY (@jkhoey)
Description: Author, BUILD YOUR DREAM NETWORK @TarcherPerigee @penguinrandom + Speaker @prhspeakers @NSAspeaker + #BYDN @BYDNetwork podcast host
Location: Canada by birth, NYC by choice

Kelly Hoey is a speaker, strategist, and angel investor with a focus on creating opportunities through networking solutions. She has worked with leading companies, professionals, and organizations to help them understand, leverage, and unleash the potential of their formal and informal social networks. Kelly is the author of the forthcoming book "Build Your Dream Network" to be released in January 2017 (Tarcher Perigee). "Stop committing random acts of networking" is Kelly's frequent (and favorite) advice. Kelly has co-founded a startup accelerator, and not only invested in startups, but assumed an interim operations role in an emerging tech company. Before her entrepreneurial leap, she was a corporate lawyer and had a five-year stint in law firm management. Kelly is the Chief Technology Ambassador for the YWCA of NYC's Geek Girls Club and a mentor on Millennial career platform Levo League.

#26. SALLIE KRAWCHECK (@SallieKrawcheck)
Description: Ellevest, Ellevate Network...past head of Merrill Lynch & Smith Barney....past research analyst....mom...crazed UNC basketball fan....author of Own It
Location: New York

Sometimes called the most powerful woman on Wall Street, the former chief of Sanford C. Bernstein and Citi Global Wealth Management is building momentum after almost two years at Bank of America. As head of its wealth business--a division that advises high net worth clients and provides retirement and asset management services--she oversees almost 16,000 financial advisors and $2.3 trillion in client assets. Krawcheck is now focusing on attracting younger clients, who are becoming more risk averse, and women, who live longer and may not feel comfortable with mostly male advisors. Raised in South Carolina, Krawcheck got a bachelor's degree in journalism and an MBA from Columbia University and began her career as an equity analyst.

#27. KAT BORLONGAN (@katborlongan)
Description: Director, @lafrenchtech
Location: Paris, France
Kat currently leads the French Tech Mission, a government-led taskforce built to bolster La French Tech, France's startup ecosystem. She is the co-founder of boutique innovation agency Five by Five. In a previous life, she was the Techstars Entrepreneur-in-residence, Director of the Open Data Institute Paris, a Google product strategy expert, communication strategist at the United Nations and member of the French government's first Open Data Expert Committee.

#28. ELLEN PAO (@ekp)
Description: @projectinclude, ex-@reddit, reformed VC and lawyer, author of "Reset"
Location: San Francisco Bay Area
Ellen K. Pao is a tech investor and advocate, the former CEO of reddit, and a cofounder of the award-winning diversity and inclusion nonprofit Project Include. Her writing has appeared in WIRED, The New York Times, The Washington Post, Time, Lenny, and Recode. She has earned an electrical engineering degree from Princeton and law and business degrees from Harvard.


#29. MELINDA GATES (@melindagates)
Description: Philanthropist, businesswoman, & global advocate for women & girls. Co-chair of the @gatesfoundation. Founder of Pivotal Ventures. Author of The Moment of Lift.
Location: Seattle, WA

Melinda Gates is co-chair of the Bill & Melinda Gates Foundation.
Along with Bill, she shapes and approves the foundation's strategies, reviews results, and sets the overall direction of the organization. Together, they meet with grantees and partners to further the foundation's goal of improving equity in the United States and around the world.
Through her work at the foundation over the last fifteen years, Melinda has seen first-hand that empowering women and girls can bring transformational improvements in the health and prosperity of families, communities, and societies. In 2012, Melinda spearheaded the London Summit on Family Planning, which adopted the goal of delivering contraceptives to an additional 120 million women in developing countries by 2020. Her work has led her to increasingly focus on gender equity as a path to meaningful change.

#30. CHRISTINE LU (@christinelu)
Description: @operationmasks • Impact investor + social entrepreneur.
Location: Los Angeles

Christine has spent the last two decades active in cross border business and investment trends. She was named to Foreign Policy's inaugural "Pacific Power Index" which recognizes 50 individuals shaping the future of U.S. and China ties. She is also recognized as one of the UN70 Digital Leaders by the United Nations Foundation. Involved in cross border China business for the past 20 years, Christine is regarded as a connector at the intersection of China and technology. Christine is the co-founder of America Innovates, a platform focused on accelerating innovation and social impact in America. She is also a co-founder of Cross Border Lab, an accelerator of brands and companies into new markets which is a partner of True Family Enterprises, a family office that specializes in real estate, consumer goods, retail, private equity, entertainment and venture capital.

JOURNALISM

#31. ANN FRIEDMAN (@annfriedman)
Description: Book: @big_friendship, coming in July 2020. Podcast: @callyrgf Newsletter: http://annfriedman.com/weekly [she/her]
Location: Los Angeles
Ann Friedman is a freelance digital journalist who writes columns about politics, gender and culture for NYMag. She's written everywhere from The Guardian to Elle to the Columbia Journalism Review and has the best newsletter in the biz. Subscribe to it immediately so you always know what's going on.
Example tweet: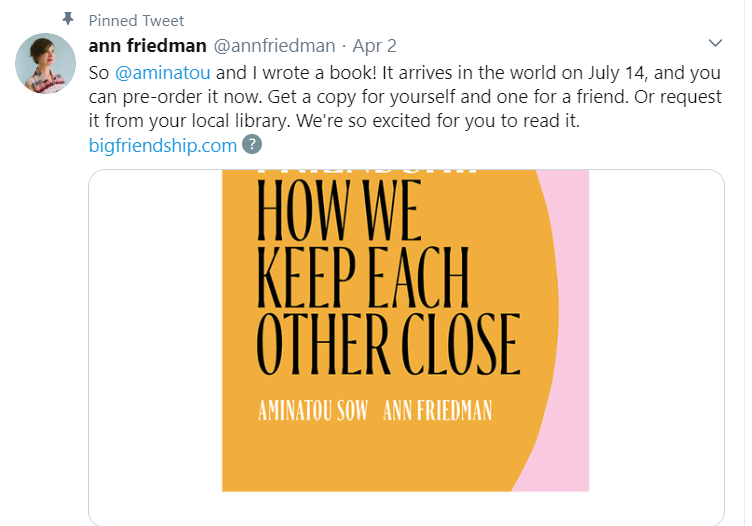 #32. MEREDITH BORDERS (@xymarla)
Description: Strong sender, pretty mouthy. @FANGORIA managing editor. @cityacrebrewing owner.
Location: Houston, TX
Meredith Borders is the Managing Editor of FANGORIA and a freelance writer and editor living in Houston, where she owns a brewery and restaurant with her husband.

#33. FELICIA DAY (@feliciaday)
Description: Actress, New Media Geek, Author, Gamer, Misanthrope. I like to keep my Tweets real and not waste people's time.
Location: Los Angeles, CA

In 2012 Felicia created a funded YouTube channel and production company called Geek & Sundry. Since launching in April 2012, the channel has garnered over 1.7 million subscribers on YouTube, and over 30k on the live streaming platform Twitch. In 2014, the company was sold to Legendary Entertainment. Felicia currently is working on her own creative projects for television and the web. She streams on Twitch weekly, and is working on a personal podcast, which can be found here.

#34. SARA WACHTER BOETTCHER (@sara_ann_marie)
Description: Tech + UX + feminism + racial justice. Coach, strategist, author, speaker. Running @collectivestrng. Author of Technically Wrong from @wwnorton. She/her.
Location: Philadelphia

Sara Wachter-Boettcher is a content strategy consultant and the former editor-in-chief of A List Apart. She is the author of Content Everywhere from Rosenfeld Media, a frequent conference speaker, and a content strategy workshop facilitator.

#35. YESENIA PEREZ-CRUZ (@yeseniaa)
Description: Author of Expressive Design Systems. Senior UX Manager @shopifyux Polaris. Prev: @voxmediainc she/her
Location: Philadelphia
Yesenia Perez-Cruz is a designer, speaker, and writer based out of Philadelphia. She is a Senior UX Manager at Shopify, Polaris. Previously, she led the Product Design team at Vox Media. She also worked at agencies like Happy Cog and Ey-Intuitive for clients like Viacom, Papa John's, Harvard University, fonts.com, and BBVA Compass.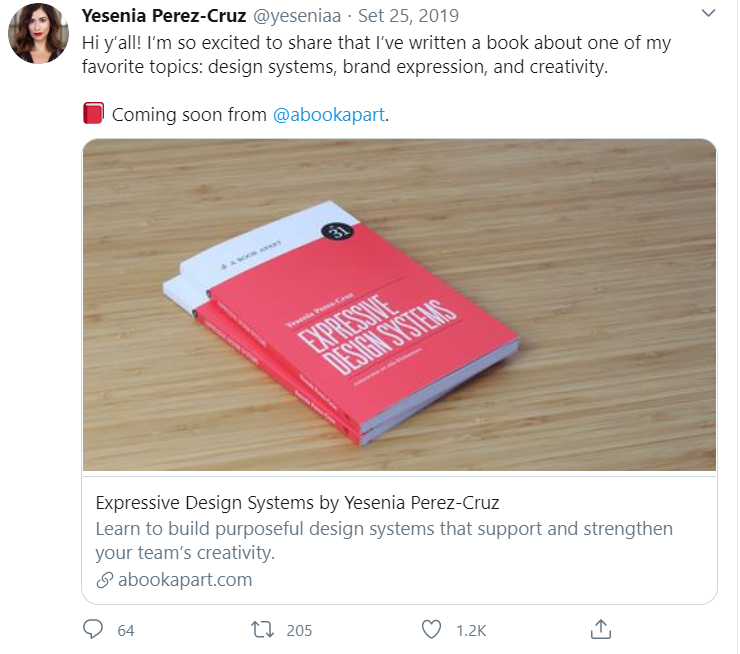 PODCASTS

#36. AMINATOU SOW (@aminatou)
Description: @Big_Friendship is coming! July 2020.
Location: Brooklyn

Aminatou Sow is great at keeping everyone in touch. As co-creator of the Tech LadyMafia directory, she can hook you up with just about any woman working in digital. A recent move from East to West Coast America may be putting the 29-year-old tech expert's relationships to the test. But Call Your Girlfriend, the biweekly podcast she runs with her pal Ann Friedman, offers every solution for ensuring long-distance friendships go the distance.

#37. GRETA JOHNSEN (@gretamjohnsen)
Description: @NerdettePodcast host, @WBEZ resident book nerd. Born in Alaska, best in cold weather. Hufflepuff AF. She/her.
Location: Chicago, IL

Greta hosts and produces WBEZ's Nerdette podcast and is a fill-in anchor on WBEZ. Prior to joining WBEZ in 2014. Greta hosted Morning Edition at WCQS in Asheville, North Carolina and at KUAC in Fairbanks, Alaska. Greta has a BA in English from Saint Olaf College and a MS in Journalism from Northwestern University.

#38. TRICIA BOBEDA (@triciabobeda)
Description: Director of Audience Development for @KUER. Co-creator of @NerdettePodcast. @WBEZ alum. She/her.
Location: Chicago, IL

Tricia Bobeda is the Senior Editor of Digital at WBEZ Chicago, where she leads a team of editors and producers that fuel the station's website and apps each day. Prior to taking on this role, she had a decade of experience working as a newsroom project manager, digital editor, feature reporter, technical director and producer for WBEZ and other media outlets. She also co-hosts the podcast Nerdette, a safe space for nerding out about all the things you're watching, reading, and listening to. During the NGL year, Tricia will mentor Andrew Ramsammy, who comes to NGL from Public Radio International (PRI).

#39. LULU MILLER (@lmillernpr)
Description: Cofounder of NPR's Invisibilia. Radiolabber before that. Author of nonfiction sci-thriller (sci-thri?), "Why Fish Don't Exist."

Lulu Miller is a Peabody Award–winning science reporter who has been working in public radio for over fifteen years. She is a cofounder of NPR's Invisibilia, a show about the invisible forces that shape human behavior. She is also a frequent contributor to Radiolab. Her writing has been published in The New Yorker, VQR, Orion, Electric Literature, Catapult, and beyond. Her favorite spot on earth is Humpback Rocks.

#40. KRISTINA HALVORSON (@halvorson)
Description: Founder: @BrainTraffic, @ConfabEvents, @Buttonconf. Author: Content Strategy for the Web. Host: The Content Strategy Podcast. Mom. Minnesotan. Also, sassy.
Location: Minneapolis, MN
Kristina Halvorson is widely recognized as one of the most important voices in content strategy. She is the CEO of Brain Traffic, the coauthor of Content Strategy for the Web, and the founder of the Confab content strategy conferences. Kristina's work focuses on the complex processes, people, and policies that create the foundation for smart, sustainable content. Her clients include some of the world's most recognized brands, including John Deere, MasterCard, Publix, Marriott, and Crate and Barrel. She speaks regularly at companies and conferences about how our organizations need to change to support our audience needs and expectations for content.

#41. PARISS ATHENA (@ParissAthena)
Description: Creator of #BlackTechTwitter⚡️Founder of Black Tech Pipeline (@BTPipeline)✊🏽 Speaker🎤 React dev👩🏽💻💍to @dayhaysoos

Location: Boston, MA

Pariss Athena – has had a very interesting journey to get into tech. After graduating from high school she studied screenwriting; this developed an interest in acting which prompted her move to Hollywood. Later, she moved back to Boston and studied aesthetics and worked in this field for several years. Unfortunately, the job didn't provide career growth, so she went back to school to get a degree in marketing. While in school, she learned about coding and participated in the Resilient Coders bootcamp. Today, she's a front end developer using React and React Native. Pariss started the BlackTechTwitter hashtag and is the founder of Black Tech Pipeline. She's a writer and speaker, and we're excited to have her on the CodePrep podcast today.

GAME DEVELOPMENT

#42. JANE MCGONIGAL (@avantgame)
Description: *The opposite of play isn't work. It's depression.* Get my NYT bestsellers SUPERBETTER and REALITY IS BROKEN! (powered by the science of games) http://amzn.to/2w20XSG
Location: San Francisco-ish

Jane McGonigal, PhD is a world-renowned designer of alternate reality games — or, games that are designed to improve real lives and solve real problems. She is a two-time New York Times bestselling author: Reality is Broken: Why Games Make Us Better and How They Can Change the World (Penguin Press, 2011) and SuperBetter: The Power of Living Gamefully (Penguin Press, 2016)

#43. KIM SWIFT (@K2theSwift)
Description: Made some Portal game thing. Does stuff, collects potentially hazardous hobbies. Designs games and whatnot. These opinions are only my own.
Location: Los Angeles, CA

Kimberly Swift is an American video game designer best known for her work at Valve with games such as Portal and Left 4 Dead. Swift was featured by Fortune as one of "30 Under 30" influential figures in the video game industry. She was described in Mental Floss as one of the most recognized women in the industry and by Wired as "an artist that will push the medium forward".

TECH ENTREPRENEURS

#44. SUE BLACK (@Dr_Black)
Description: Professor of Computer Science @Durham_Comp_Sci @Durham_Uni, Trustee @comicrelief @TechUPWomen @techmumsHQ @SavingBletchley AGENT Lou @noelgay19
Location: London, UK

Dr. Sue Black is a Professor of Computer Science and Technology Evangelist at Durham University, a digital skills expert, social entrepreneur, consultant and international keynote speaker with over 20 years experience. She has a computer science PhD, management and change management experience and is passionate about getting everyone excited about the opportunities that technology offers. Dr. Black also got over 20 years technology and digital skills teaching experience, along with successful social media campaigning and women and leadership expertise. Her first book Saving Bletchley Park about the successful campaign that I led to save Bletchley Park is the fastest crowdfunded book EVER and now has 60+ five star reviews on Amazon.

#45. ERICA BAKER (@EricaJoy)
Description: she/her | Manager of Eng Managers | Never, ever be afraid to make some noise and get in good trouble, necessary trouble. -John Lewis
Location: Oakland, CA

Erica is a Principal Group Engineering Manager at Microsoft and advocate for diversity, equity, and inclusion in tech, as well as expanding access to tech exposure and education. Erica's career in tech began fifteen years ago doing domain administration for the University of Alaska Statewide System, before becoming a Googler in 2006. Erica's role grew and shifted within Google, growing from Support Technician to Site Reliability Engineer. At Slack, she built the Native Client Build and Release infrastructure. She managed the Infrastructure team at Patreon and is currently leading the GitHub Integration Engineering Team at Microsoft.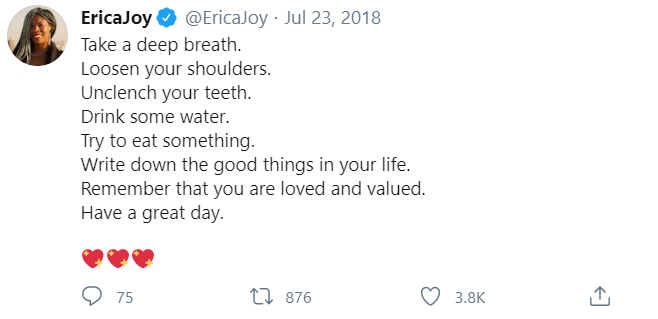 #46. SAADIA MUZAFFAR (@ThisTechGirl)
Description: Tech Entrepreneur | Founder @TechGirlsCan | Co-founder http://TechResetCanada.org | Board @endVAWnetwork | In @FortuneMagazine @GlobeAndMail @VICE @CNNMoney @CBC @BBC
Location: Canada

Saadia Muzaffar is a tech entrepreneur, author, and passionate advocate of responsible innovation, decent work for everyone, and prosperity of immigrant talent in STEM. She is the founder of TechGirls Canada, the hub for Canadian women in science, technology, engineering, and math - and co-founder of Tech Reset Canada, a group of business people, technologists, and other residents advocating for innovation that is focused on the public good. In 2017, she was featured in Canada 150 Women, a book about 150 of the most influential and groundbreaking women in Canada. She is honoured to serve on the board of Women's Shelters Canada and the advisory board for the University of Guelph's Centre for Advancing Responsible and Ethical Artificial Intelligence (CARE-AI)

#47. JESSICA VERRILLI (@jess)
Description: Co-Founder @hashtagangels. General Partner @GVTeam. @Parks4All Board. Previously VP at @Twitter. Always adventuring with @tdrobbo. She / Her.
Location: San Francisco

TECH

#48. ERIE MEYER (@Erie)
Description: America's foremost technologist named after a Great Lake. Co-founder @techladymafia + @usds. Former @codeforamerica @harvard @whitehouse @cfpb.
Location: Washington, D.C.

#49. PADMASREE WARRIOR (@Padmasree)
Description: Techie. Also love art, photography, Haiku and food :) Passionate about helping women in tech
Location: California

Having served in executive positions at both Motorola and Cisco, Padmasree Warrior is now U.S. CEO and chief development officer for Chinese electric autonomous vehicle startup NIO.
The former Cisco Systems chief technology and strategy officer left the company in 2015 when CEO John Chambers retired and SVP Chuck Robbins took over. In her seven years at the $138 billion technology company, Warrior helped Cisco grow in influence through acquisitions, including six in 2014 and 10 in 2013. The innovation pro has also been busy joining the boards of Microsoft and Spotify Warrior still finds the time to mentor other women in the tech industry, stay in touch with her 1.6 million Twitter followers and follow a nightly meditation routine. A Cornell-trained engineer, she believes a STEM education informs creativity: "Increasingly it's not about knowing all the answers but asking the right questions and figuring out how to get the right answer."

#50 RACHEL BINX (@rachelbinx)
Description: Data Visualization Engineer for Content Science @Netflix丨custom-made geodata jewelry http://gpxjewelry.com丨roll your own ecommerce site http://belugajs.com
Location: Los Angeles

Rachel Binx is a creative technologist, with a background in data visualization, art history, and interaction design. Her work explores the emotional, cultural, and aesthetic relationships between geo/location data and the physical world. Rachel has created seven small companies to explore these ideas, building co-creation interfaces that transform a user's data into a custom-made object. Previously, she has worked at Stamen, the New York Times, and NASA JPL. She is currently a full-stack data visualization Engineer at Netflix, building internal tools to assist with content acquisition.

#51 LISA MAE BRUNSON (@MissLisaMae)
Description: Founder @wonderwomentech • 40 under 40 • Social Innovator • 2019 Create Cultivate Top 100 • Entrepreneur "100 Powerful Women"• Speaker• Commissioner • Visionary
Location: Long Beach, CA

Lisa Mae Brunson is a Creative Visionary, Speaker, Author & Social Innovator that is committed to impacting humanity on a global scale. She is founder of Wonder Women Tech, an International conference that picks up where TED leaves off in the Diversity and Inclusion sector, which celebrates, highlights and educates women and diversity in STEAM and innovation. She has launched Junior Innovation Camp and Wonder Girls Camp teaching underprivileged kids how to code, build games and film, two hackathons–Hacks 4 Humanity, a hackathon for Social Good, and Wonder Women Hacks, a hackathon where women and men build mobile apps to address challenges facing women and girls. In an effort to 'disrupt the conference model, Lisa Mae produces programming and initiatives within her conferences that provide an immersive and experiential journey for attendees, sponsors and partners.

She recently received a three year commitment from the City of Long Beach to host the Wonder Women Tech Conference from 2016 – 2018 at the Long Beach Convention Center! Lisa Mae organizes socially innovative projects, like the global "I Am Equality'' photographic campaign, which launched in 17 cities and 5 countries around the world. She has hugged over 8,000 people with her Love, Hugs and Inspiration Campaign, providing passersby hugs and free poetry books. She volunteers with the Long Beach Code for America Brigade, and other tech initiatives geared towards civic engagement and community building. She helped organize a global #Fishackathon with the U.S. Department of State.

NON-PROFIT

#52 KIMBERLY BRYANT (@6Gems)
Description: Founder and CEO @BlackGirlsCode ~ White House Champion of Change Honoree ~ Smithsonian American Ingenuity Award Winner http://blackgirlscode.com
Location: Bay Area

Kimberly Bryant is the Founder and CEO of Black Girls CODE, a non-profit organization dedicated to "changing the face of technology" by introducing girls of color (ages 7-17) to the field of technology and computer science with a concentration on entrepreneurial concepts.
Kimberly has been nationally recognized as a thought leader for her work to increase opportunities for women and girls in the technology industry and has received numerous awards for her work with Black Girls CODE.

Kimberly has been awarded the prestigious Jefferson Award for Community Service for her work to support communities in the Bay Area, named by Business Insider on its list of "The 25 Most Influential African-Americans in Technology", and named to The Root 100 and the Ebony Power 100 lists in 2013. Kimberly has been named one of FastCompany's Most Creative People. Kimberly was named a White House as a Champion of Change for her work in tech inclusion and for her focus on bridging the digital divide for girls of color and received an Ingenuity Award in Social Progress from the Smithsonian Institute.

Technical Content Writer @ Builder.ai®
Erica Grigg is our Global Lead of Digital at Builder.ai®, where she's been on board since August 2018. Previously, Erica Co-founded a media startup, co-authored a book on Facebook and worked with numerous businesses and non-profits, including the World Wildlife Fund, the United Nations and Comcast. She's happy to share her lessons learned and best practices yet to be developed on the Builder Blog. Follow her on social media @EricaGrigg on Twitter and at linkedin.com/user/ericagrigg.