Build the next Facebook with our social network app builder. Learn the features your app needs, then see our step by step guide to making yours with our no-code platform.
Welcome to social media
We're constantly connected nowadays. Checking the notifications on our social media sites is part of our daily routine. Facebook has a huge 2.91 billion monthly active users – and it doesn't show any signs of slowing down.
A social network is a platform designed with communication at the front. It makes it easy to engage with family, friends or groups of people who share our interests. What began as a way of connecting individuals has turned into a powerful marketing tool with built-in ads – in 2021 they generated $28.2 billion in revenue.
Key features of Facebook
If you want to create a social network platform like Facebook, the first thing you need to do is break down the essential features. Only when you understand which of the features your app needs can you begin to think about app development costs. Our Facebook template comes with 54 features. Let's look at 6 of the most important.
Profile/Bio
Let users build an identity and find like-minded people with a personal profile that's visible to other users. This is usually a profile picture and some supporting information about them and their interests.
Activity Feed
An AI-powered feed displays relevant content and recent activity. Things like status updates, views and events are all shown. It can be toggled to only include certain social media users or groups.
Post Creation
User-generated content is what drives Facebook. Content creation is simple and users can publish text updates, tag locations, tag friends and upload media. This gives you loads of useful data.
Photo Library
From family photos to cat memes, visual content is super important. Users can upload and easily manage all the photos associated with their social media accounts.
Share
Your social media users can share images, videos and content on other social media channels. It makes it quick and easy to reach new audiences who aren't currently using your app.
Dashboard
This feature is designed for you. Visualise how your business is performing over different time periods. Choose your key metrics and gain a deeper understanding of user behaviour.

Social networks – how to build one
There are lots of ways you can build your own social media platform. If you know how to code then you can do it entirely by yourself. But if you're aiming for an app like Facebook it'll take you a while – it's 62 million lines of code. 

Alternatively, you can hire a social media app development team to create it for you. They can create a robust social platform, but the issue is cost. You have to pay an hourly rate as they work on your app. It takes a lot of manpower to design, code and test your app.

How to build yours with Builder.ai
There's a better way. We realised that 80% of all software is composed of the same 500 basic features. We turned these into reusable Lego-like blocks. Our AI analyses your idea and uses these blocks to quickly assemble a framework. 

It's then passed over to our professional team to personalise and code any unique features your idea needs. As all the repetitive coding is handled by the AI, you get your app faster and at a better price.

Follow these simple steps to build your social network app with Builder Studio.
Step 1: Choose a base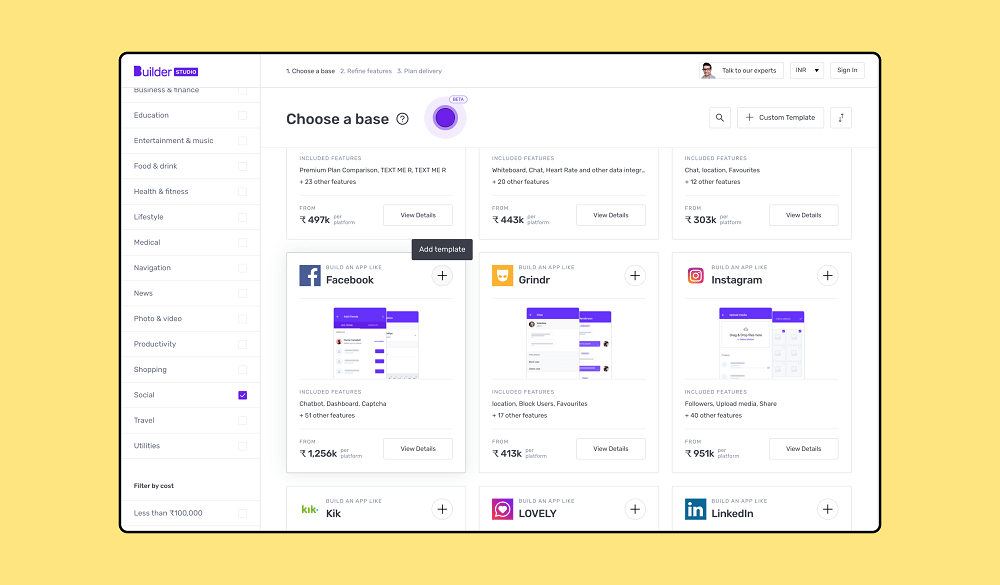 Open Builder Studio and use the 'Filter by category' option on the left-hand side. You'll then be able to browse through all the social networking app templates we have available. Choose up to 3 that are similar to your idea by clicking the plus icon. This helps us quickly find the features your app needs. Once you're happy with your selection click 'Build Now'.

Step 2: Refine the features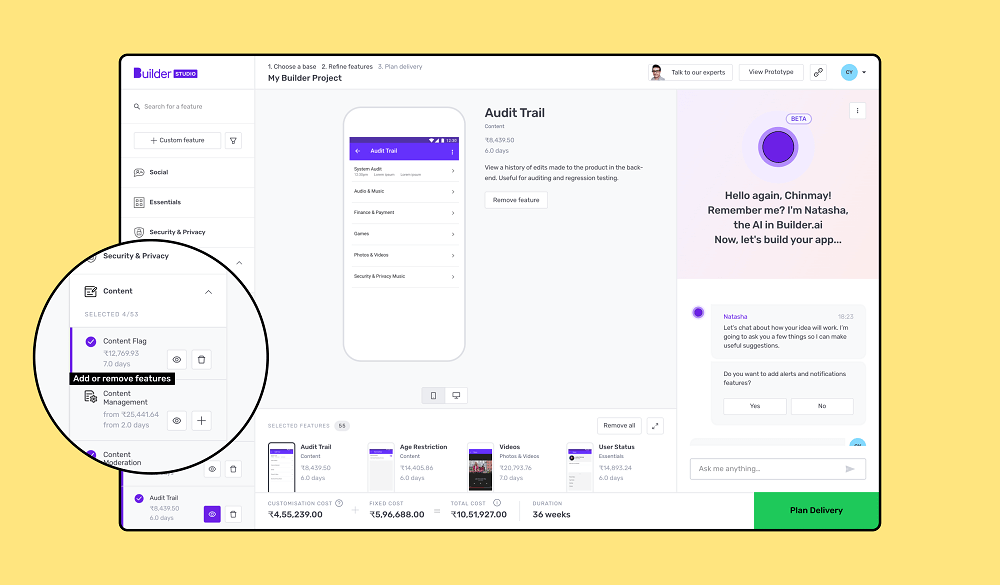 Complete the signup process and you'll be welcomed by Natasha – our AI. She'll ask you some questions to help figure out exactly what you need. Need some more help? No worries,  our team is always available.

Natasha will recommend features based on your answers and what similar apps do. You can learn more about specific features by clicking the eye or add them by selecting the plus icon. You can see how this changes your price as we calculate down to the feature level. This approach allows us to offer a fixed price guarantee. Click 'Plan Delivery' to continue.

Step 3: Plan delivery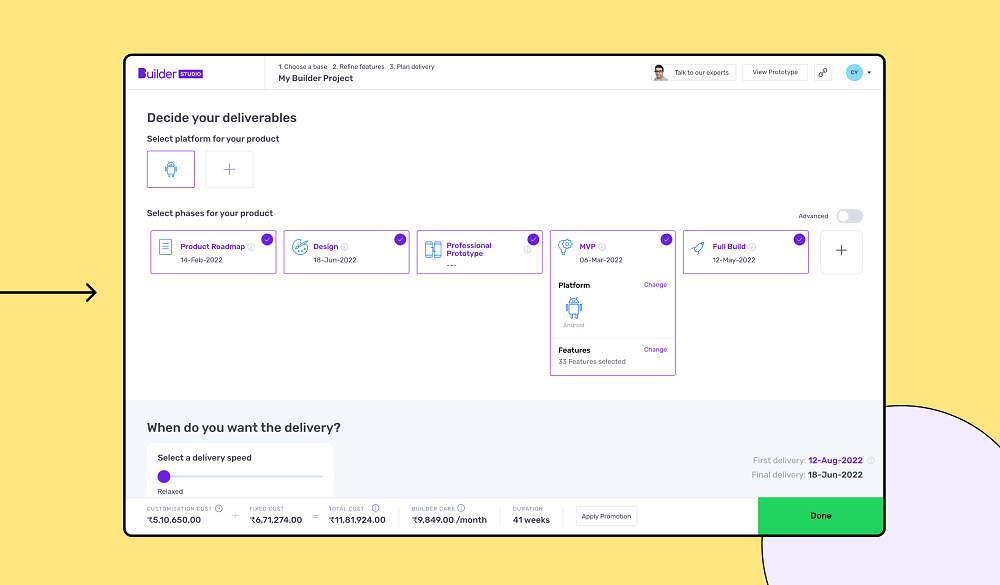 Now you need to choose the platforms you'd like your social media application to be available on. Click the plus icon to open an overflow menu with the available options. Do you want social media mobile apps? Or a website? It's totally up to you. Make your selections and you can see how it affects the price and delivery date.

Then it's time to select the phases of your project. The default is what most of our customers require. Our design team creates a beautiful wireframe of your idea. Next, you receive your MVP (Minimum Viable Product) – a basic version of your app that lets you get feedback from early users. Lastly, you receive your completed social media platform. 

If you'd like more control, you can toggle the 'Advanced' view. This lets you change how quickly each phase is completed. You can pay a little more to get it fast. Or save some money with a relaxed deadline.

Step 4: Name your Build Card
What do you want your idea to be called going forward? If you already have a name for your app this is the place to add it.

Once you've named your Build Card, it's time to review all the choices you've previously made. Check you're happy with the features, phases, cost and delivery dates. Ready? Click 'START BUILD CARD'.

Step 5: Select your payment plan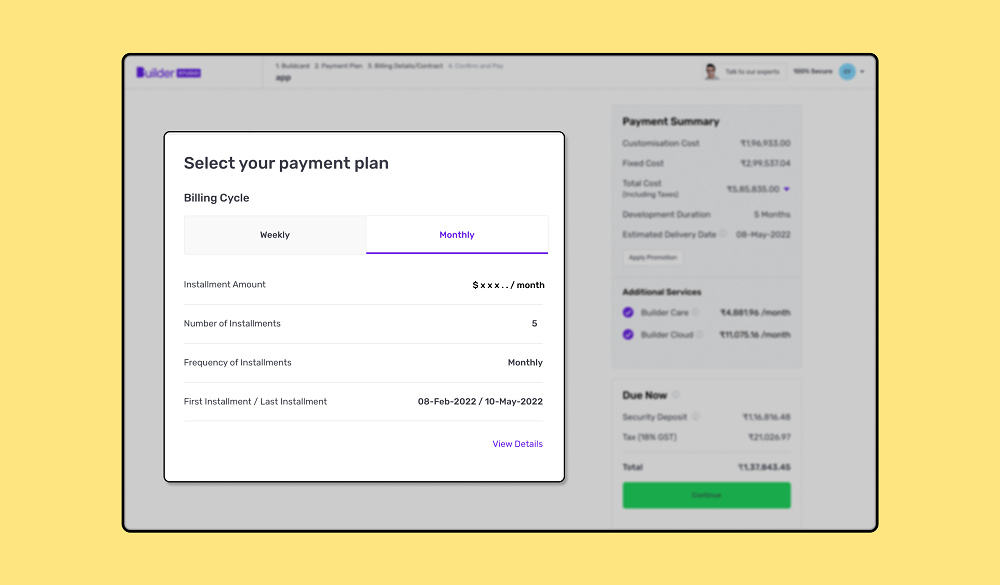 This is where you can choose if you'd like to pay weekly or monthly. You can see the payment dates and installments. Choose your preferred billing cycle, then click 'CONTINUE'.

You'll be asked to provide your payment details and agree to the terms and conditions. Click 'Continue to Payment'.

Step 6: Sit back and relax
Your social media app is under construction. You can monitor the progress from your dashboard. You're in control. From here, you can make changes or pause your social media app development.

Why choose Builder.ai?
Our no-code platform lets you build your social media mobile app faster and more cost effective. It's a transparent process – we price down to the individual feature so you know exactly what you're paying for. You get an upfront delivery date, a fixed price and more... 
Build your dream software with our no-code app builder
Builder Studio brings your idea to life. It's just like ordering pizza online. Start with a similar idea – that's your base. Add all the advanced features you'd like – the toppings. No coding skills are needed, we handle all the technical stuff. If you do have any difficulties, our team is ready to help.
Cloud bills made simple
Builder Cloud lets you run your social media services from any public cloud – AWS, DigitalOcean, Alibaba Cloud and Microsoft Azure to name a few. One account gives you access to all those providers. And AI-powered analytics identifies money-saving opportunities. More than $4.5 million was saved by our clients last year!
Your app just works
Studio One is our aftercare service. It ensures your app always works flawlessly. No one wants bugs and errors. OS updates can cause malfunctions in your code – we review the code to avoid potential conflicts. Our AI will monitor your app as it runs to alert us to odd behaviour that could develop into an error if not sorted.
FAQs
1. Do I need to know Kotlin to use Builder.ai?
No. You don't need to know any programming language to use Builder.ai. Our no-code platform allows you to quickly outline your idea and then we build it.

2. What tech stack does my app need if I use Builder.ai?
It depends on your exact requirements. You don't need to worry about this as we handle it. We provide the apps you request and can configure your cloud setup.

3. What monetisation models are available?
The business model you use is up to you. A social media marketplace is a popular option that lets app users sell to each other (you get a small cut). Another popular option is to offer a premium service for professional networking.

4. Does my social network app use push notifications?
Yes, the push notification module is included. It's one of the cool features that help you boost engagement with your mobile application.

5. How much does it cost?
There's no average cost because every app is unique. We price each individual feature before work starts, so you'll know exactly what you're paying for.

Priyanka Kochhar
VP of Product at Builder.ai
Entrepreneurial senior management executive of fast growing technology businesses. Successful in taking ideas from concept to profitability, using a blend of lean, agile and rapid result methodologies. A background in building and managing cross-functional and hybrid teams, with a record for retaining talented individuals and delivering results. Skilled in developing and maintaining a clear product and project vision, strategy and roadmap. Willing and able to adapt to changing environments. Often named as a Crisis Manager with a vision to "Make Things Happen".