Starting an online business has never been more popular. It's accessible and the possibilities are only limited by your imagination. Today, we're going to be covering everything you need to know to design and sell t-shirts online. By the end of this article, you'll be ready to get started.
Thinking of starting a t-shirt business?
Before we dive into the specifics, let's look at the big picture view. Designing and selling t-shirts online has a very low barrier to entry. Broadly speaking there are three elements you need:

A few t-shirt designs.
A way of getting your designs on t-shirts.
Somewhere to sell your t-shirts.

There are websites and  ecommerce platforms that make each step easy in exchange for a cut of your profits. We'll discuss if those are worthwhile in a later section.
Designing a t-shirt
Good design is the most important part of a successful t-shirt business - without it, no one is going to buy your t-shirt.  It's important to note that you don't need any art skills to succeed; it's easy to create your own t-shirt designs. Some of the best selling t-shirts have very basic designs and a catchy slogan in an attractive font.

Understanding your target market is hugely important for any business, but it's especially important for selling t-shirts online. As the barrier of entry is so low, there's a huge amount of competition.
What makes a good t-shirt?
Let's think about the market a little. People buying t-shirts with interesting designs aren't just looking to cover their skin. They want to share their personality with the world.

With that in mind, we can say your t-shirt needs to fit into at least one of these categories:

Current events
Niche
Controversial

Really strong t-shirt designs will combine two or more categories.  On top of that, it needs an emotional component; funny, cute, angry, etc...
Current events
Anything related to recent events is a good bet. If you create something that supports a cause or offers witty commentary on the news you're onto a winner. As an example, it was recently International Women's Day and loads of designs popped up. People bought them because they wanted to show their support.

The big advantage of designs based on current events is that there's less competition. If you get a design live quickly, you beat the competition and become one of the main sellers!
Niche
Selling a t-shirt related to football is going to be difficult because there's so much competition. Instead, niche down as much as you can; specific teams or players are a good idea. There will be less overall sales volume, but you'll have a much better chance of your design being noticed.

When making designs, it's important to ensure you don't break copyright law. Only use materials that you created or have permission to use.
Controversial
We all know someone who enjoys being controversial. Tap this market by creating designs that spark a little outrage. Think about arguments you've had where things got heated. Can you think of a short slogan that encapsulates that viewpoint?

How do I create my t-shirt mockups?
At this point, you have a rough idea of how you want your design to look. Now it's time to create a mockup.

A mockup is a digital t-shirt that you can add your design to. It lets you confirm your idea works on a t-shirt. Play around with positioning the elements and different fonts. You don't want your design to be cluttered or difficult to read.

How you choose to sell your t-shirts - and your technical skills - will determine which tool you create your mockups with. We'll give a brief overview, but advise postponing the decision until you've chosen a supplier and distribution method.
Mockup generators
This is probably the easiest method to get started with. Hundreds of sites let you upload your design and create a free mockup. The majority of the sites will have some free templates and make it very easy to customise your t-shirt.

A lot of these sites are integrated with print on demand sites, so it makes sense to decide where you want to sell before choosing a mockup tool. Our ecommerce app integrates with site1 and site2 if you're looking for an easy way to get started.
Premade & custom templates
For the more technically inclined, you can complete the process yourself using graphic tools like photoshop.

There are two options depending on your skill levels:
Download a free template from a site like mockupworld.co.
Create a custom template from scratch.

The advantage of this approach is that you'll have greater control over how your t-shirt looks. If you're just starting a t-shirt business from home then you won't need this level of customisation. Remember: some of the most successful t-shirts have simple, text-based designs.
Choosing a business model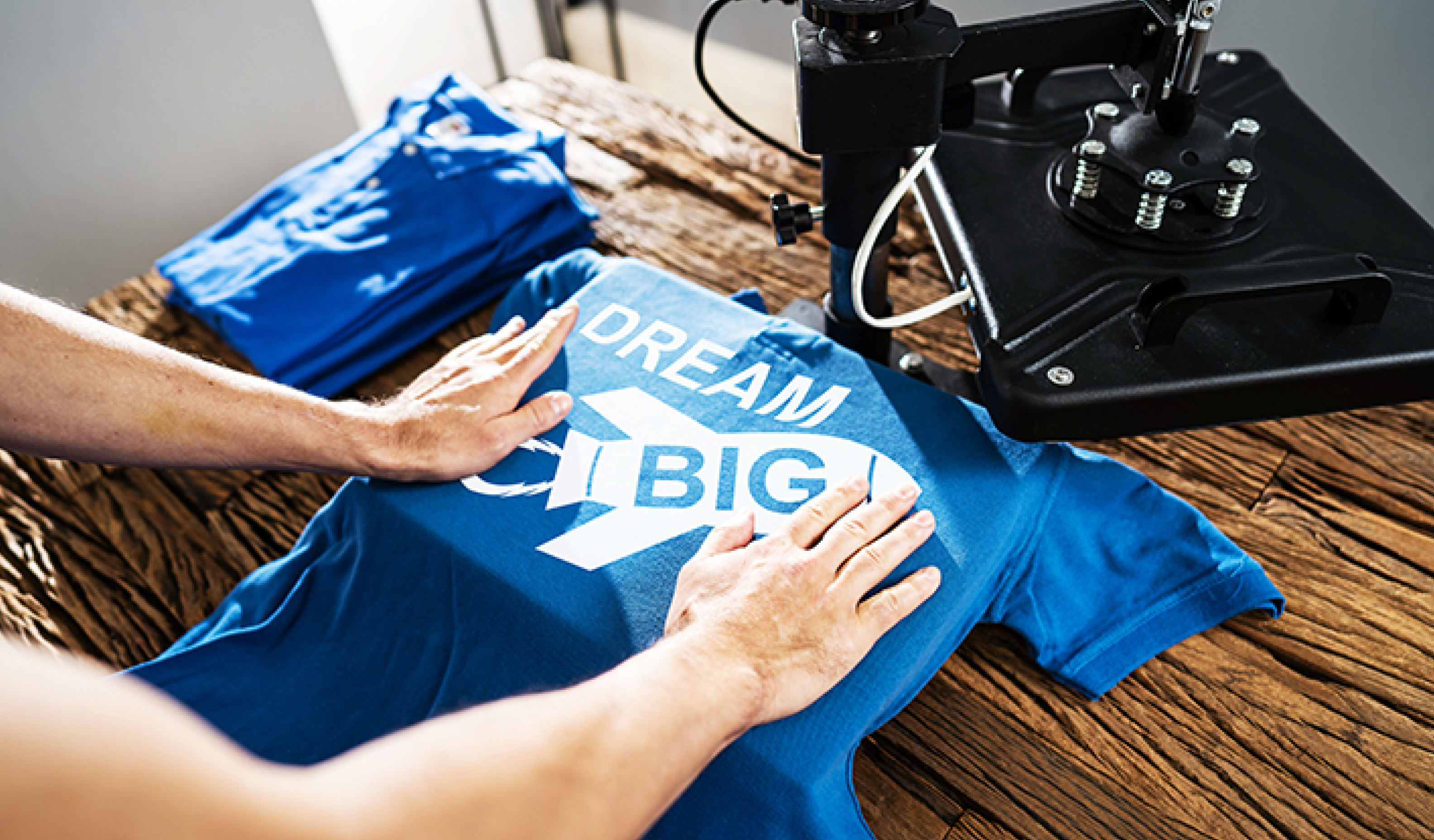 At this point, you've created an awesome design and you've made a mockup to check it works on a t-shirt. Next up is deciding how to print and sell your t-shirts.
Print-on-demand service
The easiest option is to use a print on demand service that has a built-in store. Under this model, you'll upload your design and anyone browsing the site can buy it. When they do, the company will print and ship it for you.

This is great as it's cheap, quick and easy to get started. It also makes it easy to scale your business.  All you need is a design. If you want high quality t-shirts it's worth doing small test orders from a few printing businesses.

There are a few disadvantages when using printing platforms:

They take a cut of every sale you make - this is probably a fair tradeoff for how much work they save you.
It's hard for people searching for t-shirts to find your design. There are so many designs that unless you're very lucky, your design will get lost amongst all the others.
You don't get access to customer data - you've got no way of retargeting buyers when you release new designs.
DIY model
The complete opposite to the print-on-demand model; greater upfront costs but savings long term. You're personally responsible for the majority of the business.

If you choose to go this route, then the first thing you need to do is find a supplier. You have two options:

Order blank t-shirts and do your own screen printing to get your design on the t-shirts.
Order from a company that will print your t-shirts.

Ordering from a printing business will make your life much easier. They'll print a batch of your t-shirts in a variety of sizes. If you're running your t-shirt business from home then the entire order will be delivered to your house.

You'll also need to create a store before you can start selling. Doing this manually can be time-consuming and costly. Once it's done and people start buying your t-shirts, your work isn't over. Each t-shirt sold will be packaged and posted by you.

This is a lot of additional work. It takes time, is a large upfront cost and uses a lot of storage space - especially if you have several designs.

Your own online store to sell t-shirts
In this model, you'll use an online store that lets you integrate with a print-on-demand service. This offers the best of both worlds.

You get the advantages of your own store:
Customers can find your products.
You own the customer data - meaning you can run targeted promotions and deliver better customer service.
The ability to build and advertise your brand.

And the advantages of the print-on-demand service:
Automatic order fulfilment.
No stock management.
No time sent packaging and posting.

As we said earlier, it can be time-consuming and costly to create your own store. That's where we come in. We offer a prepackaged ecommerce app so you can get online easily without any hassle. It comes with all the features you'd expect at and lets you process 50 sales per month for free. Perfect for starting out!an affordable price.
Marketing: the secret to selling t-shirts online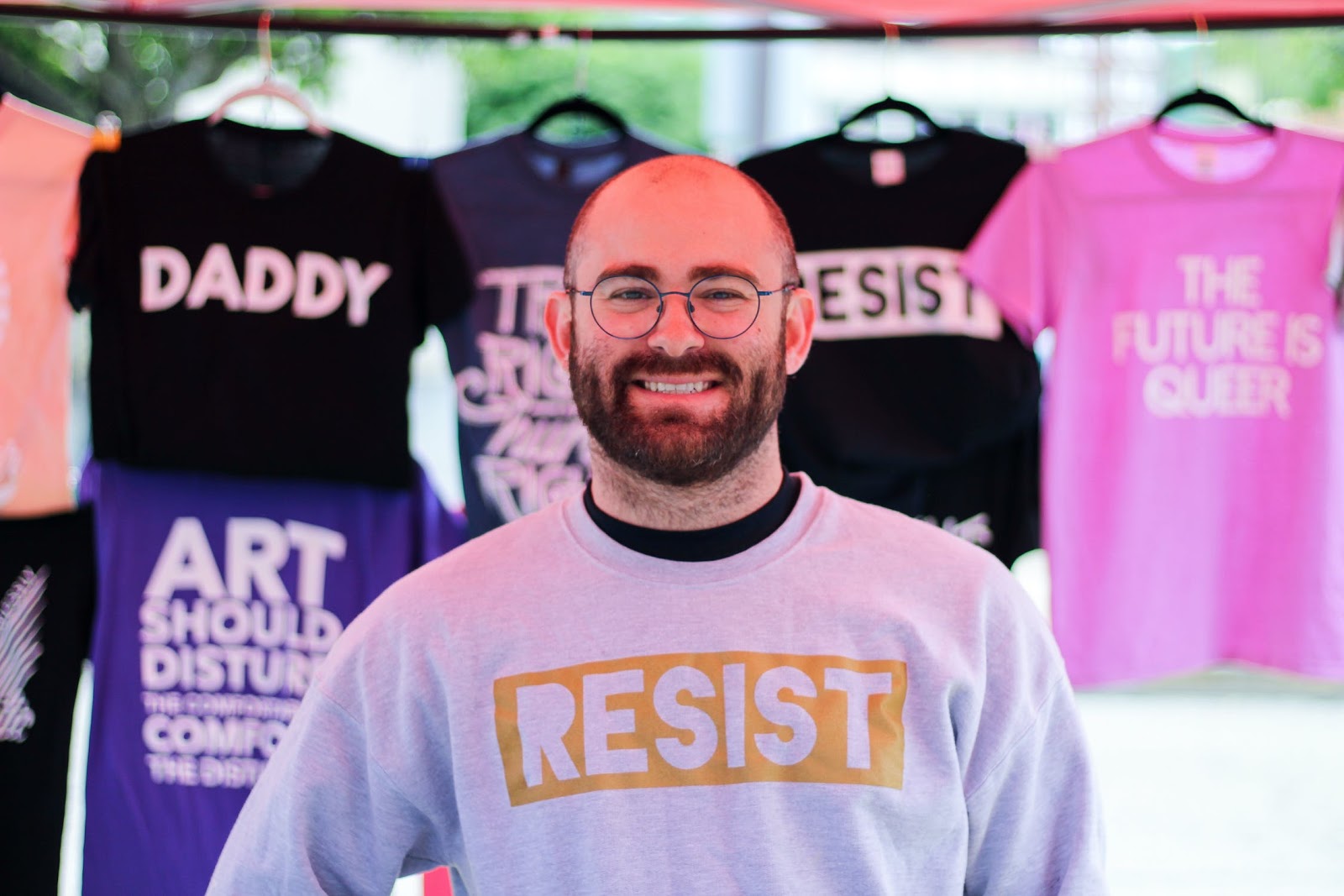 Regardless of which option you choose, you need to market your t-shirts. You can have the best designs in the world, but they won't sell if no one sees them. We're going to assume you have your own store. If you don't, then your marketing efforts are going to be limited.

As an emerging t-shirt seller you need customers. There are 3 things we suggest you focus on:
Organic traffic
When you're first starting this is the best option to focus on because it's free. Share your designs on social media with friends and family. Hopefully they'll like your designs enough that they will share them with their circles.

If you've created a t-shirt that you think a particular niche will love then tell them. This can be through Facebook groups, subreddits or Instagram hashtags. No one likes spam; don't overshare and ensure your designs are relevant to the group. If your designs are good then people will start talking about your shirt brand.
Paid advertising
If you're wanting to reach more potential customers then ads are next on the agenda. They're a great way to distinguish yourself from other t-shirt businesses. Advertising platforms let you target very specific audience groups. This means that with a bit of research you can get your design seen by the people most likely to buy.

Retargeting ads are another useful feature. When someone visits your store they receive a cookie. This lets your store - or the ad network - identify them in the future. This means you can show ads to someone who spent time browsing your designs but didn't buy anything. Hopefully, when they see them the second time they'll decide to buy.
Promotions
Once you've started getting sales you want to keep those customers coming back. If you have your own store there are loads of options available to you. Everything from holiday discounts and personalised push notifications to 'refer a friend' schemes.

The more often you can get existing customers to visit your store, the more money you'll make.

Final thoughts
You know now everything you need to start your own successful t-shirt business from home. We've explained what makes a good t-shirt and the advantages of using print-on-demand services. Lastly, we discussed the marketing advantages provided by having your store.

Selling t-shirts online is very competitive, but you only need a few successful designs for it to be worthwhile. If you follow the model we recommend it's cheap and easy to begin.

This makes it ideal as a side hustle. If it doesn't make you rich, you've only lost some time. If you're successful, it's an easy business to scale. Good luck!
FAQ: design and sell t-shirts online
#1 What equipment is needed to start a t-shirt business?
All you need is a computer and an internet connection so you can create a few designs and list them on a print on demand website.
#2 How much does it cost to get started?
If you use the model we recommend, it's free to get started. You can create designs for free and make sales through our free app.
#3 Is selling t-shirts online profitable
It's a competitive market, but if you create interesting designs and market your store then you can make a lot of money.
#4 How can I sell shirts on Facebook?
You can do this directly through Facebook marketplace or use Facebooks to drive traffic to your own store. The advantage of your own store is that you own all the customer data and can use it in promotions.
#5 Do I need a license to sell shirts online?
No, you don't need a license to get started. However, you will require a license if you want to use copyrighted materials. It's also worth being aware that some countries will offer a resale license that lets you claim tax savings on the t-shirts you buy.
#6 What is the best way to sell t-shirts online?
We think that integrating a print-on-demand model with your own store is the best model. It makes your business cheap to start, easy to scale and you own your customer data.
#7 What is the best online store to sell t-shirts?
We recommend trying our prepackaged ecommerce app. It lets you get online without any hassle and it comes with all the features you'd expect. Best of all, you can process 50 sales per month for free. That means you can check your business works before having to spend any money!
#9 Do I need to be artistic to design t-shirts?
No artistic skills are required. Some of the best selling t-shirts are very simple: just a witty slogan in a nice font.
Greig Robertson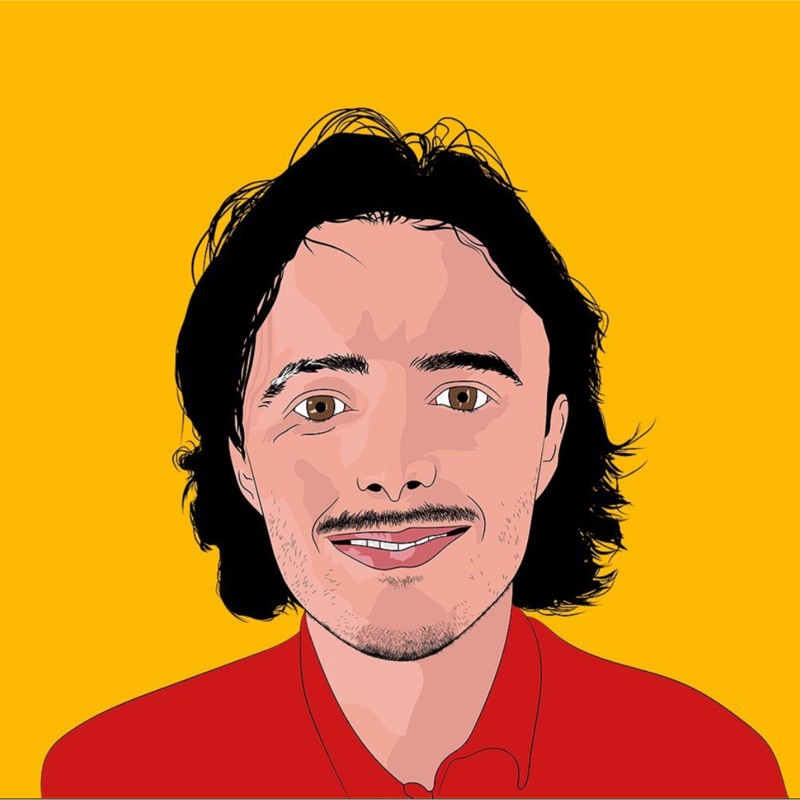 Greig is the Digital Content Lead at Builder.ai and a University of Bristol History grad. He has 5+ years' experience in B2B SaaS, creating data-driven, human-friendly content for high-growth tech startups. When Greig needs a dopamine hit, he checks Builder.ai's keyword rankings.