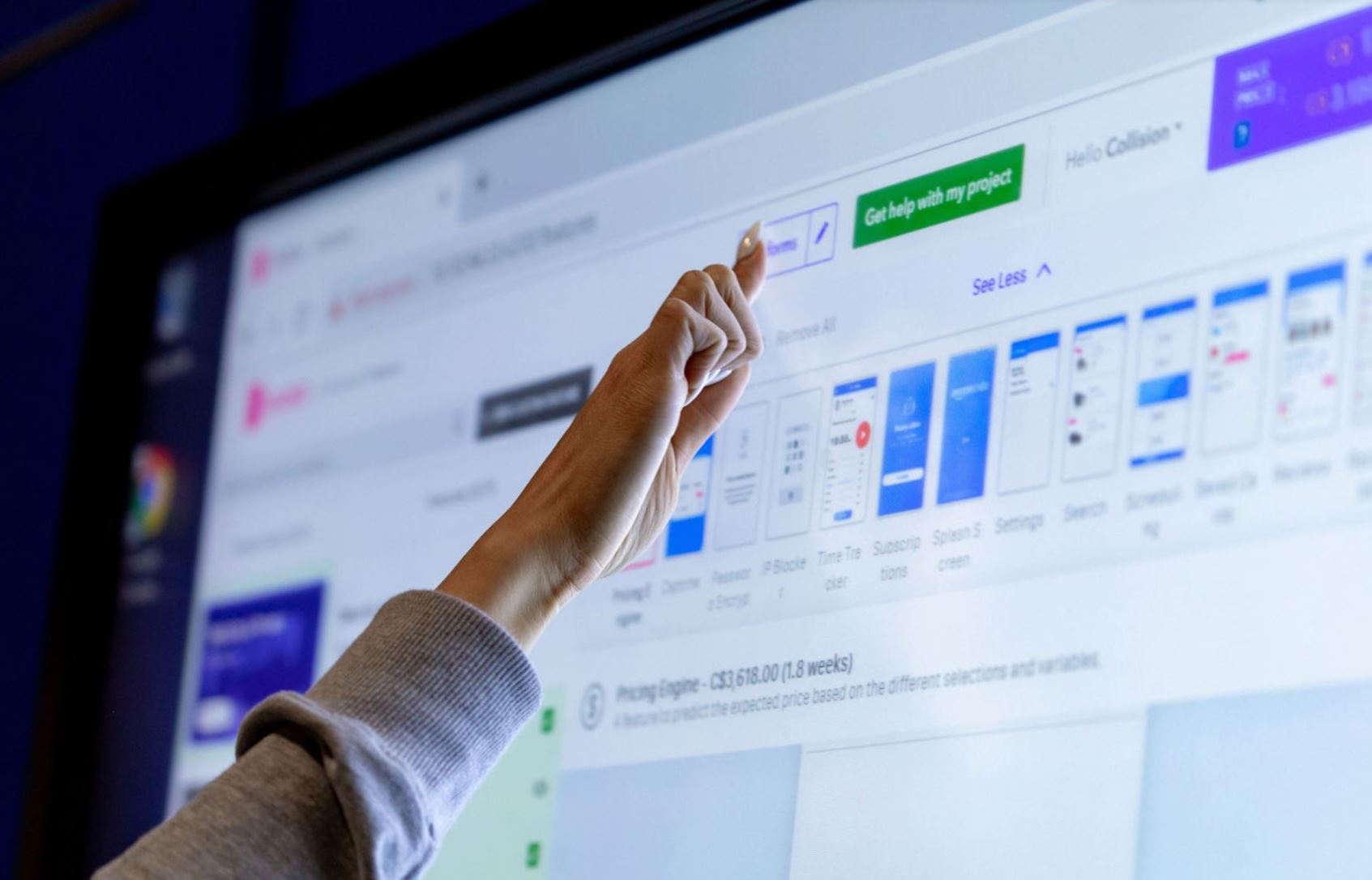 At Builder, we've found traditional software development to be broken--and we're not the only ones. If you've tried making an app before, you know that a hefty upfront down-payment, lack of transparency during development, compromise on quality, and a lack of product care and servicing after delivery leaves the few daring enterprises horror-stricken to complete digital transformation. Plus, the development process itself would be so convoluted that it could make quantum physics seem like child's play. Thankfully, with Builder, it's easy to build software in a cost-and-time-efficient manner. Using Builder Studio , you can now design your idea (no matter how small), and our human-assisted AI will manage the app-making process. Builder makes software development as easy as ordering pizza for individuals and enterprises alike. No coding skills are required! On that note, here are 4 steps to creating your app with Builder app building software:
Making an App in 4 Simple Steps
#1 Select your tech
In the first step, you let us know what type of software you want to create. Is it a mobile app, website or shopping platform? Do you want your app specifically for a wearable device? Once you've picked the type of software you want, answer a simple set of questions so we can begin spec'ing out your idea free of charge. Awesome, right?
#2 Pick your base features
You have an idea for an app and you'd love to see it in the App Stores like the Google Play Store, we have the features to bring it to life--all as easy as ordering a pizza. So, on this second step of our simple mobile app development, you'll drag and drop elements from our library of over 500 reusable features for your new creation. We'll help you customise these later on; don't worry!
#3 Choose your timeline and scale
Do you want your idea created within the next week? Using Builder speeds up your time to market. Our sprawling, global team and Capacity Partner network of over 2,000 technical and creative experts has made it happen! Simply tell us what you want delivered (prototype, MVP or the full build) and how quickly you want it done. Whether you're looking to launch your application this month or this year, you'll find 4 options to make it happen--from a 'relaxed' pace to 'speedy' which automatically adjusts your spec (what we call your Build Card).
#4 See your idea come alive!
Now, your Build Card is ready! Do you like how it looks so far? Does your app provide the user experience you know will engage real users? This is your idea fully fleshed out, including guaranteed pricing and deadlines. If it's finished sooner, you'll pay less. But if it takes longer, you won't pay more. That's our guarantee! This last step wouldn't be the end of our journey together. Next, a knowledgeable, passionate Customer Product Expert (CPEs) will lead you through step-by-step to understand your vision and goals. Once you start your build, our human-assisted AI manages a team of over 2,000 expert software developers and app design creatives from across the globe to execute. Lastly, each one of our clients gets a dashboard for full transparency with live updates and progress. You can also make adjustments at any time during the app-building process.
When your product is ready, our human-assisted AI works in the background to buy forward capacity from cloud partners including Amazon Web Services, Microsoft Azure, Digital Ocean and others to ensure we can provide you with scale--at an optimal price, too! All of this without tying you into long-term contracts when you want the flexibility of making changes on the spot and without touching your infrastructure. Instead, you get special pricing without any commitment or upfront payment. We saved our customers over $4.5m last year alone!We always have your back.
Don't believe us? Heard of Builder Care? Builder Care is a service that proactively updates your app so you're never blindsided by 3rd party changes that could easily bring it all down. Even if it means an app needs to be totally rebuilt (something we can do seamlessly as we're always updating the core features your software was assembled from).Now you know, at Builder, we always ensure that what gets delivered is exactly what you wanted. Let's get your app launched in the app stores! Click here to join the #BuilderGeneration today!
Technical Content Writer @ Builder.ai®
Erica Grigg is our Global Lead of Digital at Builder.ai®, where she's been on board since August 2018. Previously, Erica Co-founded a media startup, co-authored a book on Facebook and worked with numerous businesses and non-profits, including the World Wildlife Fund, the United Nations and Comcast. She's happy to share her lessons learned and best practices yet to be developed on the Builder Blog. Follow her on social media @EricaGrigg on Twitter and at linkedin.com/user/ericagrigg.