The crux of app development decision making is this:
Whether pre-packaged mobile apps can meet the needs of your business or whether you need purpose-built software customised to your processes and your customers' needs.
While each of these options is a valid route, early stage startups tend to opt for the former, whereas rapidly scaling businesses and enterprises opt for the latter. This is because of the level of sophistication larger organisations need from their software.
But that's not the end of the story.
Customisation can be either small or all encompassing. And the app development cost barriers that once existed for custom software have been overcome.
As a result, anyone can now build their dream app, without compromise.
In this blog, we'll cover everything you need to know about the topic, including the definitions of custom app development and pre-packaged apps, the key pros and cons and how you can tell which one is right for you.
Keep scrolling so you can make an informed decision for your business 👇
An (incredibly) brief history of app development
Once upon a time, custom app development was app development.
Because anyone who wanted to build software needed to hire a development team to create it from scratch. That included everything from the most basic to the most complex features, making the process extremely long, difficult and expensive.
In other words, even if small business owners wanted to, they had no chance of building custom apps.
But all of this changed when no-code and low-code app builders came to the fore.
These platforms broke down reusable features into lego-like building blocks, allowing people without technical expertise to either make basic business apps (no code) or access templated apps (pre-packaged) quickly and cost effectively.
On the other hand, they allowed developers to focus on creating value-adding features when working on more complex apps (low code), instead of wasting their time building the same elements over and over.
So how should we define custom app development now? Scroll to reveal the answer 👇
What is custom app development?
Custom app development is the process of making mobile apps with bespoke features in order to better serve your business and customers. Although the process requires some technical expertise, it can now be achieved at speed and for a reasonable cost. Plus you own the software.
What are pre-packaged apps?
On the other hand, pre-packaged apps are ready made, template-based mobile applications that are used by thousands of different businesses. They allow users to import their own branding and data, while offering integrations for bonus functionality. But they have no bespoke features and in most cases, you don't own the software.
Custom app development vs pre-packaged apps: Pros and cons
Now you have an idea of what custom app development and pre-packaged apps are, it's time to decide whether or not it's the best development route for you.
Check out the key pros and cons of each option below: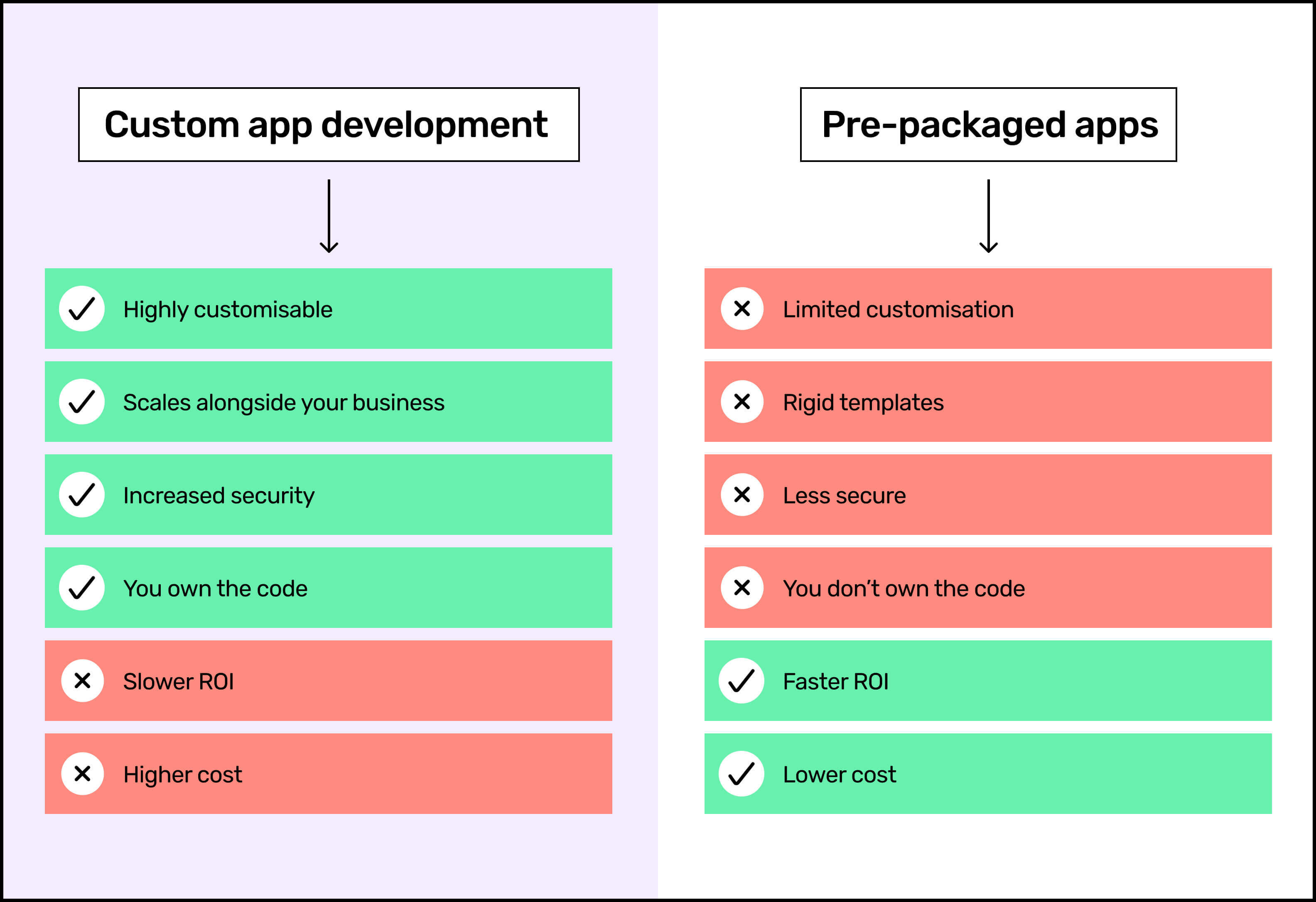 Here's more about all the pros and cons in depth 👇
Pros ✅ & ❌ Cons: ANALYSED
1- Customisation
The clue is in the name…
Customisability is the single biggest benefit of a custom app development platform by comparison to pre-packaged apps.
But this doesn't just mean adding your branding to your app or replacing the dummy text your template provides. It means creating bespoke functionality only you need.
So if you're worried about getting stuck with the basic features you don't want and missing out on ones you do, custom app development is the way to go.
2 - Scalability
One thing custom software guarantees is to scale as your business evolves.
With custom build options you can easily build on top of the features you already have, but the rigid templates pre-packaged apps use make this difficult.
So difficult in fact, that you may need to start building all over again.
3 - Security
An issue inherent to pre-packaged apps is a lack of security as they're usually created with open, rather than closed-source code.
While open-source code does have its benefits – for example, allowing people without tech skills to make edits and small customisations – the closed-source code of custom app development means outsiders have no access.
4 - Code ownership
As we hinted at above in Security, you typically don't own the open-source code in pre-packaged apps.
This means if you encounter a bug that's preventing people from checking out, or a virus that compromises your customers' security, you'll be reliant on a third part to deal with it. Which could lose you a ton of revenue or destroy customer trust.
By contrast, with custom apps, you have complete autonomy over your app environment.
5 - ROI
While low-code tools have leveraged reusable features to reduce build timelines for custom software, they still take longer to create than pre-packaged apps.
That means you have to wait a bit to reap the benefits. Although those benefits have the potential to be far greater than pre-packaged apps can deliver.
6 - Cost
There are no two ways about it:
Custom apps are more expensive than pre-packaged apps. But for ambitious businesses who want to scale rapidly, they're more than worth the investment.
When is custom app development right for your business?
If you still have any doubts about whether custom app development is right for you, answer the questions below 👇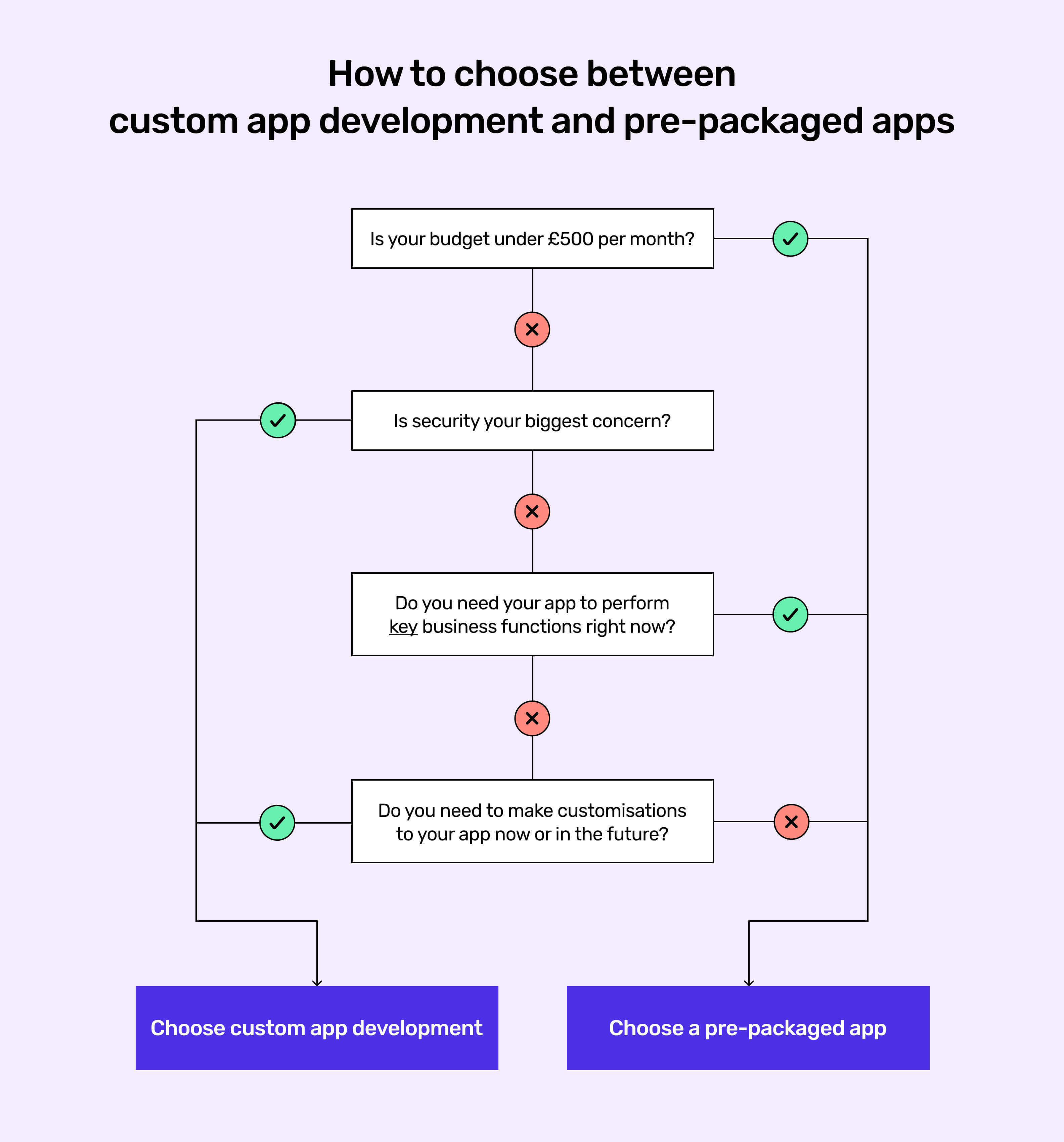 If custom app development isn't for you, you can learn more about pre-packaged apps in Studio Store . The best thing? With us, you own your code and always have the ability to scale your app as you grow.
Need more app insight? Join the Builder.ai community
Who should you choose to develop your custom app?
Unlike Commodus in Gladiator, you've given a resounding thumbs up (to custom app development).
Good call.
Question now is, how can you navigate the minefield of different providers? Well, you should think about choosing one with these three characteristics:
Flexibility - no limits to what you can build, regardless of complexity
Transparency - up-front costs and competitive timelines, so you know where you stand
Aftercare plan - help beyond your custom app build to make sure everything's in order
And with Builder.ai, this is exactly what you get.
Whether you're a small business owner or a large enterprise, you can make as many or as few customisations as you want. Plus you can always come back for more later on.
Watch the video above to get a feel for our process. And if that sounds good, let's book a chat 👈 to talk about your custom app development project!
Neetu Mogha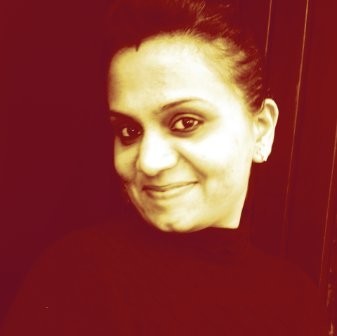 Neetu Mogha is a Tech Lead at Builder.ai where she applies 10+ years of management experience to guide the software development team. Neetu has a BTech in Computer Science from Hemchandracharya North Gujarat University.