Build a salon app
Build an app for your beauty salon or spa without coding a single line. We make it easy, fast, and cost-effective to build apps for your salon business. Now manage your customers and shop effortlessly by creating a salon management app with us.
Why should you build your app?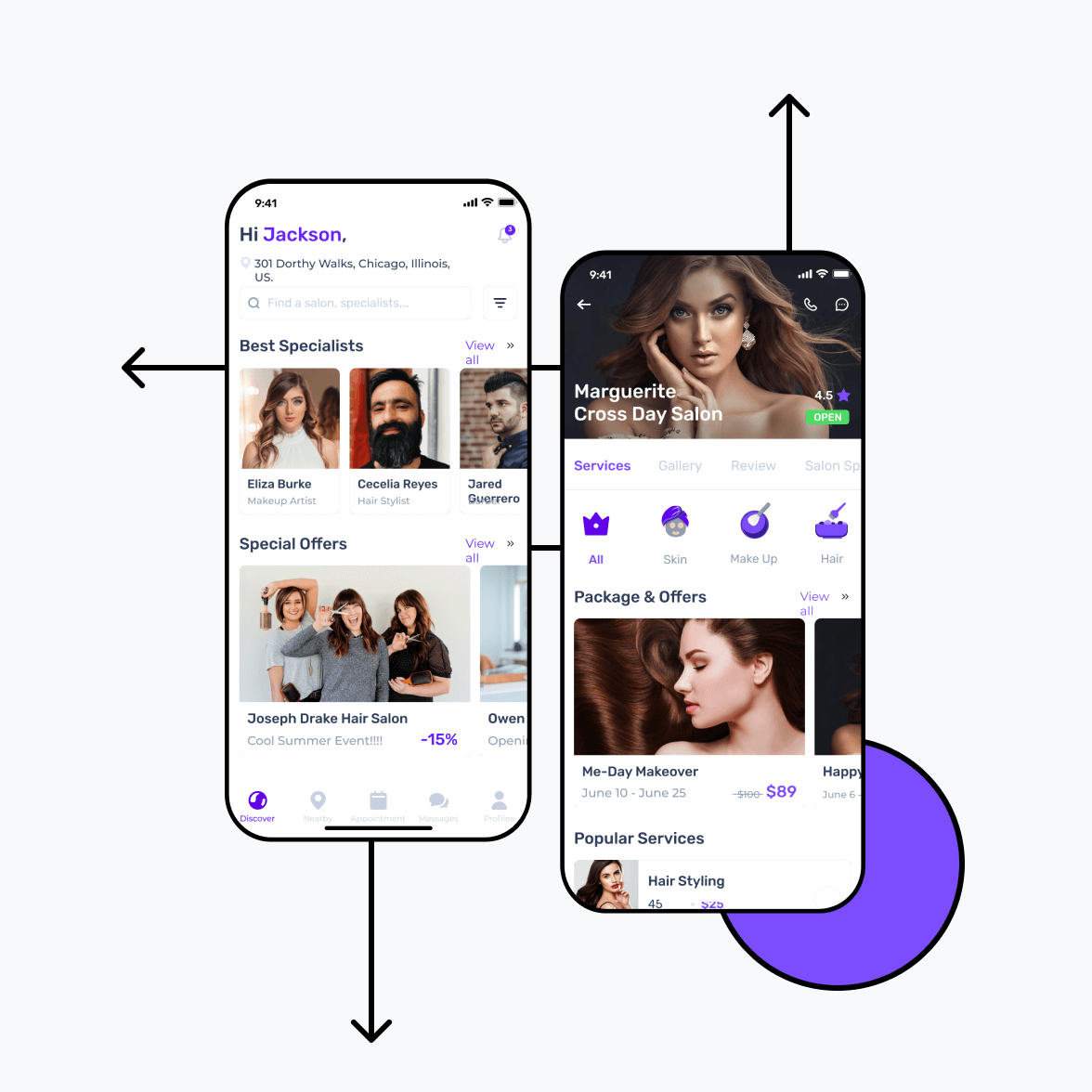 No one wants to wait at your salon or queue for their beauty services. People are time savvy now and prefer getting an appointment before their visit. Today, it's not just millennials who prefer booking their hair cut through a mobile app. More and more modern salon and spa businesses are building a mobile app to better serve their customers. So, what are you waiting for?
Build an app for your salon or spa business today!

What we can build for you
We can help you build apps to manage your customers and business as well. Here's what we can build for you.

Customer app: Helps you serve your customers effectively. This app allows your users to book, edit, and cancel their appointments. Potential clients can check your services online, raise a query, and find discount offers.

Salon management app: Salon management software helps you manage your beauty business effectively. You can generate invoices, manage your finances, product inventory, customers, discounts & offers and payroll too.
Must-have features for your salon app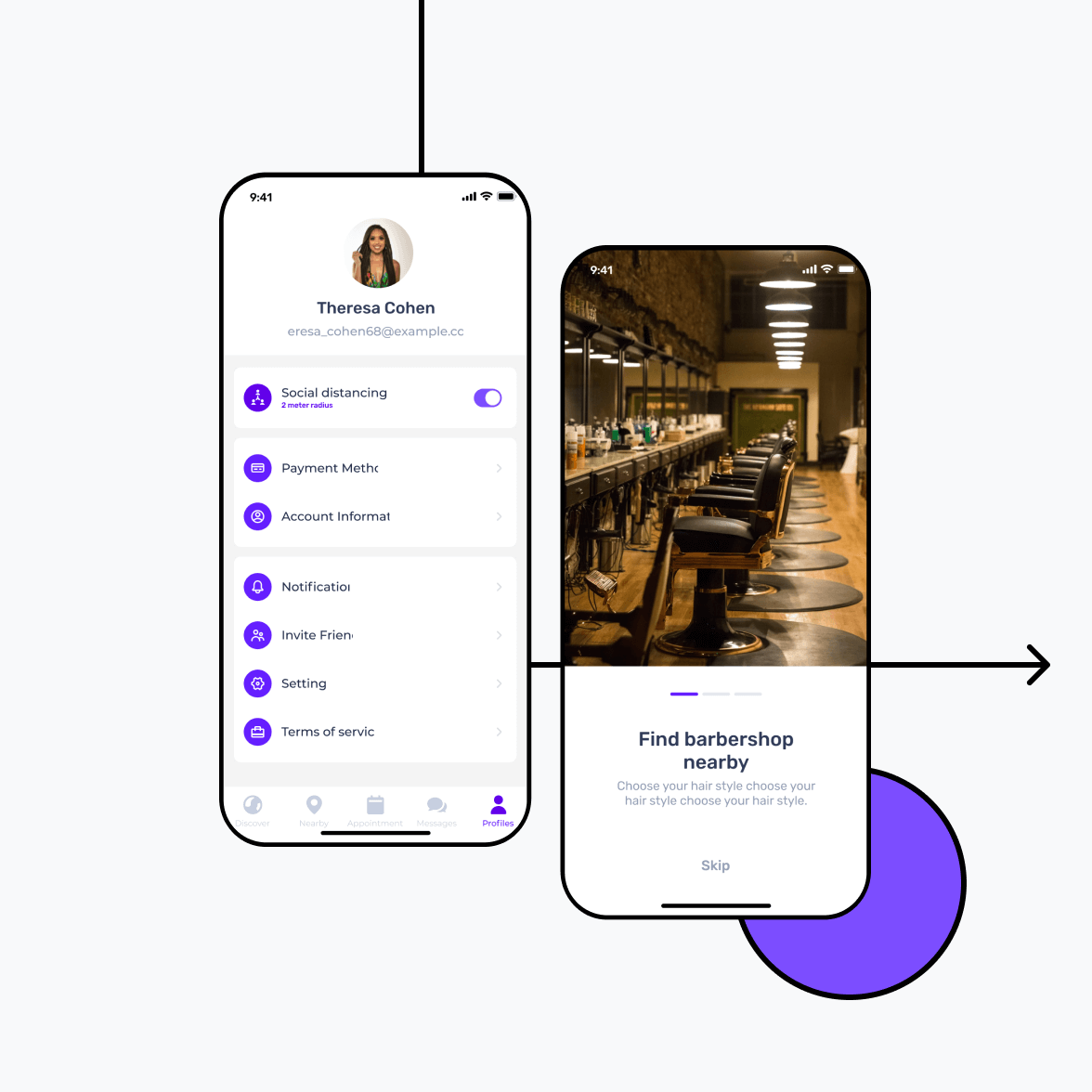 Business apps are not just apps today but the backbone of your business. Feature-packed apps play an important role in the success of your business. The same goes for a salon or spa business, so here are the key features we'd recommend:
Appointment booking: Allow your customers to book, edit, and cancel appointments. Scheduling appointments online frees up your salon staff (so rather than holding the phone, they can focus on amazing customer service).
Direction: This helps customers find your store (even more important if you've shops at more than one location). Having GPS navigation in your app will help your customers navigate through and reach their appointment easily.
Loyalty points: Keep your customer retention rates high. Sharing a part of your profit with your customers will keep them coming back. All app users create a client profile, so you can offer personalised messages and offers.
Discounts & Coupons: Helps you increase customer loyalty. A salon booking app makes it simple to run your loyalty program, from a discount code on loyal clients' birthdays or daily deals, to special offers on quieter days.
In-app payment: It's the time of online payments. What if your app allows your customers to pay via your app and get the payment receipt in their inbox?
Product shopping: If you offer and recommend a series of products to your customers then putting those products on your app could be a money-making model for you.

Which app builder should I pick?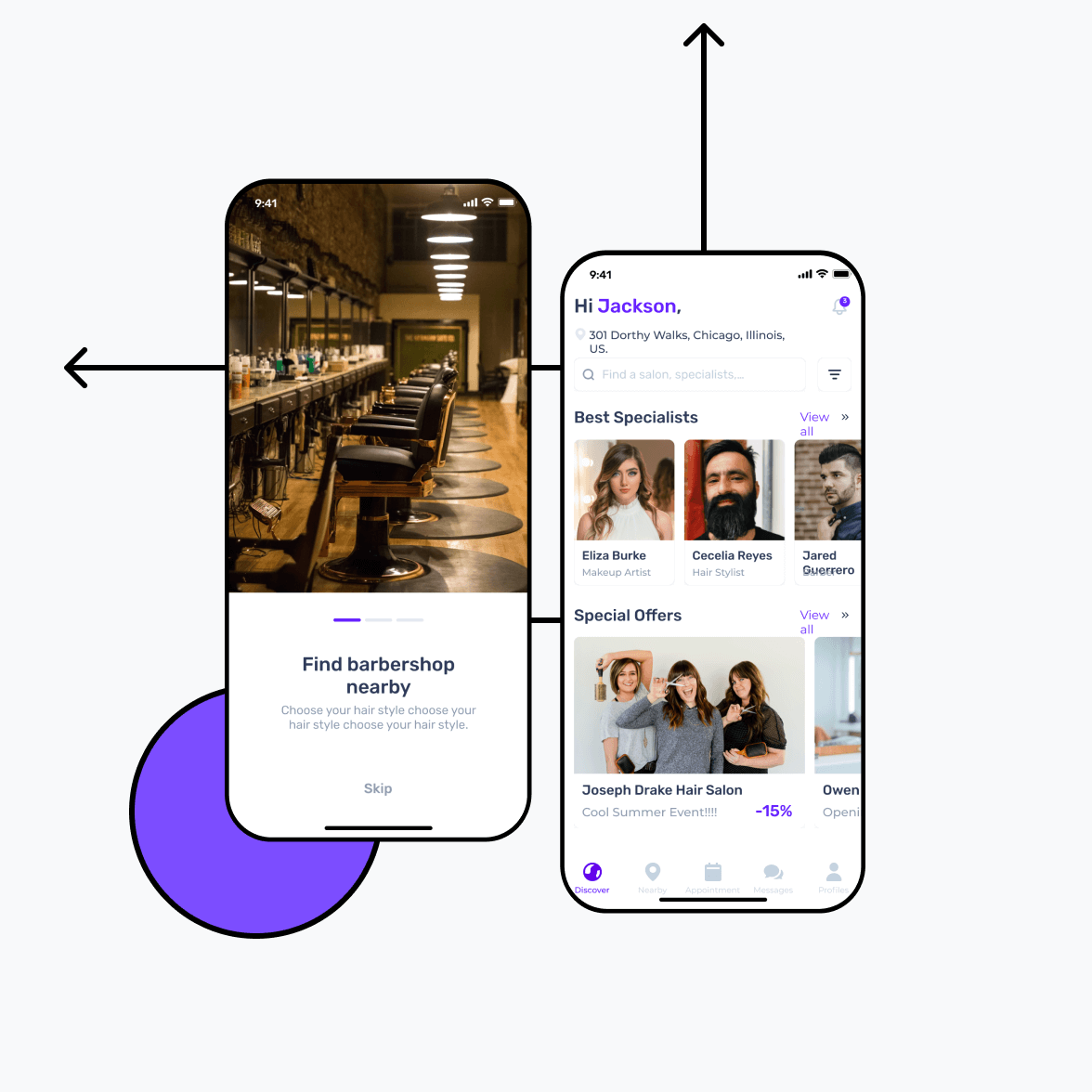 You're searching 'salon app maker' and faced with a wide range of options. Obviously we'd suggest choosing us! But whoever you pick, here are some key questions to have in mind:
What happens if this project goes over budget?
We give you a fixed price that never goes up. You can choose our award-winning, prepackaged salon app. Or if you want to do something completely new, we give you a price upfront. Either way, it's guaranteed you won't pay more.
How do I know the timeline is accurate?
We estimate your timeline using AI. Need it faster, you'll pay more. And you'll pay less for a more relaxed pace.
Will this be created by specialists?
We work with thousands of developers around the world, our AI tests and selects the best specialist for your job.
Can I get help 24/7?
You'll have your own product expert on call in whichever timezone works best for you. And our team are online and available to help you day or night.
Will I need to write code or have any technical knowledge?
Not with Builder.ai. We make building software as easy as ordering pizza.
Will I need to manage developers or agencies?
Again, not with us. Your product expert will manage your entire project from first call to successful app launch.
FAQs
What is a salon app?
This lets customers make online bookings. They can pay for treatments in-app and you can send SMS & email reminders about future appointments.
How do you make a beauty app?
You've 2 great options on this site! Check out our prepackaged Studio Store Salon app, it's got everything you need to run an online beauty business, new website, iOS and Android apps, app maintenance and even the cloud to run your app included too. It's fast and for the cost is fixed. And it won the 2020 CogX award for 'Best Covid-19 Innovation for Recovery' too.
Need something completely custom? Maybe you've got an innovative idea to shake up the whole beauty industry? Head over to Builder Studio and we can create absolutely anything you can imagine.
How much does development cost for a beauty salon mobile app?
Naturally this depends on the mobile app development company you've chosen. Make sure you do a detailed evaluation of your shortlist. For example, does the software development company give you a fixed price upfront? We do.
You can choose a prepackaged salon app (and you've payment options, either a discounted price upfront, or low monthly payments over 24 months). Or if you want to do something completely new, we'll give you a price upfront – and it's guaranteed you won't pay more.
Do you know when you'll be getting your digital products? (We'll let you know before you start.) Can you add additional features later if you need to? (The way we build apps makes this really easy to do.) Do you get a platform choice (can you get a new website, iOS and Android apps?) Our prepackaged app comes with all 3. Does your application development company include detailed reports on user activity as standard? (We know how important data is for a successful business.) Get this nailed down before you start or your costs could spiral upwards.
How can I make my salon busier?
It all comes down to improving your guest experience. From simple online bookings, to reacting to customer feedback faster, or rewarding loyal clients with a discount code.
Want to reduce no-shows? Send SMS & email reminders about upcoming appointments – push notifications are your friends and can maximise revenue with very minimum effort.
Use the data from your app to power sophisticated email campaigns that work because they're personalised and relevant. Test your offers and see which work better.
How do I promote my salon on Instagram?
First do a bit of research to find the best social media platform for your salon. If your customers seem to be congregating on Instagram, you need to be there too! And Instagram's new 'Book' button means if you integrate your beauty salon app the booking of appointments is just 1 click away from your feed.
A few ideas:
Before and after haircut shots – not only do these show your team's skill they're an instant story – perfect for social platforms, where attention spans are short.
Run a contest. Get clients to like and share a post to be in with the chance to win (this is really simple for them to do and for you to organise). Can be anything from huge prize to a discounted cut.
Make your salon staff stars. Get them to post their best cuts and tag them (and the clients they've cut) into your posts too. The more social accounts you can link to, the wider your reach.
Awesome photos of your hairstyles are essential features of your feed but also try and showcase your guest experience. Do you offer nibbles or drinks? Snap a pic.
If you're an independent salon, what makes you special? Showcase this.
Get customer feedback on your posts by asking relevant questions.
Daily deal – offers give loyal customers a reason to follow you and encourage potential clients to try you out.
Work your hashtags – make sure people can find your posts. Check out what's trending in the beauty industry, add local tags or jump onto
Case studies
Solving complex business challenges for global brands like NBC Universal, Fujitsu, the BBC and Pepsi.

Pepsi Case Study - Builder.ai®
We created a B2B ecommerce app for Pepsi at a fraction of the cost. Automating the order process and enabling their resellers to order online. Read the full case study here.