Given the rapid boom of digital transformation, the demand for simpler and speedier development solutions is on the rise. The integration of digital technologies into business models is rapidly changing the way companies carry out business and provide value to their customers. This article will serve as a complete guide to the latest trends in digitalisation and offer insight for how businesses can get ahead to stay competitive.
What is 'digitalisation'?
Digitalisation describes the process of using digital technology to change a business model. Not to be confused with digitisation, which is the act of making physical documents into digital ones. Digitalisation is a broad transformation of a company's business model to implement the use of more digital technologies. The latter happens when companies choose to digitally transform their business for the sake of higher efficiency, productivity, or to remain viable in an increasingly digital world.
Why is digitalisation important?
Digitalisation is inevitable. As technology continues to dominate the world that we conduct business in, all organisations will have to follow the path of digitalisation at one point or another. However, the sooner your business digitalises, the faster you'll reap the benefits. Digitalisation has countless advantages, including streamlining processes, reducing operational costs, and increasing productivity among staff. By automating processes for tedious tasks and forgoing legacy systems that are slowing you down, you free up your team to focus on critical issues within your organisation. Automation also means that you decrease the risk of human error, allowing for operations to become more consistent and high-quality. As less time is spent on manual tasks, you'll save money and allot your employees more time to tackle complex problems.
How are businesses responding?
Ever since the pandemic accelerated the pace of digitisation, more businesses are seeing the value in investing in their own digital transformation. Some examples of digitalisation that you've likely encountered in daily life are the introduction of paywalls within online newspaper publications, chatbots in place of customer service representatives, and the trend of mobile payments. Companies who have embraced digital strategies are 23% more profitable than companies who are lagging behind, and global spending on digital transformation efforts is expected to hit $6.8 trillion by 2023. Failure to follow the digitalisation wave puts your business at risk of being left behind altogether.
What makes for a good digital business strategy?
The first step in digitalisation is adopting a digital business strategy. An effective digital business strategy takes into consideration how new technologies can be leveraged to advance the company's business model and value proposition. The core tenets of a digital business strategy are people, processes and technology.
The first tenet in putting together your strategy should be examining the current personnel in your organisation. What are their skills, and do they have the expertise necessary to help conduct your process of transformation? Do you need new employees to fill certain skills gaps? Then, it's time to take a look at your processes. Where are some of your processes lagging and could be made more efficient? Are there tasks that would be better automated than done manually? Solicit input from your employees on where improvements can be made.
The last tenet is technology. Once you have an understanding of which processes need to be improved upon, this will inform what technology you need. If you're using outdated legacy systems to perform repetitive tasks or time-consuming processes, you may consider automating in order to streamline your operations.
When done comprehensively, a digital business strategy will incorporate areas of weakness that the company can improve upon, identify new technologies that could be implemented to help accomplish their goals, and highlight any new customer segments to target. It will then outline the exact steps that the business is set to take in order to see the new strategy through. Having an agreed upon digital business strategy in place will ensure that you navigate the digital transformation of your business in a structured manner rather than going about it haphazardly.
With more companies automating, enterprise software solutions are becoming increasingly prevalent and there are a number of options to choose from depending on what you want to accomplish. It's also important to consider that digitalisation is an ongoing process, rather than something to be implemented once and then forgotten about. Given the rapid pace of technological innovation, you must revisit your digital business strategy regularly to ensure that it's flexible.
What are your current options for enterprise software solutions?
When it comes to accessing and developing software, there are a variety of options available that can accelerate the digital transformation of your business. Which option you choose depends on your company's size, budget, timeline, and need for control over the project.
SaaS platforms
As more businesses begin their digital transformation journey, more are seeing the value in SaaS programs. SaaS or software-as-a-service is a cloud-based service that allows applications to be delivered over the internet. Rather than managing the software and hardware yourself, you're able to access it from anywhere as long as you have an active internet connection. Applications are instantly accessible and don't require manual installation, updates, or maintenance.
SaaS is a great option for small and medium-sized businesses (SMBs) who have limited time and resources. When you choose SaaS, the maintenance of your digital infrastructure is already taken care of - saving you time and money and allowing you to focus on growing your business. With that being said, depending on the needs of your company, a SaaS solution may not be right for you. If this is the first time you're automating a process, SaaS can be an ideal option.
There's downsides to SaaS too. If the process or function that you're trying to automate is heavily integrated with pre-existing systems or tools, SaaS may not be the best avenue, as some SaaS solutions offer limited customisation and security of data, and tend to run at a slower speed. Because SaaS is often on a licence basis, it is very easy to outgrow these platforms as your business evolves.
Agency-built software
On the other hand, companies may wish to explore agency-built software as an alternative to SaaS platforms. There are different types of software agencies that you can choose from depending on what kind of solution you have in mind. At first glance, going through a software agency may look particularly valuable to businesses who need elaborate custom software. Here, research, development, prototyping, and maintenance are all handled by the agency, leaving you to focus on the growth of your business.
However, software created by an agency can take a long time to actualise (on average, almost a full year to roll out). This is by far the most expensive option and can be risky for some who prefer to have full control over the finished product. If your organisation is small and doesn't have a large budget, or you simply can't afford to wait on long delays, agency-built software may not be the best choice for you.
On-demand, tailor-made apps
There is a third alternative to SaaS platforms and agency-built software that combines the best bits of each: Builder.ai. Builder.ai is an on-demand platform for tailor-made software. Builder.ai doesn't require any coding or tech knowledge, is cheaper than going through developers, and provides you with a product expert to support you along every step of the process.
Builder.ai provides users with Natasha, the first AI product manager. Users simply tell Natasha what they want out of the app, and Natasha will suggest coding blocks from a library of features that she feels would suit the project. Then, Natasha matches you with developers that have experience in the product that you want to create, ensuring that you get the support you need throughout the process.
Builder.ai is a suitable choice for businesses of all sizes in any industry. Whether you're an entrepreneur trying to bring your app idea to life or a large company looking to build better efficiency for your teams, Builder.ai will help you bring ideas to life in order to digitally transform your business.
Which should you choose for your digitalisation strategy?
There are a myriad of software development options for businesses out there, and which one is right for you depends on your company's size, goals, and needs. Small and medium-sized businesses may choose SaaS platforms for their ease of use and accessibility. Larger businesses who are less tech-savvy may decide to develop via a software agency for their expertise and ability to customise.
However, if you're looking for a solution that combines the best of both SaaS and agency-built software, look no further than Builder.ai. With Builder.ai not is the code yours to keep, but you gain access to dedicated support for the product you're building with upfront pricing and competitive timelines that ensure you'll know exactly what to expect at every stage. Combining the best features of SaaS platforms and agency-built software, Builder.ai grants you custom-made, flexible software that gives you control over your finished product while also utilising advice from the experts.
Find enterprise software solutions that work for you
Digitalisation is not just a fleeting trend - it's a widespread shift in the way businesses operate. Companies that miss the chance to digitalise will undoubtedly be left behind, and those who capitalise on this opportunity will get ahead of the game. By digitalising your business, you'll improve efficiency, streamline processes, save time and money, and boost employee productivity and satisfaction.
Creating a digital business strategy that is tailored to your company's weaknesses and opportunities will ensure that your business will remain viable and competitive in the digital age. While digital transformation is predominantly technology-focused, it's important not to neglect the other two pillars of any strong digital business strategy: people and processes. When going about creating your own digital strategy, be sure to consider how these three will intersect to produce meaningful results.
When it comes to implementing new technology, there are a number of options on the market. What's most important is finding an option that works best for you, your budget, and your company's goals. SaaS platforms are great for those who are looking for instantly accessible, hands-off software solutions. At the same time, SaaS platforms are limited when it comes to creating complex solutions, and require extra steps to ensure security of privileged information. Developing software through a full-service software agency can be a great option for those looking for something more customisable and high-quality. However, agency-built software tends to take a long time to materialise and doesn't allow you much control over the product.
It's for this reason that more businesses of all sizes are choosing to go with Builder.ai, which combines the best aspects of both and provides you with on-demand, tailor-made software solutions. Builder.ai offers quick, scalable solutions combined with expert advice and ownership over the code. By going this route, you'll be able to digitally transform your company in a risk-free way, empowering your teams to focus on growing your business.
Need more trends insight? Join the Builder.ai community
Digitise your business easily with Builder.ai
Interested in taking the first step towards digitally transforming your business?Book a demo with Builder.ai today to see how your ideas can be taken to the next level.
Liam Collins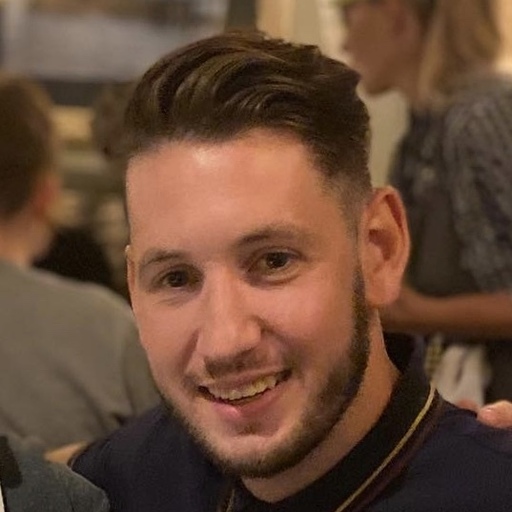 Head of Performance at Builder.ai
Liam is Builder.ai's Head of Performance, with 10+ years' experience of defining, activating and executing digital marketing campaigns. In his work at internationally recognised agencies like MediaCom and MG OMD, he was client lead for large accounts like DFS, Kenwood & De'Longhi and Boots as well as many SMBs, driving commercial growth through bespoke ecommerce and omni-channel strategies.